After steering a shorthanded team to the AFC's No. 1 seed, Mike Vrabel looks to face another difficult task in 2022. The roster the fifth-year Titans HC will carry into Week 1 looks worse than the one he took into the divisional round in January. The losses of young standouts A.J. Brown and Harold Landry will create an uphill battle for a team that has aging offensive centerpieces. In an AFC that looks deeper than it was in 2021, can Tennessee craft another unlikely charge to prime playoff real estate?
Trades:
Ahead of Ryan Tannehill's age-34 season and with Derrick Henry turning 29 before this season's conclusion, the Titans had Brown going into the final season of his rookie contract. They faced the same quandary the other teams that obtained No. 1-caliber wideout talent in a deep 2019 receiver draft did: pay the new going rate or sell high. While the Titans did collect quality assets for Brown, their move turned out to be a zag compared to how most of the teams in this position played their hand this offseason. Did Tennessee make the right call?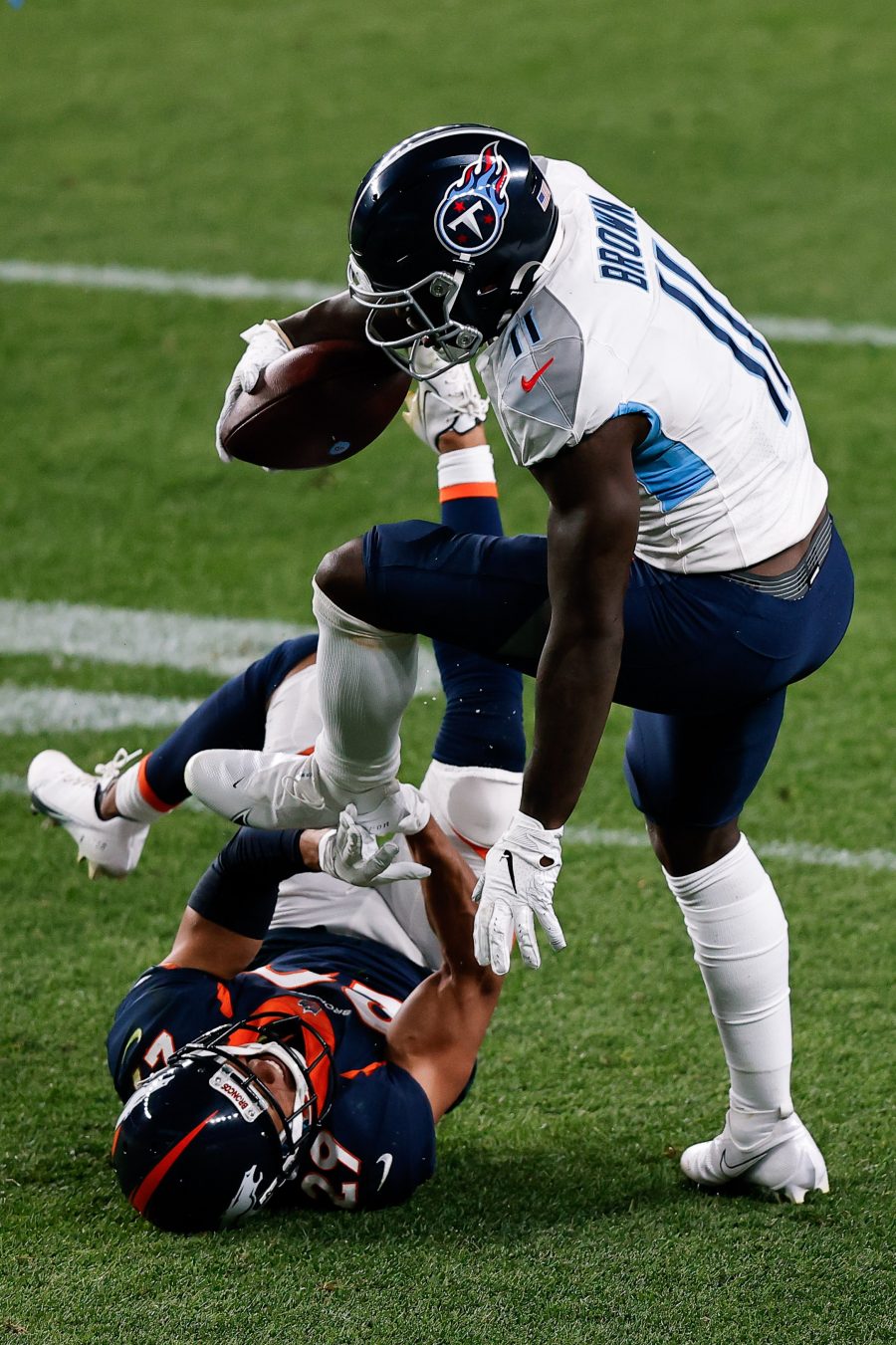 Vrabel and GM Jon Robinson each expressed a desire to have Brown in the fold long-term, and the parties began negotiations in late March. These talks started at a strange point on the receiver timeline, coming just as the Raiders and Dolphins changed the receiver market with $28MM-per-year and $30MM-AAV deals for Davante Adams and Tyreek Hill, respectively. Although each of those contracts feature final-year money that inflates the AAV, the receiver market was encountering turbulence. Just as Adams' deal affected the Chiefs, the Titans soon saw those contracts impact their receiver situation.
As it turned out, the Titans and Brown were never especially close on terms, leading Tennessee to follow the lead of Green Bay and Kansas City. The difference here is the Titans bailed on a 25-year-old playmaker whose prime should be ahead. The Packers and Chiefs traded late-20-somethings whose best years have probably already occurred. Brown said he would not have wanted out had the Titans offered $22MM per year, but the former second-round pick said Tennessee was offering a deal with a base value in the range of $16MM per year. Conflicting reports emerged about where the Titans were willing to go, but it was clear they were not hitting the price point the Eagles did. In terms of fully guaranteed money, no one has. Brown's four-year, $100MM Philly pact contains a receiver-high $56MM guaranteed at signing.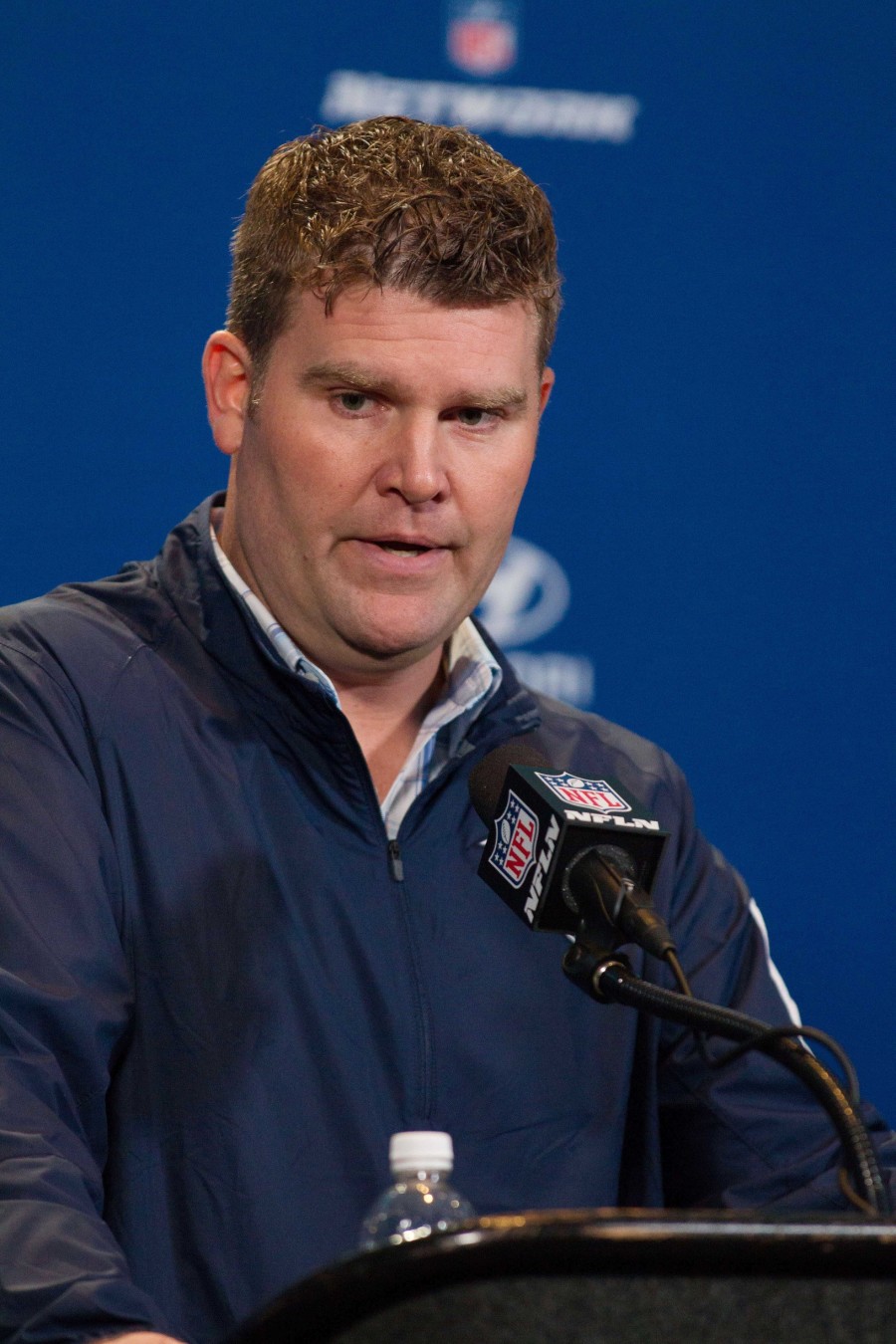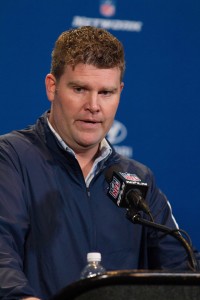 The Eagles effectively set the market for the 2019 receiver class (save for Diontae Johnson, who signed for a bit less to stay with the Steelers). The Commanders, Seahawks and 49ers each had wideouts (Terry McLaurin, D.K. Metcalf, Deebo Samuel) run the non-participation gamut Brown also threatened, with the NFC trio either skipping OTAs, no-showing for minicamp and/or turning to the newly popular hold-in tactic. But each team, with Brown's Eagles deal as a starter kit, paid up. McLaurin, Metcalf and Samuel each inked a three-year extension worth between $23.3MM and $24MM per year. Despite finding Brown at No. 51 overall and seeing him pass Corey Davis as the team's top target, the Titans decided the new market did not add up and started over with Treylon Burks.
With Burks submitting an uneven offseason, the Titans could be scrutinized for bailing on Brown three years in. The team had a rookie-contract salary and a 2023 franchise tag as leverage. Brown had dealt with injury issues that sidelined him for six games between 2020 and '21 and prevented him practicing at points at a young age, so the Eagles acquisition is no sure thing. But Philadelphia now rosters one of the league's most physically imposing receivers — a player whose quick ascent helped the Titans to the 2019 AFC title game — and Tennessee will count on a raw rookie and a veteran coming off a major injury.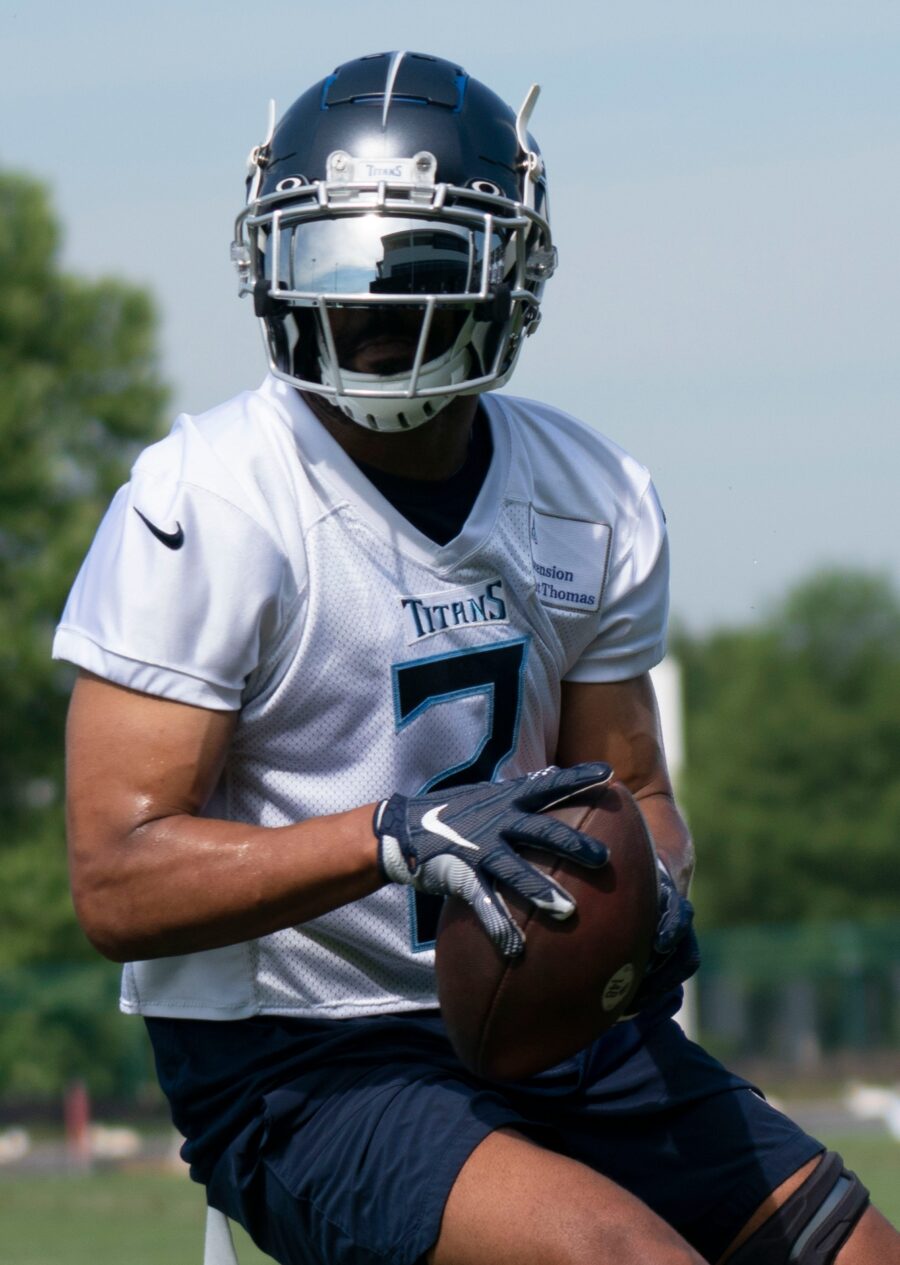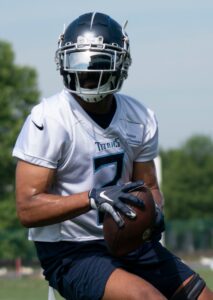 The Rams worked with Woods to find a fit, and for a brief stretch, it looked like the veteran would replace Julio Jones as Brown's top sidekick. The draft-night trade changed the equation, and a player coming off a November ACL tear moved into the Titans' WR1 spot. Tennessee took on Woods' full contract — a $16.25MM-per-year deal agreed to in September 2020 — after Allen Robinson replaced Woods in Los Angeles, where Odell Beckham Jr. remains (for months now) on the horizon.
Prior to his knee injury, Woods was the steadiest wideout the Rams deployed under Sean McVay. The ex-Bills draftee became a solid all-around player, topping out below the Pro Bowl tier but posting back-to-back 1,100-yard seasons with Jared Goff (2018-19) as Cooper Kupp and Brandin Cooks battled injuries. The Titans can get out of Woods' contract easily, as no guarantees remain after 2022. But with Brown gone and Burks not certain to play a big role early, the Titans need the 10th-year vet to find his old form — one undoubtedly boosted by McVay's play-calling — fast.
Both Amadi and Lonnie Johnson relocated twice this offseason, the former being traded by both the Seahawks and Eagles and the latter — a former Texans second-rounder — dealt to the Chiefs and later waived. Each is a Titans backup. A sixth-round Panthers pick chosen before Matt Rhule's arrival, Daley (21 career starts, including nine in 2021) has a bit more experience than expected left guard starter Aaron Brewer (a UDFA with six career starts). Though more than half of those starts have come at left tackle (another seven came at left guard), Daley could be a guard option at some point in his contract year. He otherwise represents decent swing depth.
Free agency additions:
Quiet in terms of outside additions, the Titans did add a formerly well-paid tight end. Hooper made waves in 2020, signing a four-year, $42MM deal that at the time made him the highest-paid tight end in NFL history. As strange as that sounds, Hooper was coming off a 787-yard Pro Bowl year with the Falcons. And the Browns had money to spend. Hooper, 27, did not fare as well in Cleveland (780 yards from 2020-21) and became a cap casualty after two seasons.
Considering the Titans' wideout situation, Hooper should be a bigger part of Tennessee's passing attack than he was in Cleveland. The Titans opted not to tag Jonnu Smith last year and did not have a tight end clear 300 receiving yards. They need Hooper, a former third-round pick, to rediscover his Falcons form.
Re-signings: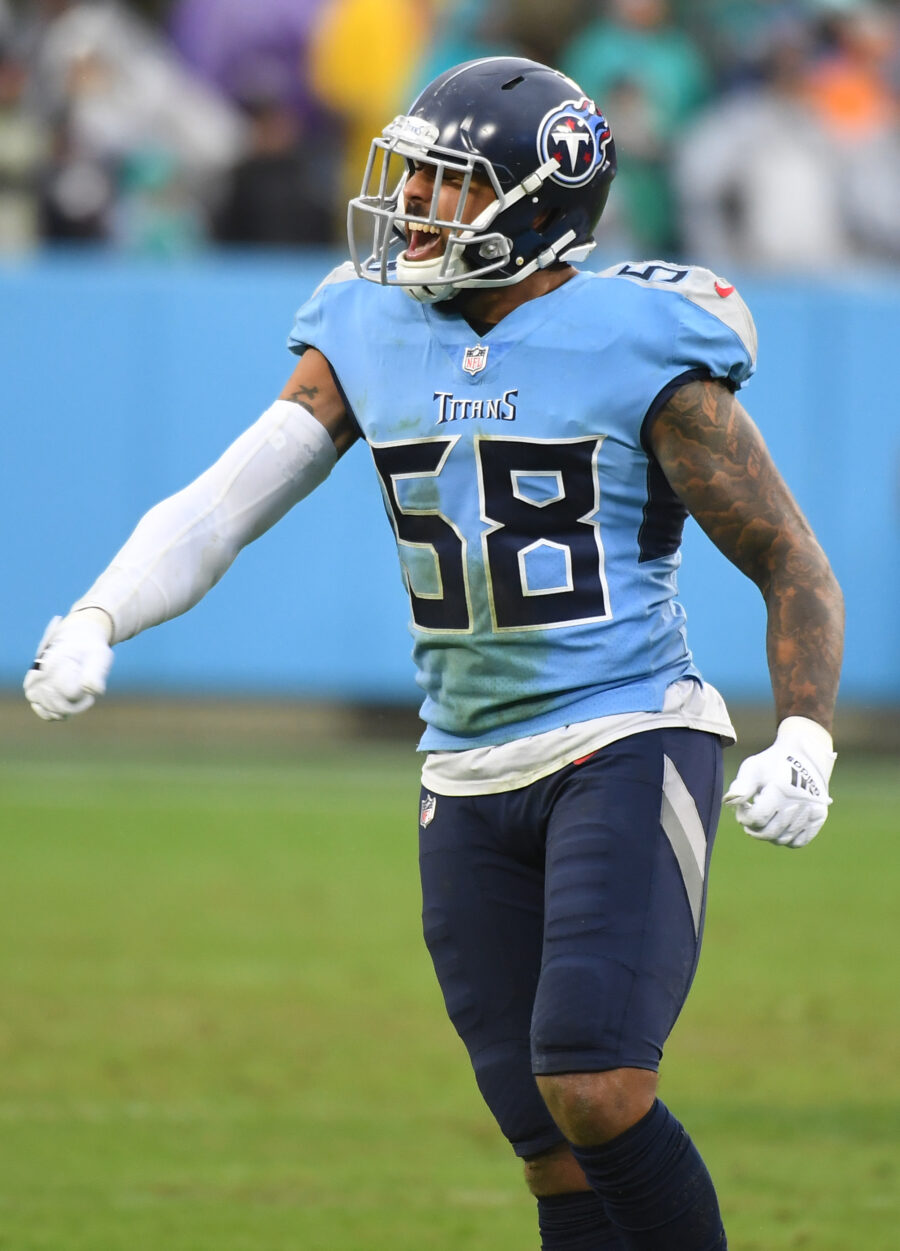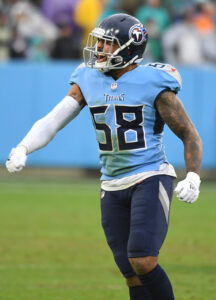 At the time of signing, it looked like Landry accepted a Titans-friendly deal. While not in the same class as the T.J. Watt–Joey Bosa–Myles Garrett trio whose $25MM-plus-AAV contracts may or may not have led to Aaron Donald's retirement threat, Landry still signed for $6MM less than Maxx Crosby ended up receiving three days later. The Titans' edge anchor, who is coming off his first Pro Bowl year, is earning $20.25MM in his first season and does currently have a deal that ranks sixth among edges. But the second tier of this market, with cap growth restored, should be in for a spike soon. As that happens, having Landry tied to this deal should be valuable for Tennessee.
This week's development — a Landry ACL tear sustained in practice — clouds both the optimism associated with this contract and could significantly impact Tennessee's defensive capabilities. Robinson kept trying to address his OLB position opposite Landry, but his swings for Cameron Wake, Vic Beasley and Jadeveon Clowney each missed. Those failures led to Bud Dupree scoring a surprising (considering his November 2020 ACL tear) $16.5MM-per-year deal with $32.25MM fully guaranteed. Dupree totaled three sacks and eight QB hits last season, missing six games. Landry continued to provide cover, tallying a career-high 12 sacks and 22 QB knockdowns. Not having him this season will place a lot on Dupree's shoulders and should force the Titans to make another move.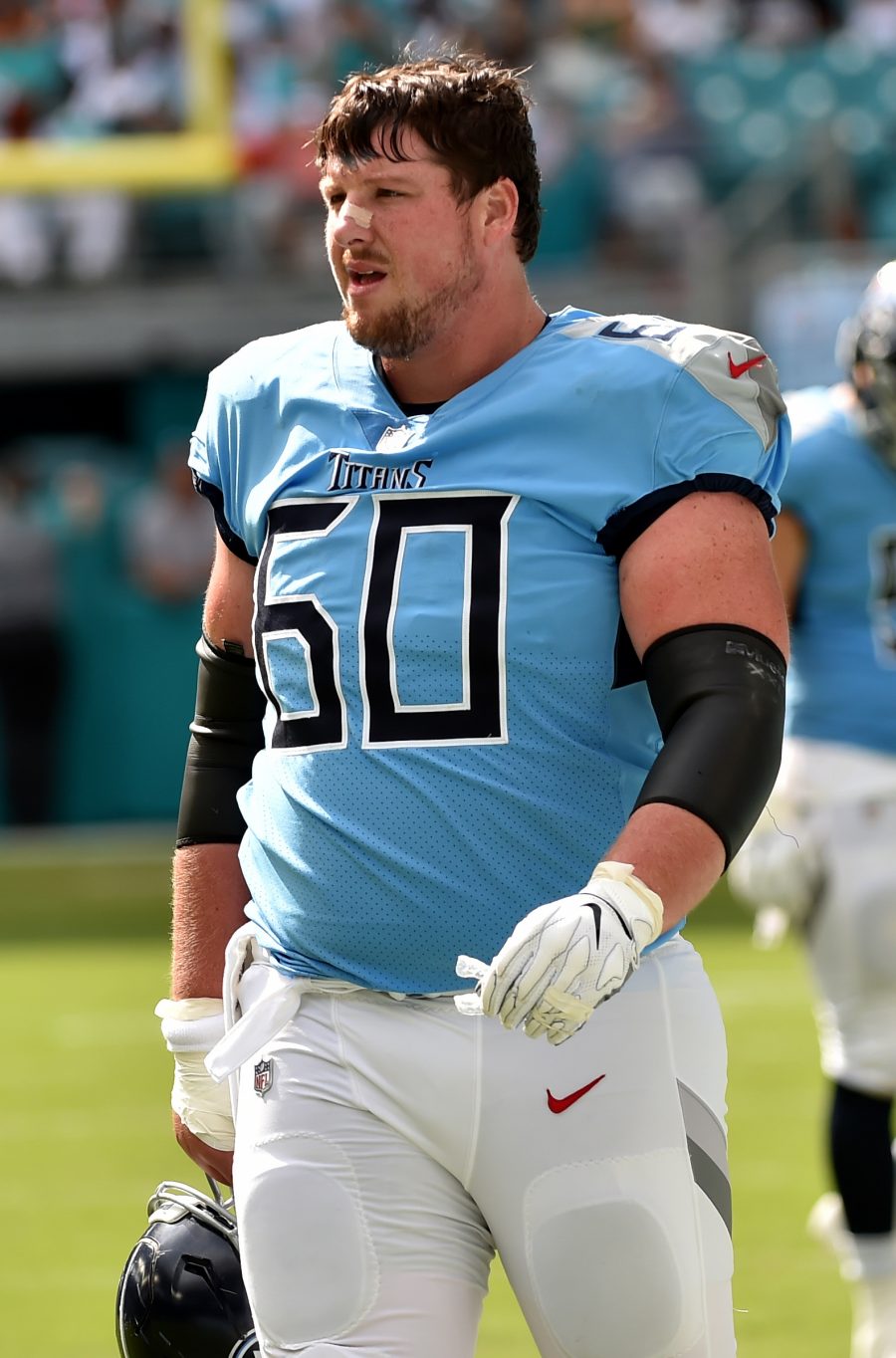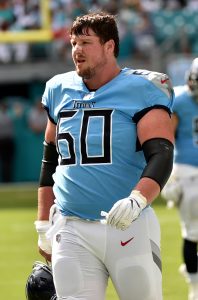 Beyond Jason Pierre-Paul (33) and Everson Griffen (34) and, to a lesser degree, Takkarist McKinley, who is coming off a December Achilles tear, the market — as should be expected in early September — is lean on edges. Will this be the Robert Quinn team? It now makes a lot of sense to discuss the out-of-place D-end with the rebuilding Bears. Even though the Pro Bowler (Bears-record 18.5 sacks in 2021) said he would not be thrilled with being traded a third time, the Titans are in a better position to contend compared to the Bears. Had Landry's injury happened last week, now-Steeler Malik Reed was there for the taking from Denver.
If the Titans do not make a move now, they are a team to watch for an early-season addition. Their backups (2021 fourth-rounder Rashad Weaver, who played 12 defensive snaps as a rookie), ex-Steeler UDFA Ola Adeniyi (2.5 sacks as a 2021 Titans backup) and Friday waiver claim Derrek Tuszka — cut by the Steelers this week — obviously represent a steep drop-off.
This is Jones' third Titans contract. Signed as a free agent from the Texans in 2016, Jones and Taylor Lewan have been the constants during Henry's All-Pro surge. Jones has become one of Robinson's top moves, arriving during the GM's first offseason and missing only one game in six seasons. Pro Football Focus has rated Jones as a top-11 center in each of his past five seasons, coinciding with Henry's success and Tannehill's midcareer turnaround.
The Titans managing to re-sign Jones on $6.75MM-per-year and $7MM-AAV deals since 2019 has represented excellent value. This middle-class contract could help the team keep rising right guard Nate Davis off the 2023 market, though that will be costly.
Notable losses: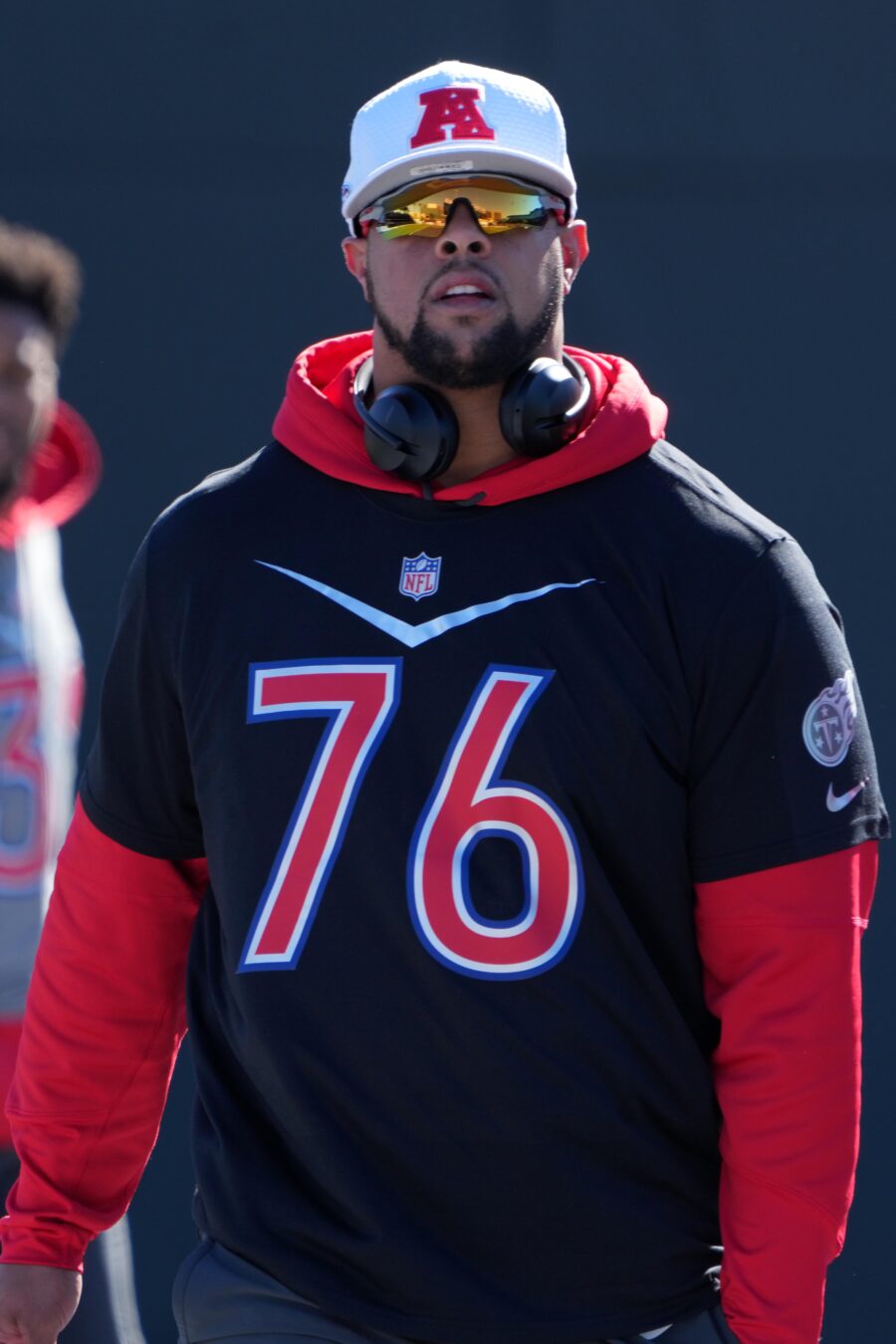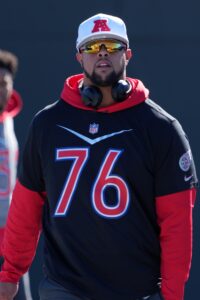 Saffold's $12.8MM 2022 cap hit was an issue, and his release came two days after Landry's extension. Were the Titans budgeting for a Brown extension at the time (March 10) as well? It is interesting Saffold became a cap casualty days before the Adams-Hill transactions changed the receiver market, thus leading Brown out of town.
The Titans do have other players (Davis, Jeffery Simmons, Amani Hooker) on the extension radar, so keeping a veteran guard going into his age-34 season might have been a luxury. But Saffold was there for both Henry rushing-title seasons and graded as a top-12 PFF guard during those slates. The Bills will see how much the 13th-year blocker has left. For 2022 alone, this could be a tough loss for the Titans, who are set to go with a former UDFA (Brewer) as Saffold's successor.
Julio Jones will be in the Hall of Fame early in his eligibility period, but there will not be many Titans highlights — perhaps the sideline catch against the Bills — on his Canton reel. Although the move produced more (434 yards, one touchdown) than the Titans' largely forgotten but statistically brutal Randy Moss period, that 2010 pickup only cost a waiver claim. Acquiring Jones cost a second-round pick. Jones' hamstring trouble has become chronic, and his seven missed games helped turn the Titans into a skeleton skill crew for a stretch last season.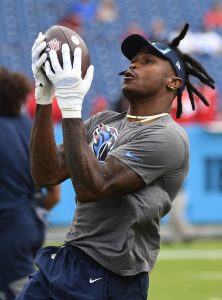 Drafted in Round 3 to be Henry's top backup, Evans could not stay healthy. When Henry broke down last season, Foreman became an unlikely producer. Overtaking a shot Adrian Peterson, Foreman matched Henry in yards per carry (4.3) — albeit on 86 fewer totes — and produced three 100-yard outings despite making only three starts. The Titans let Foreman sign a low-cost Panthers deal and brought back Hilliard, who averaged 6.3 yards per carry (on 56 handoffs), for less. Given Henry's status, Hilliard and fourth-rounder Hassan Haskins are on standby.
Jenkins, whose name change seemingly received less attention than Shaquille Leonard's less dramatic adjustment or Robbie Anderson merely changing the ending to his, remains unsigned. The 33-year-old defender has been with three teams over the past two seasons. He did give the Titans 13 starts in his one-and-done tenure; PFF graded Jenkins as the top Titans corner. But Tennessee has drafted first- or second-round corners in three straight years. Skrine's summer retirement clears the way for the Titans to go full-speed with rookie-contract corners, with 2021 third-rounder Elijah Molden figuring to man the slot alongside the higher-drafted players.
Draft:
Nick Westbrook-Ikhine stands to be Woods' outside complement; Burks will be a situational player to start the season, The Athletic's John Rexrode writes. Somewhat of a raw talent who had weight issues at Arkansas, playing north of 240 pounds at points, Burks will need to move into the starting lineup as a rookie. By 2023, the ex-Razorback star should be expected to be the centerpiece of the Titans' aerial attack.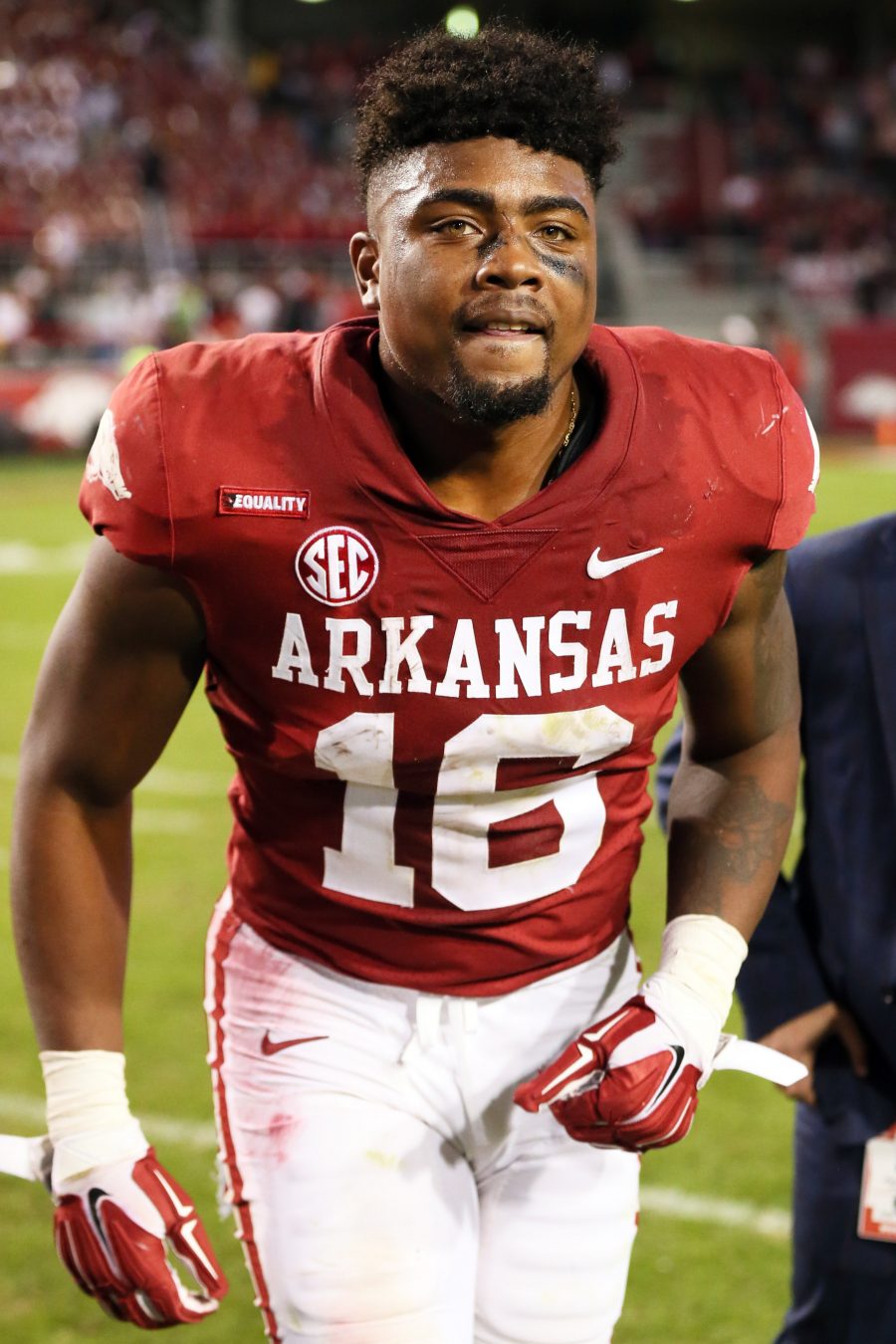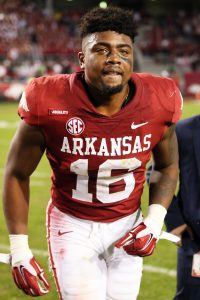 Burks produced a 1,104-yard junior season — including a 179-yard display against Alabama — and became this year's sixth wideout drafted. Burks compounded his rawness by missing stretches of Tennessee's offseason program; receivers coach Rob Moore confirmed Burks deals with asthma. The ceiling here is undeniable, but the Titans exchanging a proven pass catcher for one who obviously needs time to grow into that status does concern for the current team's prospects.
It will be unusual to see a team's fifth-round receiver play more often than the player chosen in Round 1, but that may well take place. After a strong offseason, Philips is set to have a regular role as a slot target from the start. Philips produced back-to-back 700-plus-yard seasons as a Bruins upperclassman.
Tennessee ranked 25th in pass defense last season, and PFF did not rank any of its returning corners among the top 50 at the position. The team was missing 2021 first-rounder Caleb Farley, and 2020 second-rounder Kristian Fulton performed better than he did in an abbreviated rookie season. McCreary impressed in training camp and rounds out an intriguing quartet of Titans corners. All of them have at least two seasons remaining on their rookie contracts, creating the potential for the Fulton-Farley-Molden-McCreary group to play together through at least 2023. More tape than measurables, the 6-foot rookie — fresh off a first-team All-American season — could be eased into action as a pro as well. That will depend on Farley's return from an ACL tear.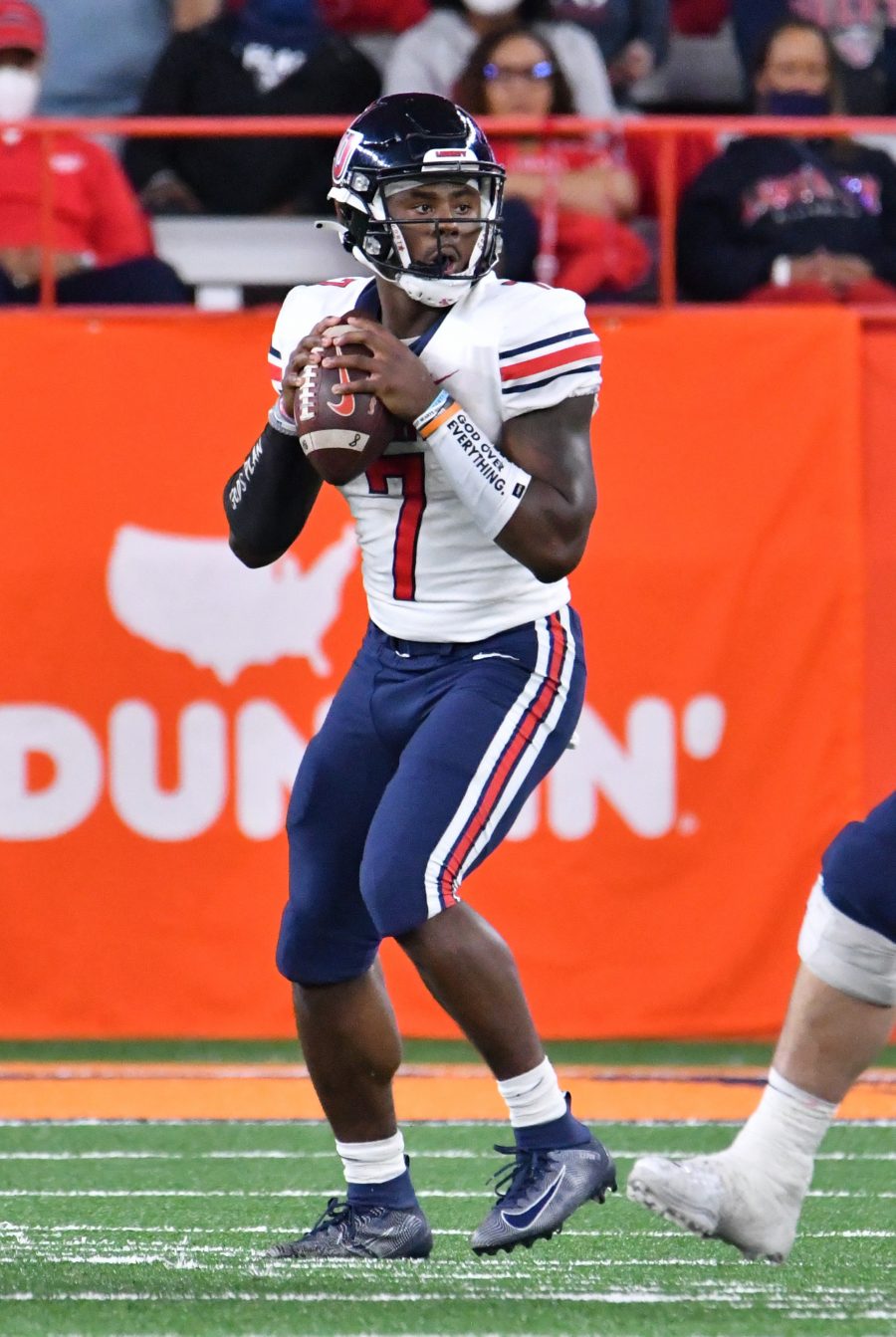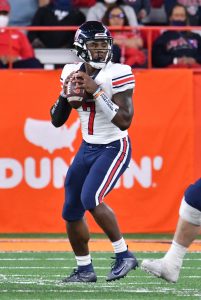 Petit-Frere has beaten out Radunz for the Titans' right tackle gig. He will be the team's fourth primary right tackle in four seasons, following Jack Conklin, Dennis Kelly and David Quessenberry. The Titans declining Conklin's fifth-year option set them adrift at this position, and the Isaiah Wilson debacle doubles as one of the worst draft misses in recent memory. A second-rounder out of North Dakota State, Radunz has been unable to commandeer the gig for which he was drafted. The onus shifts to Petit-Frere — a first-team All-Big Ten right tackle in 2021 and the Buckeyes' two-year starter there — to stop the revolving door.
Willis' slide to Round 3 is one of the most memorable in modern draft history, considering the first-round connections the small-school quarterback generated. The dual-threat QB seems no rival for Tannehill in 2022, being viewed as a project and being yanked from a preseason game for running too much. But Willis did win the backup job over Logan Woodside.
The Auburn transfer's college resume (1,822 rushing yards, 27 TDs in two seasons at Liberty) will probably come up if Tannehill struggles, as young QB investments are rather popular among fans of teams with non-elite passers. But this seems like a multiyear training program for a player teams let fall to No. 86 overall. Still, Tannehill was a severe injury risk in Miami (25 missed games from 2016-18) due mostly to knee trouble. Since taking over for Marcus Mariota in October 2019, Tannehill has perfect attendance. But it would be interesting to see what the Titans do if their starter's run of good health suddenly stops.
Extensions and restructures: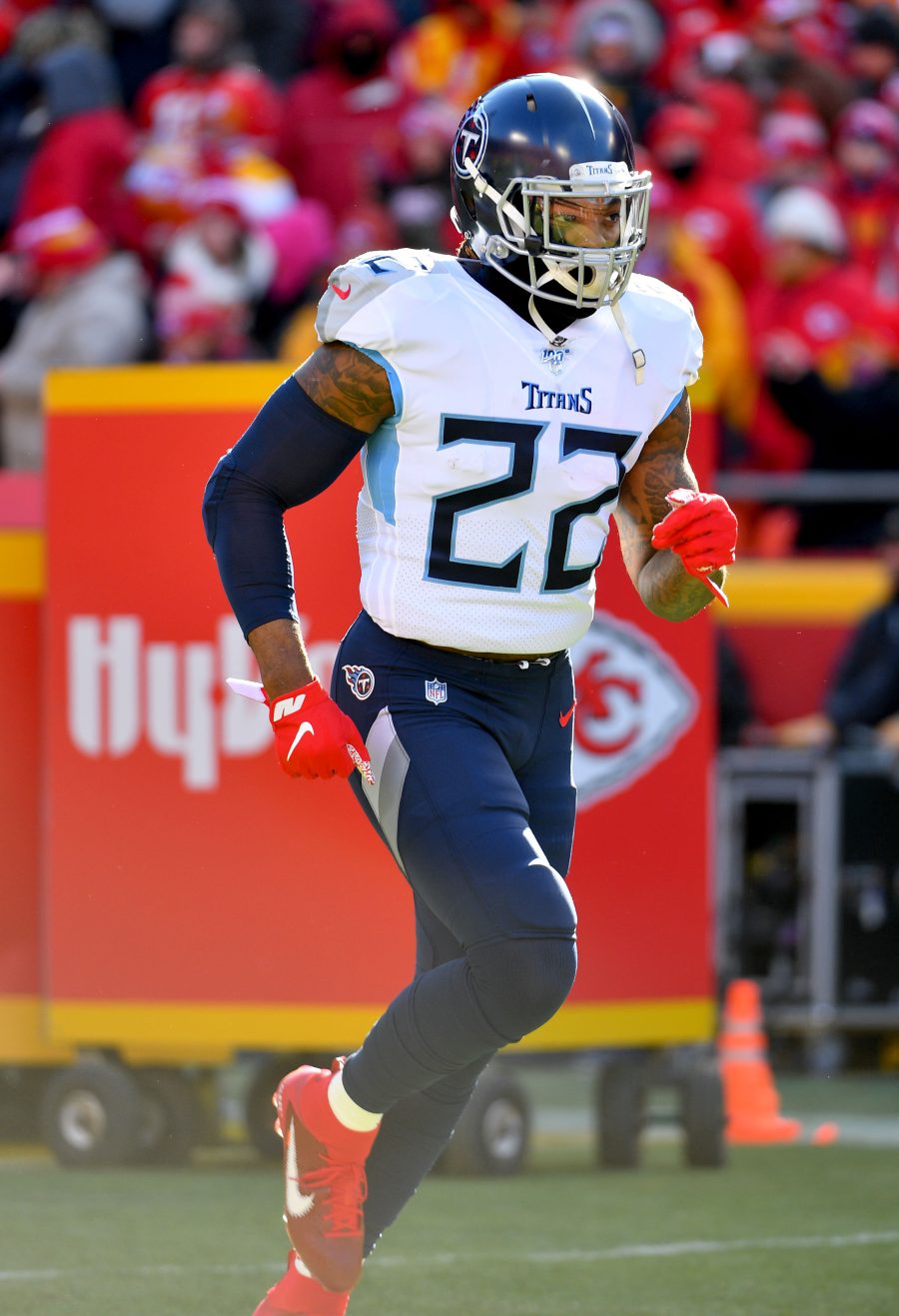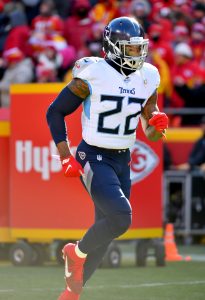 Henry now leads all running backs in cash for 2022, but the Titans put half of his raise into per-game roster bonuses. This potential $2MM bump is a nice carrot that can be interpreted in multiple ways.
The Titans are considering another extension for their superstar back, despite a 2021 Jones fracture costing him eight games. Henry's importance to Tennessee's offense notwithstanding, teams do not make a habit of doling out big contracts to 29-year-old running backs. Henry, who will turn 29 in January, is still signed through 2023. The former Heisman recipient would be a remarkable winner among modern backs were he to secure a second lucrative extension at that age.
This week's transaction also made Henry's contract tougher to shed. After less than $4MM in dead money would have come with a Henry 2023 release, the restructure — which added three void years to Henry's contract — now involves a $10.2MM dead-money hit. Talk of a Henry release is obviously premature, given his onslaught over the past three years. But if he suffered another major injury this season, the Titans could be thinking of getting out of the four-year, $50MM deal they authorized at the 2020 tag deadline.
Henry was cruising toward a Jim Brown-esque third straight rushing title and still finished as a top-10 rusher last season, but even as he missed the eight games, the Titans put 900 carries on his odometer from 2019-21. That leads the NFL by 89 in that span. Collecting an additional $2MM is a nice bonus for one of the great players in the franchise's Tennessee history, because recent running back history tells us Henry probably does not have much longer to be a high-earning player. Henry might only be still able to be penciled in for a monster workload because of the two years spent as DeMarco Murray's wingman to start his career.
Other:
Following a run of three consecutive playoff berths — the franchise's first such accomplishment since Warren Moon's Run and Shoot Oilers operation went to seven straight postseasons from 1987-93 — Robinson and Vrabel were extension locks. This is Robinson's third Titans contract and Vrabel's second, and considering what the pair has achieved despite not employing a top-end quarterback or elite defense, the additional commitment is certainly earned.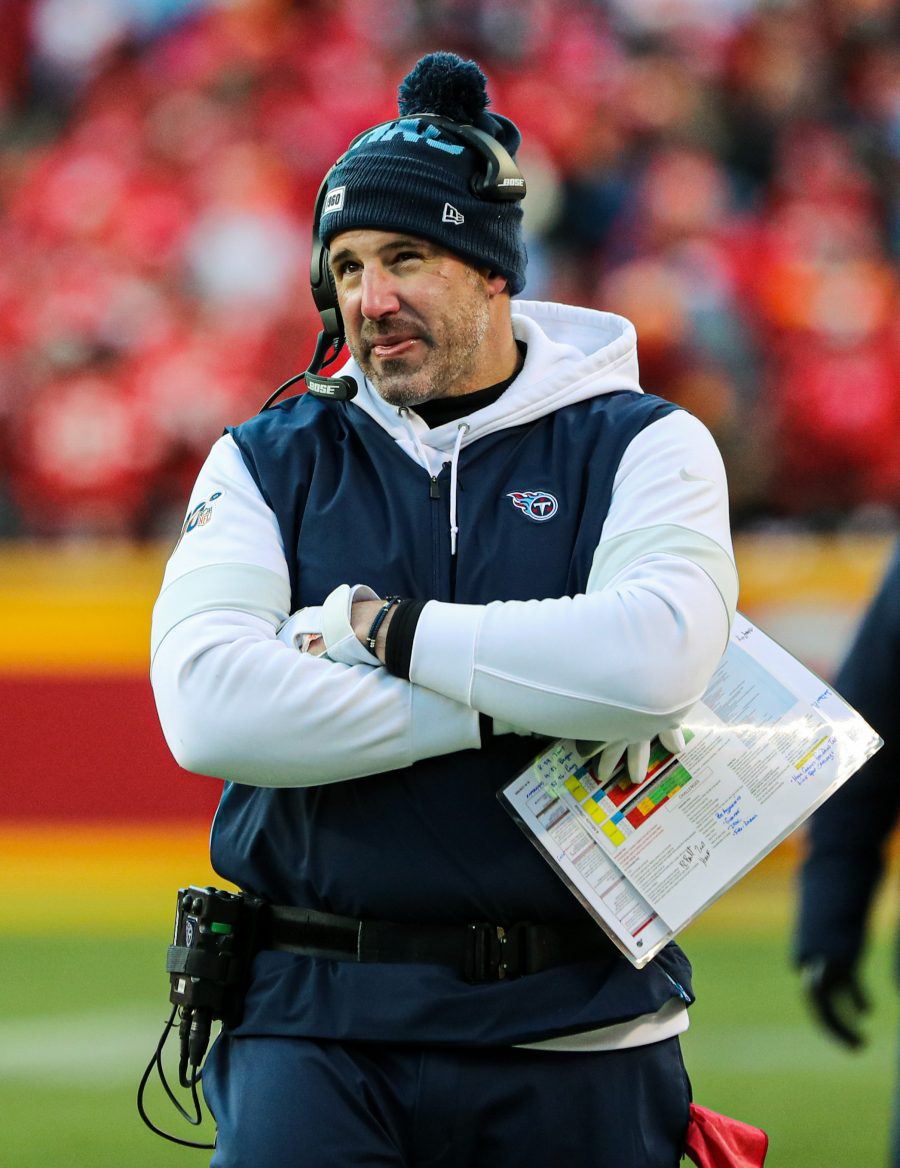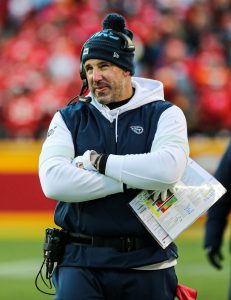 Vrabel, 47, and Matt LaFleur helmed shorthanded teams to No. 1 seeds last season, but LaFleur had Aaron Rodgers buttressing that effort. At one point, Vrabel's team was playing without Henry, A.J. Brown and Julio Jones. Each also missed parts of other games, yet the Titans ripped through a stretch in which they won five straight games against teams that went to the 2020 playoffs. Vrabel does not call plays, but there is now an extended sample size of Tennessee reeling off winning seasons — the last two producing more than nine victories, an ever-present Titans hurdle during the late 2010s — that cannot be ignored when discussing Vrabel's value.
Robinson hired Vrabel despite the ex-Patriot linebacker/goal-line specialist only having one year of NFL coordinator experience, and that season came when the Texans' defense struggled. The hire has proven to be a good one. As for Robinson, the ex-Buccaneers and Patriots exec has hits and misses.
The Titans withstood the Wilson whiff, the group of OLB misfires and managed to secure a bye despite the Jones deal not panning out. This season may provide the verdict if the Henry extension was right, but that may already be a win considering 2020's 2,000-yard showing. Taking Tannehill off the Dolphins' payroll for fourth- and seventh-round picks was easier as Miami was gutting its roster in 2019, but the former first-rounder has done the most to keep the Titans afloat after Marcus Mariota's injury-aided descent. How the Brown-for-Burks call goes will be another key Robinson legacy point, however.
While edge defenders passed Aaron Donald on his previous Rams contract, no interior D-lineman did. Donald's new deal ($31.6MM per year) has created a gargantuan gulf between one player and the field at a position. Just as the quarterback market did when Patrick Mahomes was tied to a deal $10MM north of anyone else (due to a 10-year contract), Donald being $10MM north of the rest of the NFL's D-tackles will not last. The Titans look to have the player set to bridge the gap.
After his first Pro Bowl season, Simmons is set to command a contract that could approach $25MM per annum. His minicamp hold-in effort signaled a desire for a new deal now, but for players with fifth-year options, teams like to wait until after Year 4 for extensions. The 2019 first-rounder broke through for 8.5 regular-season sacks and 12 tackles for loss, before destroying the beleaguered Bengals interior O-line for three more sacks in the playoffs. Simmons, 25, profiles as the top candidate to bring the D-tackle field closer to Donald, creating potential complications when his negotiations begin. Leonard Williams and DeForest Buckner are currently the second-highest-paid interior D-linemen, tied to $21MM-AAV accords.
Top 10 cap charges for 2022:
After the Falcons, Packers and Vikings adjusted their quarterbacks' cap hits, Atlanta doing so by trading Matt Ryan, no NFLer's 2022 cap figure tops Tannehill's. The 11th-year QB counted only $11.1MM toward Tennesse's cap in 2021. Two seasons remain on his four-year, $118MM extension — now a lower-middle-class QB contract. But the deal does call for big cap hits in 2022 and '23 ($36.6MM). Tannehill's 2022 season will probably determine if he receives another Titans extension, while obviously playing the lead role in this year's team overcoming a tough offseason.
From Simmons to Byard to a cornerback group full of highly touted prospects, young talent is present in Tennessee. While the AFC South is either this year's third- or fourth-strongest AFC division, higher hurdles exist between the Brown- and Landry-less Titans and an approach of last year's 12-5 record. If the new faces at receiver and on the O-line cause a Tannehill step back, the Titans could be in line for a major roster shift in 2023.
Follow @PFRumors