Already making splash moves to bolster their team during the spring, the Eagles squeezed in some more during the late-summer trade window. With the Cowboys battling significant injury questions, an Eagles team that entered last season off the playoff radar has become a trendy pick to pack their home greens for a playoff game.
Considering where this franchise was coming out of the 2020 season, its current position is fascinating. One big trade moved the needle, but GM Howie Roseman — amid heavy staff turnover — led a reload effort that may have the Eagles poised to make another leap in 2022.
Trades:
The Packers' Davante Adams trade became the biggest sliding-doors moment at the receiver position this offseason, as that deal impacted at least four teams due to Tyreek Hill's new contract demands following that swap. But what went down regarding the Eagles' upgrade is not too far behind here.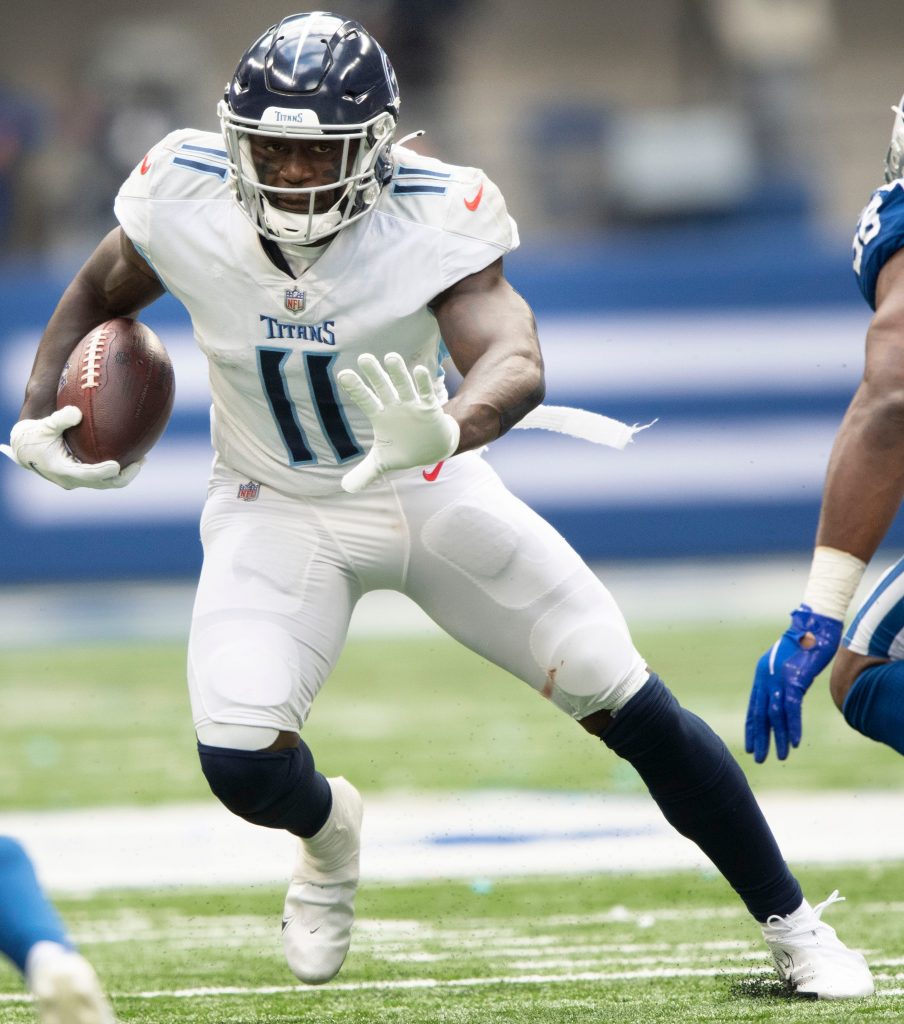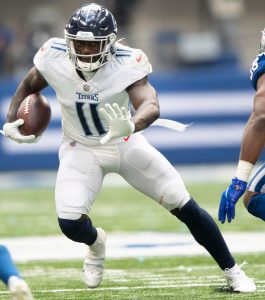 After using first- or second-round picks on wideouts in three straight drafts, the Eagles returned to the veteran market to address a spot that remained a need area. The Eagles pursued Allen Robinson and Christian Kirk and were involved in the DeVante Parker trade talks. But the Rams and Cardinals, respectively, blew Robinson and Kirk away with their offers and left the Eagles still searching. Before those pursuits, Philly nearly finalized a deal for Calvin Ridley. The Falcons wideout's gambling suspension may have changed the NFL offseason, as Brown is almost certainly not Pennsylvania-bound if that trade goes through. The Ridley near-miss occurred before Titans GM Jon Robinson and HC Mike Vrabel made statements indicating a high likelihood of Brown being a long-term Nashville resident.
When the Eagles came through with their blockbuster deal during the first round, it shook up both Philly's receiver situation — as the franchise's biggest receiver move since the 2004 Terrell Owens acquisition — and essentially set the market for several teams employing 2019 receiver draftees. In the months that followed, Terry McLaurin, D.K. Metcalf, Deebo Samuel and Diontae Johnson cashed in. But none topped where the Eagles went for their new weapon.
The Eagles' $25MM-per-year extension came in well above where Brown said the Titans were willing to go — below $20MM AAV — for their top receiver, and the $56MM Philadelphia guaranteed Brown at signing topped Hill, Adams and every other receiver's deal. The team swung and missed on Arcega-Whiteside and Reagor and decided to pay up to fix the problem. Brown and DeVonta Smith represent one of the NFL's most intriguing receiver duos — one that will help Philly's front office better gauge Jalen Hurts' trajectory.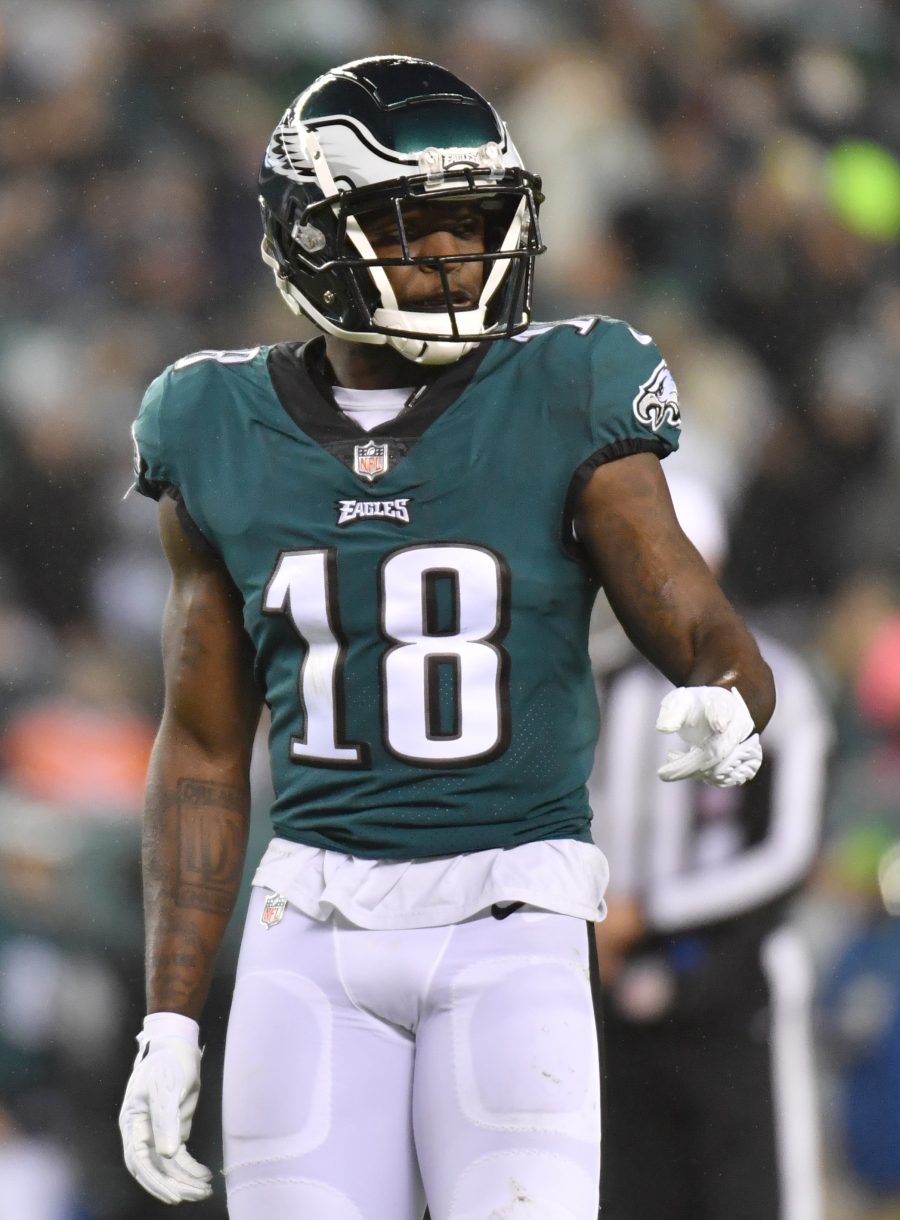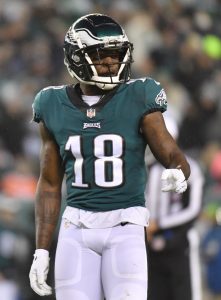 Brown, 25, is coming off his worst season (869 receiving yards, five TDs, four games missed) but began his career with consecutive 1,000-yard slates. His run-after-catch skills — which became evident when the second-rounder produced an NFL-leading 8.8 YAC per reception in as a rookie, according to Next Gen Stats — played a major role in Ryan Tannehill's 2019 resurgence and helped the Titans to the AFC championship game. Brown has not approached that year's 20.2 per-catch average, but the Eagles are banking on him anchoring their passing attack. They have not had a 1,000-yard wide receiver since Jeremy Maclin back in 2014. Brown, who goes 6-foot-1, 226 pounds, would seem to complement Smith well. How much of a difference will this make for Hurts?
It made a difference in how the Eagles handled Reagor. After trade buzz would not go away, Philly dealt its underwhelming first-round receiver to Minnesota this week. Despite carrying Reagor through to their 53-man roster, the Eagles bailed on the player they took one spot in front of Justin Jefferson two years ago. Roseman and Eagles coaches are believed to have won out over a scouting preference for Jefferson. However that process went down, Reagor did not come close to living up to his No. 21 draft slot.
Only $2MM in 2022 dead money came with the transaction, and the Eagles are better equipped to handle losing an auxiliary weapon this year. Reagor did not top 400 yards in either of his Eagles seasons, and while a reeling Carson Wentz and a run-oriented Hurts did not present great circumstances, Reagor showed nary a glimpse of the talent he displayed at TCU.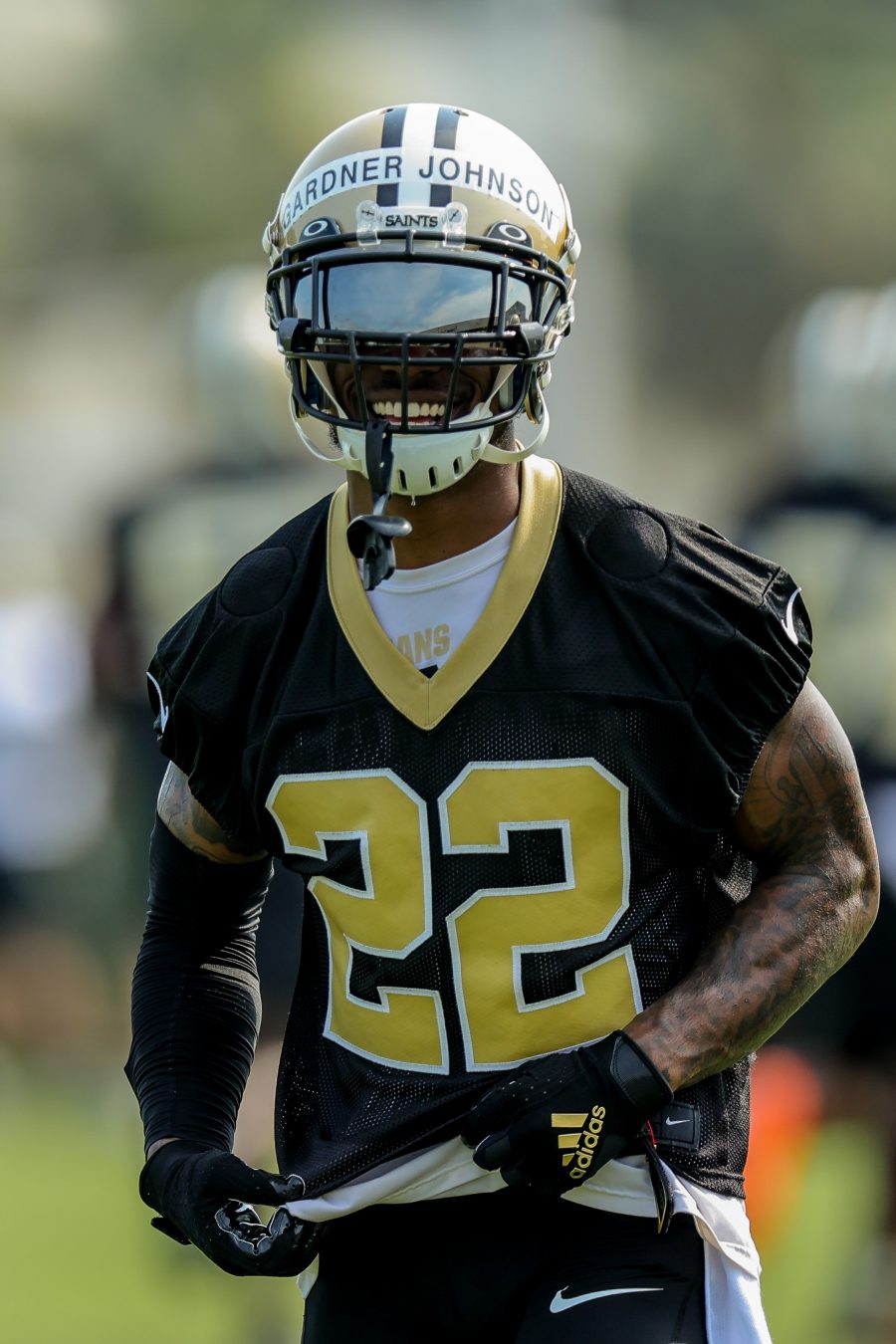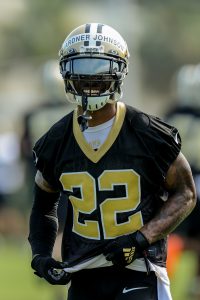 Roseman made two offseason trades with the Saints. The first of which befuddled most due to it involving only draft picks weeks ahead of the draft. The move stripped one of the Eagles' three 2022 first-rounders away, aiding the Saints' two-pronged receiver-acquisition effort (which turned into Chris Olave). The deal set up the Eagles for 2023, when they will enter a second straight draft with two first-rounders. That draft class is expected to house a much better quarterback crop compared to 2022's heavily scrutinized contingent.
If Brown's arrival cannot sufficiently elevate Hurts as a passer, the Eagles will have ammo. Of course, a few other teams with foggy long-term QB pictures — the Lions, Seahawks and Texans — will likely be linked to first-round passers as well. All three, per oddsmakers and the general consensus, are projected to finish with worse records than the Eagles in 2022. Still, this trade raises the stakes for Hurts' third season.
Philly and New Orleans' second trade filled what became a glaring need. After deeming Anthony Harris and Jaquiski Tartt unworthy of a starting job alongside the ascending Marcus Epps, the Eagles revisited the Saints pipeline. With the Saints and Gardner-Johnson roughly $4MM per year apart in extension talks, the Eagles not only traded for the contract-year defender but will change his job description. The multiyear New Orleans slot cornerback will be a safety in Philly.
Although this gives the Birds a well-rounded secondary, it will be interesting to see how Gardner-Johnson, 24, transitions. The Eagles' bet paying off will lead to the elite agitator's price rising, as safeties far out-earn slot corners. Eagles-Saints connections were present before this trade as well. The Birds had made a competitive offer for ex-CJGJ teammate Marcus Williams (who signed with the Ravens) and met with eventual New Orleans signee Tyrann Mathieu.
Instead, the Eagles now have two contract-year safeties. Roseman's first cutdown-week trade working out would not leave many weaknesses in what is looking like one of the NFL's best starting lineups. Free agency began the team's run of 2022 upgrades.
Free agency additions:
Defensive line play was at the forefront of the Eagles' Super Bowl LII victory. Its 2022 group may not have those capabilities, but for depth purposes, Philadelphia has assembled an intriguing arsenal up front. Reddick rounds out a cadre that still houses Super Bowl bastions Brandon Graham, Fletcher Cox and Derek Barnett. Javon Hargrave, Jordan Davis and Josh Sweat flank the 2010s first-rounders. Making this a five-first-rounder D-line reminiscent of recent San Francisco and Washington fronts, Reddick rounds out what could be one of the NFL's most imposing two-deeps at any position.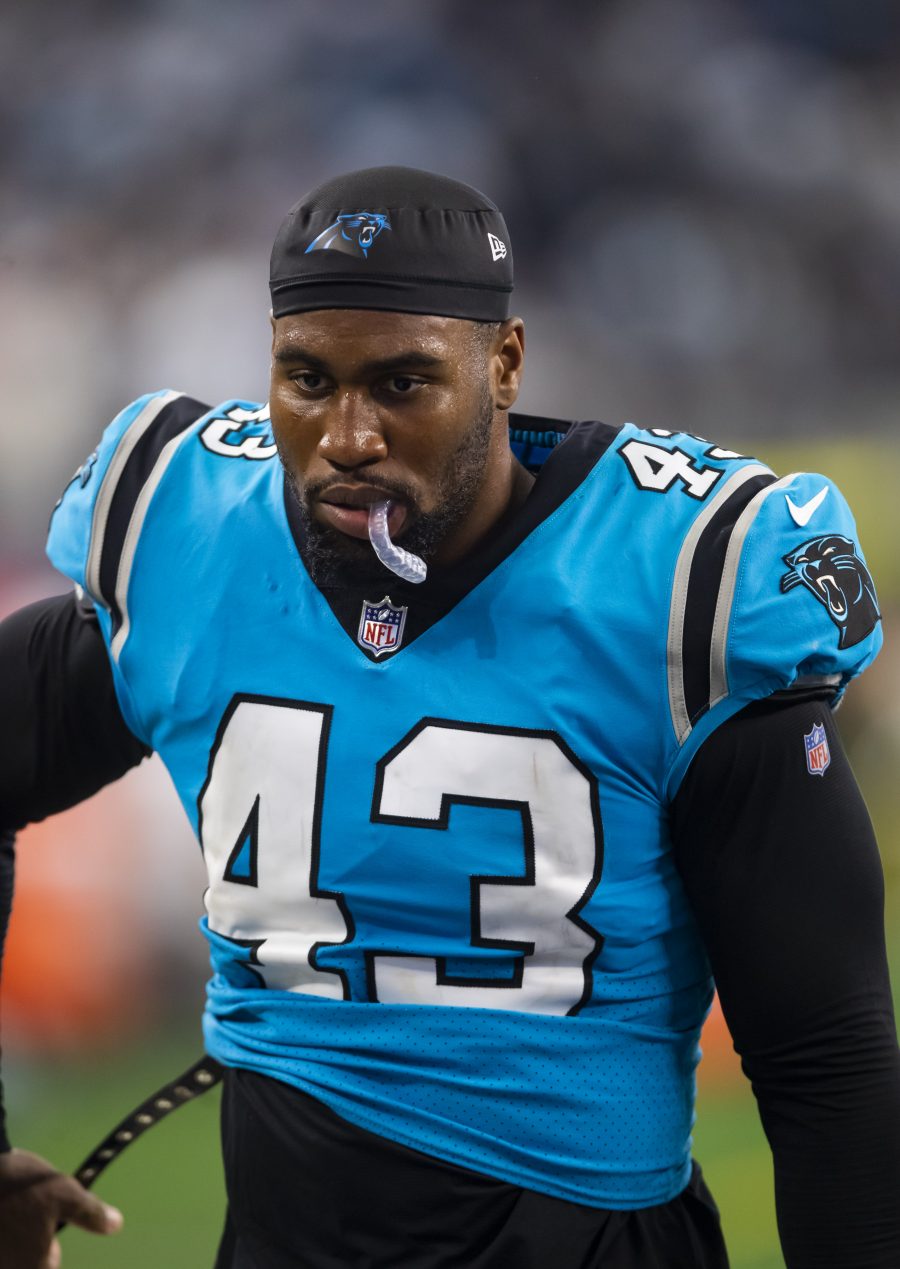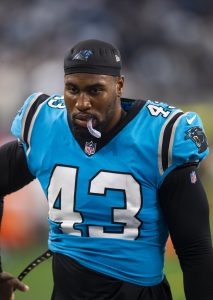 The Cardinals miscasting Reddick as an off-ball linebacker nearly threw the first-rounder's career off course, but Reddick proved in 2020 his college edge-rushing chops were legit. Reddick's Carolina showing (11 sacks, 33 pressures) revealed his late breakout was not a contract-year fluke, and Philly guaranteed the ex-Temple Owl two years. Reddick, 27, benefited from rushing opposite Brian Burns last season and should be aided by the Eagles' depth this year. The sixth-year pro also figures to help out his new teammates.
More of a zone corner, Bradberry was perhaps the central piece in lifting Patrick Graham's first Giants defense to a wildly unexpected result (ninth in points allowed). The ex-Panther earned a Pro Bowl for his 2020 work, and although Bradberry's yards per target and passer rating as the closest defender figures rose last season, the Eagles present a much better environment. Darius Slay will be the best cornerback Bradberry has played with, and the seventh-year vet cited Philly's D-line when explaining why he committed. The Eagles were in on Stephon Gilmore, and the Texans were deep in talks with the Giants on a Bradberry trade. Instead, Bradberry (seven INTs since 2020) will be a No. 2 corner and attempt to secure one final payday — via Eagles extension or in free agency — ahead of his age-30 season in 2023.
White, who broke out during his Chargers contract year (144 tackles, two INTs, two forced fumbles), should be an upgrade on Alex Singleton and help what has been an Eagles weak spot. Pascal, who was with Sirianni for three seasons in Indianapolis, became an essential Colts target as the team dealt with T.Y. Hilton and Parris Campbell injuries. An Old Dominion-produced UDFA, Pascal has two 600-plus-yard seasons — one of which in a Jacoby Brissett-quarterbacked offense — on his resume. With Reagor out of the picture, Pascal should be the team's top backup.
Re-signings: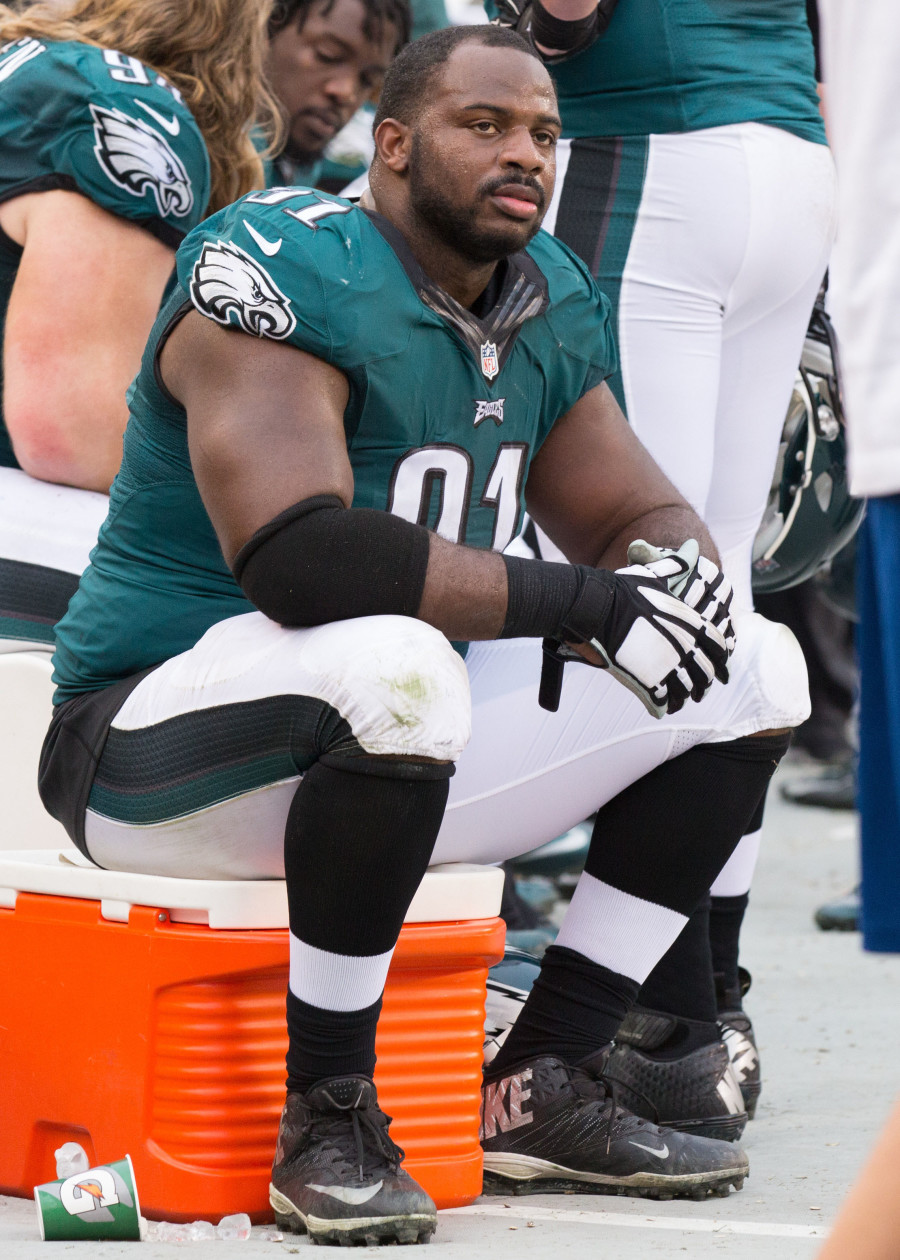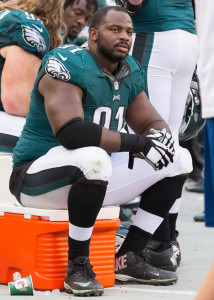 While competition from Chris Jones and Cam Heyward emerged, Cox has probably been the NFL's top non-Aaron Donald defensive tackle over the course of the Rams all-timer's career. At 31, Cox is slowing down, and the Eagles cut him rather than trigger an $18MM guarantee. Pro Football Focus graded the perennial Pro Bowler as a top-10 D-tackle from 2015-19 but has dropped him in class in the 2020s. But the ensuing $14MM guarantee illustrates the market that formed for Cox during the two-day window between his second and third Eagles contracts.
Cox complained about Jonathan Gannon's defensive scheme last season, after the team's rough start against opposing QBs, and the Eagles used their top draft choice on an heir apparent (Jordan Davis). But the 11th-year veteran is one of the greatest players in Eagles history. Having him around for what could be a high-ceiling season is probably a good idea. D-tackle buffs will likely enjoy what appears an era overlap between Cox and Davis — one that may only last a season.
Barnett also made for a somewhat surprising returnee. The former first-round pick has not lived up to that status, his Super Bowl fumble recovery notwithstanding, but he collected a decent guarantee despite a two-sack (in 16 games) 2021. Barnett (21.5 career sacks) is set to be a fourth edge rusher on this second Eagles accord, marking a demotion. The Eagles have their top four defensive ends and top two D-tackles tied to veteran contracts, counting as the NFL's fifth-most-expensive D-line ($47.14MM against the 2022 cap). Teams with rookie-QB contracts can afford such luxuries, but Roseman has flooded the payroll with O- and D-line contracts for years.
Notable losses:
The Eagles welcomed Cox back but bid farewell to two other Super Bowl starters, in Brooks and McLeod. When healthy, Brooks was one of the league's best guards. The mammoth blocker played a pivotal role in a Jason Peters-less O-line helping Nick Foles mount one of the most surprising stretches in the quarterback position's history. Although Brooks secured a monster extension (four years, $56.3MM) in 2019, as Roseman took care of nearly his entire O-line, his body betrayed him on the second Philly deal. Brooks played just two games in the 2020s. McLeod, 32, also signed two Eagles contracts — though, he took a 2019 pay cut — and started 75 games with the Eagles. He outlasted Malcolm Jenkins in Philly, but Gardner-Johnson will likely be an upgrade. McLeod signed a one-year, $1.77MM Colts contract.
Draft: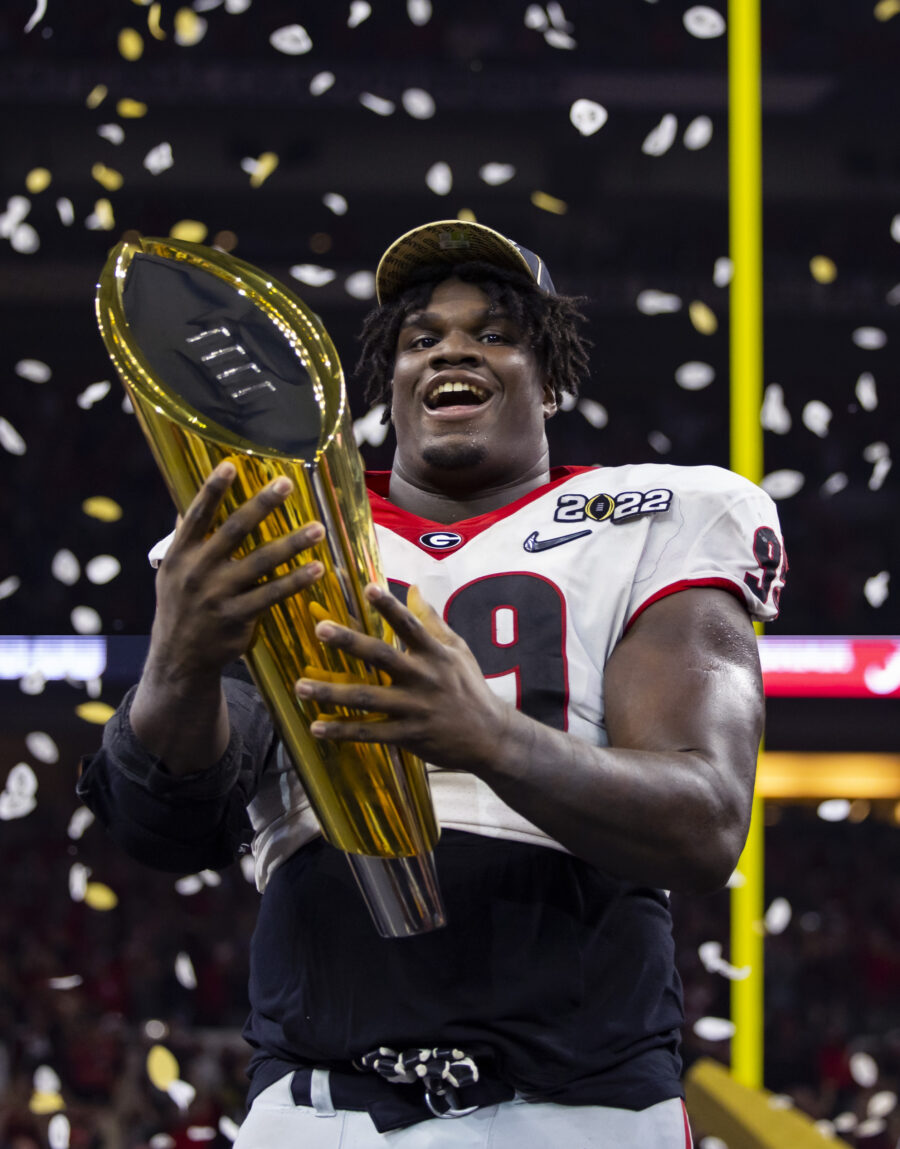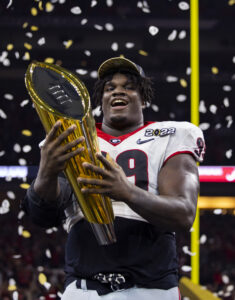 It seems crazy now, but the Eagles pried first- and second-round picks from the Colts for Wentz. Coupled with the deal that allowed the Dolphins to trade up for Jaylen Waddle last year, Roseman entered this offseason with flexibility. The Eagles turned their three picks in the teens this year into Brown, Davis and future first- and second-rounders.
A nightmare blocking assignment at Georgia, Davis dropped a preposterous 4.78-second 40-yard dash Combine clocking to solidify first-round status despite not representing much of a pass-rushing threat. The nose tackle still profiles as an impact player for the Eagles, given the matchup issues he can cause for offensive lines. Anchoring a Georgia defense that produced five first-round picks, Davis finished ninth in the Heisman voting after a two-sack, five-TFL season. That says enough about the capabilities the 341-pound inside presence offers.
With Cox and Hargrave back, Davis can be eased into duty. But the Eagles have a rare weapon on their hands. Given Davis' skillset in a game increasingly geared toward the pass, it will be interesting to see how Gannon and Co. deploy their unique interior presence. Like Cox, Hargrave is playing on an expiring contract. These statuses point to Davis being turned loose in 2023. For 2022, he stands to serve as one of the NFC title race's biggest (literally) wild cards.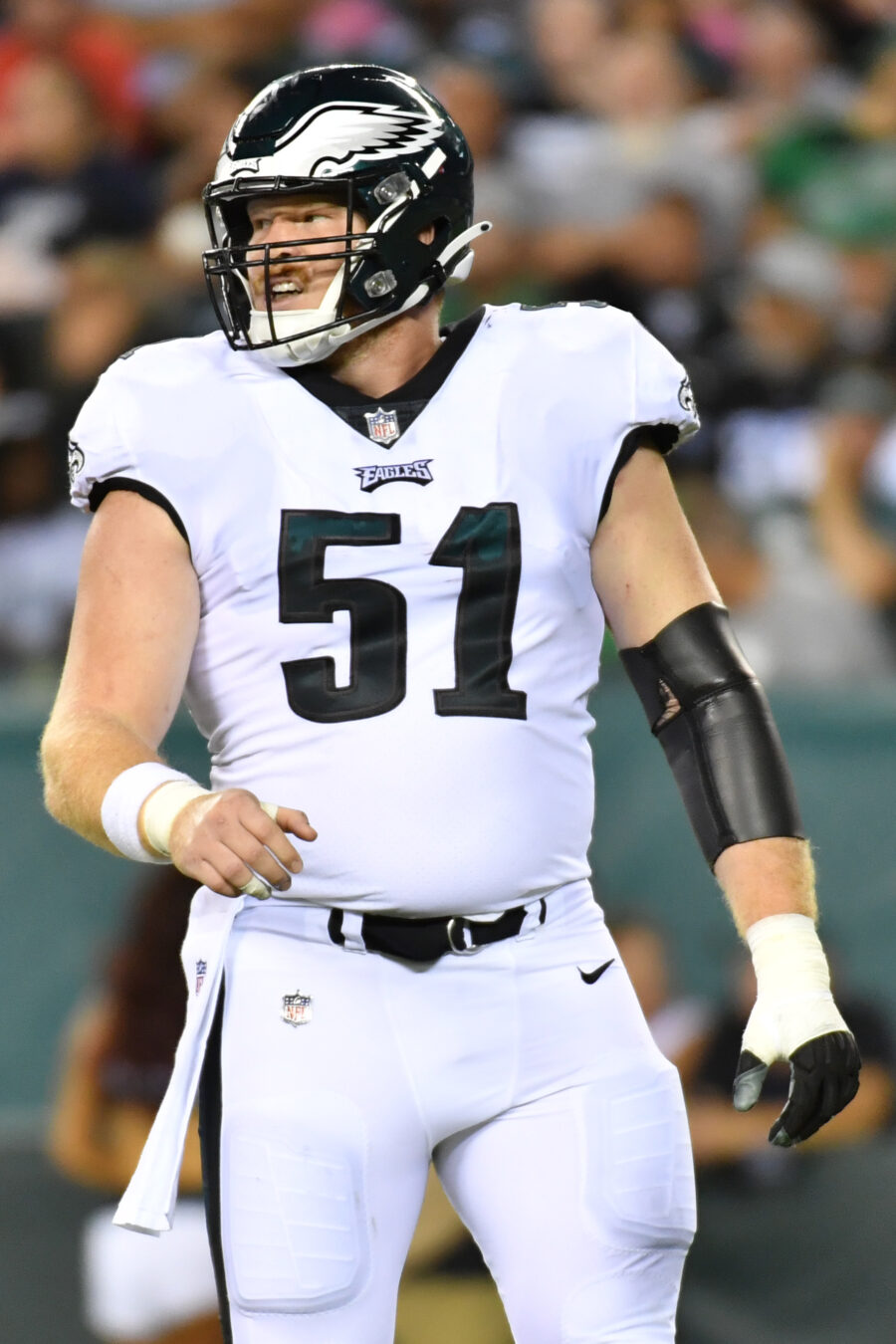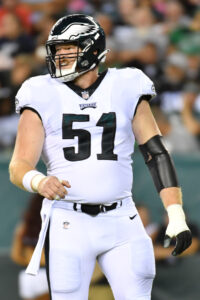 The Eagles have now taken potential Jason Kelce successors with their past two second-round picks. After moving Alabama center Landon Dickerson to guard, the Eagles are slotting Jurgens as the potential Hall of Famer's heir apparent.
During Roseman's time as GM, the Eagles have used five first- or second-round picks on O-linemen (Jurgens, Dickerson, Andre Dillard, Lane Johnson, Danny Watkins) and handed out several big-ticket extensions to reinforce the front — a group also bolstered by free agency (Brooks), trades (Jason Peters) and via fliers on rugby talent (Jordan Mailata). Jurgens has been working as Philly's first-stringer for weeks now, with Kelce undergoing elbow surgery in early August. The ex-Cornhusker represents an intriguing swingman behind the Kelce-Dickerson-Isaac Seumalo interior.
Dean looks set to play behind White and holdover T.J. Edwards, but each of those players is tied to through-2022 contracts. That gives the team a fairly blank slate at linebacker beyond this season. Dean — the Butkus Award winner and a first-team All-American who did plenty to drive the Bulldogs to their championship, despite his injury-fueled draft nosedive — would stand to fill that void. He and Davis will stay teammates for a while — likely as full-time starters, by 2023 at the latest — but the Eagles will need to make some determinations at linebacker in 2023. They have not exactly invested much at this position since the Mychal Kendricks and Nigel Bradham days.
Extensions and restructures: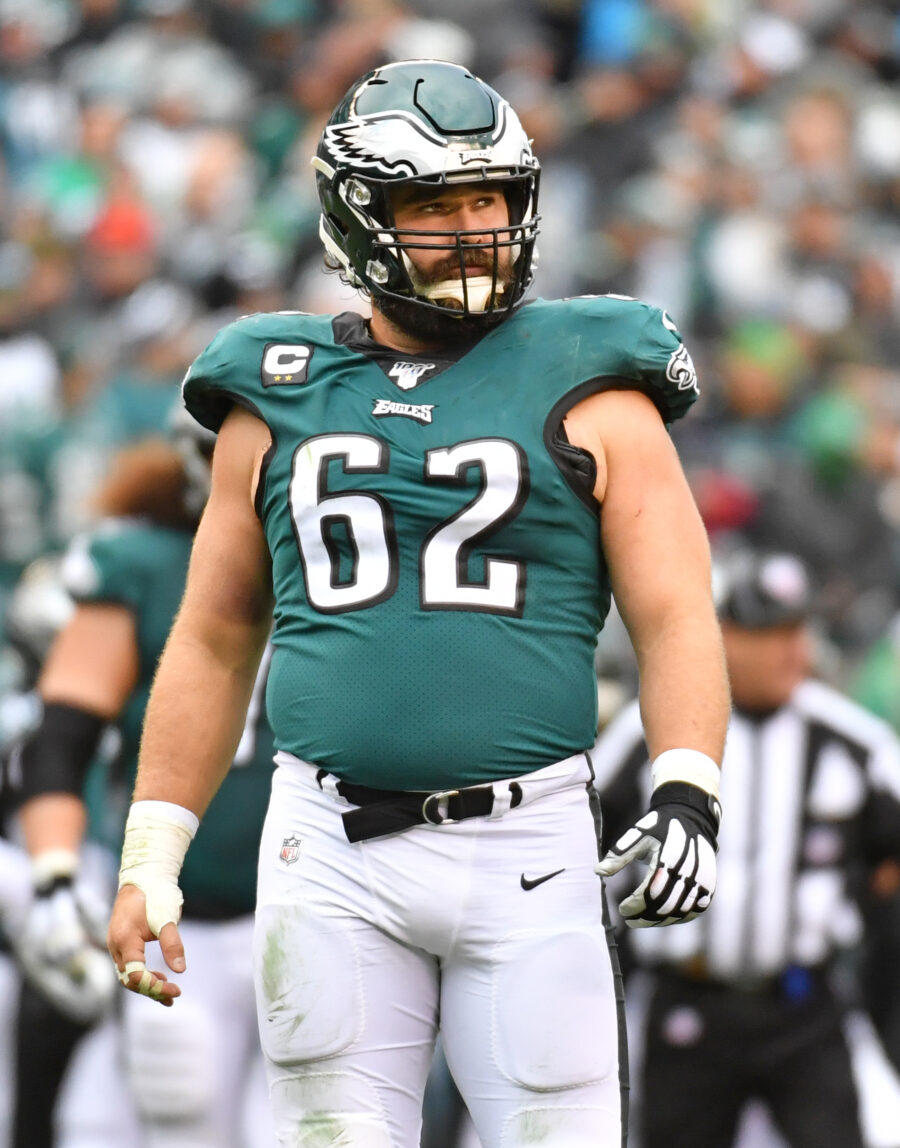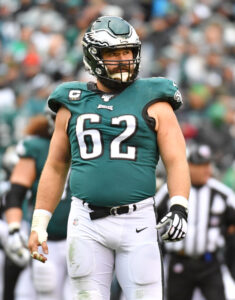 Kelce and Cox each being tied to $14MM guarantees for 2022 is fitting given their career overlap and enduring importance to the franchise's interior lines. Kelce, 34, announced March 10 he was coming back for a 12th season. He had considered retirement, but the elder of the NFL's Hall of Fame Kelce candidates returned and signed his new deal March 11. While the Eagles have bid farewell to Brooks and Peters, Kelce and Johnson staying in place up front is a boon for the Hurts-driven ground attack.
Kelce's deal includes three void years to spread out cap hits. If Kelce remains on the team by June 2, 2023, a chunk of 2024 guaranteed money will emerge. Barring a steep decline this season, the Eagles would surely take him back for next season, but it remains to be seen if Kelce will keep going. How Philly's Super Bowl window looks after 2022 may matter here.
During Kelce's tenure, the Eagles have produced a rushing champion (LeSean McCoy), made the playoffs with three quarterbacks at the helm and last season became the first team since the 1985 Bears to hit 175 rushing yards in seven straight games. Kelce was 1-for-5 in Pro Bowl honors to start his career, not looking like someone who would end up on the Canton radar. But his run of four first-team All-Pro nods over the past five seasons — a span during which he did not miss a game — and role for the Eagles' Super Bowl team has moved him to that perch. While Kelce underwent August elbow surgery, his ironman streak (zero missed starts since 2014) suggests he will be out there for his team in Week 1.
Other: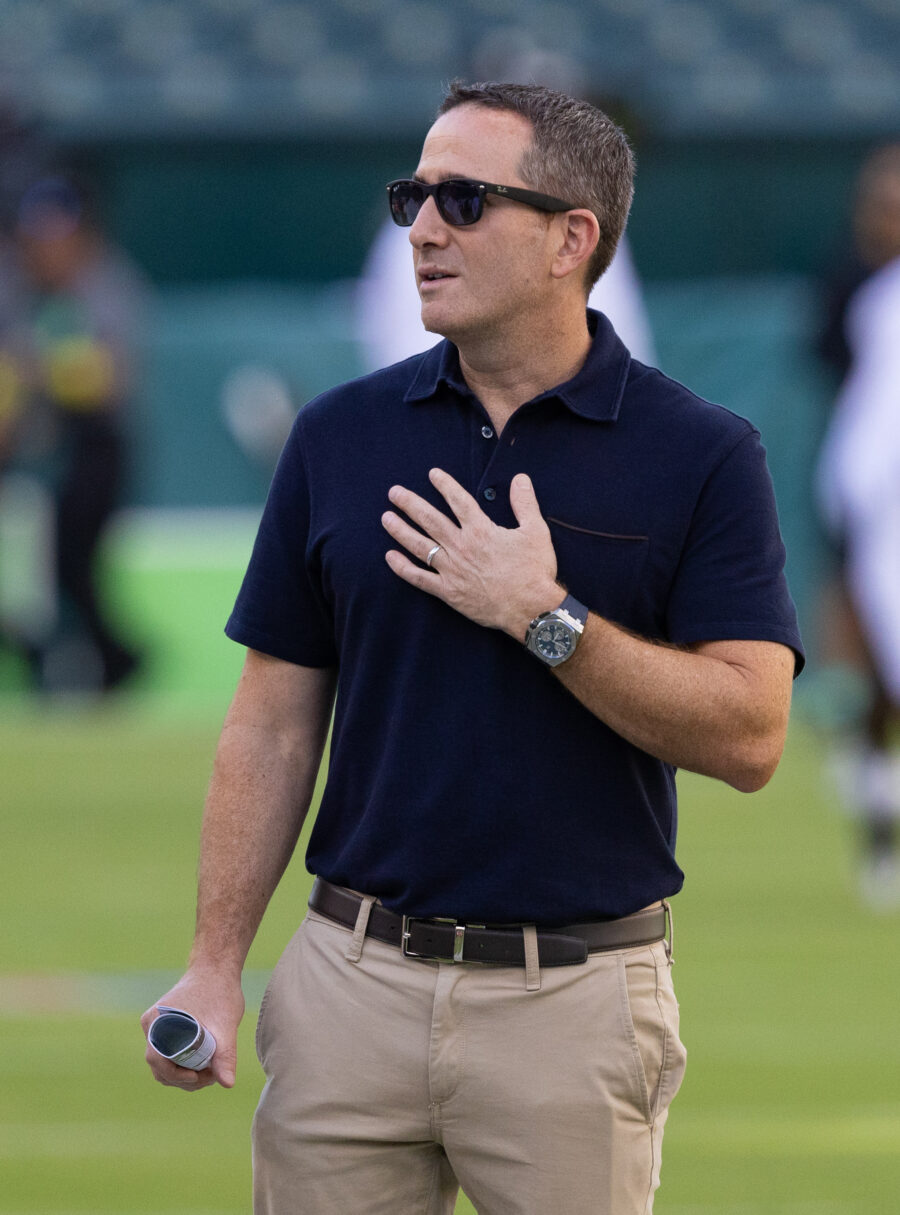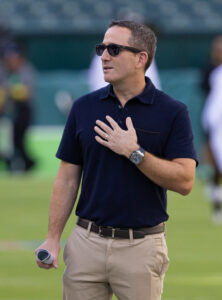 Eagles personnel moves going forward will be interesting, with Roseman's recent brain trust largely gone. Brown and Cunningham were only with the Eagles since 2017, but each had risen to prominent posts. The elder of the two Weidls (Andy) arrived in 2016, and Raiche was hired in July 2019. It would surprise if multiple members of this quartet were not GMs by the mid-2020s. The Vikings already interviewed Raiche for that role this year, breaking a long-formed barrier — since the Eagles employed Susan Tose Spencer in that role in the early 1980s — in the modern NFL.
Donahoe, however, has decades' worth of experience and had been with the Eagles since 2012. Individually, these losses should not sting too much. But them coming all in one off season — and not too long after Roseman lieutenants Joe Douglas and Andrew Berry became GMs — is obviously notable. Being a launching pad for front office talent, the Eagles are starting over at a key point.
Roseman had not used the assistant GM title in years, and execs who now hold it are not coming from the scouting side. Russell and Hunt will supply that experience, being key FO lieutenants for many years in Denver and Pittsburgh. Russell was John Elway's right-hand man in Denver almost throughout the latter's GM run. While the Broncos fell off their contender pace in the late 2010s, they did make a rare transformation from offensive superpower to defensive force within a two-year span to venture to Super Bowls with vastly different roster strengths. Russell served as an essential component there. Hunt was with the Steelers as their pro scouting director since 2010. Among internal candidates, the Steelers only considered he and Omar Khan to replace Kevin Colbert. Khan landing the job and hiring Weidl opened the door to Hunt relocating.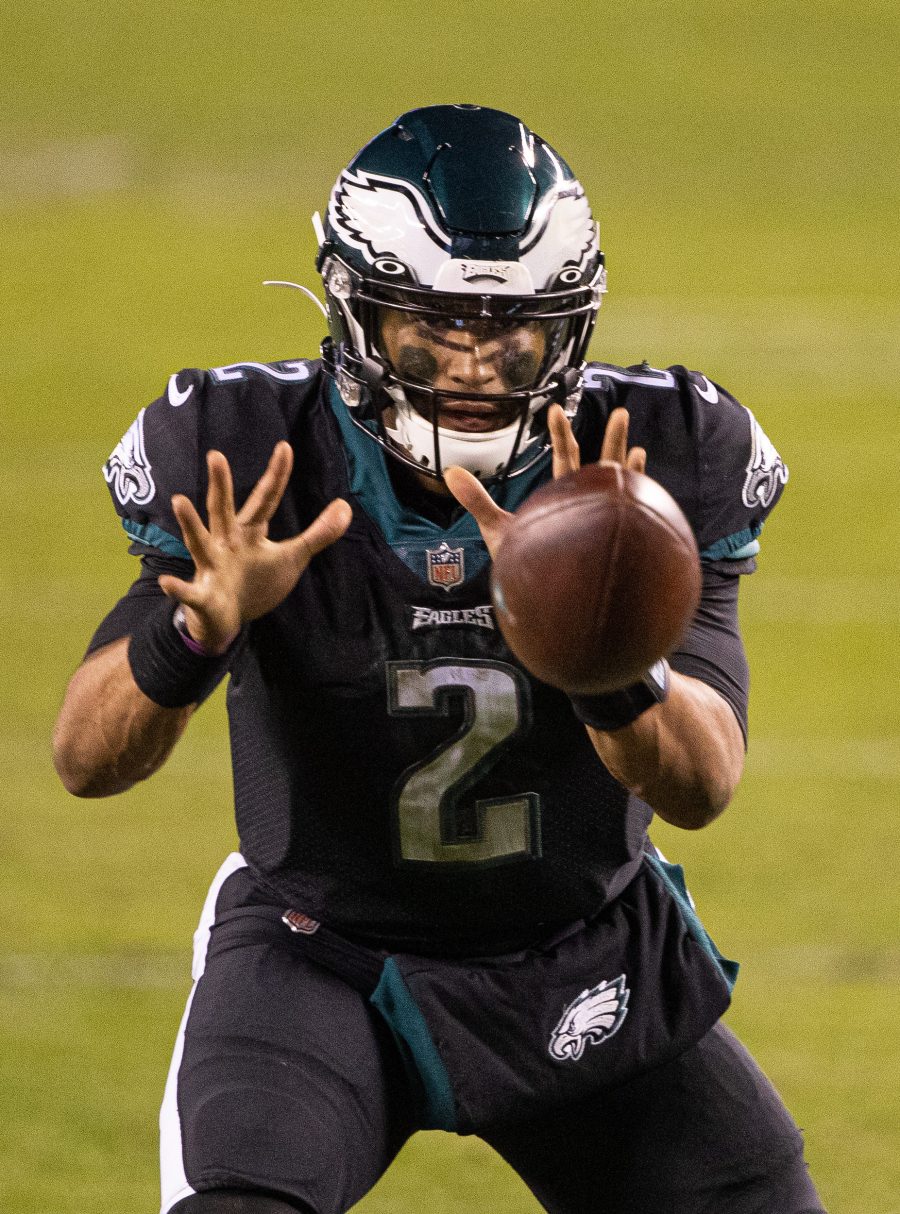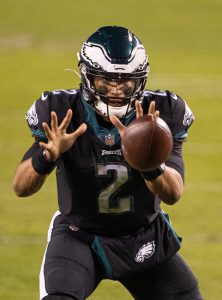 As their front office was splintering, the Eagles did do background work on Wilson and Watson. They were connected to Watson since last season, sending an investigator to Houston to study this complex situation, but the embattled quarterback did not waive his Texans no-trade clause for Philadelphia. Ditto Wilson, who did not include the Eagles on his February 2021 destination list or the amended one that added the Broncos and Giants.
Because the Watson and Wilson markets veered elsewhere, Hurts stayed at the forefront of the Eagles' plans. But a report last season indicated Roseman and Jeffrey Lurie were split regarding the former second-rounder's future. Lurie directed the Eagles to avoid bringing in competition for Hurts last year, but after two seasons of QB1 work, the Eagles should have an idea if the dual-threat QB can be the answer.
Should Hurts (19th in 2021 QBR) not make strides as a passer this season, more connective tissue between the Eagles and outside arms will form. Hurts also becomes extension-eligible in 2023, and no fifth-year option exists in his contract. The ex-Alabama and Oklahoma starter underwent ankle surgery this offseason, after a midseason injury affected him last year. Improved health should play a role in Hurts' 2022 outlook. The Eagles' roster strength, their recent QB searches and 2023 draft capital makes Hurts' third NFL campaign one of the more fascinating quarterback seasons in recent memory.
Top 10 cap charges for 2022:
Hurts will, naturally, be the leading determinant in the Eagles' viability in the NFC title race. But the upgrades the Eagles made at wide receiver, along the defensive front and in the secondary should make them a bigger factor than the edition which became the second NFC No. 7 seed to lose a noncompetitive wild-card game.
Even if this season still reveals a narrow gap between the NFC's upper crust and Philadelphia, the Eagles deserve credit for transforming from a team potentially staring at a lengthy rebuild — after Doug Pederson's ouster and the drama that led Wentz out of town — to one firmly back in the mix in two offseasons. The combination of Hurts, the core of Super Bowl LII holdovers on the lines and batch of younger outside hires should make this one of the more interesting Eagles seasons in a while. By the end, the franchise should have a much better idea of its long-term direction.
Follow @PFRumors