When the Raiders begin the search for a new head coach and general manager to replace Josh McDaniels and Dave Ziegler, they could have a difficult time attracting the most desirable talent. Per Jeff Howe of The Athletic (subscription required), owner Mark Davis vowed that he would give the duo a minimum of three years to return the Raiders to contention, but he fired them midway through their second season. Once seen as a patient owner, Davis has undermined his reputation in that regard, and most of the coaches and execs that Howe spoke with believe that the quick trigger will have a negative impact on his search.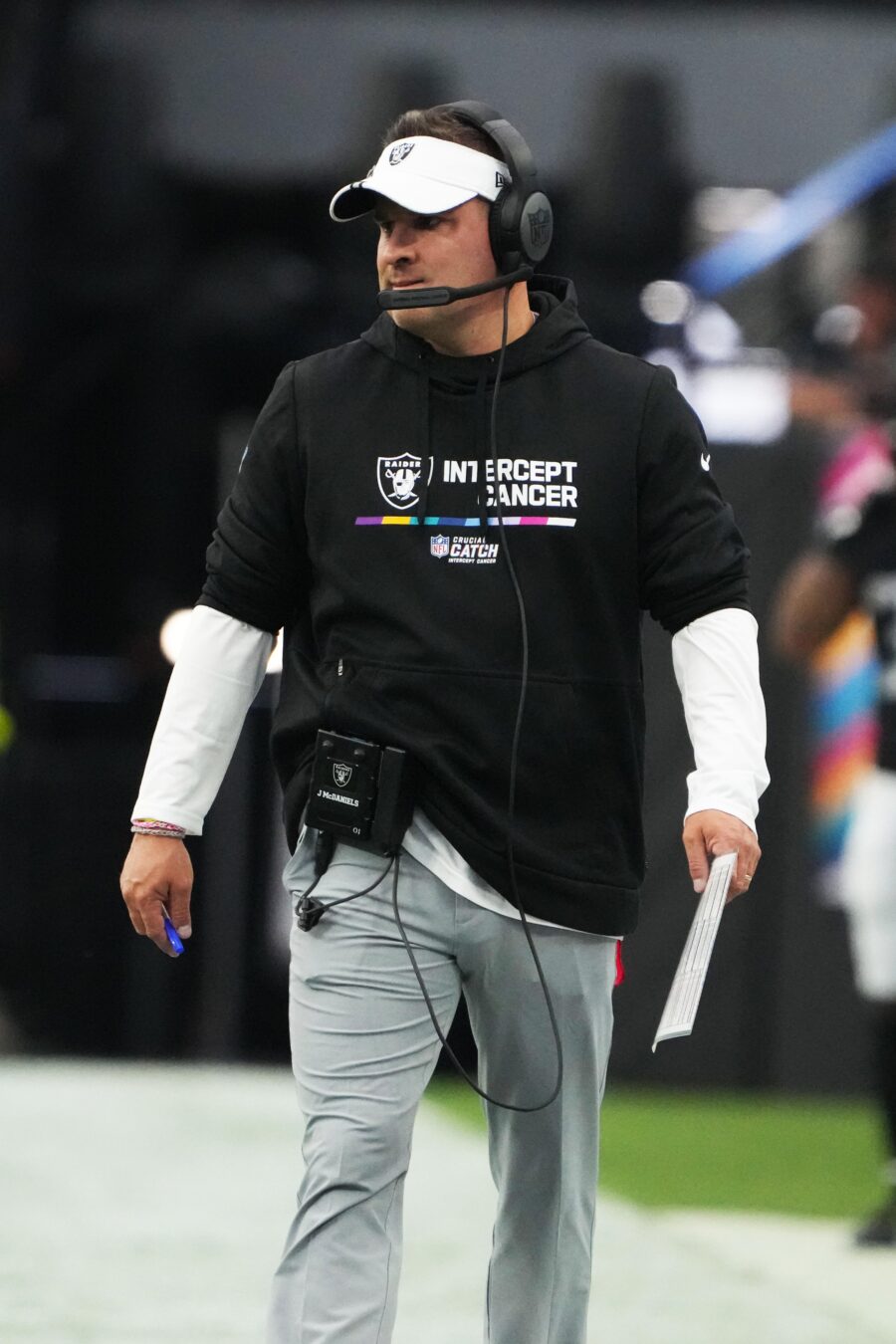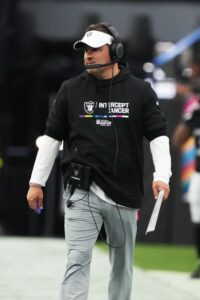 One executive said, "I don't know who you're going to convince to take those jobs. I think Mark Davis made it harder on himself," while another added, "[i]t definitely makes the jobs less appealing."
To be clear, Davis will likely have plenty of candidates to choose from thanks to the desirability and rarity of a top job in the NFL coaching and personnel ranks. Still, it would not be surprising for the biggest fish in the upcoming hiring cycle to rebuff Davis' overtures.
"If you're only going to give me two years, just be upfront and honest with me," a rival coach said. "I can handle that. It'd change the entire way you'd try to build the team. If you're thinking about setting up to take off and win by Year 3, that's how you're going to manage your roster."
McDaniels, of course, is a proponent of "hard coaching," and it appears he alienated many Raiders players with his demanding style. As Ian Rapoport of NFL.com writes, players "ripped into" McDaniels during the team meeting in which he allowed his charges to air their grievances, and players were especially critical of (among other things) McDaniels' micromanaging and the way he deflected blame for issues with play-calling. Fox Sports' Jay Glazer adds that interim HC Antonio Pierce attempted to speak on behalf of McDaniels at that meeting, but Pierce's use of the Super Bowl-winning Giants team he played on as an example of what a good locker room culture can do irked McDaniels, who was part of the Patriots squad that lost that title game to New York (video link).
At the following practice, McDaniels attempted to give the players what they wanted by being less involved and not "overcorrecting" by stepping in after every mistake. However, one source told Rapoport that the new approach did not suit McDaniels well, that the head coach looked like "a shell of himself," and that it was clear McDaniels' tenure was coming to an end. Ultimately, McDaniels was unable to recapture the team chemistry that Tony Pauline of Sportskeeda.com believes was destroyed when quarterback and team leader Derek Carr was released earlier this year.
The driving force behind Carr's departure remains a bit unclear. Rapoport's sources say that Davis "led the push" to replace Carr, with McDaniels and Ziegler eventually getting on board, while Pauline says McDaniels was the one who wanted to move on from the franchise's longtime passer. Back in late December/early January, it was reported that the McDaniels-Ziegler regime saw Carr as a poor fit in McDaniels' offense, and that while McDaniels was prepared to let Carr play out the remainder of the 2022 campaign, Davis — who had been "lukewarm" on Carr for some time — wanted the QB to be benched for the last two games of the season.
Even if, as Jonathan Jones of CBS Sports suggests, Davis and the McDaniels-Ziegler duo were aligned on the Carr situation, subsequent quarterback-related missteps accelerated this week's firings (although it should be noted, as Rapoport writes, that former club president Dan Ventrelle agreed to include in Carr's 2022 extension the no-trade clause that undermined the Raiders' leverage when they tried to deal Carr this past offseason. Ventrelle entered into that agreement with Carr's camp prior to speaking with other club officials). We already heard that McDaniels' decision to start former Patriots QB Brian Hoyer over rookie Aidan O'Connell in Week 7 rankled Davis, and obviously the decision to sign another of McDaniels' former pupils, Jimmy Garoppolo, proved to be a poor one, as McDaniels apparently overestimated the ease with which Garoppolo would reacclimate to McDaniels' offense.
On the subject of Garoppolo, Rapoport reminds us that the Raiders were among the teams that tried to trade up for the No. 1 pick in this year's draft, with quarterback Bryce Young the target. However, McDaniels reportedly did not want to "grow with" a rookie signal-caller, so the Raiders stood down while the Panthers catapulted up the draft board to claim the No. 1 spot before free agency opened. McDaniels & Co. acquired Garoppolo shortly thereafter.
It has been an open secret that Ziegler, despite his general manager title, took a backseat to McDaniels in terms of personnel matters. Indeed, Pauline called Ziegler a "glorified scout" and likened the McDaniels-Ziegler pairing to the Jon-Gruden–Mike Mayock partnership that preceded it. So while Pauline reports that Davis will be interested in hiring University of Michigan head coach Jim Harbaugh, it is fair to wonder if that would be the best move for the owner to make. After all, Harbaugh would also want full autonomy over personnel decisions, and like Mayock and Ziegler, any GM brought in along with Harbaugh would be little more than a figurehead.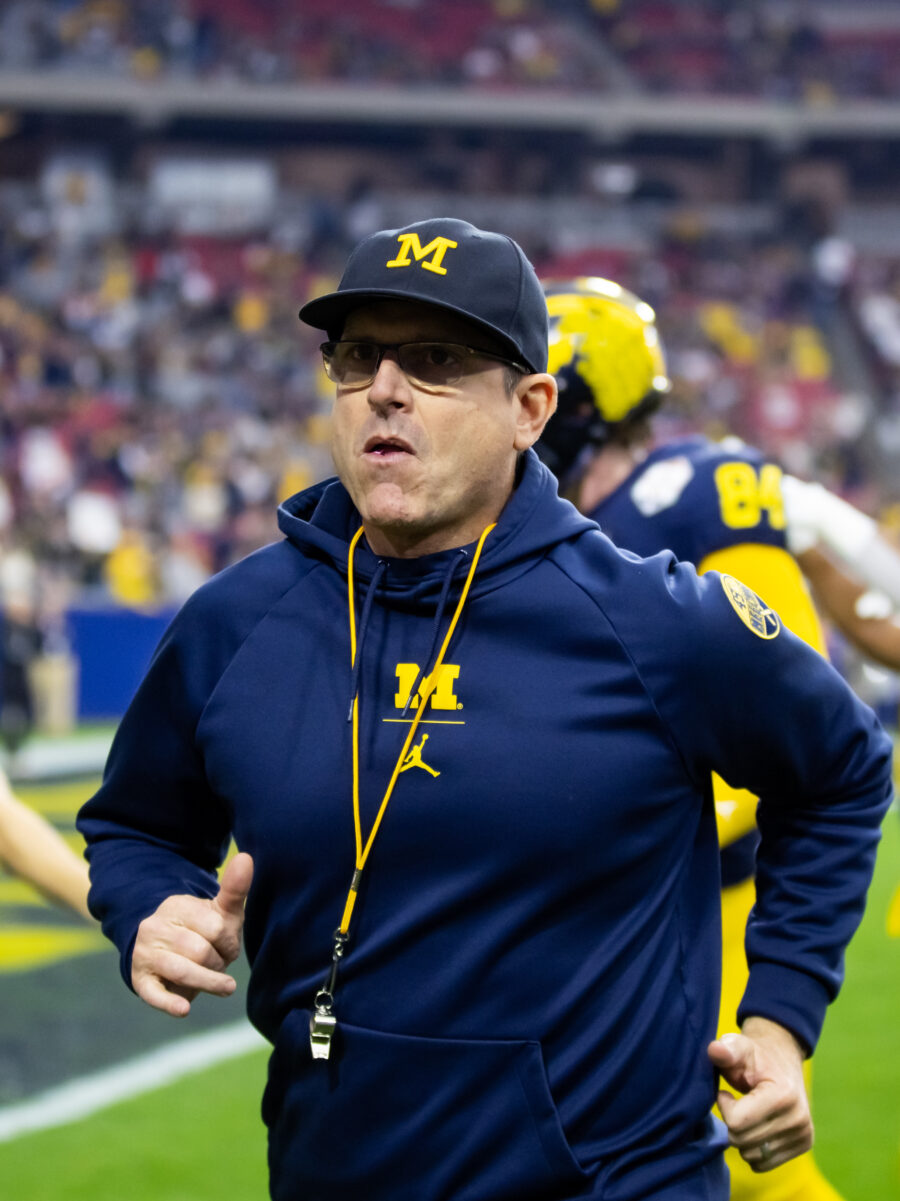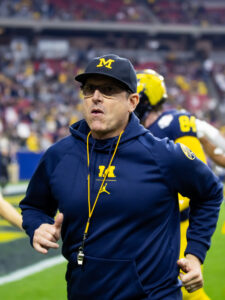 That is to say nothing of the fact that Harbaugh, who is currently dealing with allegations of an elaborate sign-stealing scheme after already having served a three-game suspension this year for alleged recruiting violations, may not be the hot NFL candidate he once was. Per Rapoport and NFL.com colleague Tom Pelissero, the NCAA has not ruled on the alleged recruiting violations or sign-stealing operation — the three-game ban was imposed by Michigan — and the NFL may force Harbaugh to serve any NCAA-ordered suspension should he return to the pros. Mark Maske of the Washington Post, meanwhile, says it is not certain that the league would go that route.
Still, in light of the failures of the two prior regimes, a Harbaugh hire could be a tough sell for Davis. In fact, Jones writes that Davis will be seeking a "player-centric" coach rather than a coach with the hard-nosed styles of Harbaugh, Gruden, and McDaniels. Jones also believes Davis will seek to hire a GM before hiring an HC.
In any event, Davis has promised a "comprehensive search" for a new head coach, and Vincent Bonsignore of the Las Vegas Review-Journal says Davis is being encouraged to hire a president of football operations to aid in the process. Ventrelle was replaced by Sandra Douglass Morgan in July 2022, and Jones writes that Morgan, along with longtime executive Tom Delaney and personnel man Ken Herock, will also offer counsel (though Pauline opines that most of Herock's advice has led to "ruinous" decisions).
Jones echoes his recent report that Tom Brady will also influence Davis' thinking. As expected, Brady's would-be stake in the Raiders was not discussed at the league meetings last month, with Jones and Albert Breer of SI.com reporting that other owners take issue with the bargain price at which Davis is trying to sell a share of his club to Brady. Colts owner and finance committee member Jim Irsay told reporters, including Jori Epstein of Yahoo! Sports, "the number just had to be a reasonable number for purchase price."
Breer adds that Brady's broadcasting contract with FOX is also a hurdle to ratification of the purchase. Understandably, teams do not want anyone with an ownership stake in a rival outfit having the access and obtaining the inside information that broadcasters often enjoy, so much will need to change for Brady to be approved as a minority owner at the next league meetings in December.
Given Davis' deep respect for Brady, it stands to reason that the all-time great will be an important voice in Davis' ear regardless of his ownership status. And while much of the discussion about Las Vegas' changing power structure has thus far focused upon who the next head coach will be, Pauline notes that there is a "groundswell" of support for interim general manager Champ Kelly to retain the GM post on a full-time basis. Kelly, a longtime Bears exec who has experience in both personnel and salary cap matters, has taken a number of GM interviews in recent years, and Davis recently admitted that Kelly might have gotten the Raiders' GM job in 2022 if the package deal of McDaniels and Ziegler had not become available. Jones also names Colts assistant GM Ed Dodds as a candidate to monitor.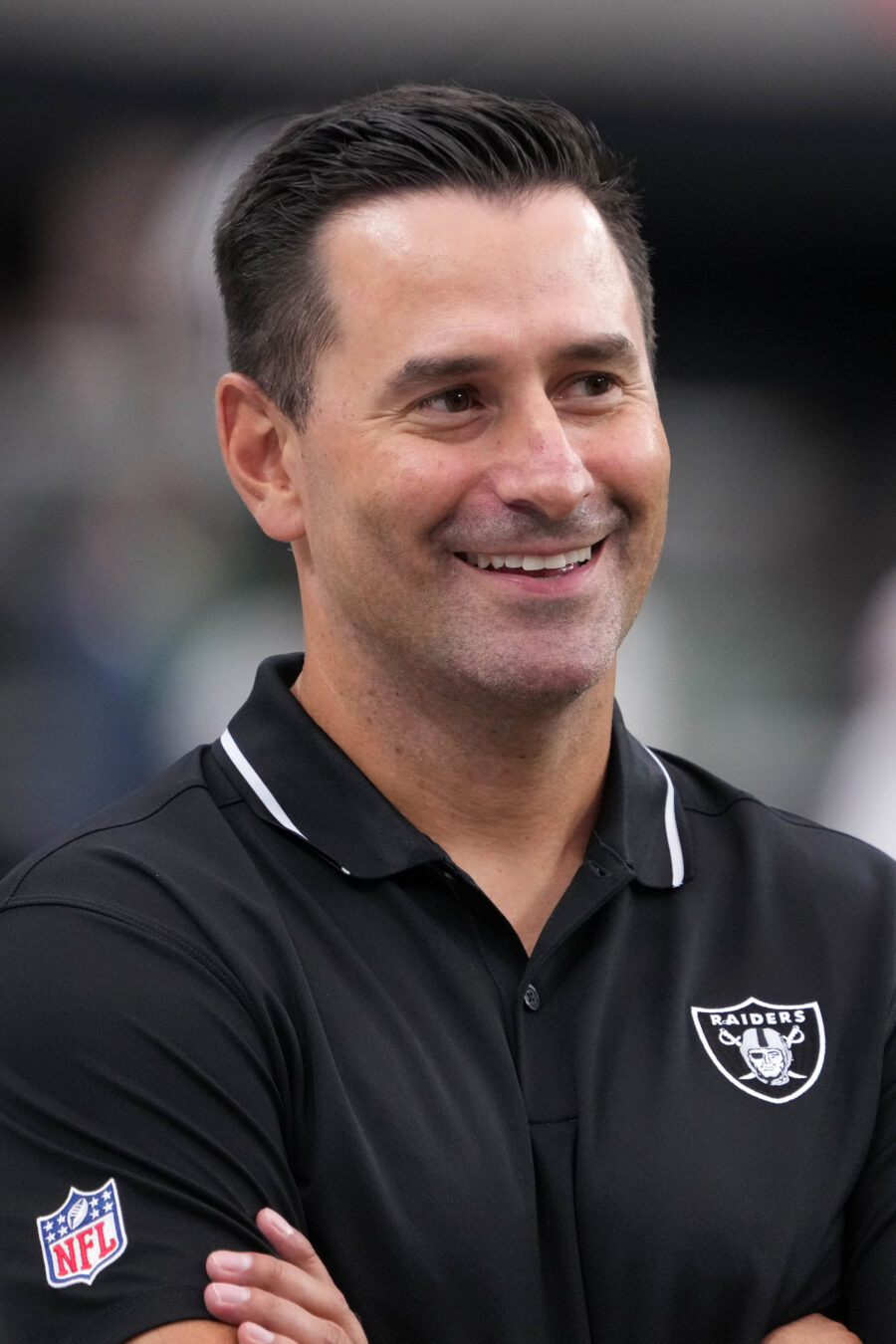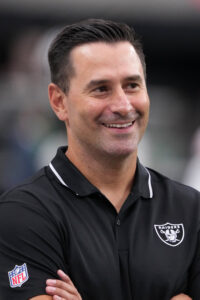 Despite Ziegler's figurehead status in Nevada, Rapoport observes that McDaniels' right-hand man nonetheless made strides in modernizing the personnel side of the Raiders' operation, an effort that included hiring respected scouting minds, creating a scouting development program, and injecting "forward-thinking concepts on player development." The next Raiders GM should therefore have something of a foundation to build upon.
Whether that person is Kelly or someone else remains to be seen, but in acknowledgment of their promotions, Davis reworked the contracts of both Kelly and Pierce, as Adam Schefter of ESPN.com reports. Those transactions added even more money to the whopping $85MM tab that Davis will have to pick up due to the McDaniels and Ziegler firings (though some of that amount will be offset should his former employees land new jobs elsewhere).
Davis is one of the league's most cash-poor owners, so these hugely expensive maneuvers underscore the strength of his conviction that McDaniels and Ziegler were not the right men to lead the Raiders. As Adam Hill of the Las Vegas Review-Journal writes, Davis also fired team COO Mike Newquist, whom he hired just three months ago. Mike Florio of Pro Football Talk concedes that Newquist's post is unrelated to the football side of the team, but he believes the immediate firing of a key employee will further add to the perception of dysfunction that presently surrounds Davis' franchise.
One way or another, Raiders fans are in for a fascinating few months.
Follow @PFRumors