A Devonta Freeman extension became a talking point during Super Bowl week, just before the running back became eligible to sign one as a fourth-year player.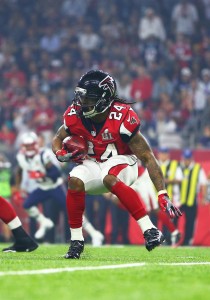 Freeman wants "elite" running back money after putting together back-to-back Pro Bowl seasons that each featured 1,500-plus yards from scrimmage. The Falcons appear to be in stride with their starting running back regarding an extension. After owner Arthur Blank voiced support for Freeman remaining in red and black long-term, GM Thomas Dimitroff believes he could make that happen.
"We want him here and he's a very important part of our organization. Contrary to what people were saying around the Super Bowl time with what came out, we're ready in the relatively near future to have some discussions with their representation," Dimitroff said during a radio interview with Adam Schein (via Jeremy Bergman of NFL.com).
"Devonta, he's a really good guy. He's really — as far as his personality — he's so hyper competitive. … He's an urgent, angry runner, which we want and we know is important for us. We want him to be around for years to come and we're confident that we'll be able to get it done."
Dimitroff targeted training camp as a window for this extension to potentially occur. The Falcons have also expressed desire to extend Matt Ryan, although two years remain on the reigning MVP's contract, and recently reached a long-term agreement with Desmond Trufant. Freeman's position doesn't demand that kind of money, but given the ball-carrier's age (25) and production coming into Year 4, he is in position to be paid like a top-tier running back.
Freeman could well target LeSean McCoy's $8MM-per-year deal. The running back market also could be different by then, should the Steelers extend the franchise-tagged Le'Veon Bell by July 15.
The Falcons also have Freeman complement Tevin Coleman, who ate into the starter's workload in the games he played. Coleman, 24, has two years remaining on his deal.
"We've talked about approaching these types of contracts and situations usually going into camp is when we start talking about them and really start having some discussions about it," Dimitroff said. "That's not a hard line for us, but in my mind, I like to make sure that we have those kind of things worked on. You know, look, he's in a really good space here, he loves being here and he loves playing for Dan Quinn."
Freeman is not planning to hold out and will make $1.8MM this year on his rookie contract, which will expire at season's end.
Photo courtesy of USA Today Sports Images.