Despite playing through a MCL and PCL ailment towards the end of the season, it sounds like Devonta Freeman avoided a serious injury. Appearing on PFT Live, the Falcons running back told Mike Florio that he won't need surgery this offseason.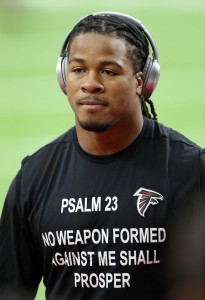 "I'm getting better," Freeman said. "I just went to go get a second opinion. Thank God I didn't have to get surgery. So now I just have to rehab and get it back stronger and be ready for next season."
As Florio writes, the first opinion also indicated that Freeman wouldn't require surgery. Instead, the running back will rehab throughout the season, and Florio suggests that avoiding an operation will "accelerates his timeline."
When asked if he'd be available for the beginning of offseason programs, Freeman indicated that he'd take his time returning to the field.
"Possibly," Freeman said. "But I'm going to take my time and let it heal so I won't have to deal with little knicks and knacks throughout the season, because that's the most important time for me. So I'm going to take my time and let it heal, get stronger. I need to be free when I'm out there."
The former fourth-round pick had another productive season in 2017. The 25-year-old finished the campaign with 865 rushing yards and seven touchdowns on 196 carries. He also added another 36 receptions for 317 yards and one score. If Freeman's recovery doesn't go as planned, the Falcons could easily slot running back Tevin Coleman into the starting lineup.
Photo courtesy of USA Today Sports Images.