Eddie DeBartolo Jr. may be interested in getting back in the ownership game. The former longtime 49ers owner is "definitely" considering putting together a group to buy the Panthers, Jim Trotter of ESPN.com tweets.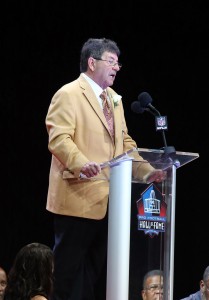 The Hall of Fame contributor issued a statement about this interest on Monday night as well.
"I am going to respect Jerry Richardson's wish not to discuss the sale of the Carolina Panthers until after their season is over," DeBartolo said (via Rick Stroud of the Tampa Bay Times, on Twitter).
ESPN analyst and former DeBartolo charge Steve Young said Monday night DeBartolo, who owned the 49ers from 1977-2000 before handing the franchise reins over to sister Denise York, spoke of his former boss' potential interest in the Panthers' sudden availability as well (Twitter link via ESPN's Chris Mortensen).
DeBartolo oversaw the 49ers' rise to arguably the NFL's premier dynasty during his time running the team. The 49ers won five Super Bowls from 1981-94.
Richardson ceded control of the franchise earlier on Monday, a day after announcing he would sell the team. Trotter notes there will be competition for the franchise. Diddy expressed interest in the Panthers since their sale became public knowledge, and Mike Florio of Pro Football Talk notes Bruton Smith — chairman of Speedway Motorsport — previously expressed interest in this specific franchise if it were to become available.
Photo courtesy of USA Today Sports Images.