It's not uncommon for players to announce their retirement as training camp gets underway. It is, however, unusual for a 26-year-old to do it. Ravens center John Urschel says he's walking away from football.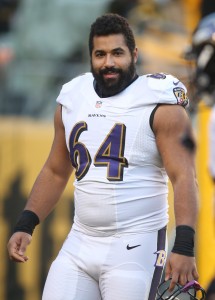 "This morning John Urschel informed me of his decision to retire from football," Head Coach John Harbaugh said in a statement. "We respect John and respect his decision. We appreciate his efforts over the past three years and wish him all the best in his future endeavors."
Urschel participated in all of the Ravens' offseason camps, but it seems that he is opting to pursue a career in mathematics instead. He's a Ph.D. candidate in mathematics at MIT and is said to be a straight-A student, so there should be no shortage of options for him after football.
Meanwhile, his surprise retirement leaves the Ravens with a definite void in the middle of the offensive line. Urschel was slated to be the Ravens' starting center and now that Jeremy Zuttah is no longer in the picture, the Ravens are without a clear cut plan B.
Now that the Ravens are in the market for a center, it wouldn't be a surprise to see them circle back to former Jets standout Nick Mangold.
Photo courtesy of USA Today Sports Images.