The NFL has determined that neither the Lions nor Matt Patricia will not be subject to discipline in regards to previous allegations made against the head coach. The league met last week with the Lions and Patricia and opted against launching an investigation.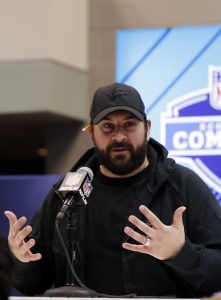 "Our office reviewed the matter with the Lions and Mr. Patricia, and ensured the club engaged in appropriate and thorough hiring practices and that the coach did not mislead the team during the interview process," NFL spokesman Brian McCarthy said in a statement. "We determined that the Lions handled the interview process in a thoughtful and comprehensive manner and fully and appropriately complied with all applicable employment laws. As we learned from both Mr. Patricia and the Lions, the matter was not part of his employment interview process for job opportunities outside of or within the NFL. He was under no legal or other requirement to raise this issue."
The NFL faced a similar issue in 2017 when it came to Raiders cornerback Gareon Conley. Conley was accused of sexual misconduct before the 2017 NFL Draft and the league did not conduct a thorough and costly investigation as it has in the past for other players. The accusation against Patricia took place in 1996 and and the case was dismissed in January 1997. Patricia, like Conley, has denied any wrongdoing.
"The truth is on my side," Patricia said in a news conference earlier this month. "I lived with the mental torture of the situation where facts can be completely ignored or misrepresented with disregard to the consequence and pain that it would create for another person. I find it unfair and upsetting that someone would bring this claim up over two decades later for the sole purpose of hurting my family, my friends and this organization with the intention of trying to damage my character and credibility."
Photo courtesy of USA Today Sports Images.