The Lions' staff turnover continues. On Thursday, head coach Matt Patricia announced that defensive coordinator Paul Pasqualoni and veteran offensive line coach Jeff Davidson are stepping away from football.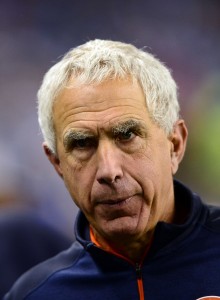 "Coach Pasqualoni notified me this week that he will be stepping away from the Lions to be closer to his family," Patricia said in a statement issued by the team. "Coach P is one of the best men I've ever been around, on both personal and professional levels. I owe him so much and I'm grateful of the impact he had on our players, coaches and support staff. He will continue to be a great sounding board for me as a coach, father and leader. I wish him and his family well as they begin the new year together."
Pasqualoni joined the Lions in the same offseason as Patricia. In their first year together, Pasqualoni called the plays on defense. Reportedly, at some point in 2019, Patricia quietly took back the reins.
Coach P celebrated his 70th birthday before the start of the 2019 season. After nearly two decades as an assistant coach, he made a name for himself as the head coach of the Syracuse Orange between the years of 1991 and 2004. Other highlights on his lengthy resume include turns as UConn's head coach and a two-year stint as the Dolphins' DC.
Davidson, meanwhile, is taking an indefinite leave from football for undisclosed reasons. The 52-year-old has served as an assistant for a number of teams since retiring from his playing career after the 1994 season.
The Lions will have fill at least eight assistant positions to support Patricia and offensive coordinator Darrell Bevell in 2020.