2:34pm: The Falcons have officially confirmed that they've hired Emery and Webster as national scouts.
1:07pm: The Falcons appear set to add a pair of former general managers to their front office, according to reports. D. Orlando Ledbetter of the Atlanta Journal-Constitution writes that the Falcons will add former Bears general manager Phil Emery to their scouting and personnel department, while a Pro Football Talk tweet suggests ex-Titans GM Ruston Webster will join the team as well.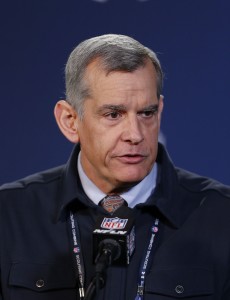 [RELATED: Falcons to retain general manager Thomas Dimitroff]
Earlier this month, in announcing that head coach Dan Quinn and general manager Thomas Dimitroff would return to the Falcons for the 2016 season, owner Arthur Blank indicated that the front office would undergo a bit of a shake-up this winter.
"We are going to make a number of changes to our pro personnel and college scouting departments and that process began this week," Blank said at the time. "It will take some time, but we will be adding talent on the pro personnel side and re-organizing both of these groups to best align with the shared vision of Coach Quinn and Thomas Dimitroff. I expect these changes will produce positive results for our team."
Since then, the Falcons parted ways with director of player personnel Lionel Vital, and now it appears that the team will add a pair of notable names to its front office. With Emery and Webster set to join a group that already features Dimitroff, Rich McKay, former Chiefs general manager Scott Pioli, and former Rams general manager Billy Devaney, the Falcons' front office will include several executives with GM experience.
Emery was let go by the Bears at the end of the 2014 season along with head coach Marc Trestman, while the Titans opted not to retain Webster at the end of the 2015 campaign, when his contract expired.