The Giants have been one of the most active teams this offseason in terms of creating cap space. At the start of the process, new general manager Joe Schoen made it clear he wanted to avoid restructures as a means of accomplishing that goal, but the team has done just that for the first time. New York has converted $8.965MM of cornerback Adoree' Jackson's salary into a roster bonus, while adding a void year to his deal in 2024. (Twitter link via ESPN's Field Yates).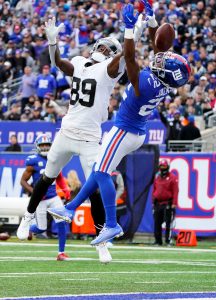 [RELATED: Giants Could Extend CB Bradberry]
The move creates just under $6MM in cap space for the Giants. Given how dire their financial situation was before today – with less than $1MM to spare – it was clear New York would have to continue carving out more room. As many have noted, however, this will still only be the first of many such moves the Giants need to make to be able to afford their draft class, among other things.
How many more deals need to be re-worked will depend in large part, of course, on how the team handles fellow corner James Bradberry. With a cap hit of nearly $22MM next year, Bradberry has long been on the trade block, though most interested teams are waiting to see if he is released outright. While the Giants could also flatten that cap charge through an extension, they still face a long road to true flexibility.
Jackson, 26, was one of the top free agents one year ago after his four-year tenure with the Titans. He signed a three-year, $39MM deal with the Giants to bolster their secondary. In 13 games, he totalled 62 tackles, one interception and eight pass breakups. Given the increases to his cap number and dead money charges this restructure pushes into the remaining years on his deal, the team is clearly comfortable with keeping him in the fold for the foreseeable future.