The Jets were trying to trade Sheldon Richardson during the draft, and now that the draft is over, they are still trying to move the big defensive lineman. Manish Mehta of the New York Daily News reports that New York had conversations with several teams over the past couple of days about a potential trade, and that the Redskins were one of those teams (the Cowboys also expressed some interest in Richardson before last year's trade deadline).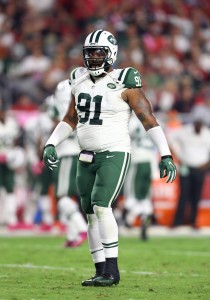 Of course, the Jets have been trying to deal Richardson for some time, but one of the major roadblocks to a trade is Richardson's salary. He is owed a a fully-guaranteed $8.1MM this season, and no one wants to absorb that hit for a player who, for all his promise, has seen his production slip over the past two seasons and who has two separate suspensions to his name. Mehta says that, if Richardson were amenable to a pay cut, he would have been traded during the draft.
Nonetheless, one of Mehta's sources said that there is a "50-50" chance that Richardson is traded over the coming months, and Mehta reports that the team's asking price has dropped. After all, the Jets don't have a ton of leverage, as rival clubs know that New York has already committed major dollars to Muhammad Wilkerson and has a rising star in Leonard Williams at the other bookend, so keeping Richardson long-term isn't really viable.
Whether or not the asking price has dropped enough for another team to pull the trigger is unclear, but a change of scenery is clearly best for both Richardson and the Jets. Even though Richardson does not have a great deal of incentive to accept a pay cut at this point, perhaps he will concede to enough of a reduction to force someone to take on the former Defensive Rookie of the Year.
Photo courtesy of USA Today Sports Images.