The Texans decision to claim cornerback Vernon Hargreaves off waivers mostly worked out for the organization. However, the team now has an interesting decision to make on the former first-rounder.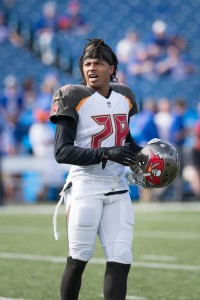 As Aaron Wilson of the Houston Chronicle writes, the organization must decide whether they want to pick up the fifth-year option on the 24-year-old. The team could alternatively cut Hargreaves before that option becomes guaranteed (similar to what they did last year with Kevin Johnson), or both sides could work on finding common ground on a new contract. Either way, it sounds like the team is interested in retaining the defensive back.
"Vernon came in here, he works very hard," Texans coach Bill O'Brien said. "Very hard worker, guy that really showed up to practice every day, learned the system. I don't think that's easy to be able to come in, in the middle of a season, and really later than that, and play that nickel position is not easy.
So, I give a lot of credit to Vernon. There's a lot of things that he's going to work hard to improve upon. We're going to help them with that, but I think Vernon stepped into a tough situation and really made the best of it."
Hargreaves fell out of favor with Bruce Arians and the Buccaneers coaching staff, leading to Tampa Bay's decision to waive him in November. The cornerback was ultimately claimed by Houston, and he compiled 21 tackles, one tackle for a loss, and two passes defended down the stretch. While he struggled a bit during his team's playoff loss to the Chiefs, it sounds like the organization is confident he can take another step forward during his second season in Houston.
Photo courtesy of USA Today Sports Images.