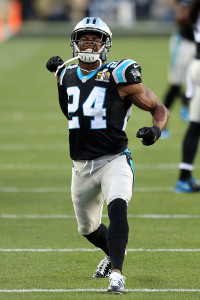 The defending NFC champion Panthers were in the midst of a quiet offseason until general manager Dave Gettleman made the shocking decision in late April to remove the franchise tag from star cornerback Josh Norman, with whom long-term contract talks weren't progressing. The 28-year-old offered to sign his franchise tender for 2016, but the Panthers had already filed the paperwork to rescind it, thereby allowing Norman to hit the open market and quickly ink a massive deal with Washington.
With most worthwhile free agents off the board by the time Carolina waved goodbye to Norman, the club wasn't able to make any notable veteran additions to replace him. As a result, the Cam Newton-led Panthers are left to hope a group of less established corners will step up in the wake of Norman's departure and help them reach even greater heights than they did last season.
Notable signings: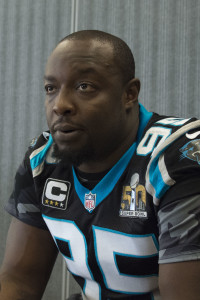 It looked as though defensive end Charles Johnson would precede Norman's exit when the Panthers released him March 3, but the gamble to ax Johnson in a cost-cutting move ultimately paid off for the club. In releasing Johnson and re-signing him less than a week later on a cheap pact, the Panthers saved $8MM. Johnson, who reportedly turned down more money from other teams, missed seven of 15-1 Carolina's regular-season games in 2015 and finished with his fewest sacks (one) since his rookie season in 2007, but he did bounce back to take down the opposing quarterback in each of the team's three playoff contests. Johnson, 30, has 63.5 sacks during his nine-year Panthers career – including anywhere from 8.5 to 11.5 in each season from 2010-14.
Joining Johnson along the Panthers' defensive line is newcomer Paul Soliai, who is continuing in the NFC South after spending the previous two years with the Falcons. Atlanta released Soliai both because of a high cap hit and an inability to fit into head coach Dan Quinn's defense. The 6-foot-4, 345-pounder saw his snaps decrease from 502 in 2014 to 357 last season, Quinn's first year on the job, but the Panthers are betting he'll fare well in their system and replace the released Dwan Edwards as durable run-stuffing depth behind Star Lotulelei. Soliai, a nine-year veteran and one-time Pro Bowler, has appeared in no fewer than 14 games in eight straight seasons.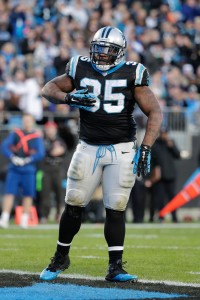 Offensively, both fullback Mike Tolbert and right tackle Mike Remmers inked modest deals to remain in Carolina. As an unrestricted free agent, there was more danger in losing Tolbert, a two-time Pro Bowler who has managed to remain relevant as fullback usage across the NFL has dwindled. The Panthers deployed Tolbert on over 38 percent of their offensive snaps last year, and the 5-9, 250-pounder picked up 454 total yards and four scores on 80 touches (62 rushing, 18 receiving). Tolbert should once again complement Newton and Jonathan Stewart as a useful part of the Panthers' run-based attack this season.
Remmers, who went undrafted out of Oregon State in 2012, made just one combined appearance with the Buccaneers and Chargers in his first two years before heading to Carolina in 2014. He logged five appearances, all starts, that year and then started each of the Panthers' games last season. Remmers had an ugly showing in the Panthers' Super Bowl 50 loss to Von Miller and the Broncos, but he partook in all 1,102 of their snaps during the regular season and graded a solid 39th among Pro Football Focus' 77 qualified tackles. Carolina then retained Remmers, a restricted free agent, with a second-round tender ($2.553MM).
Notable losses:
Along with Norman and Edwards, the Panthers' defense lost four other familiar veterans in end Jared Allen, cornerbacks Charles Tillman and Cortland Finnegan, and safety Roman Harper.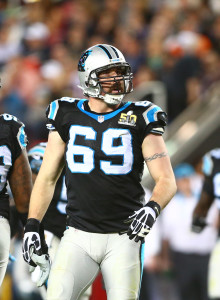 The Panthers acquired Allen, one of the most prolific sack artists ever, in a trade with the Bears last September. Allen then started in all 12 of his regular-season appearances with Carolina, finishing behind only Kawann Short and Kony Ealy in snaps among the team's defensive linemen, and racked up two sacks. A broken bone in Allen's foot prevented him from making much of an impact in the playoffs, though, and he subsequently retired. With Allen gone, Ealy's role could grow even larger after what may have been a coming-out party in the Super Bowl. Although the Panthers lost by two touchdowns, Ealy dominated the Broncos with three sacks, an interception and a forced fumble.
Like Allen, Tillman decided in the offseason to wrap up his excellent career. A longtime Bear, Tillman missed four games in his only season in Carolina, but he still started in each of his 12 appearances and took the field for 711 defensive snaps. That placed him behind only Norman and Bene Benwikere among the Panthers' corners. All told, Tillman snagged two interceptions and forced two fumbles, though he rated just 64th among PFF's 111 qualified corners in overall performance. Nevertheless, neither Tillman's output nor leadership will be easy for the Panthers to replace.
While Finnegan was far less integral to the Panthers' defense than Tillman was last year, they did rely on him to a notable extent after luring him out of retirement at the end of November. Finnegan amassed 213 snaps during his five regular-season games with the club, which elected against bringing him back as a free agent.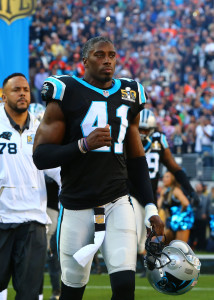 As was the case with Finnegan, the Panthers chose not to re-sign Harper after his contract expired. Harper led Panthers safeties with 951 defensive snaps in 2015, however, and PFF rated him a respectable 45th among its 89 qualified safeties. Harper, who didn't miss a game or a start in either of his two seasons with the Panthers, is now back with division-rival New Orleans, where he spent the first eight years of his career. The Panthers are counting on Tre Boston to take over for Harper, but Boston hasn't garnered much experience since going in the fourth round of the 2014 draft. Unsurprisingly, though, Boston relishes his new role.
"It's what I've always wanted and now it's time to take off with it," he told Jonathan Jones of the Charlotte Observer last month. "I don't see it as, 'Oh this is your first year starting.' No, I see it as it's my first time to make plays. Really take over the secondary, really be somebody the league fears.
The Panthers also didn't re-sign receiver Jerricho Cotchery, who remains a free agent after piling up 87 receptions, 1,065 yards and four touchdowns in two years and 29 regular-season games with the Panthers. Cotchery was third on the team in catches (39) and receiving yards (485) last season, but it has plenty of ability at wideout with Kelvin Benjamin, who missed all of last season with a torn ACL, as well as Devin Funchess, Ted Ginn Jr and Corey Brown.
Trades:
Acquired P Andy Lee and a 2017 seventh-round pick from the Browns in exchange for P Kasey Redfern and a 2018 fourth-round pick.
Acquired a 2016 third-round pick (No. 77) and a 2016 fifth-round pick (No. 141) from the Browns in exchange for a 2016 third-round pick (No. 93), a 2016 fourth-round pick (No. 129), and a 2016 fifth-round pick (No. 168).
After letting punter Brad Nortman go in free agency and being unimpressed with would-be replacement Mike Scifres' summer production, the Panthers swung a deal last week to send a 2018 fourth-round pick to Cleveland for Andy Lee and a 2017th seventh-rounder (the other play in the trade, Kasey Redfern, is now a free agent). Lee, 34, spent the first 11 seasons of his career with the 49ers before the Browns acquired him last year. The veteran averaged 46.7 yards per punt, slightly higher than his career average, in Cleveland. During his earlier days, Lee accumulated three first-team All-Pro nods and two Pro Bowl selections.
Draft picks:
1-30: Vernon Butler, DT (Louisiana Tech)
2-62: James Bradberry, DB (Samford)
3-77: Daryl Worley, CB (West Virginia)
5-141: Zack Sanchez, CB (Oklahoma)
7-252: Beau Sandland, TE (Montana State)
With a limited number of picks (five) in this year's draft, the Panthers focused heavily on the defensive side of the ball. Their first selection, D-tackle Vernon Butler, will be an understudy to Short this season, though it's possible he'll take over for the veteran soon. Short's in a contract year, which means this could be the standout's last season in Carolina. Regardless, Butler will get his fair share of playing time this year as head coach Ron Rivera and defensive coordiantor Sean McDermott seek to keep their linemen fresh.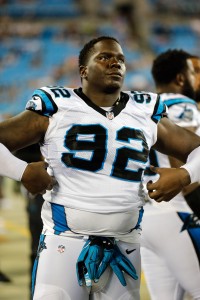 In assessing Butler, formerly of Louisiana Tech, our own scouting guru, Dave-Te Thomas, wrote, "Butler is a highly competitive sort who relishes his role as the defense's "garbage man," taking on multiple blockers constantly to free up a fellow Bulldog defender to make the play. He is simply unstoppable when he charges through the gaps and uses his hands with tremendous force when facing constant double teams. Some scouts were concerned about his gas tank late in games, but he worked hard during the 2015 offseason to get his weight down in order to eliminate his "tired legs" issue.
His strength at the point of attack is one of his best assets, as I have yet to see any blocker, or blockers, capable of riding him out once he anchors and establishes position in the trenches. He doesn't use his violent hand punch as much as he should, but he can easily obliterate any blocker once he gets his hands into their body. He is the type that will rarely ever get bounced around by double teams, thanks to his overall strength and ability to remain at a low pad level. With his big, strong hands, body mass and aggression, Butler excels at shutting down the interior running game."
To address their weakened secondary, the Panthers spent their second-, third- and fifth-rounders on cornerbacks. The first two, James Bradberry and Daryl Worley, are likely to start immediately. The third, Zack Sanchez, is now on the Panthers' practice squad.
Of Bradberry, an ex-Samford star, Thomas wrote, "The reason for his instant success in Panthers camp is the fact that Bradberry is a smart, instinctive, and tough football player, one who diagnoses plays quickly and frequently a step ahead of the receivers. He is a physical tackler who can jam receivers when asked to line up in press coverage and he has the closing burst, along with awareness and positioning to make plays on the ball in flight, showing that second gear needed to run with receivers downfield."
After landing Bradberry, the Panthers liked Worley enough to move up for him by way of a deal with the Browns, to whom they traded the 93rd, 129th and 168th selections in the draft for Nos. 77 and 141 (used to take Sanchez). Worley was a playmaker at West Virginia, where he intercepted 10 passes in three seasons and concluded his Mountaineers tenure with a Big 12-leading six last year.
Per Thomas: "Worley is a natural playmaker with soft hands for the interception, one who times his leaps well and can snatch the ball out of the air. He demonstrates good body control to make the catch outside of his frame and looks natural with the ball in his hands, along with possessing a good feel for the return and the vision to set up blocks. He has the agility and quick burst to accelerate, which makes him a reliable open-field tackler who can break down in space well and wrap his arms securely."
Extensions and Restructures:
The Panthers locked up three core members of their roster during the offseason, inking center Ryan Kalil, offensive tackle Michael Oher and safety Kurt Coleman to extensions that will keep them in the fold for a few more seasons apiece.
Kalil, whom the Panthers chose in the second round of the 2007 draft, has started in all of his appearances since his second season. Fifteen of those starts came last year for Kalil, who earned his fifth Pro Bowl selection and second career first-team All-Pro nod in 2015.
After a down season in Tennessee, Oher took a two-year, $7MM deal with Carolina in 2015 and parlayed a 16-start campaign at left tackle into a much more lucrative contract earlier this summer. PFF graded Oher, 30, as one of the league's 30 best O-tackles last season after he helped protect Newton's blind side and block for an elite ground attack.
A month after securing Kalil and Oher, the Panthers awarded a new accord to Coleman, who posted a career year in his first season in Carolina. The former Eagle and Chief started in all of his appearances and totaled seven interceptions, one of which he returned for a touchdown, during the regular season. Coleman, 28, has quickly become the most established member of a Panthers secondary that no longer includes Norman, Tillman, Finnegan or Harper.
Other: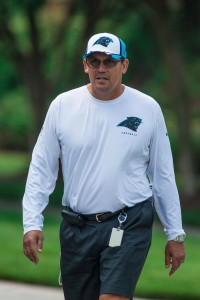 In addition to extending multiple key players, the Panthers did the same with Rivera, whose five-year tenure has been a resounding success. "Riverboat Ron," a nickname he earned after adopting a more aggressive approach in 2013, has helped the Panthers to a 47-32-1 regular-season record, three straight NFC South titles and a conference championship. Along the way, Rivera has picked up AP NFL Coach of the Year honors twice. With a three-year, $19.5MM deal in hand, he's now one of the league's highest-paid coaches.
"It was an easy decision," Gettleman said of extending Rivera. "Ron has worked extremely hard and we are thrilled with our current direction."
One player Rivera will coach through at least 2017 is Lotulelei, whose fifth-year option the Panthers exercised in April. Lotulelei has been a full-time starter for the Panthers since they chose him 14th overall in the 2013 draft. In 14 games in 2015, the 26-year-old recorded 22 tackles to go with a sack, a forced fumble and a fumble recovery. Notably, PFF rated Lotulelei just 90th among 123 qualified interior D-linemen, though a foot injury may have weighed him down. Lotulelei underwent surgery in January 2015, dealt with complications in training camp, and then missed the first two games of the season.
Top 10 cap hits for 2016:
The Panthers likely lost more ground than they gained during the offseason, but they're still among the league's top-tier teams on paper and should once again be on the short list of Super Bowl contenders. Expecting another 15-win regular season is unrealistic, of course, but with Newton – the reigning MVP – at the helm of a highly talented roster, a fourth consecutive NFC South crown looks like an inevitability.
Information from Over the Cap, Spotrac, and Roster Resource was used in the creation of this post. Photos courtesy of USA Today Sports Images.
Follow @PFRumors