The Giants mishandle domestic violence. The Giants are one of the more respected franchises in the NFL, but they were embarrassed last week as they erred in dealing with the Josh Brown/domestic violence situation. After reports indicated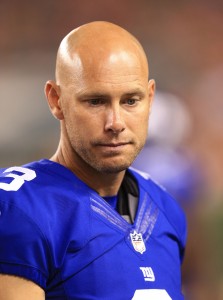 that Brown had admitted to abuse in the past, New York first stood by its embattled kicker, who had already been suspended for the season opener. Once the pressure escalated, the Giants subsequently signed fellow kicker Robbie Gould, and Brown won't kick for the club again. Brown has been placed on the exempt list, but other teams were irked by what they viewed as preferential treatment of Brown and the Giants organization.
Down goes Big Ben. Ben Roethlisberger suffered a torn meniscus in last week's loss to the Dolphins, and now faces an absence of undetermined time. The Steelers QB has undergone surgery, and the club says it's confident Roethlisberger isn't dealing with a long-term injury. Still, one report indicates that Roethlisberger could miss as many as six weeks — another report this morning, however, said Big Ben could be back following Pittsburgh's Week 8 bye. Landry Jones is filling in today against the Patriots, and will hold down the fort until Roethlisberger can return.
The return of Cutler? Brian Hoyer had been playing extremely well in the absence of Bears starting quarterback Jay Cutler, so much so that Cutler might have had a difficult time reclaiming his job. However, any questions Chicago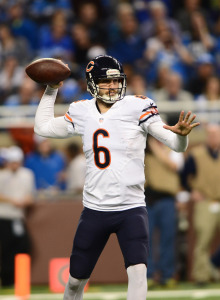 may have faced subsided last week when Hoyer broke his non-throwing arm, meaning he'll be shelved for some time. Cutler will take the reins once he returns from injury, but the Bears still plan to move on from him after the season.
Viva Las Vegas. The Raiders plan to officially file for relocation in January, and team owner Mark Davis appears to be moving full-steam ahead with his plan to move his club to Las Vegas. Nevada approved $750MM in public money for a $1.9MM domed stadium in Las Vegas, clearing a significant financial hurdle. Still, Davis would still need his other owners to approve such a move, but at least one report indicated that the league's stakeholders could be agreeable to voting yes.
Packers reshuffle backfield. Green Bay placed Eddie Lacy — who had reportedly regained weight — on injured reserve last week, and with backup James Starks already hurt, the club needed a boost in its backfield. The Packers traded for the Chiefs' Knile Davis, and promoted Don Jackson from the practice squad, but the real shot in the arm came from converted wide receiver Ty Montgomery. Lining up primarily in the backfield, Montgomery rushed nine times for 60 yards, and added 10 receptions for 66 yards.
Photo courtesy of USA Today Sports Images.
Follow @PFRumors