In advance of March 9, the start of free agency in the NFL, Pro Football Rumors will detail each team's three most glaring roster issues. We'll continue this year's series with the Cleveland Browns, who finished 1-15 in 2016, narrowly avoiding a winless season.
Pending free agents:
George Atkinson III, RB (ERFA)
Marcus Burley, CB (RFA)
Jamie Collins, LB
Isaiah Crowell, RB (RFA)
Josh Gordon, WR (RFA)
Rannell Hall, WR (ERFA)
Charley Hughlett, LS (ERFA)
Jamie Meder, DE (ERFA)
Rajion Neal, RB (ERFA)
Dennis Parks, WR (ERFA)
Stephen Paea, DL
Austin Pasztor, OL
Jordan Poyer, CB
Terrelle Pryor, WR
Glenn Winston, RB (RFA)
Dylan Wynn, DE (ERFA)
Top 10 Cap Hits for 2017:
Other:
Three Needs:
1) Find a franchise quarterback: The image has reached near immortal status on the internet: a Browns fan donning a jersey listing the litany of quarterbacks that have led the club since it returned to Cleveland in 1999, beginning with Tim Couch and Ty Detmer and concluding with the likes of Johnny Manziel and Robert Griffin III. 26 signal-callers have made at least one start for the Browns during that stretch, yet Cleveland is still searching for a franchise quarterback as the calendar turns to 2017.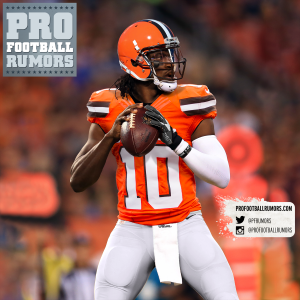 Upgrading under center should be a primary goal for the Browns this offseason, as their current depth chart at the position is wholly uninspiring. Griffin is signed through the 2017 campaign, and Cleveland executive Sashi Brown said last September that the club doesn't view RGIII as simply a short-term solution. However, Griffin started only five games in 2016 while dealing with injuries, and wasn't overly effective when he was on the field, completing less than 60% of his passes while posting a Total Quarterback Rating of just 33. The Browns could clear $7.5MM in salary cap space by releasing Griffin this offseason, and while Cleveland certainly doesn't need any extra cap room, the team should at least approach Griffin about a paycut.
Elsewhere on the roster, veteran Josh McCown is not part of the Browns' long-term future (and is now considering retirement), leaving 2016 third-round pick Cody Kessler as the lone remaining option of intrigue. Thrown into the fire perhaps before he was ready, Kessler performed relatively well, tossing six touchdowns against two interceptions while managing a Total QBR of nearly 50. Kessler isn't a star, but his display of competency during his rookie season indicates that he could carve out a career as a high-end backup, and offer the upside of a poor man's Andy Dalton.
So even with Kessler in tow, the Browns are still in the market for another quarterback, and free agency could be the first place the club turns in its hunt. While Cleveland could take a flier on a QB such as Mike Glennon, EJ Manuel, or Ryan Nassib, it's not readily apparent than any of those options would offer a substantial improvement on the Browns' internal choices. Washington's Kirk Cousins, on the other hand, would represent a significant upgrade at the quarterback position, but the Redskins are extremely unlikely to let their QB hit the open market. Recent reports have indicated Washington won't hesitate to use the franchise tag on Cousins for a second consecutive year, but if he does reach free agency, the Browns would likely be a prime contender for his services.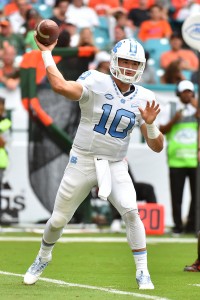 The draft, then, offers the best chance for Cleveland to secure a long-term option at quarterback, and while draft analysts posit that no "sure-thing" signal-caller exists in the 2017 class, this year's crop of prospects does include some first-round QB candidates. The Browns reportedly "love" UNC's Mitch Trubisky, and having scouted him in recent weeks, could use the first overall pick on the Tarheel quarterback. If Cleveland opts to go in another direction at No. 1, the club could look at Notre Dame's DeShone Kizer (whom Browns scout Lake Dawson has spent an "inordinate" amount of time watching) or Clemson's Deshaun Watson with the twelfth selection.
2) Use ample cap space to retain key free agents: The Browns will head into the offseason with — by far — the most cap space in the league, with their ~$110MM in room dwarfing the second-place 49ers by more than $30MM. And Cleveland could still create more space! By releasing, for example, Robert Griffin III, Tramon Williams, Josh McCown, and Alvin Bailey, the Browns would push their allotment of cap room north of $130MM. As such, external free agents should become more of a priority for the Browns in 2017 (the club was reportedly reticent in FA negotiations last offseason), but the key focus should remain on two internal free agents: wide receiver Terrelle Pryor and linebacker Jamie Collins.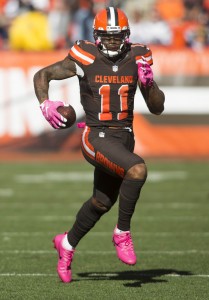 Pryor, 27, was one of the more fascinating stories in the NFL last season, as he completed his conversion from quarterback to wide receiver by putting up 77 receptions for 1,007 yards and four touchdowns. Pryor has emphasized that he'd like to remain in Cleveland (and specifically, continue to play under head coach Hue Jackson), and the Browns have reportedly begun contract negotiations with its pass-catcher. However, the prospect of free agency also looms, and Pryor has indicated that a reunion is not guaranteed. "[A]t the end of the day, it's got to come down to what my agents think is right for me," Pryor said last month.
Given fellow free agent Alshon Jeffery's myriad of injury issues and recent four-gamed PED suspension, it's entirely possible that Pryor will be the most coveted receiver available on the open market in March. Pryor and his representatives will likely look to recent contracts signed by receivers such as Allen Hurns, Emmanuel Sanders, Doug Baldwin, and Keenan Allen, and conclude that Pryor should target an annual salary in the $10-12MM range. If no deal is reached, the Browns would have the option of using the franchise tag on Pryor, locking him up to a one-year deal worth nearly $16MM.
If Cleveland is forced to employ the franchise tag on Pryor, it would lose a great deal of leverage in contract talks with fellow pending free agent Jamie Collins, whom the Browns acquired from the Patriots last year. Clearly, signing one of Pryor or Collins before the franchise tag deadline would represent an ideal solution, and afford the Browns the opportunity to use the tag on the player who remains unsigned. The franchise tag for Collins would be a bit cheaper than Pryor's wide receiver figure, as linebackers will only earn $14.754MM under the tag.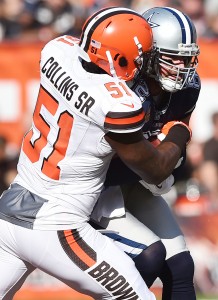 Collins remains open to staying in Cleveland if the "money is right," but the franchise tag might be the better route for the Browns given Collins' previously reported contract demands. Before being dealt by the Patriots, Collins apparently turned down $11MM per annum from New England, and is now aiming to top Luke Kuechly's $12.36MM annual salary. Guaranteed money will obviously place a large role in negotiations, but if Collins' asking price remains excessive, the Browns should simply opt for the franchise tag route. After sacrificing either a third- or fourth-round pick for Collins, Cleveland can't afford to let him get away via free agency.
3) Continue to stockpile draft capital: The majority of early mock drafts project the Browns to take Texas A&M pass rusher Myles Garrett with the first overall pick, and while Cleveland has reportedly placed an "astronomical grade" on the Aggie linebacker, it's fair to wonder if the Browns should reprise their 2016 draft strategy and trade down, acquiring a bevy of extra picks in the process. In their two deals involving first-rounders last year, for example, the Browns received 175 cents and 148 cents on the dollar, respectively, a haul that Cleveland would surely be pleased to reap once again.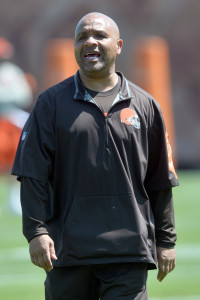 Of course, the Browns are already in fine position for this year's draft, as they hold eight picks in total, including two in each of the first two rounds. Additionally, Nick Korte of Over the Cap projects Cleveland will receive fourth- and fifth-round compensatory selections (in addition to two more comp picks that have already been traded). But given that the Browns have a claim to the worst roster in the NFL (with only the 49ers coming close in terms of a dearth of talent), the club should be trying to take as many bites at the apple as possible, rather than placing its bets on a few top picks.
If EVP of football operations Sashi Brown and chief strategy office Paul DePodesta remain the Browns' key decision-makers, Cleveland will likely employ a similar approach to 2016, when the club ultimately acquired 14 draft picks, three more than any other team. But despite Browns owner Jimmy Haslam claiming there would be no changes to club leadership, head coach Hue Jackson is reportedly pushing for Cleveland to hire a formal general manager, and has already compiled a list of candidates for the position. From my vantage point, it's possible that Jackson would feel more comfortable with a less analytical front office calling the shots, and if a more "old-school" GM is in fact hired, the Browns may not be so quick to trade down in the draft.
Photo courtesy of USA Today Sports Images.
Follow @PFRumors