The Bills have gone an NFL-worst 17 years since their most recent trip to the playoffs, and offseason upheaval has unsurprisingly been commonplace during their post-1990s fall from grace. Buffalo has shuffled through various coaching staffs and front office setups during its embarrassing postseason drought, and after a seven-win showing in 2016, the club once again turned its football department over to a new regime.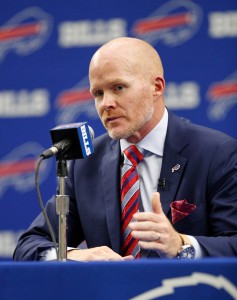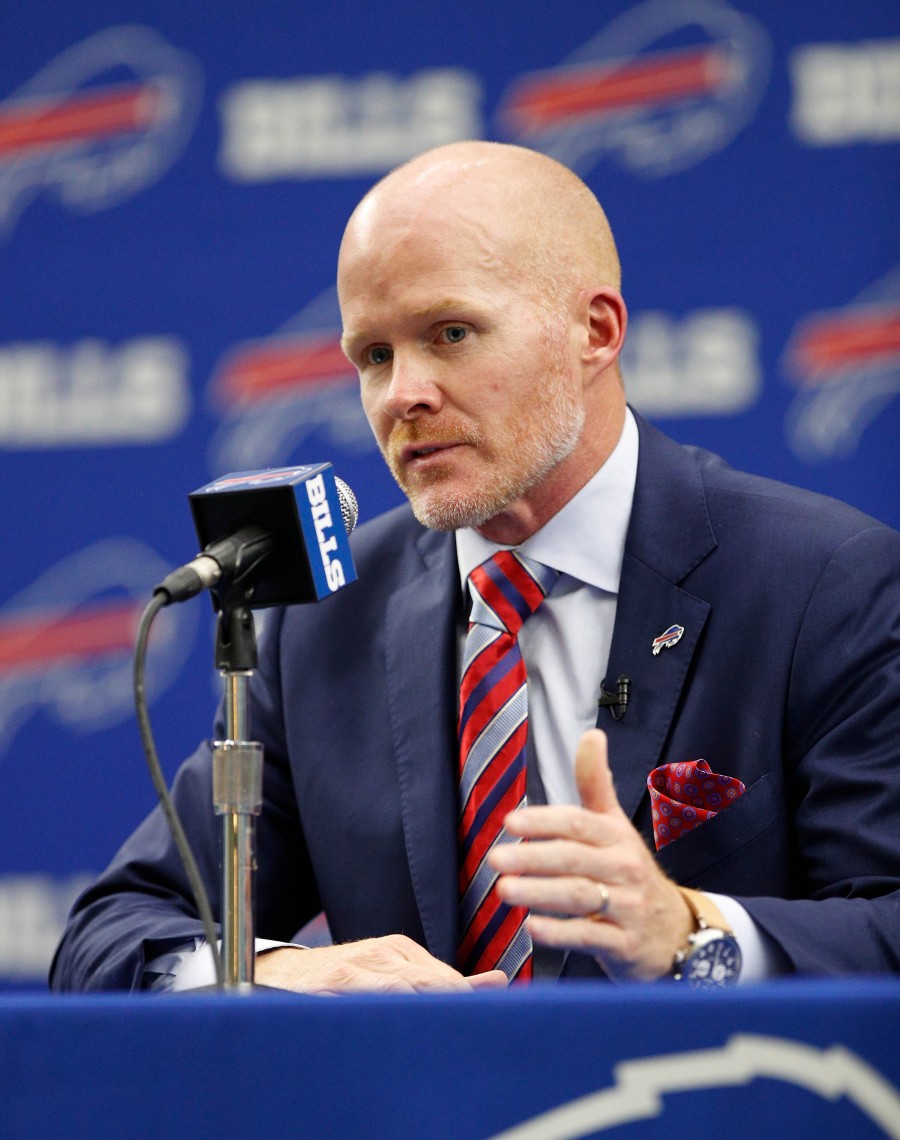 The changes began in earnest last December with the late-season firing of brash head coach Rex Ryan, who was more style than substance during his 15-win, 31-game stint in Western New York. While interim head coach/offensive coordinator Anthony Lynn looked like the favorite to succeed Ryan, the Bills ended up hiring Panthers defensive coordinator Sean McDermott, leaving Lynn to accept the Chargers' head coaching job. The businesslike, process-driven McDermott comes off as the antithesis of Ryan, and the neophyte head coach so impressed Bills owner Terry Pegula that he quickly became the the team's chief decision maker on football matters.
The initial expectation was that McDermott and general manager Doug Whaley would coexist, but the latter's influence at One Bills Drive seemed to shrink by the day after the former's introduction. At the end of April, right after the draft and nearly four months after McDermott's January entrance, the Bills handed Whaley his walking papers. Thanks to the odd timing of that move, Pegula and McDermott had to operate an early May GM search – one that concluded with the hiring of a McDermott confidant, former Panthers assistant GM Brandon Beane. Because the GM switch occurred well after the key stages of the offseason had come and gone, Beane hasn't had an opportunity to make his mark on the franchise. As such, the roster the Bills put on the field this year will be a Whaley/McDermott product.
Notable signings: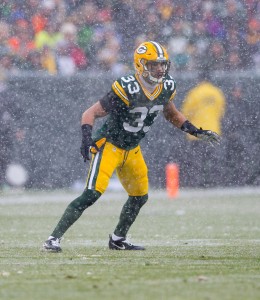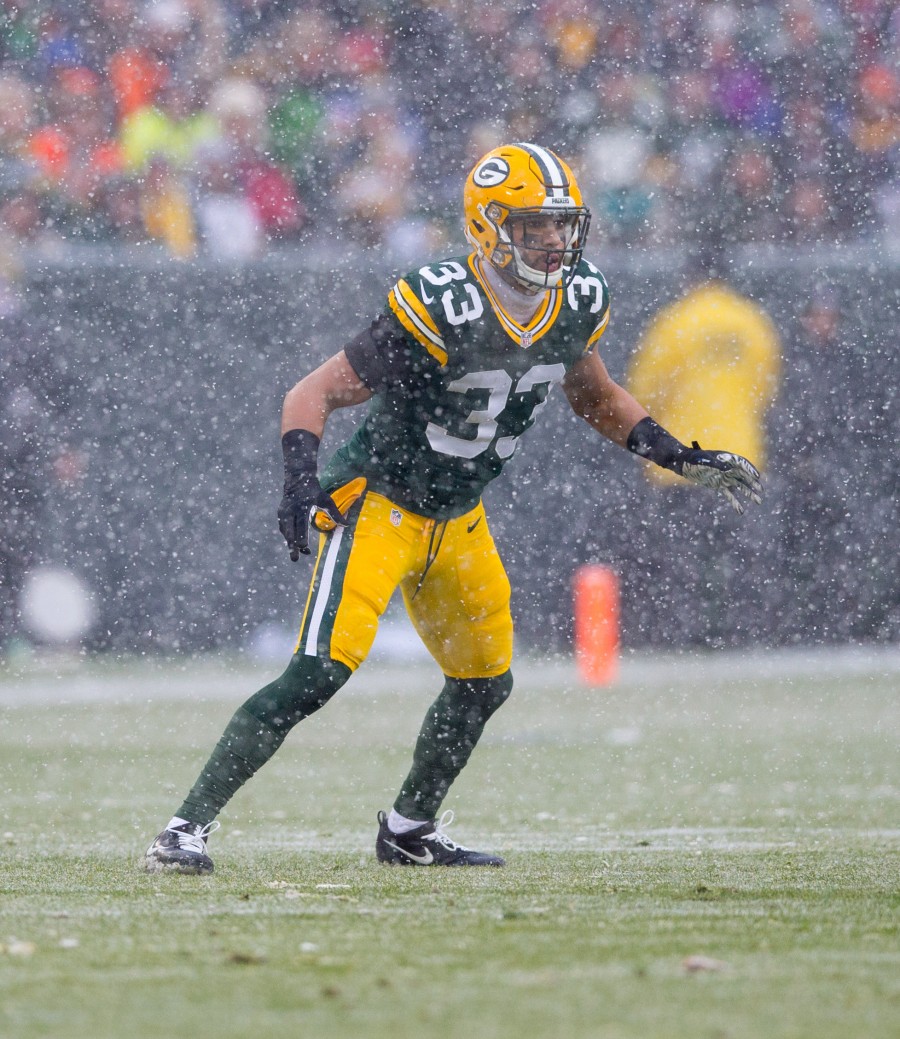 In exchanging Ryan for McDermott, the Bills committed to a scheme overhaul on defense, the area they primarily focused on in free agency. The Bills didn't dole out any exorbitant contracts, but they did sign former Packers defensive back Micah Hyde to a fairly sizable deal and award $5MM in guarantees to anonymous ex-Brown Jordan Poyer. Those two figure to form the top safety tandem in Buffalo, which axed its previous starting duo of Corey Graham and Aaron Williams over the winter.
Even though Graham and Williams fared well with the Bills, both players remain on the unemployment line, with age likely to blame in the soon-to-be 32-year-old Graham's case and neck issues the obvious culprit for Williams. While Hyde, 26, should be a solid addition for the Bills, having been a quality contributor to Green Bay's defense from 2013-16, it's less clear what they'll get from Poyer. Also 26, the unproven Poyer has just 10 starts in 48 appearances on his resume, and he's coming off a six-game season in which his performance ranked a below-average 70th among Pro Football Focus' 90 qualified safeties.
Judging solely on 2016 output, the Bills' most noteworthy free agent transaction was the re-signing of linebacker Lorenzo Alexander, who broke out under Ryan last season. A journeyman who tallied just 9.5 sacks over his first nine NFL campaigns, Alexander stunningly piled up 12.5 in 2016, his age-33 campaign, en route to second-team All-Pro honors. As great as Alexander was last season, he'll have to prove himself all over again this year. Not only is he an aging player with a limited track record, but Alexander will no longer operate in the 3-4 scheme in which he was a force as an edge player. Rather, he'll play strongside linebacker in the Bills' 4-3, and if Alexander turns back into a pumpkin without Ryan, the Bills will be able to escape the second year of his contract next winter without much difficulty.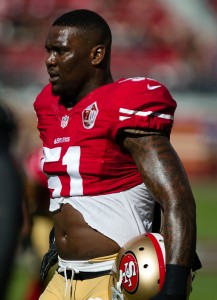 Among those joining Alexander in the Bills' linebacker corps this year will be Gerald Hodges, whom the team plucked from the bargain bin in May. The signing of the talented Hodges is reminiscent of the Bills' pickup of fellow linebacker Zach Brown last year. It was a head-scratcher that Brown had to settle for a minimal deal in the spring after he had three productive years in Tennessee. Sure enough, Brown went on to serve as a terrific buy-low acquisition for the Bills, with whom he starred in 2016 before heading to the Redskins in free agency.
The potential exists for Hodges to offer a similar return on investment, given that the 26-year-old registered 80 tackles, three sacks and two interceptions last season in San Francisco. Along the way, he ranked an outstanding 21st among PFF's 88 linebackers (Brown was 18th). Now, it appears Hodges, Alexander, Preston Brown and Reggie Ragland, who missed his rookie year with a torn ACL, will function as the Bills' top LBs.
Notable losses:
Sergio Brown, S
Zach Brown, LB
Corbin Bryant, DT
Reggie Bush, RB
Gerald Christian, TE: Waived
Leger Douzable, DL
Marcus Easley, WR: Released
IK Enemkpali, DE: Non-tendered
Jerome Felton, FB
Mike Gillislee, RB: Bills declined to match Patriots RFA offer sheet
Stephon Gilmore, CB
Marquise Goodwin, WR
Chris Gragg, TE
Corey Graham, S: Released
Percy Harvin, WR: Retired
Justin Hunter, WR
EJ Manuel, QB
Lerentee McCray, LB
Marcus Roberson, CB: Waived
Garrison Sanborn, LS: Released
Brandon Spikes, LB
Corey White, CB
Robert Woods, WR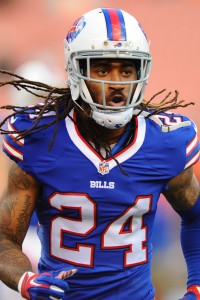 Along with Graham and Williams, the Bills' secondary lost a couple other notable pieces in cornerbacks Stephon Gilmore and Nickell Robey-Coleman. It's no surprise that the Bills were unable to bring back Gilmore, who parlayed a good (sometimes excellent) five-year tenure with the team into a mega-deal with the AFC East rival Patriots in free agency. On the other hand, the exit of Robey-Coleman was an eye-opener. While diminutive, the 5-foot-8, 179-pound Robey-Coleman was mostly effective in Buffalo after debuting as an undrafted free agent in 2013. Nevertheless, the McDermott-led Bills elected to release him in March, freeing up $1.65MM in cap room but simultaneously worsening their situation at corner.
On the offensive side, the Bills said goodbye to their second-best receiver, Robert Woods, and No. 2 running back Mike Gillislee in free agency. As with Gilmore, there was little expectation the Bills would pay up for Woods, a reliable Sammy Watkins complement who went home to Southern California to act as as the alpha dog in the Rams' receiving corps. Given that Gillislee was a restricted free agent, keeping him would've been easier, yet the Bills allowed him to follow Gilmore to New England. Oddly, Buffalo only tendered Gillislee at the original round level (at a cost of $1.797MM), thereby setting up his departure. Because Gillislee entered the league as a fifth-round pick, the Patriots only had to sacrifice a fifth-rounder in order to sign him away, which they did after inking him to a two-year, $6.4MM offer sheet that the Bills didn't match.
Had the Bills given Gillislee a second-round tender for roughly another $1MM, they'd have warded off the Pats (and other possible suitors) and retained a back who was instrumental in their No. 1-ranked rushing attack last season. Gillislee averaged a whopping 5.7 yards per carry on 101 attempts and scored eight touchdowns a year ago, and it's fair to suggest his unproven replacement, Jonathan Williams, will have a difficult time approaching those numbers. To the Bills' credit, even without Gillislee, they still look strong in the backfield with the elite LeSean McCoy in front of Williams, former Panthers short-yardage specialist Mike Tolbert and ex-Falcons fullback Patrick DiMarco.
Trades:
Acquired a 2017 first-round pick (No. 27; CB Tre'Davious White), a 2017 third-round pick (No. 91), and a 2018 first-round pick from the Chiefs in exchange for a 2017 first-round pick (No. 10; QB Patrick Mahomes).
Acquired a 2017 second-round pick (No. 37; WR Zay Jones) and a 2017 fifth-round pick (No. 149) from the Rams in exchange for a 2017 second-round pick (No. 44; TE Gerald Everett) and a 2017 third-round pick (No. 91; S John Johnson).
Acquired a 2017 second-round pick (No. 63; OL Dion Dawkins) from the Falcons in exchange for a 2017 third-round pick (No. 75; LB Duke Riley), 2017 fifth-round pick (No. 149; CB Damontae Kazee), and a 2017 fifth-round pick (No. 156; RB Brian Hill).
Draft picks: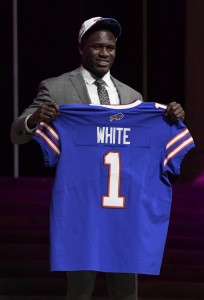 The Bills actively looked into the best quarterback prospects in advance of this year's draft and and could've selected one of them – be it Patrick Mahomes or Deshaun Watson – with the 10th pick. The club clearly wasn't sold on them, though, as it traded down to 27th in a deal with Kansas City, landing an extra first-round choice in 2018 and a third-rounder this year in the process. It's hard to argue with the decision, given that the Bills netted 170 cents on the dollar in the swap, according to Chase Stuart of Football Perspective, and secured a Day 1 starter in Tre'Davious White at No. 27. The ex-LSU standout will replace Gilmore and team with Ronald Darby as one of the Bills' top two corners from the get-go.
To take over for their second-biggest free agent loss, Woods, the Bills used their initial second-rounder on receiver Zay Jones. They first had to trade up with Woods' new team, the Rams, in order to select Jones, whom they grabbed at No. 44. The 6-2, 201-pound Jones had an incredible career at East Carolina, where he set an NCAA record with 399 receptions from 2013-16 (including a ridiculous 158 last season), and will have a chance to make an impact right away in the pros. To say the least, the Bills are shaky at receiver, as Watkins has dealt with injuries and none of their other veterans have established themselves.
Like both White and Jones, the Bills' third pick, second-rounder Dion Dawkins, should start in his NFL debut. They also had to move up for Dawkins, who started at left tackle at Temple and will likely occupy the right bookend spot with the Bills if LT Cordy Glenn's high ankle sprain isn't serious. While Glenn, guards Richie Incognito and John Miller and center Eric Wood were strengths along the Bills' offensive last season, they didn't get much from Jordan Mills at right tackle. Dawkins is now in line to usurp his job as part of a quintet that PFF ranks as the league's No. 10 unit going into 2017.
Extensions and restructures: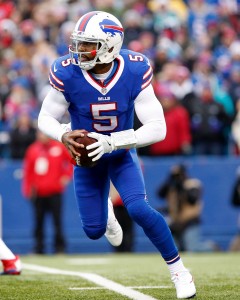 Once the Bills sorted out their coaching situation, the biggest question of their offseason centered on what they'd do with quarterback Tyrod Taylor, who was a competent starter for the club from 2015-16. The mobile Taylor has posted respectable traditional numbers and earned the praise of the analytics crowd during his 29-game starting career, but whether the former Baltimore backup is an actual franchise-caliber option is certainly up in the air. As such, it was unclear entering the offseason whether the Bills would cut ties with Taylor or retain him. They ended up keeping him on a restructured deal, which was the right call. Even if Taylor's only a middle-of-the-road starter, the Bills weren't going to find an upgrade in free agency, and it's obvious in hindsight that they weren't gung-ho on this year's rookie class.
After reworking his contract, the Bills are only dedicating $9.71MM-plus in cap space this season to Taylor, which ranks 22nd among QBs, and it's possible new offensive coordinator Rick Dennison will be able to extract more from the 27-year-old. There's a familiarity between the two, as Dennison previously worked with Taylor as the Ravens' quarterbacks coach in 2014. If Taylor doesn't perform to the Bills' liking under Dennison this season, they'll be able to move on from the signal-caller next winter, when they'll have two first-rounders. The Bills could either address the position with one of those picks or package them together in a deal to move up for a potential franchise passer.
Other: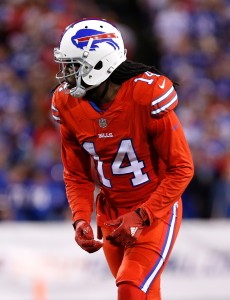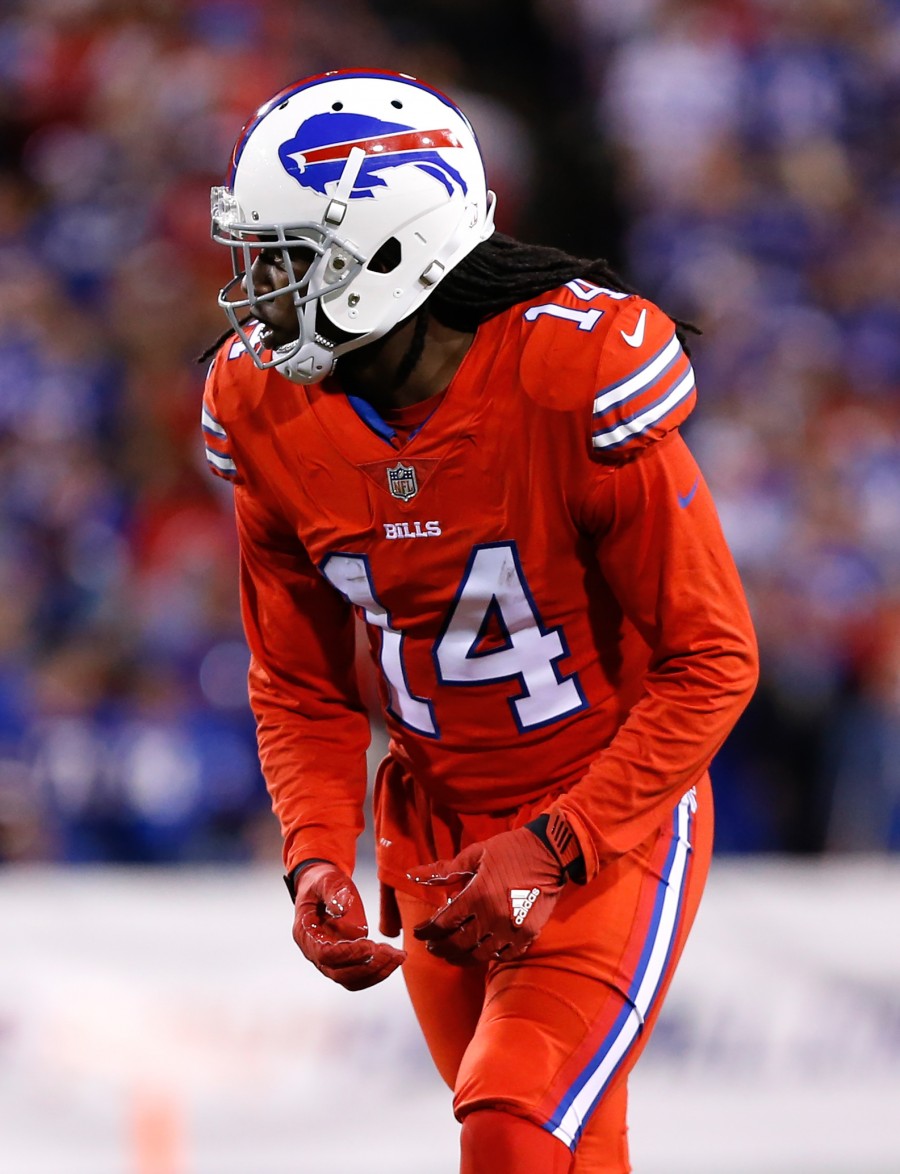 In 2014, Whaley's first draft as the Bills' GM, he made the bold choice to trade up five spots in the first round for Watkins. In going from the ninth pick to No. 4 for Watkins, Whaley sent a 2015 first-rounder to Cleveland and left fellow wideouts Mike Evans and Odell Beckham Jr. on the board. It was a questionable gamble from the start, and three years later, it looks even worse. While Watkins has been a high-end performer when on the field, he hasn't come close to the production Evans and OBJ have logged, and injuries have kept him from realizing his potential. Watkins sat out three games in 2015 and another eight last season, when a foot problem limited him to just 28 catches and two touchdowns.
The 24-year-old Watkins still isn't fully healthy, which left the Bills no choice but to decline his fifth-year option for 2018. That option, valued at $13.258MM, would've been guaranteed had Watkins been hurt a year from now. Even though they said no to the option, the Bills will still have an opportunity to bring back Watkins in 2018. They could re-sign him to a multiyear deal before free agency opens, though using the franchise tag may be the likelier route. Tagging Watkins would cost roughly $16MM, which isn't significantly more than the value of the option.
Top 10 cap charges for 2017:
While the Bills are approaching two decades since their latest playoff trip, it seems this offseason has mostly been about changing the culture of the franchise and making long-term gains – not immediately improving the on-field product. With that in mind, an 18th straight year without a postseason berth looks realistic. However, 2017 could still be a productive season for the Bills if young players evolve into building blocks, McDermott proves capable in his new role and Taylor shows once and for all whether he's the answer under center.
Information from Over the Cap and Roster Resource was used in the creation of this post. Photos courtesy of USA Today Sports Images.
Photo courtesy of USA Today Sports Images.
Follow @PFRumors