Squarely in the middle of a rebuild, the Browns posted a one-win campaign under the first-year management team of general manager Sashi Brown and head coach Hue Jackson. 2016's struggles were accepted (and expected), but Cleveland had work to do in both free agency and the draft as it took the next step in forging a path to contention in the AFC North.
Notable signings:
Armed with $110MM in cap space, the Browns decided to reinforce the interior of an offensive line that ranked dead last in adjusted sack rate and 28th in adjusted line yards a season ago. Cleveland first poached Kevin Zeitler from the division-rival Bengals, making the 27-year-old the highest-paid guard in the NFL. His $12MM annual salary is $300K per year more than the Raiders' Kelechi Osemele, while Zeitler's full guarantee of $23MM trails Osemele by $2.4MM. Zeitler graded as the league's No. 7 guard in the league in 2016, according to Pro Football Focus, so he'll be an improvement over the likes of John Greco and Spencer Drango (and will make Greco one of the NFL's best reserve offensive linemen).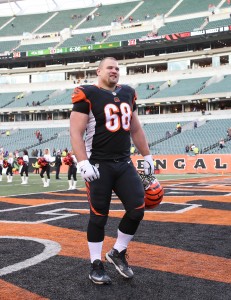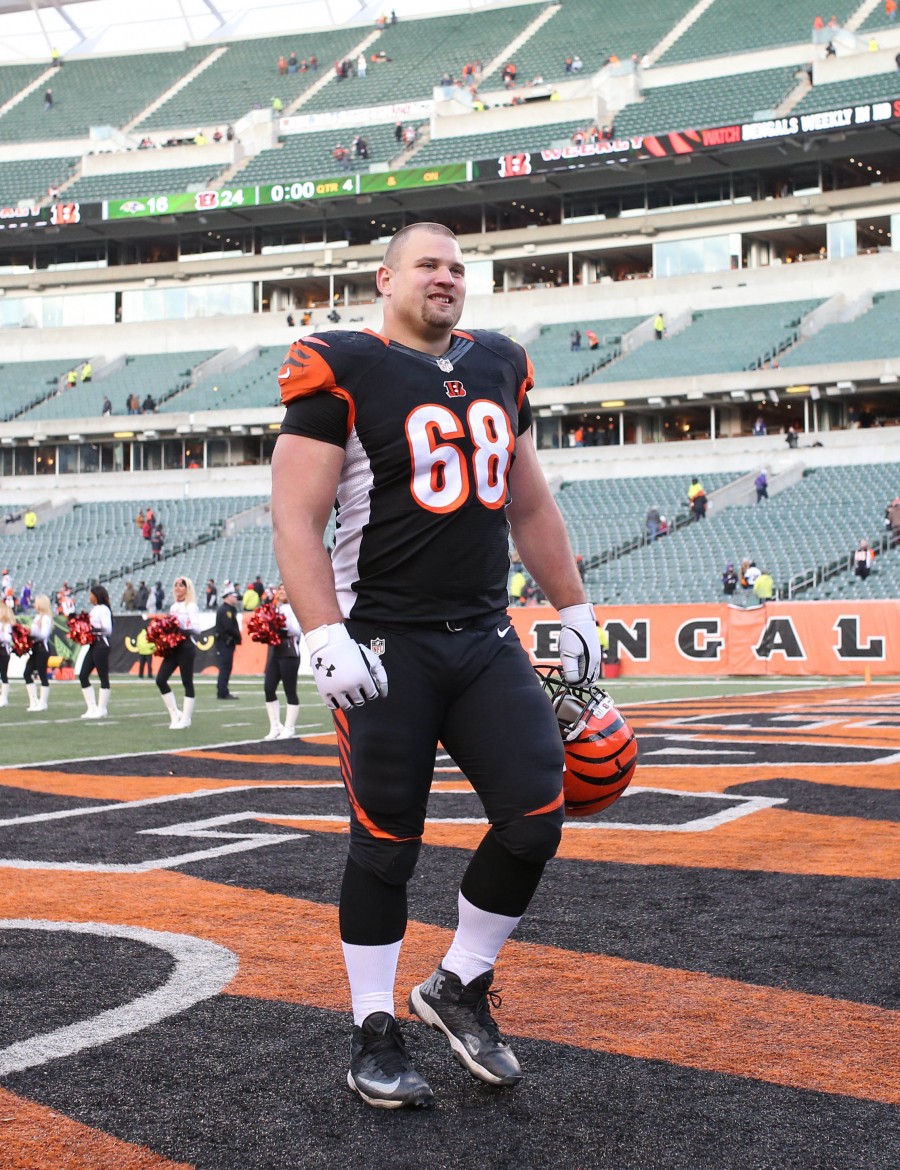 The Browns didn't stop after adding Zeitler, as they also brought in former Packers center J.C. Tretter. A former fourth-round pick, Tretter split time at Green Bay's pivot with Corey Linsley over the past three years, and also showed the ability play guard and tackle. While he doesn't offer much experience (only 10 career starts), Tretter should offer an upgrade for the Browns, who haven't found an option at center since Alex Mack after the 2014 campaign. Former first-round selection Cameron Erving, a center by trade, will now become part of Cleveland's competition at right tackle, the club's one weak spot on a front five that PFF ranked as the second-best offensive line heading into the 2017 season.
Running behind the Browns' revamped offensive line will be Isaiah Crowell, who's back with the team after signing his second-round restricted free agent tender. Crowell, 24, reportedly drew interest as an RFA, but will instead return to Cleveland on a non-guaranteed $2.746MM. After posting the best season of his three-year career in 2016, Crowell could be in line for an extension, although talks had apparently stalled as of late May. He rushed for a career-high 4.8 yards per carry on 198 attempts last year.
Joining Crowell among Cleveland's skill position players is wideout Kenny Britt, whom the Browns enticed with a four-year pact. Although Britt topped the 1,000-yard mark in 2016, he's entering his age-29 campaign, so his fit with a young Browns roster is murky. The rest of Cleveland's wide receiver corps is comprised of youthful, inexperienced players, so perhaps the Browns simply want some level of maturity at the position. The Britt signing wasn't a personal favorite — the Browns could have spent a bit more and tried to lure Alshon Jeffery to Cleveland, or made a harder run at retaining Terrelle Pryor — but the club had to spend its cap space in some fashion, and Britt is a capable player.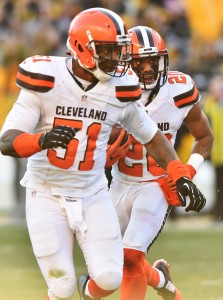 On defense, the Browns unsurprisingly re-signed linebacker Jamie Collins after shipping a third-round pick to New England in order to acquire him at midseason. Collins agreed to an extension in January instead of hitting the open market, but he still set a new high-water mark for off-ball linebackers, as his $12.5MM annual salary puts him just north of Luke Kuechly. Collins graded as just the 44th-best edge defender in the league last season (per PFF), a far lower rating that he'd attained in years past, but he's a solid fit in new defensive coordinator Gregg Williams' attacking 4-3 scheme.
Cleveland also brought in veteran defensive back Jason McCourty, signing the longtime cornerback after he was released by the Titans. At age-29, McCourty isn't the No. 1 corner he once was, but he's still a viable starter, and will add an air of competence opposite Joe Haden. McCourty will likely begin the season in the starting lineup at corner, but if the Browns are impressed by one of their young defensive backs, McCourty could conceivably be shifted to safety.
Notable losses:
Alvin Bailey, G: Released
Gary Barnidge, TE: Released
Robert Griffin III, QB: Released
Andrew Hawkins, WR: Released
Tracy Howard, CB: Waived
Josh McCown, QB: Released
Stephen Paea, DL
Jordan Poyer, S
Terrelle Pryor, WR
Tramon Williams, CB: Released
The Terrelle Pryor situation was one of the great mysteries of the 2017 free agent period, and it's still not entirely clear how (and why) the Browns allowed him to sign with the Redskins on a one-year deal worth just $6MM. Reports on the episode have varied, as team owner Jimmy Haslam says Cleveland made a "very aggressive" long-term offer to Pryor, while Mary Kay Cabot of Cleveland.com indicated the Browns refused a chance to match Washington's terms.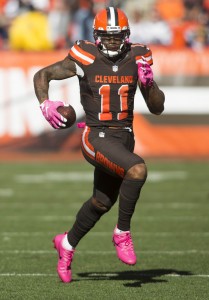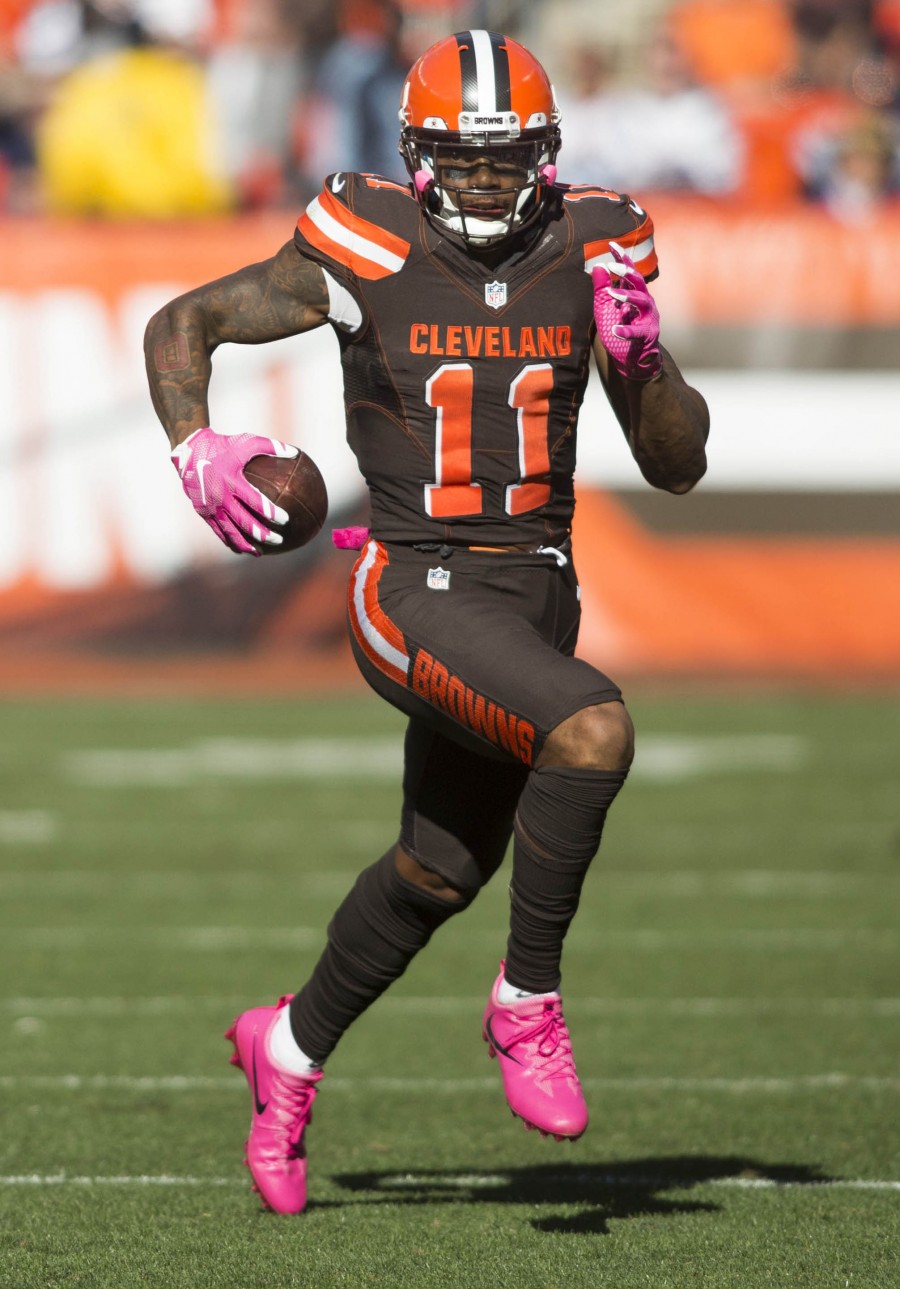 Whatever happened, it's nearly unforgivable that the Browns lost Pryor, especially given his ending price point. Cleveland developed Pryor into a wide receiver, and witnessed him post 77 receptions, 1,007 yards, and four touchdowns in his first season as pass-catcher. That's incredible production from a former quarterback who had only dabbled as a wideout in previous seasons. It's inconceivable that the Browns allowed Pryor to walk after his 2016 season, and if the two sides somehow couldn't agree on a contract, Cleveland should have used the franchise tag, which would have allowed the club to retain Pryor for one year and $15.6MM.
While Pryor's free agency ordeal was full of surprises, the open market travails of offensive lineman Austin Pasztor are equally confusing. Only 26 years old, Pasztor started 16 games for the first time in his career in 2016 and performed extremely well, earning positive marks from PFF (especially in the passing game). But he hasn't drawn a lick of free agent interest since the new league year began in March: no meeting, no workouts, no known interest of any kind. Cleveland should have used the same May 11 tender that New England deployed on LeGarrette Blount, which would have essentially tied Pasztor to the Browns at a cheap rate. He'd be the team's immediate starter at right tackle.
Most of the Browns' other free agent decisions made more sense, especially at the quarterback position, where the club cut ties with both Robert Griffin III and Josh McCown. The decision to sign Griffin was mocked (and even more so after he went down with injury in his first game as a Brown), but Cleveland took a worthwhile gamble by inking RG3, who posted arguably the greatest rookie quarterback season of all time in 2012. Although the experiment didn't work out, $7.5MM was a palatable price to see if Griffin could recapture his past production. McCown, meanwhile, typically played well in his time with the Brown, but like RG3, simply couldn't stay on the field. A 38-year-old signal-caller doesn't belong on a rebuilding roster.
An almost 32-year-old tight end probably doesn't belong a young roster, either, but the Browns' decision to part with Gary Barnidge was complicated by his excellent results over the past two years. From 2015-16, Barnidge averaged 67 receptions, 828 yards, and six touchdowns, and was only scheduled to carry a $3.8MM cap charge. Still, despite the fact that I've banged the free agent drum for Barnidge, he didn't make sense on a club that wants to give snaps to first-round pick David Njoku.
Trades:
Cleveland's acquisition of Brock Osweiler was unquestionably the most interesting trade of the year, as the Browns agreed to take on Osweiler's fully guaranteed $16MM 2017 salary in order to land draft capital from the Texans. Opinions of the swap have been mixed — Jason Fitzgerald of Over the Cap was critical of the deal, while Bill Barnwell of ESPN.com was a bit more laudatory — but the trade was certainly creative. While Osweiler was originally viewed as a vessel for the Browns to acquire draft picks, he might now be in serious consideration for Cleveland's starting quarterback job.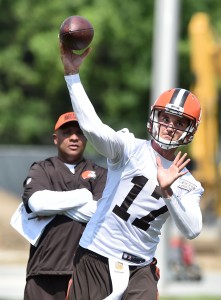 For the rest of Cleveland's draft pick-oriented trades, I thought it would be instructive to compare the moves alongside Kevin Meers' draft value chart, which he published at the Harvard Sports Collective in 2011. Meers was a Browns research analyst at the time of the draft, but has since been promoted to director of research and strategy. His value chart is a bit different from the classic Jimmy Johnson chart or even Chase Stuart of Football Perspective's table, and places more value on mid-to-late round selections.
Combining their four draft choice-centric deals, the Browns netted 115.9 points of value, which is worth the 77th overall selection (early third round), according to Meers' chart. Of course, that total is heavily influenced by Cleveland's draft-day trade with Houston, which landed the club a 2018 first-round pick. Even if that choice is valued in the middle of the 2018 first round, it's still a massive overpay for the Texans (who probably didn't care, as they were seeking a franchise quarterback). That deal alone was worth 196.9 points of value to the Browns, comparable to the 32nd overall choice.
Without that trade accounted for, Cleveland actually lost draft value in its other three draft-day swaps, at least per Meers' chart. In a trio of deals, the Browns sacrificed 81 points of value (roughly the 120th pick) in trades that saw them move up three times. Of course, it's not fair to erase the Texans/Deshaun Watson trade simply because its effects won't be felt until next year, and the Browns may have felt more comfortable dealing away value in 2017 knowing they had that extra first-rounder in their back pocket.
Draft picks:
Four of Cleveland's first five selections figure to see large snap counts during their rookie campaigns, and expectations won't be higher for any other pick league-wide than No. 1 overall choice Myles Garrett. The consensus top prospect in the draft, Garrett figures to be inserted directly into the Browns' starting lineup and should be a threat for double-digit sacks. Larry Ogunjobi also has a chance to start on the defensive line (at tackle), while Jabrill Peppers — provided he gets under contract — and David Njoku will also play large roles in 2017.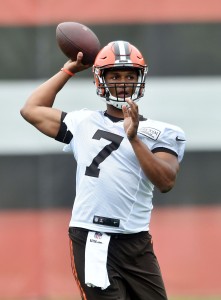 The Browns' most interesting pick came on Day 2, when they landed Notre Dame quarterback DeShone Kizer with the 52nd overall selection. Instead of jumping on a signal-caller early, Cleveland sat back and let the draft come to them. Personally my favorite quarterback of the 2017 class, Kizer displays exceptional movement within the pocket and doesn't wilt in the face of pressure, QB guru Cian Fahey explained earlier this year in a series of GIFs. Kizer should compete for playing time by midseason at the latest.
Cleveland also placed a well-calculated bet in the sixth round, picking up defensive lineman Caleb Brantley, whose stock had fallen based on assault charges. The Browns made it clear they weren't committed to Brantley, who'd been viewed as a Day 2 pick, even after drafting him. But now that charges have been dropped against the Florida product — and new evidence showed he was actually defending himself — Brantley is now a clear value selection for Cleveland.
Extensions and restructures:
Joel Bitonio missed most of the the 2016 season with a Lisfranc injury, but the Browns still saw fit to lock him up for five additional years. His $10MM annual salary makes him the league's highest-paid left guard, but Cleveland can easily get out of the contract after 2018 if Bitonio struggles with more injuries or simply doesn't play well. While Bitonio was guaranteed more than $17MM, all of that total is in the form of base salary and a roster bonus. As such, the Browns could release Bitonio after the 2018 campaign with no dead money accelerating onto their cap.
Like Bitonio, Christian Kirksey was a valuable mid-round pick in 2014 Browns draft that's become more known for its first-round busts (Justin Gilbert and Johnny Manziel say hello). In his third NFL season, Kirksey posted 143 tackles, 2.5 sacks, and three passes defensed, while grading as the NFL's No. 20 linebacker, according to PFF. He was also extremely durable, as he played nearly every defensive snap (99.8%) for the Browns last year.
Other:
Top 10 cap charges for 2017:
Brock Osweiler, QB: $16,000,000
Joe Haden, CB: $14,400,000
Joel Bitonio, G: $12,237,813
Jamie Collins, LB: $12,100,000
Joe Thomas, T: $11,500,000
Kevin Zeitler, G: $8,400,000
Kenny Britt, WR: $5,625,000
Myles Garrett, DE: $5,529,501
Christian Kirksey, LB: $5,162,625
Desmond Bryant, DL: $4,000,000
The Browns aren't likely to contend for the postseason in 2017 — the betting site Bovada.lv has Cleveland's win total pegged at 4.5 — but the club is moving in the right direction. Through smart trades, key free agent signings, and wise draft picks, the Browns have set forth a path that should enable them to emerge with a winning roster at some point down the line.
Information from Over the Cap and Roster Resource was used in the creation of this post. Photos courtesy of USA Today Sports Images.
Follow @PFRumors