Led by rookie quarterback Carson Wentz and first-year head coach Doug Pederson, the Eagles posted a respectable 7-9 mark, an even more encouraging plus-36 point differential and a stunning fourth-place DVOA ranking in 2016. It was apparent, though, that Wentz didn't have a talented enough supporting cast, so executive vice president Howie Roseman went to work in the offseason to give the 24-year-old face of the franchise more weaponry.
Notable signings:
As PFR's Dallas Robinson noted entering the offseason, Wentz played his initial NFL campaign with an underwhelming group of wide receivers. Aside from Jordan Matthews, who registered his third straight prolific pass-catching year (73 receptions), Philadelphia had very little at the position. Nelson Agholor, the Eagles' first-rounder in 2015, notched a second straight lackluster showing, while fellow sophomore Dorial Green-Beckham was also once again unable to put it together. The Eagles waived DGB last month, which they were able to do in part because of the upgrades Roseman made over the winter.
Although the Eagles were hardly flush with cap space entering free agency, they managed to reel in arguably the best receiver available, former Bear Alshon Jeffery, on a shockingly reasonable pact. While less established wideouts such as Kenny Britt and Robert Woods, among others, landed long-term deals, Jeffery settled for a one-year, $9.5MM contract. That came on the heels of a PED suspension-shortened season in which Jeffery recorded career lows in receptions (52) and touchdowns (two) over 12 games.
Jeffery's suspension seems like more of a blip than a major character concern, if you're to believe that he unknowingly took a banned substance. The question now is whether he'll bounce back to resemble the player he was from 2013-15, when the 6-foot-4, 230-pounder combined for 228 catches, 3,361 yards and 21 scores over 41 games. That translates to 89-1,312-eight over a full season, which is the type of top-shelf production no Eagles receiver has offered since Jeremy Maclin in 2014. Much of Jeffery's damage this year should come in the red zone, where the Eagles logged the league's ninth-worst touchdown percentage last season.
Like Jeffery, the Eagles' other significant signing at receiver, Torrey Smith, brings a quality resume to the table. However, Smith fell off over the previous two years after leaving Baltimore for San Francisco, which couldn't find anything resembling a solution under center during his Bay Area tenure. Smith suffered for it, especially during a 20-catch 2016, but he's still relatively young (28), capable of stretching the field (17.0 yards per catch over 92 games) and durable. Prior to last season, when he missed four contests, Smith racked up five straight 16-game slates.
Even if Smith's unable to regain the form he showed as a Raven in Philadelphia, it's fair to say the Eagles took a calculated risk here. Worst-case scenario: Smith is on a one-year, $5MM deal that the Eagles will be able to escape if things go poorly. But a renaissance from Smith could keep him in Philly at affordable prices for the foreseeable future, as his contract includes a $5MM club option for both 2018 and '19.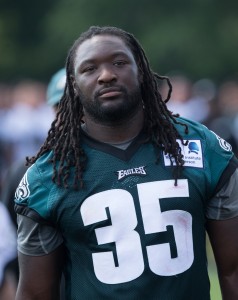 Along with upgrading the Eagles' passing attack, Roseman addressed the team's ground game with the addition of ex-Patriots bruiser LeGarrette Blount, yet another one-year deal recipient. The 245-pounder might not meaningfully boost the Eagles' 18th-ranked yards-per-carry average from last year (4.1), as he only put up 3.9 per rush himself, but the $1.25MM man should join Jeffery in bettering their subpar red zone attack. Blount led all backs last season with 18 rushing TDs, a league-high 15 of which came inside the opposing 10-yard line. The Eagles' primary ball carrier from last year, Ryan Mathews, also did well in that category (his eight TDs ranked tied for seventh), but he still lagged well behind Blount.
With his health in question, Mathews' time in Philly is on the verge of ending, which will leave the backfield to Blount, Darren Sproles, Wendell Smallwood and rookie fourth-rounder Donnel Pumphrey. It's not the most exciting group on paper, but it's a low-cost quartet that should be reasonably effective. Further, those backs will run behind what might be the league's premier offensive line, which will help cover up for their deficiencies.
Continuing the inexpensive veteran theme, the Eagles made a somewhat splashy move on defense when they added end Chris Long on a two-year, $4.5MM accord. There's significant name value with Long, who was with Blount on last season's Super Bowl-winning New England squad, but the 32-year-old isn't the force he was earlier in his career with St. Louis. Still, it's another sensible investment for the Eagles, who found a better fit for their defense than the released Connor Barwin when they reeled in Long. Barwin was great at times during his four years with the Eagles, but he clearly wasn't an ideal match for defensive coordinator Jim Schwartz's 4-3 scheme last season. Conversely, Long prefers a 4-3, where he can come off the edge, to the 3-4 hybrid he worked in last season with the Pats, who often deployed him along the interior of their D-line. On paper, Long looks like a rather impressive No. 4 end for a Philadelphia team that will enter the season with Brandon Graham, first-rounder Derek Barnett and Vinny Curry ahead of him on its depth chart.
Notable losses:
Fortunately for the Eagles, they didn't lose any must-have contributors during the offseason. In terms of playing time, the closest exception is Nolan Carroll, who started all of the Eagles' games last year and easily paced their cornerbacks in snaps (910). At the same time, though, Carroll ranked a horrid 92nd in performance among Pro Football Focus' 109 qualified corners and only picked off one pass.
Including Carroll and defensive tackle Bennie Logan, whom they replaced via trade with Timmy Jernigan, the Eagles seem equipped for life without all of the above departures. Logan spent the first four seasons of his career in Philadelphia and started in each of his 43 appearances from 2014-16, but the now-Chief didn't thrive in his only year in Schwartz's scheme. Logan ranked a below-average 71st among 126 interior D-linemen in 2016, per PFF, which rated Jernigan 37th.
The 27-year-old Jernigan was a reliable defender in Baltimore over his first three seasons, and his $1MM-plus salary for 2017 is microscopic compared to the $8MM Kansas City gave Logan. While the Eagles had to move down from 74th to 99th in the draft in order to consummate the Jernigan trade, the deal still enabled them to make a third-round selection. The main downside for the Eagles is that Jernigan's going into a contract year, so he might just be a Band-Aid for the club.
Trades:
Draft picks: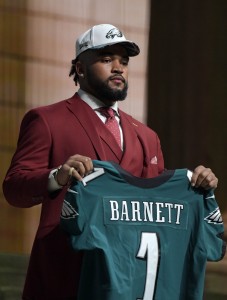 The Eagles were a so-so 16th in the league in sacks last year, which helped point them to Barnett in the opening round of the draft. The former Tennessee star amassed 52 tackles for loss and 32 sacks in three years with the Volunteers, and he's coming off a season in which he piled up 19 tackles behind the line of scrimmage and took down opposing quarterbacks 13 times. Lance Zierlein of NFL.com likens the 6-3, 259-pound Barnett to Packers pass rusher Nick Perry, who totaled 11 sacks in 2016.
While the Eagles were merely average at sacking enemy QBs last year, mediocrity from their corners would've been welcome. Carroll and the also-gone Leodis McKelvin had poor seasons, as did holdovers Jalen Mills and Ron Brooks, and newcomer Patrick Robinson. The Eagles didn't do anything major about the position in free agency or via the trade route, though, instead choosing to use high draft picks in hopes of improving their situation. However, as far as 2017 goes, it's an open question whether second-rounder Sidney Jones will be able to factor in at all.
Once regarded as a first-round-caliber prospect, the ex-Washington standout dropped to the Eagles at pick No. 43 after tearing his Achilles during the final rep of his pro day in March. Thanks to that injury, Jones probably won't debut with the Eagles until sometime between September and November. If Jones does play this year, he'll do so without having taken the field for any of the Eagles' offseason program, training camp or the preseason. In theory, then, Jones will be significantly behind the 8-ball, but defensive backs coach Cory Undlin doesn't seem overly concerned.
"It won't be a lost year — whenever he comes back, obviously that gap with all these OTAs, he'll be behind in that, and that's the only difference," Undlin told Zach Berman of Philly.com last month. "We'll be preparing every day with him showing up like he's going to play this year. Now is he? I have no idea. He has no idea. But we're going about our business on a daily basis like he's going to play, and his mindset has to be exactly the same. And then when he's out there, he's out there. Will he be a little bit behind? He'll be behind, because he obviously hasn't had these reps."
Third-round corner Rasul Douglas, whom the Eagles took with the pick they got in the Jernigan deal (No. 99), is fresh off a breakout season in which he intercepted eight passes at West Virginia. The 6-2 Douglas then matched up against Jeffery during the spring and impressed the wideout, who predicts the rookie will nab "about three to five picks this year" (via Martin Frank of the News Journal). That type of output would be a godsend for the Eagles, whose corners only intercepted three passes last season. All of those picks came from ex-Eagles in Carroll and McKelvin.
Extensions and restructures:
Other:
It wasn't remotely surprising that the Eagles declined Smith's fifth-year option, given that the 2014 first-round pick has been a non-factor during his pro career. Smith's Eagles tenure has included just four sacks across 37 games, none of which were starts, and he's unlikely to do much in 2017 with Graham, Barnett, Curry and Long ahead of him on the depth chart. Barring an unexpected turnaround, Smith will go down as a wasted investment for the Eagles.
Top 10 cap charges for 2017:
It's hard to offer a negative assessment of the Eagles' offseason, considering they made clear improvements to their roster without handing out any potentially onerous contracts. The Eagles now look primed to better last year's seven victories – the betting site Bovada.lv has set their over/under at eight wins – but whether they'll vie for a playoff spot figures to hinge on Wentz's progression. A true coming-out party for Wentz could put Philadelphia in contention to win what should be a knock-down, drag-out NFC East, a division that sent two teams to the postseason last year and enters 2017 without any weak-looking clubs.
Information from Over the Cap and Roster Resource was used in the creation of this post. Photos courtesy of USA Today Sports Images.
Follow @PFRumors