Beth Bowlen, the second-oldest child of former Broncos owner Pat Bowlen, has informed Broncos ownership that she is interested in taking over as controlling owner of the team. However, The Pat Bowlen Trust, set up following the owner's retirement in 2014 from Alzheimer's disease, told the younger Bowlen that she is not qualified for the position, Nicki Jhabvala writes in an in-depth piece for The Athletic.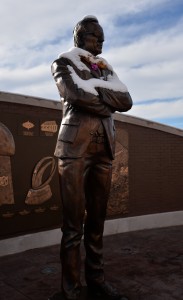 "I have completed the criteria laid out by the trustees, so I felt it was a good time to come out and express my interest and desire to be a part of the organization again," Bowlen told The Athletic.
Trust member and team president/CEO Joe Ellis released a more in-depth statement, which said that Beth Bowlen was not in the original leadership plans set out by Pat before his retirement.
"Pat did not designate Beth as a trustee or appoint her to a leadership position, nor did he instruct the trustees to specifically mentor her. He made it clear that his children were not automatically entitled to a role with the team and that they would have to earn that opportunity through their accomplishments, qualifications and character.
"As trustees honoring the clear wishes of Pat, we have thoroughly evaluated whether Beth is capable of succeeding her father as controlling owner. We have determined that she is not capable or qualified at this time."
Among the qualifications set aside for the successor, Jhabvala mentions "A bachelor's degree paired with an MBA, J.D. or other advanced business-related degree was one. So was at least five years of "senior management experience" with the NFL, the Broncos or the Stadium Manage Company (SMC), the organization that runs the team's stadium in Denver."
Ellis also mentioned that Beth Bowlen has declined to meet with the trust for the last two years to discuss her qualifications. She has reportedly given the trust her succession plan which would include a mentorship program with the team's front office before growing to include each of the other six Bowlen children.
The trust was formed more than a decade before the owner's diagnosis and includes, along with Ellis, team counsel Rich Slivka and Denver attorney Mary Kelly. Ellis represents the team at league functions.
The plan is still for a member of the Bowlen Family, which has owned the Broncos since 1984, to take over the reins. Brittany Bowlen, 28, considered by many the frontrunner for the job, has yet to comment on the new situation, as 9 News' Mike Klis tweets. Jhabvala notes a quote from Ellis in 2016, "When a child emerges that has the capability and has earned the right to have that job and take over their father's chair, the three trustees will determine that.