The NFL's quarterback carousel continued earlier this week when the Jets finally traded former third-overall pick Sam Darnold to the Panthers. The 23-year-old became the fifth quarterback to switch teams via trade this offseason:
While teams have already shifted focus from veteran acquisitions to the draft, that doesn't mean we won't see another QB trade. Sure, it takes two to tango, and a number of teams already have already solidified their quarterback situation (or they will in the upcoming draft). Still, teams like the Patriots, Broncos, Bears, Saints, and Washington could be in the market for a signal-caller depending on what happens with the draft.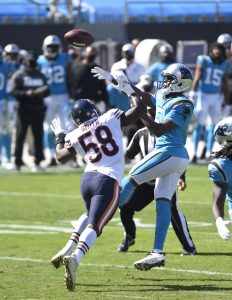 So who could be available? We know one name is definitively on the block: Teddy Bridgewater. Following the Panthers' acquisition of Darnold, the front ofice gave the 2020 starter permission to seek a trade. It seems like a trade is inevitable, with reports indicating that multiple teams have reached out to Carolina about the veteran. Many of these teams are apparently eyeing Bridgewater as a backup, which could complicate a trade if the veteran is hunting for a suitor who will let hm start. Further, interested teams would also like to rework Bridgewater's contract, adding another hurdle to negotiations.
It was widely assumed that Jimmy Garoppolo would be on the trade block after the 49ers made a blockbuster trade for the No. 3 pick. However, the organization appears to be playing hard ball. After declaring that the veteran would be sticking around San Francisco for the 2021 season, the 49ers are reportedly seeking a first-rounder for Jimmy G. This could obviously just be leveraging via the media, and the 49ers will be hard pressed to find a team that will give up that type of draft capital and inherit Garoppolo's hefty deal. Either way, the rumors will surely persist, especially if Garoppolo's former team, the Patriots, roll into the regular season with Cam Newton and Jarrett Stidham as their top quarterbacks.
What about Gardner Minshew? The former sixth-rounder took a step back from a team-record perspective in 2020, but he still proved to be a capable game manager, connecting on 66.1-percent of his passes and tossing 16 touchdowns vs. only five interceptions. The Jaguars will presumably take Trevor Lawrence will the first-overall pick in the upcoming draft, relegating Minshew to a backup role. Minshew has a low salary and plenty of upside, so Jacksonville won't just give him away. However, if a team is willing to pony up for the mustached quarterback, the Jaguars will probably listen. For what it's worth, we heard back in March that the Jaguars weren't shopping Minshew "at this point" in time.
Those three quarterbacks appear to be the most realistic trade targets, but there are plenty of additional quarterbacks who have lingered in trade rumors. Russell Wilson and Deshaun Watson were the biggest names thrown around this offseason, but it's unlikely either player is dealt any time soon (Wilson because he's a franchise quarterback and the Seahawks aren't dumb, Watson because of the ongoing sexual misconduct allegations against him (and the Texans prior refusal to trade him despite demands)). Some less sexy names include Nick Foles, who could be displaced in Chicago after the Bears signed Andy Dalton. Matt Ryan, Derek Carr, and Drew Lock have also been tossed around, but it's unlikely any of those players switch teams.
So that leads to our question: who will be the next quarterback to be traded? Let us know if we forgot anyone in the comments.
Photo courtesy of USA Today Sports Images.
Follow @PFRumors