The teams that still have players tied to the franchise tag have until 3pm CT Friday to reach extension agreements with the tagged performers. Otherwise, those players will play the 2022 season on the tag.
This year has brought a better success rate for tags leading to extensions, at least compared to the past two offseasons. Four of the eight players given the tag in March have signed extensions. That betters the 2020 (2-for-14) and 2021 (3-for-9) success rates. While Chris Godwin (Buccaneers), Cam Robinson (Jaguars), David Njoku (Browns) and Davante Adams (Packers; traded to Raiders) agreed to deals, the rest of this year's group remains unsigned.
Here is how that quartet stands entering deadline week:
This looks like the most contentious of this year's remaining tag situations. Bates, 25, discussed his disappointment about the lack of a Bengals extension ahead of his 2021 contract year and admitted not receiving a long-term deal affected him during the season. The former second-round pick, who rebounded with a postseason run featuring two interceptions and six pass deflections, voiced opposition to the franchise tag in February. Absent a long-term deal, the fifth-year defender is not expected to show for Bengals training camp. Bates, who has not signed his franchise tender, is tied to a $12.9MM tag figure. The Bengals hold $15.8MM in cap space.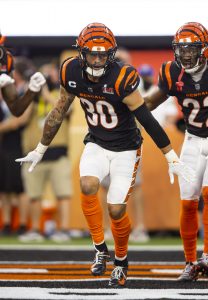 Cincinnati has Vonn Bell on a $6MM-per-year deal, one that expires at season's end, and used a first-round pick on safety Daxton Hill. The team has some notable players who become extension-eligible after 2022, notably Joe Burrow and Tee Higgins, and they may not be prepared to extend Bates on the level of Minkah Fitzpatrick ($18.2MM per year) or Jamal Adams ($17.5MM AAV). With the Bengals potentially eyeing Marcus Williams' five-year, $70MM Ravens deal, this impasse has created "bleak" negotiations leading up to the deadline.
The Bengals have taken care of homegrown defenders in the fairly recent past, giving both Carlos Dunlap and Geno Atkins two extensions and re-signing Dre Kirkpatrick in 2017. They also have let productive starters go, as evidenced by the departures of Andrew Whitworth, Kevin Zeitler, William Jackson and Carl Lawson. Zeitler signed a then-guard-record deal with the Browns in 2017; is Bates headed for free agency after a rental year?
This situation has not produced as many headlines as Bates' over the past year, but the Chiefs are a few days away from going to year-to-year with their left tackle. Brown is tied to a $16.7MM tag but is pursuing a deal that makes him the NFL's highest-paid offensive lineman. Trent Williams, whom the Chiefs pursued in free agency last year before pivoting to a Brown trade, currently holds that title ($23MM per year). The league has three $20MM-AAV O-linemen (Williams, David Bakhtiari and Laremy Tunsil). For Brown to commit to a long-term deal, he would need to be the fourth. The Chiefs hold $14.3MM in cap space.
The Chiefs gave up their 2021 first-round pick for Brown, in a deal that also sent a Ravens second-rounder to Kansas City. Brown hired an agent that did not have an NFL client at that point, seeking a representative without relationships with front offices. The former Ravens third-rounder delivered an ominous message to his current team last month. Addressing the AFC West arrivals of Chandler Jones, Khalil Mack and Randy Gregory, Brown said it is "not the year to go into the season with a backup left tackle." The sides have begun talks, which was the Chiefs' plan upon acquiring Brown in 2021. But these could, as many tag stalemates do, go up to the deadline.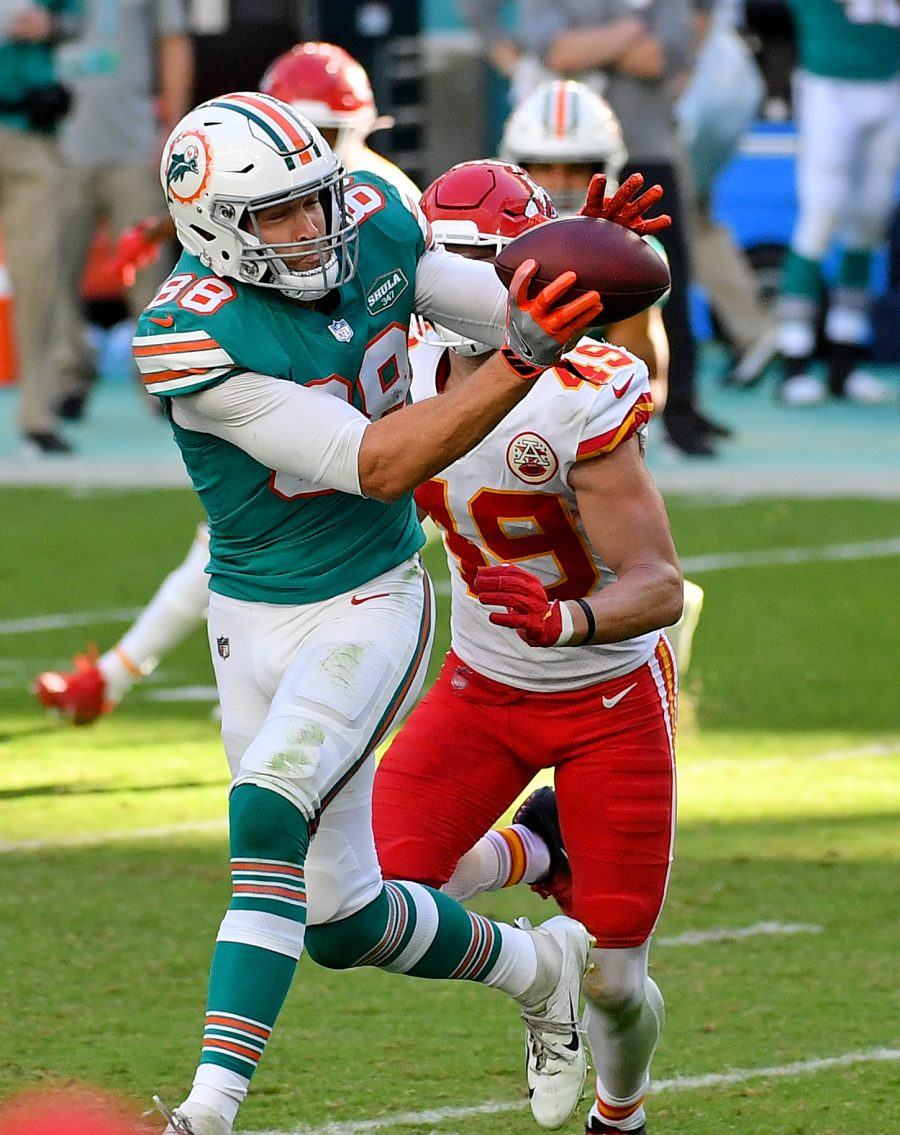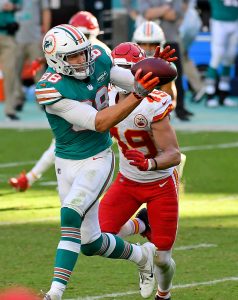 In moving from a right tackle the Ravens did not have in their long-term plans to a Chiefs Pro Bowler given the tag, Brown has shown a knack for maximizing his value. Like Bates, Brown has not signed his franchise tender, giving him the option of skipping training camp free of charge. The Chiefs have just one O-lineman, Joe Thuney, signed to a notable veteran deal. It would seem the franchise is prepared to give Brown a big-ticket extension. If the 26-year-old blocker is intent on surpassing Williams' deal, it will test the Chiefs' commitment.
The Dolphins might be eyeing a rental season here. Gesicki signed his franchise tender and has expressed interest in a long-term Miami deal. But the team may want to see more from the former second-round pick. Less than a week before the deadline, the sides have not done much work on an extension. Njoku's $14.2MM-per-year pact can reasonably be viewed as a Gesicki target, with the Dolphins tight end producing two seasons — yardage-wise — that outpaced Njoku's best year. Even before Njoku's extension, the Dolphins and their tagged tight end were not close on a re-up. The Dolphins hold $16.5MM in cap space.
Mike McDaniel reshaped the Dolphins' offense this offseason, and on just a $10.9MM franchise tender, the Penn State product makes sense as a rental piece. This represents a crucial year for Tua Tagovailoa, and the Dolphins kept one of his top targets off the market. Gesicki, 26, could join this year's other tagged tight end as a 2023 free agent. It would cost the Dolphins 120% of this year's tight end tag figure to cuff Gesicki again in 2023.
The Cowboys frequently hammer out extensions, preferring deals that last at least five years. That preference has impacted the Schultz talks, with the Njoku contract undoubtedly factoring into this equation as well. Throughout the offseason, the Cowboys and Schultz have not been close on an agreement. Schultz, 26, did not finish OTAs with the team, citing dissatisfaction with his contract talks for leaving. He later circled back for mandatory minicamp. Despite little momentum emerging for much of the offseason, these negotiations still have a chance of producing an agreement ahead of Friday's deadline. The Cowboys hold $22.5MM in cap space; Schultz has signed his tender.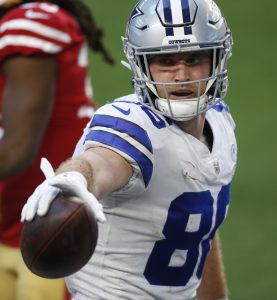 Unlike Gesicki's situation, the tight end tag talks in Dallas have continued throughout the offseason. The $10.9MM payment obviously represents a major raise for the former fourth-round pick, but as Blake Jarwin's injury issues have shown, players can lose value quickly. The Cowboys paid Jarwin ahead of his career-altering injuries, and Schultz has been a far more effective weapon, as evidenced by his 808-yard, eight-touchdown 2021 season. The Cowboys were wise to keep him off this year's market, with Amari Cooper being traded and Michael Gallup unlikely to start the season on time.
If Schultz and the Cowboys cannot agree on terms by Friday, his status as a key Dak Prescott target stands to position the Stanford alum for a big payday as a 2023 UFA. Then again, the Cowboys have re-tagged multiple players — Prescott and DeMarcus Lawrence — over the past five years.
Follow @PFRumors