The Bengals entered the 2021 season with tempered expectations but reason for optimism. Quarterback Joe Burrow returning to full health and a number of free agent additions on defense in particular pointed to an incremental step for head coach Zac Taylor's team after his first two years resulted in a record of 6-25-1. Playoffs were deemed a mere possibility, so the team's actual performance – a division title, underdog playoff run and the franchise's first Super Bowl appearance in more than 30 years – took the football world by storm.
With a number of foundational pieces seemingly in place, the 2022 offseason was deemed one needed to augment a strong roster and set it up for long-term success. Featuring the reigning Comeback Player of the Year in Burrow and Offensive Rookie of the Year in phenom receiver Ja'Marr Chase, the Bengals have an ascending nucleus of talent, but also a number of important unanswered questions. After several targeted free agent additions, contrasted with the unresolved contract dispute with another key young player in safety Jessie Bates, has Cincinnati taken sufficient steps towards long-term AFC contention?
Free agency additions:
After he was sacked a league-leading 51 times last regular season (along with 19 more in the playoffs), it was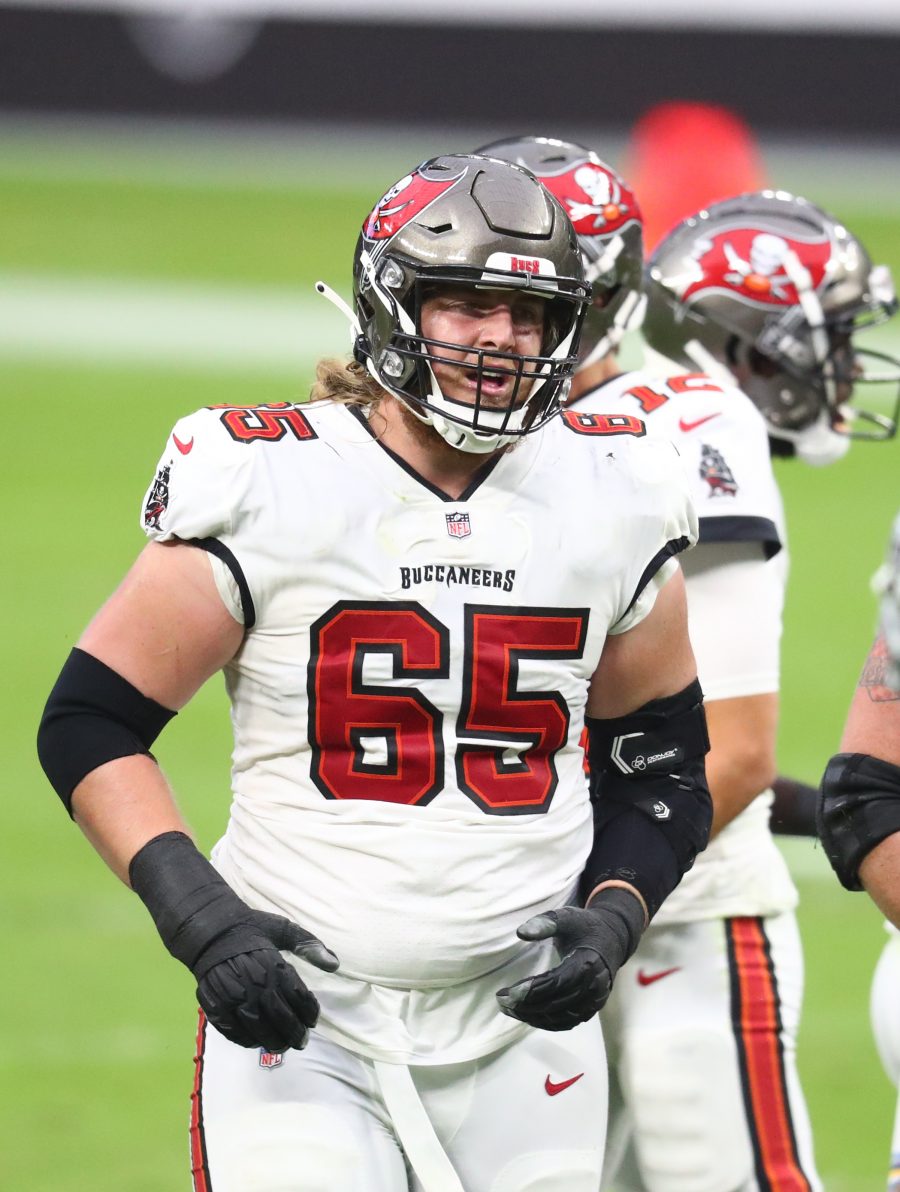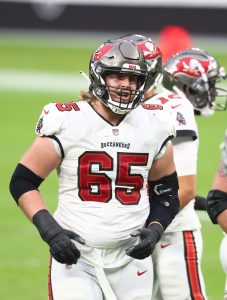 universally understood that upgrading Burrow's protection was the Bengals' top priority. Their outside spending clearly reflects that, with the addition of three starting-caliber offensive lineman. Cappa, 27, is the youngest of the trio; he brings three years of starting experience from his time with the Buccaneers. A key member of Tampa Bay's elite unit in recent years, the former third-rounder established himself as one of the top guards on the open market.
The Bucs expressed a willingness to keep him but had a number of other priorities which needed attention to keep their championship window open. Cappa's career ascension has been reflected by year-to-year increases in Pro Football Focus grades (including a new personal mark of 73.4 last season), and he played every offensive snap for the second consecutive regular season in 2021. He projects as a consistent, durable upgrade on the right side of Cincinnati's O-line.
The latter part of that description may not be true of Collins. The former Cowboy established himself as a high-level blocker originally on the interior, beginning his NFL career at guard. But he has mostly worked at the right tackle spot. His 82 PFF grade in 2021 was confirmation of his caliber of play when on the field, but that plus assessment came in a campaign where he missed five games due to a PED suspension. That early-season hiatus followed the 2020 season, which Collins missed in its entirety due to injury. The 29-year-old was nevertheless a highly sought-after free agent following his release from Dallas, and, if healthy could prove to be an effective value signing. The deal will also give Collins the opportunity to continue climbing the ranks of the league's highest-earning former UDFAs.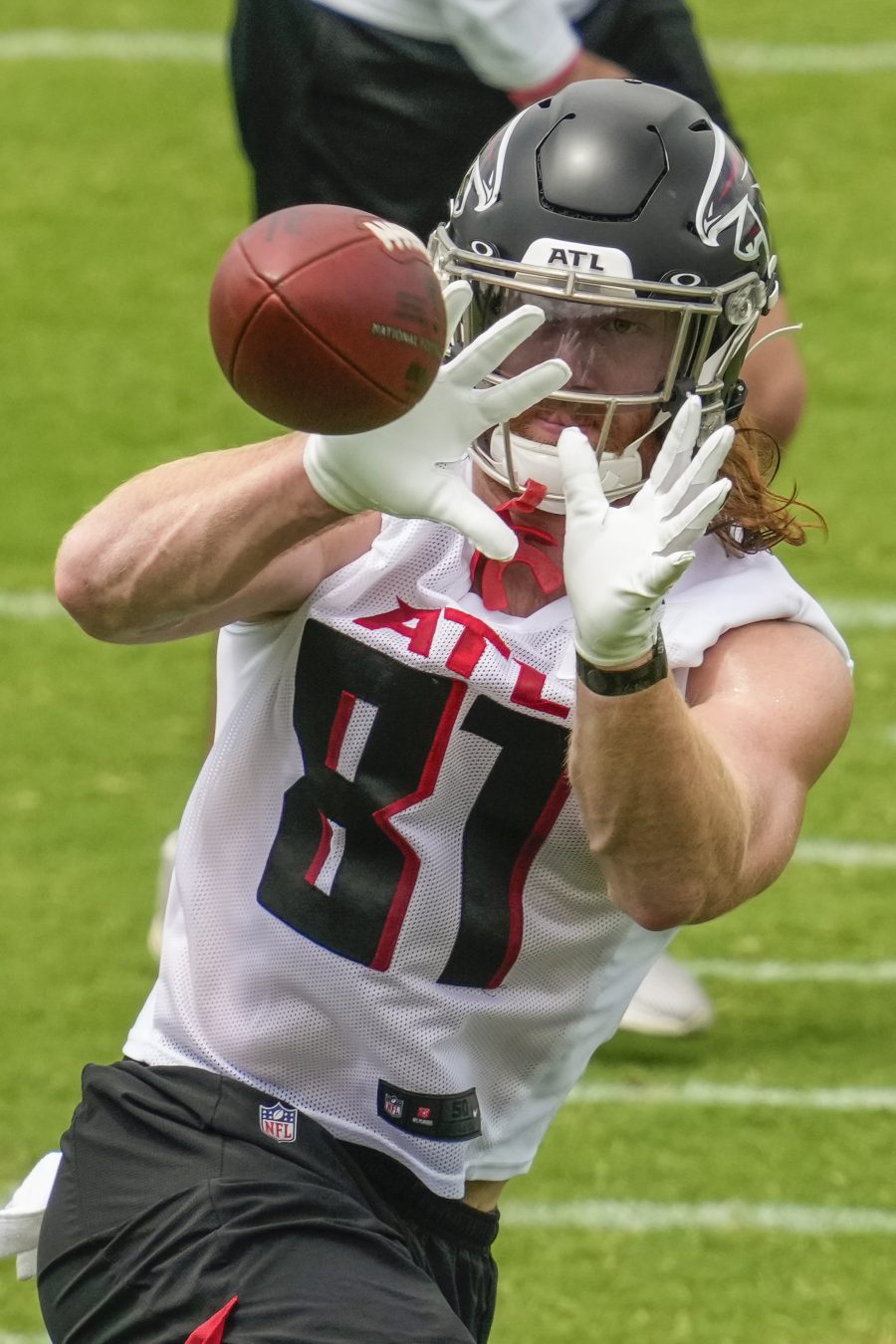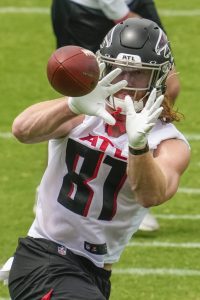 Sandwiched in between the Cappa and Collins signings was that of Karras. The former Patriots sixth-rounder didn't take on full-time starting duties until his fourth year in the league (2019), recording over 1,000 snaps for the first of two consecutive seasons. His play earned him a free agent deal with the Dolphins in 2020, when he took an incremental step forward in terms of PFF grade. That continued last year after his return to New England, making the 29-year-old another high-floor addition who could have the potential for improvement relatively late in his career.
Alongside left tackle Jonah Williams – who has demonstrated his first-round talent when healthy – Karras, Cappa and Collins should dramatically improve the unit's overall play and at least alleviate some concerns with respect to keeping Burrow upright.
While the offensive line was the obvious priority, adding a dependable tight end represented another need. Hurst should be able to operate as a starter, a role he has had few opportunities to hold down during his career. Surpassed on the depth chart first by Mark Andrews in Baltimore, then by Kyle Pitts after his trade to Atlanta, the former first-rounder profiles as a capable blocker who can handle secondary pass-catching duties as well. With backup Drew Sample also a free agent at the end of the season, a productive year could help Hurst secure a more permanent place with his second AFC North employer.
Re-signings: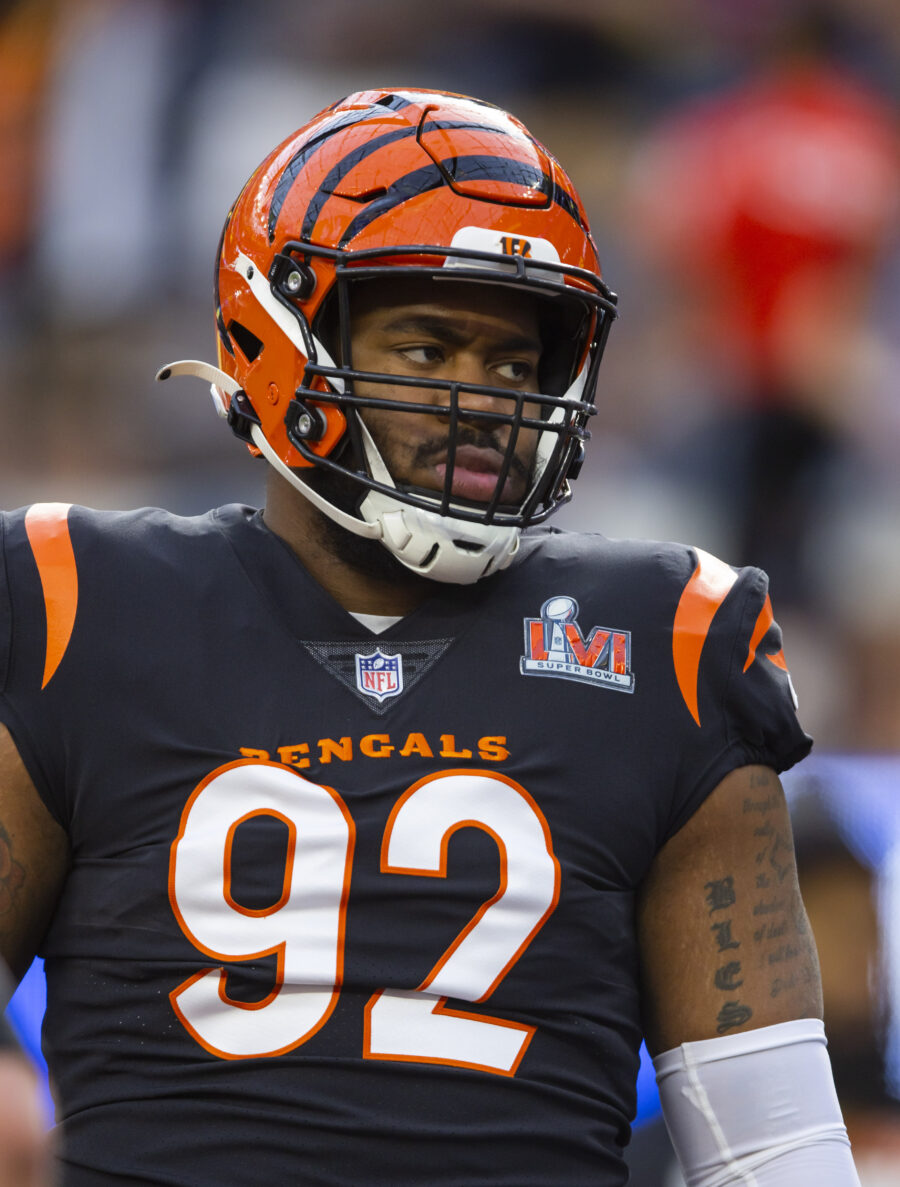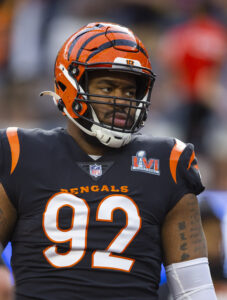 The trade acquisition of Hill — for disappointing first-round center Billy Price — proved to be a fruitful one for the Bengals in 2021. The former Giant set a new career-high in tackles with 50 and matched his personal best in the pass rush department with 5.5 sacks. He put up those numbers while playing in a rotational role, so the presumed increase in snaps he is in line for moving forward — thanks to Larry Ogunjobi's exit — makes the Bengals' sizable investment in him a reasonable one.
With Hill and D.J. Reader – who is under contract for two more years with cap hits of $13.7MM and $15.7MM – Cincinnati is poised to have a costly tandem on the interior of its defensive line, as one of only three teams with multiple players at the position averaging over $10MM per season. For at least the short term, though, the pairing should be an effective one.
In the secondary, retaining Apple – especially at a reasonable rate for only one year – was a decision made easier by his level of play in 2021, his first year in Cincinnati. Totaling 10 pass deflections and a pair of interceptions, the 27-year-old also enjoyed a bounce-back season in terms of pass coverage compared to recent years. After logging a snap share of 93% last season, Apple proved capable of handling starting duties alongside Chidobe Awuzie and Mike Hilton, but could also give the secondary quality depth as a rotational player. The same is roughly true of Flowers, who started 40 contests during his time with the Seahawks. But he will be slated for a similar role to that which he played after joining Cincinnati midseason, limiting him to a backup spot.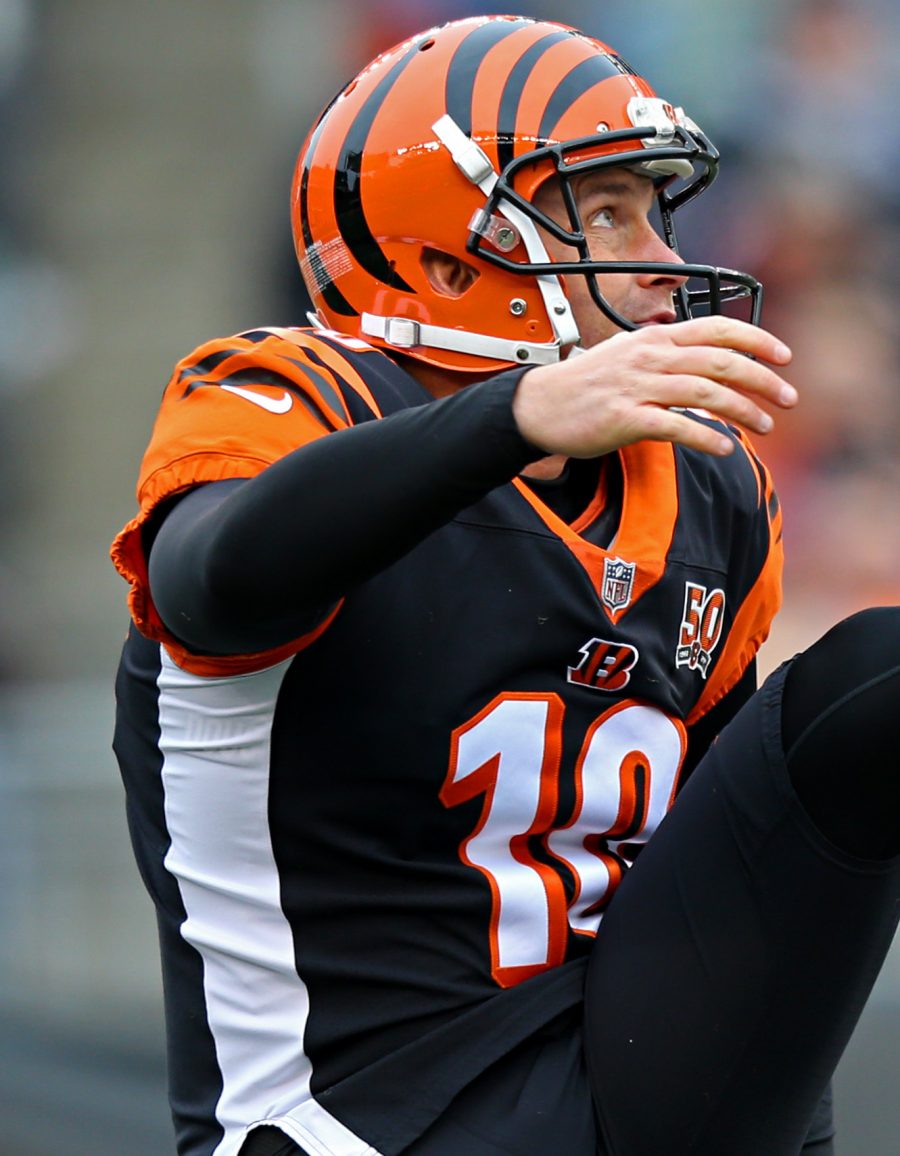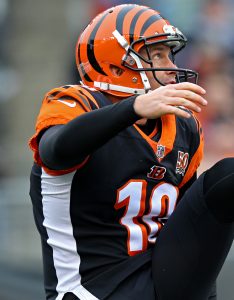 While much of the Bengals' offense will rest on the shoulders of Burrow, the team will have a familiar face once again as his backup. Allen inked a one-year deal for the third consecutive season to stay in Cincinnati. His statistics during his time with the team (including five starts in 2020 following Burrow's torn ACL) do not inspire confidence for the offense should Burrow miss significant time again, but Allen has established himself — at least in the eyes of the front office — as a capable insurance option. The 2016 draftee has only 14 appearances to his name but should have a much-improved offensive line and one of the league's top assortment of skill-position players surrounding him if he is called into action.
Continuity could also be a theme on special teams, given the re-signing of Huber (who sits tied for first on the franchise's games played list) and Harris (fourth). Each are, however, currently facing competition for their spots in the form of Drue Chrisman and Cal Adomitis, respectively. Moving on from both veterans in the same offseason could be detrimental to last season's eighth-best special teams unit in terms of DVOA but age (and, in Harris' case, his and kicker Evan McPherson's locker room absences during halftime of the Super Bowl) could work against them in the eyes of longstanding ST coordinator Darrin Simmons.
Notable losses:
Ricardo Allen, S (retired)
Jordan Evans, LB
Trey Hopkins, C (released)
Wyatt Hubert, DE (retired)
Fred Johnson, OL
Larry Ogunjobi, DT
Darius Phillips, CB
Riley Reiff, OT
Quinton Spain, OG
Xavier Su'a-Filo, OG (released)
Auden Tate, WR
C.J. Uzomah, TE
Trae Waynes, CB (released)
The 2020 Waynes addition in free agency had plenty of potential, but that $14MM-per-year accord will go down as one of the most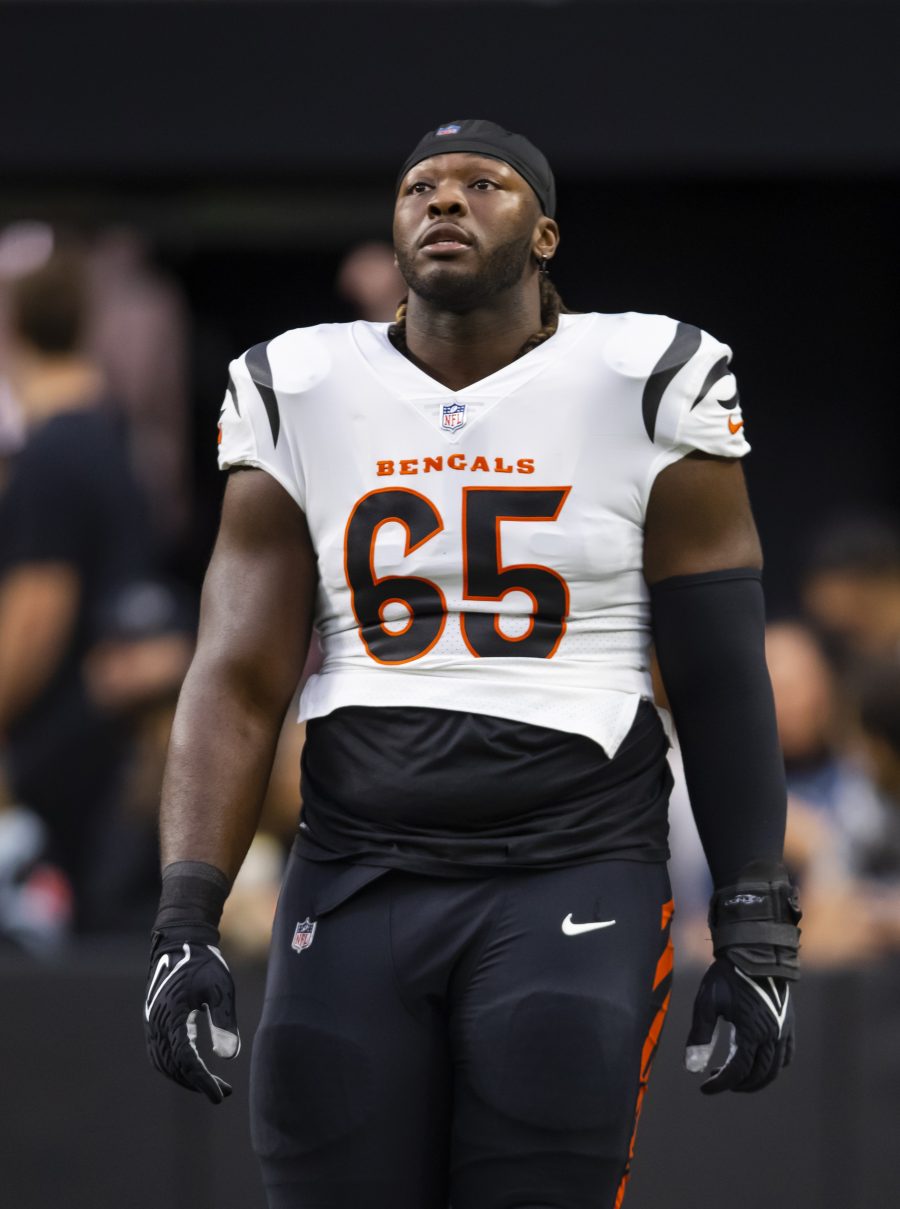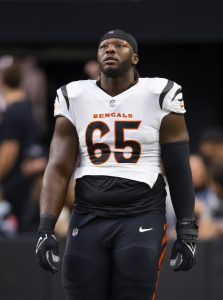 disappointing deals in team history. The former first-rounder did not come to Cincy with injury concerns, but he missed the entire 2020 season. And availability was again a problem last season. After playing in five regular-season games, and exclusively seeing special team action in the playoffs, it came as little surprise that the Bengals cut ties with him. The move helped keep the team in a better cap situation than most but left the CB position with depth question marks heading into the draft.
The other standout defensive departure, of course, is Ogunjobi. The one-year investment in the former Brown proved hugely successful, as he set a new career-high in sacks (seven) and tackles for loss (12). While his performance was (like his others in Cleveland) graded poorly by PFF, the loss of the 28-year-old during the team's wild-card win was significant. Given the Bengals' performance during the rest of the postseason – including limiting the Rams to just 43 rushing yards in the Super Bowl – though, allowing him to leave in free agency was a decision the injury made even more straightforward. The setback cost Ogunjobi a free agent deal with the Bears, but he eventually landed in Pittsburgh, where he will face Cincinnati twice per season.
Given the heavy emphasis placed on bringing in new additions on the offensive line, the starters they are replacing are obviously among the most noteworthy offensive losses. Reiff did not live up to the five-year extension he played on in Minnesota prior to signing in Cincinnati last offseason, but there was the potential that a switch to the right side could result in improved performance. Ultimately, his level of play before landing on IR in December was similar to the rest of his career, making him a replacement candidate. A return to the NFC North could see him resume blindside duties in Chicago.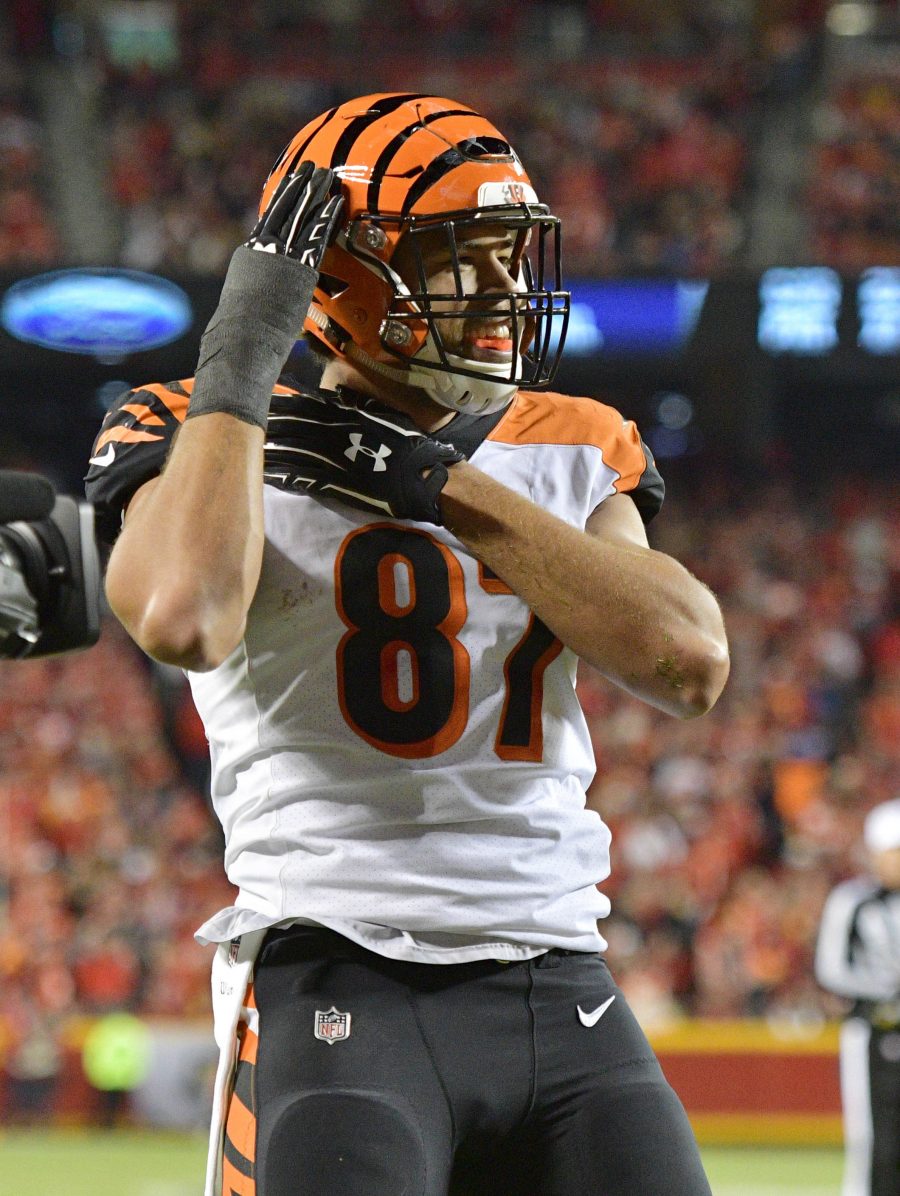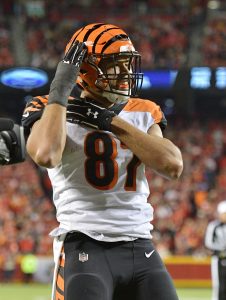 For the similarly aged Spain and Hopkins, a market has yet to develop. The latter had spent his entire career with the Bengals, but never developed into a high-end starter. Spain, like Hopkins, had one of the better campaigns of his career last season in terms of PFF rating. The pair combined to allow 10 sacks in 2021, however, so upgrades in pass protection unsurprisingly included the Bengals looking elsewhere to fill out the interior of the offensive line.
Uzomah developed into a full-time starter during his seven years with the Bengals. His career year in 2021 made him a valuable complementary part of the team's passing attack, both in the regular and postseason. That resulted in a multiyear deal with the Jets for the 29-year-old, where he is likely to face competition for targets from a large number of comparatively unproven wideouts. The rapport he had established with Burrow will be difficult to replicate with Hurst in the short-term and with either he or another addition down the road.
Draft picks:
Given the team's investment up front during free agency, many pointed to the secondary as the next positional priority for the Bengals; their top two selections therefore come as little surprise. With starting free safety Jessie Bates' days in Cincinnati presumed to be numbered, Hill projects as a long-term replacement but a defender whose versatility can make him an immediate contributor as well. His junior season was the most productive of his career, with 69 tackles, eight pass breakups and a pair of interceptions. Those numbers helped the Wolverines reach the CFP semifinal and put Hill in the first-round conversation.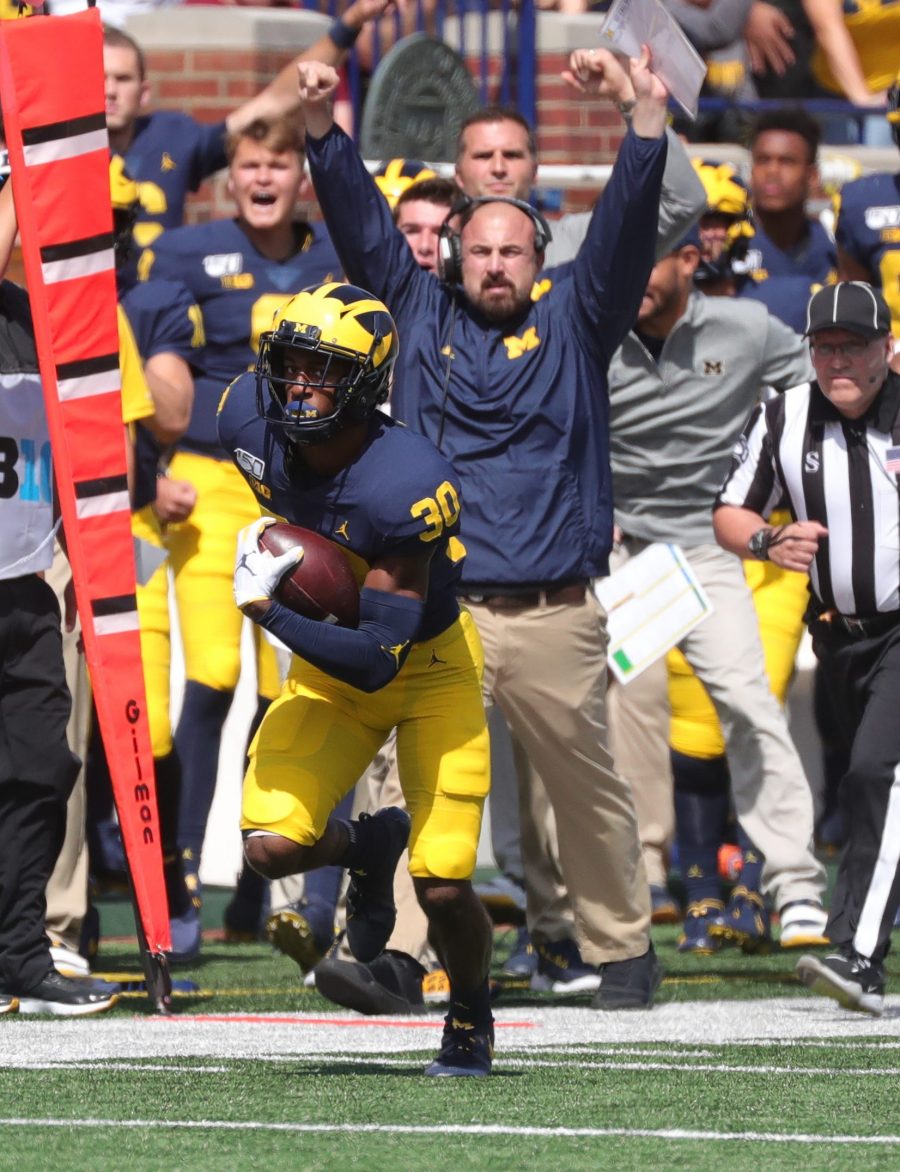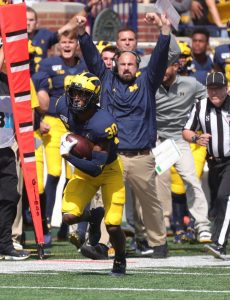 In Bates' absence, the six-foot, 192-pounder has been taking first-team reps throughout the offseason. Even if/when Bates returns, Hill has the range to fill in at either safety spot or line up as a slot corner if necessary – something which helped make him the consensus No. 2 prospect at the position in April's draft, behind only Kyle Hamilton. Starting in 2023 at the latest, he should be a fixture on the backend of the team's defense, as Bates has been for the past four years.
The Bengals traded up three spots in the second round to ensure they would be able to select Taylor-Britt. Just like Hill, the former Cornhusker put together a highly productive college career; his 11 pass deflections in the 2021 campaign ranked second in the Big Ten. Overall, he totaled 22 PBUs along with five interceptions. That level of production, coupled with his size (6-foot, 205 pounds), should allow him to be at least a key rotational player, albeit one who whose inaugural season is beginning with core surgery. Veterans Mike Hilton and Eli Apple are ahead of him on the depth chart, but Apple's March 2023 free agency and the lack of any guaranteed money remaining on Hilton's deal (which has three years left on it) could move Taylor-Britt into a full-time starting role soon.
The focus on defensive additions continued in the third round with the selection of Carter. His senior season in particular showed his disruptive ability against the pass (7.5 sacks, 11.5 tackles for loss), which could earn him at least third-down snaps early in his career. The Bengals' lone offensive selection, too, might see field often as a rookie. Volson, who most recently played as a right tackle in college, has been practicing at left guard. His performance so far has left open the possibility that he wins the starting job over 2021 second-rounder Jackson Carman – something which would be an underwhelming development for the latter but would mark yet another significant change along the team's offensive front.
Other: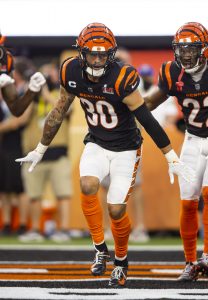 Tension between Bates and the Bengals' front office dates back to last offseason, when it became clear that an extension would not be finalized when he was first eligible for one. With the chance of a franchise tag looming during the 2022 campaign, expectations were high for the former second-rounder. He delivered mixed results, with an underwhelming regular season but a return to form in the playoffs. During Cincinnati's postseason run, the former second-round pick recorded a pair of interceptions — including one in the Super Bowl. Once again this spring, however, the two sides failed to generate much momentum toward a long-term agreement.
In the days leading up to the tag deadline, it was reported that a sizable gap still existed between the team and the 25-year-old regarding annual compensation. In an offseason where the likes of Derwin James (four years, $76.5MM) and Minkah Fitzpatrick (four years, $73MM) have taken the safety market to new heights, the Bengals' top offer included an underwhelming figure in terms of guaranteed money – keeping in line with standard club practices in high-profile contract negotiations.
With Bates having decided against signing the tender to date, he has been absent throughout training camp. After Chiefs left tackle Orlando Brown Jr. reported, Bates is the lone player who has not reported. That has added to the overwhelming sense that the Wake Forest product will leave in free agency next March. In spite of that, the Bengals are unlikely to have interest in trading him. At some point, Bates will be obligated to sign and play under the tag (the only alternative being a decision to sit out the entire campaign, as Le'Veon Bell did in 2018), but doing so will come with the expectation that his fifth year in Cincinnati will be his last.
Considering the team's performance during Taylor's first two seasons, a long-term extension would have seemed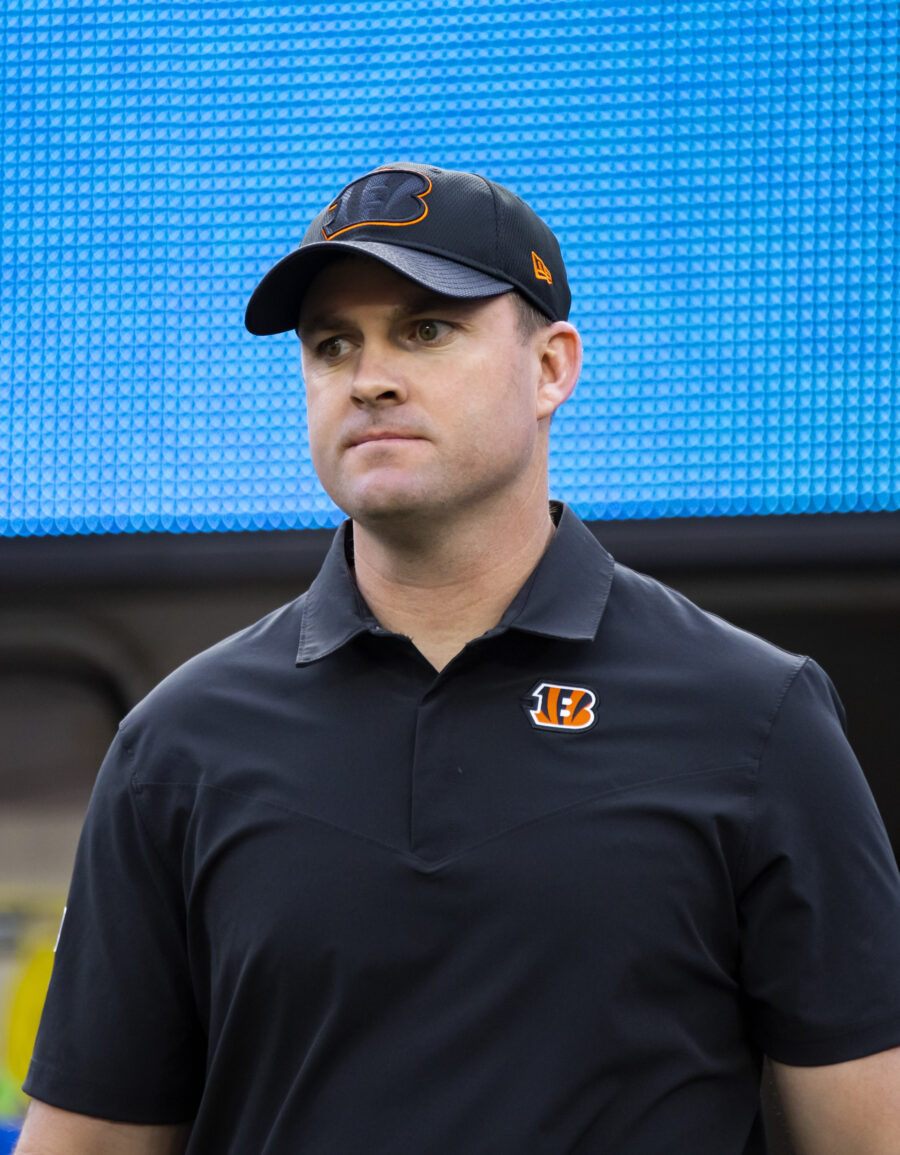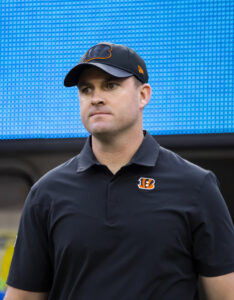 highly unlikely by the start of the 2021 campaign. After its conclusion, though, a multiyear commitment from the front office seemed inevitable. The 39-year-old helped lead the Bengals to top-10 rankings in both total and scoring offense last season, and the team is likely to repeat that level of success given the talent available to him under center and at each skill position. Taylor will also have important continuity on his staff this season.
Offensive coordinator Brian Callahan was involved in this year's head coaching carousel, having interviewed for the vacancy in Denver; likewise, defensive coordinator Lou Anarumo met with the Giants for their opening. Both assistants will remain with the Bengals alongside Taylor, as they have since 2019. Along with the aforementioned Simmons, that triumvirate is poised for another campaign together, something which could prove crucial as the team looks to build off of 2021's success.
Having missed his entire rookie season, injuries were inevitably going to be a talking point in Williams' career, an obvious reason for concern given his draft pedigree. Being sidelined for another six contests in 2020 certainly didn't help in that regard, but his level of play suggested the Alabama alum could live up to his expectations in the event he would be able to stay on the field. He did just that in 2021, and graded out 32nd among tackles, per PFF. On the books for two more years, Williams should be able to improve even further over that span, making the decision to exercise his option a logical one.
Top 10 cap charges for 2022:
With so many key players still on their rookie contracts, the Bengals currently rank in the top 10 in cap space for both 2022 and 2023. Bates and Bell could each walk in free agency, though, and Burrow will be eligible for what should be a massive extension starting in March. His deal, along with potential extensions for prolific wideouts Tee Higgins and Ja'Marr Chase down the road, will certainly test the organization's reputation for frugality when it comes to guarantees and long-term investments.
The Bengals face a difficult division and conference as they look to prove that last season's surprise run was the start of a multiyear trend of success, rather than a flash in the pan. Assuming that their O-line and secondary additions work entirely as planned, along with a repeat of the career years enjoyed by several returning players, last year being a fluke is likely unrealistic. Nevertheless, this roster should be able to contend for postseason berths (and more) in both the short- and long-term future assuming its core plays to its potential.
Follow @PFRumors