Winners of seven games in four of the past five seasons, the Falcons have both overachieved talent-wise — during the Arthur Smith years, at least — while largely hovering off the radar. After two clear transition years that brought substantial dead money into the equation, the Falcons' Smith-Terry Fontenot operation has moved to a point where playoff contention — in what looks like the worst division in the weaker of the two conferences — should be expected.
While the Falcons' quarterback plan overshadows the rest of their 2023 blueprint, Smith's seat is not as hot as Ron Rivera's in Washington. The Commanders' QB approach most closely matches the Falcons', but the NFC South presents a better opportunity to try a mid-round signal-caller. And Desmond Ridder is set to enjoy a flashy array of weapons. In addition to the team avoiding a push for a better option under center while upgrading around the incumbent, its moves to improve its defensive situation defined the offseason.
Extensions and restructures:
Day 1 of the legal tampering period shaped the Falcons' offseason. The team reached a few agreements with defensive starters and began its busy day by acquiring Jonnu Smith via trade. But the most expensive transaction transpired minutes later. Four years after going in the first round, Lindstrom secured a guard-record contract.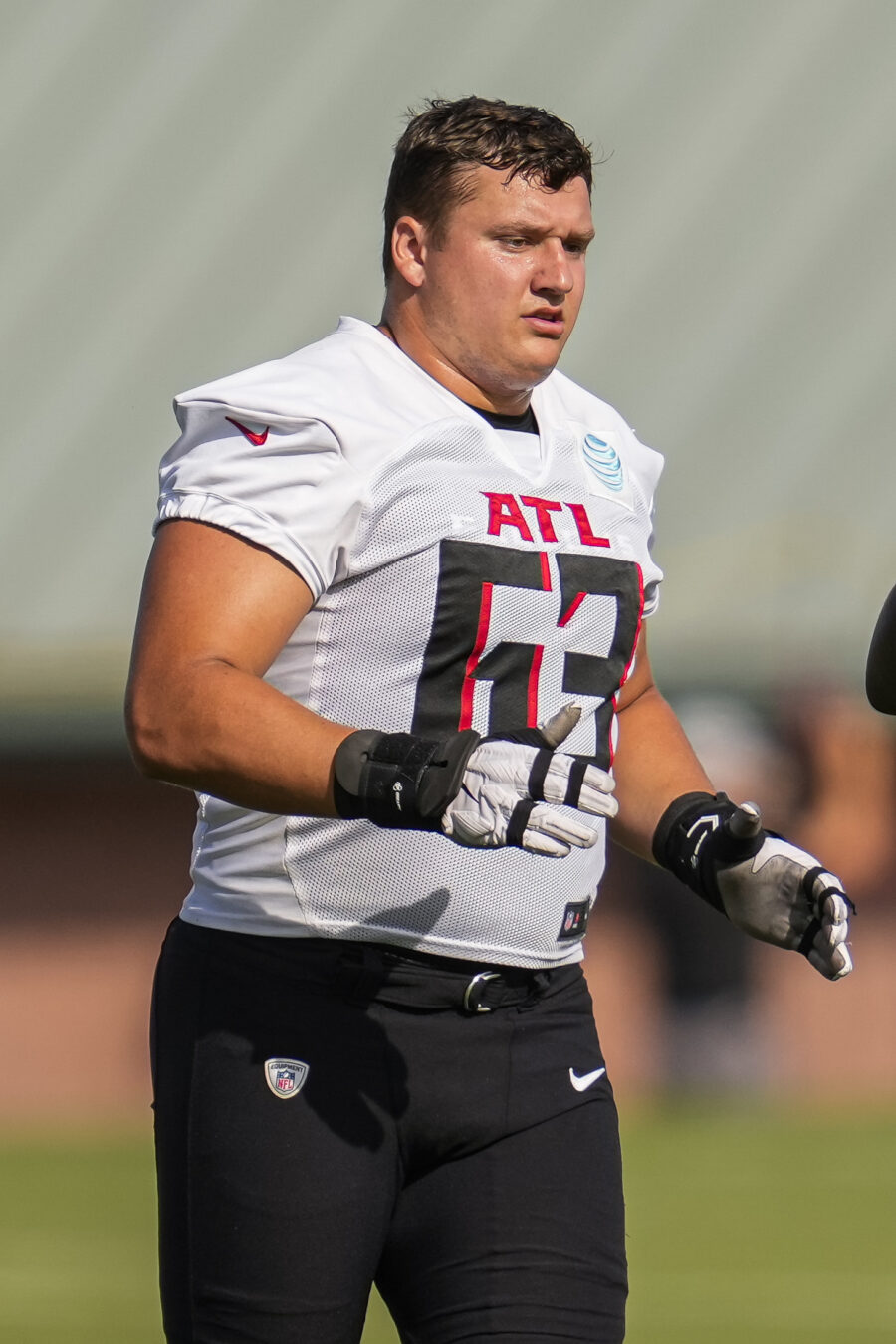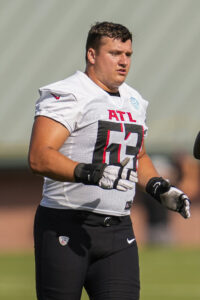 When the Colts gave Quenton Nelson his $20MM-per-year windfall, that AAV checked in $3.5MM north of any other guard's. Given Nelson's accomplishments, it was a bit surprising to see his salary surpassed six months after that Indianapolis contract was finalized. But in a league in which Patrick Mahomes has slipped to the bottom half of the top 10 in QB money, Lindstrom, 26, passing Nelson so soon should not be shocking. While Nelson has three first-team All-Pro nods to Lindstrom's none, the latter did rate as Pro Football Focus' top 2022 guard — by a wide margin — to help the Falcons become a top-three rushing team. The salary cap is back on the rise, and Lindstrom also secured $7.2MM more in guarantees at signing compared to Nelson.
This marked a big day for the Boston College alum, who joins Matthews and Kaleb McGary as eight-figure-per-year O-linemen on Atlanta's roster. With the Falcons planning to build around Ridder's rookie contract, this monster Lindstrom re-up makes sense. Extending Lindstrom on this level and finding room for the number of defensive additions this offseason brought would probably have been unrealistic had the Browns not lured away Deshaun Watson at the 11th hour last March.
Free agency additions:
After two less eventful offseasons on the acquisition front, Fontenot spent to fill big needs. Safety represented the Falcons' top upgrade area. Since its Keanu Neal–Ricardo Allen safety tandem split, Atlanta had seemed to be treading water at this position. While Richie Grant remains in position as a starter, the Falcons paid up to acquire an upgrade at the other post. This year's safety market featured two clear tiers: Bates, then everyone else. Bates, 26, required an AAV that more than doubled every other free agent safety. The Falcons, who came into the tampering period behind only the Bears in cap space, splurged for the five-year Bengals starter.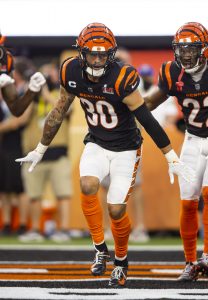 Juan Thornhill, C.J. Gardner-Johnson, Jordan Poyer, Donovan Wilson, Marcus Epps and ex-Bates teammate Vonn Bell all signed deals worth in the $6MM-$8MM range per annum. After playing on the franchise tag, Bates blew away his peers, following Tremaine Edmunds in commanding an action-packed market at a lower-tier position. Bates has missed three career games and arrived in Atlanta after a 14-interception Cincinnati tenure. He added two picks during the 2021 postseason, which also included a tipped pass that set up a Bell INT and led to a field goal that sent the Bengals to Super Bowl LVI.
The Bengals had hoped to re-sign Bell but had long viewed Bates as out of their price range, as their low-guarantee offer revealed before the July 2022 tag deadline. Now, Bates — PFF's No. 1 overall safety in 2020 — is tied to the fourth-highest safety AAV and the position's second-highest guarantee.
Beyond Bates, the Falcons' decision to hire longtime Saints defensive line coach Ryan Nielsen — an ex-Fontenot New Orleans coworker — as their defensive coordinator shaped their defensive payments. Nielsen brought Onyemata, Ellis and Huggins with him from New Orleans. Prior to the Vikings winning out, the Falcons also attempted to reunite Nielsen with defensive end Marcus Davenport. While Davenport defecting to Atlanta as well would have ratcheted up this underrated rivalry, Onyemata and Elliss making Louisiana-to-Georgia treks bring two talents immensely familiar with Nielsen.
Among active players, only Cameron Jordan had spent more time on the Saints' defense than Onyemata, who was with the team from 2016-22. Onyemata's arrival predated Nielsen's in New Orleans, but the new Falcons DC coached the veteran defensive tackle for most of his Saints run. Working as a full-time Saints starter from 2019-22, Onyemata scored a bigger contract at 30 than he did at 27. Playing out a three-year, $26MM deal, the University of Manitoba alum fared well as an inside rusher alongside Jordan. Onyemata notched two five-plus-sack seasons over the past three years and has totaled 48 QB hits over the past four. He will team with Grady Jarrett, who has not enjoyed much in the way of complementary support since Fontenot and Smith arrived.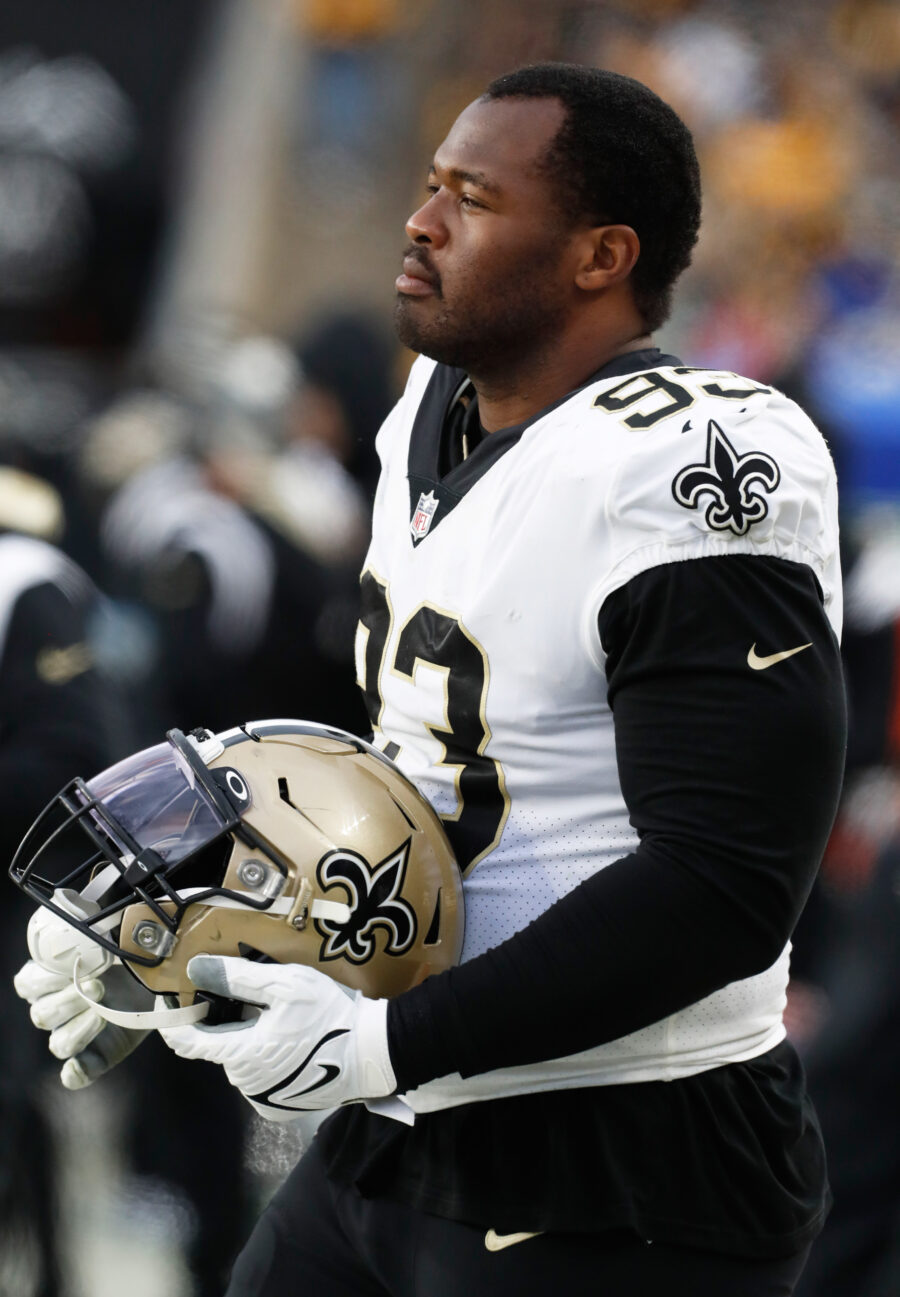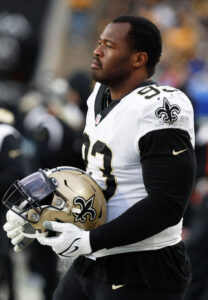 This Elliss contract could bring nice value for the Falcons, one of the many teams who preferred a midlevel linebacker contract rather than going after Edmunds this offseason. While Trey Hendrickson turned a contract-year surge into a run as one of the game's best pass rushers, Elliss' Saints run featured even fewer contributions ahead of his platform year. New Orleans had used Elliss as a starter exactly once before last season. In 2022, however, the former seventh-round pick came out of nowhere to tally seven sacks, 78 tackles and two forced fumbles. PFF ranked Elliss seventh among off-ball linebackers last year.
Nielsen's familiarity with the walk-year wonder should put him in a better positions to sustain that form, though some risk comes with this agreement. But that is mitigated by the modest sum the Falcons authorized. After having the Deion Jones extension on their books for three-plus years, the Falcons have Elliss' $7.2MM-per-year deal as their top ILB contract. By trading Jones last season, however, the Falcons are still on the hook for $12.1MM in 2023 dead money.
Two well-known cap casualties followed the ex-Saints to Atlanta. The Falcons are spending $10MM combined on Campbell and Dupree, who profile as stopgaps. Campbell is certainly a more proven player; Dupree plays a position from which the Falcons need more production. Only the Bears finished below the Falcons in sacks last season. Atlanta totaled just 21, with only Jarrett (six) surpassing four.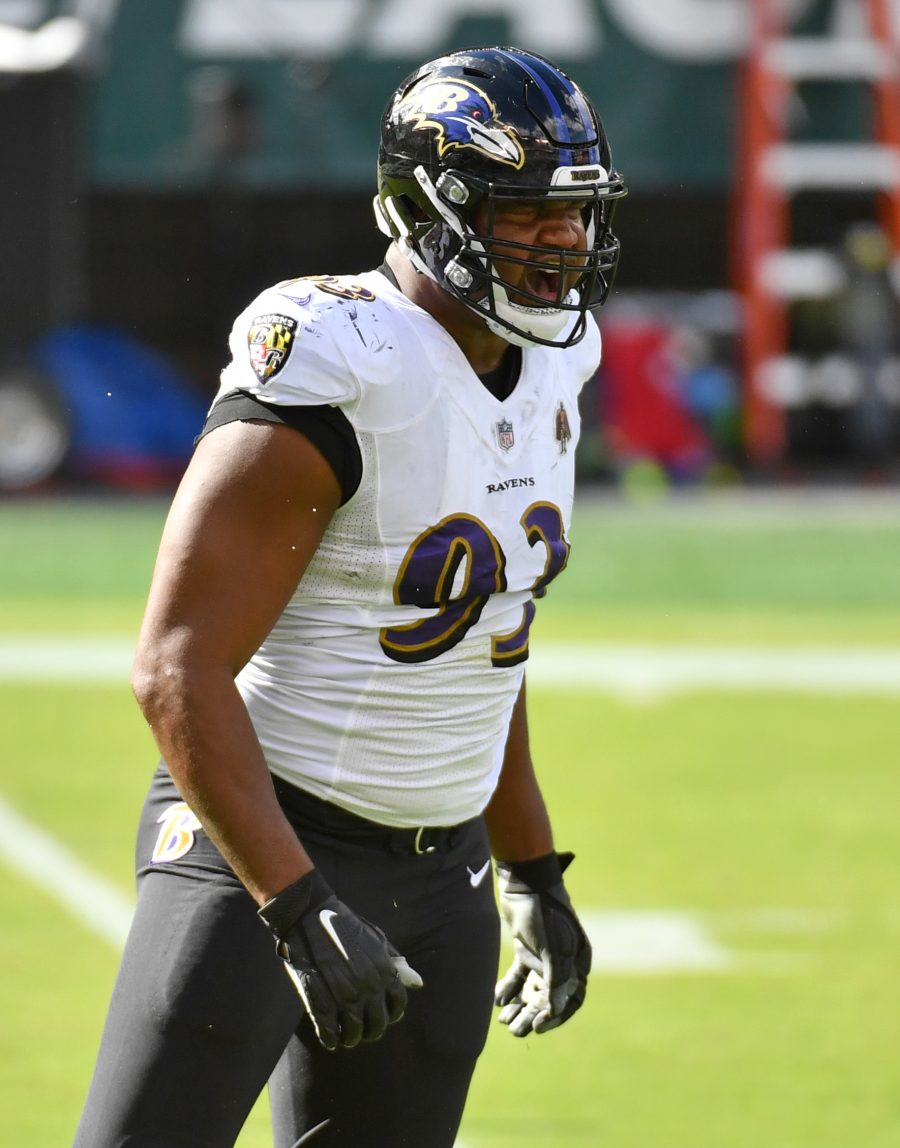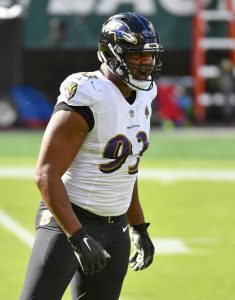 Dupree, 30, did not live up to the five-year, $82.5MM contract he signed with the Titans in 2021. As the Titans struggled to fill their OLB post opposite Harold Landry, Dupree became since-fired GM Jon Robinson's most expensive mistake there. The former first-rounder tallied just seven sacks in two Titans slates, missing 12 games in that span. Nearly three years removed from an ACL tear, Dupree may have one more shot to show he is a starter-caliber rusher. But the ninth-year veteran is a Georgia native who totaled 19.5 sacks during his final two Steelers seasons.
Like Jordan in New Orleans, Campbell has used his 30s to make a decent Hall of Fame case. Making vital contributions in Arizona, Jacksonville and Baltimore, Campbell turned down an opportunity to join a Jets team loading up with vets around Aaron Rodgers. Citing off-field opportunities and a connection with the staff in Atlanta, the 6-foot-8 D-lineman/kick-blocking phenom will accompany Onyemata in taking heat off Jarrett. It will be interesting to see how the Falcons deploy Campbell, who has been expected to play more as a defensive end despite a 300-pound frame. Any edge help the soon-to-be 37-year-old can provide would benefit a Falcons steam still featuring questions here, but Campbell has also made steady impacts as an interior D-line presence.
Although Ridder did not need to win a camp battle like Sam Howell did in Washington, the Falcons still spent high-end backup money on Heinicke. Like the Marcus Mariota contract, this deal gives Atlanta an out after Year 1. But Heinicke, 30, represents insurance against Ridder sputtering. Coming off the street to rejoin Rivera at a time of great need in Washington, Heinicke went toe-to-toe with Tom Brady in a stunningly effective wild-card performance. Over the next two seasons, Heinicke went 12-11-1 as a starter. The Commanders needed him as a full-timer after Ryan Fitzpatrick failed to make it out of the first half in Week 1 of the 2021 season, and after Carson Wentz's hand injury, the former UDFA helped the 2022 team rebound from a 1-4 start.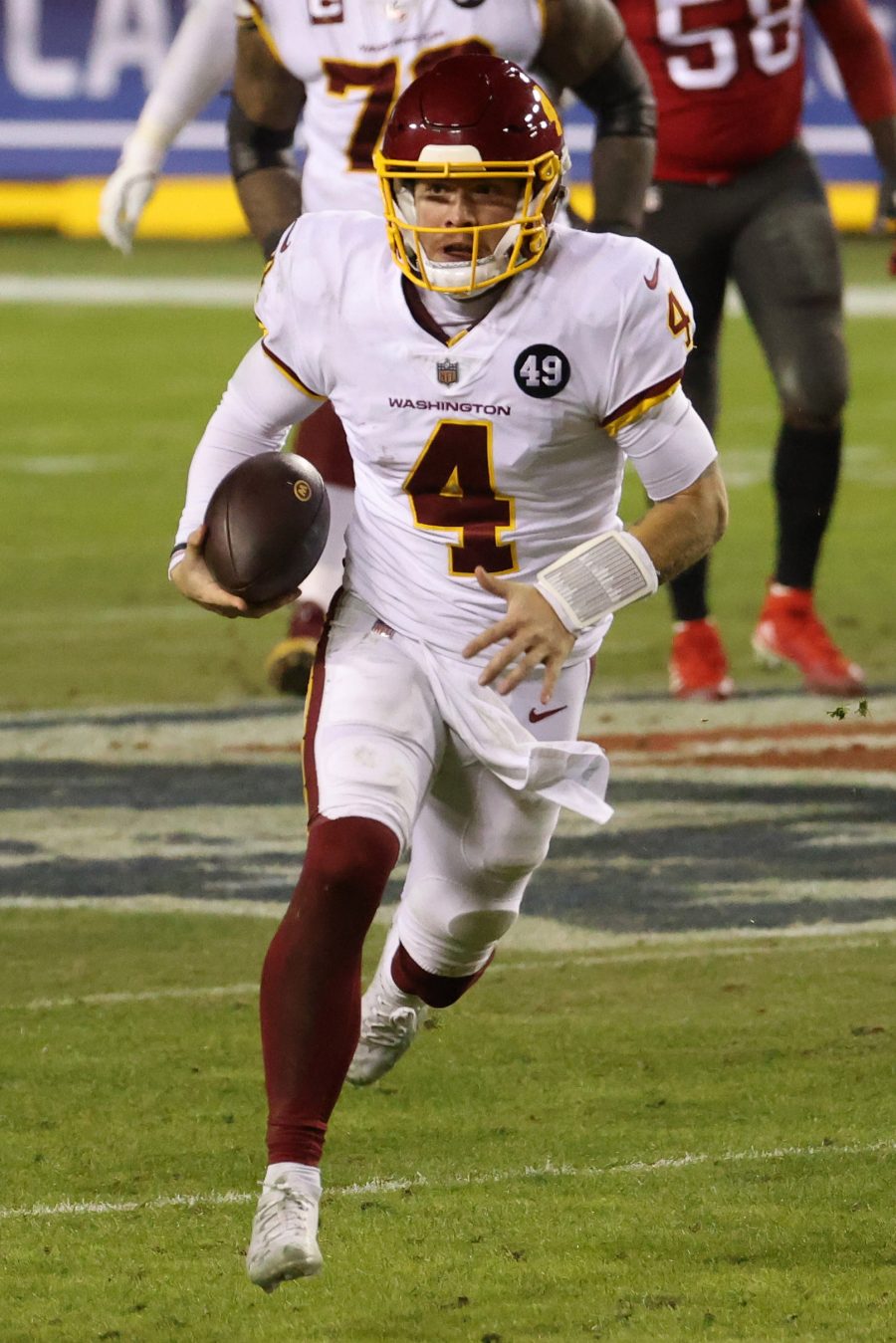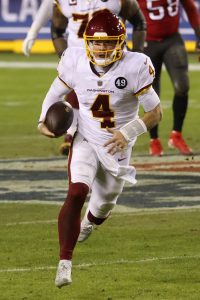 Heinicke brings obvious limitations, but the 6-1 passer's starter experience provides a safety net should Ridder — an oft-questioned figure this offseason — burn the Falcons for placing so much faith in him. Only two backup QBs topped Heinicke's $7MM salary last season.
Ahead of his age-30 season, Hollins comes to Atlanta after a surprisingly productive Las Vegas year. With Hunter Renfrow and Darren Waller battling injuries and inconsistency, Hollins became the de facto No. 2 target in Josh McDaniels' 2022 offense. The Raiders paid up to upgrade this spot, giving Jakobi Meyers $11MM per year to reunite with his former Patriots OC, but Hollins totaled 690 receiving yards and four touchdowns during his Vegas one-off.
The Falcons will take a flier to see if that is an outlier for a player without another 250-yard season on his resume. The seventh-year veteran is in position to start alongside Drake London. In terms of cap allocations, only the Packers have spent less on their receiving corps that the Falcons, who have $15.3MM devoted to this position on their 2023 payroll.
Re-signings:
With Saquon Barkley, Josh Jacobs and Tony Pollard franchise-tagged, right tackle stood as this free agency class' top position. Each of the three anchors agreed to deals on Day 1 of the legal tampering period. While Jawaan Taylor and Mike McGlinchey fetched big-ticket agreements with the Chiefs and Broncos, respectively, McGary's market did not soar to the same level. During their busy first day on the market, the Falcons found room to retain McGary on a mid-tier accord.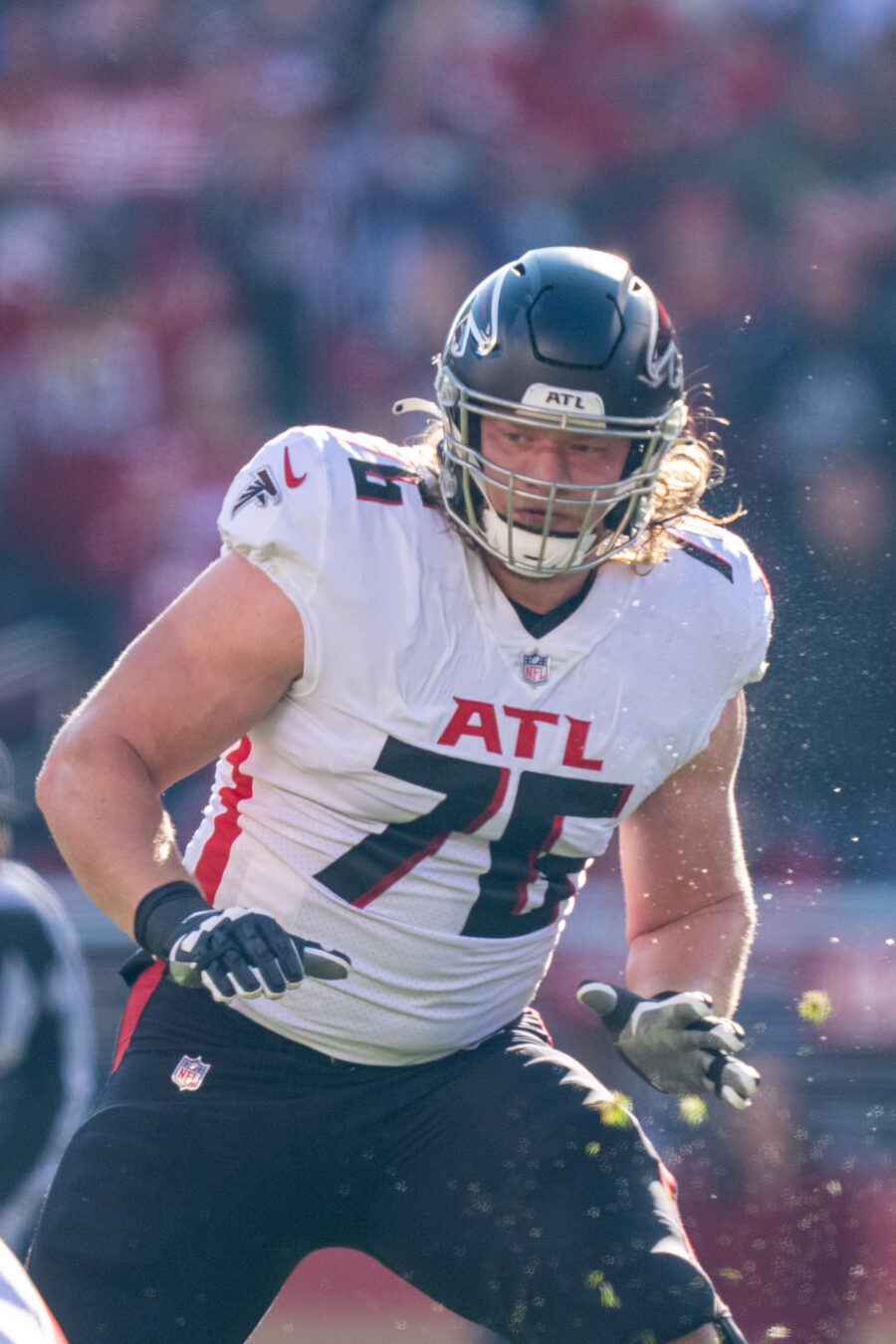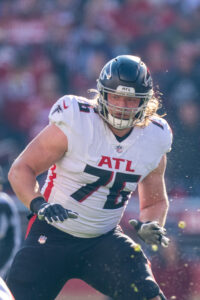 McGary's $11.5MM AAV is tied for 10th among right tackles — well south of the $20MM and $17.5MM averages Taylor and McGlinchey scored — and his guarantee-at-signing figure sits outside the top 15. This can be traced to McGary's smaller sample size as a promising blocker. But rather than a "prove it" deal, the Falcons now have McGary signed to a manageable contract through his age-30 season. It perhaps would have made more sense for McGary to accept a "prove it" pact in order to return to free agency after another strong season, but even with Matthews signed for $18.5MM per year, plans to build around Ridder's rookie deal made this tackle setup palatable for the Falcons.
McGary allowed a whopping 13 sacks as a rookie, and the Falcons declined his fifth-year option in 2022. But the 2019 first-rounder responded with a big contract year, grading as PFF's No. 4 overall tackle on the strength of an elite run-blocking campaign to this free agency perch. The Falcons may have locked down an ascending talent on the cheap, and if McGary cannot sustain his 2022 form, the $15MM guarantee will not become especially punitive. With high-profile rookie contracts at quarterback and each of its skill positions, the Falcons have smartly invested big dollars in their O-line.
A new Giants regime did not prioritize Carter in 2022, leading the Georgia alum back home. The Atlanta native started all 17 Falcons games last season, tallying four sacks and 12 QB hits. Carter has four seasons of between four and five sacks, plateauing as a serviceable edge rusher. The Falcons are probably going to need to make a bigger investment in this position, barring a Dupree return to his Steelers form, in 2024. But Carter could still make sense as a rotational rusher down the road. The 27-year-old also should benefit from Dupree and Campbell drawing blocking assignments, though it stands to reason the Falcons will hope their 2022 second- and third-round edge investments — Arnold Ebiketie and DeAngelo Malone — will usurp Carter.
Notable losses: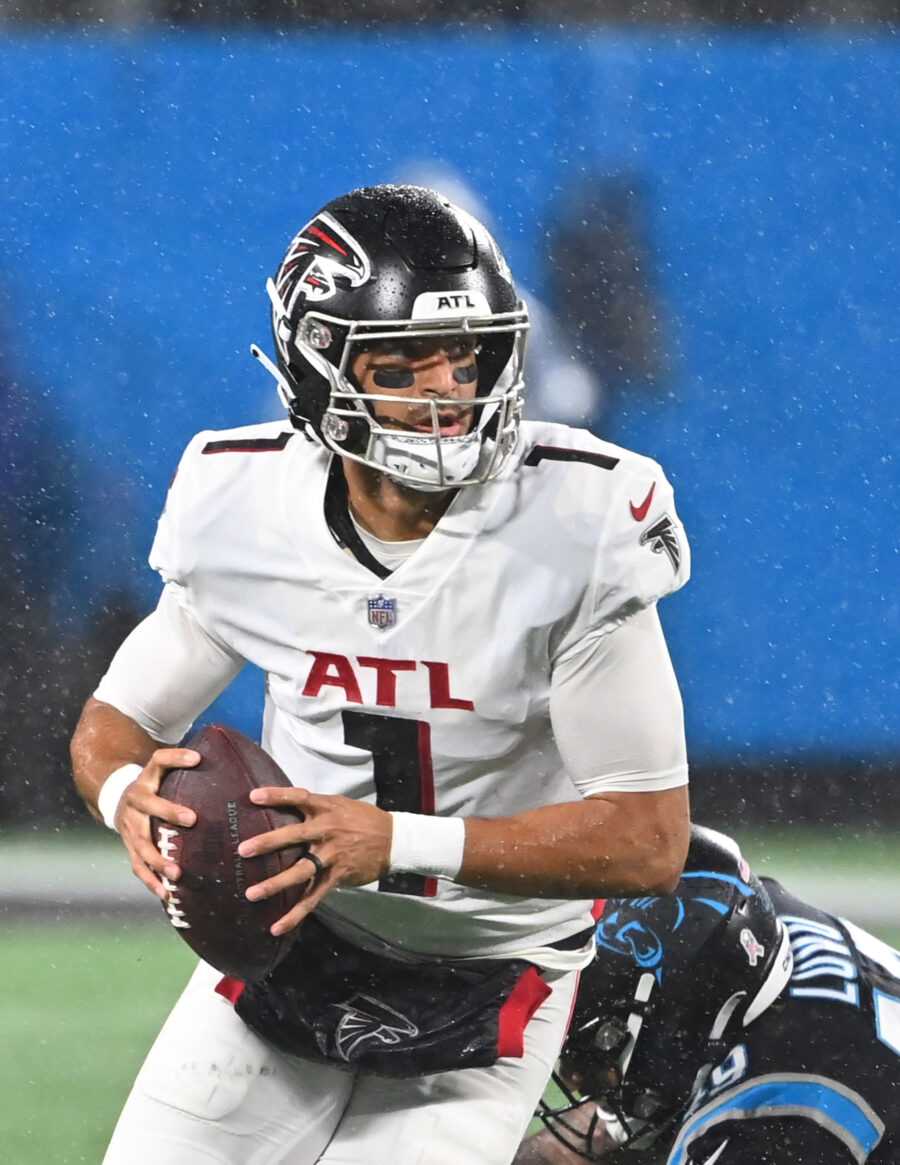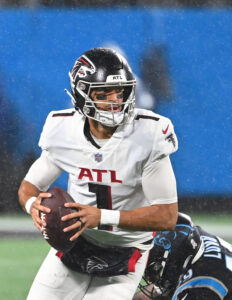 One of the offseason's clearest cut candidates, Mariota was on track to be axed regardless of his late-season decision to leave the team. The Falcons gave the former No. 2 overall pick a two-year, $18.75MM deal minutes after the Matt Ryan trade surfaced, and rather than throw Ridder into the fire around the midseason point, Smith waited until Week 15. Confusion came from Mariota's decision to undergo knee surgery, and it was clear he and the team were not on the same page. With starter duties in the rearview mirror, Mariota prioritized his impending free agency. He scored a one-year, $5MM deal to be Jalen Hurts' backup in Philadelphia, marking a familiar role for the ex-Raiders reserve.
At points last season, Smith's decision to shake the rust off Derek Carr's two-year backup paid off. And it is unlikely the Falcons would have finished in the top three in rushing without Mariota's presence. While Smith remodeled Atlanta's offense from a conventional attack to one built around Mariota (438 rushing yards), it did not help the development of London or Kyle Pitts.
After approaching Mike Ditka's tight end rookie receiving yardage record (1,076), Pitts (1,026) dropped from 60.4 yards per game to 35.6. The former No. 4 overall pick's MCL tear shut him down, but Mariota's limitations defined Atlanta's offense last season. London still managed a solid season (866 yards, four TDs); he also went nine straight Mariota-quarterbacked games without topping 40 yards. How Pitts and London look with Ridder will be a defining NFC South storyline.
Trades:
Seeing as Delanie Walker is retired, Arthur Smith is running out of viable ex-Titan tight ends to acquire. Jonnu Smith will follow Firkser and rejoin Pruitt. The Patriots' 2021 free agency splurge featured some misses; Smith was among them. After going 41-448-8 in his Tennessee contract year, Smith became the clear second banana among New England's tight ends. And he can be counted among the players who essentially lost a season due to the Patriots' bizarre Matt Patricia decision. An imposing presence at tight end, Smith will bring an interesting complementary piece alongside Pitts.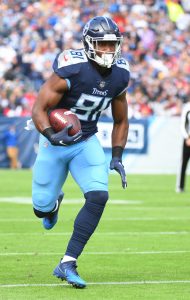 Upon reuniting with the former Titans tight ends coach, Jonnu Smith agreed to a pay cut, turning the final two years of his Pats-built contract (four years, $50MM) into a two-year, $15MM accord. Smith, 28, was set to carry a cap hit $17.2MM with the Patriots this season. The deal gave the seventh-year veteran $8.5MM in additional guarantees, locking him in for 2023 at least. The Falcons can save $6.5MM by moving on in 2024, should this reunion not pan out.
Okudah and Derek Stingley are the 21st century's only top-three cornerback draftees. The former's career skidded off track in Detroit. Okudah missed 24 games during his three-year Lions run, but he is now two years removed from the Achilles tear that cost him 16 games in 2022. This is the kind of player to take a flier on; the Falcons now have three first-round corners on their roster, pairing AJ Terrell with Okudah and Hughes. The 24-year-old trade get is battling another injury already. Okudah missing early-season time due to a leg injury seems likely. A lot will ride on the Ohio State alum showing good form once he returns, as he risks being labeled one of this era's biggest defensive busts.
Draft: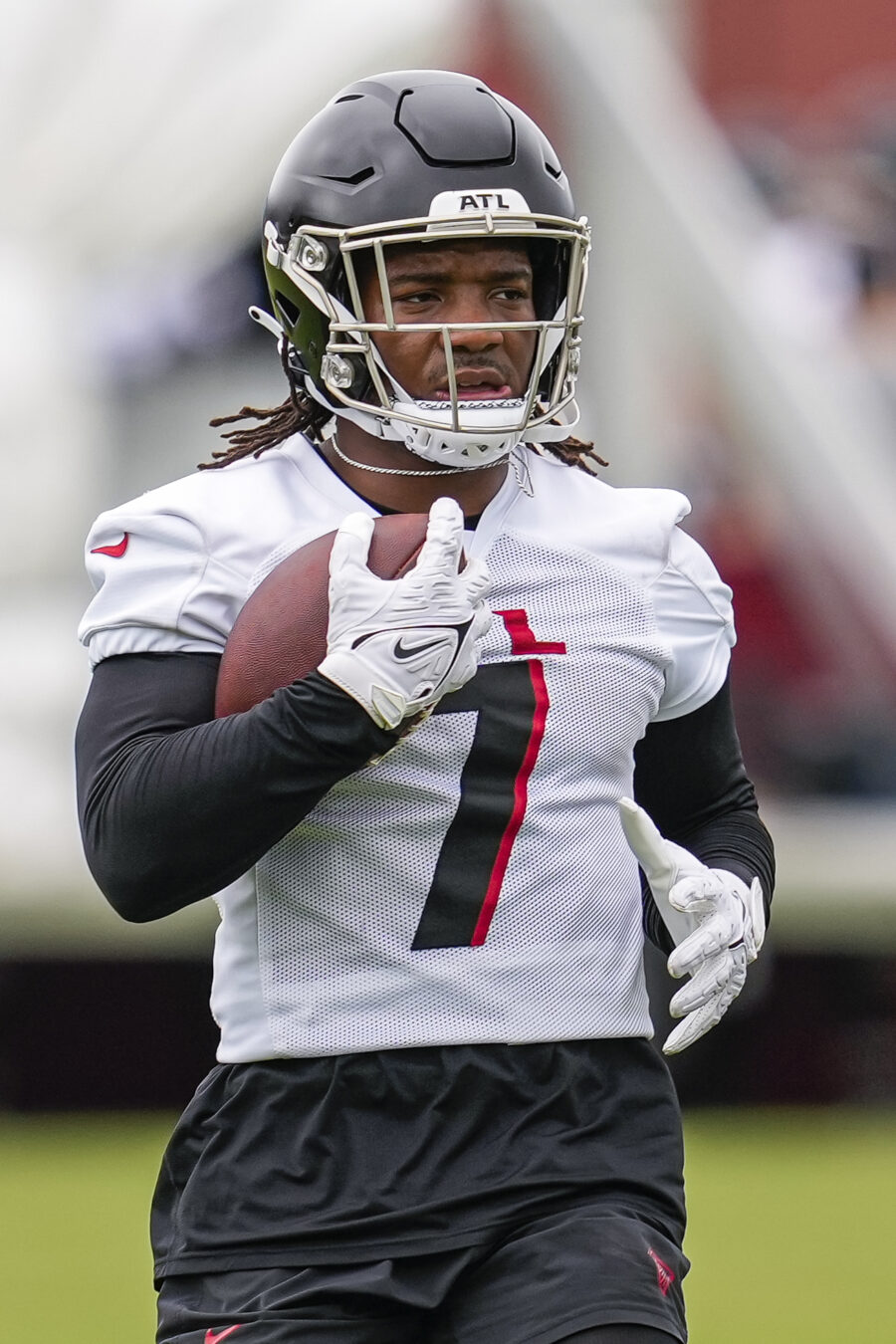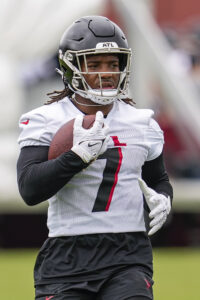 Well, this should be entertaining. Higher-profile needs existed for the Falcons, who did meet with C.J. Stroud, Anthony Richardson and Will Levis. After all, Tyler Allgeier dealt another blow to running back value by surpassing 1,000 yards as a fifth-round rookie. The Falcons are demoting the productive back, effectively, as the flashiest running back prospect since at least Saquon Barkley joins fellow top-10 skill cogs Kyle Pitts and Drake London in what could be an electric offense.
Robinson will both help Ridder while shining a brighter spotlight on him, given the investments the Falcons have made around their unproven QB. The Falcons were one of the six teams to meet with Jalen Carter; the organization's proximity to Athens looks to have been an issue. Enter Robinson.
NFL.com's Daniel Jeremiah rated Robinson as this draft's third-best prospect, and his RB status did not key much of a fall. The do-it-all back, who amassed 1,894 scrimmage yards and 20 TDs with the Longhorns last season, represents a rare investment for a franchise that has relied on later-round picks (Allgeier, Devonta Freeman, Jamal Anderson) or free agency additions (Michael Turner, Warrick Dunn) to acquire its most productive backs. Expected to be used frequently as a receiver, despite topping 20 receptions in a season once at Texas, Robinson has generated higher expectations than most rookie RBs this century. The much-hyped back will not turn 22 until January.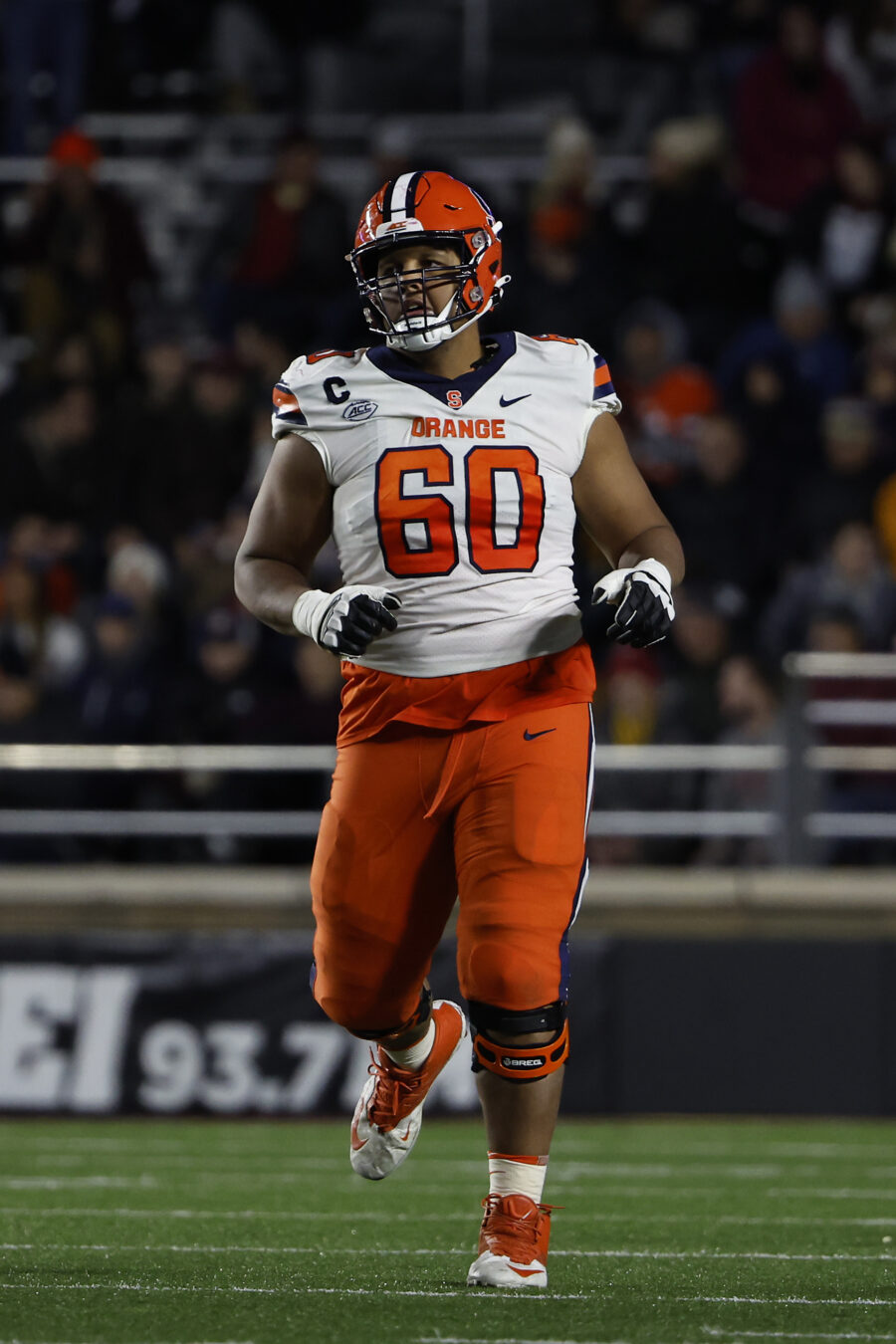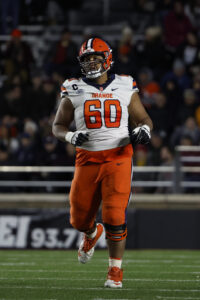 The task of utilizing Robinson, Allgeier and Cordarrelle Patterson represents a fun challenge for Smith. This looks like the most electric set of Falcons weapons since the Roddy White–Julio Jones–Tony Gonzalez trio, though this group will require some mixing and matching. It would seemingly be a waste of resources for the Falcons to draft Robinson so high and not pepper him with touches, but how Smith capitalizes on one of the NFL's deeper backfields in recent memory will be another reason to follow this team — one that has not generated much interest since Super Bowl LI.
After trying to trade back into Round 1, the Falcons moved up six spots for Bergeron and will shift the ex-Orange tackle to guard. Matt Hennessy going on IR clears a path for Bergeron. A former center starter, Hennessy was a threat to keep Bergeron on the bench to start his career. But the Falcons are flooded with high-level investments up front, rolling out a quintet featuring four top-40 picks and solid center Drew Dalman. The Canadian blocker earned second-team All-ACC acclaim, helping running back Sean Tucker to a prolific career at Syracuse. The Cowboys were connected to taking Bergeron in Round 1; instead, he will be a key component of the Falcons' Ridder development.
Other: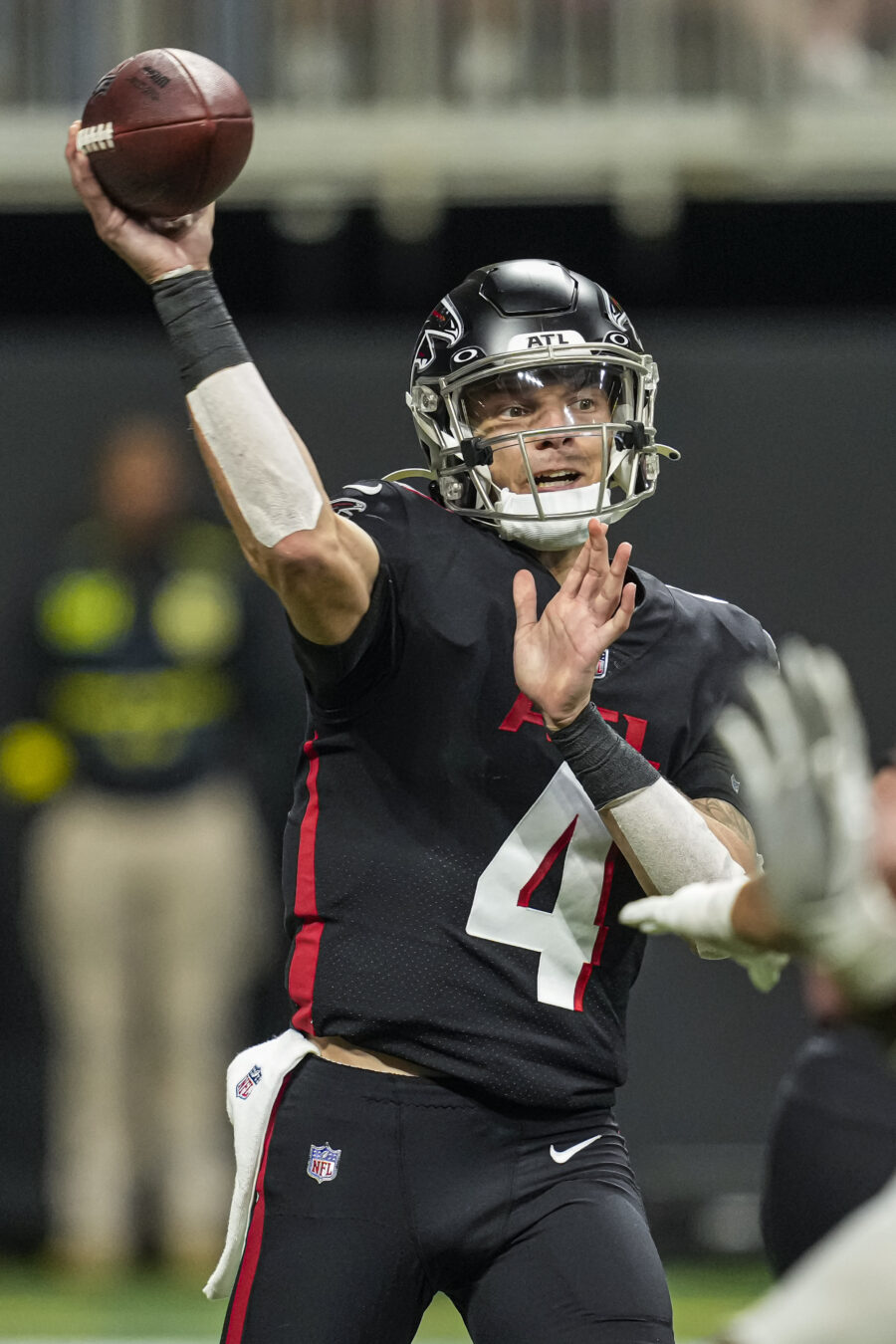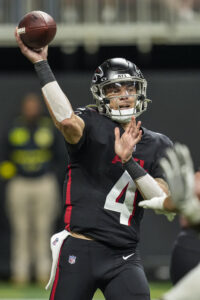 Perhaps no team deserved more questions for passing on a Lamar Jackson pursuit than the Falcons, who are counting on Ridder despite letting him fall to No. 74 last year. Jackson spent more than six weeks on the franchise tag, but teams curiously passed on pursuits. Arthur Blank addressed the team's lack of interest curiously, indicating he did not want another big QB contract on the roster. This came despite the Falcons being viewed as the team that would have traded for Watson last year, had the Browns not re-entered the race with their landmark $230MM guarantee. Blank denied the Falcons were close on Watson, but just about every 2022 report pegged the Georgia native as being on the cusp of choosing Atlanta.
Standing down on Jackson and being close to acquiring Watson paints an interesting picture, reputation-wise, but Ridder was not in place when the Falcons were a Watson finalist. Fontenot and Smith going into their third seasons and not making a push to upgrade at QB still brings risk. Ridder will be set up to succeed, but the four-year Cincinnati starter/four-game Falcons pilot can obviously sink this operation by playing down to his draft slot. Ridder averaged just 6.2 yards per attempt in a modest audition, making it curious the Falcons named him their starter months before training camp.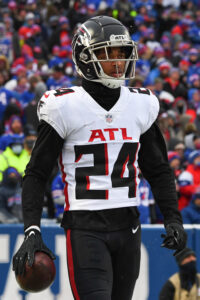 In the wake of Pees' second retirement, the Falcons entered the Vic Fangio sweepstakes. A big Dolphins offer led the acclaimed defensive coach to Florida. Atlanta attempted to interview Ejiro Evero early in the hiring period; then attempting to retain the Nathaniel Hackett hire, Denver blocked the meeting. The Panthers waited out Evero, who was eventually released from his contract. The Falcons moved early, hiring Nielsen.
Given Fontenot's past with the Saints, this is an unsurprising hire. Nielsen spent six years in New Orleans, moving up from the college ranks. The D-line coach's first season (2017) doubled as a step up for the Saints, who had squandered some prime Drew Brees years with woeful defenses in the mid-2010s. Nielsen, 44, brings coordinator experience, having co-run a top-10 defense last season.
Terrell's rookie-contract performance thus far gave the Falcons one of the easier option calls. The lack of a Pro Bowl nod dropped Terrell's price to the third tier of the option structure, and with the former No. 16 overall pick operating as Atlanta's No. 1 corner for multiple seasons, the Falcons will benefit from the extra year of control. This buys Atlanta time on Terrell, who has not enjoyed much help — in the form of a reliable pass rush or at the other corner spots — since arriving.
PFF rated Terrell as the 2021 season's second-best corner, but he finished with the worst EPA among outside corners as the closest defender in coverage — per Next Gen Stats (h/t ESPN's Seth Walder) — last season. Atlanta will now judge its top cover man in Nielsen's system. The Falcons may still have issues at their non-Terrell CB positions, however, with Okudah and CFL import Dee Alford representing the most likely starters.
Top 10 cap charges for 2023:
This will be the first time since Ryan's rookie deal the Falcons will not have carried franchise-QB money on their books. The Ryan trade led to an NFL-record $40.53MM in dead money on their payroll last year, and the first-round quarterback contracts before the 2011 CBA were not particularly friendly. The Falcons being right on Ridder would open a door; his third-round rookie deal runs through 2025. This formula has ignited a handful of teams since that seminal CBA reshaped roster building. The Falcons have the ingredients to become one of those success stories, but it obviously hinges on their Ridder gamble.
If nothing else, this should be the most relevant Falcons team in at least six years. Their O-line investments should place the young skill-position players in position to succeed, and the team — free of the Ryan and Julio Jones dead money — used its cap space to improve on all three levels defensively. In an NFC South featuring zero QB continuity, the Falcons are probably the most interesting team. Ridder taking the step forward the Falcons expect would almost definitely vault the team back into the playoff picture.
Follow @PFRumors