Super Bowl LVII provided the latest example of the value free agency can bring. The Chiefs revamped their receiving corps on last year's market, while the Eagles acquired three defensive starters — including sack leader Haason Reddick. The Jaguars also used a March 2022 splurge to ignite their surprising surge to the divisional round.
Beginning with the legal tampering period, which starts at 3pm CT on Monday, and continuing with the official start to free agency (3pm Wednesday), the next several days represent a highlight on the NFL calendar. Which teams will change their 2023 outlooks for the better next week?
While the 2023 free agent class has absorbed its share of body blows and indeed lacks depth at certain spots, a few positions will bring waves of starter-level talent. Right tackle will invite some big-money decisions, and the safety and off-ball linebacker positions feature considerable depth. A few ascending talents and hidden gems appear in this class as well.
This list ranks free agents by earning potential. In terms of accomplishments, Bobby Wagner, Fletcher Cox and Lavonte David would lap most of the players included here. With each defender going into his age-33 season, however, the standouts' ability to command big contracts is certainly not what it once was.
In terms of possible destinations, not every team is represented equally. Some teams will bring more needs and cap space into this year's marketplace than others. With some help from Adam La Rose, here is this year's PFR top 50 free agents list, along with potential landing spots for each player.
1. Orlando Brown Jr., T. Age in Week 1: 27
As the 49ers did two years ago with Trent Williams, the Chiefs will let Brown hit the market. This could end up benefiting the veteran tackle, who was offered a deal with an average annual value north of Williams' tackle-record $23MM per year before last July's franchise tag deadline. Citing insufficient guarantees, Brown turned it down. Kansas City's offer did contain a bloated final year to bump up the AAV to $23.1MM, but will Brown – a quality left tackle but not a top-shelf option at the position – do as well this year? He will soon find out.
Brown has now made four Pro Bowls and carries positional versatility that would intrigue were he open to a return to right tackle, which by all accounts he is not. The 363-pound blocker can struggle against speed-rusher types, but he is set to be the rare accomplished left tackle in his prime to hit the market. The Chiefs sent a package including a first-round pick to the Ravens for Brown, whose bet on himself led to a $16.6MM tag and an open market. The bidding will run high, though it might not reach the places the Williams pursuit did in 2021.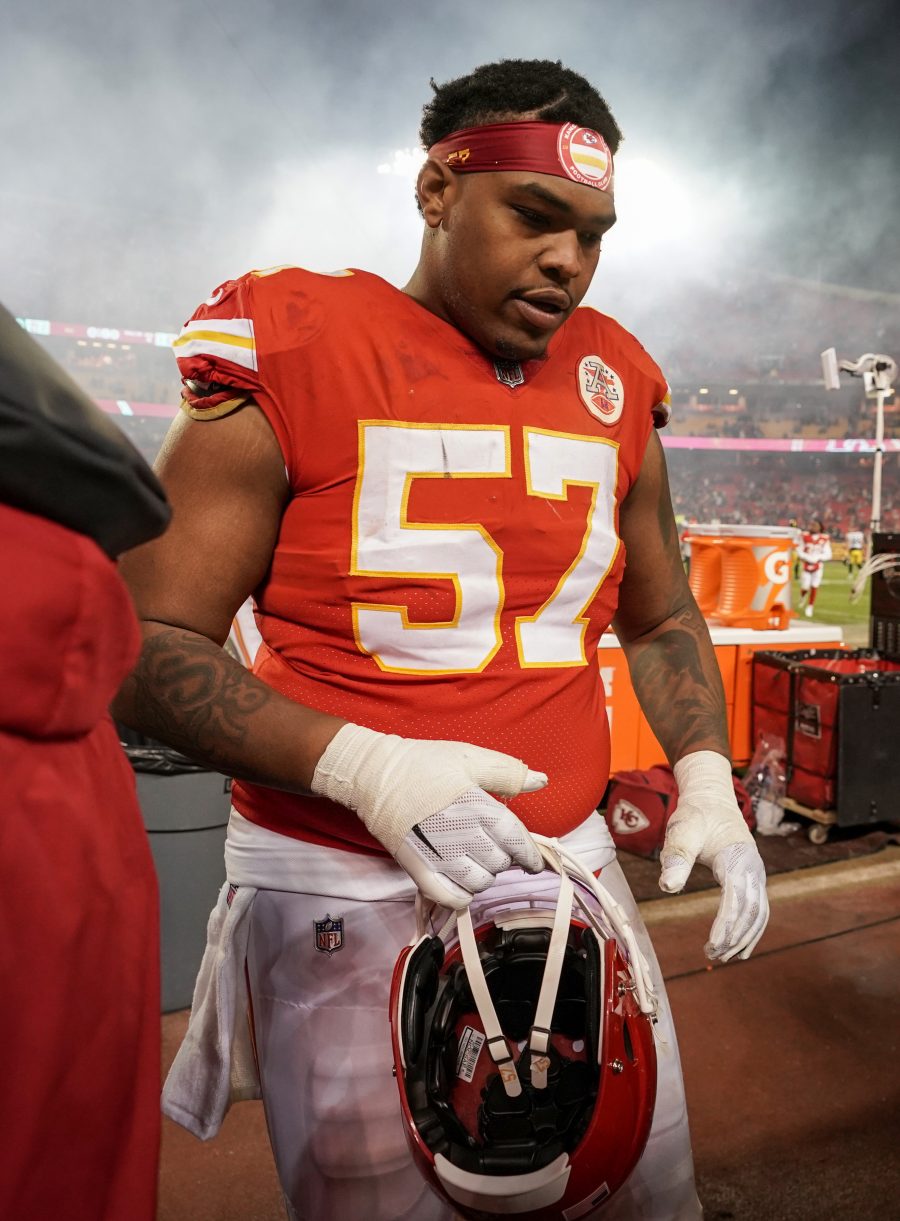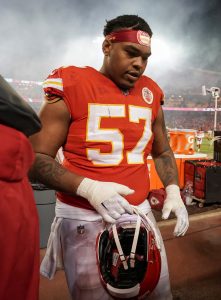 The Chiefs' exclusive negotiating rights with Brown end March 13; they have had nearly two years to complete a deal. The market will determine if the league views the sixth-year blocker as an elite-level left tackle or merely a good one. Then again, bidding wars drive up the prices for O-linemen on the market. O-line salary records have fallen four times (Williams, Corey Linsley, Joe Thuney, Brandon Scherff) in free agency since 2021. This foray could give Brown the guaranteed money he seeks, and it puts the Chiefs at risk of seeing their two-year left tackle depart. The Ravens also passed on this payment back in 2021, in part because they already had Ronnie Stanley on the payroll.
The defending champions have Brown and right tackle Andrew Wylie eligible for free agency; some of their leftover funds from the Tyreek Hill trade went to Brown's tag. Although some among the Chiefs were frustrated Brown passed on last year's offer, the team will be hurting at a premium position if he walks. Given the importance the blindside position carries, fewer teams are in need compared to right tackle. The Titans losing Taylor Lewan and continuing to clear cap space could point to a run at Brown, though the team has a few needs up front. The Jets likely have needs at both tackle spots. Would the Bears relocate Braxton Jones to the right side? Ryan Poles was with the Chiefs when they traded for Brown, and the Bears could outmuscle anyone for cap space.
Best fits: Titans, Chiefs, Commanders
2. Mike McGlinchey, T. Age in Week 1: 28
Teams in need of right tackles will participate in one of the more interesting markets in recent memory. Above-average-to-good offensive linemen do well in free agency annually, and this year will send three experienced right tackles in their prime to the market. A five-year starter in San Francisco and former top-10 pick, McGlinchey has a good case as the best of this lot. The five-year vet's run-blocking craft eclipses his pass-protection chops exiting Year 5, but he will walk into a competitive market. The former Notre Dame left tackle should have a lucrative deal in place during next week's legal tampering period.
Although mutual interest existed regarding a second 49ers-McGlinchey agreement, John Lynch acknowledged the only viable path for McGlinchey to stay in San Francisco would be his market underwhelming. That seems unlikely, so right tackle-seeking teams – and there are a handful – will jockey for the sixth-year veteran. McGlinchey turned 28 in January, making this his obvious window to cash in. He rated fifth in ESPN's run block win rate stat last season, bouncing back from the quadriceps injury that ended his 2021 season.
There is no shortage of Kyle Shanahan– or Sean McVay-influenced schemes around the league. The Bears employ Luke Getsy as their play-caller; Getsy worked for Shanahan/McVay tree branch Matt LaFleur, and the Bears' cap space dwarfs every other team's. After fielding a shaky O-line (on a team full of substandard position groups), Chicago needs a better idea of Justin Fields' trajectory. Outbidding the field for the top right tackle available is a good start. The Patriots want a right tackle – on a line without a big contract presently – and the Raiders might have a say here as well. In need at multiple O-line spots, Las Vegas will have cash as well if it passes on a big QB investment.
Best fits: Bears, Patriots, Raiders
3. Jawann Taylor, T. Age in Week 1: 26
As expected, the Jaguars took Evan Engram off the market via the franchise tag. The tight end tag being $7MM cheaper than the $18.2MM offensive lineman tag always pointed Taylor toward free agency, and after never missing a start in four Duval County seasons, Taylor will be tough for the Jags to retain. They already drafted Walker Little in the 2021 second round, and no team that is currently paying a left tackle top-10 money (Cam Robinson is seventh) has a top-10 right tackle contract on the books. Taylor is expected to land at least a top-10 right tackle deal, with a $17MM-AAV figure being floated. That would place the former Florida Gator in the top five at the position, depending on how McGlinchey fares next week.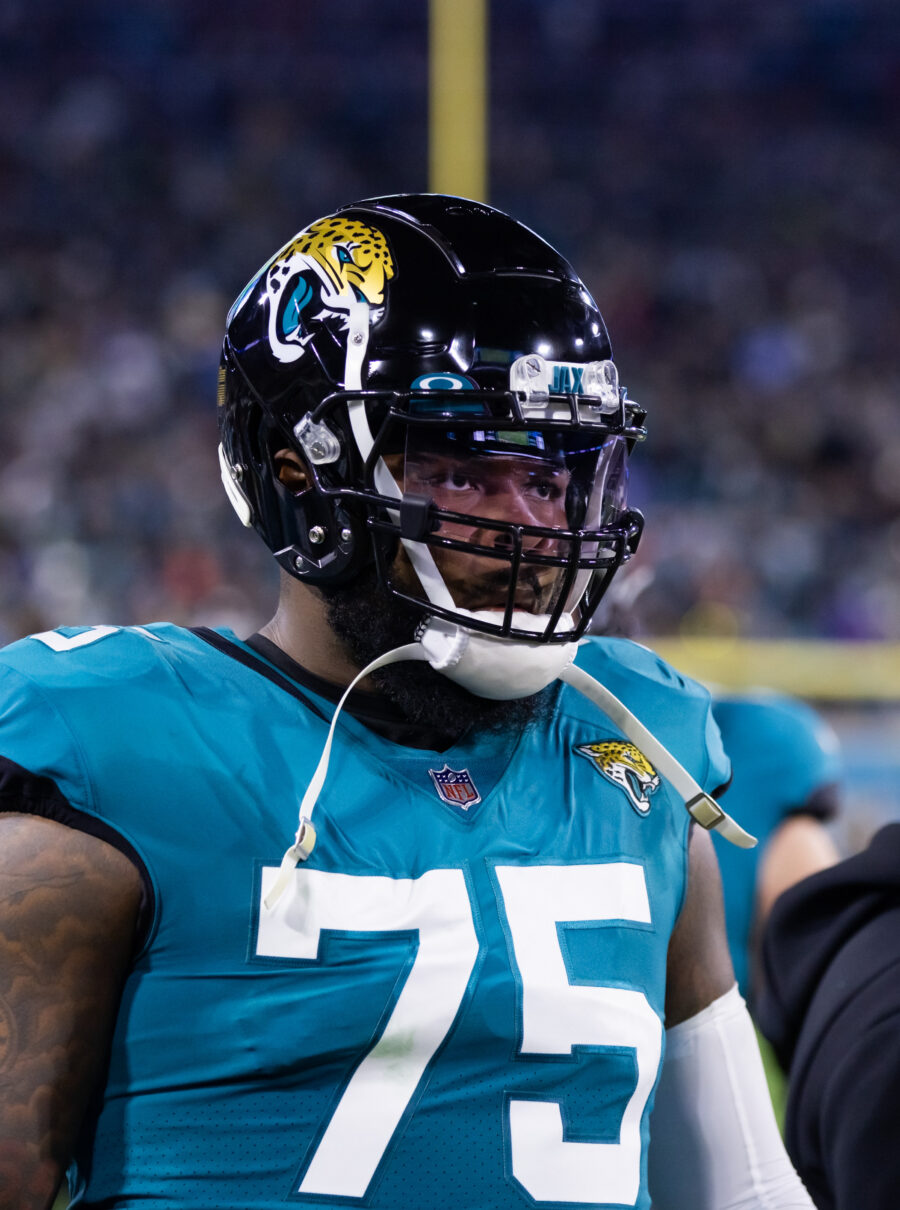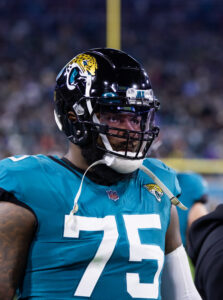 Taylor resembles the genre of player that usually populates the top of a position's free agency market: a dependable performer who checks in below the top tier at his job. Taylor enjoyed his strongest year in his platform campaign. The former second-round pick dropped his hold count from 11 in 2021 to two in 2022. While PFF charged Taylor with five sacks allowed, Football Outsiders measured his blown-block rate at a career-low 1.3%. Offering a disparate skillset compared to McGlinchey, Taylor has fared better as a pass protector than in the run game. PFF slotted him as a top-10 pass protector among right tackles but viewed him as a dismal run-blocker.
The Jags have presumably made Taylor an offer, but other teams will probably top it. The Dolphins gave Terron Armstead a five-year, $75MM deal in 2022 but have needed a right tackle ever since Ja'Wuan James' 2019 exit. They were forced to start in-season pickup Brandon Shell for much of the year and have cleared more than $45MM in cap space over the past two days. The team just picked up Tua Tagovailoa's fifth-year option, and the league's lone southpaw starting QB needs better blindside protection after a season in which he suffered at least two concussions. Overspending on O-linemen is not the Patriots' M.O., but they have a need at right tackle and do not have big dollars devoted to quarterback or any position up front. New England is on the hunt for a right tackle upgrade, and the team's 2021 free agency showed it would spend when it deemed expenditures necessary.
Best fits: Dolphins, Patriots, Jaguars
4. Jimmy Garoppolo, QB. Age in Week 1: 31
The quarterback market cleared up this week, seeing Geno Smith and Daniel Jones extended and Derek Carr's lengthy street free agency stretch end with $70MM in practical guarantees. Garoppolo's injury history will affect his value, but teams kind of make it a priority to staff this position. The former Super Bowl starter is in his prime and on the market for the first time. How high this market goes will depend on what the Raiders want and what Aaron Rodgers decides.
The 49ers' 12-game win streak that included Brock Purdy's stunning displays began with Garoppolo at the controls. Guiding San Francisco to four straight wins, Garoppolo was at or close to his best when he suffered a broken foot in Week 13. He sported a 7-0 TD-INT ratio during that win streak and closed the season 16th in QBR. He would have walked into a better market had the injury not occurred; the setback came after a string of health issues. He tore an ACL in 2018, missed 10 games in 2020 after an ankle sprain and was significantly limited by the end of the 2021 slate due to a three-injury season. Garoppolo's March 2022 shoulder surgery hijacked his trade market.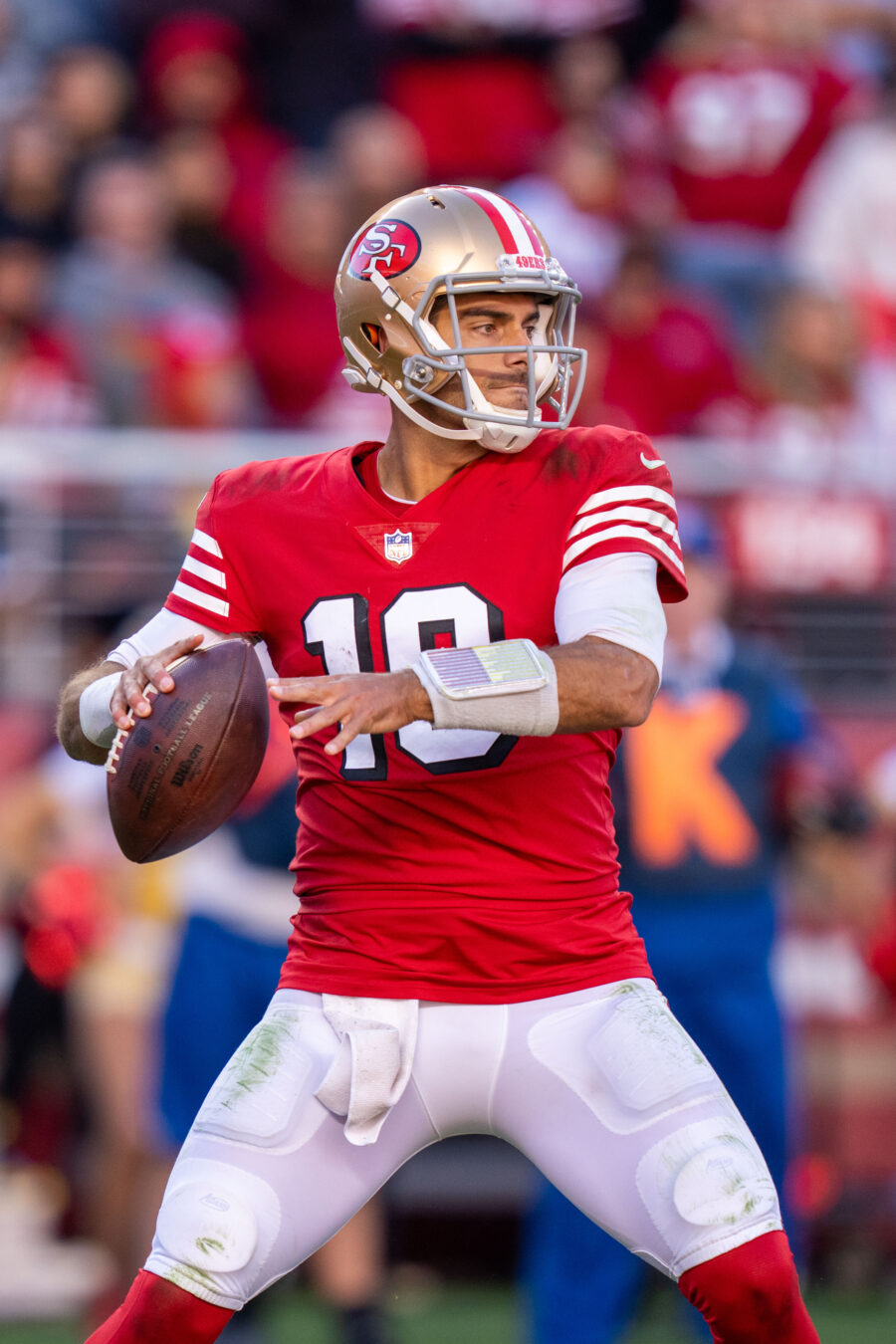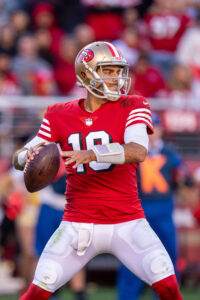 Ideally for Garoppolo, Rodgers returns to Green Bay or retires. While that is looking unlikelier by the day, it would put the Jets in a desperate position following Carr's decision. The Raiders represent the other wild card. Garoppolo would slide into Josh McDaniels' system seamlessly, given the parties' three-plus years together in New England. The Raiders have operated a bit more stealthily compared to the Jets; they have been connected to Rodgers, Garoppolo and rolling with a rookie. Plan C here would be a tough sell given the presences of 30-year-old skill-position players Davante Adams and Darren Waller, but Las Vegas' plans cloud Garoppolo's market. If the Raiders pass and Rodgers chooses the Jets, Garoppolo's earning power could drop.
McDaniels not fancying a Garoppolo reunion opens the door for the Texans, who hired ex-49ers pass-game coordinator Bobby Slowik as OC, and others. Houston's situation may not appeal to Garoppolo, but Slowik and Nick Caserio being in Houston make this connection too clear to ignore. The Buccaneers and Commanders are in win-now positions but are giving indications they do not want to spend much at QB. The Commanders were deep in talks for the then-49ers QB last year, however. Garoppolo will test those squads, along with the Falcons, who are entering Year 3 of the Terry Fontenot–Arthur Smith regime. The Panthers' acquisition of the No. 1 pick likely takes them out of the running, and Carolina not being in the mix could also affect how high the Garoppolo price goes.
Bottom line, there should be enough teams interested in staffing their 2023 QB1 spots that the best free agent option should do OK no matter what happens with Rodgers.
Best fits: Raiders, Texans, Commanders
5. Jamel Dean, CB. Age in Week 1: 26
The Buccaneers retained Carlton Davis last year, but their dire cap situation should force a Dean departure. Dean's age/performance combination should make him this year's top cornerback available. With corner a position of need for many teams, the former third-round pick stands to do very well. Dean has only been a full-time starter in one season, however, seeing his defensive snap share jump from 67% in 2021 to 90% last season.
Excelling in press coverage, Dean played a major role for the 2020 Super Bowl champion Bucs iteration and overtook fellow free agent Sean Murphy-Bunting last year. Dean did perform better in 2021 compared to 2022, allowing no touchdowns and limiting QBs to a collective 50.0 passer rating; those numbers shot up to four and 86.0 last season. Still, PFF rated Dean as last year's 10th-best corner. J.C. Jackson did not break into the top five among corners upon hitting the market last year; Dean should not be expected to do so, either. But many teams will be interested.
The Patriots have paid up for a corner previously, in Stephon Gilmore (2017), but Jonathan Jones – forced to primarily play a boundary role in 2022 – wants to re-sign and will be far cheaper than Dean. The Falcons need help opposite AJ Terrell and trail only the Bears in cap space. Although a Terrell payment is coming, it can be tabled to 2024 due to the fifth-year option. The Dolphins are clearing cap space and now have a corner need, with Byron Jones no longer with the team after his missed season.
Best fits: Dolphins, Falcons, Patriots
6. Jessie Bates, S. Age in Week 1: 26
Bates stands to be one of this free agency crop's safest bets, combining extensive experience – the final two years as a pillar for a championship threat – with a host of prime years remaining. Beginning his career at 21, the Wake Forest product has started 79 games and anchored the Bengals' secondary for most of his tenure. The Bengals did not tag Bates for a second time, passing on a $15.5MM price. With the team planning to let Bates test the market, it looks like the sixth-year defender will leave Cincinnati.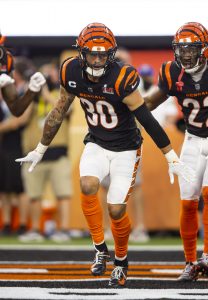 The Bengals and Bates went through two offseasons of negotiations, ending in the 2022 tag. The Bengals have some big payments to make at higher-profile positions. Safety does not qualify as such, but Bates has been a cornerstone in Lou Anarumo's defense and will be handsomely rewarded. Bates finished as Pro Football Focus' No. 1 overall safety in 2020 and, after a shakier 2021 in which he admitted his contract situation affected his play, Bates came through with impact plays in the postseason. He graded as a top-25 safety, via PFF, in 2022.
Safety is one of this year's deeper positions in free agency. Of the top 10 safety contracts, however, only one went to a free agent (Marcus Williams in 2022). Bates should be expected to join the Ravens defender, who signed for $14MM per year. It will be interesting if he can climb into the top five at the position; Justin Simmons' $15.25MM-AAV accord sits fifth. Bates should be expected to approach or eclipse that, though moving to the Derwin James–Minkah Fitzpatrick tier will be more difficult. Still, after the Bengals offered Bates less than $17MM guaranteed last summer, he should depart for more guaranteed money.
The Browns are interested in Bates, who will cost more than John Johnson cost Cleveland two years ago (three years, $33.75MM). Clear of the record-setting Matt Ryan dead-money hit, the Falcons have cash to spend and a Terry Fontenot–Arthur Smith regime entering Year 3. The Falcons need to make progress, and they do not have much in the way of talent or costs at safety. The team has not featured much here since the Keanu Neal–Ricardo Allen tandem splintered. Bates would be a way to remedy that.
Team fits: Falcons, Browns, Raiders
7. Javon Hargrave, DT. Age in Week 1: 30
Hargrave's third contract will almost definitely surpass the three-year, $39MM deal he signed in 2020, when he was a first-time free agent. Even though the Eagle inside-rushing maven turned 30 last month, teams will be eager to add him to their pass rush equations. A medium-term deal would appear in the offing, but the bidding should be steep for the career-long Pennsylvanian.
The former Cameron Heyward–Stephon Tuitt third wheel shined in Philly, totaling 18 QB hits in 2021 and a career-high 11.5 sacks last season. Next Gen Stats charted Hargrave with the second-most pressures (53) from a defensive tackle spot. The Eagles have most of their defense set to hit the market, just drafted Jordan Davis in Round 1 and by all accounts will enter next season with a Jalen Hurts extension on their books. The NFC champions also have Haason Reddick and Josh Sweat contracts on the payroll, opening the door to Hargrave joining another team in need of interior support.
The Lions ranked last defensively in 2022, struggling against the run and pass, and need help at just about every defensive position. They do not have a big-ticket contract on defense, and a future Aidan Hutchinson extension would not likely overlap with a monster Hargrave accord. Hargrave could help catalyze Detroit's ascent. The Raiders brought in a host of low-cost D-tackles last year; their evergreen struggles on defense persisted. A big contract alongside Maxx Crosby and Chandler Jones would be steep, but it would pair well with a rookie-QB salary. The Browns also effectively punted on their D-tackle need last year, and it helped cost DC Joe Woods his job. The former Jim Schwartz Eagles charge would transform Cleveland's interior D-line.
Best fits: Browns, Raiders, Lions
8. Dre'Mont Jones, DL. Age in Week 1: 26
Daron Payne being off the market benefits Jones, who has excelled as an interior pass rusher in Denver. Shortly after trading Bradley Chubb, the Broncos made it known they wanted to extend Jones. The team does not have a top-market front-seven contract on its payroll, and only Justin Simmons has commanded a top-10 positional commitment on the Denver defense. But Jones is smartly not planning to re-sign at the 11th hour. The former third-round pick plans to see what the market bears; he will soon be a well-paid D-lineman.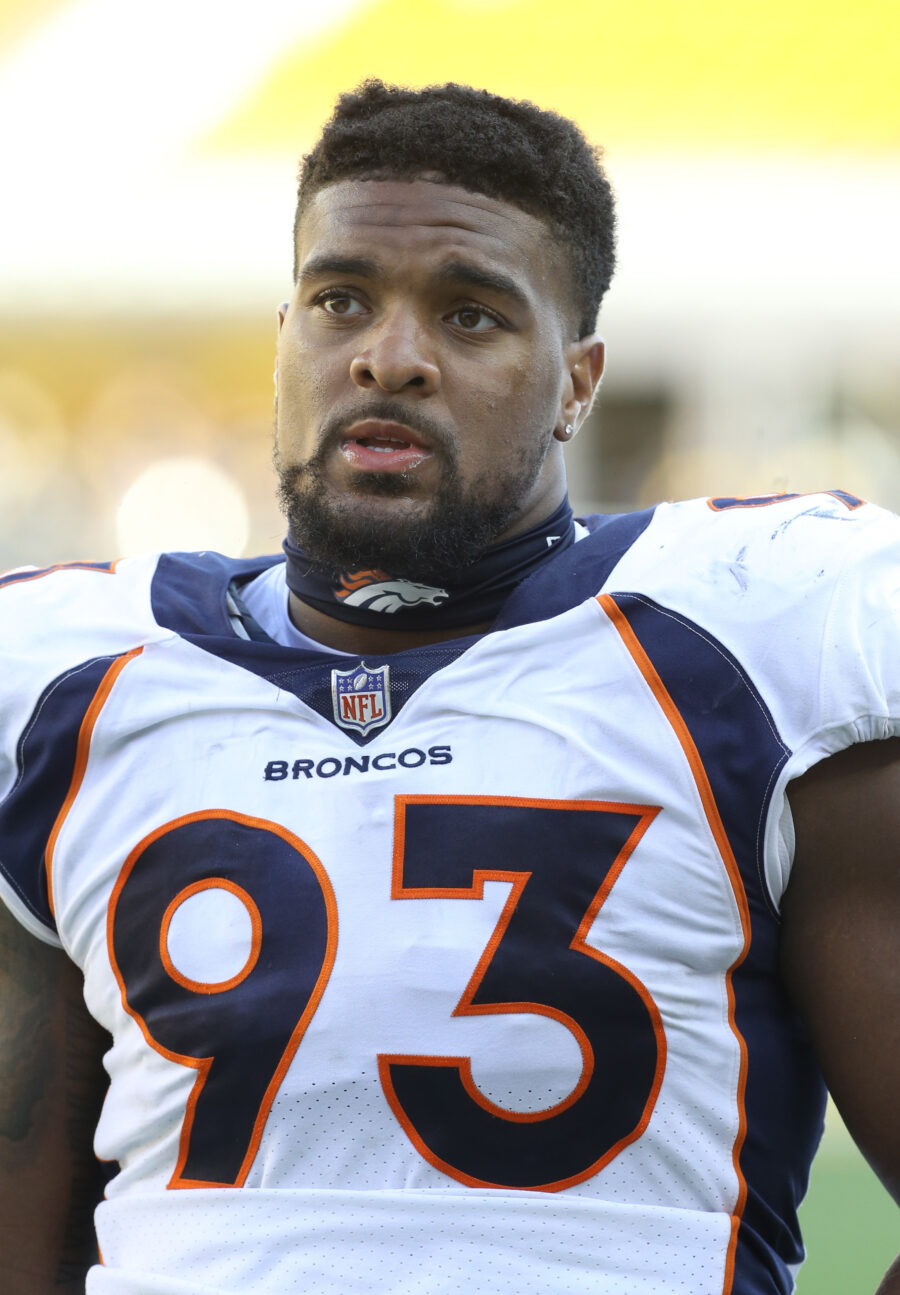 Plugged into Vic Fangio's 3-4 defense as an end early in his career, Jones has offered consistency as an inside rusher but never flirted with top-tier production. Hence, the Broncos' reluctance to use the franchise tag. Jones has gone 6.5-5.5-6.5 in sacks and 11-11-10 in QB hits since 2020. But the Ohio State product was tied for fifth in pressures among interior D-linemen, per PFF, at the time he suffered a season-ending hip injury last year. There will be interested parties, even if Jones is not quite a candidate to bridge the gap between Aaron Donald ($31.7MM AAV) and a field that features no other D-tackle earning more than $21MM on average.
Jones' Denver defensive coordinators – Fangio and Ejiro Evero – are now in Miami and Charlotte. Future commitments for each team up front could complicate Jones following one of his former bosses. The Bears outflanking the field for Jones makes sense. They dismantled their Fangio-assembled front seven in 2022, have needs everywhere up front and likely traded out of Jalen Carter territory. Matt Eberflus has placed a high value on the D-tackle spot, as shown by the Colts' DeForest Buckner trade. The Broncos should also make an offer, though this market could lead them to move to other options. The Texans should be considered a threat here as well. Houston has not been aggressive in free agency under Nick Caserio, but the team has cap space and is a near-certainty to bring in a rookie-quarterback contract.
Best fits: Bears, Texans, Broncos
9. Tremaine Edmunds, LB. Age in Week 1: 25
Despite being headed for his sixth year, Edmunds still has multiple mid-20s seasons to factor into negotiations. This early career start will benefit the youngest Edmunds brother. He will be the top player available at a deep off-ball linebacker position – a job that has been seen its stature reduced in the modern game. That said, the Bills Pro Bowler should have a nice market. Teams have paid high prices for multi-time Pro Bowl linebackers in free agency, as evidenced by C.J. Mosley's market-shifting Jets contract in 2019.
Edmunds is a two-time Pro Bowler who has generated mixed reviews. Pro Football Focus offers such an account, grading him outside the top 50 in 2020 and '21 but slotting the former first-rounder fifth at the position last season. PFF graded Edmunds as the league's best coverage linebacker in 2022; this skill and Edmunds' age will set a high price baseline. Teams will have a host of ILB options to choose from this year, and those in need at the position will need to determine whether it is worth it to pay up for Edmunds or save money by signing one of the second-tier options or using a higher draft pick on the position.
A clear dot can be connected just south of Edmunds' current address. The Giants both have ex-Bills decision-makers – Joe Schoen, Brian Daboll – running the show, along with ex-Bills assistant John Egorugwu as linebackers coach, and they deployed one of the NFL's worst linebacker groups last season. Edmunds would represent a major chip, but will the Giants back down due to cost? They just shelled out a big QB contract, tagged Saquon Barkley and have a monster Dexter Lawrence payment to make. The Lions and Raiders should be in the mix, too; each is seeking upgrades at nearly every defensive position
This sets up as one of the most interesting markets. Roquan Smith just raised the position's salary ceiling to $20MM per year. Foye Oluokun, who lacked Edmunds-level accolades last year, signed for $15MM per annum (fifth among ILBs). The positional surplus should affect Buffalo's 6-foot-5 'backer, but top-five ILB money could still await thanks to his experience, performance level and age.
Best fits: Giants, Lions, Bills
10. C.J. Gardner-Johnson, DB. Age in Week 1: 25
Known previously for solid slot work and agitating certain wide receivers (including ex-teammate Michael Thomas) to the point various punches came his way, Gardner-Johnson tied for the 2022 interception lead. Both he and Justin Simmons notched six thefts despite each missing five games. Gardner-Johnson managed this at a new position, being moved to safety just before beginning his Eagles season.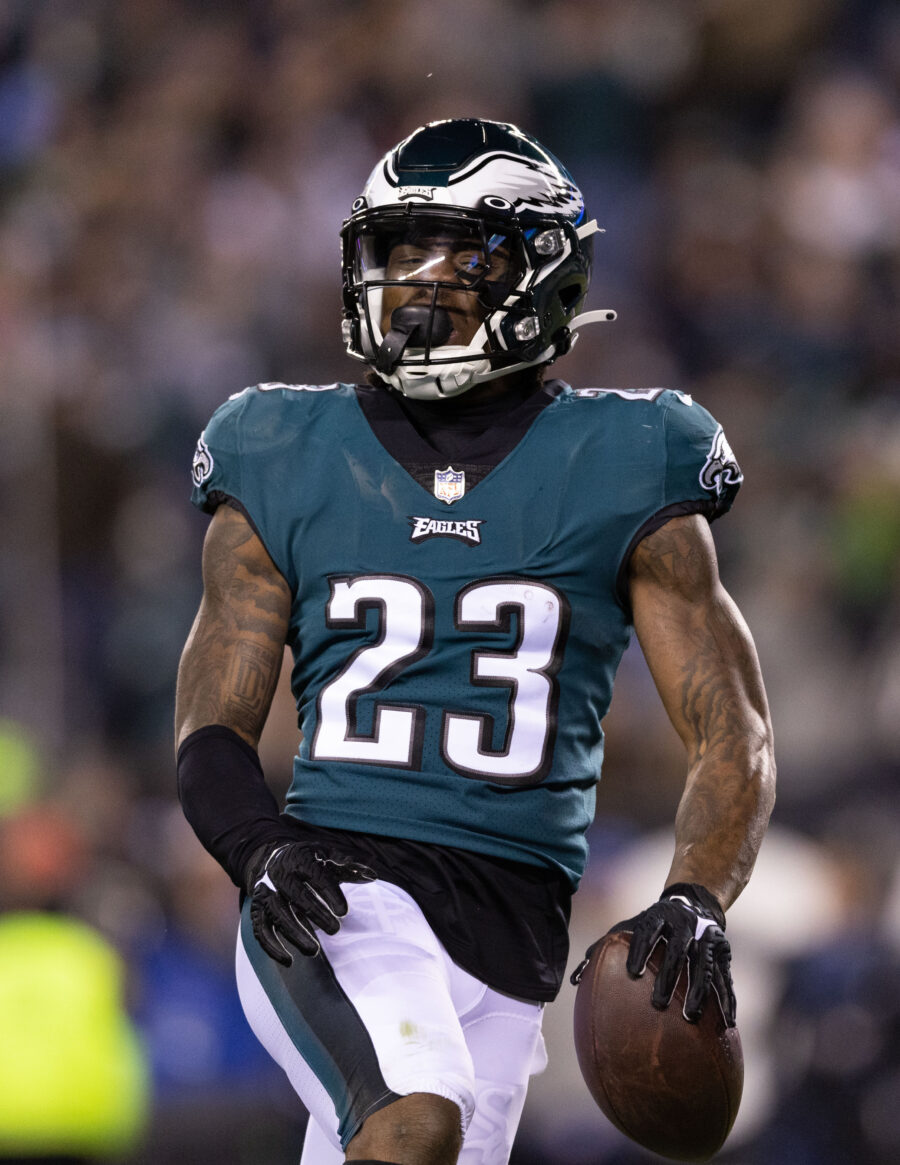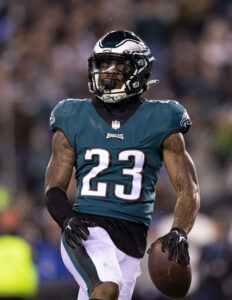 Versatility should help his cause, though playing safety would benefit Gardner-Johnson contractually – as slot corners continue to be underpaid – during his first free agency bid. Chris Harris and Kenny Moore's quests at raising the slot salary ceiling did not cross the finish line, and Gardner-Johnson could not secure the extension he sought in New Orleans. But he delivered multiple solid seasons as the Saints' slot presence. Tyrann Mathieu toggling between safety and slot responsibilities benefited him in 2019, when the Chiefs gave him a then-record three-year, $42MM deal. Gardner-Johnson is younger than Mathieu was at that point and stands to do very well.
While Hargrave and James Bradberry's free agency defections would sting the Eagles, each of those defenders are headed for age-30 seasons. Gardner-Johnson does not turn 26 until December; his best seasons should lie ahead. The Eagles have three of their five DB starters, both three-down linebackers and three core D-linemen headed for free agency. This will present an intriguing test for GM Howie Roseman. Gardner-Johnson will probably be the player the acclaimed GM prioritizes most. It seems the Eagles will need to outbid the competition, seeing as they could not work out an extension in the months leading up to free agency and passed on using an affordable franchise tag.
Best fits: Eagles, Texans, Lions
11. Byron Murphy, CB. Age in Week 1: 25
The Cardinals depended on Murphy over the past two seasons, doing little to address their post-Patrick Peterson cornerback situation. Even with Peterson still in the fold from 2019-20, Murphy was a vital performer in Arizona. The decision-makers who placed Murphy as the Cards' top cover man are gone, however, and the former No. 33 overall pick will be one of the more interesting free agents available.
Murphy has age, experience and versatility on his side. The 5-foot-11 defender was essential during the Cardinals' 2021 playoff campaign, being by far Arizona's best corner and helping a defense down J.J. Watt to a sixth-place DVOA finish. The ex-Washington Husky is also coming off an injury-limited slate, one in which he missed eight games. A back injury downed Murphy in early November, and he missed one of the worst stretches in Cardinals history.
Functioning as a Chris Harris-type chip in playing a boundary role and moving inside regularly, Murphy should be able to command considerable cash ahead of an age-25 season. After looking like a bit of a sleeper not long ago, the 5-foot-11 defender now seems poised to cost No. 1 corner-level money. Having none of their 2022 top three corners under contract, the Vikings could both use a slot defender and outside presence. Adding Murphy would give Brian Flores options. Would the Cardinals stay in the bidding despite the decision-makers who drafted Murphy being out of the picture?
Best fits: Vikings, Cardinals, Dolphins
12. Kaleb McGary, T. Age in Week 1: 28
McGary's age drops him below Taylor, and his iffy performance level prior to a well-timed breakout slate leaves him below the other 28-year-old gem in this right tackle class. This market stands to generate the most intrigue, with McGary not presenting McGlinchey-level consistency but bringing a first-round pedigree and a 62-start sample size. The Washington product could generate mixed reviews from teams, but given his 2022 showing at a position often difficult to fill, this does not look like a "prove it" deal situation. A big-ticket multiyear offer should await.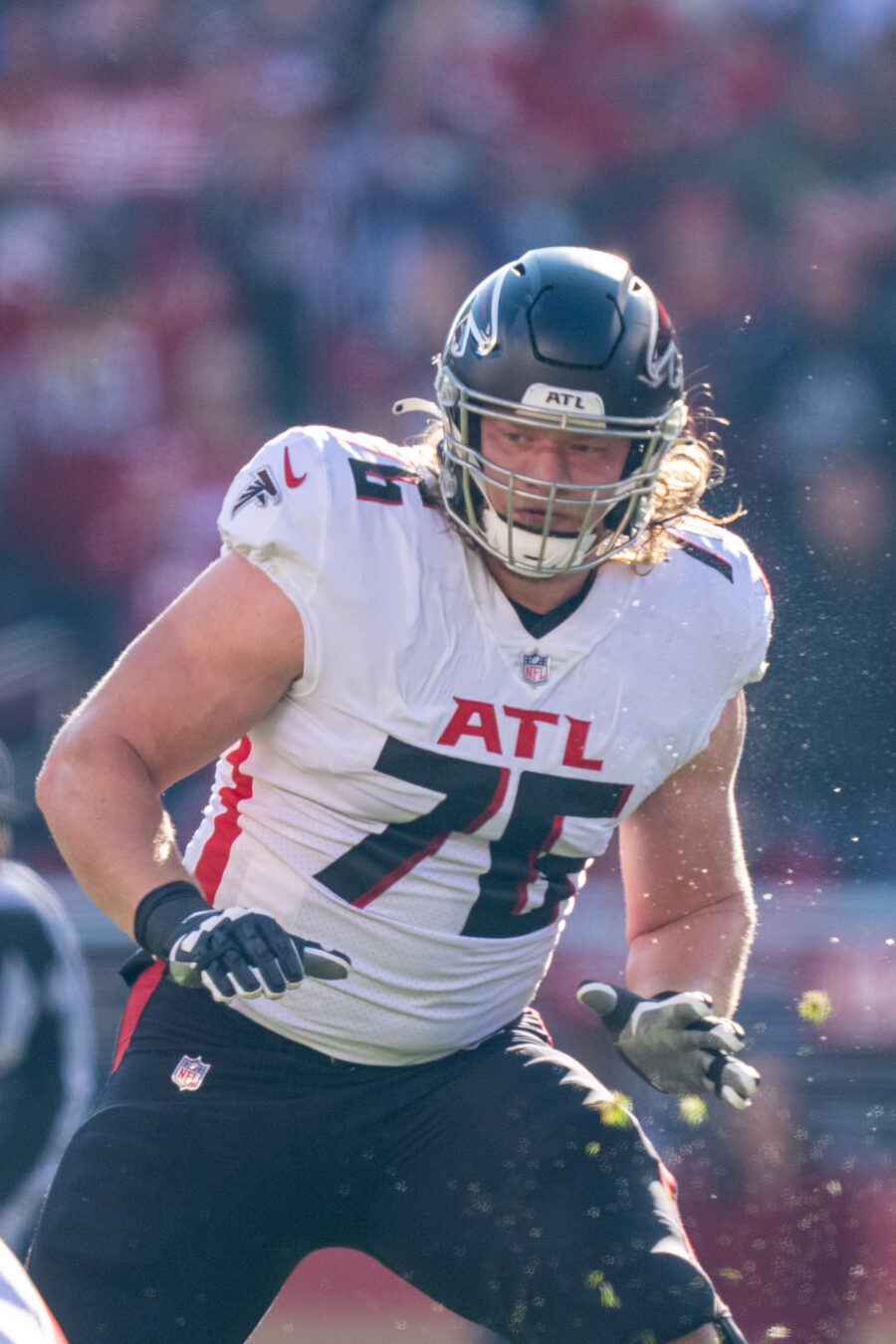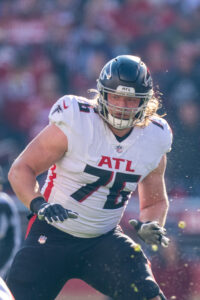 McGary lined up alongside guard dynamo Chris Lindstrom, the better of the Falcons' two 2019 first-round picks on the O-line, and the latter's contract could affect the former's standing with the team. The Falcons also have left tackle Jake Matthews signed through 2026 at the league's fifth-highest rate ($18.5MM per year). McGary graded as PFF's No. 4 overall tackle, riding an elite pass-blocking campaign to this free agency perch. He is a ways removed from allowing a staggering 13 sacks as a rookie. The Falcons declined McGary's fifth-year option last May, opening themselves up to the 6-foot-6 blocker walking.
The Broncos have brought astounding turnover at right tackle, fielding 10 Week 1 right tackles in 10 seasons, and McGary may be a bit more affordable compared to the top two right-siders. Although their Ja'Wuan James investment proved a major misstep, the Broncos' evergreen need would point to it trying to upgrade via this intriguing right tackle class. Ex-Falcons O-line coach Chris Morgan is now the Bears' O-line instructor. If Chicago does not want to pay up for McGlinchey or Taylor, McGary would make sense opposite Braxton Jones' rookie deal.
Best fits: Broncos, Bears, Falcons
13. Cameron Sutton, CB. Age in Week 1: 28
Joining Hargrave as a Steelers draftee to enter this market in strong position to score a third-contract raise, Sutton profiles as Pittsburgh's top UFA priority. The team that has T.J. Watt and Minkah Fitzpatrick signed to top-market contracts at their respective positions assembled an inexpensive cornerback corps – both in terms of cost and draft capital – last year. No Pittsburgh corner was a first- or second-round pick, nor was one tied to a deal north of $5MM per year. Although the Steelers could deviate and devote a first- or second-rounder to a corner (something they have not done since 2016), they can retain Sutton after a strong contract year.
Posting extensive experience outside and in the slot, Sutton has lined up primarily as a boundary defender over the past two seasons. He finished in the top five in passer rating allowed as the closest defender, per Next Gen Stats, last season (among corners) and ended the year with a career-high 15 passes defensed. This will likely be Sutton's last shot at an upper-crust cornerback contract; it will take much more than the two-year, $9MM pact the Steelers gave him in March 2021 to close the deal this time. Given his six Steelers years, Sutton checks boxes to be Pittsburgh's No. 1 corner for the immediate future.
It should be a safe bet Sutton scores an eight-figure-AAV deal. Donte Jackson, Shaquill Griffin and Charvarius Ward signed for between $11MM and $14MM annually over the past two offseasons. That should represent a reasonable range here. A few late-20-somethings or 30-year-olds populate this corner market, with James Bradberry and Marcus Peters also UFAs.
Best fits: Steelers, Titans, Ravens
14. Zach Allen, DL. Age in Week 1: 26
The J.J. Watt sidekick will ride his quality contract year into the market's upper reaches, and the Cardinals may soon be faced with losing both. Not quite a top-market player, Allen should be compensated in the upper middle class. He established career-high marks in sacks (5.5), tackles for loss (10) and QB hits (20). In Watt fashion, the younger Cardinals defensive end led all NFL D-linemen with eight passes batted down. It took Allen a bit to get going (nine QB hits through two seasons), but the former third-round pick should move into eight-figure-per-year territory soon.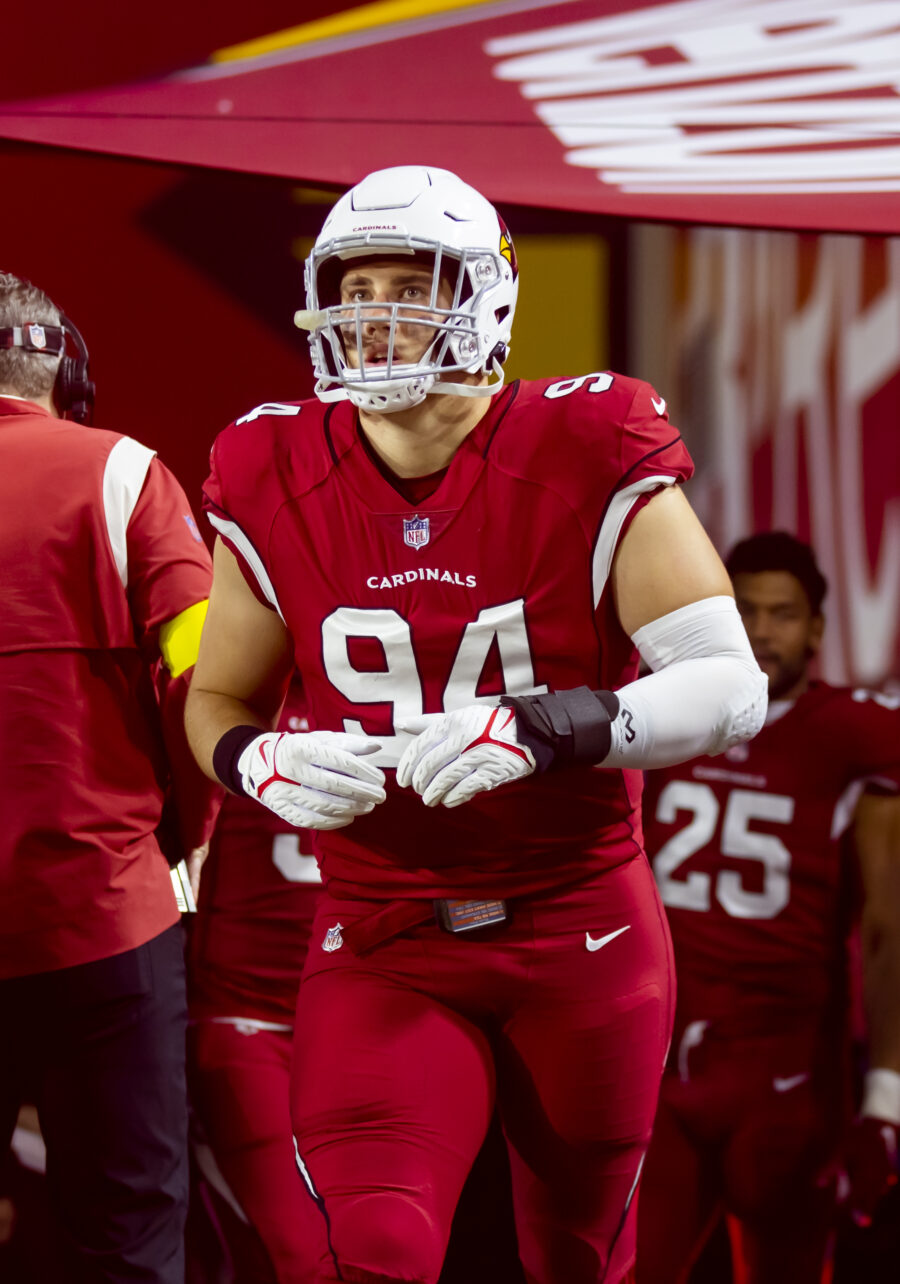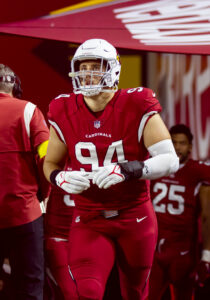 Hints of "prove it" energy may come from teams as Allen tests the market, but with Payne out of the mix, the Boston College product will join Dre'Mont Jones as the best young interior D-linemen available. The Cardinals losing Allen would mean in the past three offseasons they will have said goodbye to he, Watt, Chandler Jones and Haason Reddick. That would be quite the reboot, but the Cards' new regime does want to re-sign Allen. Arizona is light on defender contracts outside of Budda Baker, and it remains to be seen if the new front office will share the old one's affinity for off-ball linebackers when it comes time to pay Isaiah Simmons.
Vance Joseph coached Allen throughout his Cardinals career. It would be easy to see the Broncos HC-turned-DC tab him as a Jones consolation prize. Denver has a midlevel D-tackle contract on the books already (D.J. Jones), but with an interest in retaining Dre'Mont Jones, Allen could slide into Joseph's defense as the team's top interior rusher. The Texans will come in with more cash; will they deviate from the lower-middle-class two-year deal structure that populated Nick Caserio's first Houston payrolls? Several suitors should be there for Allen, putting him in position to move toward Watt's $14MM AAV.
Best fits: Broncos, Cardinals, Texans
15. Jakobi Meyers, WR. Age in Week 1: 26
One of the biggest beneficiaries from his position's market, Meyers stands to go from a player who set a record for most career receiving yards without a touchdown to one who should easily command more than $10MM annually. The former Patriots UDFA ranks just inside the top 30 in receiving yards since 2020 (2,399); his yards per catch rankings in those seasons: 58th, 88th, 58th. The YPC numbers will cap Meyers' ceiling. He would be an unappealing prize for a team seeking a No. 1 target, as the Patriots were not exactly the envy of most teams regarding aerial production post-Tom Brady.
Mac Jones' numbers cratered without Meyers on the field, however, and the reliable Patriot (well, except for one infamous decision) ranked ninth in drop rate since becoming a regular in 2020. The intermediate target went until his third season before scoring a touchdown, but he tallied six for a disjointed Pats passing attack in 2022. Route-running chops have helped Meyers compensate for a lack of plus separation skills. The Pats would miss the 2019 post-draft find were he to leave, but they will face competition for his services. It will be interesting to see how much competition, as teams might become concerned about an overpayment here.
A reunion with Caserio should be monitored; Meyers would help whichever rookie QB Houston lands. Then again, the Texans will still need to be on the hunt for a No. 1 receiver if they sign the 200-pound free agent. The Falcons giving Desmond Ridder or their next QB a No. 2 option, to complement Drake London and Kyle Pitts' rookie contracts, should also be on the radar. Atlanta has higher-priority spots to fill, but if a rookie QB is en route, Meyers would make for a nice target while said passer acclimates. After the Panthers sent D.J. Moore to the Bears, checking off Chicago's wideout need, and they now qualify as a team that could use a receiver to aid a young quarterback.
Best fits: Texans, Panthers, Falcons
16. James Bradberry, CB. Age in Week 1: 30
The Eagles' ledger of unsigned starters makes Bradberry's controversial holding call look more damaging. The NFL's best roster could lose many key contributors. Bradberry looks like a player the Eagles will let walk, but his value-rehabilitation season – the Super Bowl LVII-altering penalty notwithstanding – will lead to a much better deal than the one-year, $7.25MM pact the Eagles gave him. The Giants gave Bradberry a three-year, $45MM accord in 2020. It might be difficult for the ex-Panthers draftee to eclipse that, but he should come close even at 30.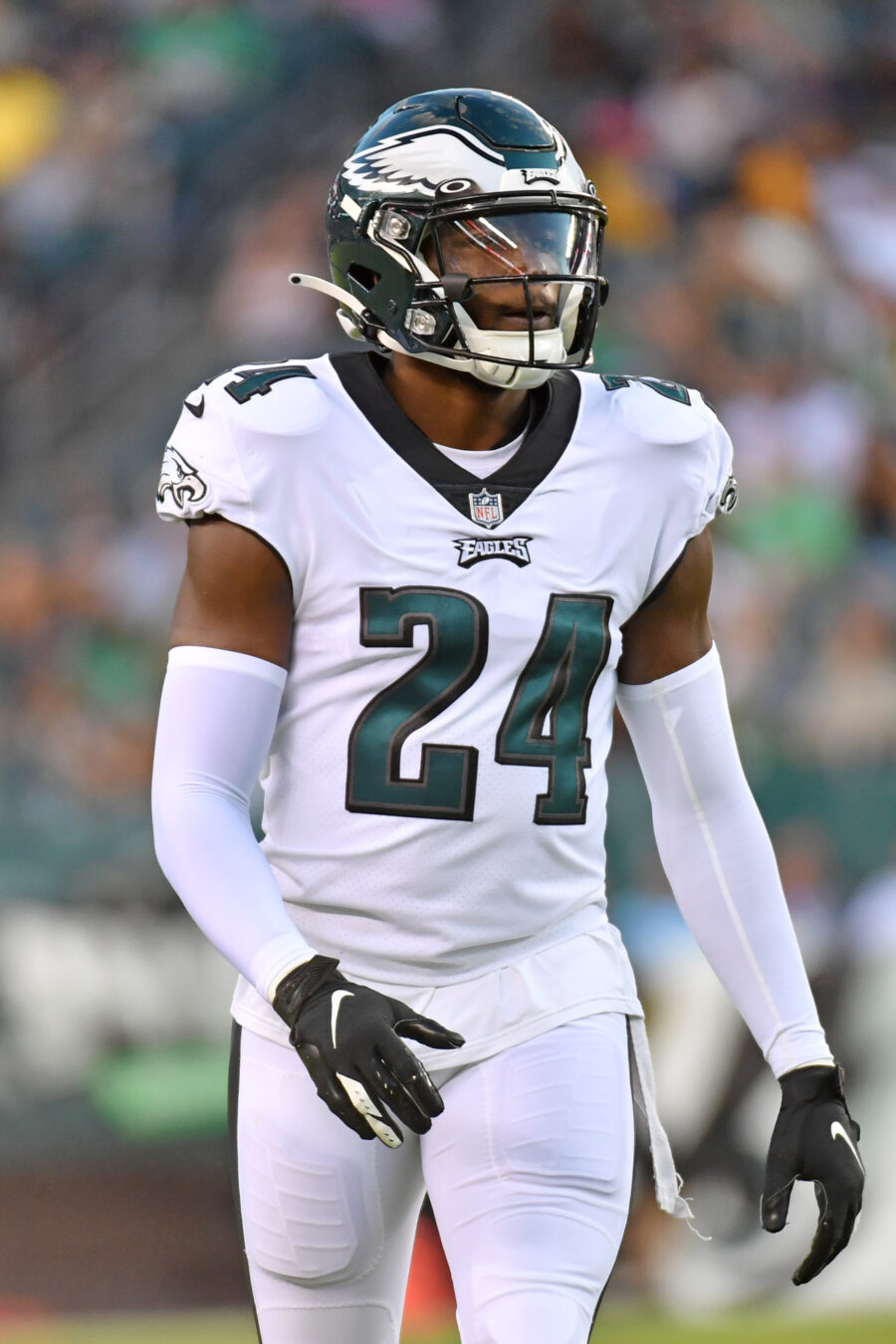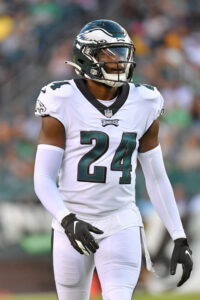 Corners at or north of 30 have a fairly low value ceiling, Darrelle Revis' Jets windfall aside. In 2022, the Colts gave Stephon Gilmore two years and $20MM. The Steelers gave Joe Haden a two-year extension worth $11MM-plus on average ahead of his age-30 season. The best-case scenario for Bradberry would probably be teammate Darius Slay's terms upon being traded in 2020 (when he was 29): three years, $50MM. This free agent corner class is not especially deep, but that price might still be tough for the zone-based cover man to fetch.
Bradberry enjoyed the best possible circumstances in 2022, playing opposite Slay and behind a pass rush that threatened the 1984 Bears' single-season sack record. Jonathan Gannon's team needs help at corner, especially if it cannot re-sign Byron Murphy, as does ex-Giants DC Patrick Graham's team, which has Rock Ya-Sin hitting the market and has seemed undermanned at corner since … Nnamdi Asomugha's exit? The Lions need a proven player here, and Bradberry's experience would benefit an up-and-coming team. It will depend on what team swings big for Jamel Dean, but Bradberry should land on his feet and collect another lucrative medium-term contract.
Best fits: Raiders, Cardinals, Lions
17. Dalton Schultz, TE. Age in Week 1: 27
The Cowboys kept Schultz off the market via the franchise tag last year. Although they are using the tag for a sixth straight year, Tony Pollard became the priority. Dallas is likely to let Schultz hit the market; he turned down an extension offer this offseason. With Evan Engram off the table, Schultz should be well-positioned to tack on a quality contract to the money he banked via the tag last year. This is a position at which Austin Hooper once set the AAV record as a free agent (in 2020).
Schultz bailed the Cowboys out after their Blake Jarwin deal fizzled due to the previous Jason Witten heir apparent's injuries. A former fourth-round pick, Schultz eclipsed 800 receiving yards in 2021 and re-emerged down the stretch last year. The Boise State product did not display much of a rapport with Cooper Rush, but once Dak Prescott returned from his thumb injury, Schultz showcased his best stuff again. He popped for seven catches, 95 yards and two touchdowns in the Cowboys' wild-card romp in Tampa.
The Panthers have sought a reliable tight end since Greg Olsen's foot injuries recurred in the late 2010s. Others will be in the mix as well. The Chargers now employ both Kellen Moore as OC and ex-Cowboys tight ends coach Doug Nussmeier, and the Packers need to give Jordan Love (their presumptive 2023 QB) more help. PFF charting Schultz as the 12th-best run blocker among tight ends will help ensure he cashes in.
Best fits: Panthers, Packers, Chargers
18. Isaac Seumalo, G. Age in Week 1: 29
Another Eagle who should do better on his third contract compared to his second (three years, $15.92MM), Seumalo has an argument as this free agency contingent's top guard. The Eagles previously paid up to take care of their own, as extensions for the likes of Lane Johnson, Jason Kelce, Brandon Brooks and Jordan Mailata showed. It appears Seumalo is headed out the door. PFF rated Seumalo 10th at guard in 2022 and has slotted him in the top 30 in five of the past six seasons. It is time for the Oregon State alum to cash in for years of grunt work on the Eagles' top-flight front.
Injuries will affect Seumalo's market, but they should not define it. The former third-round Eagles draftee missed 14 games in 2021 and seven in 2020, going down with a knee injury and then a Lisfranc issue. Re-emerging for a 20-start season should re-establish Seumalo's market, and the Eagles not extending him before the league year begins will move more than $7MM onto their 2023 cap due to void years. The Eagles have a potential solution in Cam Jurgens, should Jason Kelce come back to stay at center. Kelce retiring would create an interior O-line need for the NFC champs.
Elgton Jenkins' $17MM-per-year Packers extension took the top guard off the market, but proven starters do well here annually. Brandon Scherff set a then-guard record in free agency last year; Joe Thuney did so in 2021. Laken Tomlinson's three-year, $40MM pact would be a somewhat reasonable Seumalo comp, as the ex-49er had also played out an extension. Shane Steichen's Philly-to-Indy move notwithstanding, the Colts rarely dive deep into the free agency pool. And Quenton Nelson is attached to a guard-record contract. If Seumalo's market does not escalate to this level, however, Steichen's team should investigate. Mark Glowinski's exit stung. The Titans top their division rival's need here, potentially preparing to replace four starters. Good guards walk into seller's markets. An upper-middle-class deal should be Seumalo's floor.
Best fits: Titans, Cardinals, Colts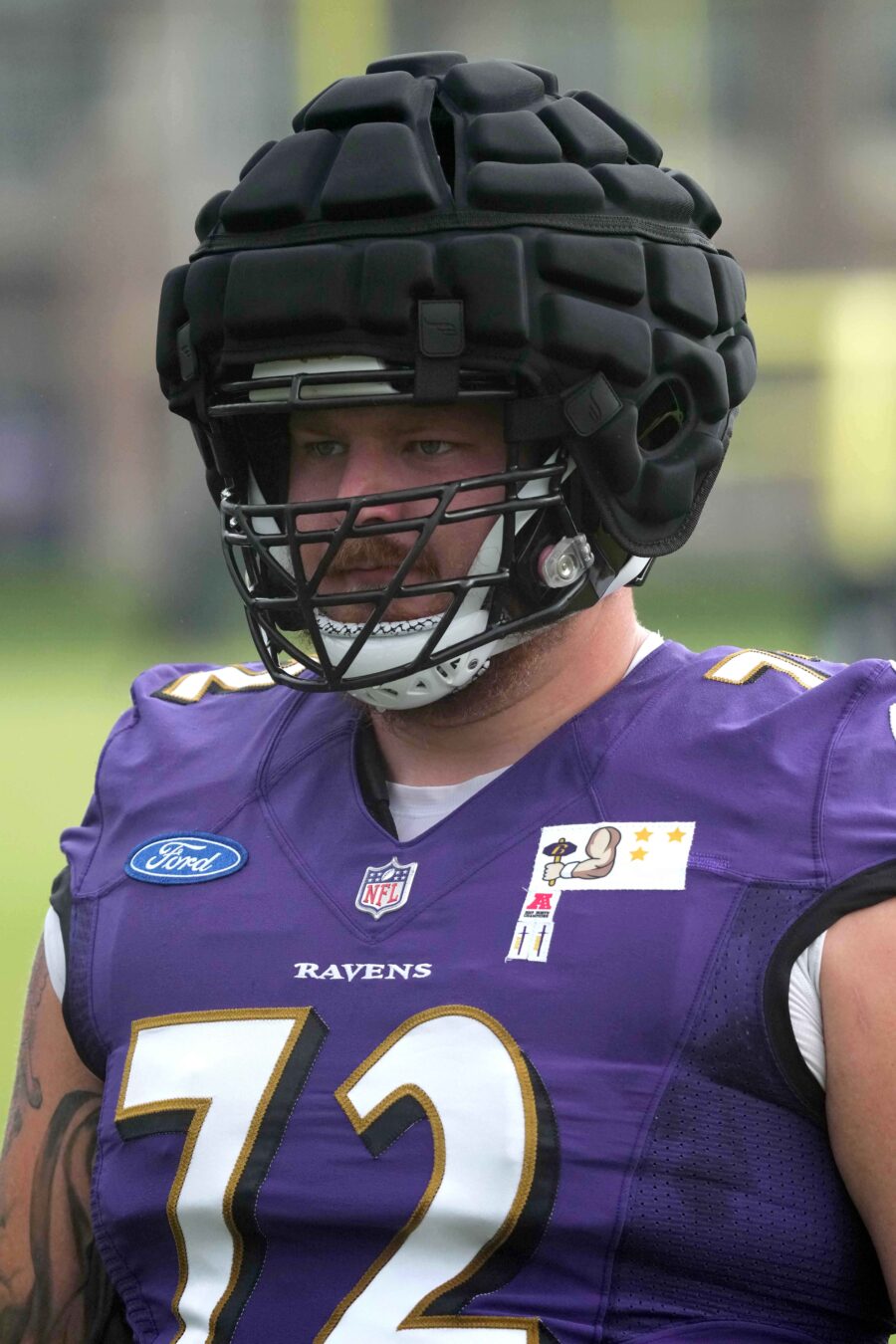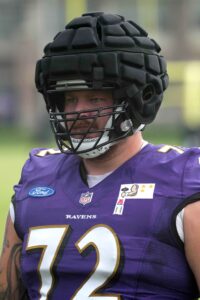 19. Ben Powers, G. Age in Week 1: 26
Powers has gone from being in a competition to win a starting job in his contract year to a sought-after interior blocker. The Ravens have veteran deals at left tackle, right guard and right tackle and a franchise tag at quarterback, pointing Powers to the market. A former fourth-round pick with starter experience in three seasons, Powers allowed just one sack on 633 pass-blocking snaps in 2022.
The Ravens have moved on from a few starting O-linemen in recent years. They let Kelechi Osemele defect to the Raiders, allowed Ryan Jensen to join the Buccaneers, traded Orlando Brown Jr. to the Chiefs and did not retain Bradley Bozeman. This trend should lead Powers out of Baltimore, too. Powers graded as PFF's second-best pass-blocking guard last season, though the advanced metrics site did not think much of his run-blocking. That said, ESPN's run block win rate graded Powers second overall at guard.
Alex Cappa and Austin Corbett each signed for $8.75MM per year in 2022, while Laken Tomlinson received $13.3MM on average. The latter brought a better track record; a deal in between these recent accords — perhaps closer to Tomlinson's — will be logical for Powers.
Best fits: Bills, Texans, Raiders
20. Dalton Risner, G. Age in Week 1: 28
Perhaps not supplying the ceiling Powers may offer, Risner represents a set-it-and-forget-it starter. He operated as such throughout his Broncos tenure, as every other position on Denver's front went through changes. The Broncos rolled out Risner for 62 starts; he missed just four games over the course of his rookie deal. Denver has needs at center and right tackle; it could soon feature one at left guard.
The Broncos have made it clear they would prefer to keep Dre'Mont Jones. Jones planning to test the market could reopen the door for Risner to stay in his home state, but the Broncos also have Quinn Meinerz – a George Paton-era draftee who was their best O-lineman last season – to take care of in 2024.
Risner's track record should allow him to jump from a four-year rookie contract to a long-term veteran deal that would set him up financially. Run block win rate slotted the Colorado native 10th last season, and PFF has graded him as a plus pass protector over the past two years. A deal that reaches $10MM-plus per year is not out of the question for the former second-round pick.
Best fits: Rams, Raiders, Broncos
21. Marcus Davenport, DE. Age in Week 1: 27
Were the fifth-year option not included in Davenport's rookie contract, he might have done better last year in free agency. In 2021, the former first-rounder totaled nine sacks and 16 QB hits in just 11 games. In 2022: a half-sack and eight hits in 15. Davenport would bring considerable risk on a long-term deal. A two- or three-year pact would be more reasonable for a talented edge player yet to fully put it together.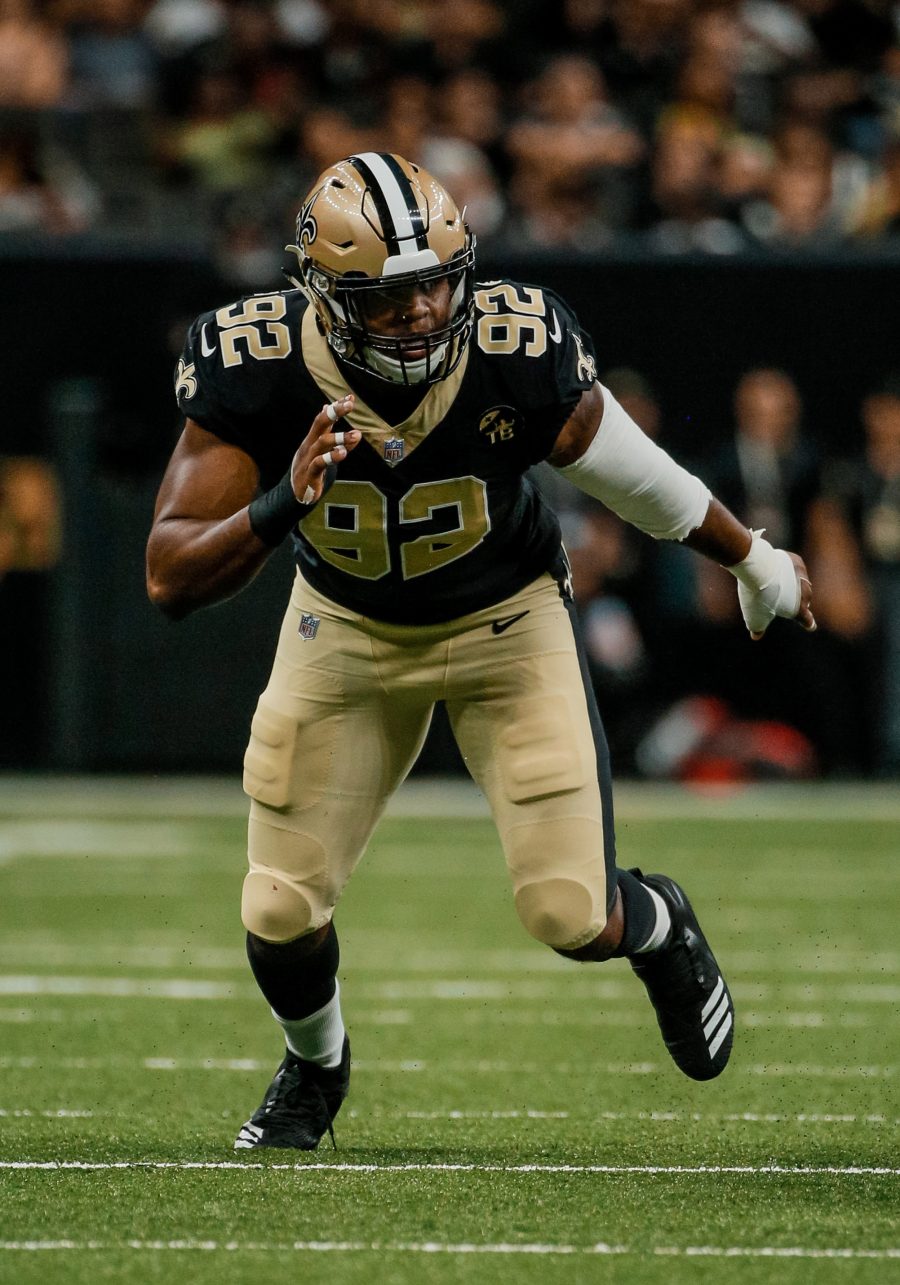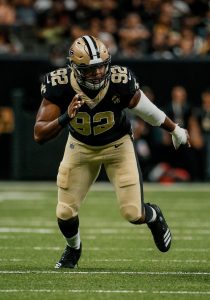 Davenport has only surpassed six sacks in a season once in five years, and he benefited from rushing opposite Cameron Jordan. The power rusher does boast a top-20 pass rush win rate (17.8%) since coming into the league, and young edge players do not exactly flood this market. A team talking itself into Davenport will bank on draft status and advanced metrics, but a lack of production could stall his market.
The Chiefs just jettisoned Frank Clark and were mediocre on the edge in 2022 with him. After Jadeveon Clowney wore out his welcome in Cleveland, the Browns need another Myles Garrett sidekick. A Deshaun Watson restructure also would help the team here, though we are in uncharted territory as to what reworking that contract would do to future Cleveland payrolls. Davenport's old position coach (Ryan Nielsen) now runs the Falcons' defense. As for the Saints, notable payments will be difficult to come by with Derek Carr in the fold, though Mickey Loomis has managed to skirt these consequences in the past. A fresh start would probably be best for Davenport, anyway.
Best fits: Chiefs, Browns, Falcons
22. Yannick Ngakoue, DE. Age in Week 1: 28
Teams enjoy renting Ngakoue; none has wanted to dive in for the long haul. The former third-round pick and "Sacksonville" bastion has bounced to five teams in six seasons, going from Jacksonville to Minnesota to Baltimore to Las Vegas to Indianapolis. The Raiders gave Ngakoue the most notable contract of his career – two years, $26MM – and he has continued to produce as a pass rusher. Ngakoue profiles as a rotational presence, but the lack of supply around the league should allow for another starting role for the one-dimensional performer.
Like the ability to mash right-handed pitching, Ngakoue's skill is valuable. He is the only player with six seasons of at least eight sacks in each of the past six years. The nomadic sack artist has 21 forced fumbles in that span. Amid a disastrous Colts season, Ngakoue remained hard at work, registering 9.5 sacks and 27 pressures. The experienced rusher would be an intriguing fit as a No. 2 edge presence somewhere. His market may have taken a hit this week, however, with Frank Clark hitting free agency and the Rams cutting Leonard Floyd.
After falling just short in their attempt to retain Von Miller, the Rams suffered on the edge. Beyond Floyd, they had no edge player register more than one sack. Post-Floyd, they will be shopping for edges via trade, free agency and the draft. The Chiefs chasing a cheaper (and more consistent) pass rusher after cutting Clark would add up as well; the champs rely too much on Chris Jones' interior dominance. The 49ers would likely not submit the highest offer, but they do provide an opportunity to rush opposite Nick Bosa. Ngakoue could thrive as a Bay Area sidekick.
Best fits: Rams, Chiefs, 49ers
23. JuJu Smith-Schuster, WR. Age in Week 1: 26
The ex-Steelers slot predictably rebounded with the Chiefs, and he cashed in on millions via incentives on a "prove it" pact. Now, it will be time for Kansas City to either compensate its newfound top wide receiver or for Smith-Schuster to see what his year with Andy Reid and Patrick Mahomes did for his market value. A second Kansas City pact may come down to how much of a hometown discount Smith-Schuster is willing to take.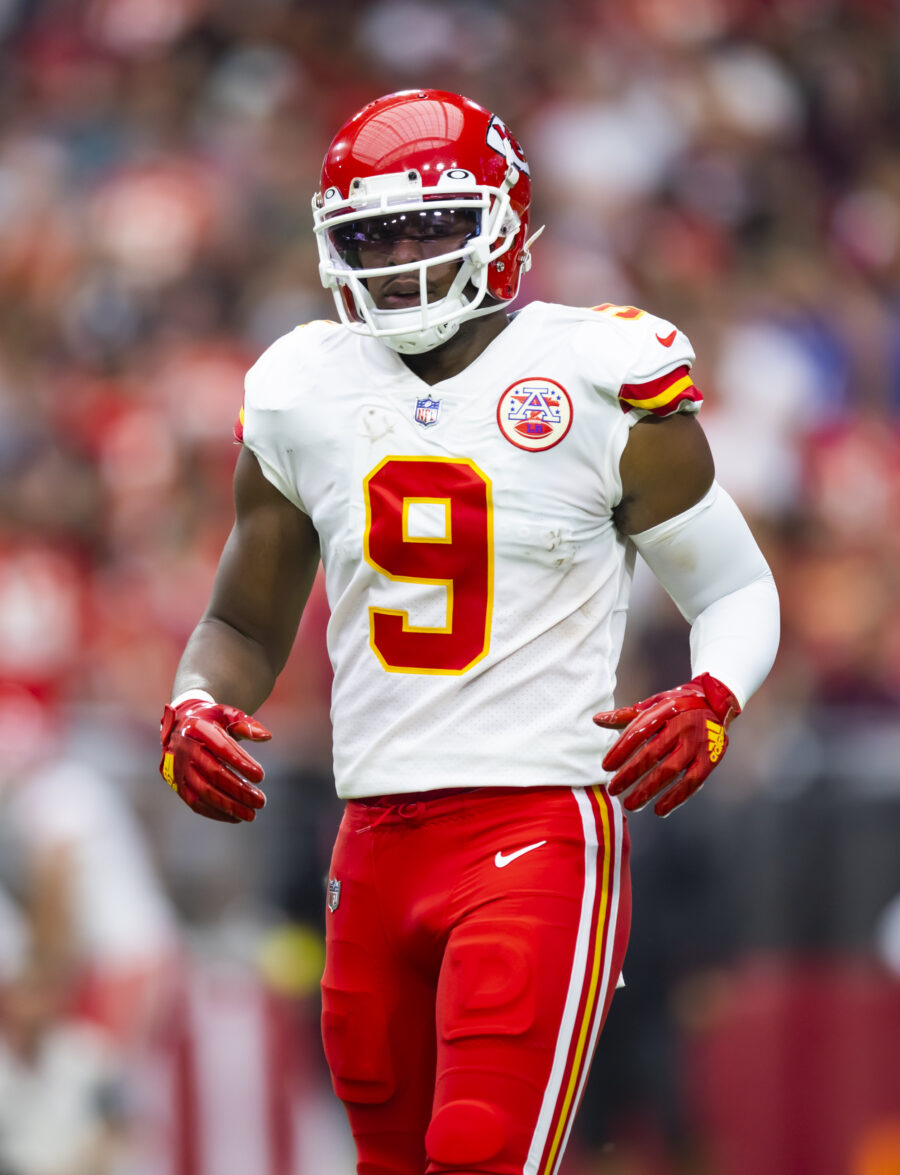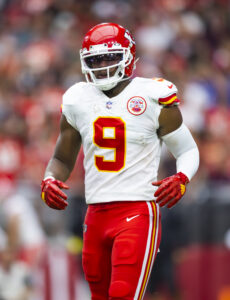 Antonio Brown's former wingman careened off course following the mercurial superstar's Pittsburgh exit, and Smith-Schuster's 1,400-plus-yard 2018 still looks like an outlier. His ghastly yards-per-reception numbers from 2020-21 revealed both a limited player and a declining quarterback. Going from an aging Ben Roethlisberger to the league's premier signal-caller reinvigorated Smith-Schuster, who posted 933 receiving yards – his second-best career total – to lead Chiefs wideouts. He will likely be able to do much better than the one-year, $8MM deal he inked with the Steelers in 2021 or the incentive-laden 2022 agreement that brought him to Missouri.
This year's modest receiver market will drive up Smith-Schuster's value, though a team hoping for WR1-caliber results would likely be disappointed. The Chiefs will need to consider aiming for a No. 1-type target in the not-too-distant future, with their passing game's potency partially tied to a soon-to-be 34-year-old tight end. For now, however, running it back with Travis Kelce, Smith-Schuster, Marquez Valdes-Scantling and whatever the injury-prone Kadarius Toney can provide makes sense for the Super Bowl champions. Smith-Schuster should be able to collect eight figures per year. Will he get that from the Chiefs?
Best fits: Chiefs, Bills, Giants
24. Rock Ya-Sin, CB. Age in Week 1: 27
The player exchanged for Ngakoue last March also may be bound to relocate again. How free agency unfolds for Dean, Sutton and Bradberry will play a role in determining Ya-Sin's route. The former Colts second-rounder missed six games last season and has not played more than 13 since his 2019 rookie year. Bradberry and Marcus Peters being set for age-30 seasons helps Ya-Sin's cause. Even with Dean and Sutton in the fold, the Temple product will do well.
Were Matt Rhule still in the league, pegging Ya-Sin to the Panthers – the former nest for mid-2010s Owls – would be easy. Corner resides as one of the few positions the Bears do not desperately need, though Matt Eberflus was with the Colts when Ya-Sin arrived in Indy and coached him for three seasons. The Colts deemed him expendable ahead of Gus Bradley's first season. PFF rated Ya-Sin 50th among corners last season. A lack of young cornerback talent should allow for Ya-Sin to collect more guaranteed cash on his second contract.
Best fits: Raiders, Rams, Bears
25. Odell Beckham Jr., WR. Age in Week 1: 30
Trending from superstar to malcontent to an injury-prone "what if?" case, Beckham did the right thing by not returning too soon. Taking extra time to rehab will be beneficial for what might be his last shot at a notable NFL contract. Teams may throw out short-term offers, but Beckham wanted a multiyear deal – at an unreasonable rate – during his in-season sweepstakes that ultimately went bust. This stands to be one of the most unusual cases in recent free agency history.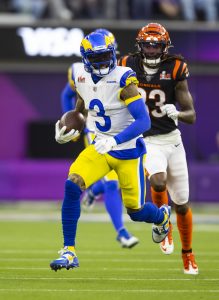 Beckham turned 30 in November and has suffered two ACL tears since November 2020. But he rebounded from the first one effectively, completing a late-season surge that boosted the Rams to Super Bowl LVI. Beckham's two-catch, 50-yard first half helped Los Angeles win that game, and while his second tear led to 2022 hiatus, this year's iffy receiver class will help the oft-discussed pass catcher. Beckham does not make sense for a team in transition; he is a hired gun. There will be teams who would be OK with that arrangement, provided they are confident he has recovered from tear No. 2.
OBJ-Cowboys connections will resurface; Dallas wanting another weapon will fuel that fire. That would help compensate for the likely Dalton Schultz exit, giving Dak Prescott another CeeDee Lamb complement. A more intriguing destination: Kansas City. In his Rams form, Beckham is a more dangerous Kelce complement than Smith-Schuster. But it cannot be assumed that is what OBJ would deliver, and the Chiefs already have a high-variance wideout in Kadarius Toney. The Bills kicking the tires again would add up as well, though Beckham would not be the best remedy for the inconsistency Buffalo's non-Stefon Diggs wideouts brought. The Rams missed Beckham in 2022, but they have other issues to address than potentially overpaying a WR2.
Regardless of this endgame, it will be fascinating to see how teams approach OBJ in this market.
Best fits: Cowboys, Chiefs, Bills
26. Mike Gesicki, TE. Age in Week 1: 27
If it was not clear prior to Mike McDaniel scaling back his role in 2022, Gesicki is not a good blocker. The Dolphins still made the curious decision to tag him at $10.9MM, resist trade overtures and effectively drain a season from his prime. Gesicki drew a flabbergasting 52 targets – tied for 125th in the league and an sitting 28th among tight ends – last season, making the news that he plans to leave in free agency a rather predictable conclusion.
Schultz's superior blocking chops and skills as a pass catcher will make him the top tight end available, barring 11th-hour cuts. But more than one team needs help at this position, which has become tough to rely upon for receiving production. Profiling as a big wideout, Gesicki supplies it. He combined for 1,483 yards from 2020-21; only four tight ends bettered that during that span.
The 6-foot-6 pass catcher's exit will dent the Dolphins at this position, but they could join other teams in weighing whether it is worth moving out of free agency's shallow end here or waiting for what NFL.com's Daniel Jeremiah called the best tight end draft class in 10 years. Tight ends are notorious slow developers, however. With C.J. Uzomah and Will Dissly collecting $8MM per year in 2022, Gesicki will be aiming higher. The Giants did not replace Evan Engram in 2022, and the Lions will have a need post-T.J. Hockenson – in an offense that does not feature a veteran receiver contract.
Best fits: Giants, Texans, Lions
27. Vonn Bell, S. Age in Week 1: 28
It took a three-year, $18MM deal for the Bengals to land the ex-Saint in 2020. After Bell became a key contributor during the best stretch in Bengals history, he should be a candidate to stay in Cincinnati as a cheaper alternative to giving Jessie Bates a near-top-shelf pact – something the franchise has effectively indicated it does not wish to do. Bell should be available on another midlevel contract, but prime years remaining will make the eighth-year defender a nice second-tier prize on the market.
Bengals DC Lou Anarumo did not want to entertain the notion of both Bates and Bell departing; that is a lot of snaps to lose for a Bengals team that has deployed one of the better safety duos during the 2020s. Cincy has Dax Hill presumably stepping into one of the first-string roles, but the AFC North champs would need to make other arrangements were Bell to follow Bates out the door.
Bell snared a career-high four INTs last season and has missed one game in the past three years. Further illustrating Bell's dependability, PFF slotted the ex-second-rounder as a top-25 option at the position from 2020-21 and placed him 35th in '22. His 12 tackles for loss since 2020 rank sixth among safeties. Bell will be targeting a raise from his $6MM-per-year agreement and should get it. Last year's Marcus Maye–Jordan Whitehead deals checked in just south of $8MM per year; that can be considered a safe floor here. Even as the Bengals prepare for big payments on offense, that should not be viewed as out of their price range. They greenlit a $12.9MM Bates tag in 2022 and hold more than $34MM in cap space.
Best fits: Bengals, Packers, Eagles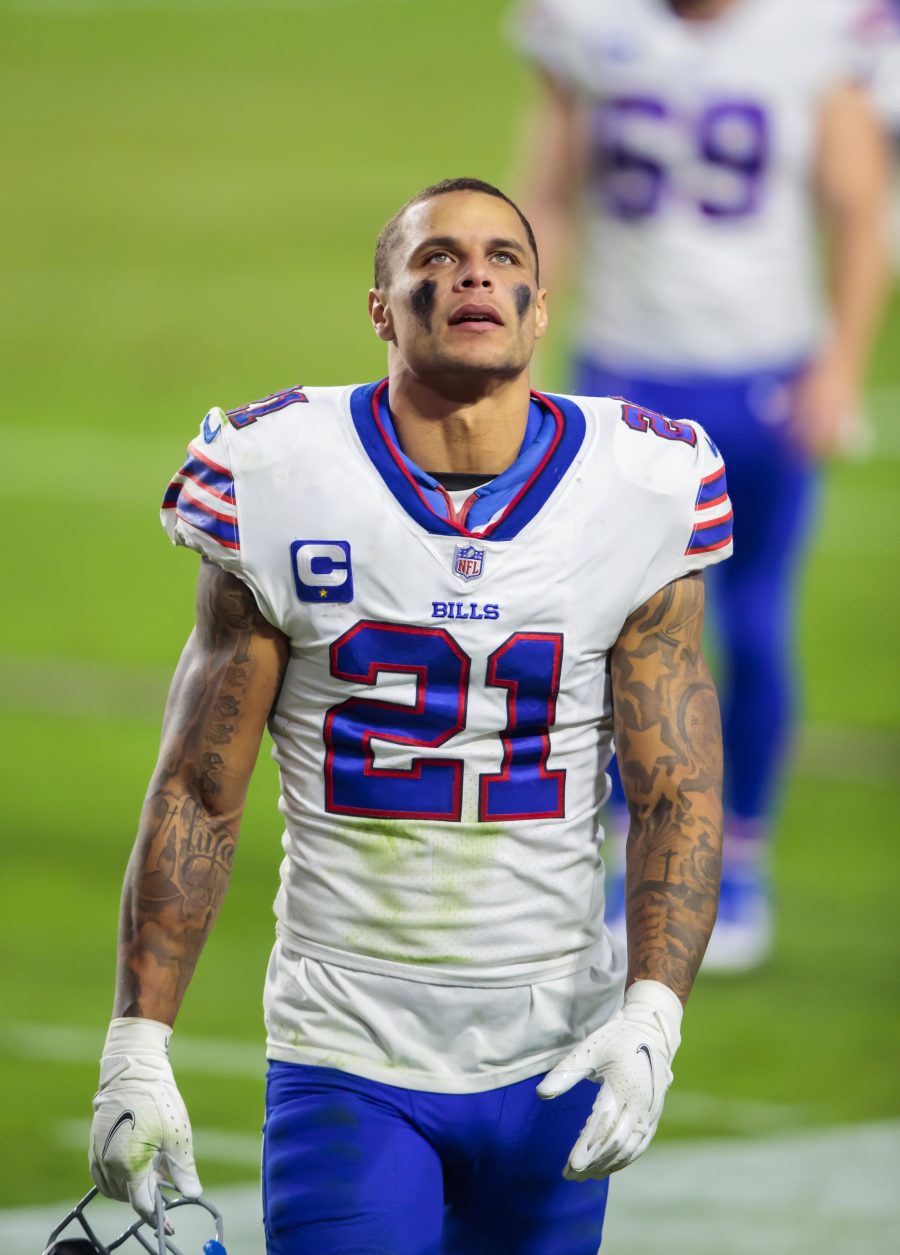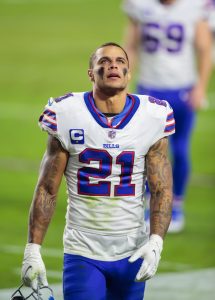 28. Jordan Poyer, S. Age in Week 1: 32
Poyer has gone from seventh-round Eagles draftee to cornerstone presence in one of the modern NFL's top turnaround efforts. Poyer signed two Bills contracts – a four-year, $13MM pact as a free agent in 2017 and a two-year, $19MM extension in 2020 – that ensured he and Micah Hyde remained one of the NFL's best safety tandems. The second Buffalo deal may have hurt Poyer's earning potential, though his ballhawk reputation (22 INTs in six Bills seasons, including nine from 2021-22) and role in Buffalo's Sean McDermott-era ascent will still bring interest.
A first-team All-Pro in 2021, Poyer missed five games in 2022. That, his 32nd birthday approaching and a host of starter-level safeties hitting free agency will impact his value. The Vikings gave Harrison Smith a four-year, $64MM extension ahead of his age-32 season in 2021, but Poyer is not quite in that class. The Saints signed Tyrann Mathieu on a three-year, $27MM pact in May 2022, ahead of his age-31 season. Poyer should still do well on a medium-term accord, and the Bills could use him back.
Buffalo has Matt Milano signed locked into a team-friendly deal at linebacker; keeping Poyer over Tremaine Edmunds also makes sense because of the AFC East kingpins' safety situation. Hyde is also 32 and coming off an injury that ended his season in September. Damar Hamlin's inspirational recovery is not guaranteed to produce a return. Poyer would represent reliable insurance.
Best fits: Bills, Giants, Patriots
29. DJ Chark, WR. Age in Week 1: 26
Injury questions surround Chark, who will turn 27 in September. He suffered a fractured ankle early in 2021, allowing him to miss much of the Urban Meyer madness. But the ex-Jaguars second-rounder injured the same ankle in September of last year. Upon returning for a rejuvenated Lions attack, Chark posted three 90-plus-yard games in a four-week stretch and showcased some of the deep speed that figures to garner him attention on the market.
This market's makeup will benefit Chark. Odell Beckham Jr. turns 31 this year and brings extensive question marks, while Jakobi Meyers is more possession target than deep separator. JuJu Smith-Schuster's skillset also differs from the 6-foot-4 Chark's. As such, Chark could have a nice market when his injury past would otherwise caution against a notable commitment. Chark totaled 1,008 yards with Gardner Minshew at the helm in 2019 and topped 700 for a 1-15 Jags squad a year later.
Being a key auxiliary option in Detroit will generate attention, though there is mutual interest in Chark staying in the Motor City alongside Amon-Ra St. Brown and Jameson Williams. Assuming Smith-Schuster stays in Kansas City, however, the Lions will be competing against the teams that stand down on Meyers. A multiyear accord, then, should be in the cards for Chark.
Best fits: Lions, Ravens, Packers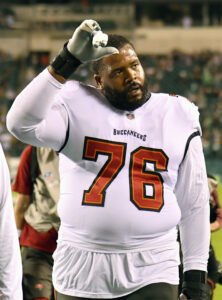 30. Donovan Smith, T. Age in Week 1: 30
The Buccaneers both did their eight-year tackle a favor by releasing him more than a week before free agency and boosted the market. Right tackle still presents more depth, but blindside-seeking teams now have Orlando Brown Jr. (for left tackle-needy teams with money) and Smith (for the rest) available. Smith is the second-longest-tenured left tackle in Bucs history, and he should still have a few years left. Playing a premium position, that should translate to free agency interest.
Smith signed three Bucs contracts from 2015-21 – his rookie deal and respective accords worth $13.75MM and $15MM per year – and he has 124 career starts on his resume. Washington gave Charles Leno a three-year, $37MM extension less than a year after the Bears cut him. Leno was 30 when he signed that deal. D.J. Humphries signed a three-year, $51MM Cardinals extension at 29. Smith has excelled more as a pass protector than run-blocking presence; fortunately, the former skill is more valuable at his position.
Teams plan ahead more at left tackle than they do on the other side, leaving fewer vacancies. Smith could be a much cheaper Brown replacement for the Chiefs. The Jets have big questions at tackle, with Duane Brown turning 38 this year and Mekhi Becton one of the league's least reliable players. The Titans just released Taylor Lewan; it would surprise if a team that (for now, at least) remains committed to Ryan Tannehill would not inquire on Smith. The Steelers have given Dan Moore two seasons; Smith would be an upgrade.
Best fits: Chiefs, Steelers, Jets
31. Allen Lazard, WR. Age in Week 1: 27
The Packers' attempt to vault Lazard from a No. 3 wideout to a No. 1 piece predictably backfired, and it will be fair to question how the 6-foot-5 target would fare without Aaron Rodgers at the controls. Long praised by the future Hall of Fame quarterback, Lazard will not be this market's wide receiver prize. But he will not be lacking for interest, either.
Even in a wildly disappointing Green Bay season, Lazard cleared his previous career yardage high by more than 200. He totaled 788 and has 14 touchdown receptions since 2021. The Iowa State product's lack of separation ability will cap his value, but PFF graded him a top-10 run-blocking wideout in 2022. Teams do not shell out big cash for the latter skill, but it will help sell Lazard to a franchise in need of a supplementary talent with a consistent track record of finding the end zone.
The Titans would need Kyle Philips to come through in the slot were they to pair Lazard with Treylon Burks, and the Ravens' past issues with convincing higher-caliber receivers to join their run-crazed attack could lead them to a Lazard-level performer. The volume of Rodgers-Big Apple smoke would connect Lazard to the Jets. He would come slightly cheaper than Corey Davis, whom the team could cut to create $10MM in cap space. A deal north of Tim Patrick's three-year, $30MM accord would be a reasonable Lazard target.
Best fits: Titans, Ravens, Jets
32. T.J. Edwards, LB. Age in Week 1: 27
As the Eagles doled out payments and made trades to bolster their other defensive positions, they relied on a former UDFA to anchor their second level. The plan became cost-effective for the NFC champions, who have three-fourths of their defense up for free agency. Considering Edwards' position and his undrafted status, he will need to strike now. It should be expected he will price himself out of Philly, though the top Eagles linebacker wants to stay.
The Eagles non-tendered Alex Singleton as an RFA last year, keeping Edwards in place. The latter rewarded the team with a 159-tackle campaign that included 10 tackles for loss, in the top 10 among off-ball linebackers, along with two sacks and seven passes defensed. PFF slotted Edwards sixth at the position, a year after assigning him a top-10 grade. That assessment has not meant an automatic path to free agency dollars, as Alexander Johnson's path showed last year, but three-down 'backers are valuable. Edwards is one of the best available.
Best fits: Eagles, Giants, Steelers
33. Connor McGovern, C. Age in Week 1: 30
The NFL is sending both its Connor McGoverns into free agency. This scenario will be ripe for photo misidentification, but the elder of the forever-linked interior O-linemen will be in better position. The Mizzou product played all 1,114 Jets offensive snaps last season; another McGovern-Jets agreement would be sensible.
Brought over from the Broncos in 2020, McGovern missed just two games as a Jet. He inked a three-year, $27MM deal that ended up benefiting a team that experienced issues everywhere else up front during his tenure. The stability McGovern provided would be valuable to a team that believes it is on the cusp of a spectacular quarterback upgrade and one set to welcome back a talented running back (Breece Hall) coming off ACL surgery.
Will the Jets be willing to do another $9MM-AAV contract here? They only have one upper-echelon O-line contract on the books (Laken Tomlinson's), and other teams will be in need at center. The Seahawks and Texans just saw their starters retire, with the Cardinals expecting Rodney Hudson to follow suit. This exodus will benefit McGovern, but there are other snapping options available as well.
Best fits: Jets, Seahawks, Texans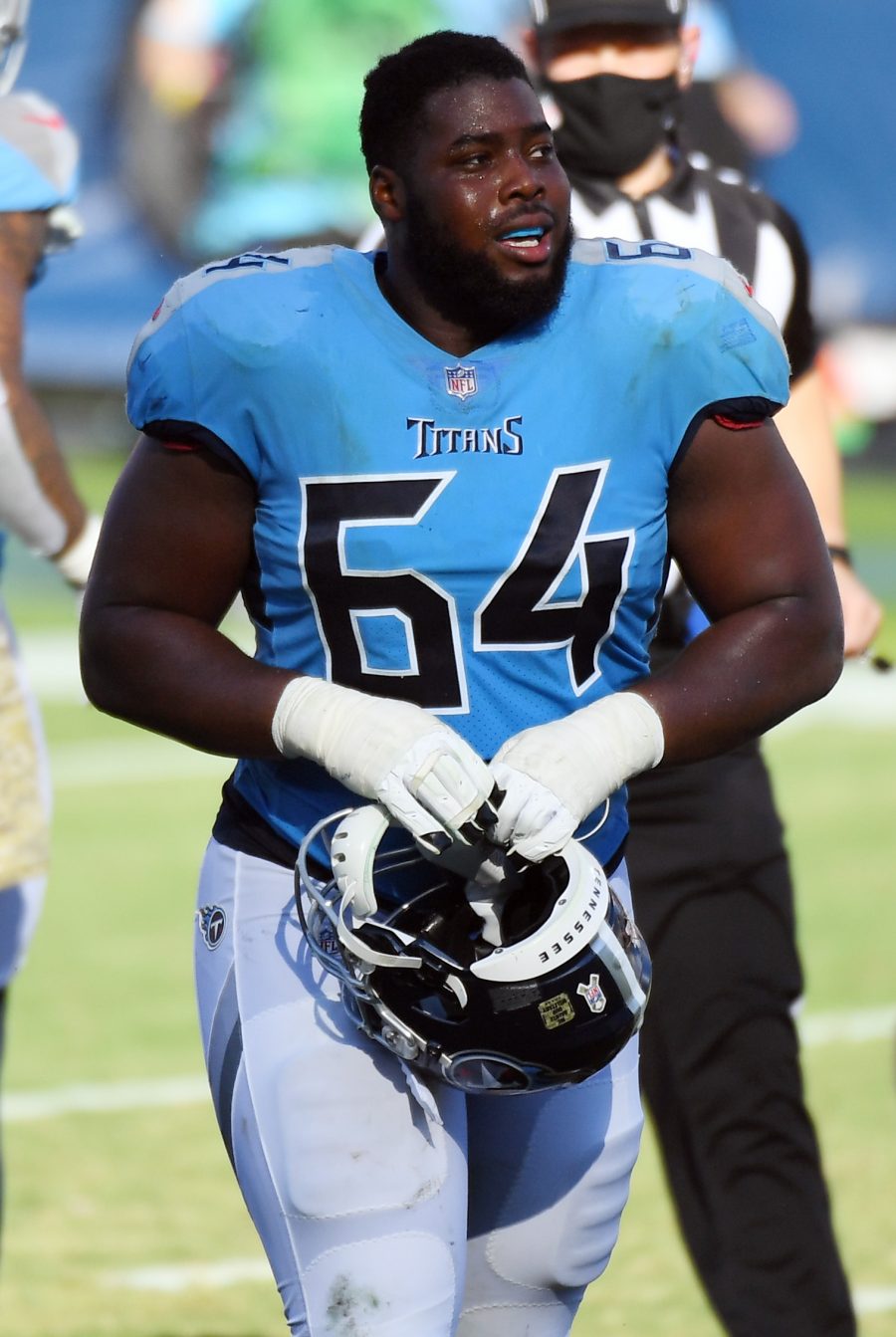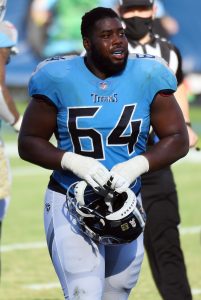 34. Nate Davis, G. Age in Week 1: 26
There for both Derrick Henry rushing titles, Davis has brought mixed reviews. Davis ranks as the Pro Football Focus' No. 14 run-blocking guard from 2020-22, also helping D'Onta Foreman effectively replace Henry in 2021 as an injury-riddled Titans team clawed to the AFC's No. 1 seed. Davis also slotted in the top 25 in ESPN's pass block win rate metric last season. Football Outsiders charged Davis with allowing an alarming eight sacks in 2022, and ESPN classified him as below average in run block win rate.
That said, this is a soon-to-be 27-year-old guard who has been a starter throughout his career. A third-round pick out of Charlotte, Davis joined center Ben Jones as the Titans' pillars up front during Henry's Hall of Fame push. With Taylor Lewan frequently unavailable during this stretch and the team botching the handling of Jack Conklin (leading to a revolving door at right tackle), Davis served as a vital presence for Tennessee up front.
Davis might not be a candidate to land top-10 guard money, but Alex Cappa, James Daniels and Austin Corbett each signed three- or four-year deals averaging just more than $8MM per year in 2022. It would seem a decent bet Davis' age and starting experience in Tennessee will allow him entry to that NFL tax bracket. Unless the Titans are keen on replacing four starting O-linemen, making a push to bring back Davis would be logical.
Best fits: Titans, Commanders, Rams
35. Dalvin Tomlinson, DT. Age in Week 1: 29
The Vikings' double-Dalvin setup may be on the ropes. Kwesi Adofo-Mensah stopped short on guaranteeing Dalvin Cook would return, and although the Vikings moved Dalvin Tomlinson's void date back, they are days away from potentially losing him. The larger Dalvin will draw interest based on his run-stuffing ability, though that only goes so far on the market. The ex-Giant, however, did match his career high with 10 quarterback hits last season has been one of the game's better interior disruptors for years.
On a third defensive coordinator in three years, Minnesota wants to retain Tomlinson. PFF has viewed the 325-pound defensive lineman as a beacon of consistency since the Giants chose him in the 2017 second round, ranking him as a top-30 interior D-lineman in each season. He also graded as a top-15 pass-rushing presence, lack of production and place on a woeful Vikings defense aside.
It took a two-year, $21MM accord ($15MM guaranteed) for the Vikes to land Tomlinson two years ago. Given his steady work, it would not surprise if he commanded similar numbers in his second crack at free agency.
Best fits: Vikings, Eagles, Falcons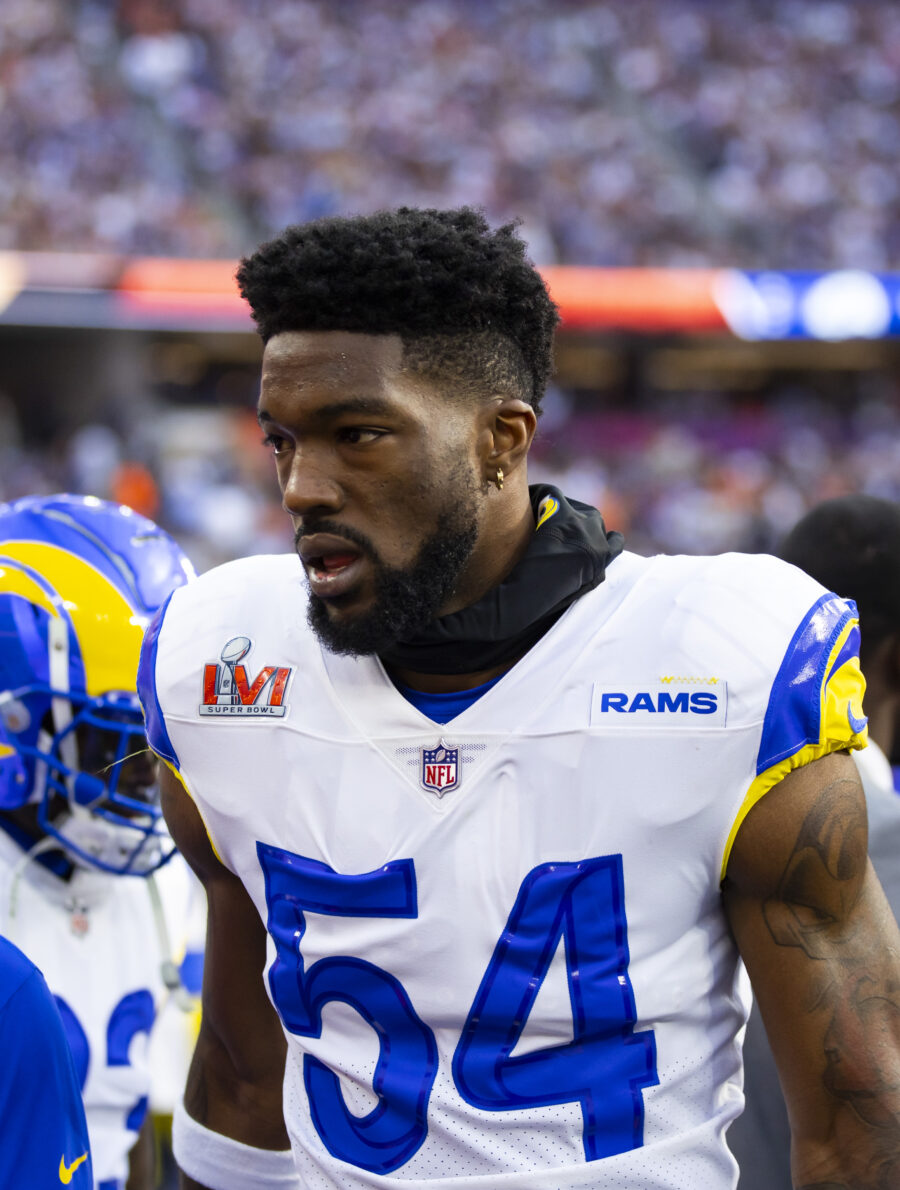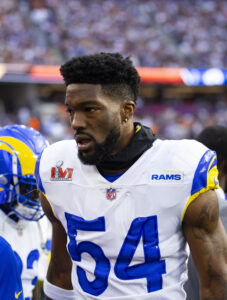 36. Leonard Floyd, OLB. Age in Week 1: 31
Giving up their hopes to trade Floyd, the Rams threw in the towel here and sent him to the market. This both creates a massive need for Los Angeles on the edge, considering Floyd had eight more sacks than any other Rams edge last season (9-1) and it will send an experienced rusher to the market. Floyd closed his Rams tenure with 29 sacks, rebounding from an unremarkable Bears stay. He should be expected to generate a market, but teams may be skittish given how poorly Dante Fowler fared once separated from Aaron Donald.
Floyd's four sacks after the Rams shut down Donald last season do a bit to dispel the notion he is a Donald creation. The former $16MM-per-year player also racked up two sacks in the the 2021 playoffs, including one in Super Bowl LVI, and finished in the top 20 in pressures in 2021 and '22. The other late entry into this year's edge market — Frank Clark — finished well behind the Rams outside 'backer in each season. Floyd is a year older than Clark, and this market also includes a number of 30-something edges — Jadeveon Clowney, Melvin Ingram and Robert Quinn among them — so it will be on the teams to determine how much of a talent gap resides between the Floyd-Clark tier and the rest of the veteran contingent.
Best fits: Panthers, Ravens, Seahawks
37. Isaiah Wynn, T. Age in Week 1: 27
This situation screams "prove it" deal, but Wynn does provide plenty of experience and a first-round pedigree. The Patriots threw Wynn's contract year off axis by moving him to right tackle early in the offseason, sliding Trent Brown to the left side after re-signing the latter on a lower-middle-class accord. The Pats ended up benching Wynn, who then regained his job before suffering a season-ending injury. A wildly disappointing walk year could make Wynn aim to use this season to regroup.
For teams that do not want to overpay Orlando Brown Jr., left tackle options are scarce. Wynn missed the Pats' Super Bowl LIII-winning season due to injury and missed eight games in his second year. But PFF graded the Georgia product as a top-35 option in both 2019 and 2021 and slotted him 11th among tackles in 2020. The latter two seasons came after famed O-line coach Dante Scarnecchia's retirement. A pricey "prove it" pact should await, a la Evan Engram in 2022, but Wynn's work between his rookie year and 2022 could entice a team to offer a multiyear contract.
Best fits: Steelers, Jets, Titans
38. David Long, LB. Age in Week 1: 26
The Titans let some linebackers walk in free agency late in Jon Robinson's GM tenure, not re-signing former first-round pick Rashaan Evans or multiyear starter Jayon Brown. Mediocre markets awaited each, making it tougher to place Long's value. The "after Tremaine Edmunds" tier consists of several capable 'backers, but Long is firmly on that plane. How many middle-class deals will be available for this lot?
When on the field, Long has been one of the league's better off-ball linebackers over the past two years. PFF slotted the former sixth-round pick as a top-20 player at the position in each of his two starter campaigns. But Mike Vrabel even questioned Long's future when he wondered about the four-year vet's history with soft-tissue injuries at his season-ending press conference. Long has missed 12 games over the past two years, joining a host of Titans on that front. While PFF gave the West Virginia product a top-five assessment in terms of run defense, availability and coverage questions will affect his market.
Best fits: Raiders, Titans, Browns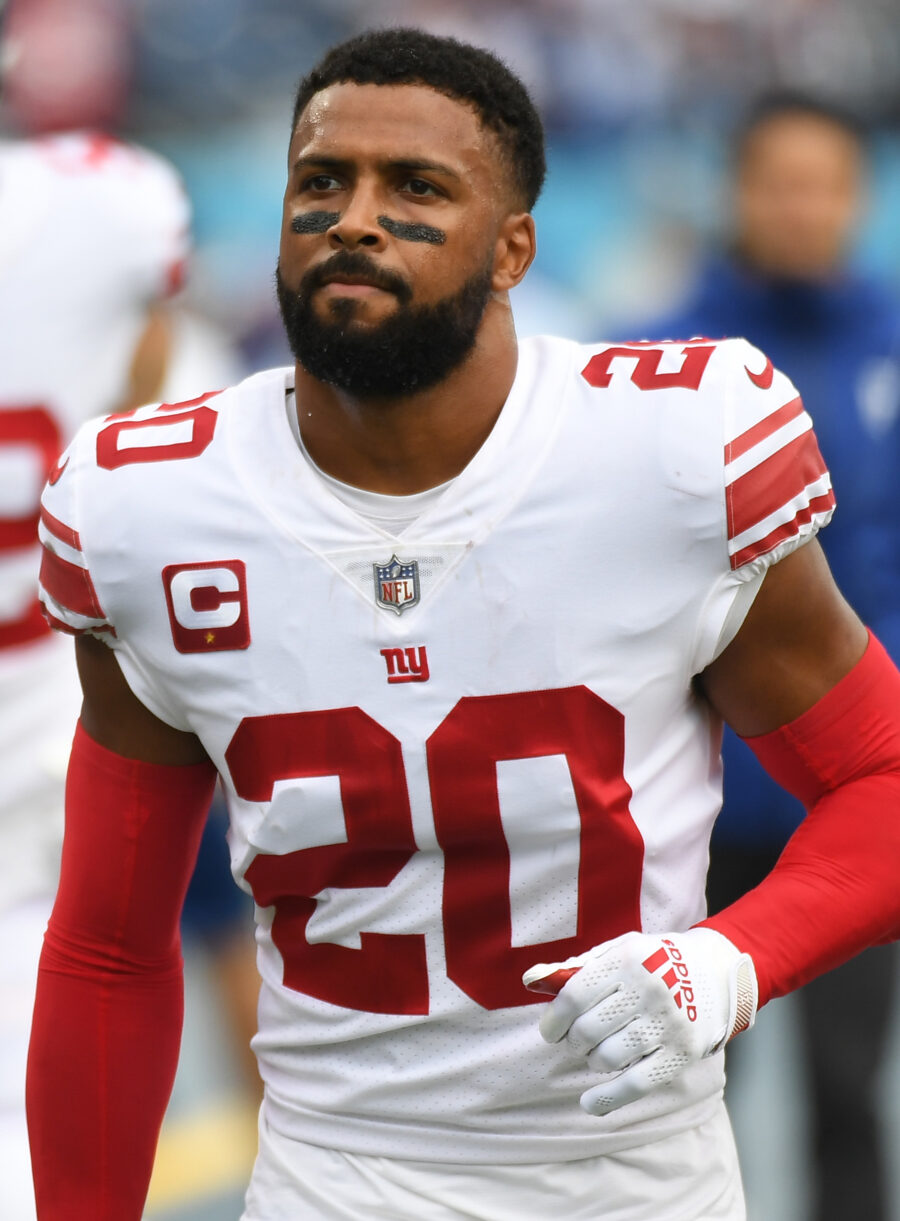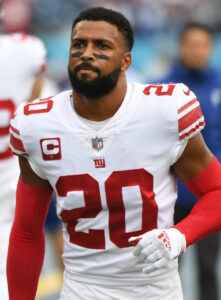 39. Julian Love, S. Age in Week 1: 25
The Giants have an Xavier McKinney contract to consider; the former second-round pick is headed into a walk year. They relied on Love during a season that featured injuries across their secondary, however, which should not make it automatic the young defender departs. How lively Love's market is will determine his Giants future, as Big Blue is writing some big checks this offseason and has Dexter Lawrence and Andrew Thomas deals on the horizon.
After the Giants' three-headed safety setup of McKinney, Logan Ryan and Jabrill Peppers split in 2022 – via the team cutting Ryan and Peppers leaving in free agency – Love saw his snap rate spike. He played 1,006 snaps in a contract year, helping Don Martindale's defense stay afloat amid injuries to McKinney and Adoree' Jackson. Martindale used Love all over the formation, and the Notre Dame alum played the second-most man coverage of any safety last season.
Love should not be considered on the Jessie Bates tier, and C.J. Gardner-Johnson will collect considerably more as well. The safety market becomes crowded after those two, with Love joining Vonn Bell and several others in similar territory. Not turning 25 until later this month, however, points to Love's best play being on his second contract. This could create a sneaky market for the former fourth-rounder.
Best fits: Giants, Packers, Bills
40. Mecole Hardman, WR. Age in Week 1: 25
The Chiefs could not mold Hardman into a consistent weapon, but he has age and speed on his side. This unremarkable receiver market could entice a team to take a chance on the upside the Chiefs once saw. Hardman brings elite speed to the table and is younger than Christian Kirk was when the Jaguars gave the ex-Cardinal a stunning contract. That deal turned out to age well, because of both Kirk's production and where the receiver market headed. Hardman will not fetch close to $18MM per year, but the Chiefs are prepared to stand down in expectation the former second-round pick will be a commodity.
Maligned for inconsistency, Hardman has three 500-plus-yard years – all as a tertiary target behind Tyreek Hill and Travis Kelce and, at points, Sammy Watkins – and a returner Pro Bowl on his resume. The Chiefs did not use Hardman as a true deep threat; he hit 11.7 yards per reception in his most recent full season (2021). Hardman opened eyes as a gadget player in the Chiefs' revamped receiving corps to start 2022, scoring five touchdowns in his final three full games prior to the season-defining groin injury.
Although it will be risky to bet a team not coached by Andy Reid and quarterbacked by Patrick Mahomes will get more out of the Georgia alum, it represents a solid wager Hardman will be a starter somewhere next season.
Best fits: Patriots, Giants, Vikings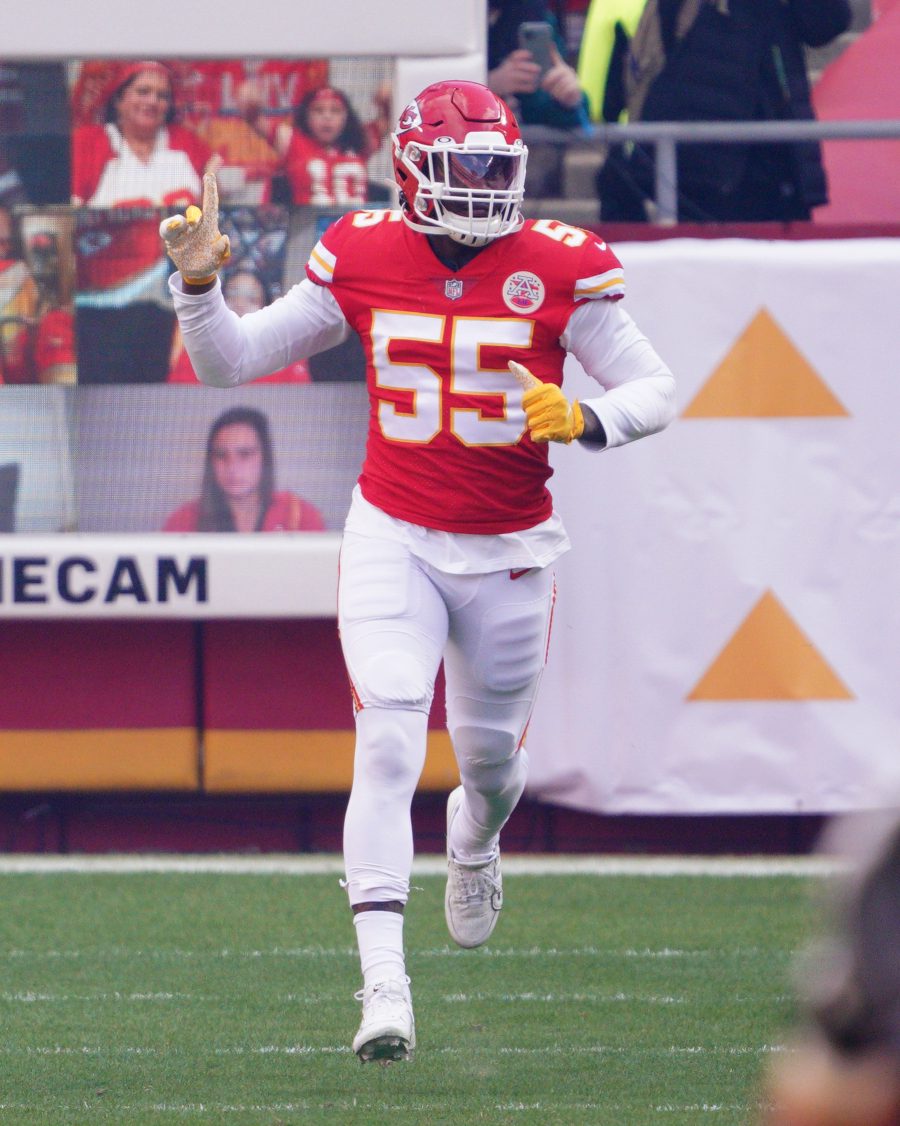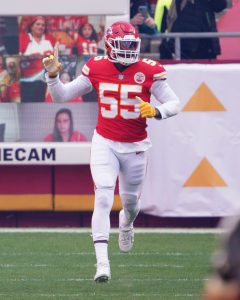 41. Frank Clark, DE. Age in Week 1: 30
The Chiefs' franchise-shifting success during Clark's tenure notwithstanding, the trade acquisition underwhelmed during his Kansas City stay. The former Seahawks second-rounder did come through at points in K.C., particularly in the playoffs. On an edge market short on prime-years performers, Clark figures to field decent offers. Will he be viewed as a starter-caliber talent with multiple quality years left, or will his inconsistency and age slide him down to the veteran wing of this year's market?
Yes, Clark has 13.5 postseason sacks – third all time – but he also failed to hit double digits during any of his four Kansas City seasons. Clark ranked 35th and 37th in pressures over the past two seasons, respectively, but was miscast as a No. 1 edge defender for most of his Missouri stay. The Michigan product would fit best opposite a proven pass rusher, perhaps dropping into a situational role.
Age docks edges' value, but not to the degree of, say, corners. Chandler Jones collected $32MM guaranteed last year; Za'Darius Smith signed for $14MM on average after an injury-nullified 2021. Of the 28 edge rushers who earned at least $10MM per year in 2022, 11 were in their age-30 season or beyond that point. With enough edge needs around the league, Clark should be able to fare decently after being moved to the market this week. The Seahawks balked at giving him the $20MM-per-year contract the Chiefs did back in 2019; would they sign up for a reunion now that his price tag has dropped?
Best fits: Seahawks, Browns, 49ers
42. Juan Thornhill, S. Age in Week 1: 27
The Eagles outflank the Chiefs for potential free agency losses, but the Super Bowl champions will see several of their starters stroll into nice markets in free agency. Having successfully bounced back from a rookie-year ACL tear, Thornhill will join a glut of starter-caliber safeties set to change teams. Having signed Justin Reid last year and committed another second-round pick to the position in 2022, the Chiefs are preparing to let Thornhill walk.
After a shakier 2020, Thornhill settled down upon returning from his early-career ligament tear. PFF slotted him as a top-30 safety in each of his past two seasons. The athletic back-line defender ranked 12th in coverage at the position last year, snaring three interceptions and breaking up a career-best nine passes. Multiple teams view Thornhill as this year's second-best safety, behind only Jessie Bates. That might be a slight reach, but suitors appear to await the Virginia alum.
Bets fits: Eagles, Rams, Browns
43. Jonathan Jones, CB. Age in Week 1: 29
Set to turn 30 in September, Jones should be affordable for teams on a midlevel deal. As Stephon Gilmore and J.C. Jackson cashed in on their abilities, Jones toiled in the slot. The former UDFA represents one of the Patriots' last connections to the second leg of their dynasty. Jones served as the 2017 and 2018 Super Bowl-bound Pats teams' primary slot defender. Slot staples have seen their earnings capped, and Jones is not the player who will break that glass. But he brings the capability of lining up in the slot or on the boundary.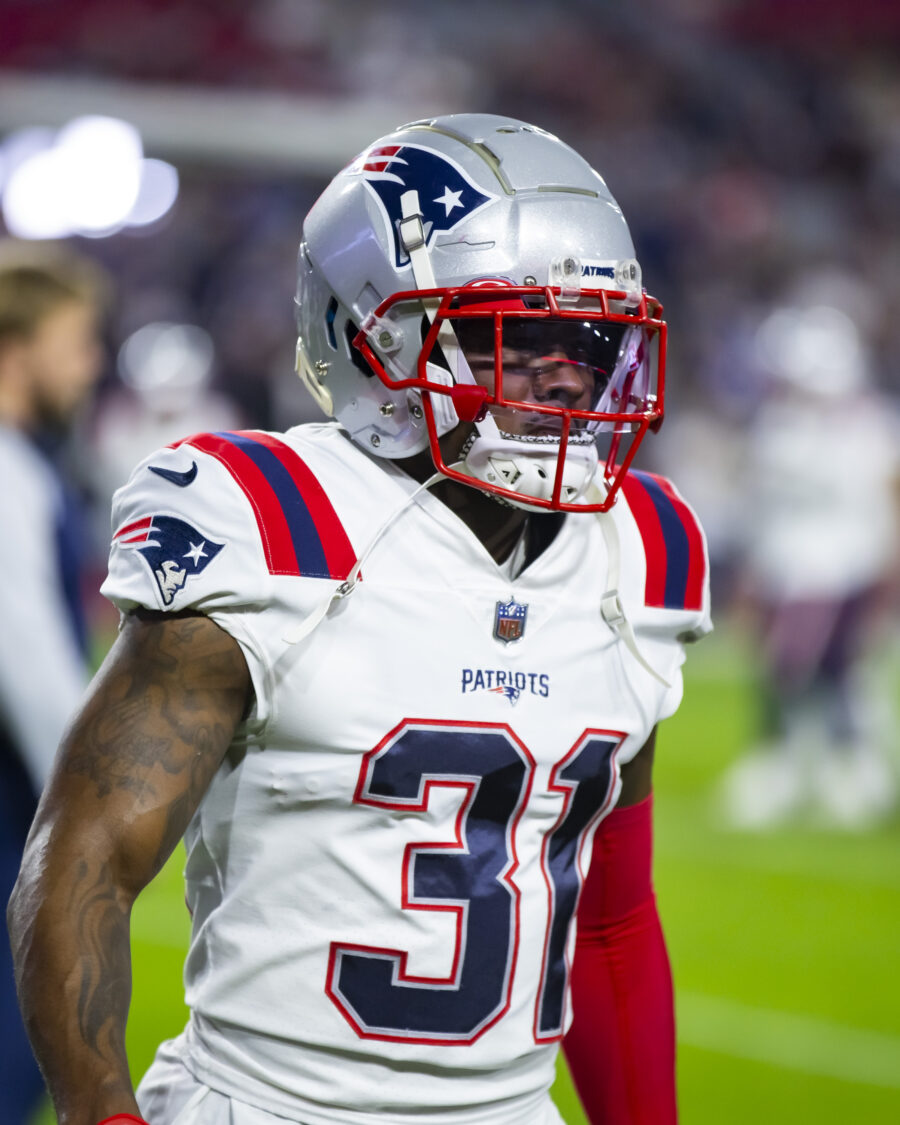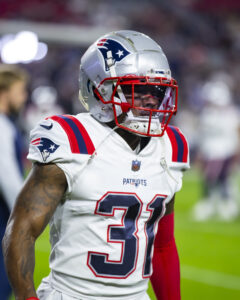 Jones used the 2022 season to bounce back from an injury-abbreviated 2021, and the Pats needed him to work on the outside primarily. He limited opposition to a 52.7% completion rate as the closest defender and allowed only a 73.0 passer rating. Jones had proven his slot acumen during the late 2010s and in 2020, when PFF rated him as a top-five corner. But he fortified his market last year, playing the more lucrative corner spot effectively.
Mutual interest exists here, and Jones would provide Bill Belichick's team with a much-needed veteran – particularly now that Devin McCourty retired – to team with a collection of rookie-contract players (while keeping the Pats fully stocked with Joneses in the secondary). The Pats have sufficient cash to bring Jones back, but they bring an expansive history of letting corners walk (Jackson, Gilmore, Malcolm Butler, Logan Ryan, Darrelle Revis). Jones' market will likely need to remain reasonable for a third Pats contract to commence.
Best fits: Patriots, Vikings, Raiders
44. Darius Slayton, WR. Age in Week 1: 26
For the promise of higher ceilings DJ Chark and Mecole Hardman carry, Slayton offers more consistency. He has produced regularly – in below-average aerial circumstances. Daniel Jones did not remind of a $40MM-per-year quarterback from 2019-21, and the Giants kept trying to find Slayton replacements. After breaking through as a long-range option alongside Golden Tate and Sterling Shepard, Tate found himself on the trade block in 2022. Evidently viewed as a poor practice player by the new Giants regime, Slayton removed his proven performance escalator via a pay cut. He is now in position to sign a starter-level contract as a free agent.
The Giants had Shepard, Kadarius Toney, Wan'Dale Robinson and free agency megabust Kenny Golladay ahead of Slayton during the 2022 offseason. Brian Daboll's staff, however, needed to turn to the former fifth-round pick after injuries, Golladay ineffectiveness and the Toney trade left little else at the position. Slayton churned out his third 700-plus-yard season, coming through for a team that – save for some late-season Isaiah Hodgins contributions – had nothing else to turn to in the passing game.
The Auburn product scored eight touchdowns as a rookie and led the Giants in receiving in 2020, outpacing Shepard and the now-franchise-tagged Evan Engram. Slayton has averaged at least 15 yards per reception in three of his four seasons. Offering the kind of consistency that is lacking in this market, Slayton is perhaps not receiving enough attention ahead of his free agency bid.
Best fits: Ravens, Falcons, Colts
45. Miles Sanders, RB. Age in Week 1: 26
Three teams took advantage of the low franchise tag price for running backs. Although this running back free agent class remains crowded, Sanders should be at the front of the line to benefit from Saquon Barkley, Josh Jacobs and Tony Pollard being unavailable. Sanders delivered his best season at the right time, though he did enjoy prime circumstances in playing behind perhaps the NFL's best offensive line and alongside rising-star dual threat Jalen Hurts. This will be an interesting market to follow.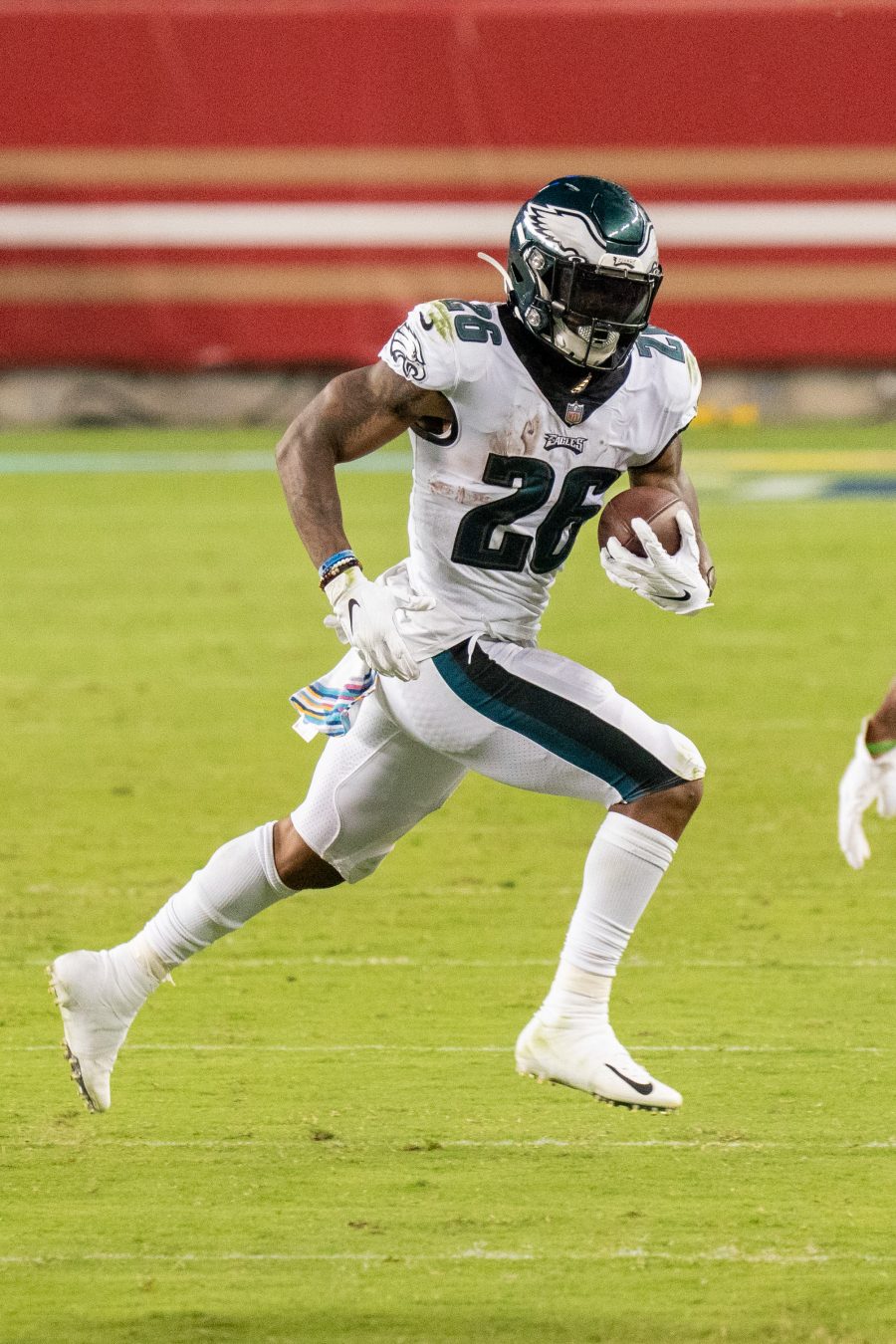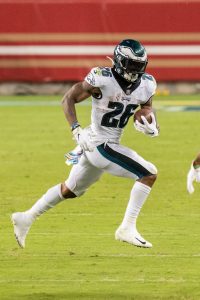 As mentioned in this space a few times over the past few months, running back money might be scarce due to an excessive supply awaiting teams. The tagged players are gone, but Sanders joins Kareem Hunt, Devin Singletary, David Montgomery, D'Onta Foreman, Jamaal Williams, Leonard Fournette, Jerick McKinnon, Damien Harris, Alexander Mattison and both Dolphins backs (Raheem Mostert, Jeff Wilson) in free agency. A musical chairs game is coming, as there are not too many teams in need at this long-devalued position.
Fournette and James Conner each inked three-year, $21MM deals in 2022, establishing a third tier for veteran backs. (Austin Ekeler is also on this tier, at $6MM per year, but the Chargers back is now wildly underpaid.) The Eagles stopped using Sanders as a receiving back early in his career, though in his one full season with Carson Wentz, Barkley's Penn State successor totaled 509 receiving yards. Sanders' total from 2020-22: 433. The Nittany Lions also did not use Sanders much through the air. Although Sanders' 1,269-yard rushing season, 34 runs of 10-plus yards and back-to-back-to-back yards-per-carry slates north of 4.9 look nice, teams will need to view the four-year Eagles starter as aerially competent to offer a deal close to the franchise tag price. A deal near the Conner range would probably be acceptable here.
Best fits: Dolphins, Bills, Broncos
46. Germaine Pratt, LB. Age in Week 1: 27
This is a bet on upside, with Pratt showing significant contract-year growth. While it is possible the Bengals bring Vonn Bell back due to the prospect of losing both he and Jessie Bates at safety, Logan Wilson's platform-year presence figures to lead Pratt out of town. There are many intriguing off-ball linebackers set to be available, some who have been more consistent than Pratt. How well will the former third-round pick be viewed in a buyer's market?
Pratt played a career-high 724 defensive snaps last season, not missing any games due to injury, but he still came off the field frequently in sub-packages. Wilson serves as the Bengals' every-down 'backer, being the clear long-term priority in Lou Anarumo's defense. Pratt still registered a career-best 99 tackles (six for loss), intercepted two passes and allowed only a 62.1 passer rating as the closest defender – down 40 points from 2021. PFF graded Pratt, who intercepted Derek Carr to close out the Bengals' first playoff win in 31 years, as a top-three coverage linebacker in 2022. A team will bet on Pratt as an every-down 'backer soon.
Best fits: Commanders, Chargers, Steelers
47. David Onyemata, DT. Age in Week 1: 30
Onyemata's third contract may not quite match his second – three years, $27MM – but he showed enough on that Saints re-up to warrant more attention. The Saints should never be discounted regarding veteran additions, but their Derek Carr pursuit will not leave them much space to throw out midlevel deals. Onyemata has only played in New Orleans, lining up as a Saints starter for much of his seven-season tenure with the team. He offers a nice pass-rushing floor, though age will obviously affect the Nigerian D-lineman.
Onyemata recorded five sacks last season and 6.5 in 2020, missing just two games in those seasons. A six-game PED ban marred Onyemata's 2021, but injuries have not been an issue. The Manitoba (Canada) alum's 11.4% pressure rate ranks 11th among D-tackles over the past three seasons, per PFF. Multiple ex-Saints coaches have caught on around the league as well. Sean Payton is now in Denver, while Onyemata's position coach from 2017-22 – Ryan Nielsen – became Atlanta's DC this offseason.
The Broncos gave Shelby Harris a three-year, $27MM deal ahead of his age-30 season, and Denico Autry secured a three-year, $21.5MM Titans pact before his age-31 campaign. With those deals transpiring two years ago, Onyemata should have a reasonable shot at landing something in this range.
Best fits: Browns, Broncos, Eagles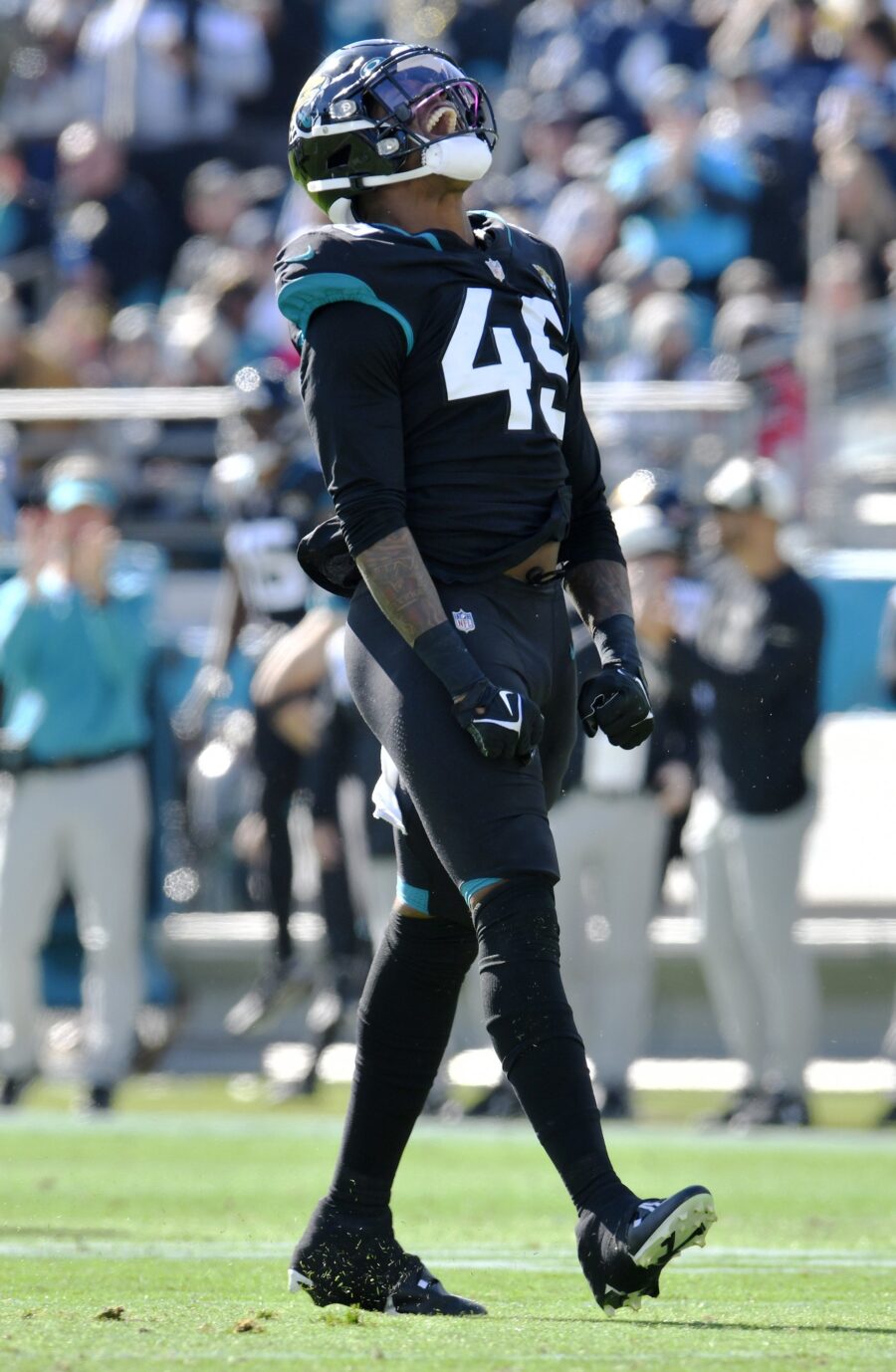 48. Arden Key, DE. Age in Week 1: 27
Key hovered on the first-round radar at points ahead of the 2018 draft, but he joined a host of Jon Gruden-era Raiders draftees to not finish out his rookie contract. The LSU product has bounced back, and last season showed he was not merely a product of teaming with Nick Bosa and Arik Armstead in San Francisco. With the Jaguars, Key worked well as a rotational rusher. Still having prime years left, Key should be a factor on an edge market with plenty of older talents.
Key only played 45% of the Jags' defensive snaps, but he accumulated 4.5 sacks, 15 QB hits and 20 pressures. He bolstered a deep Jags pass rush, which came after a 6.5-sack, 17-hit 2021 in San Francisco. He combines a 6-foot-5 frame with inside-rushing ability. After back-to-back one-year deals, the second a $4MM Jags agreement, Key showing promise in back-to-back years should prompt teams to consider him as a starter on a multiyear pact.
Best fits: 49ers, Jaguars, Panthers
49. Charles Omenihu, DE. Age in Week 1: 26
Two years younger than fellow Nick Bosa supporting actor Samson Ebukam, Omenihu supplies intriguing upside as a complementary rusher with size. The 6-foot-5, 280-pound D-lineman bulked up ahead of his second season with the 49ers, who traded for him before the 2021 deadline. Teams interested may need to account for a suspension, however, after Omenihu was arrested on suspicion of domestic violence in January.
The former Texans draftee has not shown enough to warrant a long-term contract, but a midlevel multiyear deal could be in the cards. Omenihu (4.5 sacks, 16 QB hits) has delivered the 12th-best pass rush win rate among D-ends since 2021, per PFF, and his two sacks helped the 49ers put away the Seahawks in the wild-card round.
A return to the Texans makes obvious sense for Omenihu, thanks to DeMeco Ryans' arrival, even though GM Nick Caserio did make the pre-deadline trade in 2021. But the 49ers would be losing some talent by letting both Omenihu and Ebukam walk. Then again, Kris Kocurek has shown a knack for coaxing impressive play from lower-level investments.
Best fits: Texans, Seahawks, Chiefs
50. Bobby Okereke, LB. Age in Week 1: 27
A few other names could land here, as some productive ILBs just missed this list, and Anthony Walker's modest market after leaving the Colts in 2021 could be an ominous sign for Shaquille Leonard's latest apprentice. That said, Okereke filled in as a full-time Colts linebacker – both with and without Leonard around – over the past two seasons and put up big numbers.
Perhaps still best known for Pat McAfee's enthusiastic announcement of his third-round pick, Okereke is coming off 132- and 155-tackle seasons in Indianapolis. The Colts ranked 14th in defensive DVOA largely without Leonard in 2022, and Okereke forced two fumbles during an ultimately deflating Indy season. PFF also charted the Stanford product as having his best coverage season in 2022. It looks like a tough year to be an off-ball linebacker free agent, but the cap spike should raise up some of the second-tier options here. Okereke's former defensive coordinator, Matt Eberflus, also needs help at linebacker.
Best fits: Bears, Panthers, Dolphins
Follow @PFRumors