Super Bowl LVII provided the latest example of the value free agency can bring. The Chiefs revamped their receiving corps on last year's market, while the Eagles acquired three defensive starters — including sack leader Haason Reddick. The Jaguars also used a March 2022 splurge to ignite their surprising surge to the divisional round.
Beginning with the legal tampering period, which starts at 3pm CT on Monday, and continuing with the official start to free agency (3pm Wednesday), the next several days represent a highlight on the NFL calendar. Which teams will change their 2023 outlooks for the better next week?
While the 2023 free agent class has absorbed its share of body blows and indeed lacks depth at certain spots, a few positions will bring waves of starter-level talent. Right tackle will invite some big-money decisions, and the safety and off-ball linebacker positions feature considerable depth. A few ascending talents and hidden gems appear in this class as well.
This list ranks free agents by earning potential. In terms of accomplishments, Bobby Wagner, Fletcher Cox and Lavonte David would lap most of the players included here. With each defender going into his age-33 season, however, the standouts' ability to command big contracts is certainly not what it once was.
In terms of possible destinations, not every team is represented equally. Some teams will bring more needs and cap space into this year's marketplace than others. With some help from Adam La Rose, here is this year's PFR top 50 free agents list, along with potential landing spots for each player.
1. Orlando Brown Jr., T. Age in Week 1: 27
As the 49ers did two years ago with Trent Williams, the Chiefs will let Brown hit the market. This could end up benefiting the veteran tackle, who was offered a deal with an average annual value north of Williams' tackle-record $23MM per year before last July's franchise tag deadline. Citing insufficient guarantees, Brown turned it down. Kansas City's offer did contain a bloated final year to bump up the AAV to $23.1MM, but will Brown – a quality left tackle but not a top-shelf option at the position – do as well this year? He will soon find out.
Brown has now made four Pro Bowls and carries positional versatility that would intrigue were he open to a return to right tackle, which by all accounts he is not. The 363-pound blocker can struggle against speed-rusher types, but he is set to be the rare accomplished left tackle in his prime to hit the market. The Chiefs sent a package including a first-round pick to the Ravens for Brown, whose bet on himself led to a $16.6MM tag and an open market. The bidding will run high, though it might not reach the places the Williams pursuit did in 2021.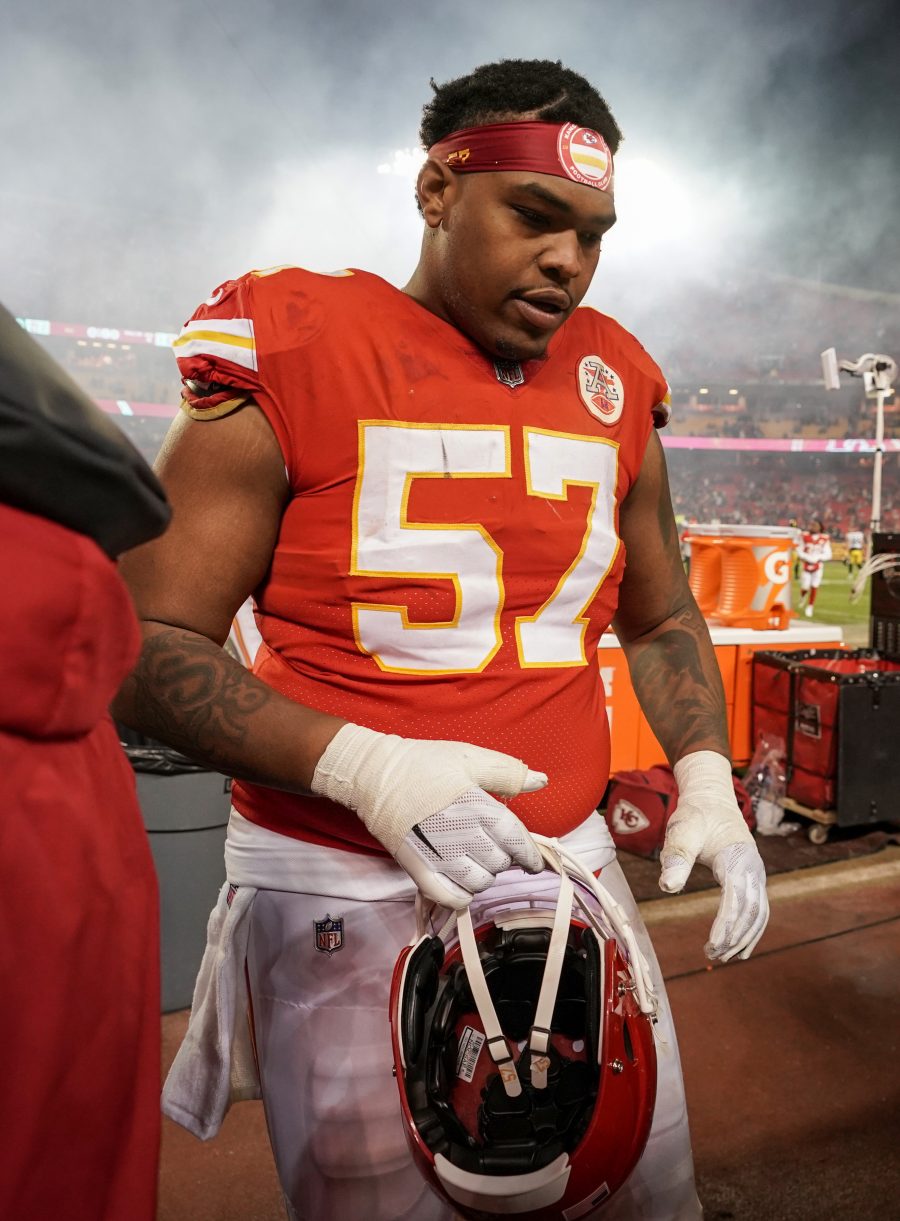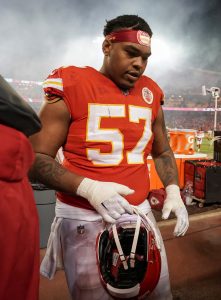 The Chiefs' exclusive negotiating rights with Brown end March 13; they have had nearly two years to complete a deal. The market will determine if the league views the sixth-year blocker as an elite-level left tackle or merely a good one. Then again, bidding wars drive up the prices for O-linemen on the market. O-line salary records have fallen four times (Williams, Corey Linsley, Joe Thuney, Brandon Scherff) in free agency since 2021. This foray could give Brown the guaranteed money he seeks, and it puts the Chiefs at risk of seeing their two-year left tackle depart. The Ravens also passed on this payment back in 2021, in part because they already had Ronnie Stanley on the payroll.
The defending champions have Brown and right tackle Andrew Wylie eligible for free agency; some of their leftover funds from the Tyreek Hill trade went to Brown's tag. Although some among the Chiefs were frustrated Brown passed on last year's offer, the team will be hurting at a premium position if he walks. Given the importance the blindside position carries, fewer teams are in need compared to right tackle. The Titans losing Taylor Lewan and continuing to clear cap space could point to a run at Brown, though the team has a few needs up front. The Jets likely have needs at both tackle spots. Would the Bears relocate Braxton Jones to the right side? Ryan Poles was with the Chiefs when they traded for Brown, and the Bears could outmuscle anyone for cap space.
Best fits: Titans, Chiefs, Commanders
2. Mike McGlinchey, T. Age in Week 1: 28
Teams in need of right tackles will participate in one of the more interesting markets in recent memory. Above-average-to-good offensive linemen do well in free agency annually, and this year will send three experienced right tackles in their prime to the market. A five-year starter in San Francisco and former top-10 pick, McGlinchey has a good case as the best of this lot. The five-year vet's run-blocking craft eclipses his pass-protection chops exiting Year 5, but he will walk into a competitive market. The former Notre Dame left tackle should have a lucrative deal in place during next week's legal tampering period.
Although mutual interest existed regarding a second 49ers-McGlinchey agreement, John Lynch acknowledged the only viable path for McGlinchey to stay in San Francisco would be his market underwhelming. That seems unlikely, so right tackle-seeking teams – and there are a handful – will jockey for the sixth-year veteran. McGlinchey turned 28 in January, making this his obvious window to cash in. He rated fifth in ESPN's run block win rate stat last season, bouncing back from the quadriceps injury that ended his 2021 season.
There is no shortage of Kyle Shanahan– or Sean McVay-influenced schemes around the league. The Bears employ Luke Getsy as their play-caller; Getsy worked for Shanahan/McVay tree branch Matt LaFleur, and the Bears' cap space dwarfs every other team's. After fielding a shaky O-line (on a team full of substandard position groups), Chicago needs a better idea of Justin Fields' trajectory. Outbidding the field for the top right tackle available is a good start. The Patriots want a right tackle – on a line without a big contract presently – and the Raiders might have a say here as well. In need at multiple O-line spots, Las Vegas will have cash as well if it passes on a big QB investment.
Best fits: Bears, Patriots, Raiders
3. Jawann Taylor, T. Age in Week 1: 26
As expected, the Jaguars took Evan Engram off the market via the franchise tag. The tight end tag being $7MM cheaper than the $18.2MM offensive lineman tag always pointed Taylor toward free agency, and after never missing a start in four Duval County seasons, Taylor will be tough for the Jags to retain. They already drafted Walker Little in the 2021 second round, and no team that is currently paying a left tackle top-10 money (Cam Robinson is seventh) has a top-10 right tackle contract on the books. Taylor is expected to land at least a top-10 right tackle deal, with a $17MM-AAV figure being floated. That would place the former Florida Gator in the top five at the position, depending on how McGlinchey fares next week.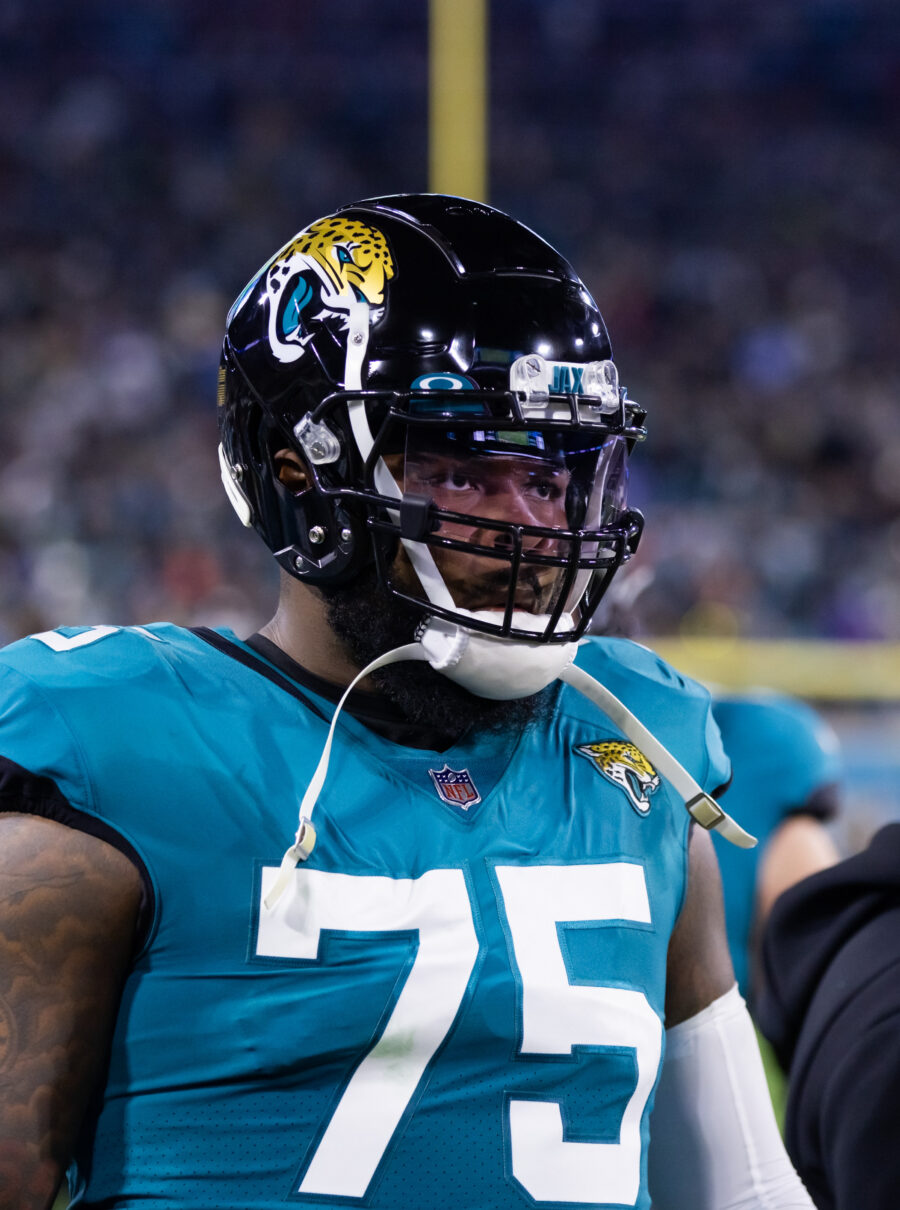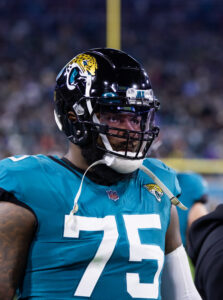 Taylor resembles the genre of player that usually populates the top of a position's free agency market: a dependable performer who checks in below the top tier at his job. Taylor enjoyed his strongest year in his platform campaign. The former second-round pick dropped his hold count from 11 in 2021 to two in 2022. While PFF charged Taylor with five sacks allowed, Football Outsiders measured his blown-block rate at a career-low 1.3%. Offering a disparate skillset compared to McGlinchey, Taylor has fared better as a pass protector than in the run game. PFF slotted him as a top-10 pass protector among right tackles but viewed him as a dismal run-blocker.
The Jags have presumably made Taylor an offer, but other teams will probably top it. The Dolphins gave Terron Armstead a five-year, $75MM deal in 2022 but have needed a right tackle ever since Ja'Wuan James' 2019 exit. They were forced to start in-season pickup Brandon Shell for much of the year and have cleared more than $45MM in cap space over the past two days. The team just picked up Tua Tagovailoa's fifth-year option, and the league's lone southpaw starting QB needs better blindside protection after a season in which he suffered at least two concussions. Overspending on O-linemen is not the Patriots' M.O., but they have a need at right tackle and do not have big dollars devoted to quarterback or any position up front. New England is on the hunt for a right tackle upgrade, and the team's 2021 free agency showed it would spend when it deemed expenditures necessary.
Best fits: Dolphins, Patriots, Jaguars
4. Jimmy Garoppolo, QB. Age in Week 1: 31
The quarterback market cleared up this week, seeing Geno Smith and Daniel Jones extended and Derek Carr's lengthy street free agency stretch end with $70MM in practical guarantees. Garoppolo's injury history will affect his value, but teams kind of make it a priority to staff this position. The former Super Bowl starter is in his prime and on the market for the first time. How high this market goes will depend on what the Raiders want and what Aaron Rodgers decides.
The 49ers' 12-game win streak that included Brock Purdy's stunning displays began with Garoppolo at the controls. Guiding San Francisco to four straight wins, Garoppolo was at or close to his best when he suffered a broken foot in Week 13. He sported a 7-0 TD-INT ratio during that win streak and closed the season 16th in QBR. He would have walked into a better market had the injury not occurred; the setback came after a string of health issues. He tore an ACL in 2018, missed 10 games in 2020 after an ankle sprain and was significantly limited by the end of the 2021 slate due to a three-injury season. Garoppolo's March 2022 shoulder surgery hijacked his trade market.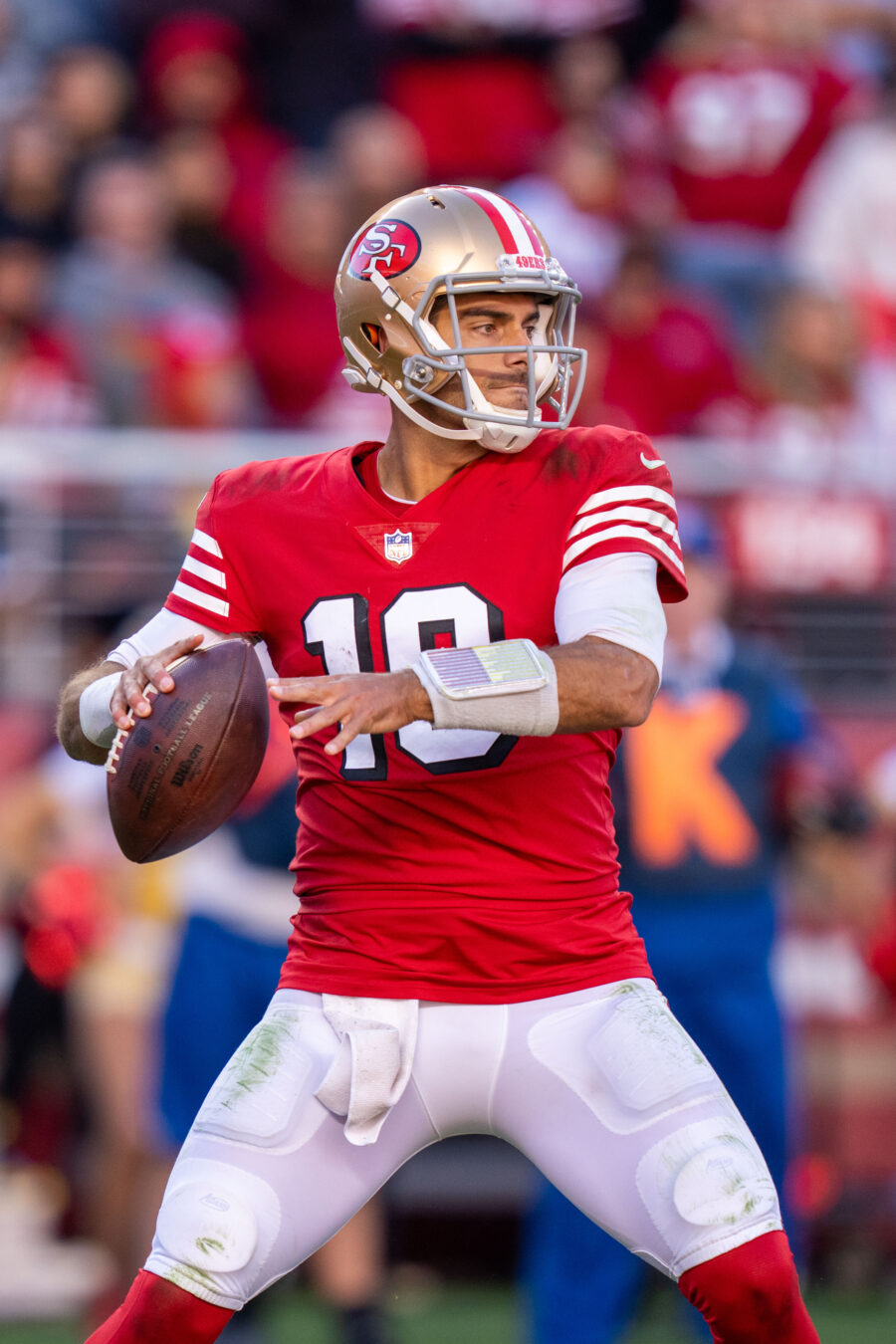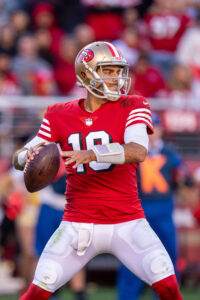 Ideally for Garoppolo, Rodgers returns to Green Bay or retires. While that is looking unlikelier by the day, it would put the Jets in a desperate position following Carr's decision. The Raiders represent the other wild card. Garoppolo would slide into Josh McDaniels' system seamlessly, given the parties' three-plus years together in New England. The Raiders have operated a bit more stealthily compared to the Jets; they have been connected to Rodgers, Garoppolo and rolling with a rookie. Plan C here would be a tough sell given the presences of 30-year-old skill-position players Davante Adams and Darren Waller, but Las Vegas' plans cloud Garoppolo's market. If the Raiders pass and Rodgers chooses the Jets, Garoppolo's earning power could drop.
McDaniels not fancying a Garoppolo reunion opens the door for the Texans, who hired ex-49ers pass-game coordinator Bobby Slowik as OC, and others. Houston's situation may not appeal to Garoppolo, but Slowik and Nick Caserio being in Houston make this connection too clear to ignore. The Buccaneers and Commanders are in win-now positions but are giving indications they do not want to spend much at QB. The Commanders were deep in talks for the then-49ers QB last year, however. Garoppolo will test those squads, along with the Falcons, who are entering Year 3 of the Terry Fontenot–Arthur Smith regime. The Panthers' acquisition of the No. 1 pick likely takes them out of the running, and Carolina not being in the mix could also affect how high the Garoppolo price goes.
Bottom line, there should be enough teams interested in staffing their 2023 QB1 spots that the best free agent option should do OK no matter what happens with Rodgers.
Best fits: Raiders, Texans, Commanders
5. Jamel Dean, CB. Age in Week 1: 26
The Buccaneers retained Carlton Davis last year, but their dire cap situation should force a Dean departure. Dean's age/performance combination should make him this year's top cornerback available. With corner a position of need for many teams, the former third-round pick stands to do very well. Dean has only been a full-time starter in one season, however, seeing his defensive snap share jump from 67% in 2021 to 90% last season.
Excelling in press coverage, Dean played a major role for the 2020 Super Bowl champion Bucs iteration and overtook fellow free agent Sean Murphy-Bunting last year. Dean did perform better in 2021 compared to 2022, allowing no touchdowns and limiting QBs to a collective 50.0 passer rating; those numbers shot up to four and 86.0 last season. Still, PFF rated Dean as last year's 10th-best corner. J.C. Jackson did not break into the top five among corners upon hitting the market last year; Dean should not be expected to do so, either. But many teams will be interested.
The Patriots have paid up for a corner previously, in Stephon Gilmore (2017), but Jonathan Jones – forced to primarily play a boundary role in 2022 – wants to re-sign and will be far cheaper than Dean. The Falcons need help opposite AJ Terrell and trail only the Bears in cap space. Although a Terrell payment is coming, it can be tabled to 2024 due to the fifth-year option. The Dolphins are clearing cap space and now have a corner need, with Byron Jones no longer with the team after his missed season.
Best fits: Dolphins, Falcons, Patriots
6. Jessie Bates, S. Age in Week 1: 26
Bates stands to be one of this free agency crop's safest bets, combining extensive experience – the final two years as a pillar for a championship threat – with a host of prime years remaining. Beginning his career at 21, the Wake Forest product has started 79 games and anchored the Bengals' secondary for most of his tenure. The Bengals did not tag Bates for a second time, passing on a $15.5MM price. With the team planning to let Bates test the market, it looks like the sixth-year defender will leave Cincinnati.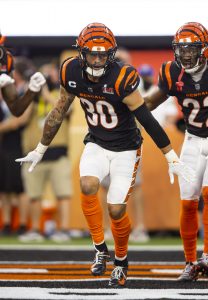 The Bengals and Bates went through two offseasons of negotiations, ending in the 2022 tag. The Bengals have some big payments to make at higher-profile positions. Safety does not qualify as such, but Bates has been a cornerstone in Lou Anarumo's defense and will be handsomely rewarded. Bates finished as Pro Football Focus' No. 1 overall safety in 2020 and, after a shakier 2021 in which he admitted his contract situation affected his play, Bates came through with impact plays in the postseason. He graded as a top-25 safety, via PFF, in 2022.
Safety is one of this year's deeper positions in free agency. Of the top 10 safety contracts, however, only one went to a free agent (Marcus Williams in 2022). Bates should be expected to join the Ravens defender, who signed for $14MM per year. It will be interesting if he can climb into the top five at the position; Justin Simmons' $15.25MM-AAV accord sits fifth. Bates should be expected to approach or eclipse that, though moving to the Derwin James–Minkah Fitzpatrick tier will be more difficult. Still, after the Bengals offered Bates less than $17MM guaranteed last summer, he should depart for more guaranteed money.
The Browns are interested in Bates, who will cost more than John Johnson cost Cleveland two years ago (three years, $33.75MM). Clear of the record-setting Matt Ryan dead-money hit, the Falcons have cash to spend and a Terry Fontenot–Arthur Smith regime entering Year 3. The Falcons need to make progress, and they do not have much in the way of talent or costs at safety. The team has not featured much here since the Keanu Neal–Ricardo Allen tandem splintered. Bates would be a way to remedy that.
Team fits: Falcons, Browns, Raiders