The preseason favorites last season endured major injury problems and saw a frightening scene alter their playoff route. Rather than earning a first-round bye, the Bills saw the Damar Hamlin sequence lead to a postponement-turned-cancellation and a No. 2 seed. Buffalo's poor showing as the second seed exposed some foundational cracks, and the team spent the offseason attempting to repair the damage. While the injuries to Josh Allen and Von Miller represented the top deterrents last season, the Bills went to work on both lines to better prepare themselves for another Super Bowl push.
Free agency additions:
In terms of outside investments, McGovern became the top priority. Agreeing to his contract on Day 1 of the legal tampering period, McGovern parlayed one full-time Cowboys starter season into a midlevel AFC East accord. The Cowboys' 2022 left guard starter will replace Rodger Saffold, who became a Bills one-and-done. In ranking Buffalo's offensive line 23rd overall, Pro Football Focus viewed the aging Saffold as one of the weak links.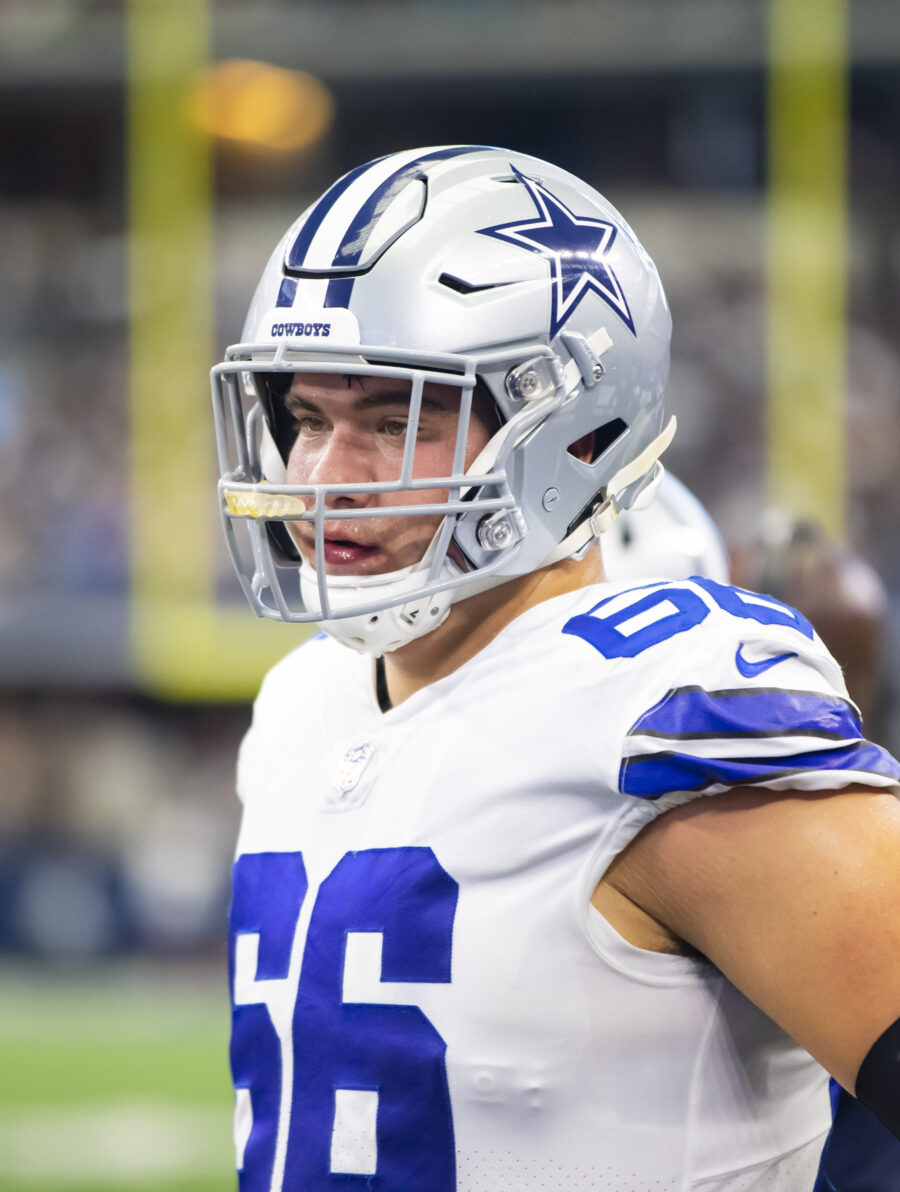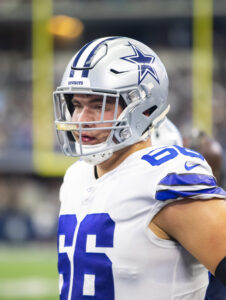 McGovern, 25, does not bring an extensive track record to Buffalo. His backup, Edwards, has a longer run of starts. Although McGovern secured more than Cowboys LG predecessor Connor Williams, his AAV trailed a few 2022 guard pickups. Rather than pay up for the likes of James Daniels, Austin Corbett or Alex Cappa last year, the Bills rode with Saffold, whom PFF assigned a bottom-six guard grade. PFF also ranked McGovern outside the top 60, positing some questions. But the younger of the NFL's blocking Connor McGoverns generated a market. Rather than go bigger for Ben Powers or Nate Davis, the Bills identified the ex-Cowboys third-rounder as an affordable solution.
The Bills have Edwards positioned as McGovern's backup. Likely an upgrade on 2022 backup Greg Van Roten, Edwards started 45 games for the Rams. PFF viewed the former fifth-round pick as a top-30 guard in 2020 and 2021; Edwards started all 21 games for the Super Bowl LVI-bound Rams that season. Concussion trouble limited Edwards to four games last year, though Rams injuries piling up led them to prioritize other players' returns from IR. The other Rams guard starter from Super Bowl LVI — Austin Corbett — fetched $8.75MM per year from the Panthers, but Edwards' market cratered. The 26-year-old vet profiles as an interesting backup option for the Bills.
Buffalo also has Los Angeles' two outside linebacker starters from that Super Bowl win, and Floyd should serve multiple purposes. Miller will begin the season on the reserve/PUP list; Floyd will insure the Bills' edge rush, which Miller's 2022 ACL tear left vulnerable. Proving he had solid NFL pass-rushing chops after an unremarkable Bears tenure, Floyd ripped off 29 sacks in three Rams seasons and added four more in the playoffs. Undoubtedly aided by Aaron Donald, Floyd still totaled four of his nine sacks last season in the five games the all-time great missed.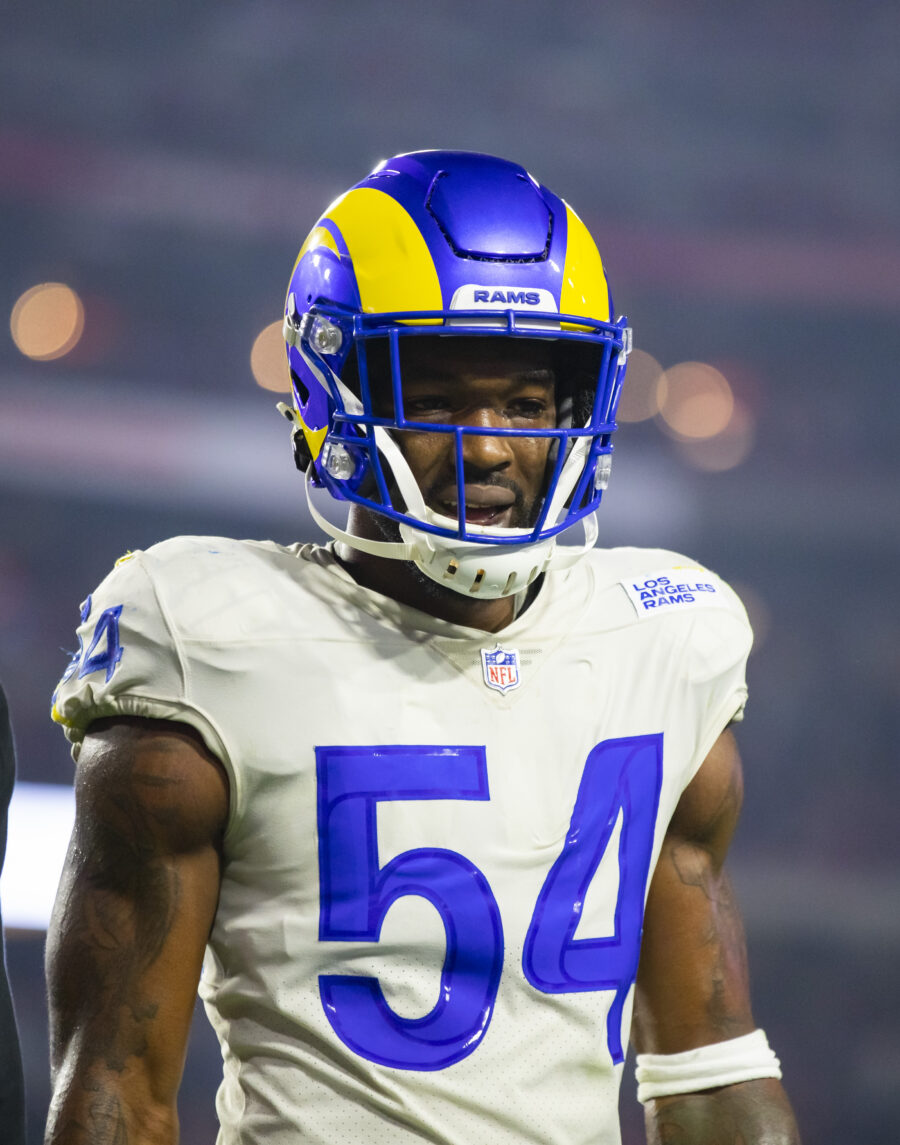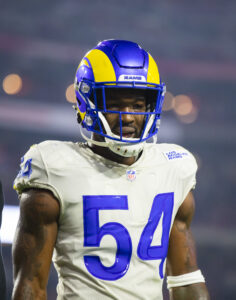 The Bills began talking terms with Floyd before the draft, and they ended up setting the veteran edge rusher market. Floyd's deal preceded Frank Clark's, which laid the groundwork for the likes of Yannick Ngakoue, Justin Houston and Jadeveon Clowney to find homes. Buffalo rolling out a Miller-Floyd duo will take some pressure off Gregory Rousseau and A.J. Epenesa. While the Bills will still want to keep Rousseau as a regular cog when Miller returns, the Super Bowl contender wanted more firepower. With Miller now having suffered two ACL tears as a pro, high-end insurance makes sense. With the Rams ditching his four-year, $64MM contract two seasons in, Floyd will attempt to use the Bills to score a final notable payday.
This could be a menacing pass rush once Miller returns, with the Bills having targeted Floyd regardless of the future Hall of Famer's health. It took the Bills a full year — Thanksgiving 2021 to Thanksgiving 2022 — to feel comfortable redeploying Tre'Davious White. ACL tears are not created equal, and Miller expressed confidence in an early return. With the 13th-year edge rusher much older than the ace cornerback, however, the Bills will need Floyd early. The Rams unleashed a fearsome edge duo two years ago; the Bills will hope it is at full strength by the stretch run.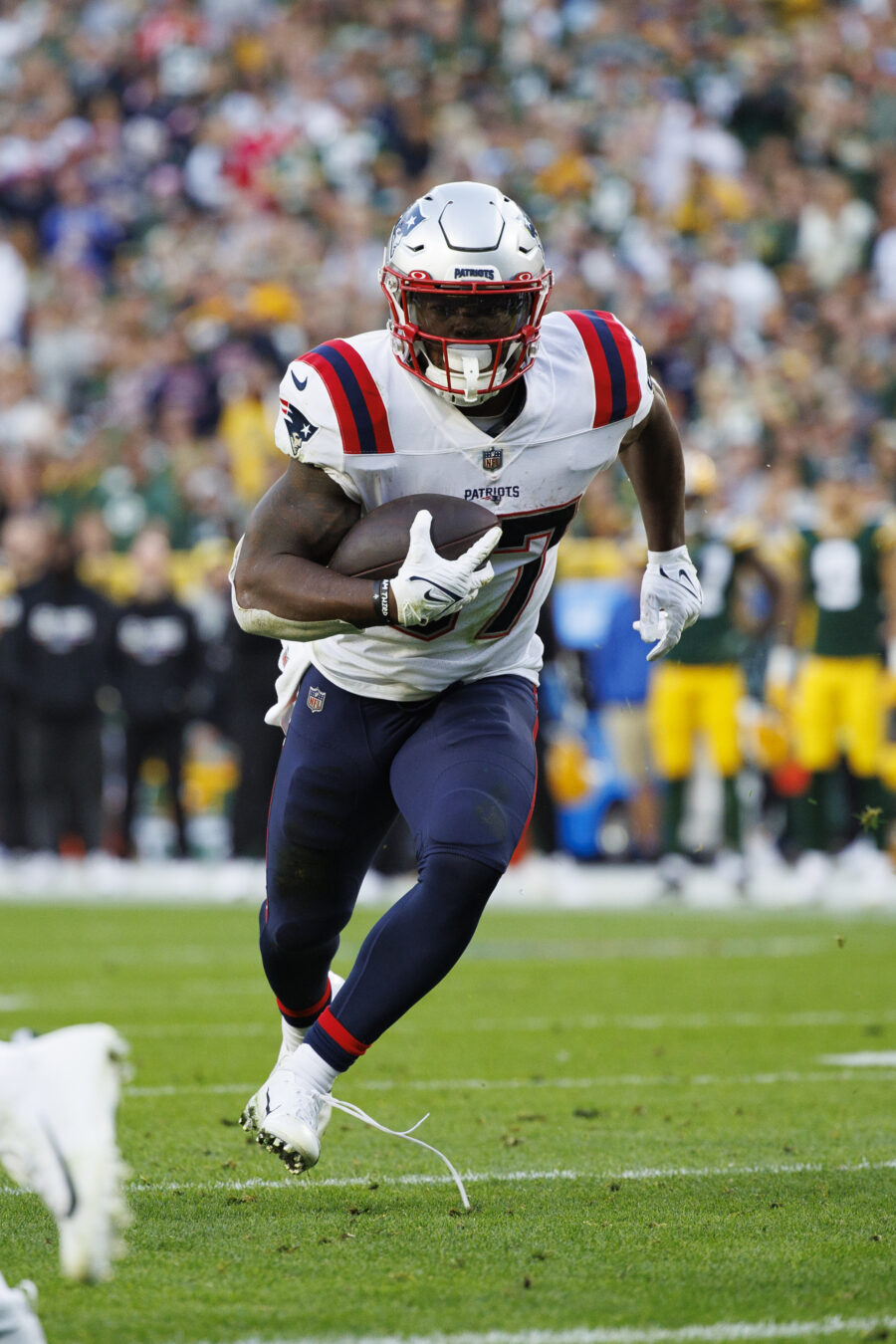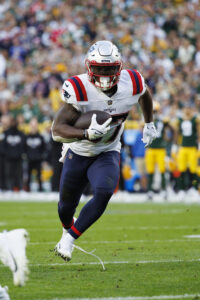 The Patriots' lead weapon during that run-crazed Monday night in Buffalo two seasons ago, Harris landed near the bottom of this year's deep RB1 market. With some of the NFL's best running backs seeing their pay reduced (or contracts jettisoned), Harris stood little chance in finding much of a market. Supplanted by Rhamondre Stevenson last season, Harris will attempt to complement James Cook. While Harris did rush for 15 touchdowns, the Pats rarely involved him in the passing game. That role generally leads New England to move on after one contract, and the Bills added a between-the-tackles backup.
A 2022 second-rounder who averaged 5.7 yards per carry last season, Cook is expected to be the leading man post-Devin Singletary. The Bills gave the Georgia alum just 89 rookie-year carries. He maxed out at 113 in a season with the Bulldogs. While Cook is on track to play a big role in Buffalo's passing attack, he does not bring Jahmyr Gibbs-like college numbers in this era, having never eclipsed 300 receiving yards in a season. How Cook transitions to this bigger Year 2 role will be a key storyline in a stacked AFC East, which now includes both the Cook brothers. The Bills were briefly linked to Dalvin Cook, but he was more closely tied to the division's other three clubs.
Re-signings:
A Poyer-or-Tremaine Edmunds retention scenario emerged for the Bills, who did manage to keep one of their defensive staples-turned-UFAs. Poyer hit the market but still ended up back in Buffalo. Set to run it back with Micah Hyde to keep the NFL's longest-running safety tandem in place, Poyer is now 32. But a lucrative non-Jessie Bates safety market did not materialize, giving the Bills a chance to retain Poyer — after it looked like there was a real chance he would head elsewhere.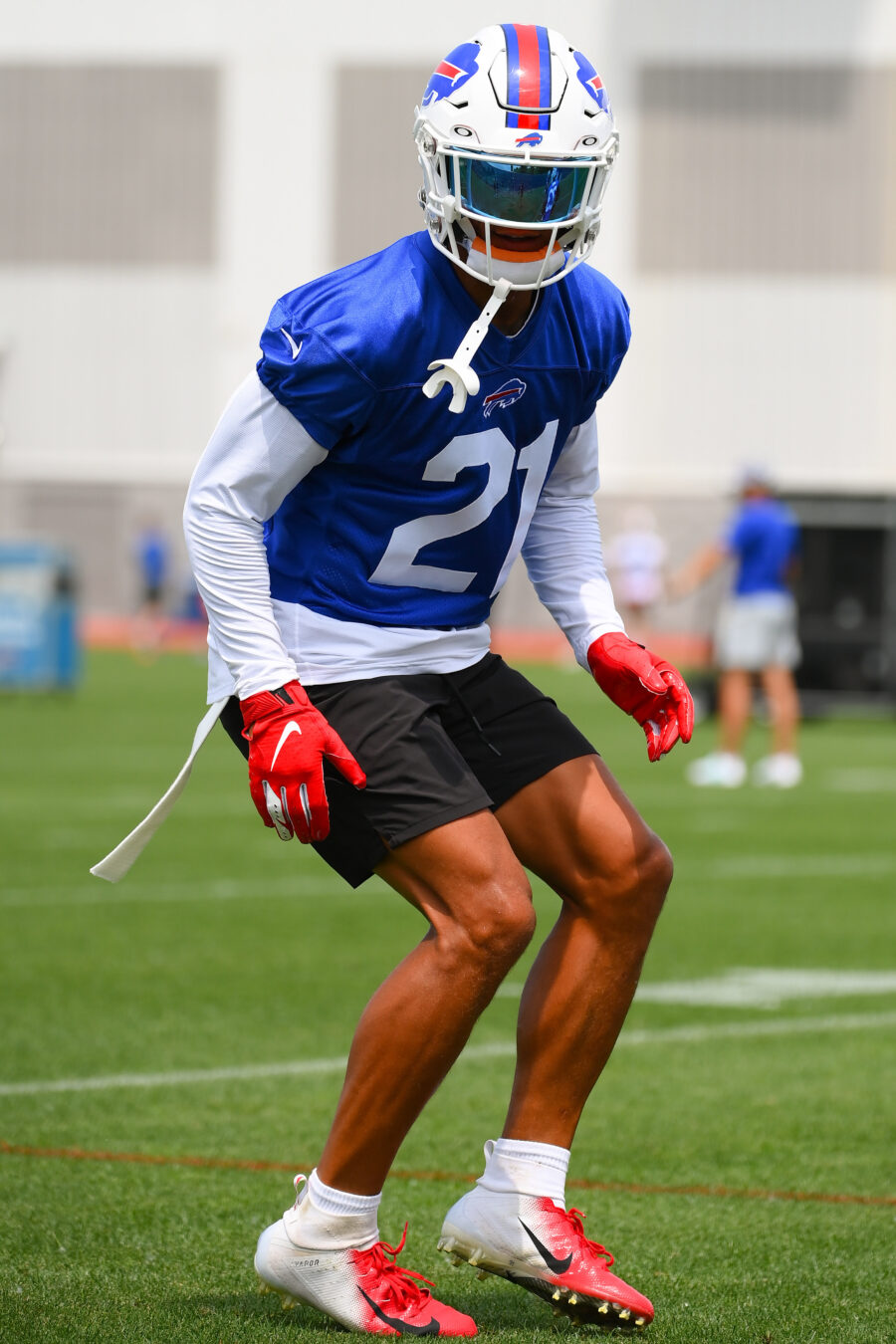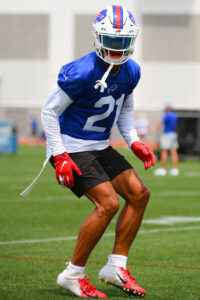 Hyde's September neck injury represented a harbinger of what lie ahead for an injury-hounded Bills squad, and it put plenty on Poyer's plate. The veteran delivered, intercepting four passes — his fourth Bills season with at least four picks — and earning Pro Bowl honors despite missing five games himself. This is Poyer's third Bills contract. Despite the cap growth since Poyer inked his second Bills deal (two years, $19.5MM) back in 2019, no non-Bates safety securing a deal north of $8MM per year limited Poyer on the open market.
Poyer and Hyde, also 32, represent one of this century's top safety duos. Assembled in Sean McDermott's first offseason as HC (but weeks before Brandon Beane replaced Doug Whaley as GM), the pair joined as low-middle-class free agents and has been instrumental in the franchise's rise from obscurity to three-time reigning AFC East champions. The Bills have not held talks for a third Hyde contract, ahead of a platform year, but the latter is healthy going into his seventh year with the team.
With Hamlin on the cusp of turning his remarkable recovery into regular-season action, the Bills have a deep safety corps that now includes Rapp, who started 48 games with the Rams. With Rapp, Floyd and Edwards joining Miller (a year after the Saffold signing), the Bills have done well to catch some of Sean McVay's leftovers.
Notable losses:
The Bills effectively made their Milano-or-Edmunds choice two years ago, giving the older linebacker a four-year, $44MM deal that generated some head-turns at the time. Milano opted not to test free agency in 2021, agreeing to terms with the Bills on what was viewed at the time as a team-friendly contract. That still might be the case, but the ILB market did not heat up much this year. Only two off-ball 'backers signed eight-figure-per-year accords during the 2023 free agency period.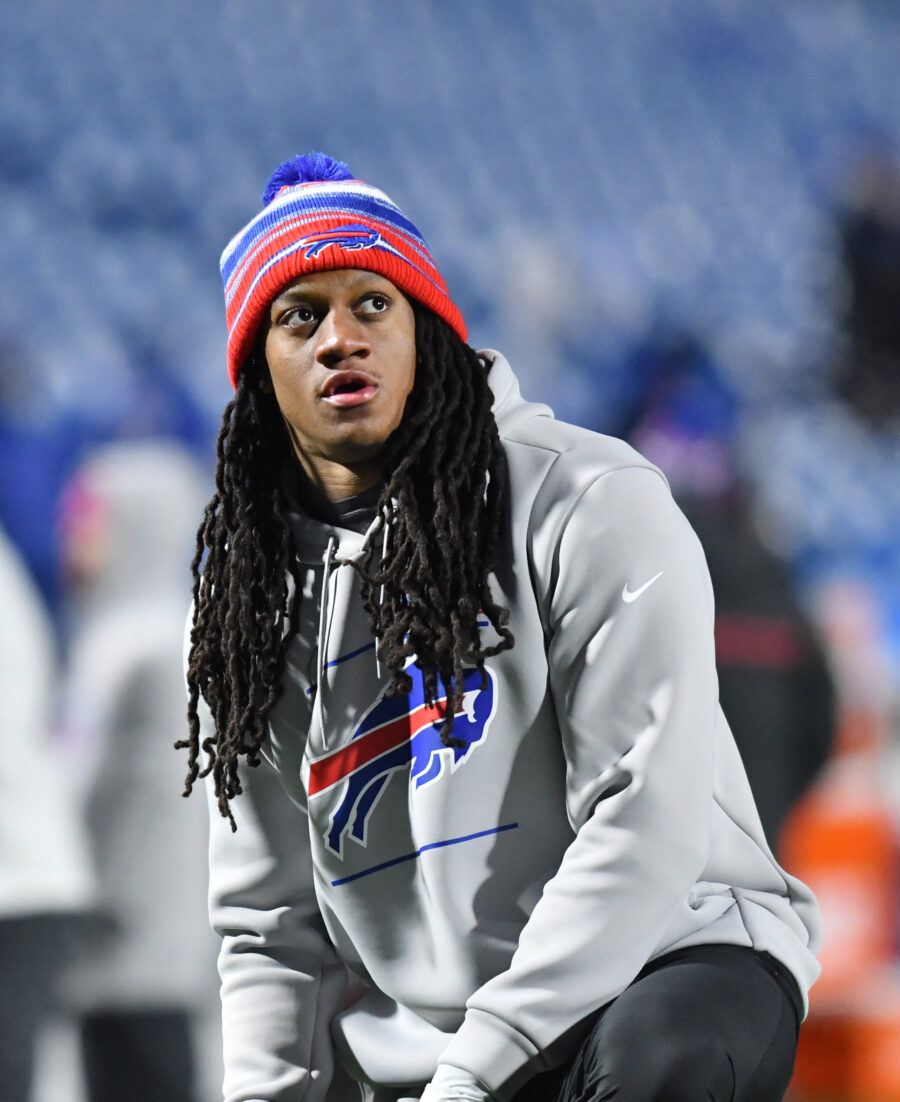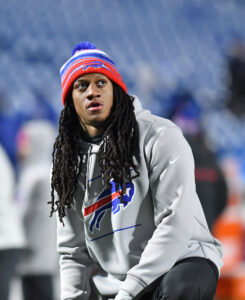 Edmunds proved an outlier. His market exploded, with no ILB's AAV coming within $7MM of what the Bears authorized. Chicago gave Edmunds a four-year, $72MM pact that included $41.8MM guaranteed at signing — the position's third-highest number. With Allen extended and Diggs, Miller and Dion Dawkins on big-money deals, it was unrealistic for the Bills to pay two off-ball 'backers upper-crust money.
Franchise-tagging Edmunds was not a realistic option. The tag's formula grouping all linebackers together has led to 3-4 OLBs raising the price to the second-highest tag number — behind only quarterbacks. This will break up McDermott's second long-running LB partnership; the seventh-year Bills HC mentored Luke Kuechly and Thomas Davis for five seasons as well.
PFF graded Edmunds outside the top 50 at the position in 2020 and '21 but slotted the former first-rounder in the top five last season. Edmunds earned the top ILB coverage mark from the advanced metrics website as well. The Bills have held a competition to replace Edmunds throughout the offseason, but the Terrel Bernard–Tyrel Dodson–A.J. Klein troika will have a difficult time producing Edmunds-level work. Although the Bills held talks with Edmunds, keeping him was essentially non-starter for the Bills this offseason.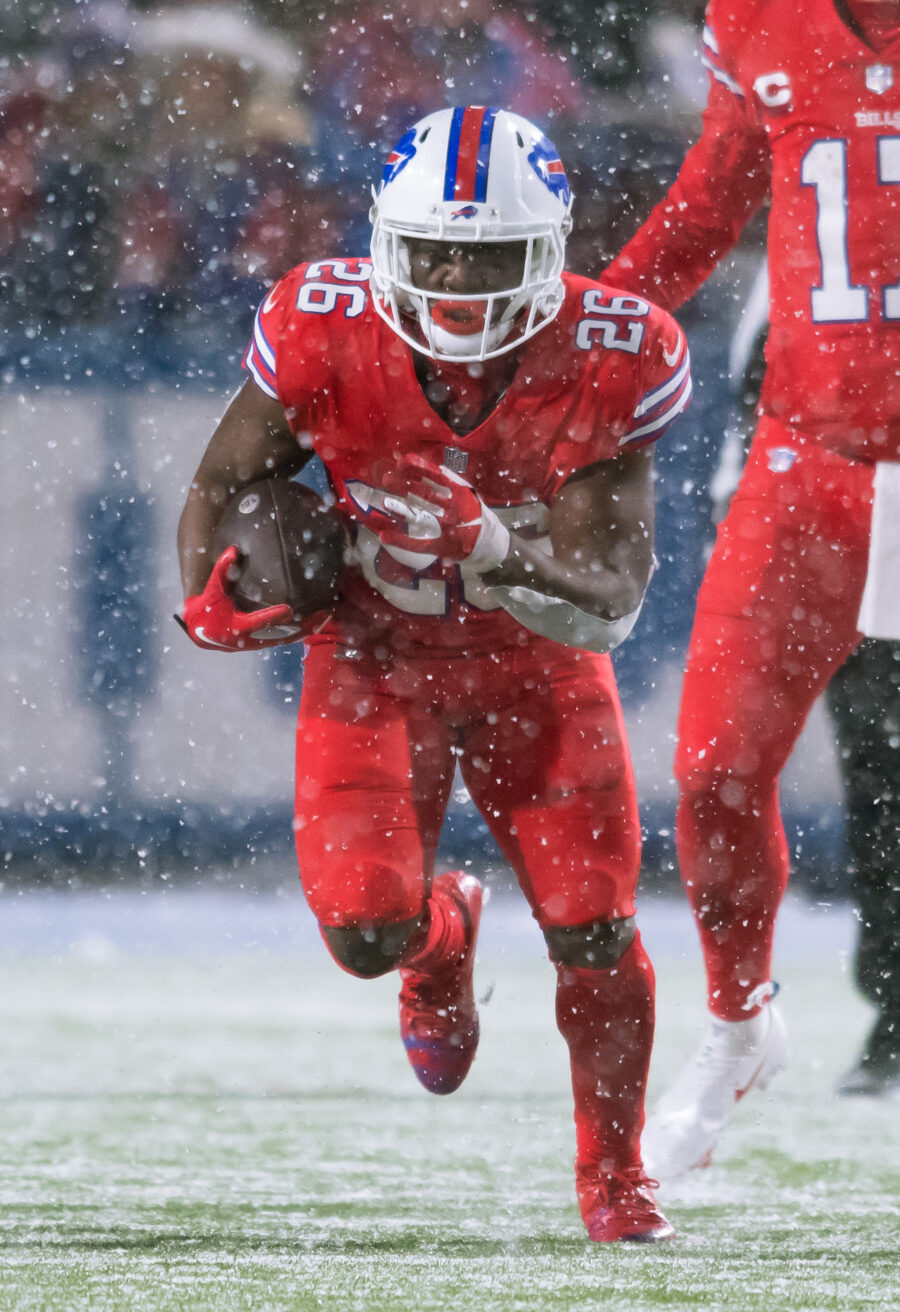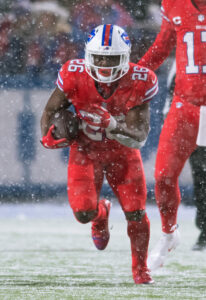 Annually given a low ceiling in the fantasy community due to Allen's impact in the Bills' run game, Singletary still offered durability and consistency. The diminutive back started 56 games for the Bills, missing only one game since beginning his starter run midway through his rookie season. Singletary gained between 680 and 870 rushing yards in each of his four seasons, and while he did not do enough as an outlet option (zero 300-plus-yard receiving seasons), he fared well in pass protection. PFF slotted Singletary as a top-10 pass blocker among RBs; Cook rated as the position's third-worst pass protector. The younger back will need to improve in order to hold onto his three-down role.
Giving the Bills two sub-5-9 skill regulars, McKenzie found his stride as a gadget player and eventual slot weapon. But the 5-8 receiver was not consistent enough in the latter role. McKenzie's issues and Crowder's early-season ankle fracture led to a brief Bills-Beasley reunion. This shuffling slot position led to the Bills prioritizing Dalton Kincaid in Round 1.
Extensions and restructures:
Daron Payne's Commanders extension led to the creation of a new second tier for defensive tackle contracts, bridging the gap between Aaron Donald and the field. The Bills did not view Oliver on this level, as the 2019 first-round pick has not produced on the level of Payne, Dexter Lawrence, Jeffery Simmons or Quinnen Williams. The Bills deserve credit for finding middle ground here. Oliver landed south of the Leonard Williams–DeForest Buckner tier that formed earlier in the decade, but after the Bills voiced support for a long-term Oliver stay last year and during this offseason, the sides hammered out a deal.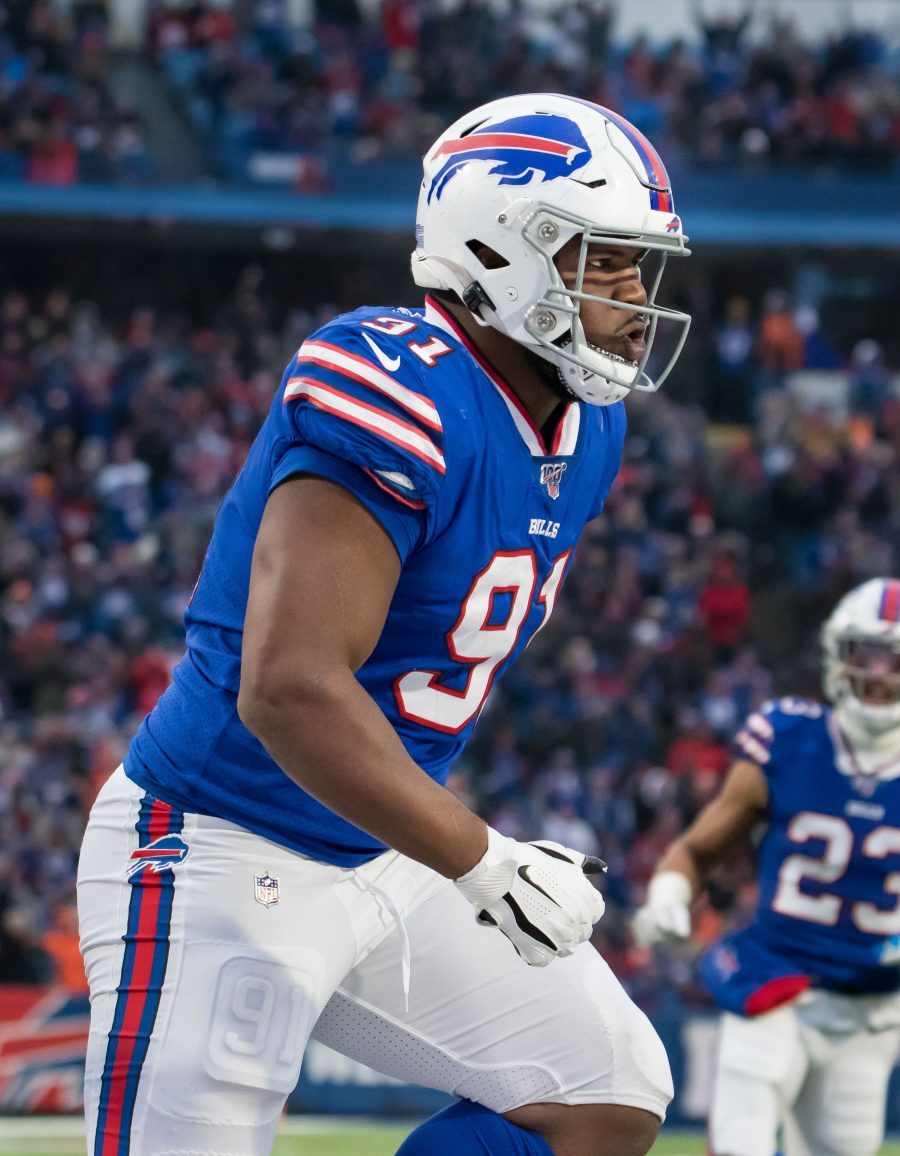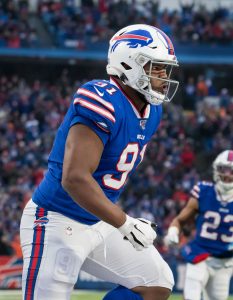 It is safe to say the Bills will expect more in the sack department from Oliver, who has maxed out at five (in his rookie year). The Houston alum has still flashed as an inside disruptor, helping out Buffalo's crew of young edge players. Oliver has totaled 14 QB hits in each of the past two years while contributing 19 tackles for loss in that span. At 25, Oliver probably still has a level in his game to unlock. The Bills will bet on him doing so during this contract.
In addition to signaling Edmunds would head elsewhere, the Milano re-up — just before the market opened — created $6MM in cap space for the Bills this year. Chosen in the 2017 fifth round, Milano has been a better all-around linebacker than Edmunds — at least within the confines of McDermott's system. Not bringing deficiencies in coverage or in the run game, the instinctive defender will now be tasked with anchoring the Bills' defensive second level without Edmunds' athleticism factoring into the equation. More will be on Milano's docket beginning in his age-29 season, but he has been essential to the Bills' defensive capabilities for several years.
While this $14.2MM-per-year deal provided $17.2MM in additional guarantees, it adds years onto the four-year pact he signed in 2021. Two years remained on that contract, and Milano's new agreement leaves him signed through the 2026 season. During an offseason in which most teams shied away from big linebacker investments, Milano's third Bills contract bumped his AAV into the top seven at the position.
Months after the Bills reached an updated agreement with Hines, his tenure with the team is in question. A jet ski accident, one in which another rider crashed into a stationary Hines, left the veteran return man/pass-down back with a torn ACL. Hines, whom the Bills acquired at the 2022 trade deadline, landing on the NFI list has caused a rift between he and the team. The Bills are no longer obligated to pay the former Colts back, who is tied to a $4.1MM base salary this season.
Trades:
Beane and ex-lieutenant Joe Schoen agreed on a deal that will give Basham another shot ahead of his third season. Even with the Bills moving Miller to the reserve/PUP list, they have Floyd, Rousseau, Epenesa and Lawson in place at defensive end. This setup, which stands to have Miller leading the way in the not-too-distant future, did not appear to have room for the Bills' top six. Basham only totaled eight QB hits in two seasons. Although teams inquired about Epenesa as well, the Iowa product showed improvement (6.5 sacks) last season. It made sense the Bills would prioritize Epenesa over Basham, even with the former in a contract year.
Draft:
Beane held trade discussions with multiple teams for the purposes of landing Kincaid, who became the first tight end to go off this year's board. Beane and Schoen had trade parameters in place that would have allowed the Bills to move up for the Utah pass catcher. The run on wide receivers that commenced from Nos. 20-23 prompted the Bills to secure Kincaid, but after the Giants traded up for cornerback Deonte Banks, Beane needed to find another team. Worried the Cowboys (at No. 26) were eyeing Kincaid to replace Dalton Schultz, Beane worked out a deal with the Jaguars. While Trent Baalke made Beane reassure him he was not taking an offensive lineman before signing off on the exchange, the Bills finally had their avenue to bring Kincaid to Western New York.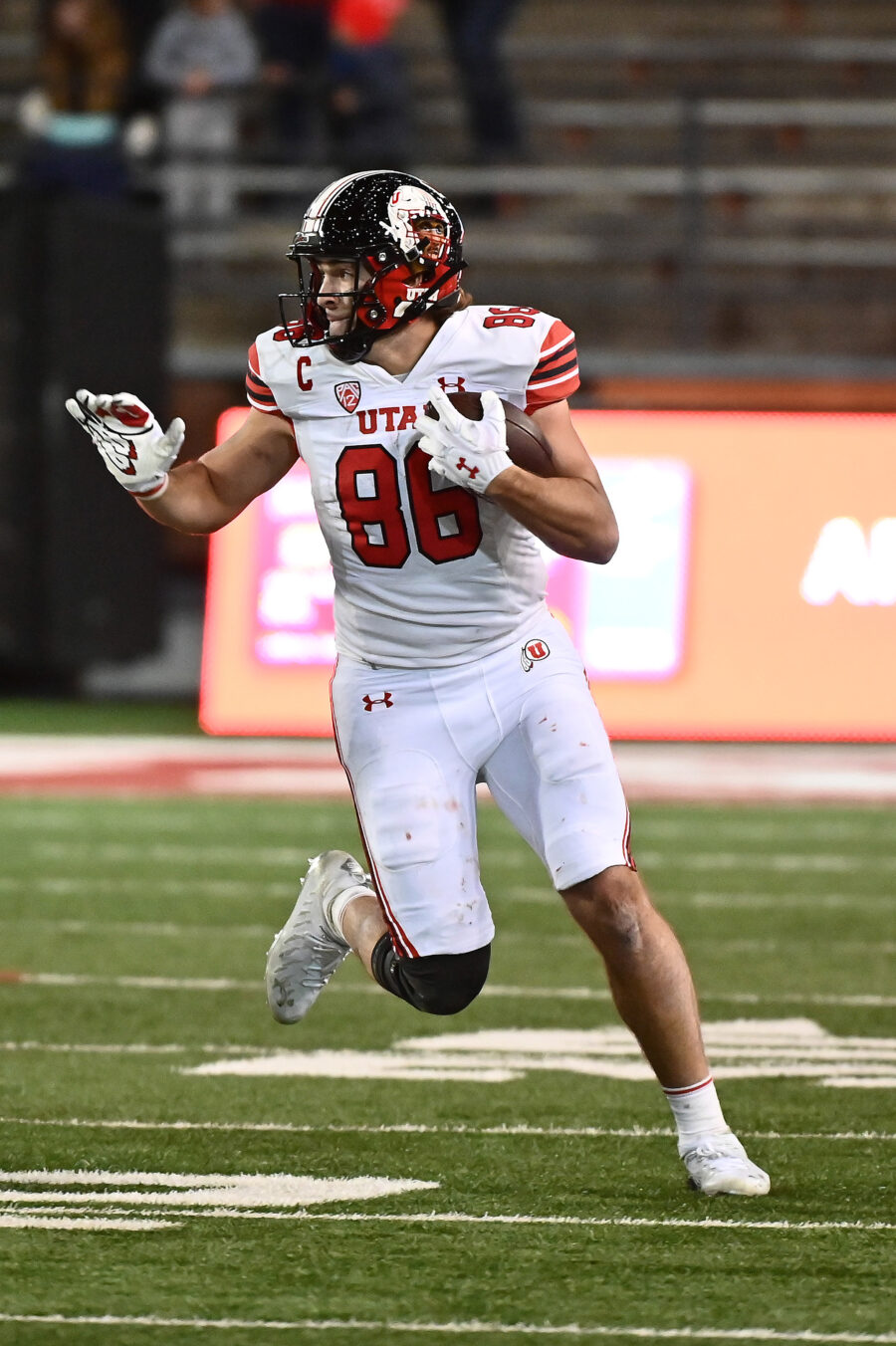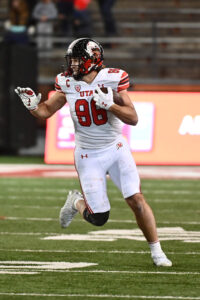 The Bills have not made a secret of their intentions to use Kincaid extensively in the passing game. Beane called 12 personnel with Kincaid "quasi like 11." The Kincaid pick may have affected the Bills' interest in adding DeAndre Hopkins. This is a lot of pressure to place on a rookie tight end coming off a back injury. Nearly the consensus top tight end in this class, Kincaid scored 16 touchdowns over his final two seasons at Utah and finished his junior year with 890 receiving yards.
The odds are still against Kincaid as a rookie. Since 2008, only three tight ends (Kyle Pitts, Evan Engram, John Carlson) have eclipsed 600 yards as rookies. Granted, this could be a plus setup for Pitts, given Allen's talent. Kincaid may be a great future investment, but with the Bills needing to maximize this window while Stefon Diggs (30 in November) is in his prime, relying on steady production from a rookie tight end represents a dice roll.
Looking like he prevailed in a position battle with Ryan Bates, Torrence is on track to start at right guard from the jump. NFL.com's Daniel Jeremiah slotted the first-team All-American blocker as this year's No. 36 overall prospect. While Peter Skoronski has shifted to guard after a college career spent on the edge, ESPN's Scouts Inc. graded Torrence as this class' top guard. The Bills have seen quick progression from Torrence, a near-350-pound presence who will certainly improve this pass-heavy team's physicality in the run game. If Torrence sticks as a starter, Bates and Edwards will double as two of the NFL's top backup O-linemen. No guaranteed money remains on Bates' Bears-built contract after this season.
Other: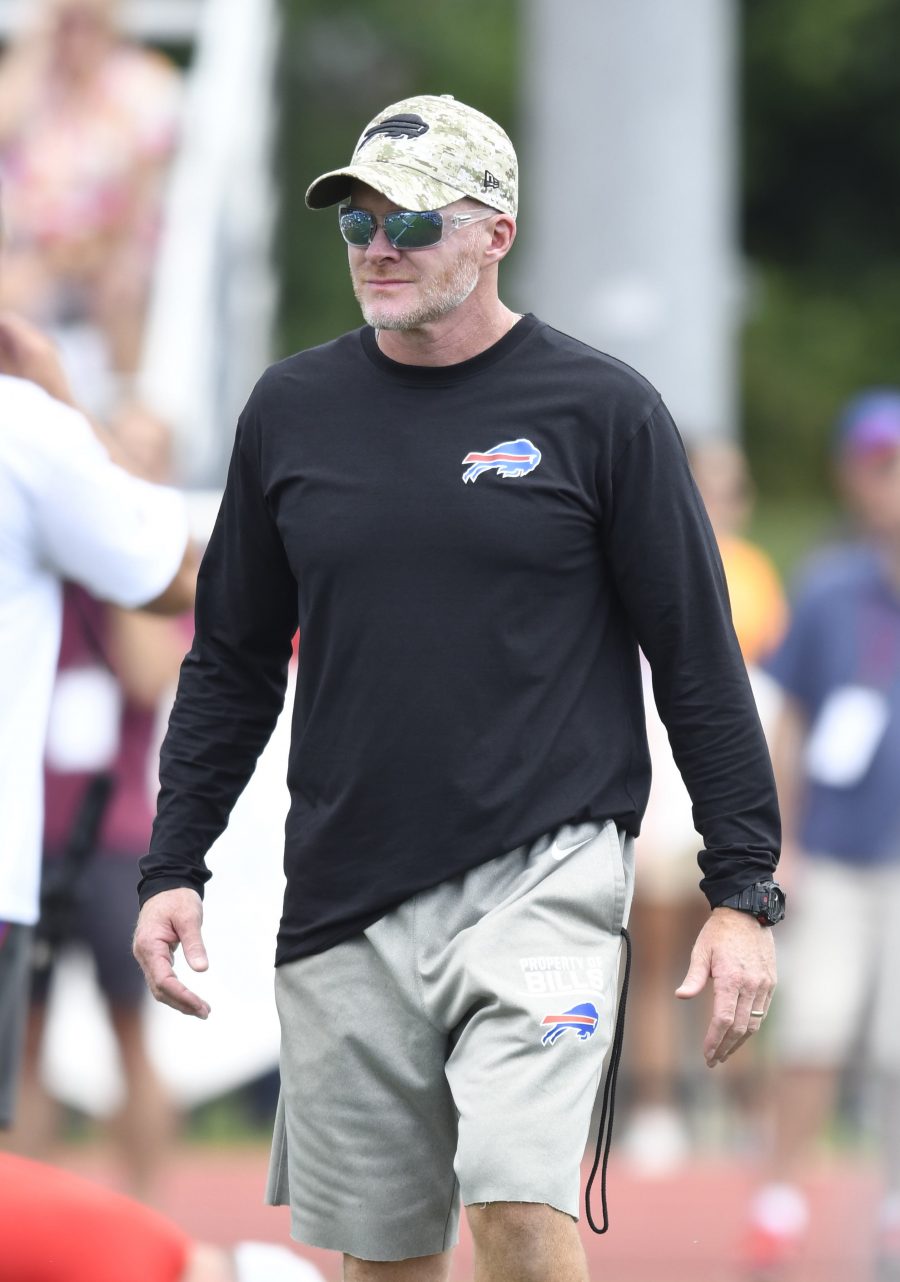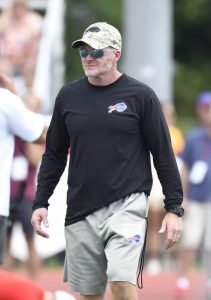 The second round of extensions for the "McBeane" power duo run through 2027. While the Bills' past two seasons have brought unfortunate endings, this HC-GM combo rescued the franchise from a 17-year post-Music City Miracle playoff drought.
The Bills have won three AFC East titles for the first time since 1989-91, and Beane's two-trade-up first round in 2018 — a process that brought Allen from Wyoming to Buffalo — stands as one of the most important draft moves of the past decade. The Bengals' back-to-back AFC championship game appearances have knocked the Bills down a peg, but having beaten the Chiefs at Arrowhead Stadium in back-to-back Octobers and having posted two 13-win seasons in the 2020s, this remains one of the NFL's top operations.
While McDermott gained some security through his latest extension, the ex-Andy Reid lieutenant will have more responsibilities this season. Be it a quiet dismissal or a true step back, Frazier is no longer with the Bills. Some what-ifs cloud the former Vikings HC's recent Buffalo work, which mostly featured top-five finishes. The Bills finished as a top-two scoring defense in 2019, 2021 and 2022. By the time the 2021 and 2022 squads suited up for the playoffs, however, Frazier was down Tre'Davious White ('21) and Miller and Hyde ('22). An argument can be made the Bills are the Super Bowl LVI favorites had White played against the Chiefs in that divisional-round classic, but after the Bengals' dominant performance in Orchard Park, McDermott (with ex-Panthers DC Holcomb as a key consigliere) will take over.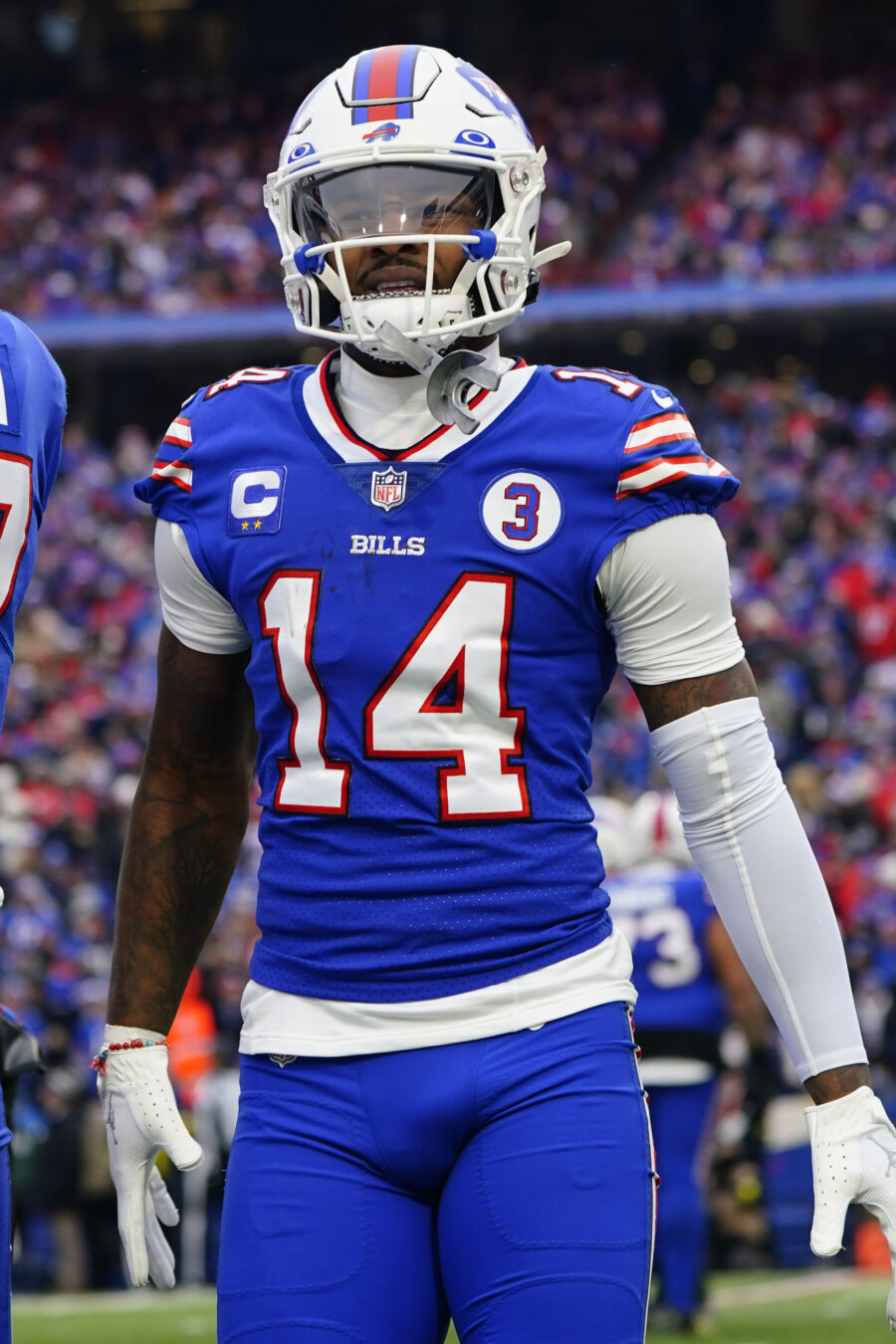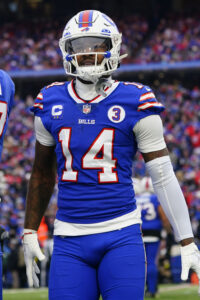 The Chiefs not landing Hopkins serves as a bonus for the Bills, who joined their rivals as the only teams to negotiate trade terms with the Cardinals before the former All-Pro's release. Beane ended up talking directly to Hopkins this offseason, with the receiver agentless for a stretch. Despite Oliver's extension creating cap space, the Bills used much of the mid-offseason gain to add Floyd. Hopkins, 31, would have obviously brought intrigue. But he also has been a target hog for much of his career. How Hopkins would mesh with Diggs and his impact on Kincaid is believed to have affected the Bills' interest in bringing in the ex-Texans All-Pro.
The main principals have said the right things re: the Diggs-McDermott minicamp spat, but the mercurial wideout's status should be monitored as he begins a fourth Buffalo season. A disagreement about Diggs' usage in Minnesota in 2019 preceded the 2020 trade. The Pro Bowl target storming out of the locker room after the Bills' divisional-round defeat and then being sent home from a minicamp workout is not exactly a good look. Diggs has denied he wants out of Buffalo and denied he is dissatisfied with his role in the offense. Only Davante Adams has seen more targets than Diggs since the latter was dealt to the Bills.
Diggs made a transformative impact on the Bills upon arrival in 2020, leading Allen to his present place as a locked-in franchise quarterback. The partnership forming created realistic Hall of Fame paths for both parties. Any sort of turbulence could affect a Bills foundation that has seen injuries produce some cracks during this ascent.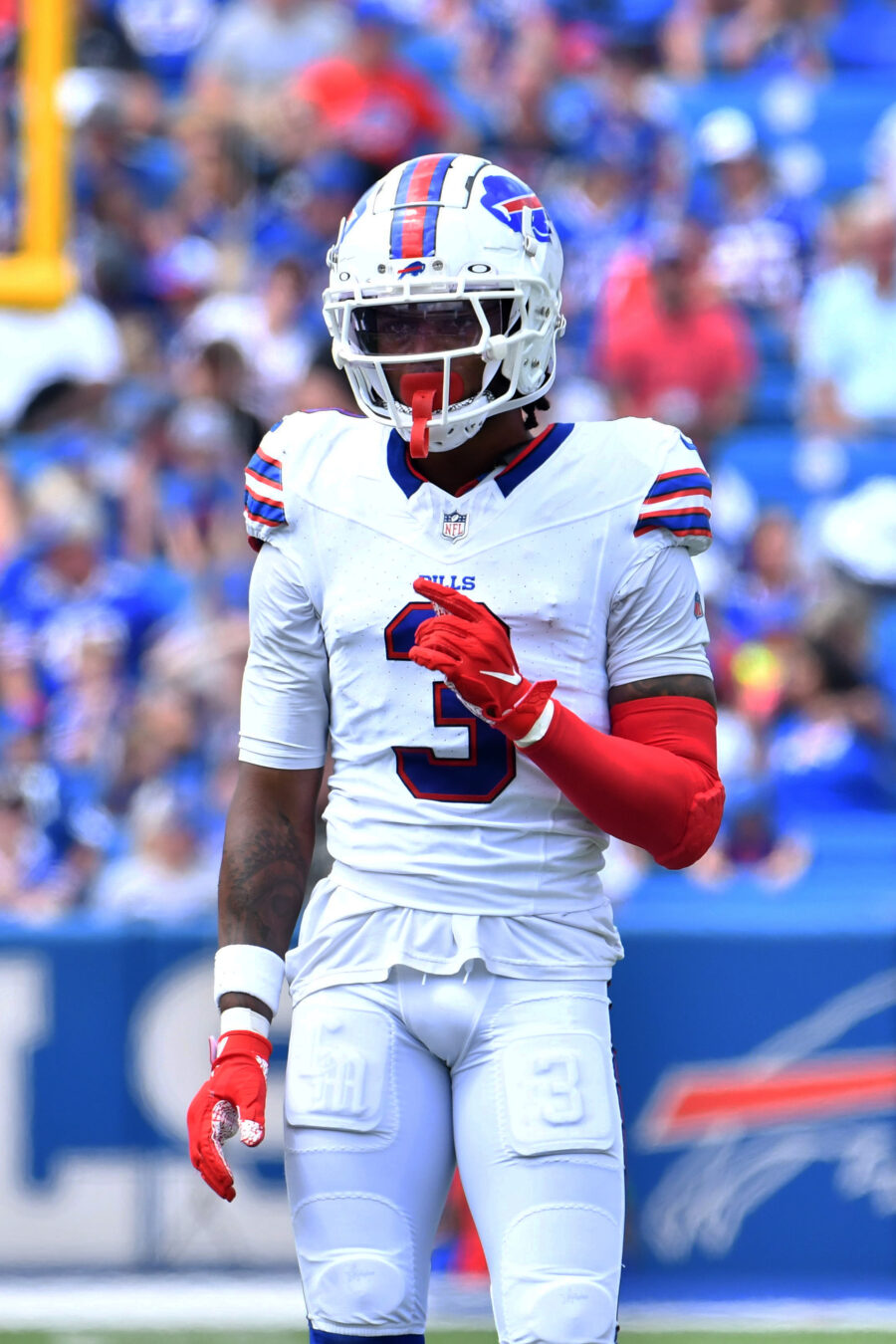 The likely 2023 Comeback Player of the Year award winner, Hamlin is less than two weeks from returning. Since Hamlin's collision with Tee Higgins in Cincinnati induced commotio cordis — an extremely rare condition that emerges after chest trauma produces waves of electricity that can alter heart rhythm — and led to the young safety needing ventilator assistance in the immediate aftermath, his inspirational recovery has gone smoothly. Hamlin participated in OTAs and minicamp and received full clearance for contact early in training camp. Hamlin, 25, will be set to return to the backup role at which he began the 2022 season.
With Rapp in the mix, Hamlin might not see too much time on defense. But with Hyde and Poyer being 32, odds are against 17-game seasons. Even if Hamlin will be a depth piece upon coming back, his return to Highmark Stadium will be a must-see NFL moment.
Allen did not end up undergoing surgery to repair his partially torn UCL, which clearly hampered the star QB (and, thus, the team) during the season's second half. This season marks the first on Allen's six-year extension. With Jalen Hurts, Lamar Jackson and Justin Herbert each signing deals for at least $51MM per year, the Bills having Allen signed through 2028 at $43MM per annum reflects a prescient extension framework on the Bills' part in 2021. Should Patrick Mahomes end up receiving a contract adjustment, it would not surprise to see Allen's pact updated. For now, the Bills have one of the league's best five QBs tied to contract that has drifted off the top tier.
The Bills have dropped off the Super Bowl favorite perch, though their AFC East throne may be under fire due to the enhancements the challengers have made. Even with Aaron Rodgers, Vic Fangio and a Patriots offensive coordinator with sufficient qualifications in the division now, Allen still makes the Bills the safest bet. That said, Buffalo will be under considerable pressure to turn this well-built nucleus into a Super Bowl team. And McDermott's bunch must navigate a deep conference to complete this odyssey.
Follow @PFRumors