Coming into this offseason with the most cap space, the Bears used it in different ways. In addition to outbidding competitors for Tremaine Edmunds, Chicago filled other needs at guard and defensive end. GM Ryan Poles' second draft also is set to include multiple Week 1 starters, but this offseason — and more after that — will be defined by the trade the second-year GM made in March. This Bears regime made a bet on the previous staff's quarterback investment and acquired a number of high-value assets to do so.
Trades:
The Bears trudged into the Poles era without a first-round pick, a familiar feeling for a team that entered the 2019 and '20 drafts without Round 1 capital. This trade will give Chicago two 2024 first-rounders — the team last made multiple first-round choices in 2003 — while providing Justin Fields with his best pro receiver. Still, the Bears will bet on Fields plus assets over Bryce Young, a quarterback who came into this draft as a higher-regarded prospect than Fields was in 2021.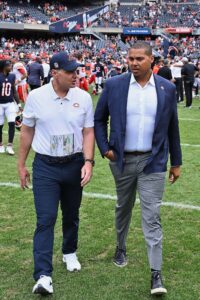 Teams have dealt the No. 1 overall pick earlier than the Bears. The Buccaneers moved what became the 1984 top pick — in a 1983 deal with the Bengals for QB Jack Thompson — before knowing where that selection would land. That separated what the Bears did this year. Two months after seeing a miraculous Texans win give them the No. 1 pick, the Bears dealt it to the Panthers before free agency. That marks new territory in the modern NFL. Since the draft moved to April in 1976, no team knowing it held the No. 1 pick had traded the choice before mid-April.
Poles preferred to have his cards arranged before the free agent market opened, and the March 10 swap led to the Panthers having more clarity before free agency than the Bears, who dropped down to No. 9 overall. Rather than spend more time scouting this year's QB class, Poles made good on his January indication the team would need to be wowed by one of this year's prospects to pass on a future with Fields.
Poles has been open about the Texans being included in a three-team deal that would have allowed the Bears to drop from No. 1 to No. 2 to No. 9. The Raiders and Cardinals were also connected to interest in the top pick, but the Texans and Panthers emerged as the only serious buyers. Once Houston showed trepidation, Carolina and Chicago cut out the middle man and made a direct swap. Poles brought up Brian Burns and Derrick Brown, but the Panthers preferred to hang onto their rookie-contract D-linemen. The Bears GM had spoken to Chicago Blackhawks GM Kyle Davidson for advice on how to construct a high-profile trade involving picks and players, and the NFL GM moved to Moore, who became a mandatory piece once the Panthers took Burns and Brown off the table.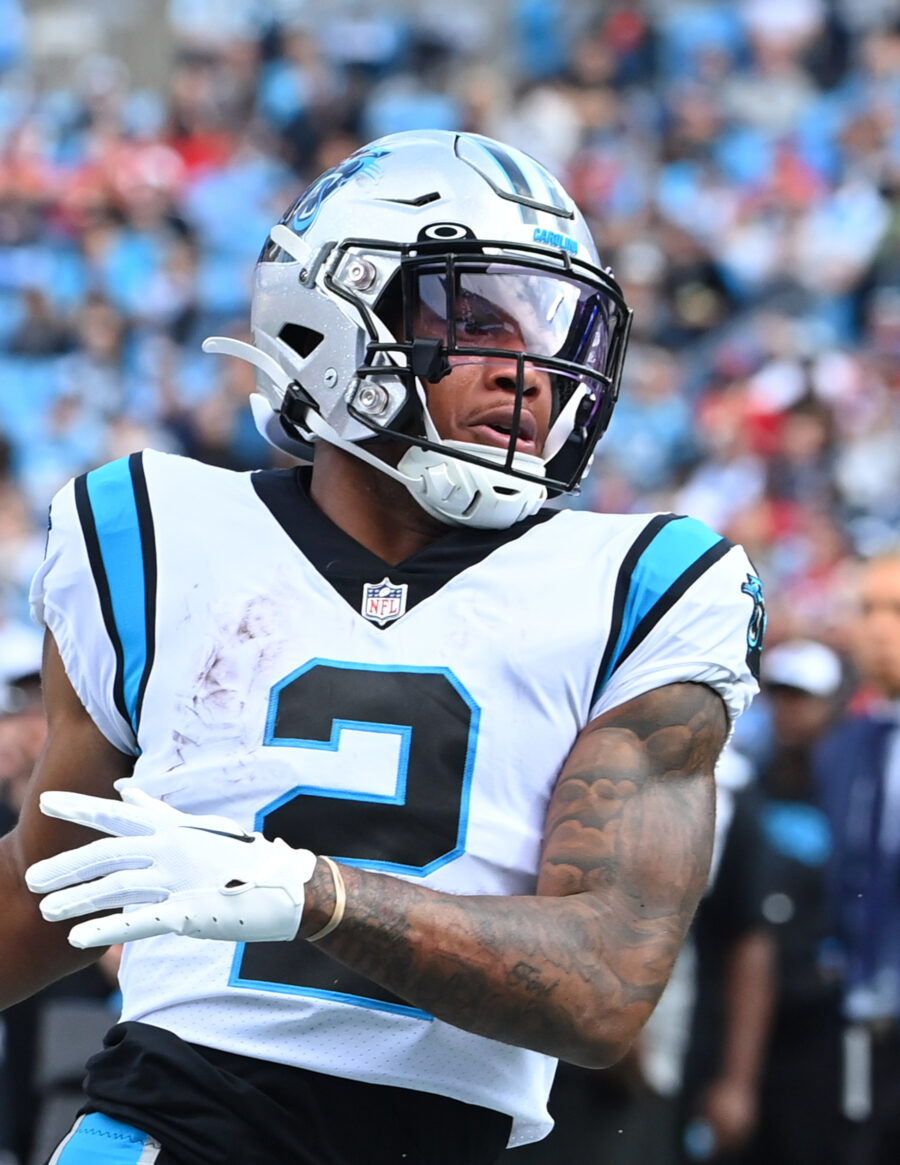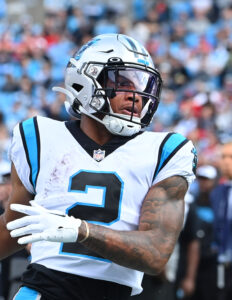 In exchange for allowing the Panthers to retain their No. 38 overall pick this year, the Bears pried two second-rounders — No. 61 this year and a 2025 choice — from the NFC South club. That should be a win for Chicago, which now has Moore signed through 2025. The Panthers gave Moore a three-year, $61.88MM extension hours before the receiver market ignited — via Davante Adams' $28MM-per-year Raiders deal — in March 2022, but after Matt Rhule's October 2022 firing, sharks circled. Carolina only moved Christian McCaffrey and Chosen Anderson before the trade deadline, rebuffing a big Rams Burns offer and holding onto Moore, Brown and other young pieces. Saving Moore for this Bears trade proved prudent, but it also stripped the Panthers of their longtime No. 1 wideout.
The Bears benefited from the 2022 contract timing, with Moore tied to $16.1MM cap numbers in 2024 and '25, and the cap space they carried into the offseason. Rather than attempt to provide Fields weaponry in a modest free agent class, the Bears traded for Moore and Chase Claypool. The latter swap has not panned out, but Moore has a much better track record. The 2018 first-round pick posted three straight 1,000-yard seasons despite Carolina running into annual QB trouble once Cam Newton's injuries accelerated a steep decline. Kyle Allen, Teddy Bridgewater and Sam Darnold represented the Panthers' primary passers during that period (2019-21). As of now, it is not known if Moore will need to prepare for more of the same with Fields or if he will be an A.J. Brown-like piece that catalyzes a passer's ascent.
While the Bears have been able to acquire receiving talent over the past decade, each WR1-caliber cog turned out to be a short-term fix. Brandon Marshall was with the team for three years, with one of them — 2012 — establishing a franchise single-season yardage record. Tandem partner Alshon Jeffery spent five years in the Windy City, thanks to a 2016 franchise tag. Allen Robinson carried otherwise-deficient Bears passing attacks from 2018-20, showing notable slippage while with Fields in '21. Granted, Robinson's 2022 Rams form pointed to a decline rather than Fields tanking his stock. In Moore, 26, the Bears will hope they have a long-term piece.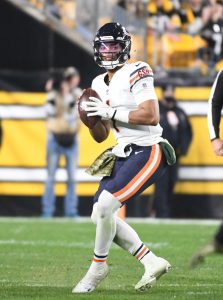 Chicago is banking on the quarterback at the helm of a 3-14 team to show significant improvement, and subsequent offseason moves equipped him with offensive line upgrades. For Fields' historic rushing season (1,143 yards) last year — one that could have ended with the Ohio State alum eclipsing Lamar Jackson's QB record had the Bears not held him out in Week 18 — he has not shown too much as a passer. The Bears' 22.2 pass attempts per game ranked last in the league in 2022, and Fields completed just 60.4% of his throws. The two-year Buckeyes starter also took a league-high 55 sacks.
This season will better determine if Fields was held back by a bottom-tier supporting cast or if the college star will bring genuine long-term concerns ahead of the Bears' fifth-year option call. This trade certainly points to the Bears exercising Fields' option, and potential Jalen Hurts-like strides would make 2024 extension territory for a Bears franchise that has struggled to develop homegrown QB talent for much of its existence.
Fields flopping would move Poles, Matt Eberflus and OC Luke Getsy onto shakier ground, and Young's Carolina performance will obviously be tied to the Bears' Fields path. For now, the Bears have a cost-controlled QB, more support around him and draft capital to accumulate more talent in 2024 and '25.
Free agency additions:
Eberflus was in Indianapolis when Shaquille Leonard signed a then-record off-ball linebacker contract. It cost nearly that much for the Bears to add Edmunds, who is now tied to an $18MM-per-year deal (fourth among ILBs) and $41.8MM fully guaranteed (third at the position). While Edmunds is going into his sixth season, he is somehow just 25. The Bears are entrusting Edmunds less than a year after trading away Roquan Smith, who sought a top-market contract (and eventually received it from the Ravens).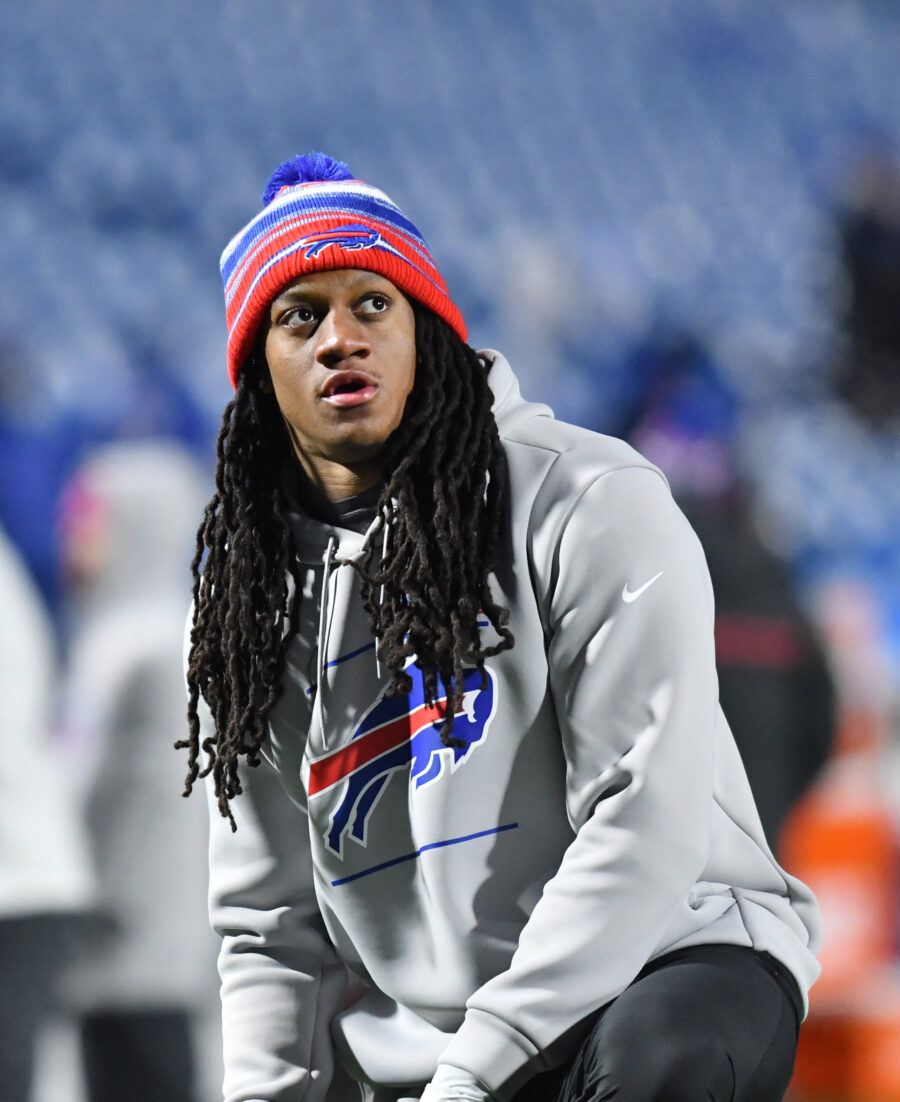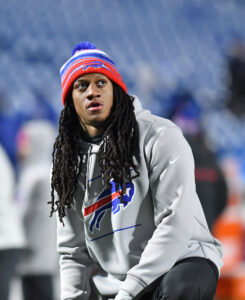 The Bears deemed Smith unworthy of this type of contract but authorized it for another 2018 first-rounder. Edmunds put together five seasons with at least 102 tackles, finishing that run despite missing four games last year. The Virginia Tech product's four absences last season are not indicative of his durability; Edmunds missed just four games over his first four seasons. He earned Pro Bowl acclaim in 2020 and finished as Pro Football Focus' No. 5 overall linebacker last season, improving in coverage. He served as a key piece in the Bills' climb.
Edmunds has not produced on the Leonard level, despite the Bears giving him $8MM more guaranteed, and he will be expected to be more consistent in Chicago. But the Bears not backloading the deal would allow them an easy 2025 escape from this big-ticket agreement.
The non-Edmunds market topped out at $10MM AAV (the Giants' Bobby Okereke deal), while no other team ventured past $7MM per season for the other ILBs on the market. The Bears also struck early with Edwards, agreeing to terms with the multiyear Eagles contributor on a team-friendly accord that doubled as the legal tampering period's first 2023 commitment. A northern Illinois native, Edwards rose from UDFA to three-down player in Philly. The 27-year-old defender finished with a monster contract year: 159 tackles (10 for loss), two sacks and seven passes defensed. The Eagles gave Edwards by far their most linebacker snaps last season (1,041).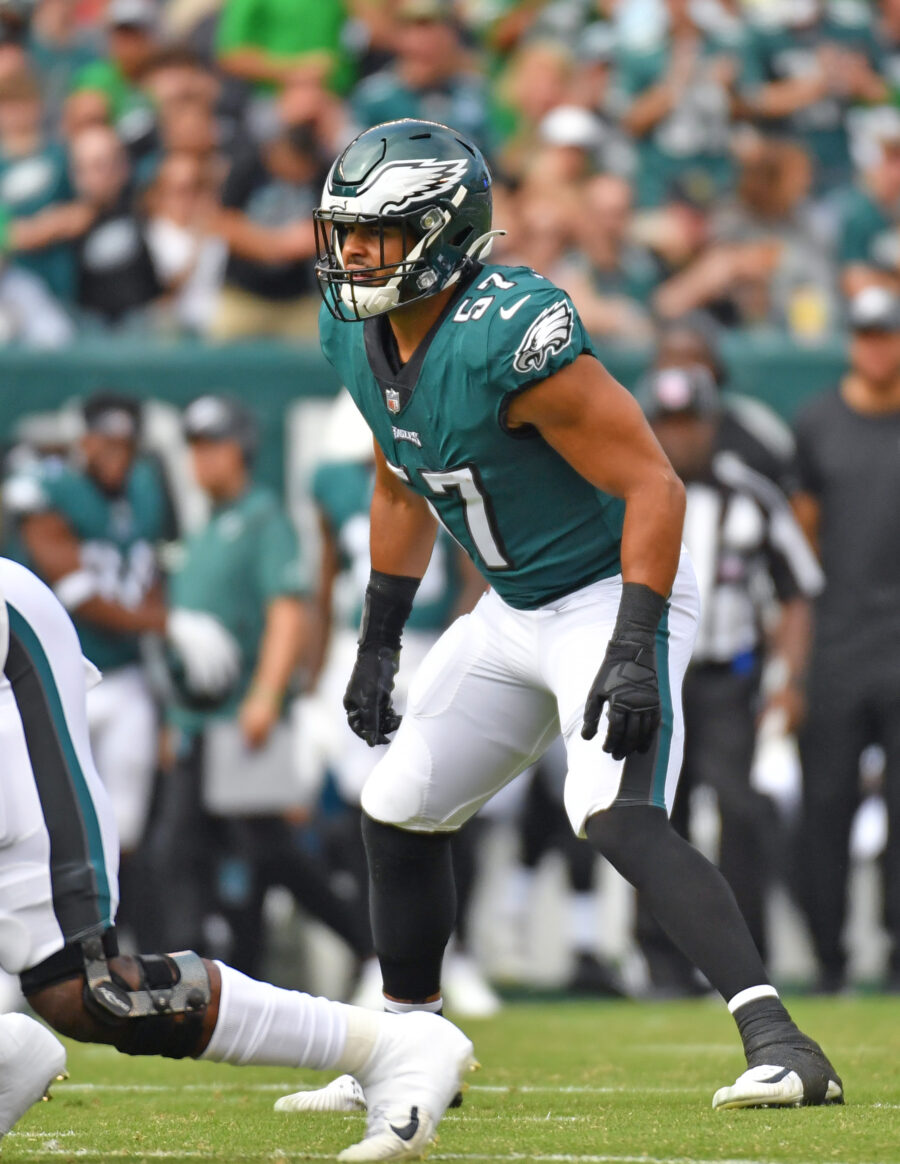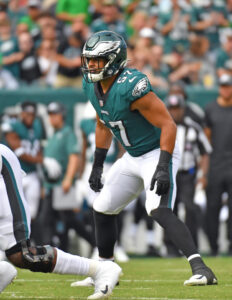 It only took $6.5MM per year to land Edwards, and this contract effectively set the market for this crowded third tier of sorts at inside linebacker. But the two LB pledges on Day 1 of the tampering period illustrated the Bears' interest in a position that, not unlike running back, has fallen far from its prestige peak. An Edmunds-Edwards duo will give Chicago a promising linebacker outlook, marking a major upgrade from the scraps assembled to staff last year defensive second level.
Early-April and early-June rumors depicted Bears interest in bolstering its pass-rushing corps, but going into camp, the team still lacked a proven edge threat. That changed when Ngakoue made the Bears his sixth NFL team, collecting more money than the other veteran edges who had lingered on the market into the summer. Surpassing the likes of Frank Clark, Justin Houston and ex-Bear Leonard Floyd in base value and guarantees, Ngakoue, 28, will be an upgrade for a Bears team that saw its pass rush predictably collapse after the trades of Khalil Mack and Robert Quinn. Poles landed second-, fourth- and sixth-rounders for that pair, but the Bears finished last in 2022 sacks (20). To help remedy the issue, the Bears signed the only player riding a seven-season streak of at least eight sacks.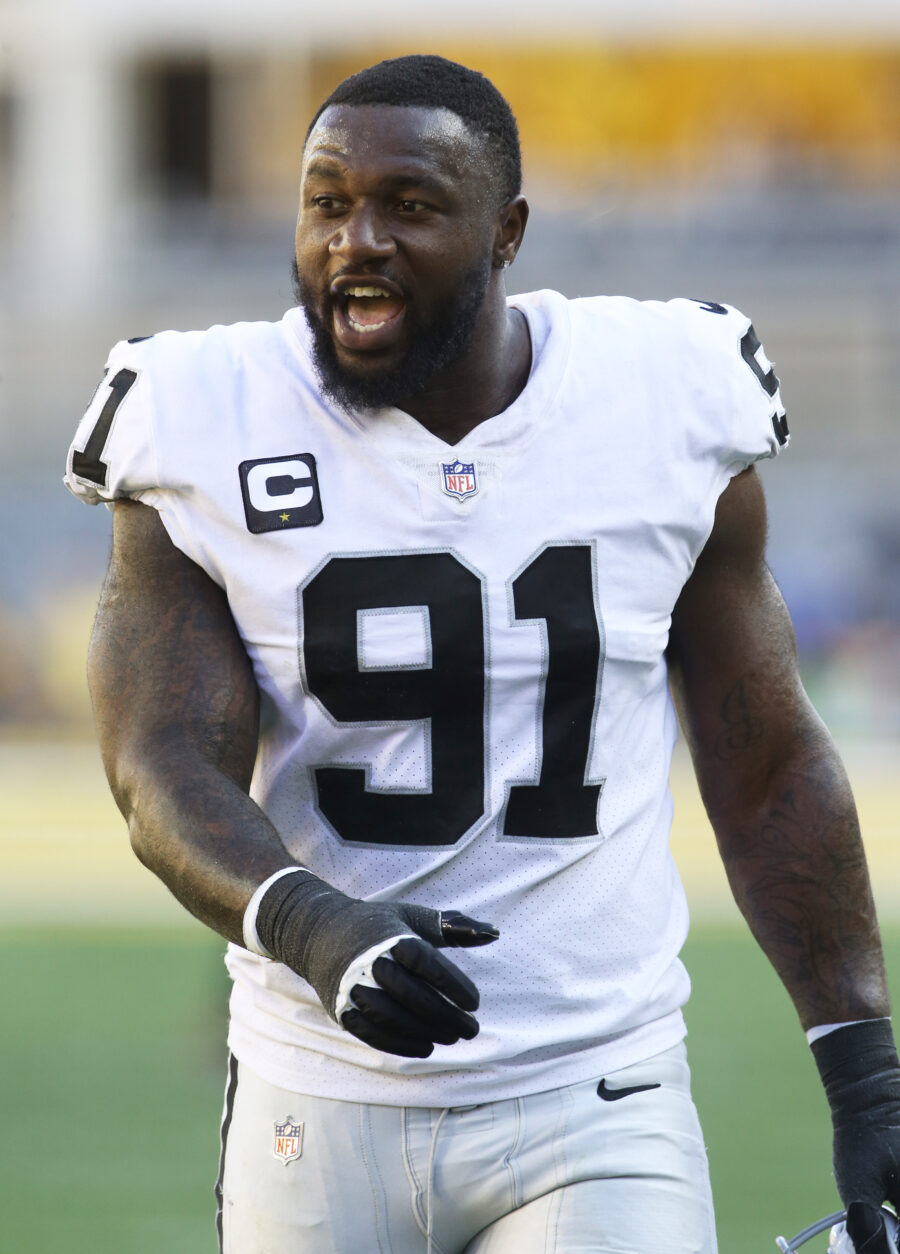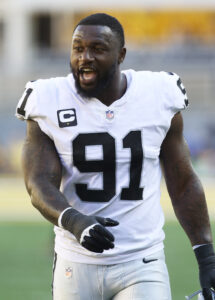 While Houston loomed as a Bears backup plan, Ngakoue will anchor another pass rush. As the Colts crumbled, Ngakoue still totaled 9.5 sacks. With the Raiders in 2021, he racked up 10 to go with 23 QB hits. The Bears also added Walker and Green as supporting rushers, and while Walker offers outside- and inside-rushing ability, the team will count on Ngakoue to keep up his pace.
Walker, 28, is coming off a career-high seven sacks and 16 QB hits — the latter figure more than doubling his career best — with the Titans. This Bears deal marks a turning point for Walker, who washed out of Denver as a second-round pick and played for near-vet-minimum money in Houston and Tennessee. Green has totaled 10 sacks over the past two seasons, with his last year in a 4-3 scheme — with the Seahawks in 2021 — resulting in a career-high 15 QB hits. Pass rush will likely be a top 2024 need, but this group features better pieces compared to how Chicago's post-Mack outfit looked at this time last year.
Not all of Fields' 55 sacks taken were on the Bears' O-line, but they made a clear effort to repair some of the damage. Davis came in first, securing eight-figure-per-year money after four seasons as a Titans starter. Davis was in place for each of Derrick Henry's rushing titles, and as the line dealt with steady tackle issues — from Taylor Lewan's knee trouble to its post-Jack Conklin RT staffing concerns — Davis was a constant during the team's 2021 surge to the AFC's top seed. PFF rated Davis as the No. 14 run-blocking guard from 2020-22, though ESPN's pass block win rate charged him with an alarming eight sacks allowed last season.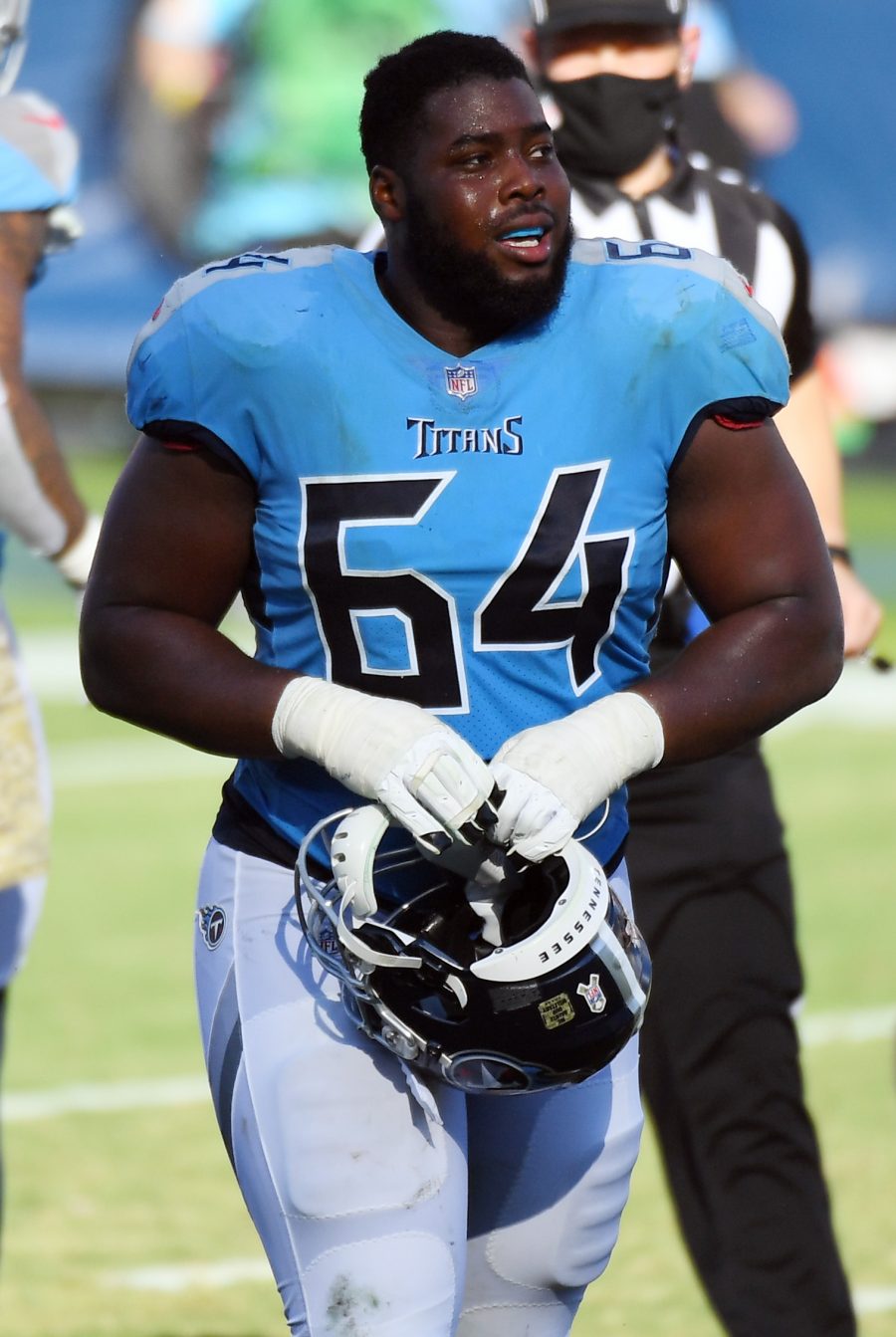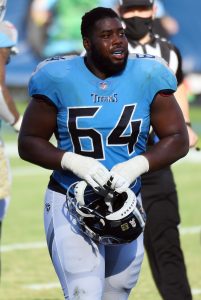 The Bears pursued both Mike McGlinchey and Isaac Seumalo, whose Eagles tenure overlapped with assistant GM Ian Cunningham's. They decided on Davis at guard and let the Broncos win the McGlinchey sweepstakes, which required a top-six RT AAV ($17.5MM) and a practical guarantee north of $50MM. More changes are coming up front for Chicago, which is moving converted tackle Teven Jenkins once again — from right guard to left guard, to accommodate Davis — and shifting Cody Whitehair back to center. The Bears' longest-tenured offensive starter, Whitehair had moved to guard in 2019 to accommodate James Daniels. But the 31-year-old blocker spent his first three NFL seasons at center.
Davis' presence helped Foreman effectively replace Henry, a low-cost Titans effort that provided some groundwork for a vicious running back offseason. Despite replacing both Henry and McCaffrey effectively over the past two years, Foreman, 27, could only score a $2MM deal. The bruising ex-third-rounder finished with a career-best 914 rushing yards (4.5 per tote) in 2022, getting there despite playing a minimal role before the CMC trade. Though, Foreman contributed next to nothing in the passing game with the Titans or Panthers.
Holding a three-man competition between Foreman, Khalil Herbert and fourth-round rookie Roschon Johnson, the Bears will likely form a timeshare. Albeit in an injury-limited season, Herbert averaged 5.7 yards per carry and offers a speedier option compared to Foreman. While the Bears have not used Herbert in the passing game much either, he looks to be the early clubhouse leader.
Getsy reunited with both Tonyan and Lewis, giving the Bears one of the league's deepest tight end contingents. Joining starter Cole Kmet, the ex-Packers offer differing skillsets. Lewis, 39, has been one of the NFL's best blocking tight ends for some time. He will be blazing a new trail for tight ends, being set to become the first 18th-year player at the position. The longtime Jaguar-turned-Matt LaFleur-era Packer only missed one game while with Green Bay; he will be in position to boost Chicago's ground game.
Tonyan, 29, recovered from the ACL tear that derailed his 2021 contract year, but he did not show the form he flashed in 2020. Failing to match his lofty (and unsustainable) 11 touchdowns from the '20 slate, Tonyan did play in all 17 Packers games last season. Now two years removed from the knee injury, Tonyan should be in better form with the Bears.
Re-signings:
Notable losses:
In a merry-go-round among NFC running backs, the Bears tried to prevent Montgomery from landing elsewhere. As free agency's first week progressed, the RB market stood frozen — a harbinger of what loomed at the position — before Montgomery helped break the ice. Although Poles said the Bears made an offer to retain Montgomery, he ended up with the Lions on a three-year, $18MM pact. This led Jamaal Williams to the Saints (three years, $12MM). The Lions had attempted to re-sign last year's rushing TDs leader as well. As the Panthers gave Miles Sanders the largest guarantee in this year's RB class, Foreman became available as a Montgomery consolation prize.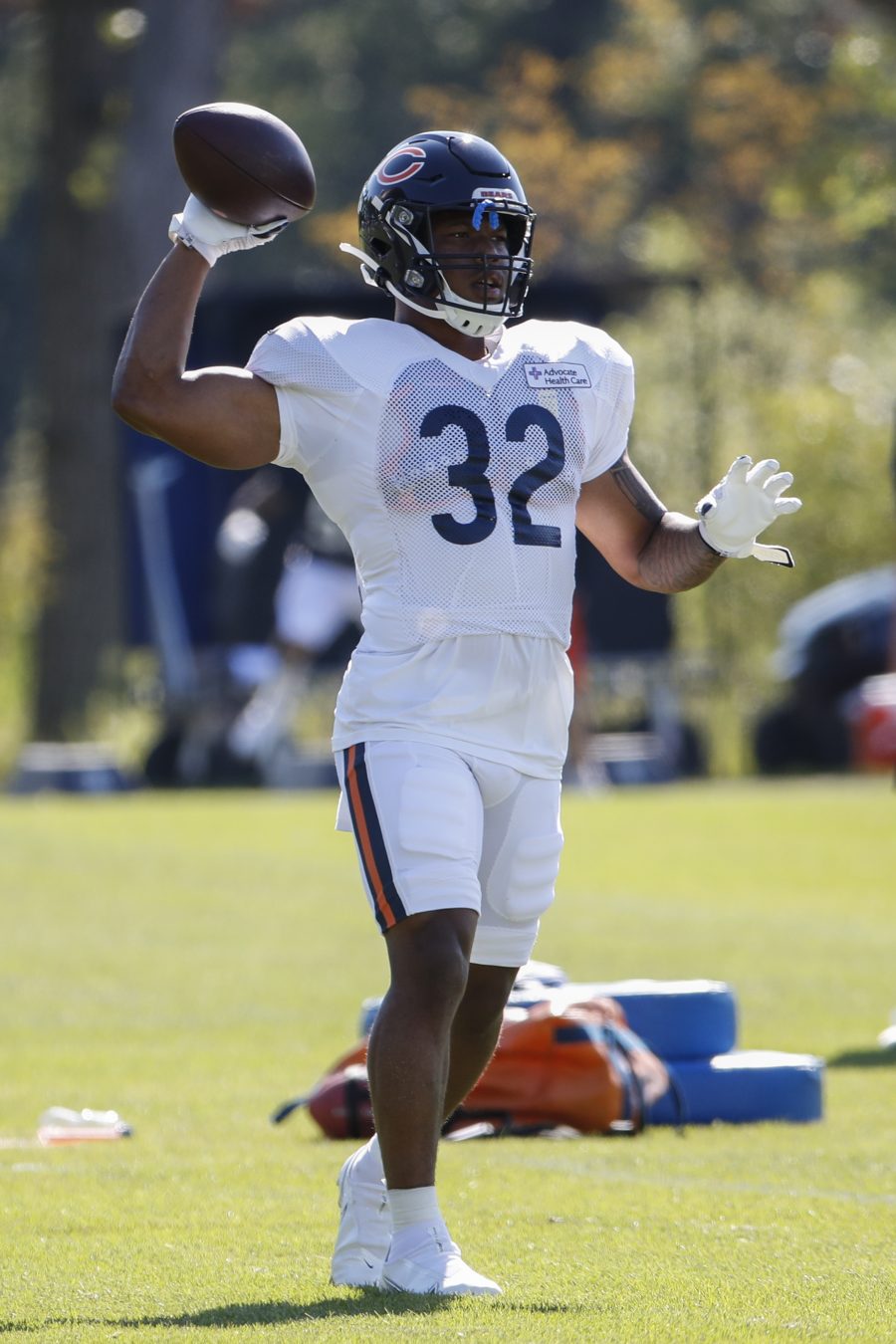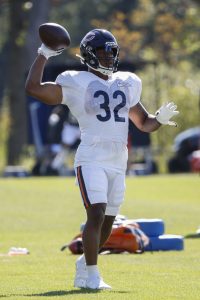 The Bears' offer did not include any post-2023 guarantees, while Montgomery's Lions deal contained $3MM guaranteed next year. Montgomery offered workmanlike production during his Bears rookie contract, surpassing 800 rushing yards each season and eclipsing 400 through the air in 2020. Next Gen Stats' rushing yards over expected metric placed Foreman (122) well ahead of Montgomery (minus-53) last season. Considering the Foreman signing cost the Bears a fraction of what it took for the Lions to add Montgomery, Poles' club may have been right to stand down.
Rejoining ex-Panthers teammates Foreman and Moore, Walker started seven games with Carolina, which went 4-3 in those contests from 2020-22. Perhaps Moore's most memorable play — the would-be game-winning 62-yard touchdown in Atlanta, were it not for a bizarre Moore personal foul — came on a Walker heave, and the ex-Rhule charge held off Baker Mayfield once the latter recovered from his high ankle sprain last season. Walker, 28, has yet to complete 60% of his passes in an NFL season.
Extensions and restructures: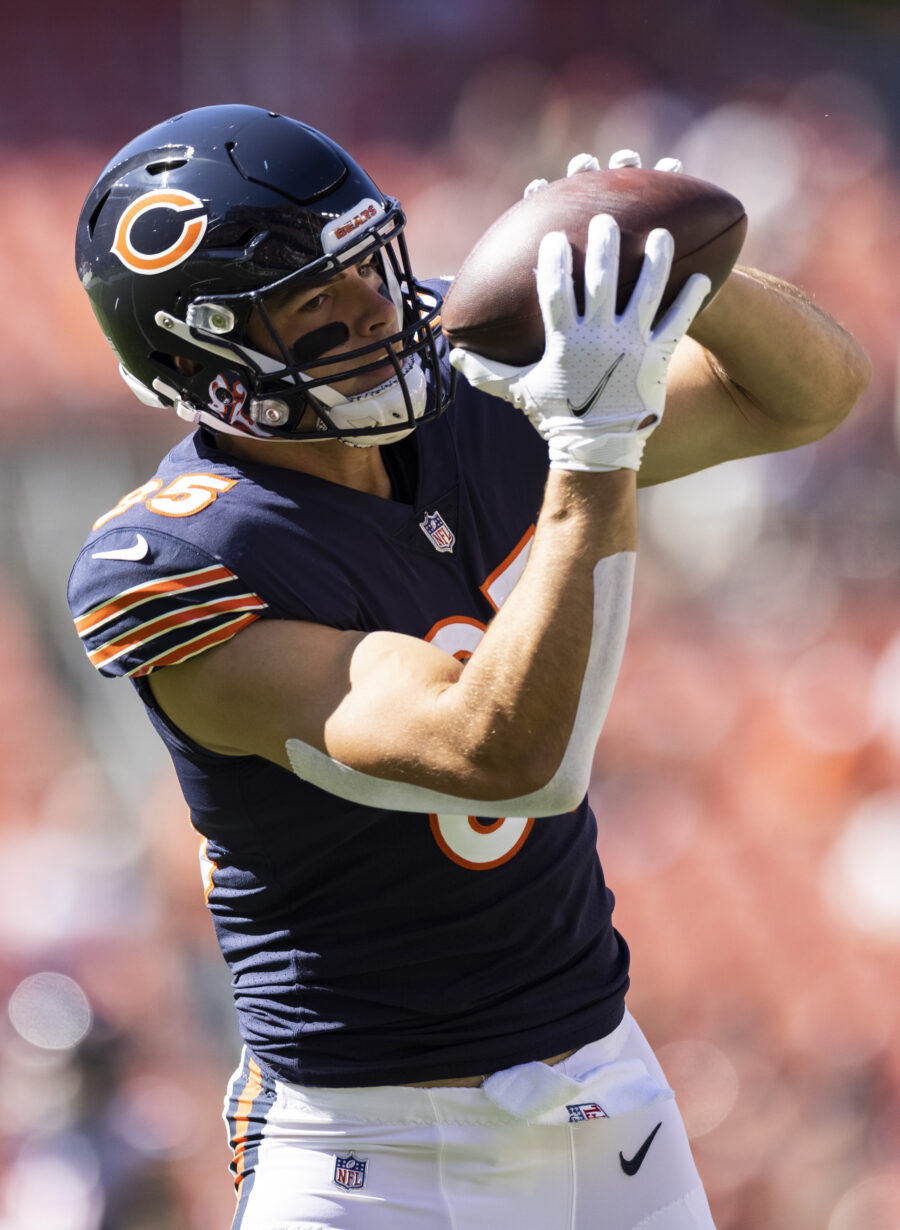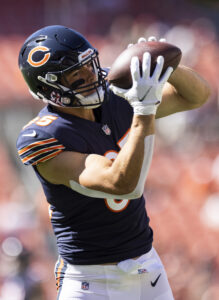 Kmet agreed to a fairly team-friendly extension, one that places him in a tie for ninth in tight end AAV. Kmet's pact matches Hunter Henry's average salary — on a contract agreed to in March 2021 — so the Bears locking down their starter through 2027 at this rate could certainly age well. Kmet is an Illinois native coming off back-to-back seasons with 500-plus receiving yards. As Fields attempts to grow into a franchise QB, the Bears will bet on Kmet helping to take him there.
Chosen with Chicago's first pick in 2020, Kmet took a step forward in 2021 by amassing a career-high 612 receiving yards. After the 6-foot-6 Notre Dame alum totaled no touchdowns that year, he caught seven for an anemic Bears passing attack last season. Kmet, 24, has never missed a game since being taken 43rd overall. While Darnell Mooney and Chase Claypool are going into contract years, the Bears have Moore and Kmet signed long term. It will be interesting to see if Chicago chooses to extend one of its auxiliary wideouts or looks to the draft to restock.
At tight end, Kmet committing long term stands to bring a new chapter for a Bears team that has needed to make a few outside hires (Jimmy Graham, Trey Burton, Martellus Bennett) at the position in recent years.
Draft: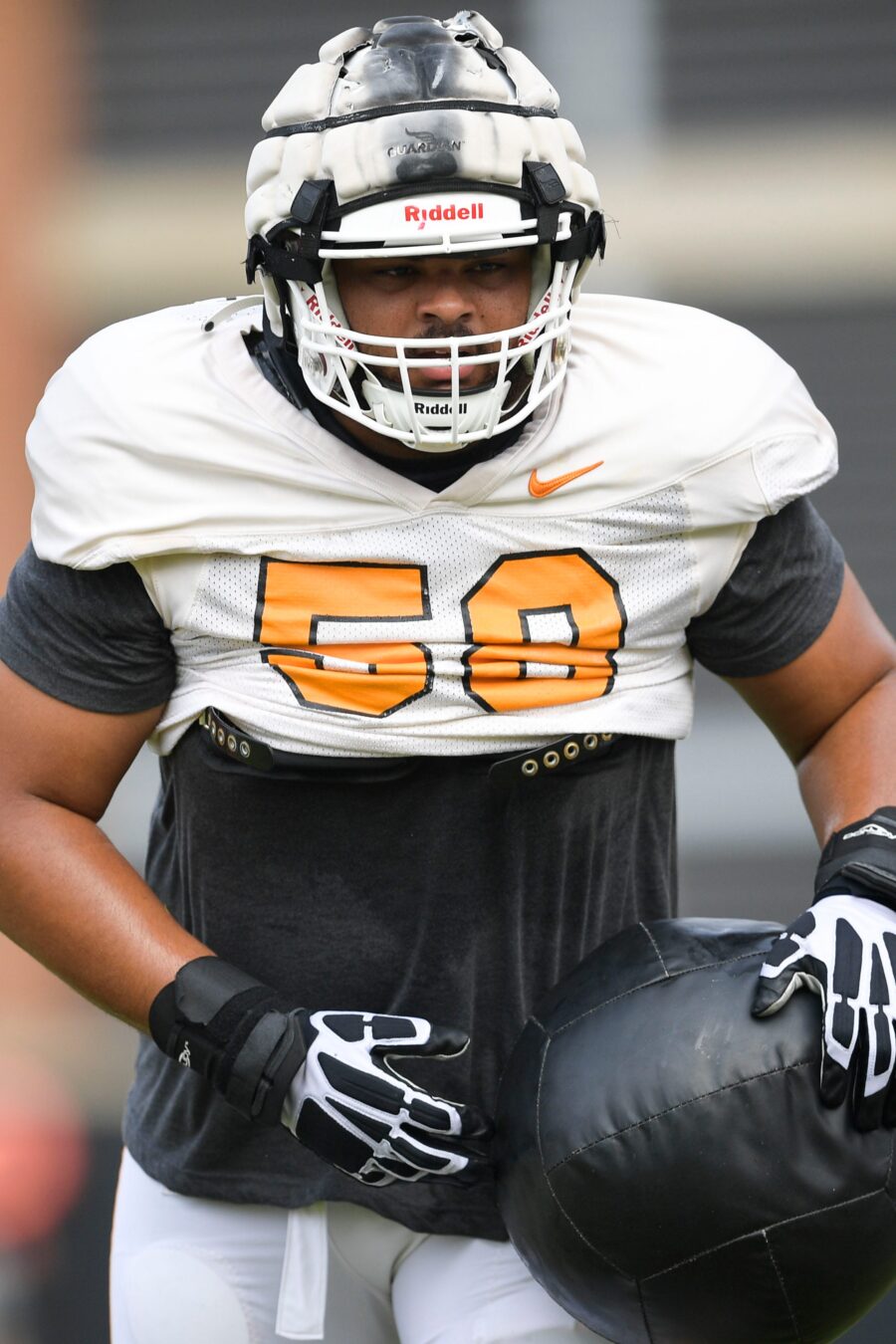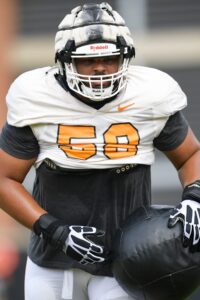 Viewed as a possible floor for Jalen Carter, the Bears indeed hosted the controversial Georgia defensive tackle on a visit. Carter had met with every team picking from Nos. 5-10, but Chicago joined Seattle, Las Vegas and Atlanta in passing on the high-risk/high-reward prospect. The Bears picked up a fourth-round pick to pass on Carter, sending him to the Eagles. They then circled back to their right tackle pursuit, and Wright is weeks away from taking over as a starter.
Wright spent more time on the right side than left while at Tennessee, but be brings considerable experience at both spots. A first-team All-SEC blocker last year, Wright started 40 games in college — 27 at right tackle, 13 at left tackle — and the Bears saw enough to pass on hometown product Peter Skoronski. Whereas the Titans have made the expected choice to relocate Skoronski to guard, Wright — the Volunteers' right tackle in 2020 and '22 — will play alongside Davis and work opposite 2022 rookie success story Braxton Jones.
This represents the Bears' first Round 1 investment in the O-line since they took Kyle Long in 2013. With both Jones and Wright being Poles investments, the Bears have the makings of a long-term tackle duo. This comes after the team has scrambled here for the past two seasons, since severing ties with its long-running Charles Leno–Bobby Massie pair. The Bears used Jason Peters as an emergency left tackle stopgap in 2021 and tried Jenkins at both tackle posts, before determining he worked better as a guard. Riley Reiff ended up Chicago's right-sider to close last season, replacing Larry Borom, who is now in place as the swingman.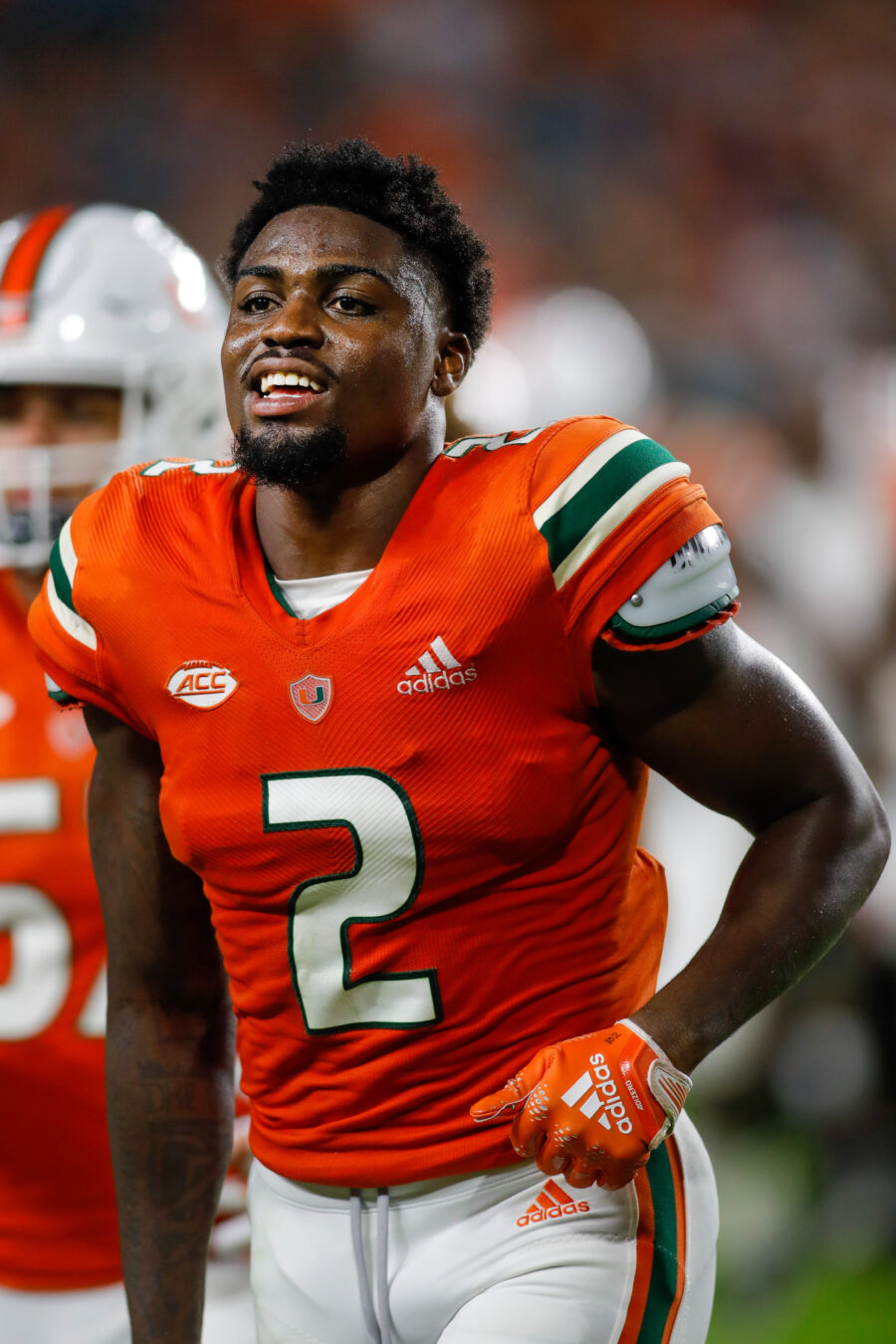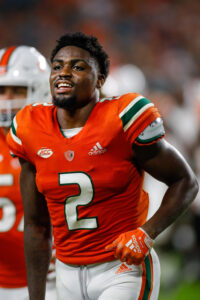 Stevenson is ticketed to start as a rookie, which will give the Bears a cornerback trio featuring three second-rounders — Stevenson, Jaylon Johnson and Kyler Gordon. Johnson arrived during Ryan Pace's GM tenure and looms as an extension candidate, but the Poles staff's cornerback scouting abilities will be judged this year through Gordon and Stevenson's play. Stevenson is set to relocate Gordon to a slot role. A Georgia transfer, Stevenson played primarily on the outside during his final two college seasons. If the Bears extend Johnson, they could have the opportunity for rare continuity at this position — due to Stevenson and Gordon being tied to rookie deals for years.
As of now, Billings and Justin Jones are ahead of the two Day 3 defensive tackles. Neither Pickens nor Dexter were productive pass rushers in college, but the Colts' D-tackle setup reveals the position's importance in Eberflus' scheme. The Colts traded a first-round pick for DeForest Buckner in 2020 and gave Grover Stewart a $10MM-per-year extension later that year. If nothing else, Dexter and Pickens create 2023 depth at the position. With both projected starters on expiring contracts, the Day 2 draftees should be expected to challenge for starting jobs in 2024.
Other:
One of four Eagles execs to become an assistant GM elsewhere in 2022, Cunningham found himself in demand this year. Both the Cardinals and Titans interviewed Poles' chief second. The Titans brought him in for two interviews, while a report indicated the Cards offered Cunningham their GM job (one that ultimately went to Monti Ossenfort). Rather than leave for the desert, Cunningham will stay on this Bears rebuild. It should be expected more teams show interest down the road.
Warren, 59, will fill the role Ted Phillips held for more than 20 years. While Warren is now best known for a tenure as the Big Ten commissioner, he has tours of duty with the Rams, Lions and Vikings. Most notably, Warren spent 15 years in Minnesota. The Bears previously had their GMs report to Phillips, and they are not deviating. Although Warren will run the business side, Poles will report to him. Warren should be expected to have a say in how the Bears proceed with Poles and Eberflus, being positioned as the exec who would play the lead role in shaping the team's next HC-GM combo.
Top 10 cap charges for 2023:
Aaron Rodgers' NFC North exit creates more uncertainty in a division he largely controlled during his 15-year starter run. In addition to the Packers' Jordan Love transition, the Vikings overhauling their defensive staff — after a season in which they finished 13-4 with a negative point differential — puts the Lions in a rare spot as a trendy favorite. Detroit has never won the NFC North, with its last division crown coming when they won the NFC Central in 1993. Las Vegas gives the Bears the longest odds to win this division, but even after their worst regular season since since 1969, they are not viewed as a hopeless underdog.
In what could be a wide-open division in a conference short on muscle, eyes will be on the QB bet Poles made. While recent draftees should generate attention as this Bears regime determines potential pillars, Fields' progress will obviously shape Chicago's season. How Fields and Young's trajectories look coming out of this season will illuminate the second QB fork-in-the-road moment the Bears have faced over the past decade. Young will become one of the biggest what-ifs in Bears history, but if Fields makes a noticeable leap as a passer this season, the Panthers QB's status probably will not haunt the NFC North franchise in the way Patrick Mahomes has.
Follow @PFRumors