Following their run to the Super Bowl in 2021, it came as no surprise that the Bengals were once again a force in the AFC last year. A last-minute loss to the Chiefs in the conference title game ended their season but confirmed Cincinnati's status as one of the league's heavyweights. This offseason saw the franchise begin to face the task of retaining as many core players as possible, something which will become increasingly challenging.
At the top of the priority list sits an extension for quarterback Joe Burrow. After seeing Jalen Hurts, then Lamar Jackson and, most recently, Justin Herbert sign the NFL's largest contracts in succession, a clear market has been set for Burrow. The Bengals have yet to hammer out a monster deal with their franchise signal-caller, but in the midst of negotiations on that front, they have kept much of their nucleus intact while making another investment aimed at better protecting him.
Free agency additions:
In 2022, each of the Bengals' three most lucrative deals given to outside free agents were earmarked for offensive linemen (guard Alex Cappa, tackle La'el Collins and center Ted Karras). That came as no surprise, with Burrow's sacks taken representing a major issue in need of resolution. The new faces up front helped the Bengals finish mid-pack in that respect (44) last year, but the play of left tackle Jonah Williams left enough to be desired that another major investment was deemed necessary.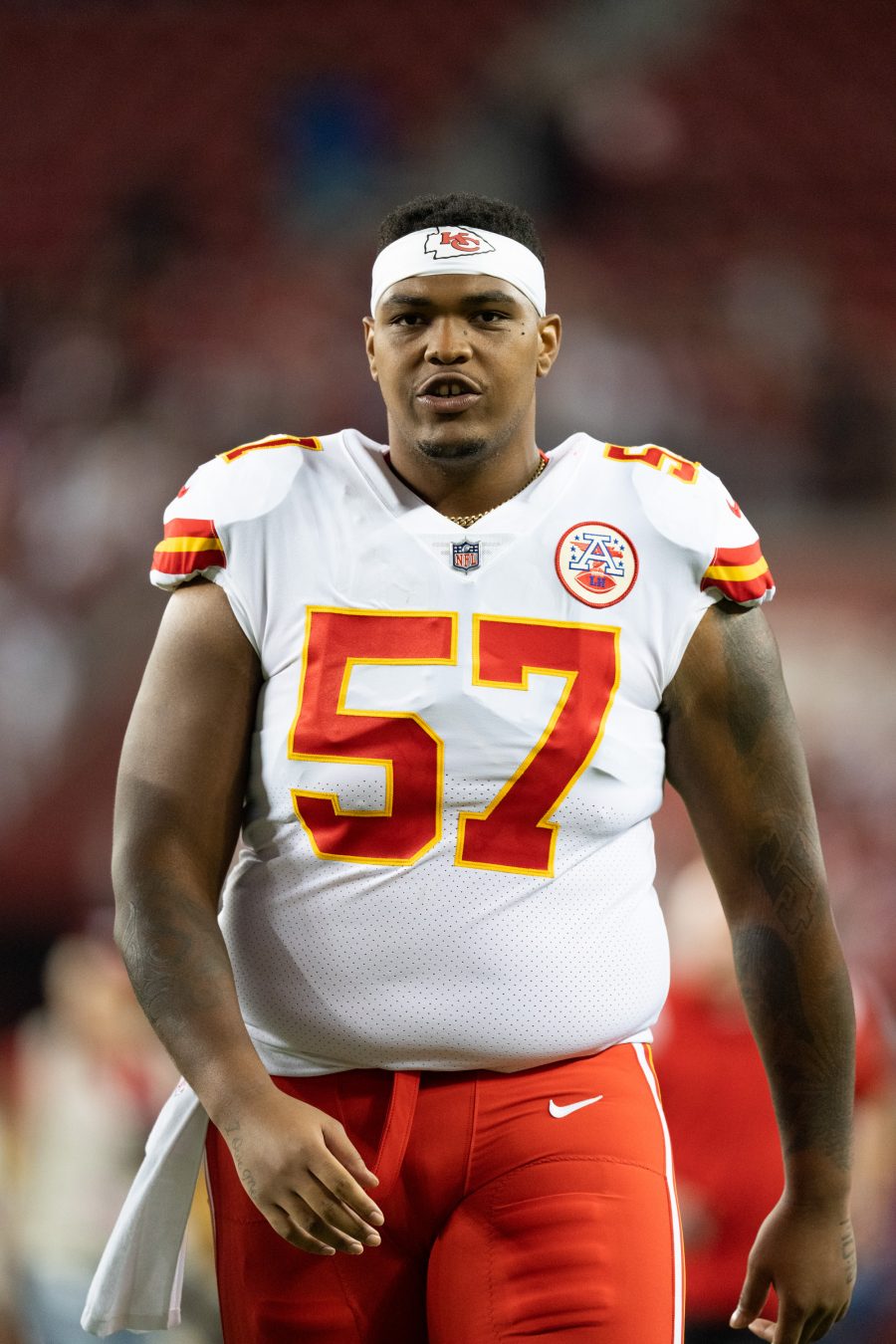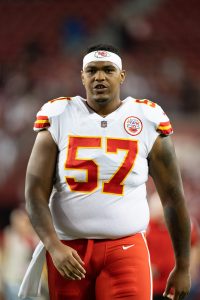 Brown, 27, headlined a free agent class which featured a number of young right tackle options (as he himself once was), but few blindside blockers with his pedigree. The four-time Pro Bowler had a highly successful pair of seasons in Kansas City, continuing to earn solid but unspectacular PFF grades while helping the Chiefs turn their own offensive line renovation into another Super Bowl triumph.
Brown played out the 2022 season on the franchise tag after turning down an extension offer which included a higher AAV and guaranteed money. The Chiefs' 2022 offer was for six years, however. Turning down that pact paved the way for a longer-than-anticipated stay on the open market this year, with Browns' desire to remain a left tackle limiting the degree of interest teams showed in him (although the Jets and Steelers were among those which explored a deal with the Oklahoma product).
Nevertheless, Brown — whom the Chiefs wanted to retain but declined to tag for a second time — will be able to continue blocking for an elite AFC quarterback, as has been the case throughout his career. The former Ravens third-rounder played alongside Jackson before his desire to play LT full time led to his trade to Patrick Mahomes and the Chiefs. If Burrow joins the other signal-callers in winning an NFL MVP award in 2023, Brown will likely have played a significant role in that feat.
The drop-off in guaranteed money from Brown to Scott and the other additions illustrates the degree to which the Bengals have turned their attention to retaining homegrown core contributors. The latter should still be counted on early in his Cincinnati tenure in particular, having proven himself worthy of a starting role during his final Rams campaign. Incremental increases in playing time over his first three seasons in Los Angles were followed up by a major jump in 2022.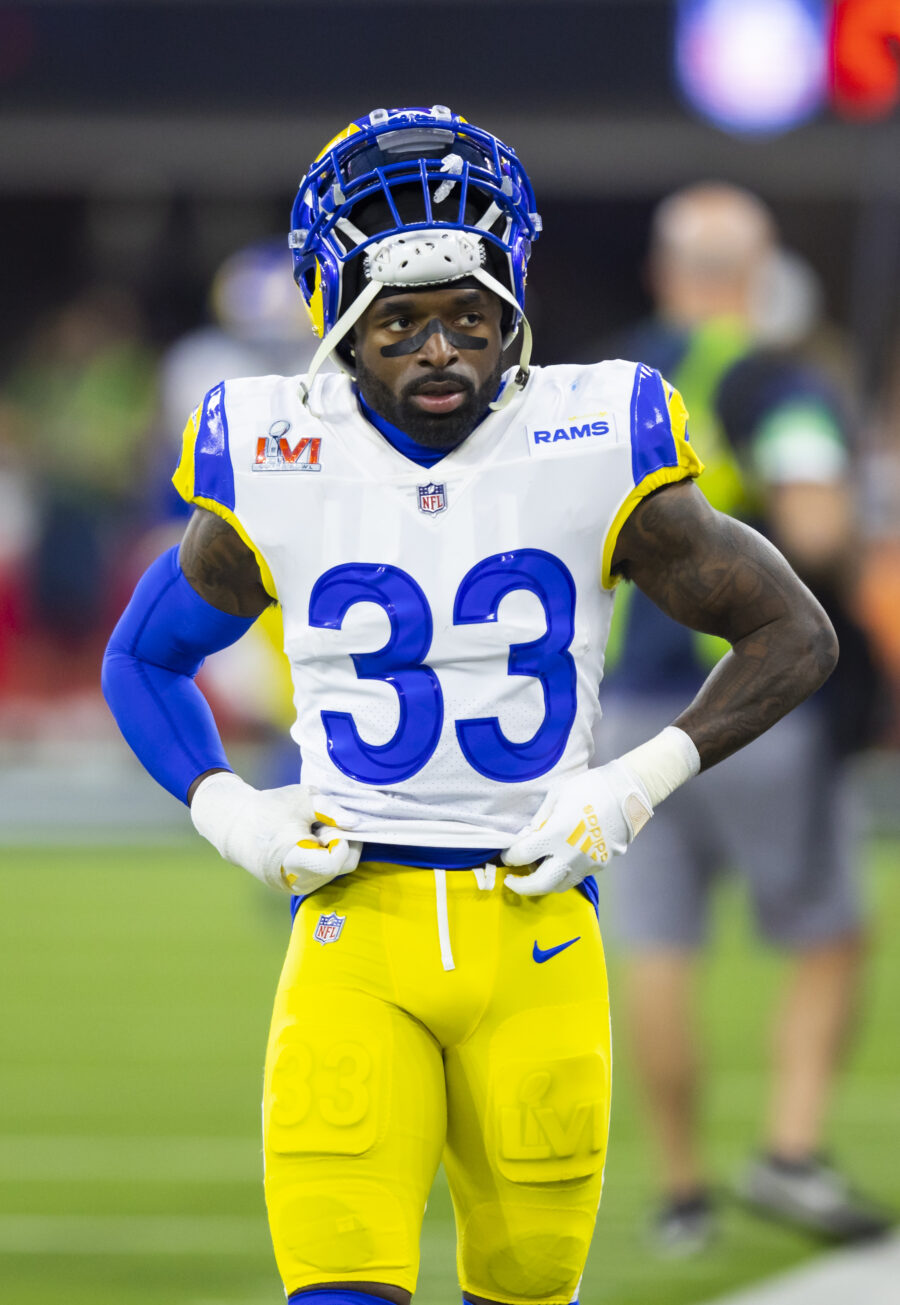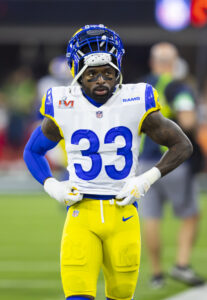 Scott, 28, responded with career-highs across the board, notching a pair of interceptions while excelling in run defense. Weaknesses in coverage were exposed, however, leaving plenty of room for improvement within what should be a strong Cincinnati secondary. The Bengals could move on as early as next offseason given the structure of Scott's deal, providing plenty of motivation to at least repeat last year's statistical success.
The top of Cincinnati's tight end depth chart has once again seen movement, with Smith being brought in as a pass-catching option. Injuries have defined the former second-rounder's career in large part, as he missed the entire 2021 campaign and was limited to only eight contests last year. The flier taken on him by the Bengals could prove to be worthwhile if Smith can deliver on the promise shown when he was on the field in Minnesota. It is fair to wonder, however, where he will sit in the pecking order in a passing offense clearly led by wideouts Ja'Marr Chase, Tee Higgins and Tyler Boyd.
The backup quarterback spot has been up for grabs this offseason for the first time in the Burrow era. Siemian has only made six starts since his Broncos tenure ended in 2018, and he bounced around to five different teams between that point and his arrival in Cincinnati. The 31-year-old has managed to piece together a respectable career after entering the league as a seventh-rounder, but his underwhelming play (along with that of former UDFA Jake Browning) during the summer could very well leave the Bengals in the market for an addition under center before the regular season kicks off.
Re-signings:
Pratt is one of many Day 2 picks who have turned into dependable Bengals starters in recent years. The 27-year-old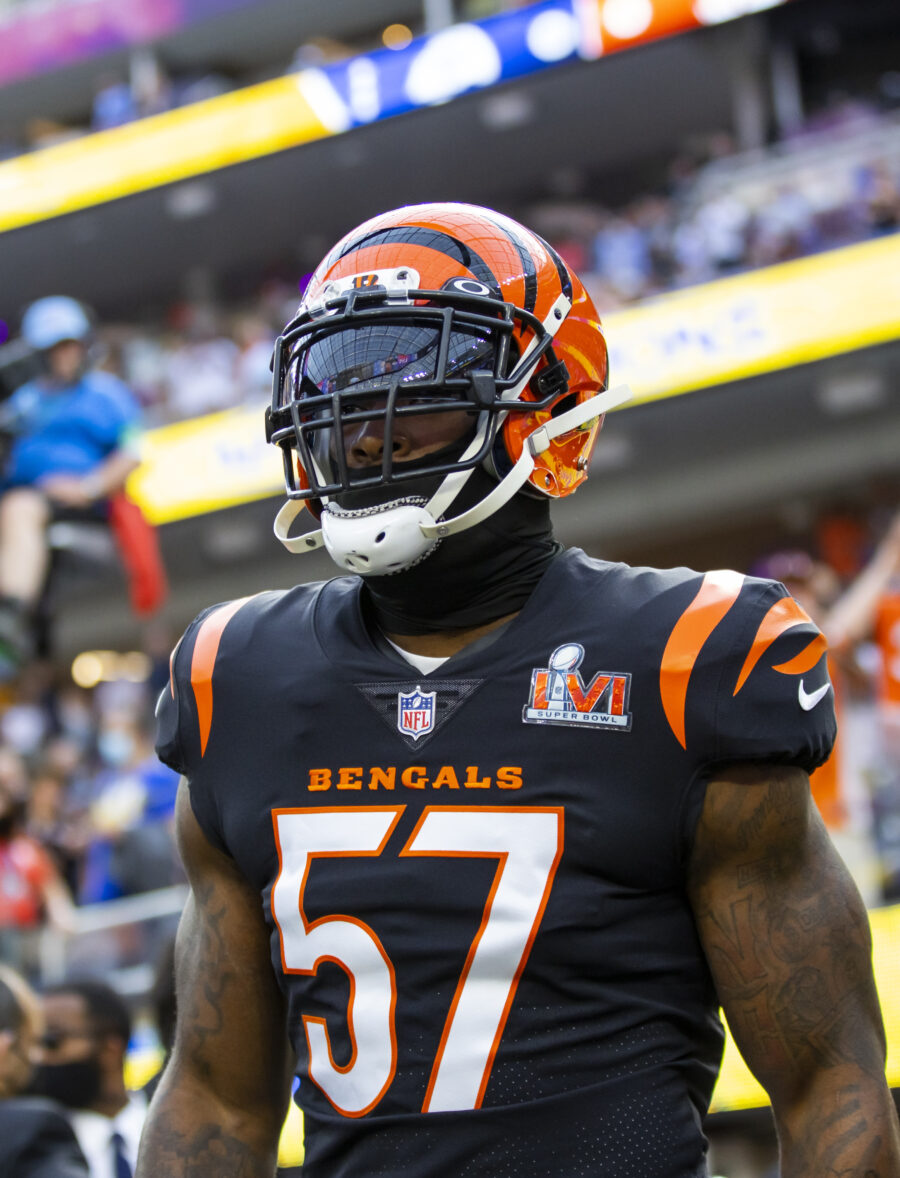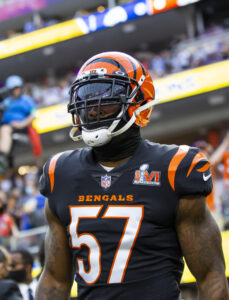 delivered personal bests in tackles (99), sacks (one), interceptions (two) and pass deflections (10) last season. The latter figure demonstrated his strengths in coverage, something which would have set him up well for a deal elsewhere on the open market despite the glut of capable options at the position in 2023.
Instead, the former third-rounder will remain in Cincinnati and reprise his role as an important member of the defense's second level. That unit helped the Bengals rank seventh against the run in 2022, and similar success would not come as a surprise given the retention of several defensive mainstays in the past two years. While Pratt generally receives less acclaim than many other Bengals contributors, his continued presence will be welcomed on a team seeking to retain as many 20-something players as it can.
That goal has resulted in a slew of other low-cost depth deals, including one for Williams. In a year in which the Bengals' backfield future was in doubt for quite some time, the former sixth-rounder appeared to be in line for an increased role in 2023. Williams has yet to score a touchdown during his limited usage, but his 5.5 yards per touch average points to potential in a complementary role. He will once again be able to serve in that capacity, but a deal giving him a larger opportunity down the road will likely need to come from another team.
Notable losses: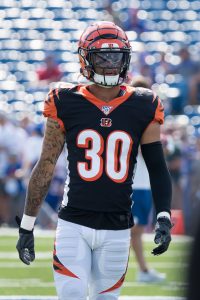 After talks with Bates failed to produce a long-term agreement last offseason, it seemed inevitable that his franchise-tagged 2022 season would be his last in Cincinnati. The former second-rounder rebounded from a comparatively down year in 2021 to deliver a strong regular-season performance (four interceptions, eight pass breakups). A completion percentage allowed of 51.4% as the closest defender in coverage helped confirm Bates' status as not only the top safety in the 2023 free agent class, but one of the best players available at any position.
The 26-year-old represented the largest of several major investments the Falcons made on defense this spring, signing a four-year, $64MM deal. The guaranteed money included in the pact ($36MM) places him second in the league in that regard amongst safeties — a commitment the Bengals were not in position to match with so many other financial priorities to attend to. Plenty will be expected of Bates in Atlanta, a team pegged to take a considerable step forward in 2023, but the presence of 2022 first-rounder Dax Hill as a successor gives the Bengals confidence he will be replaced effectively.
Bell's departure coinciding with that of Bates leaves plenty of responsibility for Hill and Scott as comparatively unproven players. Bell matched Bates' interception total as the pair formed a highly effective tandem and helped the Bengals' defense cope with injuries at the cornerback spot. A healthy Panthers deal helped lure the former to a new team for the third time in his career, and it included $10MM more in guaranteed money than what Cincinnati gave Scott to replace him.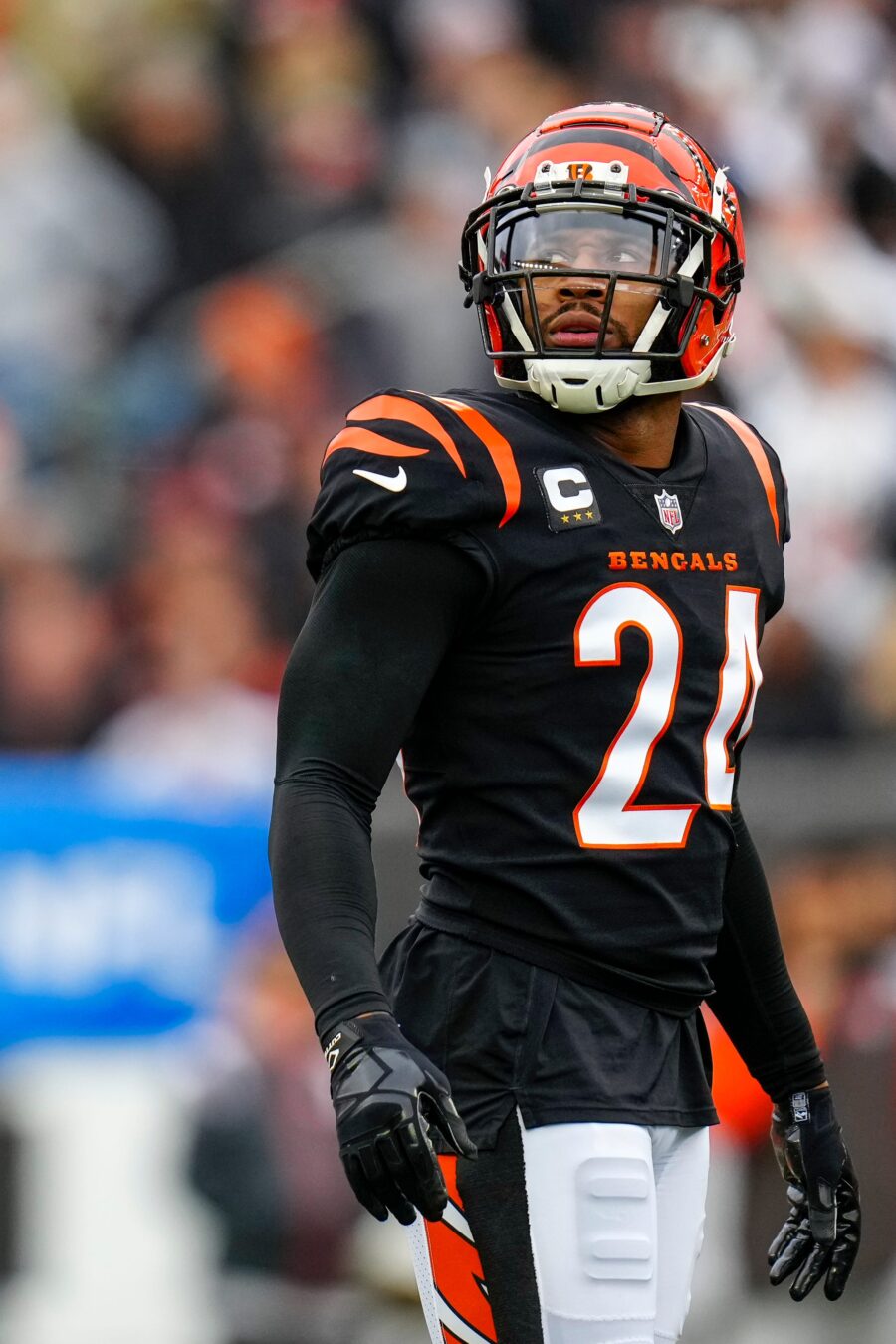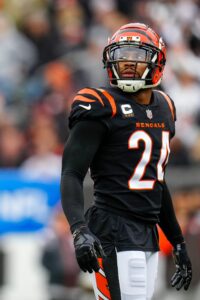 Bates and Bell combined to play just over 6,100 snaps during their time together, leading to reasonable questions about Hill and Scott's ability to replicate their success. If things go according to plan, the Bengals will be well-positioned to remain effective on defense. If not, though, the absence of an experienced and productive duo on the backend will be sorely missed.
Apple needed to wait until late July to find a deal, one which was spurred in large part by outside circumstances. The former first-rounder joined the Dolphins after they learned Jalen Ramsey will miss notable regular-season time due to knee surgery. Apple started all but one of his 38 regular and postseason games in Cincinnati, though, much like the Bates situation, a contingency plan was put into place last April. 2022 second-round pick Cam Taylor-Britt is in place to ascend to a starting role opposite Chidobe Awuzie after filling in as a first-teamer following the latter's ACL tear in his rookie year.
Hurst found a long-term home with his own three-year Panthers contract. The former first-rounder was dealt from Baltimore to Atlanta after two years, as he sought out a full-time starting opportunity. The Falcons' decision to draft Kyle Pitts fourth overall in 2021 interrupted that plan, and led to a one-year Bengals agreement. Hurst, 30, posted his second-highest receiving total in 2022 (414 yards), and he will be counted on as one of many veteran pass catchers brought in by the Panthers.
Huber broke the Bengals' all-time games played record partway through the 2022 season. He did not finish the campaign as the team's punter, however, having been waived in December to make way for Drue Chrisman. The latter and sixth-round rookie Brad Robbins will vie for the role Huber held for nearly 14 straight years, giving the winner of the competition large shoes to fill in 2023 and beyond.
Extensions and restructures:
Long before Mixon's financial situation had been sorted out, it was clear he would not enter 2023 without agreeing to play on a reduced figure. It was in question for much of the offseason if the Pro Bowler would remain with the Bengals at all, given the other contracts the team needed to attend to and the overall landscape of the running back position. A public vote of confidence from head coach Zac Taylor (which was far different that the tone struck by VP of player personnel Duke Tobin and EVP Katie Blackburn) was eventually followed by a resolution.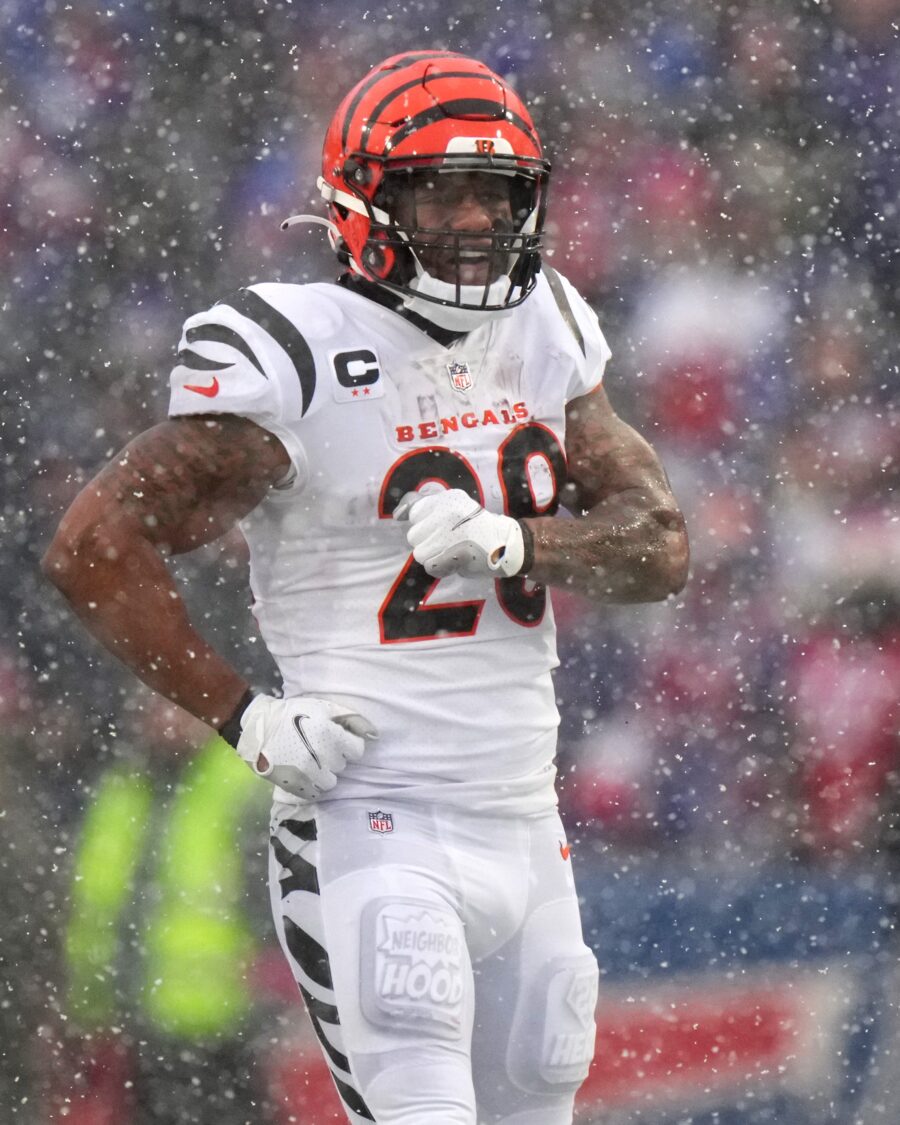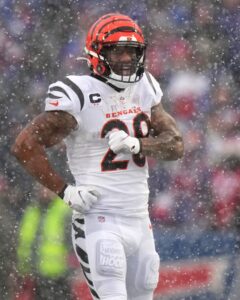 Mixon was originally scheduled to earn $20.5MM between 2023 and '24, the final two years of his existing pact. He remains on the books for the same amount of time as a result of his new agreement, but his salary over that span has dropped by a combined $9MM (although incentives are in place to earn back as much of $4MM of that total). The Bengals could comfortably move on next offseason given the relative lack of dead money ($2.75MM) which would be incurred by doing so.
Entering his age-27 season, Mixon will again have plenty of touches as the team's undisputed lead back, but he will be required to deliver a strong performance to remain in Cincinnati beyond 2023. The Oklahoma product had a career-high 1,519 scrimmage yards and 16 touchdowns in 2021, but his yards-per-carry average dipped below 4.0 for the third time in his career last season. A lack of experienced options behind him on the depth chart has led to the Bengals being connected to a RB addition. The chances of that taking place next spring will jump exponentially if Mixon's production is insufficient to secure a continued future in Cincinnati.
A number of high-profile backs have seen their market take a turn for the worse this offseason. The likes of Dalvin Cook and Ezekiel Elliott were released (and remained free agents through August), while Aaron Jones joined Mixon in taking a notable pay cut to remain in place. Austin Ekeler (as well as Jonathan Taylor, at least for the time being) was unable to generate a trade market conditional on a big-ticket extension, and none of the three franchise tag recipients — Saquon Barkley, Josh Jacobs and Tony Pollard — landed multiyear deals after their respective teams showed varying degrees of interest in offering one. With an aggravated menacing charge dating back to the 2022 postseason now behind him, Mixon will approach the new season with plenty to prove.
Plenty of attention has been paid to the progress of the Burrow talks, but Wilson was frequently mentioned as a logical extension candidate in his own right. Working out a deal well before the final year of the latter's rookie contract was a public priority for the team, so it came as little surprise that it was taken care of more than one month before the start of the regular season. Doing so ensures the Wilson-Pratt tandem will remain in place for the foreseeable future.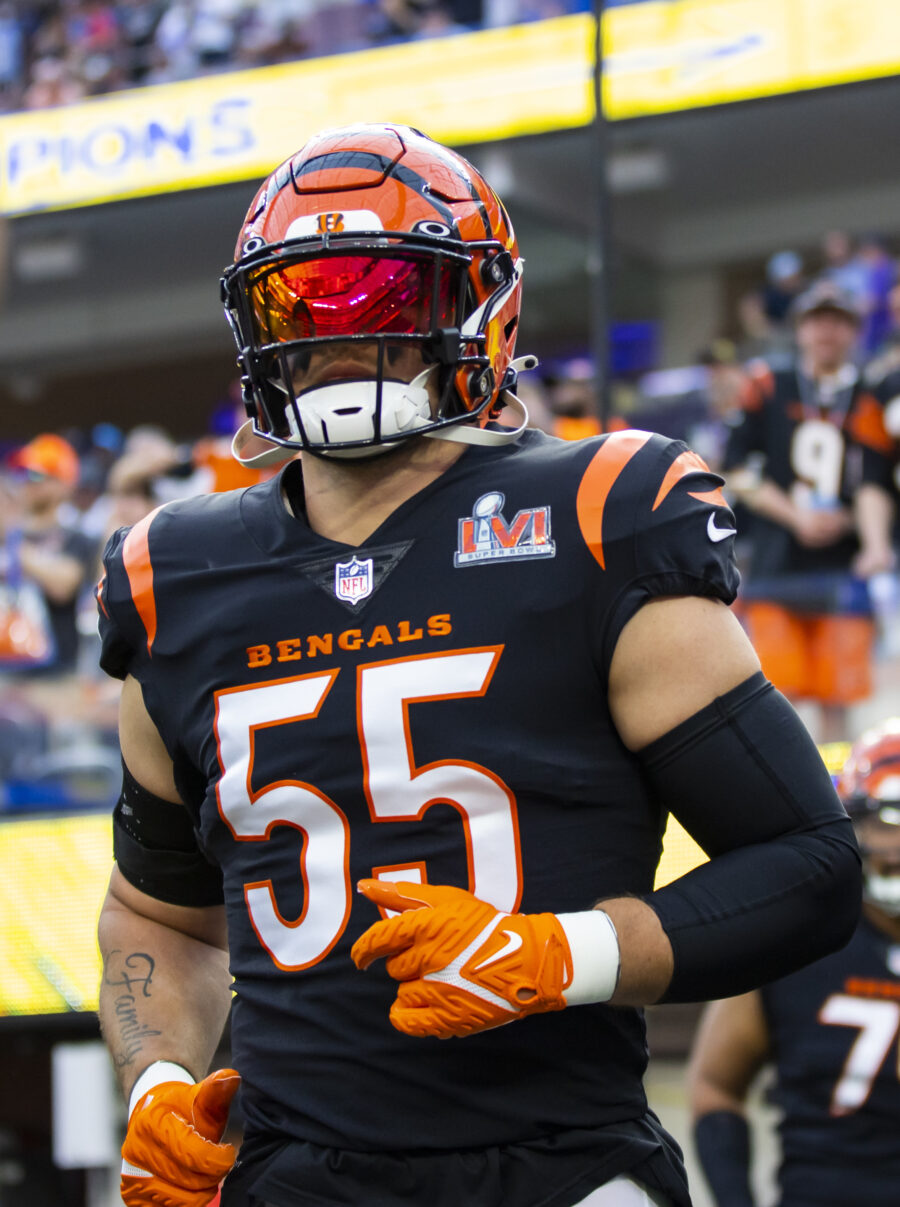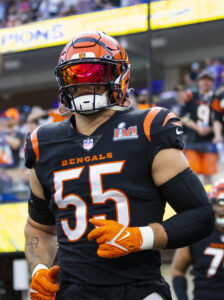 Wilson has been a full-time starter each of the past two years, and his playing time has yielded significant production. The 27-year-old has recorded 223 tackles, 3.5 sacks and five interceptions since 2021, adding another 62 stops in the postseason. A repeat of those numbers can be expected through the life of this contract, so long as Wilson (who has missed 10 games in his career) can avoid any major injuries.
The former third-rounder now sits 12th in the NFL in terms of annual compensation amongst inside linebackers. Combined with Pratt (16th), Wilson could prove to be a cost-effective producer at the second level through the Bengals' championship window. If the team can retain its most important offensive contributors, he will not garner nearly as much attention as the players on that side of the ball, but he will nevertheless be a core member leaned on heavily now and in the future.
As a result of his productive two-year stint with the Bengals, Hendrickson will see a $5MM raise this season compared to what his original four-year, $60MM deal called for. The former Saints third-rounder has collected 22 sacks, 51 quarterback hits and a pair of Pro Bowl nods during his time in Cincinnati. That has made him the focal point of the team's pass rush and a foundational member of its defense, just as he was expected to based on their commitment to him.
Hendrickson, 28, is now on the books through 2025, and while he is not due any guaranteed salary after this season, his cap hits for the final two years ($20.17MM and $18.67MM) could result in further alterations being made. So long as he continues brining down quarterbacks at an elite rate (his sack total from the past two years ranks eighth in the NFL), though, he should be assured of a place in his second NFL home for many years to come.
Draft: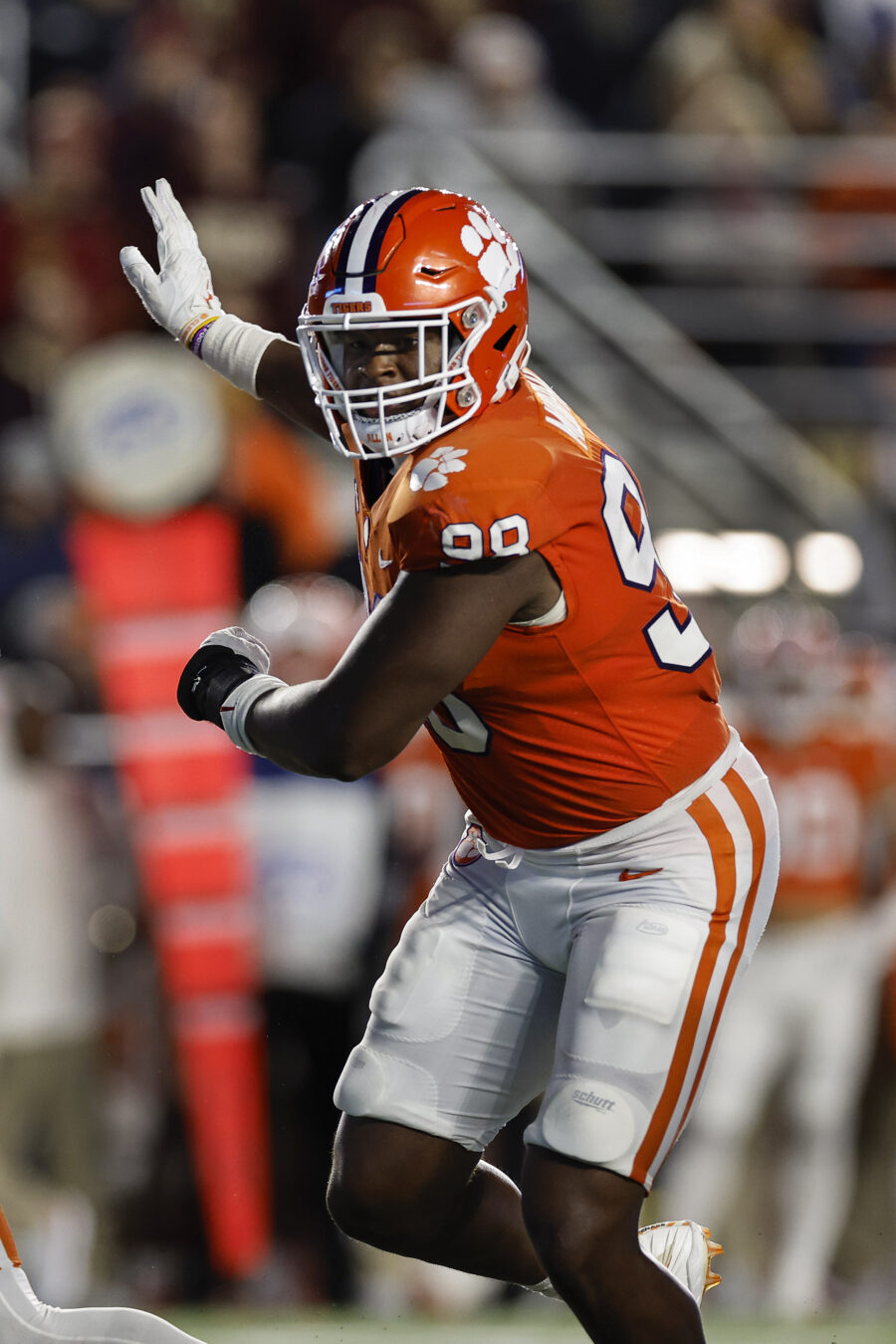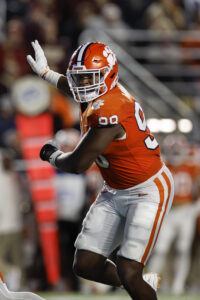 The Bengals sat near the bottom of the league with 30 sacks last year, so in the absence of another big-money investment at the position, the draft was required to add firepower in the pass-rush department. Murphy will be able to help in that regard if he can live up to his draft stock, which was based in large part off his production as a sophomore. That 2021 season saw Murphy rack up eight sacks and 14.5 tackles for loss, totals which led to increased expectations for a strong follow-up campaign.
Like a number of other Clemson defenders, Murphy took a step back in production in his final Tigers season (6.5 sacks, 11 TFLs). The 6-foot-5, 275-pounder was still considered a Day 1 talent based on his size and three-down potential, and he will have at least a rotational role right away. Both Hendrickson and fellow edge starter Sam Hubbard are under contract through 2025, but the latter is set to see his cap hits eclipse the eight-figure mark starting next year. The Bengals would see financial benefits from cutting bait with Hubbard at that time, something which would be easier to contemplate if Murphy plays his way into an expanded role early in his pro career.
Like they did last year, the Bengals looked to Michigan to add a highly regarded defensive back early in the draft.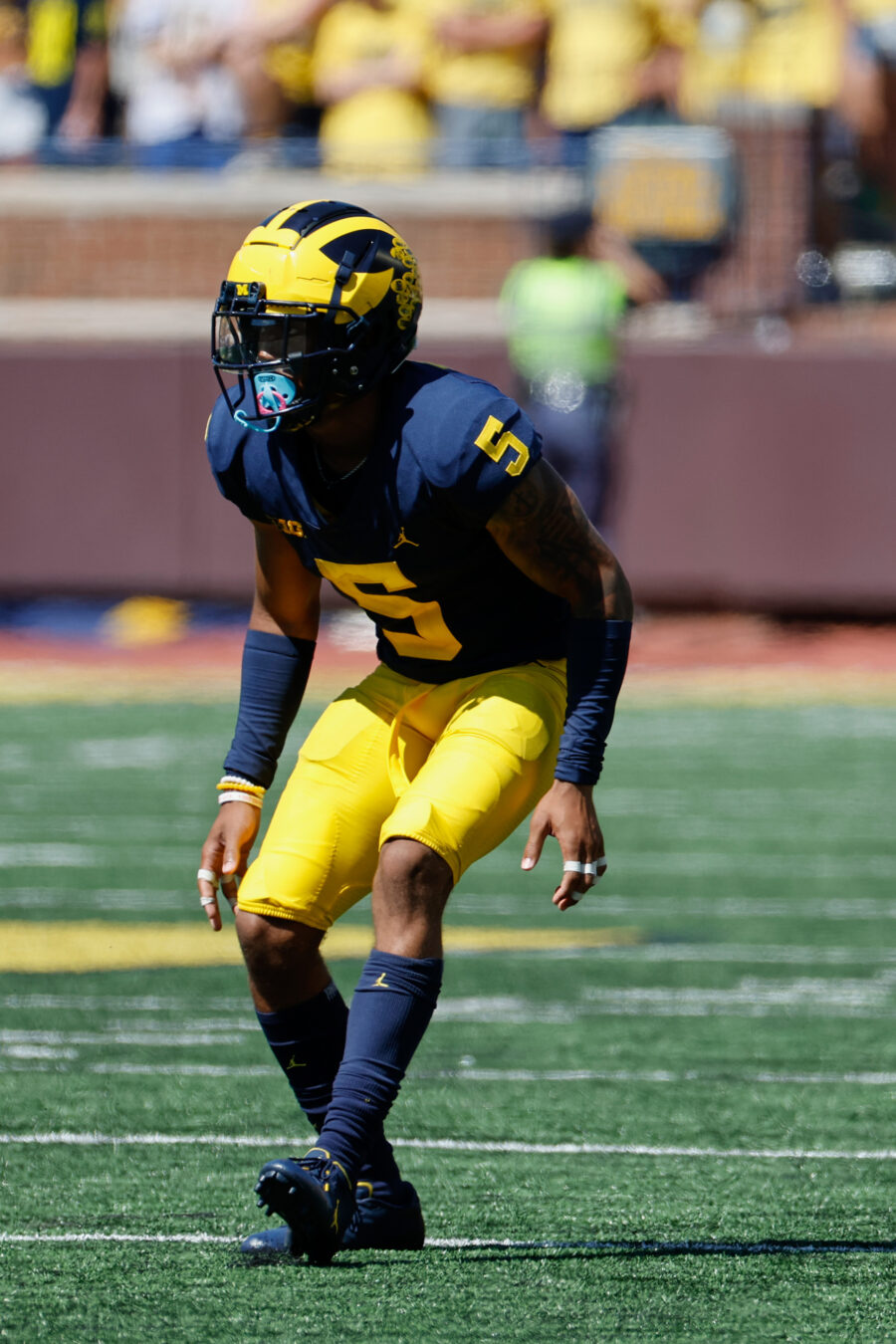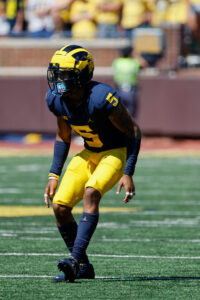 Turner's time with the Wolverines overlapped in part with that of safety Dax Hill; the pair played a large role in the team's success on defense and earned themselves acclaim upon entry to the NFL. Turner only played two years in Ann Arbor, but his three interceptions and 17 pass deflections over that span showcased his ball skills.
The 5-9, 206-pound defender's speed and productivity placed him relatively high in the second tier of corners in 2023's deep class. Turner will find himself behind Cam Taylor-Britt and Chidobe Awuzie on the depth chart for boundary corners, with the latter facing high expectations coming off an ACL tear last year. Still, Turner could find himself competing for defensive snaps relatively quickly in his Bengals tenure as the team continues to depend in large part on young, cost-controlled contributors in the secondary.
Battle had a productive four-year stint in Tuscaloosa, collecting 252 tackles and six interceptions. The starting tandem of Hill and Nick Scott is in place for 2023, but Battle should be able to secure a special teams role as a rookie. Beyond that, the potential out in Scott's deal could pave the way to defensive playing time for Battle as early as next year, though demonstrating an ability to play an every-down role will be difficult for the latter under Lou Anarumo, a defensive coordinator known for not being fond of rotations on the backend.
Other:
Four young QBs were on tap to sign massive second contracts this offseason, and only Burrow has yet to sign his. The terms of Justin Herbert's Chargers deal in particular were thought to be a factor influencing the Burrow negotiations, which began in March. It comes as little surprise that talks have lasted through the summer, when most extensions of this kind are finalized.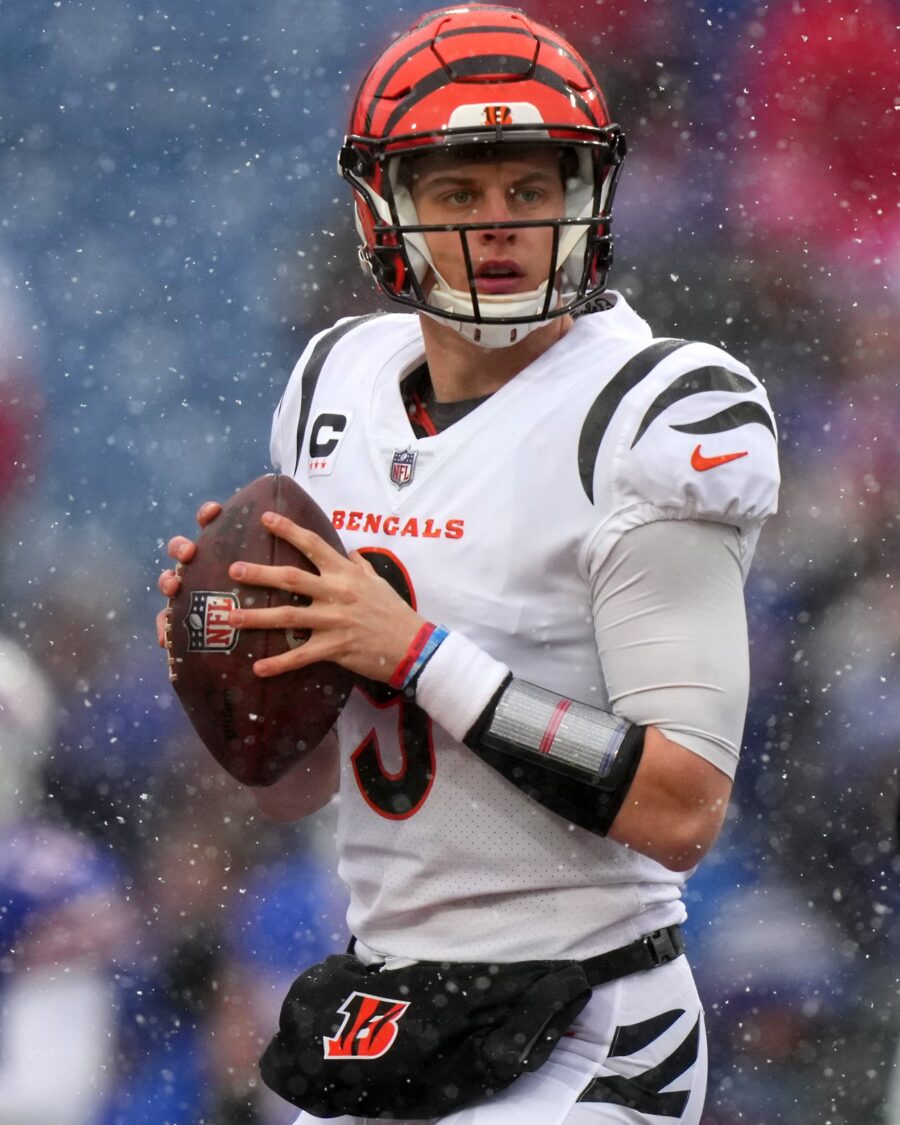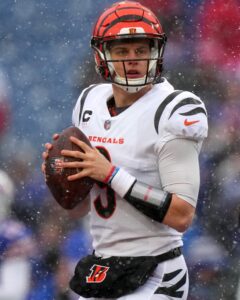 On the other hand, the former No. 1 pick has little, if anything, left to prove to an organization which has been revitalized during his time under center. Burrow's market value should only increase if his strong play continues through another series of jumps in the salary cap ceiling. Each of Herbert, and both Jalen Hurts (Eagles) and Lamar Jackson (Ravens) before him secured at least $51MM per season on average and $110MM in guaranteed money. Burrow — who is taking a hands-on approach during negotiations — should comfortably be able to do the same, in spite of the Bengals' reputation for frugality on the matter of most contract decisions.
Knowing the challenge of keeping the team's nucleus intact for the future, though, Burrow has acknowledged the need to take care of other extension-eligible players as well in the coming years. Fellow LSU alum Ja'Marr Chase is among the players due for a massive raise as early as next offseason. The surging wide receiver market should see Chase become one of the league's highest-paid wideouts, but cost certainty with respect to Burrow would help the Bengals plan out such a commitment.
After his rookie season was cut short by an ACL tear, Burrow has guided Cincinnati to a combined 27-12 regular and postseason record over the past two years. A continuation of that success (even in a highly competitive division and conference) should be expected as long as the 26-year-old remains healthy and on the books at a reasonable rate. Sorting out the latter factor sooner than later would pay dividends for both team and player.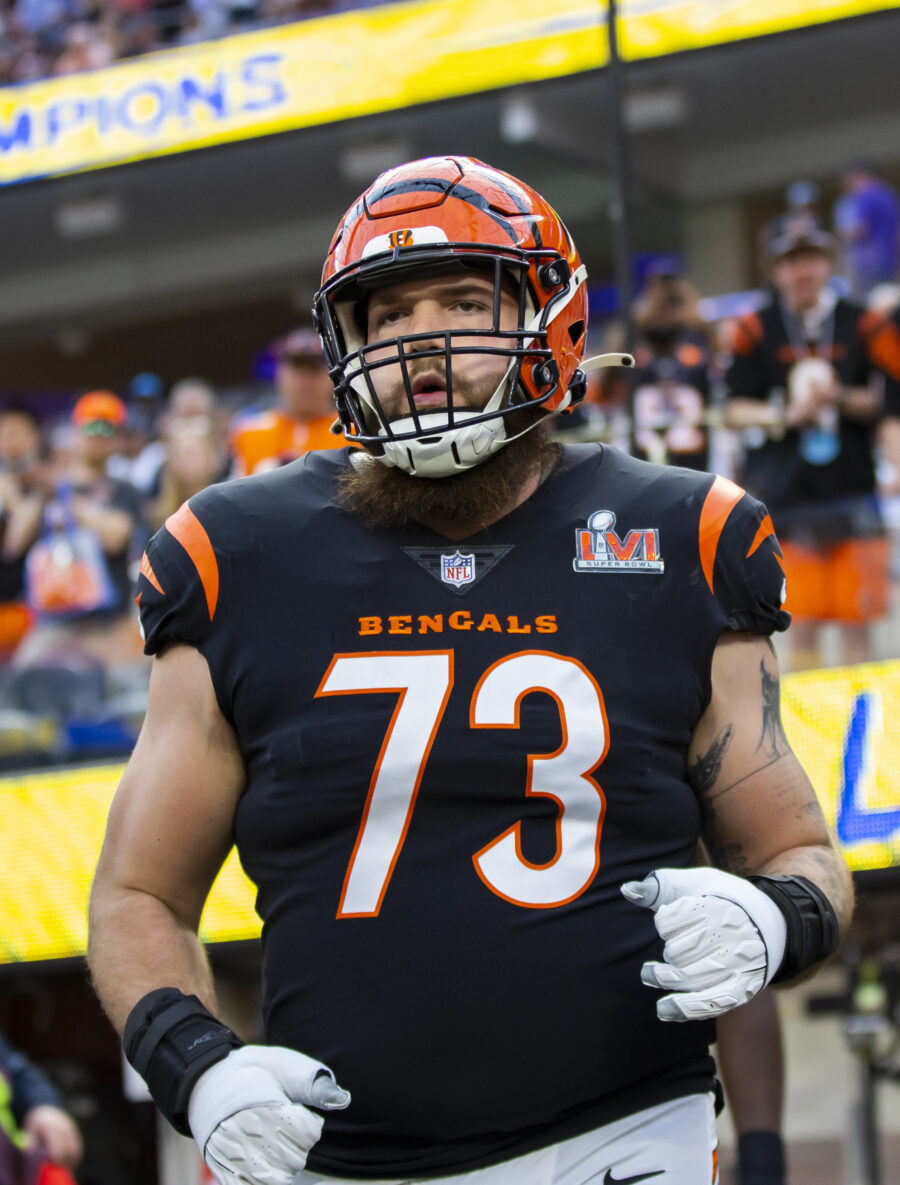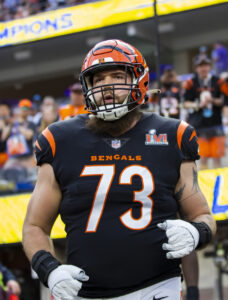 Given the struggles of Williams and right tackle La'el Collins, the Bengals were interested in making another tackle investment in free agency, but a mid-tier commitment was initially planned. Making a major splash with Orlando Brown Jr. caught Williams off guard, and he requested a deal giving him a fresh start and a continued opportunity to start on the blindside. To little surprise, not much of a trade market developed.
The Alabama product is due $12.6MM this season on the fifth-year option, so an acquiring team would have needed to sacrifice draft capital and make a sizable financial commitment for a Williams trade to be viable. The Jaguars lost Jawaan Taylor in free agency, which created a vacancy (before the draft) for a long-term right tackle option. LT Cam Robinson will be suspended to start the year, so Williams could have at least auditioned as a potential successor to the latter down the road.
Instead, he will now devote his full attention to the 2023 campaign, where he is in line to start at right tackle. A strong performance at that position would lead to notable interest on the open market, as evidenced by this year's free agency period. It could also, of course, make Williams another in-house player worthy of a second Bengals contract at a time when committing to several of those will be a tall order.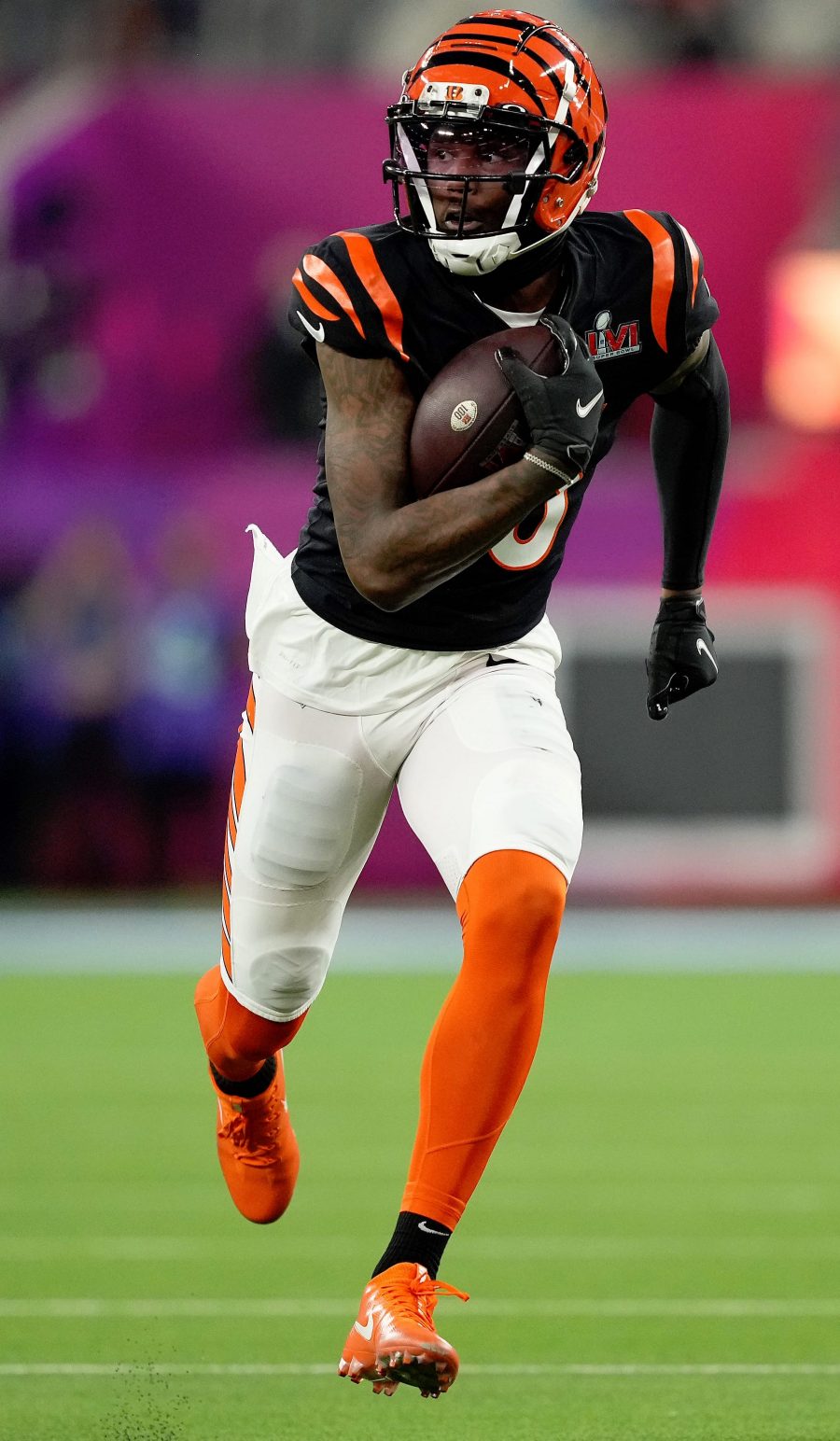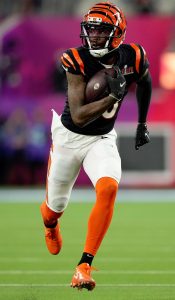 With Burrow and Chase set to eat up much of the Bengals' cap commitments on offense for years to come, many have pointed to Higgins as a contributor in danger of being left behind. Moving the former second-rounder likely would have yielded a notable return even with only one year remaining on his rookie contract, given his capability of serving as a No. 1 receiver on most other teams around the league. Instead, the two-time 1,000-yard producer will spend at least one more year in the Queen City.
Higgins, 24, has expressed a desire to remain with the Bengals on a long-term deal, so a heathy dialogue on an extension should be possible. How the Clemson product fits into the team's cap structure beyond 2023 will increasingly become a talking point once the Burrow deal is finalized. The franchise tag could be an option in Higgins' case; using it would carry a one-year cost of roughly $23MM, which is likely in the range of what a multiyear accord would require.
Both Callahan (39) and Anarumo (57) have been in Cincinnati since 2019, the first year with head coach Zac Taylor at the helm. That trio has enjoyed tremendous success, producing the first instance of back-to-back conference championship game appearances in franchise history. This led some to be surprised the Taylor-Callahan-Anarumo partnership will remain in place for at least one more season. Another strong campaign from both coordinators will no doubt lead to further interest on the head coaching circuit moving forward, but for now they will are well-positioned to build off their respective achievements for 2023.
Top 10 cap charges for 2023:
With a number of core players still on their rookie deals, the Bengals can afford to have a balanced set of commitments across their roster. Things will change starting next year, though, with several players (including Burrow) due for sizable jumps. Reader, Williams and Boyd are entering the final years of their respective deals; any departures amongst that trio would free up space, but the team would then be tasked with identifying lower-cost replacements either in free agency or the draft while retaining other extension-eligible players.
Burrow has publicly stated that the Bengals' championship window is congruent with his playing career. His play to date has suggested that could very well be the case, and 2023 offers another opportunity with several key players and coaches still in the fold to help him lead the franchise to its first ever Super Bowl championship. The team faces a number of challengers to reach what would be a third straight AFC title game, but a healthy campaign under center should have Cincinnati in the thick of things once again come the winter. Things will get trickier once Burrow's second contract is in place, but for the time being, few teams around the league are set up better for short- and long-term success.
Follow @PFRumors