Sticking with their all-in approach around Tom Brady a year too long, the Buccaneers still benefited considerably from their 2020 free agency coup. The franchise added a second Super Bowl title and saw Brady display better form in 2021. Brady's unretirement helped the Bucs stay atop the NFC South, but it took a historically terrible division for that to happen. The Bruce Arians-to-Todd Bowles transition did not go well, and the latter's seat may already be warm.
The Bucs' round of early-2020s restructures — Brady's chief among them — led to cap trouble this year and did not allow for the team to make splashy outside upgrades. As a result, the Bucs are not receiving much attention going into their first post-Brady season.
Free agency additions:
Mayfield will soon take snaps for a fourth team in barely 20 months. The Ravens also discussed terms with Mayfield, though those talks were framed around the former No. 1 overall pick becoming a QB2 upgrade. The Bucs carried an obvious quarterback need following Brady's second retirement, but the $35.1MM void-years bill kept the team out of the Derek Carr and Jimmy Garoppolo markets. While the Bucs also considered Jacoby Brissett, he ended up with the Commanders for twice the money Mayfield scored. With the Bucs mandating a low-cost veteran, the former No. 1 overall pick has what likely profiles as a last chance to prove himself as a starter.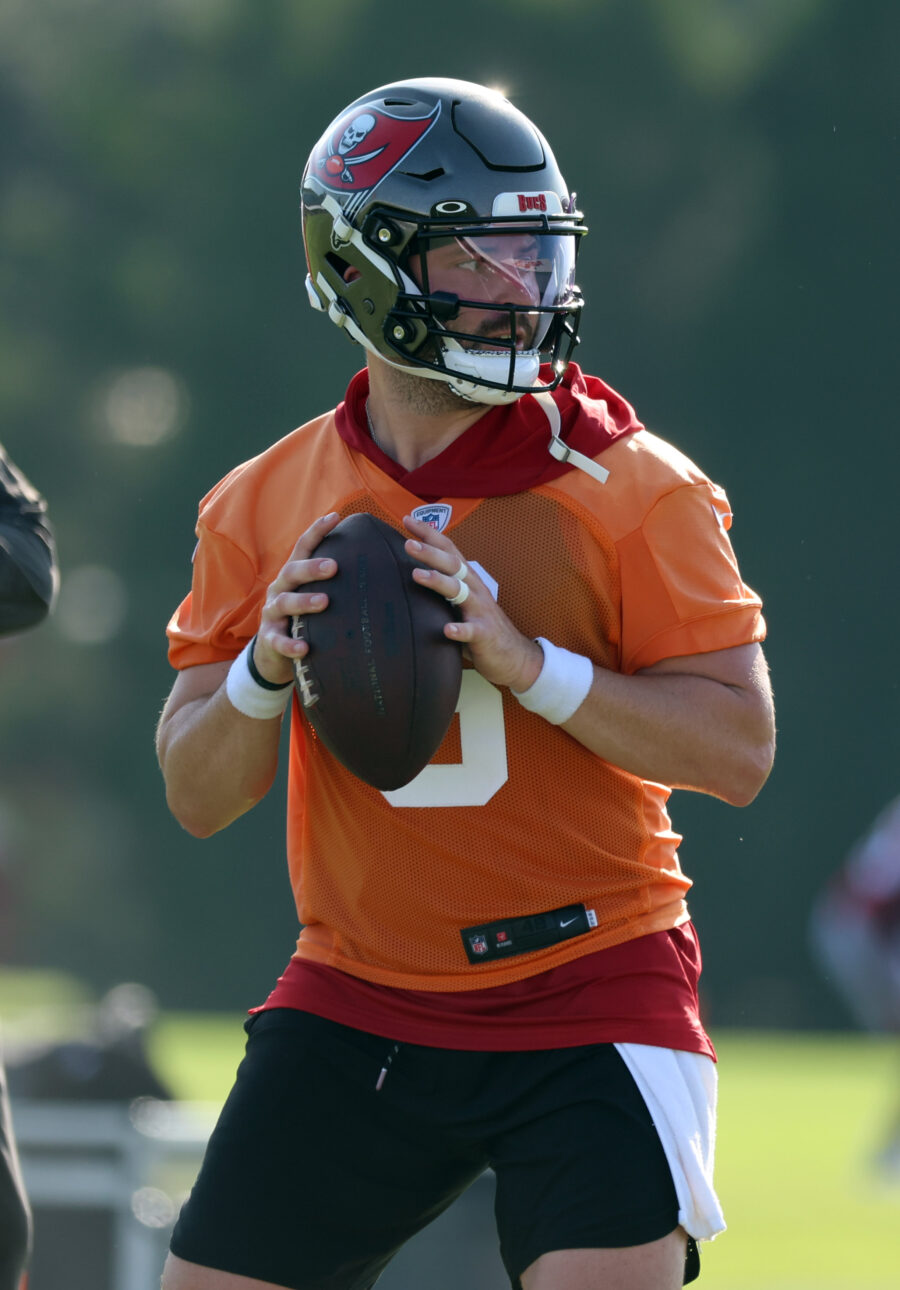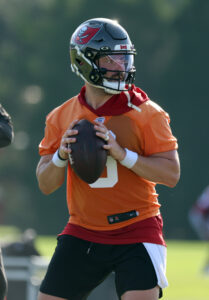 With the exception of rookie-contract players, Mayfield's $4MM AAV is miles below every other Week 1 QB. The $4MM base value make it more in line with the backup tier, and many QB2 options — Brissett, Andy Dalton, Taylor Heinicke, Marcus Mariota, Jarrett Stidham — landed more than the player who was in talks with the Browns about a lucrative extension in 2021.
It is difficult to overstate the tumble Mayfield's stock has taken since he was at the heart of the Browns snapping a 17-season playoff drought. A shoulder injury keyed a 2021 dip, but Mayfield did not bounce back in Carolina. Instead, his Panthers tenure ended with the team waiving him — as he sat dead last in QBR — despite having clawed back into the dreadful NFC South race. Illustrating how bad Mayfield was in Carolina, his memorable Los Angeles stay — which included the two-days-notice 98-yard game-winning drive to stun the Raiders — did not pull him out of last place. Mayfield played well against the Broncos on Christmas Day but still finished miles behind the second-worst signal-caller in 2022 QBR.
Bucs were willing to take what amounted to a flier on the 2017 Heisman winner, and instead of drafting another passer, they only pitted two-year third-stringer Kyle Trask against Mayfield. It took all three preseason games for Mayfield to beat out the 2021 second-rounder. Mayfield finished the 2020 season with 26 touchdown passes, eight interceptions and a 10th-place QBR finish. That represents his most recent healthy season, one that powered Kevin Stefanski to Coach of the Year honors and involved the Browns embarrassing the Steelers in Round 1 despite Stefanski home with COVID-19.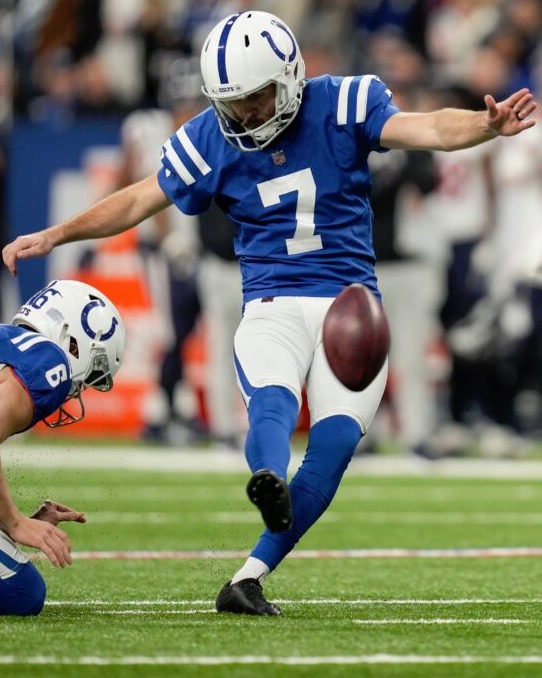 The Bucs will hope a stable Mayfield offseason leads to this form resurfacing, but while Tampa Bay may have that Cleveland team outflanked for receiver talent, an elite Browns O-line aided the 6-foot-1 QB that year. New Tampa Bay OC Dave Canales coaching under ex-Sean McVay assistant Shane Waldon in Seattle stands to help Mayfield, who is going into his age-28 season. But it will certainly not surprise to see Trask receive an extended look. Barring a Mayfield turnaround few expect, the Bucs look likely to enter the 2024 offseason with a dire QB need.
For the second time in four years, McLaughlin and Rodrigo Blankenship battled for a kicker job. After Blankenship beat out McLaughlin to succeed Adam Vinatieri in Indianapolis in 2020, the latter won the relocated rematch. While McLaughlin has enjoyed some extended work — in being a full-time option in Cleveland and Indianapolis over the past two years — the Bucs will be the 2019 UDFA's seventh NFL team.
Both Feiler and Gaines served as multiyear starters in Los Angeles — Feiler at right guard for the Chargers, Gaines as a defensive tackle for the Rams — and their price tags aligned with the Bucs' offseason itinerary. Purging more veterans than the Bucs did this year, the Rams let both Aaron Donald's recent wingmen — Gaines and A'Shawn Robinson — walk. Gaines, 27, started for the past two seasons and totaled 8.5 sacks and 19 QB hits in that span. With Calijah Kancey arriving in Round 1, it looks like Gaines will return to a bench role.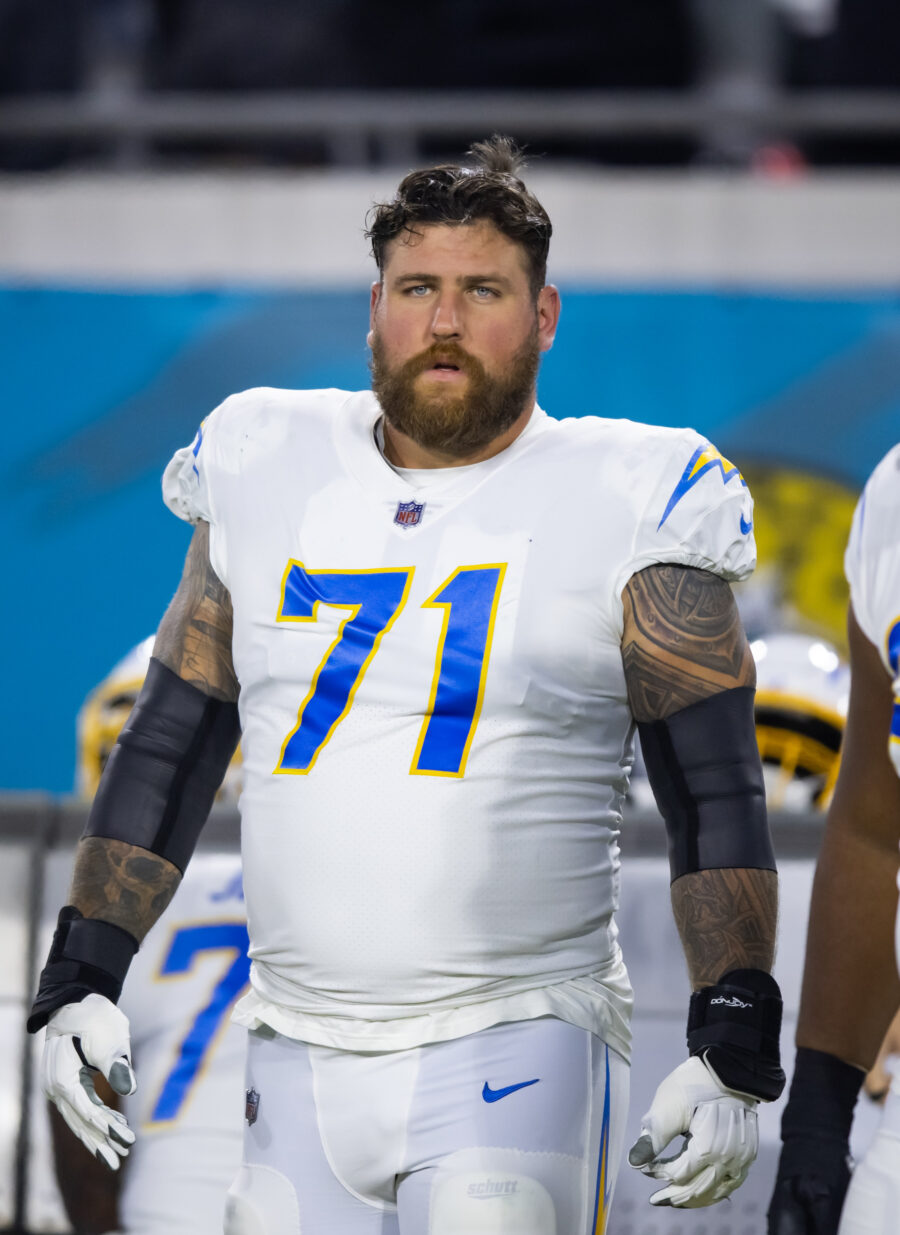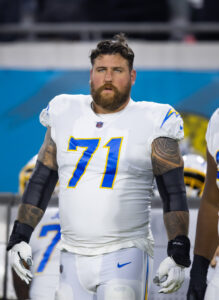 Feiler, 31, has been a starter for the past five seasons — for the Steelers and Bolts — and Pro Football Focus rated him as a top-20 guard in 2019 and '21. The Bucs have the former UDFA at a discount because of a down 2022, when PFF slotted him outside the top 60 at the position. Given the Bucs' rampant injury issues up front last season, Feiler offers short-term stability. He has missed just four games over the past four years. The Feiler addition will allow the Bucs to move 2022 second-rounder Luke Goedeke to right tackle, his primary college position.
Edmonds joins Mayfield in coming off a rough 2022. After his Cardinals work led to a two-year, $12MM Dolphins pact, Edmonds proved a poor fit in Mike McDaniel's offense. The Dolphins included the underwhelming satellite back as salary filler in the Bradley Chubb trade. The Broncos then cut him in March. In a bad year to be a free agent running back, Edmonds did score another opportunity and will slide in as the team's passing-down back complementing Rachaad White. Edmonds, 27, did excel in a similar role alongside Kenyan Drake in 2020 but saw James Conner's re-emergence overshadow him the following year.
Re-signings: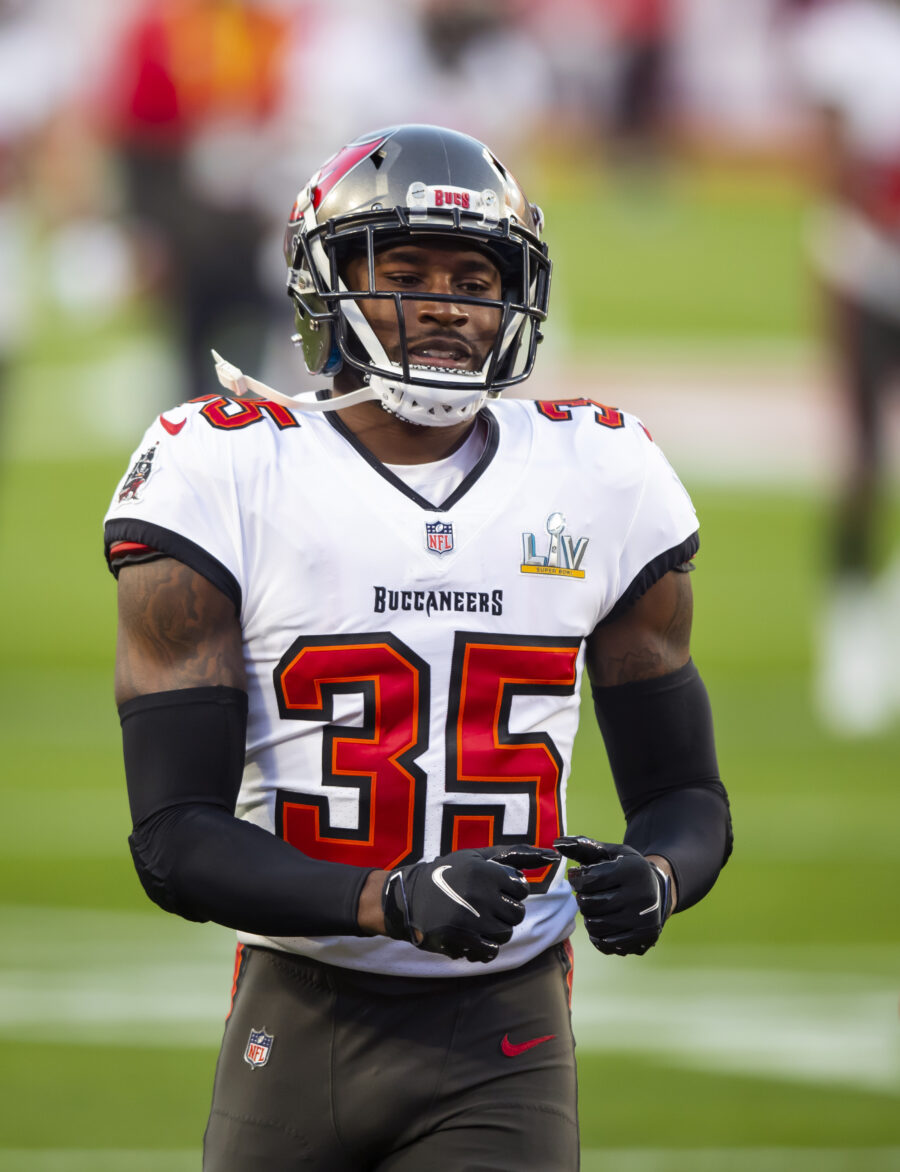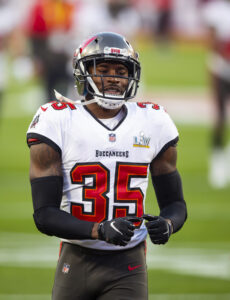 In Saints-like fashion, the Bucs managed to move from $55MM-plus over the cap upon Brady's February 1 retirement to a place where they could make a viable offer to retain Dean. The Bucs followed their Carlton Davis blueprint with Dean. A year after they let Davis test free agency and then signed him to a three-year, $44.5MM deal, the Bucs reeled Dean back in early during the legal tampering period. Neither Davis nor Dean landed top-10 cornerback money, but both contract sit in the top 15 among AAV at the position.
Excelling in press coverage, Dean played a major role for the 2020 Super Bowl champion Bucs iteration and overtook Sean Murphy-Bunting last season. Dean did perform better in 2021 compared to 2022, allowing no touchdowns and limiting QBs to a collective 50.0 passer rating; those numbers shot up to four and 86.0 last season. But Dean also played more snaps last year, going from 685 in 2021 to 885. PFF rated Dean as last season's 10th-best corner, and the former third-round pick will stay with the team that drafted him.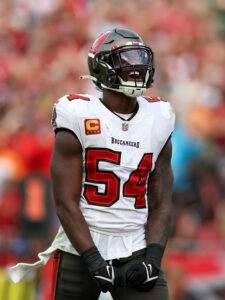 One of the best players in franchise history, David is back with the Bucs on a fourth contract. For a bit, it looked like the linebacker stalwart would leave Tampa after 11 seasons. David, 33, signed a lucrative five-year deal in 2015 and then, as the Bucs completed a historic talent-retention effort to retain the entire core of their Super Bowl LV-winning team, reupped on a two-year deal in 2021. This contract will bring a pay reduction for one of this era's best off-ball linebackers, but as the Bucs transition to their post-Brady period, keeping David and Dean ensures continuity from their Super Bowl squad.
The former second-round pick totaled 124 tackles last season and has 10-plus TFLs in four of the past five seasons. David's three sacks last season quietly ran his total to 29 over the course of his career. With Devin White generating criticism for inconsistency, the Bucs have continued to rely on David. The Nebraska product has seen his consistency pay off. After the Bucs ended a playoff drought that had covered David's first eight seasons, he became a vital piece for two strong teams to start the 2020s.
Shaq Barrett's return from a midseason Achilles tear should move Nelson back to a rotational role — behind Barrett and Joe Tryon-Shoyinka — but the former fourth-round pick does have 10.5 sacks over the past two seasons. Barrett coming back will give the Bucs an interesting two-deep at outside linebacker, with third-rounder Yaya Diaby joining Nelson, who forced three fumbles last season as the Bucs attempted to get by without their top sack artist.
Notable losses:
Brady's Bucs period added a key separation between he and Bill Belichick's legacies, and while the tenure did not necessarily end well, the QB icon reaching seven Super Bowl titles and ending a 12-year Tampa Bay playoff drought classifies the 2020 signing as an undisputed win for the franchise. Brady's preposterously long prime lasted through the 2021 season, and although he showed flashes (in the form of some wild comebacks) as the 2022 Bucs broke down, the unretirement year brought clear decline signs. Brady used last season to fulfill his longtime goal of playing through age 45, and that feat allowed him to become the only regular QB to go through a season at that age.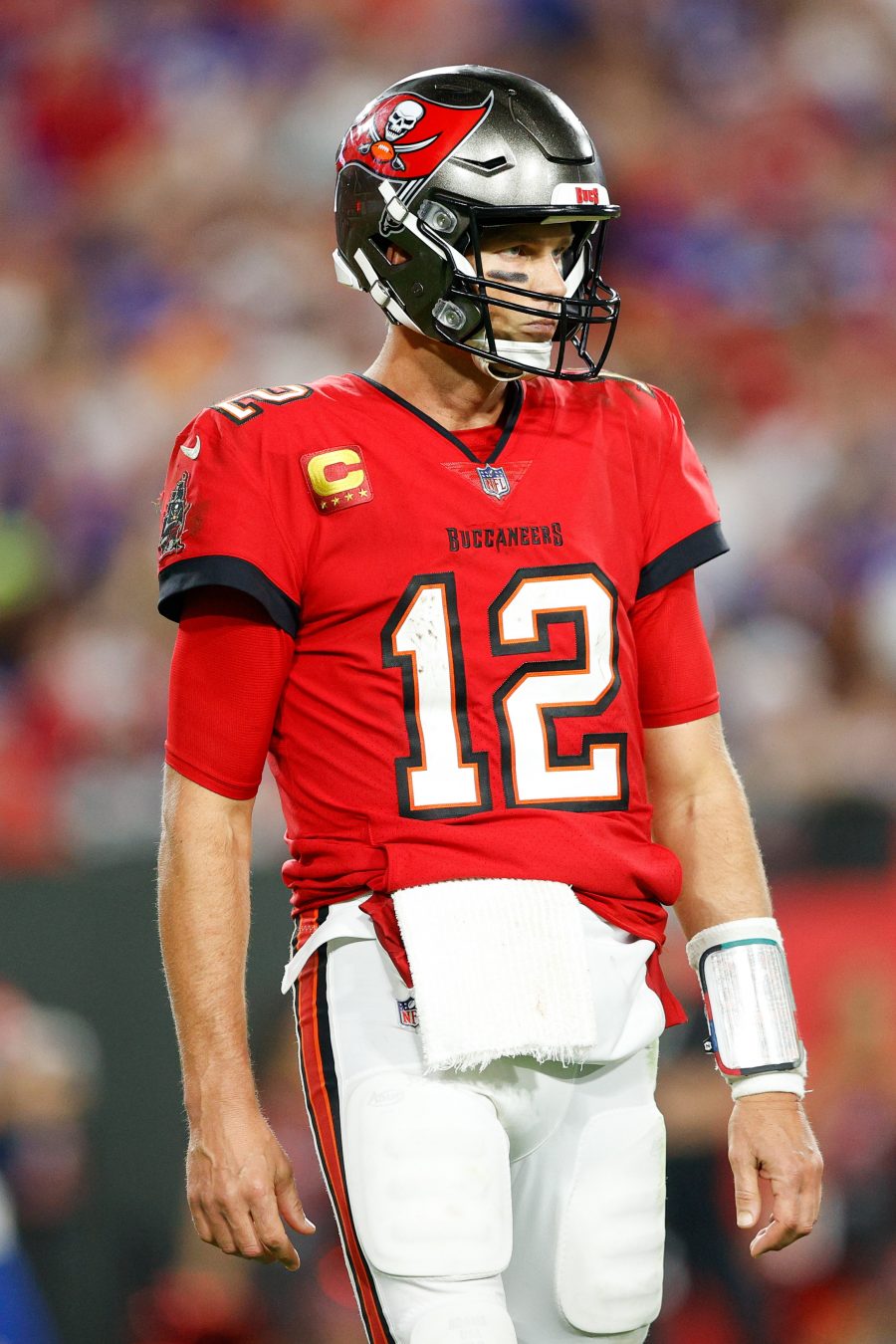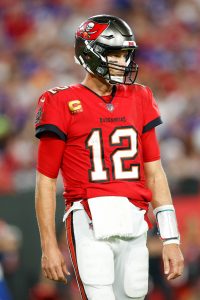 That said, the Mt. Rushmore NFLer's turbulent 2022 became part of his football legacy as well. Brady unretired less than six weeks after stepping away, with the moves helping push the Bucs to add more veterans (including the re-signings of Davis and Ryan Jensen) and make more moves to hurt future cap sheets. A spring 2022 restructure with Brady inflated the void-years bill — which would hit when his contract expired — to $35.1MM. When Brady signed his 2021 extension, only $24MM in void-years proration damage was on the bill. The 2022 restructure bumped that total, helping shape the Bucs' 2023 offseason.
As the saying goes, "flags fly forever," and the Bucs now have two Lombardi trophies. Last season, Brady — after a strange summer that included an unusual training camp hiatus and Dolphins player-owner rumors that led to a stiff Miami punishment — finished with his lowest yards-per-attempt figure (6.4) since 2002. O-line issues helped key this descent, and a last-place rushing attack translated to Brady throwing an NFL-record 733 passes.
Last season did not detract from Brady's legacy, as he remains squarely in the conversation for greatest football player ever. In hindsight, however, staying retired would have been the better move. Even before Brady announced his retirement, Bucs teammates viewed him as prepared to leave Tampa. The Raiders looked into Brady as a player, and the future FOX analyst is now moving toward being a part-owner with the AFC West team. All 31 other teams would have to sign up for Brady having an ownership stake and playing for the Raiders, so January's Cowboys matchup still likely represents the on-field end for the 23-year veteran.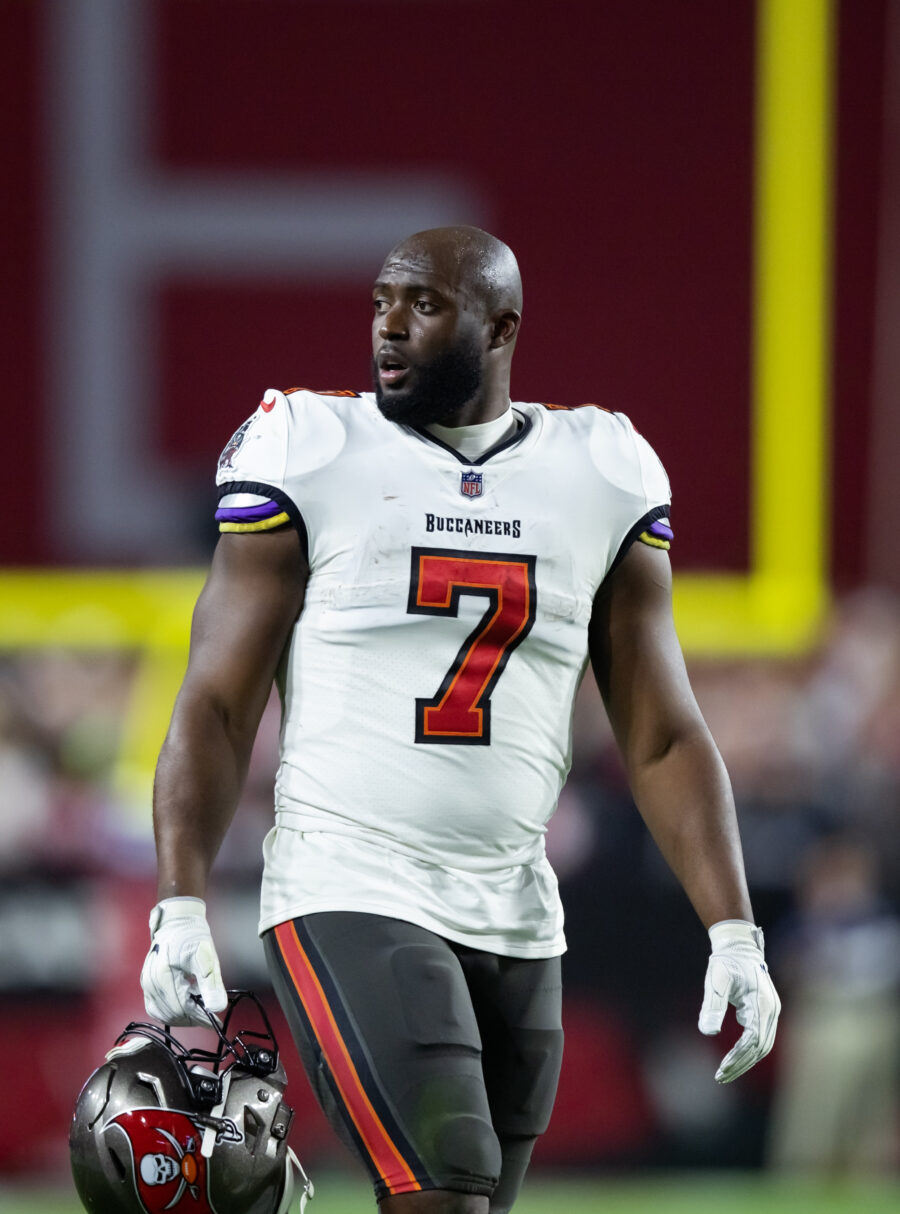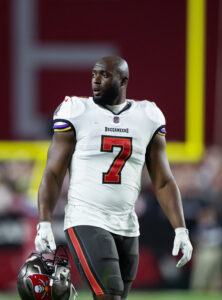 Fournette re-signed to play another season with Brady and collected some cash at an opportune time. Fournette scored $9MM fully guaranteed as part of his three-year, $21MM deal, cashing in before the RB market crashed. The Bucs got out before having to provide another $2MM guarantee this year. While Fournette called this a mutual parting, not being on a roster days before Week 1 does not paint this divorce in such a light.
The former top-five pick struggled during a brutal season for the Bucs' rushing attack; its 76.9 yards per game ranked well behind the 31st-place team on the ground. Rachaad White ate into Fournette's workload, and the elder back finished a fourth season below four yards per carry. Fournette, 28, put together a strong 2021 season before a December hamstring injury and quietly amassed 523 receiving yards last season — partially out of necessity due to the Bucs' run-game mess. The ex-Jaguars draftee made vital contributions to the Bucs' 2020 team, but "Lombardi Lenny" now finds himself in the supply-and-demand crunch that permeating the running back landscape.
Post-Fournette, the Bucs had been tied to Ezekiel Elliott and were mentioned as interested in adding a veteran. With Kareem Hunt still available, the Bucs have stood down. They have White and ex-Syracuse star-turned-UDFA Sean Tucker in place, with Edmonds supplementing them in sub-packages. This represents a big audition year for White, who is signed through 2025.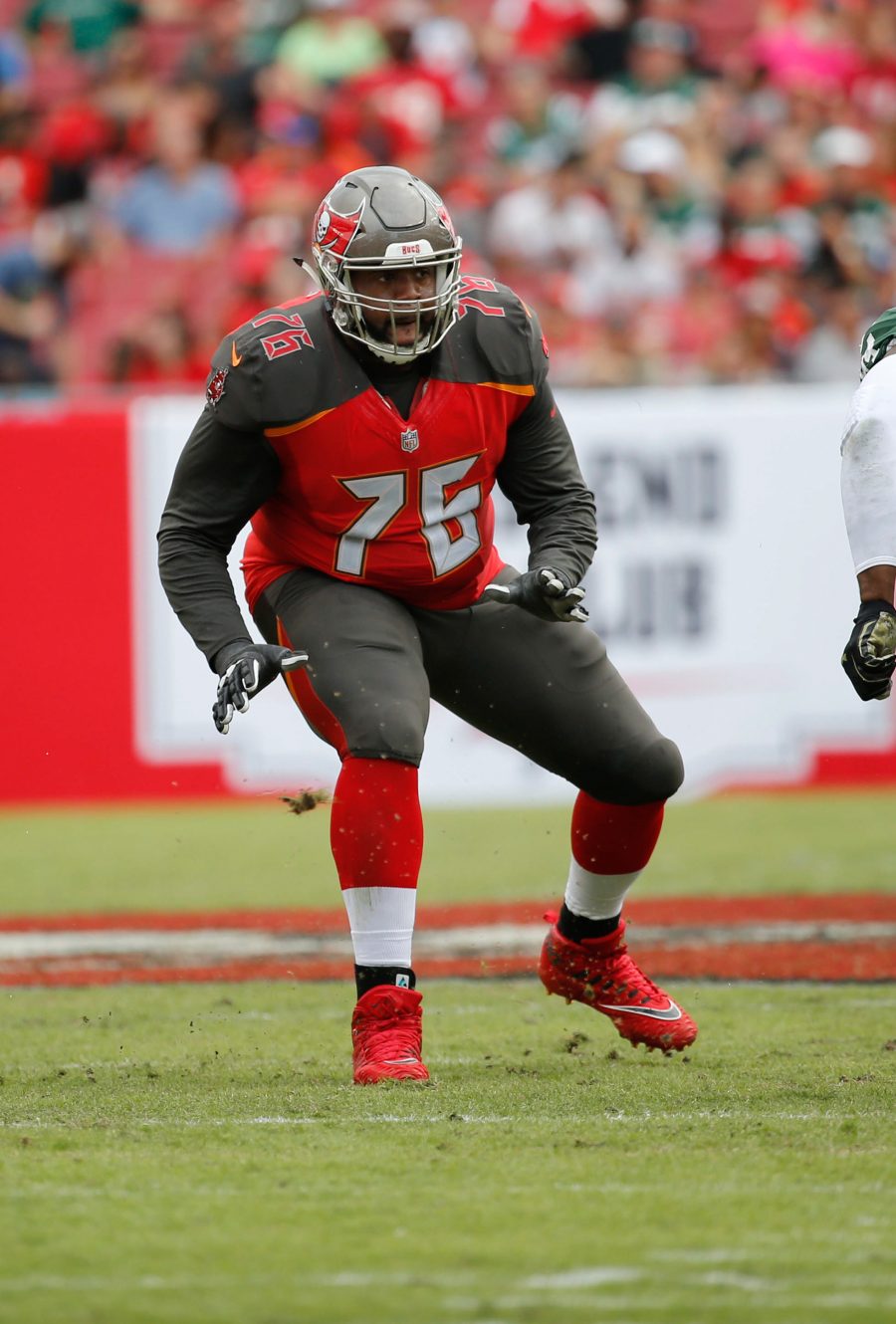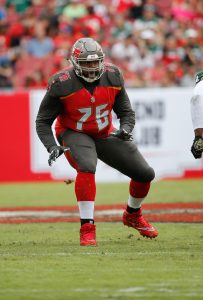 Only Paul Gruber made more starts as a Bucs left tackle than Smith, who logged 124 over eight seasons. Smith signed three contracts with the Bucs and made more than $60MM with the team. Last season brought a downward trek for the Brady-Jameis Winston blindside protector. Smith's 12 penalties led all tackles, and Bowles contemplated benching him. With Jensen on IR, the Bucs are now down to just one Super Bowl O-line starter left — Tristan Wirfs, who is set to take over Smith's blindside role.
Murphy-Bunting intercepted three passes for the Bucs in the 2020 playoffs, playing a key supporting role in Tampa Bay surging to a title. But Davis and Dean became the priorities among the team's throng of Day 2 secondary draftees. The slot defender's exit — for a one-year, $3.5MM Titans accord — led to a crowded competition, one rookie UDFA Christian Izien won.
Succop had stabilized a rocky kicker situation. Going into Succop's tenure, The Bucs had not featured the same primary kicker in a season since the 2011-12 seasons. Succop put a stop to that and was 9-for-9 during Tampa Bay's four-game 2020 playoff slate. Succop, who will turn 37 next month, was 31-for-38 last season and went through struggles from long range. His 2-for-7 make rate from 50-plus yards led to the Bucs aiming for a better deep striker. McLaughlin went 9-for-12 from 50-plus last season.
Trades:
Tampa Bay was prepared to move on from Mason regardless and found a taker, with Houston providing a clear connection to Mason's New England days. Texans GM Nick Caserio was in place when the Patriots drafted him (2015) and extended him (2018). Mason's play was not at the elite level of his Pats days, but during a season in which injuries weakened the Bucs' O-line, the veteran guard gave them 17 starts. Moving on from Mason was among the many cap maneuvers the Bucs needed to make this offseason, and his exit aligned with a shift away from spending on older vets to align with Brady.
Extensions and restructures:
While this is Year 6 for the Mike Evans–Chris Godwin pair, the Bucs might be thin behind them. The team had paid close attention to its WR3 role with Brady, whose Antonio Brown push led to one of the most infamous on-field sequences in many years. Brown also made contributions during the 2020 playoffs, catching a Super Bowl touchdown. The Bucs have now let Julio Jones and Scotty Miller walk, and Gage suffered a torn ACL in training camp. Gage did well to parlay a modest Falcons run into a three-year, $30MM contract. The Bucs have two rookies — sixth-rounder Trey Palmer and UDFA Rakim Jarrett — and second-year UDFA Deven Thompkins supplementing Evans and Godwin.
Draft:
The Bucs brought both Will Levis and Hendon Hooker in for "30" visits. Rather than stopping the former's slide out of Round 1, Tampa Bay went with one of this draft's cleanest prospects. Kancey made headlines by not taking pre-draft visits, injecting some mystery into his potential landing spot. Kancey's measurables, 40-yard dash time (4.67 seconds) and alma mater have led to probably unfair comparisons, as Aaron Donald is also a short defensive tackle from Pitt. That comparison sets the bar extraordinarily high, but Kancey did total 14.5 sacks and 27.5 tackles for loss over the past two seasons.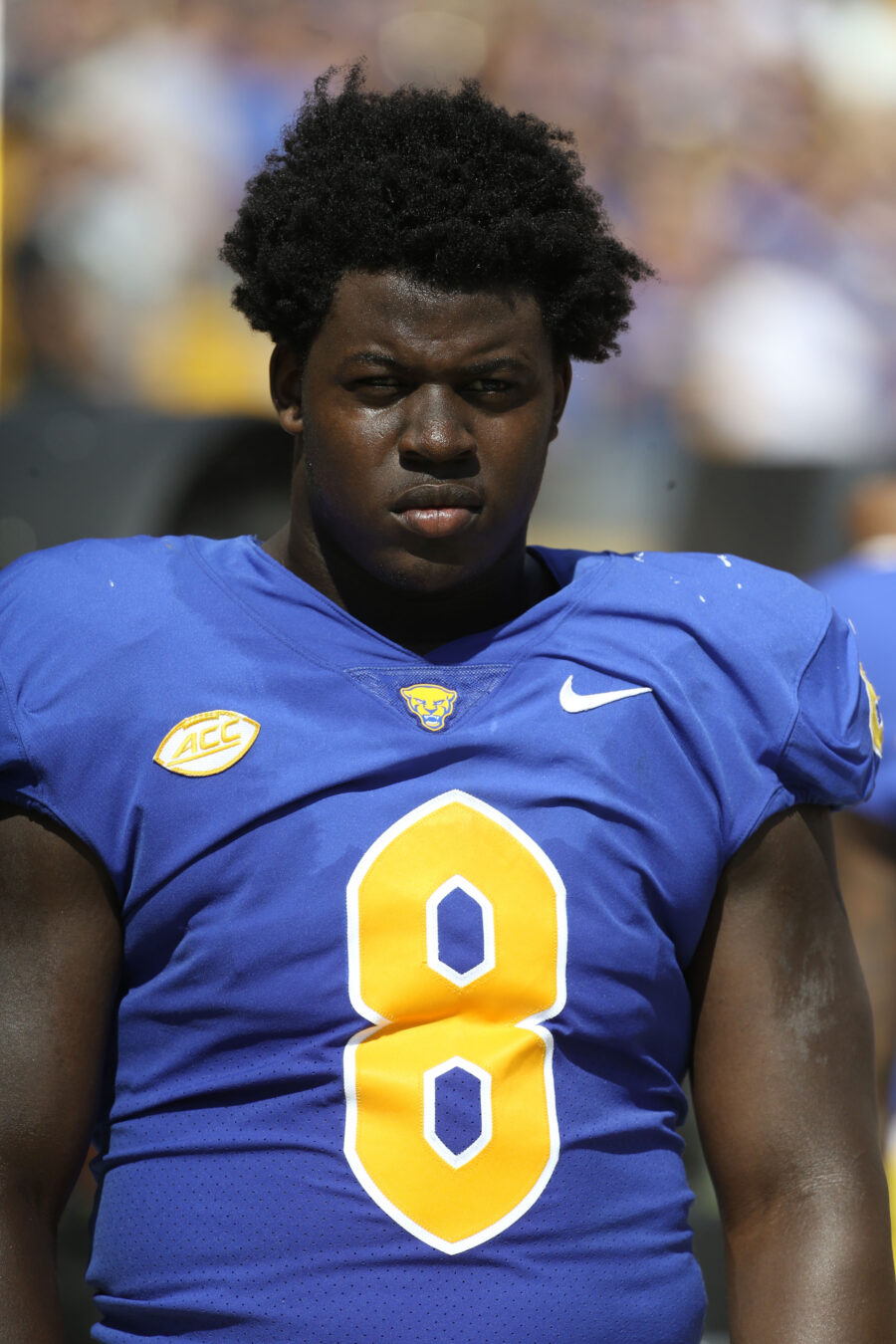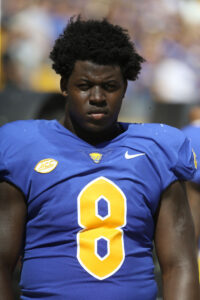 As expected, Kancey climbed into Tampa Bay's starting lineup, where he will flank Vita Vea and Logan Hall. With Gholston and Gaines positioned as rotational D-linemen, the Bucs have an interesting mix here. Vea is one of the NFL's best defensive linemen; the sixth-year DT makes life easier for those around him. But he quietly totaled a career-high 6.5 sacks last season. His presence will help Kancey assimilate as a rookie, as will the return of Barrett.
For a second straight year, the Bucs are converting a college tackle into an NFL guard. Mauch worked at both left and right tackle at North Dakota State, though he mostly operated on the blind side (37 starts) for the Bison. The Bucs already bailed on making Luke Goedeke a guard, but they will station Mauch next to their new right tackle.
This will make for an inexperienced line protecting Mayfield, who enjoyed a Jack Conklin–Wyatt Teller right-side setup during his best year in Cleveland. But the Bucs certainly needed to make a high-level O-line investment considering what happened last year.
Other:
Advancing deep into the Jaguars' 2022 HC search, Leftwich was believed to have bowed out of the race. An issue working with GM Trent Baalke affected Leftwich's interest in landing with the team that drafted him in the 2003 first round. Months later, Bruce Arians' surprise exit left Leftwich as the lead offensive voice with the Bucs. While Brady clearly signed off on working with Leftwich alone, the Bucs' offense tanked in 2022. After ranking second in scoring in 2021, Tampa Bay plummeted to 25th last year. This led to some Brady grumbling about Leftwich, and Bowles canned him at season's end.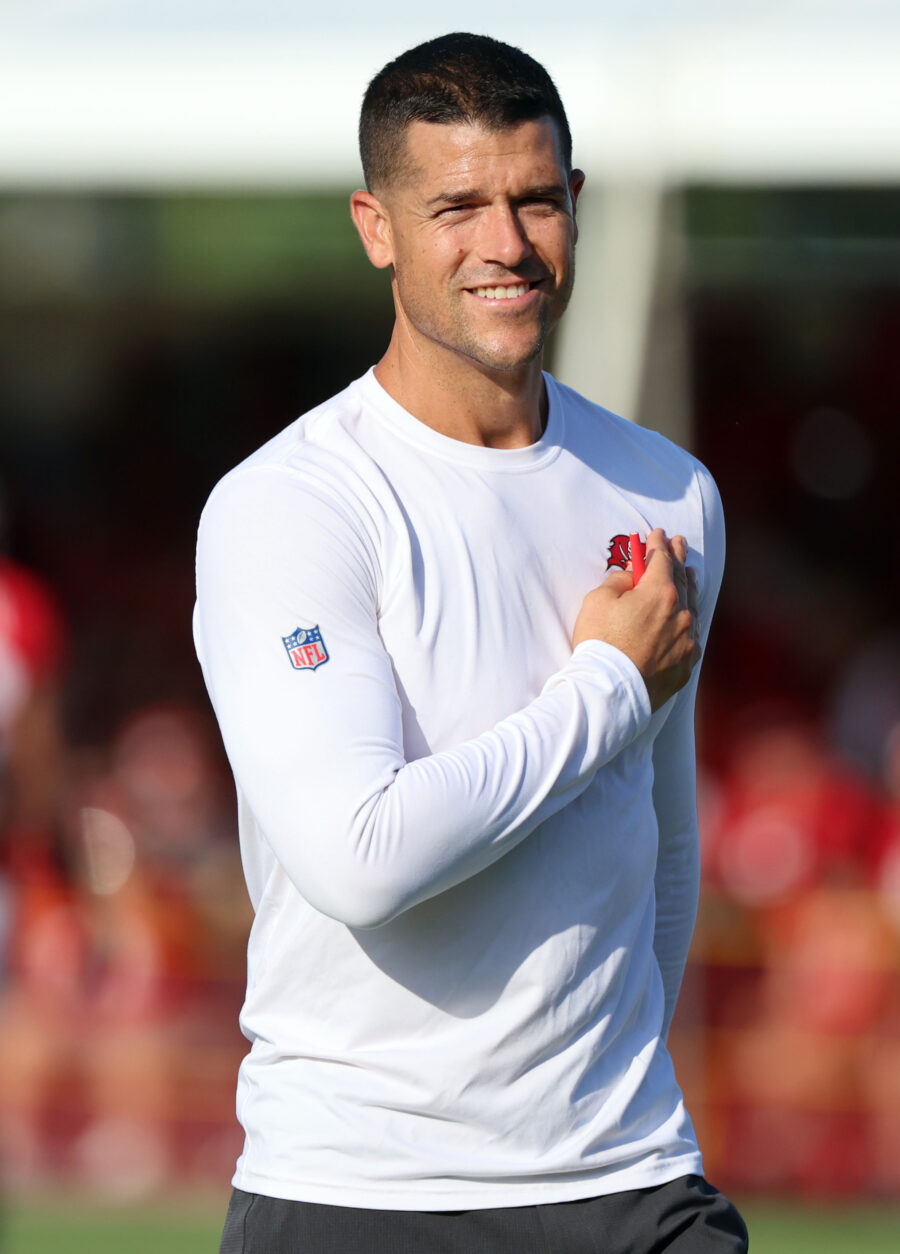 This dismissal, among others, left Arians upset. As the story went, Brady did not force Arians out upon unretiring last year — despite reports of those two butting heads in 2021 — but rather the Super Bowl-winning HC wanted to position Bowles with a good opportunity. Regardless, Bowles fired a host of Arians assistants that had time left on their contracts. It is truly Bowles' show now. With his HC record at 34-50 thanks largely to helming some woeful Jets teams, the 59-year-old HC has some pressure on him. Leftwich was linked to other jobs but is not on a coaching staff going into this season.
Canales, 42, will take play-calling reins for the first time. Having spent every year of his college and NFL coaching life on a Pete Carroll staff, Canales finally left Seattle as OC interest developed. Canales spent eight years as the Seahawks' receivers coach, making a noticeable jump from a one-year role as a USC strength coach, and moved into a pass-game coordinator role in 2020. Sliding over to QBs coach in 2022 brought a turning point, with Geno Smith offering one of the more stunning QB seasons in recent NFL history. Canales will ride that Comeback Player of the Year campaign into an OC opportunity.
The Bucs gave Leftwich play-calling duties upon hiring him in 2019, but Arians was there to supervise. With Bowles a defense-oriented HC, Canales will lead the offensive operation this year. Tampa Bay will hope Canales can do for Mayfield what he and Shane Waldron did for Smith last year.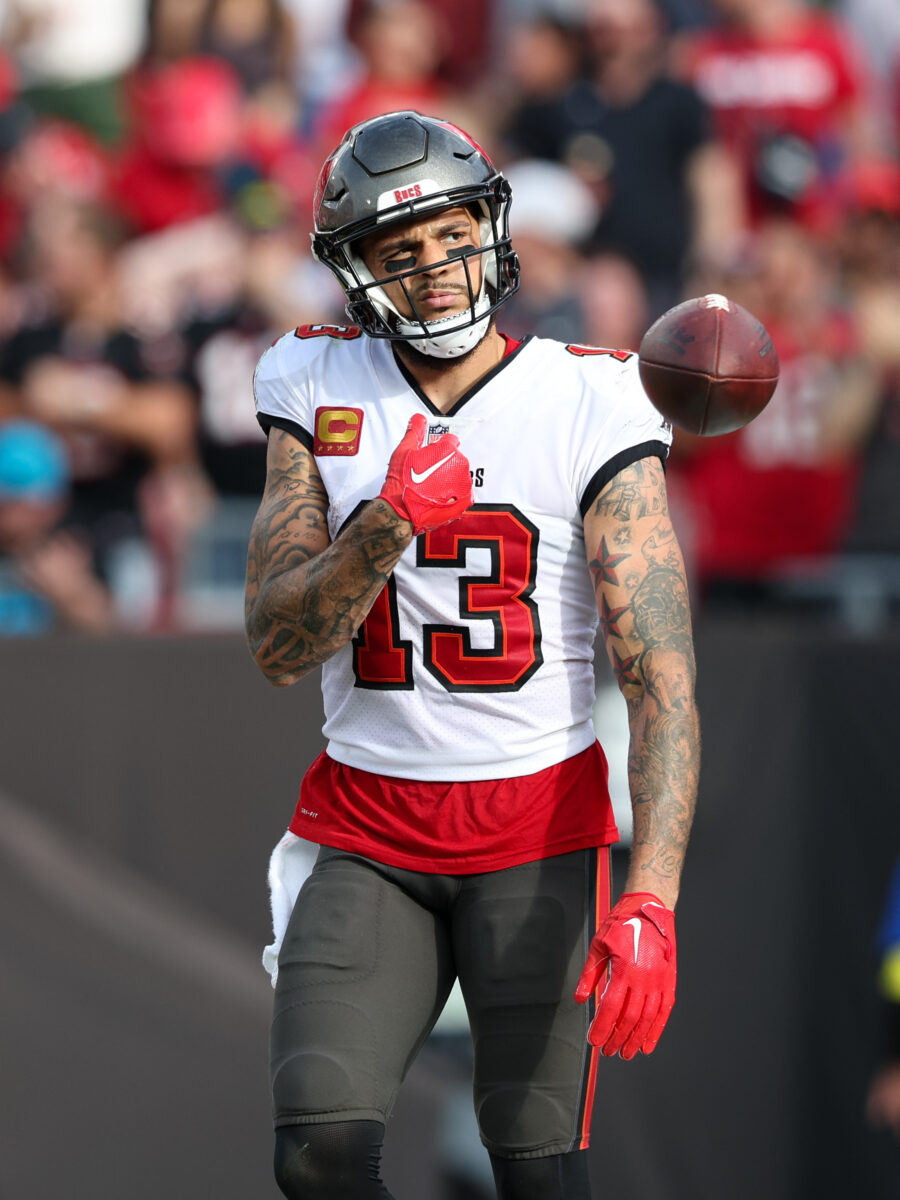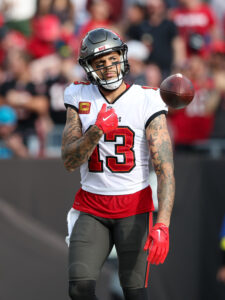 Tampa Bay matches Seattle's WR arrangement, at least, with Evans-Godwin one of just two receiving tandems (along with Keenan Allen–Mike Williams) that have been in place longer than Tyler Lockett–D.K. Metcalf. This year looks like the end for by far the most successful WR duo in Bucs history. Evans' Sept. 9 deadline looks likely to come and go without an extension agreement, as his camp has angled for one for multiple years only to see no offer materialize. This deadline came weeks after Licht said the team wants the contract-year standout around on another extension. With a Friday report indicating the 6-foot-5 weapon is, in fact, not in the Bucs' extension plans, it is safe to wonder when he will be traded.
First-round wideouts have largely not panned out for the Bucs, who could not generate sustained success from Michael Clayton (2004) or Reidel Anthony (1997). Even Tampa's modern-era second-round wideout history (Arrelious Benn, Dexter Jackson — not the Super Bowl MVP — and Jacquez Green) resulted in misfires. Chosen in Jason Licht's second year as GM, Evans brought a seismic course change. His 10,425 receiving yards as a Buccaneer almost doubles second place (Godwin, 5,666) in team history. Evans, 30, is the only NFLer to begin a career with nine straight 1,000-yard seasons. No one else has started with eight.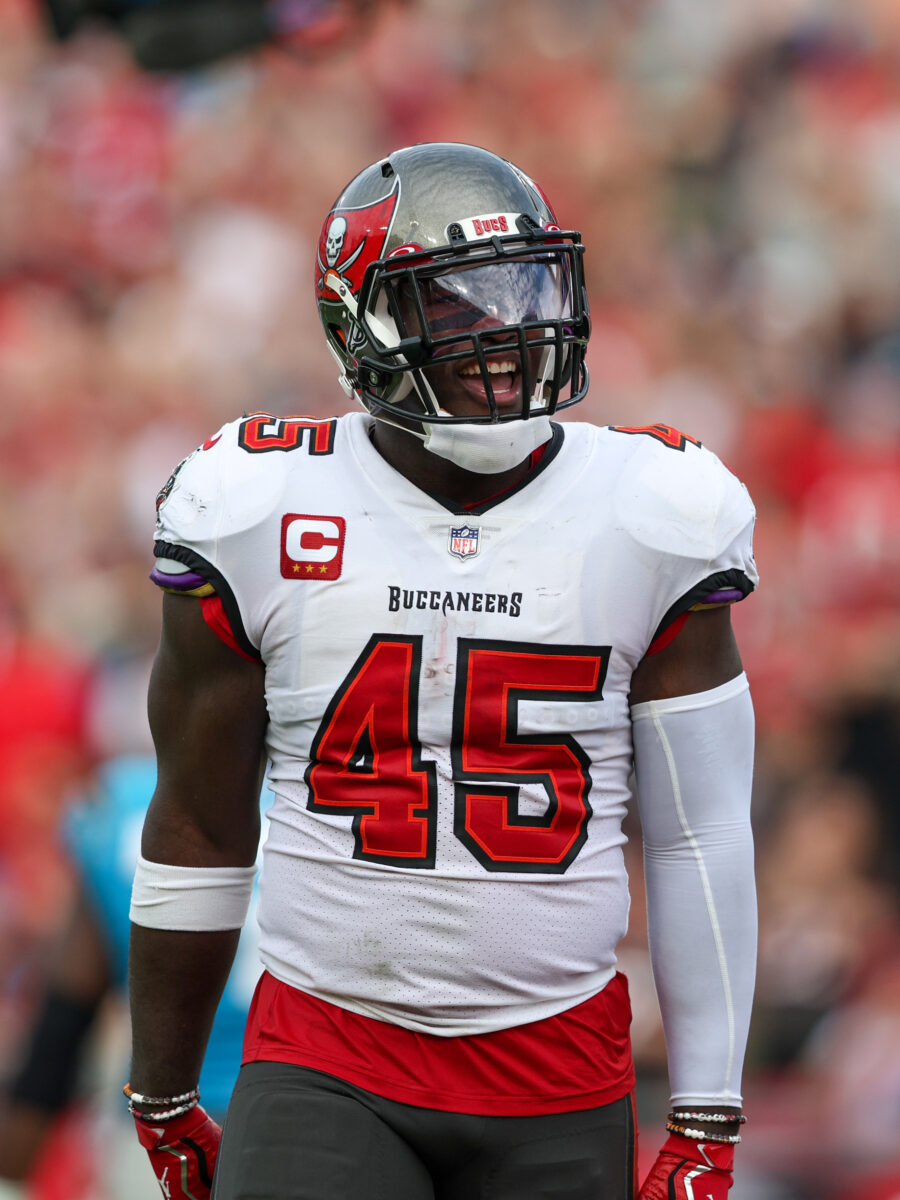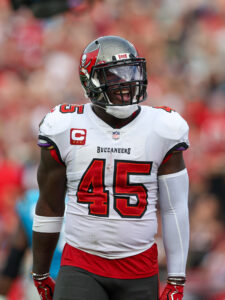 Attached to a $13MM base salary, Evans will not be too easy for a team to fit on their cap sheet. But if he continues to provide durability, his name seems a certainty to come up in trade rumors — especially if the Bucs perform as oddsmakers suggest. With the receiver tag going over $20MM next year, Evans is probably not a realistic tag candidate ahead of his age-31 season. That said, if the NFC South is as bad as it was last year, the Bucs may spurn trade overtures and hang onto their longtime WR1. Godwin's injury history would further support Tampa Bay merely accepting a late-round compensatory pick for Evans if/once he walks as a free agent in 2024.
White is also not a realistic tag candidate, with all linebackers grouped together under the tag formula. That would balloon the tag past $21MM next year. The Bears faced this dilemma with Roquan Smith, ultimately trading him to the Ravens for second- and fifth-round picks. The Bucs would probably move White if they received that offer. Impressive stats appear on White's resume, but he has generated criticism for loafing and freelancing. PFF has never ranked the athletic defender as even a top-60 linebacker. Although the Ravens gave Smith a new ILB-record contract ($20MM per year), the Bucs are not going there with White.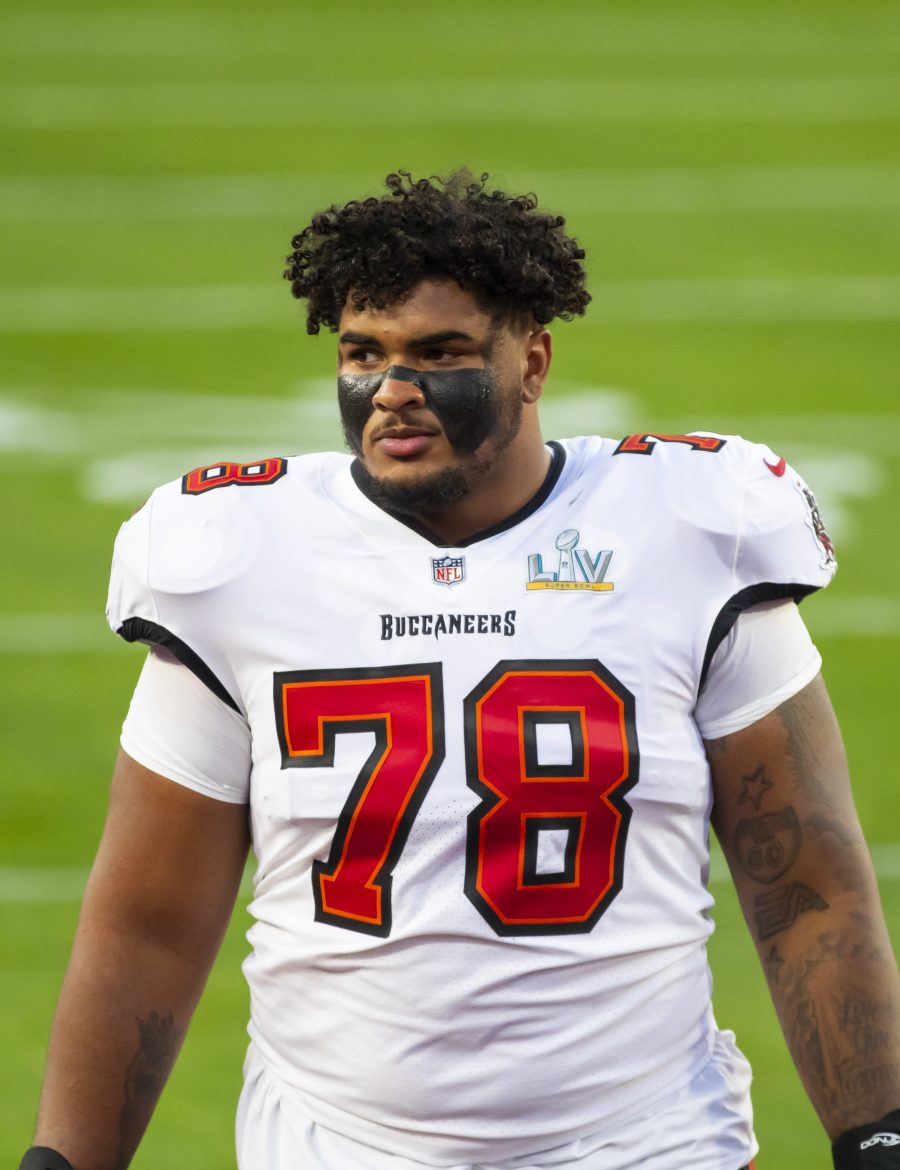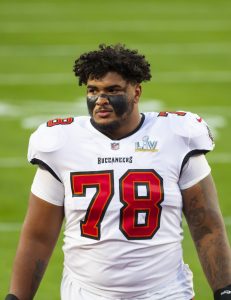 After backing off his trade request — one aimed at securing top-tier ILB dough — White may be auditioning for his next team this season. He likely needs a strong contract year to score an eight-figure-per-year deal, seeing as only one linebacker who hit this year's crowded market — Tremaine Edmunds — collected more than $11MM AAV. Would the Bucs consider moving White before the deadline? Tepid interest came their way after the trade request surfaced.
Wirfs, on the other hand, is a surefire extension target. The 2020 first-round pick brought an easy fifth-year option decision, becoming one of the NFL's best tackles — left or right. The Bucs will now put Wirfs in position to do even better on his second contract, shifting him to the left side.
Bowles informed Wirfs of the team's plans immediately after last season. A good season protecting Mayfield would put Wirfs in line to command a deal north of the one Andrew Thomas recently inked. The Giants made Thomas the NFL's second-highest-paid tackle, at $23.5MM per year. Wirfs has a greater body of work; will he prove it on the blind side?
Top 10 cap charges for 2023:
At $76.76MM, the Bucs lead the NFL in 2023 dead money, nipping the Rams ahead of Week 1. That setup reminds of the Falcons' 2022 financial backdrop, which involved big dead-cap hits from Matt Ryan — a record-setter — and Deion Jones. Atlanta still contended in a terrible division. Tampa Bay will certainly hope to follow suit, though despite many Super Bowl starters still in place, a Bowles-Mayfield duo leading the way does not inspire much confidence.
The 2024 Bucs could look quite different, but the team retaining Dean and David does point to at least fringe contention hopes for the 2023 team. Mayfield will undoubtedly be headed toward the QB2 rung if this year goes as most think it will; can the Bucs salvage the former playoff starter's career?
Follow @PFRumors