The Bengals' offensive line took another major hit today when Clint Boling announced his retirement. Boling, who had served as the club's primary left guard since 2012, was expected to reprise that role in 2019. Although it looked as though he might be squeezed into a backup job (or even cut) when Cincinnati drafted LT Jonah Williams in April, Williams' season-ending labrum tear forced the Bengals to shift Cordy Glenn from left guard back to left tackle, thereby keeping the door open for Boling.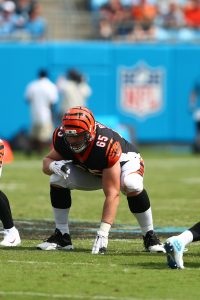 But as reported earlier today, Boling felt compelled to end his playing career due to health reasons. Katherine Terrell of ESPN.com passes along more details on that front, reporting that Boling went to the hospital several days after the 2018 season ended due to pain his right leg. Tests revealed a blood clot, and when the issue didn't subside, Boling returned to the hospital, at which point doctors discovered a pulmonary embolism (meaning another clot had found its way to his lungs).
Boling believes his clots were related to football, and while he considered returning to the field, he ultimately determined it wasn't worth the risk for him or his family.
And even though the Bengals certainly respect his decision, the fact remains that the team's O-line, already an area of concern given its performance over the last several seasons, is getting dangerously thin. But new head coach Zac Taylor expressed confidence in the unit and suggested that the team's next left guard is already on the roster. Taylor said, per Tyler Dragon of the Cincinnati Enquirer, "[w]e have a lot of guys in there that can compete for those jobs. The left guard spot will be a competition in training camp and we'll be excited to see what happens there. We have a lot of good guys in the mix who we are counting on to step up and do their job."
Taylor, who also said "we'll be good" when discussing the revolving door on the left side of the O-line, certainly makes it sound as if the club will not be looking to make any outside additions. But it would not be surprising to see the Bengals pick up a veteran or two over the next few weeks. After all, in addition to being the team's starting LG, Boling also served as the backup LT, and the trio that is now expected to compete for the LG job — Christian Westerman, John Jerry, and Trey Hopkins — doesn't inspire a ton of confidence.
Photo courtesy of USA Today Sports Images.