Connor Barwin will transition into the personnel side of the game. After being rumored to be a consideration for an Eagles staff role, the former edge rusher will join the team as special assistant to the GM, the team announced.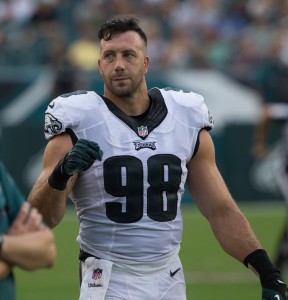 Barwin, who announced his retirement late last year, will work in a scouting role during the offseason and shift to development during the season. This marks a fairly quick transition for the 33-year-old retiree, who played four seasons with the Eagles.
Eagles GM Howie Roseman signed Barwin as a free agent in 2013, and the former Texans edge player racked up 31.5 of his 56.5 career sacks as an Eagle. He later played for the Rams and Giants but did not suit up during the 2019 season.
This job offer emerged after Barwin contacted Roseman about a role with the organization, according to the team. Over the second half of this season, the 10-year veteran and current Philadelphia resident played a role in assisting some of the Eagles' younger players. Barwin has begun the scouting part of his job, attending East-West Shrine Game practices and is ticketed to do the same at the Senior Bowl.
"I'm done playing football, but my football career is not over," Barwin said during an interview with PhiladelphiaEagles.com's Dave Spadaro. "I want to stay involved. I want to help this team wherever I can and also learn the other side of the game from the coaches and the personnel side."