Less than a week after auditioning the veteran, the 49ers are signing Elvis Dumervil. The 49ers announced on Twitter that they have signed the linebacker. It's a two-year deal for Dumervil, according to ESPN's Adam Schefter on Twitter. The team has cut rookie offensive lineman Evan Goodman in a corresponding move.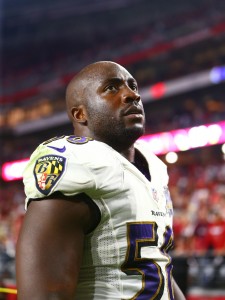 It had been a rather quiet offseason for Dumervil prior to last week's audition with San Francisco. The 33-year-old had generated little interest across the league since being released by the Ravens in early March. That could partly be attributed to the veteran's recent injury concerns, as Dumervil only appeared in eight games with Baltimore last season. However, the linebacker still managed to compile three sacks and a pair of forced fumbles.
Prior to 2016, Dumervil was one of the most consistent defenders in the NFL. Since entering the league as a fourth-round pick in 2006, the veteran had missed a total of six regular season games between nine NFL seasons with the Ravens and Broncos. During his first three seasons in Baltimore, Dumervil averaged more than 38 tackles and 10 sacks a year.
Matt Barrows of The Sacramento Bee tweets that Dumervil is expected to play the role of a Leo linebacker with the 49ers, an indication that Aaron Lynch may be on the outside looking in. General manager John Lynch is certainly familiar with Dumervil's production, as the two played alongside each other for two seasons in Denver.
Photo courtesy of USA Today Sports Images.