The Packers made several moves today to help fill out new coach Matt LaFleur's inaugural staff. First the team hired 49ers assistant offensive line coach Adam Stenavich to be their offensive line coach, sources told Matt Maiocco of NBC Sports (Twitter link). We heard a couple of days ago Green Bay was granted permission to interview him, and now they've made the move. Manish Mehta of the New York Daily News tweeted several hours before Maiocco broke the news that the Jets also had interest in Stenavich to be their offensive line coach. Stenavich was on the Packers' practice squad in 2006 during his playing days as an offensive tackle.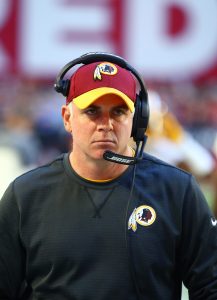 The team is also hiring Kirk Olivadotti to be their linebackers coach, tweets Jim Owczarski of the Milwuakee Journal Sentinel. Up until now Olivadotti had served in the same position with the Redskins. LaFleur served on Washington's staff as quarterbacks coach while Olivadotti was there, so the hire makes sense. LaFleur will also be retaining Jason Simmons, the secondary coach who has been on the staff in Green Bay since 2011, tweets Rob Demovsky of ESPN.
In a separate tweet Demovsky notes that the Packers completed their interview with Luke Getsy. A source told Demovsky that Getsy interviewed for both the quarterbacks and receivers coach openings, but left town without signing a contract. Jason Wilde of ESPN followed up with a tweet of his own, saying that quarterback Aaron Rodgers "thinks very highly of Getsy and has a lot of respect for him."
Getsy served on the Packers' staff under Mike McCarthy from 2014-17 before leaving to take a job as Mississippi State's offensive coordinator last year. The Packers have been making a bunch of moves to bring guys in from different organizations, and are now close to filling out LaFleur's staff.
Photo courtesy of USA Today Sports Images.