Justin Forsett is retiring. The longtime NFL running back is hanging up his cleats after nine seasons.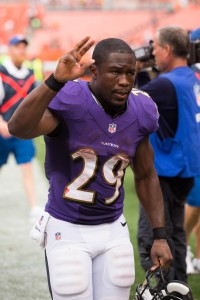 "It's time. I'm officially announcing my retirement from the game I love," Forsett wrote. "Its been an amazing ride and I'm grateful for every moment. My career has brought so many great people into my life, and I asked some of them to join me in saying goodbye. Against all odds, critics, and naysayers, I accomplished something great. Scouts measured my height and said I was too short. They measured my 40-yard dash and said I was too slow. They looked at my build and said I wouldn't last. But they couldn't measure my heart, my faith, and my perseverance. I am living proof that dreams come true and God answers prayers, and I thank God everyday for the opportunity to live out my dream."
Forsett was a backup for the first six years of his career until 2014 when he got his big opportunity with the Ravens. As Baltimore's lead back, he ran for 1,266 yards and eight touchdowns en route to his first Pro Bowl selection.
After being held back by injuries in 2015, the Ravens cut him loose early in the 2016 season. In 44 combined carries for the Lions and Ravens in the fall, he posted just over 3.0 yards per rush on 44 tries. When he later hooked on with the Broncos, he averaged a mere 3.6 yards per carry on 43 attempts. Entering what would have been his age-32 season, it was clear that Forsett's best football was behind him.
Forsett will be fondly remembered for his impressive 2014 campaign and his positive locker room influence. PFR wishes Forsett all the best in retirement.
Photo courtesy of USA Today Sports Images.