Two years ago today, the Browns made a controversial move that has (so far) paid off for the organization. On February 11, 2019, Cleveland announced that the signing of running back Kareem Hunt.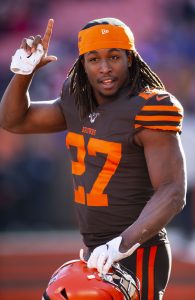 From an on-the-field perspective, the move made plenty of sense. Hunt ran for 1,327 yards as a rookie in 2017, and he followed that up with a 14-touchdown season in 2018 despite playing in only 11 games. The talent was (and still is) undeniable. Hunt also had a relationship with former Browns GM John Dorsey that dated back to their stints in Kansas City.
From an off-the-field perspective, the move was divisive. At the time of the signing, Hunt was under investigation for three separate 2018 events — most notably an incident captured on video that showed him shoving and kicking a woman at a Cleveland complex. Hunt was released by the Chiefs following the release of the video. That transaction took place before the NFL could react, and following his signing with Cleveland, Hunt was promptly placed on the Commissioner's Exempt list.
The literal signing also proved to be a topic of contention. Hunt inked a one-year deal that could be worth up to $1MM. This was an increase from the $678K he was set to make with Kansas City in 2019. While a subsequent suspension would reduce any salary, Hunt still took home more money than if he had been retained by his former team.
Hunt was ultimately banned for the first eight games of the 2019 season, and he was reinstated by the league in early November. He naturally slid in as a backup behind Nick Chubb, who would soon complete a Pro Bowl season that saw him rush for 1,494 yards and eight touchdowns. Hunt ultimately appeared in eight games (three starts) for the Browns in 2019, collecting 464 yards from scrimmage and three touchdowns.
The running back was slapped with a second-round tender after the season, and he ended up getting a two-year, $13.25MM extension from the organization this past September. Hunt saw a much larger role during his second season in Cleveland, compiling 1,145 yards from scrimmage and 11 scores. Hunt also saw time in two playoff games, collecting three total touchdowns. The running back remains under contract through the 2022 season, which is especially relevant considering Chubb's impending free agency after next season. While the two-headed monster should return in 2021, Cleveland's backfield could look a whole lot different in 2022.
Hunt's past continues to make him a controversial figure, and both the player and the Browns will have a tough time shaking this notion as long as Hunt's in Cleveland. Still, when coupling the player's production with the future flexibility he'll provide, there's no doubting that the move has worked out for Cleveland.
Photo courtesy of USA Today Sports Images.