Earlier this week, Le'Veon Bell threatened to retire or sit out the 2018 season if he was franchised. However, following the Steelers loss to the Jaguars today, the running back emphasized that he'd like to remain in Pittsburgh.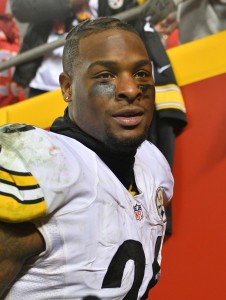 "Of course," Bell said when asked if he wanted to return to the Steelers next season (via ESPN.com's Katherine Terrell). "I never want to leave this city, but obviously, circumstances and things like that. But I definitely don't."
The Steelers are expected to slap Bell with the franchise tag for the second straight season, which means the running back would earn around $14.5MM. Despite the fact that that value would be the highest salary of Bell's career, the Pro Bowler is pursuing a lucrative long-term contract. The running back is reportedly also eyeing a deal that would account for his importance in the passing game.
After compiling 67 yards on the ground and 88 yards through the air, Bell admitted that he wasn't thinking of his next contract following the disappointing loss.
"Just the fact that I lost a game, I kind of feel the same way. All four games we lost this year, I feel the same way," he said. "I hadn't thought about it. I'll go back, and tomorrow when I wake up, it might cross my mind, but I haven't made it that far yet."
Bell also noted that the Steelers have the right roster to make another run at a Super Bowl championship.
"I think we get everyone healthy, it can even be more special," he said. "Give credit to [Antonio Brown]. He went out there at whatever percent and still gave his all. Obviously, wasn't himself. Still made plays. Being incredible. Guys like that, you can't come across all the time."
Photo courtesy of USA Today Sports Images.