Coming off one of the boldest attempts to secure a top-market contract in NFL history, Le'Veon Bell landed on his feet. While his market was on the verge of getting to a place that would have made his gamble foolish, with several teams either bowing out early or not having the level of interest previously indicated, the Jets saved the All-Pro back.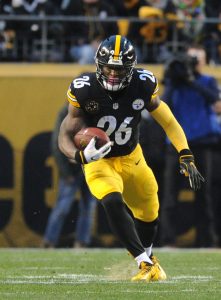 Bell's deal will come with $27MM fully guaranteed, according to Mike Florio of Pro Football Talk. That number gives Bell the third-most fully guaranteed money among running backs (and the most among backs attached to veteran contracts, with only rookie-contract players Saquon Barkley and Leonard Fournette standing to earn more over the course of their deals). There is an additional $8MM in injury guarantees, bumping the four-year, $52.5MM deal's total guaranteed money to $35MM.
While the Jets can get out of this contract after Year 2, after having paid the $27MM due through the 2020 season, Bell's 2021 salary ($8MM) is guaranteed for injury. That figure becomes fully guaranteed on the fifth day of the 2021 league year. Bell's non-guaranteed 2022 salary is $9.5MM, Florio adds. The $8MM signing bonus will be completely paid by January 2020. If Bell is on the Jets' roster through 2021, he will be due $38MM — without factoring in per-game roster bonuses, which max out at $500K per season.
In terms of per-game incentives, Bell can collect $1.5MM per season — but the thresholds are lofty. In each year of the contract, Bell can earn $500K for surpassing 1,800 yards from scrimmage — something he has done three times, including in 2016 when he only played 12 games. Should Bell exceed 2,000 yards from scrimmage, he would collect an additional $500K. If Bell gains 1,800 yards from scrimmage and the Jets make the playoffs, that means another $500K for their starting running back, Florio notes. No Jet has recorded 1,800 yards from scrimmage since Curtis Martin in 2004.
Bell gave up $14.5MM on the Steelers' 2018 franchise tag to be in position to command this contract, and while that was a debatable strategy, an injury may have ruined the 27-year-old's chances of securing it. Bell had suffered key setbacks during the 2014, '15 and '16 seasons.
And Just like Antonio Brown's gamble depended on the Raiders, who were willing to redo the wide receiver's deal when other suitors would not, Bell's market depended on the Jets. The 49ers' offer did not include guarantees in the vicinity of the Jets' proposal, Manish Mehta of the New York Daily News tweets. This follows a report that placed San Francisco's three-year, $38MM deal as being "just about fully guaranteed."
Photo courtesy of USA Today Sports Images.