DECEMBER 11: Walker is not expected to play against the Panthers, per Jeremy Fowler of ESPN.com (via Twitter). The Seahawks hope to have him back in action for their upcoming Thursday night matchup with the 49ers.
DECEMBER 10, 3:05pm: Walker and Dallas have both been upgraded to questionable for tomorrow's game, increasing the likelihood that they make an appearance against the Panthers, according to ESPN's Adam Schefter. The two still have not practiced all week, so it will be intriguing to see if they are still game-time decisions tomorrow and how much they will play, if at all.
The team also announced that it will be elevating practice squad running back Godwin Igwebuike, who converted to running back last year for the Lions after a couple years as an NFL safety. In 17 games with the Lions last season, Igwebuike ran the ball 18 times for 118 yards and a touchdown, adding seven catches for 60 yards. He also returned kickoffs for the Lions, which may indicate that he is taking an injured Dallas's spot on the kickoff return team.
Seattle will use its second standard gameday elevation on practice squad receiver Laquon Treadwell.
DECEMBER 10, 2:04pm: Initially listed as questionable after injuries in last weekend's win over the Rams, Seahawks running backs Kenneth Walker and DeeJay Dallas have both been downgraded to doubtful leading into the team's matchup against the Panthers this Sunday, according to ESPN's Brady Henderson. Both Walker and Dallas will be game-time decisions to play this weekend.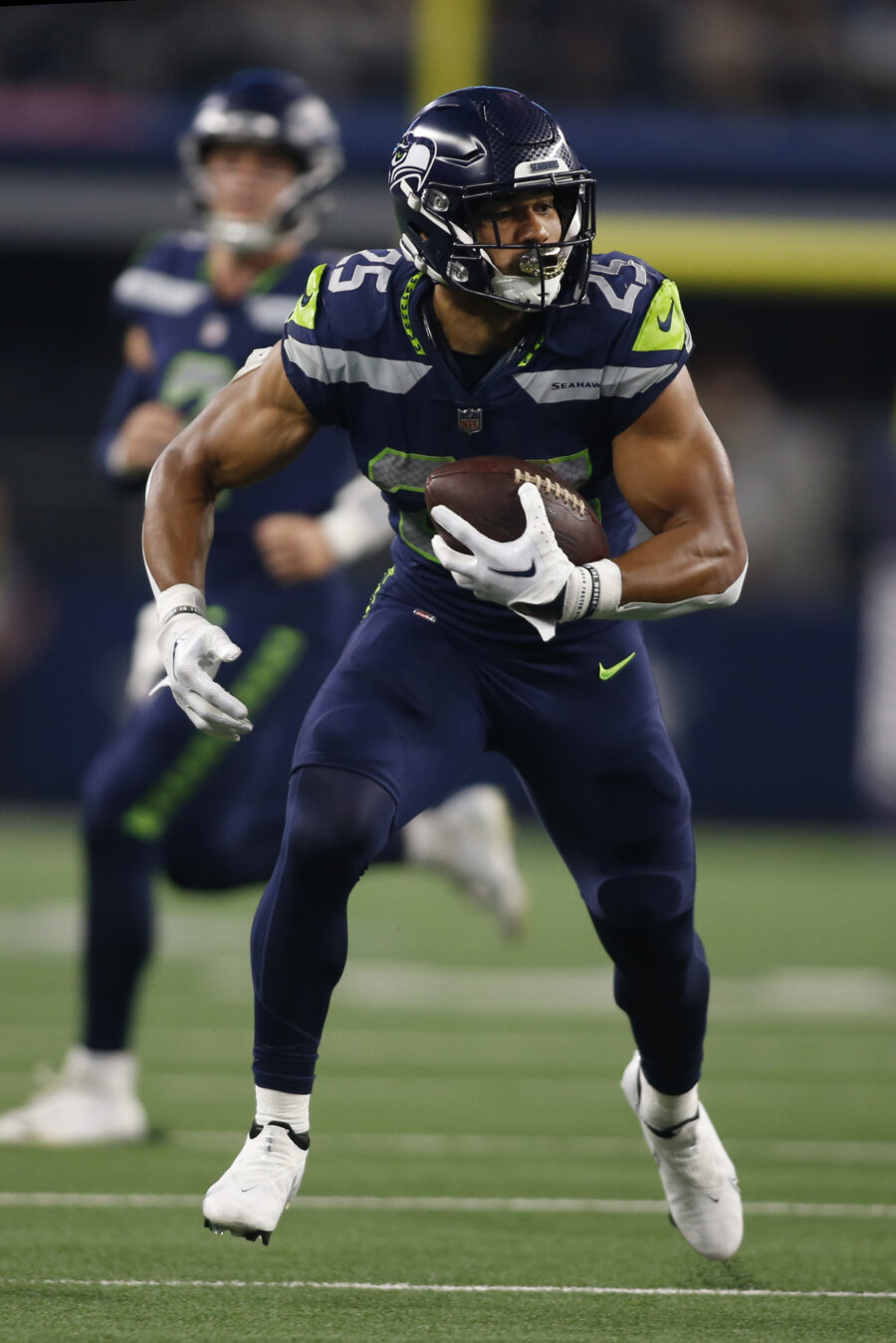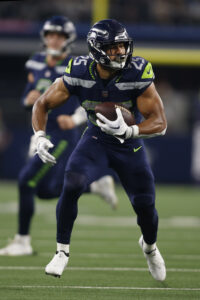 Seattle was closing in on panic mode as Walker, Dallas, and fourth-stringer Tony Jones all left the game with injuries. With primary backup running back Travis Homer already declared out for last week's game, the Seahawks were in trouble when Walker and Dallas exited the game. When Jones sustained a hard hit and made his way to the injury tent, Dallas was asked to return to play despite being listed as doubtful to return.
Walker and Dallas are both technically possible actives for tomorrow, but neither has participated in practice at all this week. This may present Homer with his fist starting opportunity since his rookie season. A former sixth-round draft pick out of Miami, Homer has mostly served as a reserve back in a deep position room. Behind the team's usual top running backs duo, Chris Carson and Rashaad Penny, Homer was granted few opportunities to run the ball or show his prowess catching passes out of the backfield during his first three seasons.
Homer has held onto a roster spot much the same way as his former Hurricanes teammate, Dallas: stellar special teams play. While Dallas's special teams impact has come as a returner. Homer tends to play on all of the kickoff, punt, and return units. He's racked up a good amount of special teams tackles with aggressive play and even forced some turnovers. In fact, his lone rushing touchdown in the NFL could be attributed to his special teams play as he scored on a 73-yard rush during a fake punt. He has another special teams touchdown from an onside kick recovery that saw him recover the attempt and speed past would be tacklers as they looked for a ball that was on its way to the endzone.
Homer's first start three seasons ago came in a Week 17 game that saw injuries force his way up the depth chart. The team signed then-retired running back Marshawn Lynch to back him up, welcoming Lynch back after four years away from the team. In his lone regular-season start, Homer rushed for 62 yards on 10 carries and caught all five of his targets for 30 more yards. He also started the Seahawks' first-round playoff game before Lynch got the start in the second round.
If Walker and Dallas are unable to go, Jones will likely serve as Homer's backup. Recent practice squad addition, Wayne Gallman, is also reportedly ready to play if Seattle needs him. Whoever is taking handoffs, Seattle may need a big game from them against a Panthers defense that has been more vulnerable to the run than the pass this year. A big game from Homer and company may be needed to keep the Seahawks from going 0-4 against the NFC South this season.