The Rams made a handful of roster moves Tuesday afternoon. Los Angeles is signing kicker Matt Gay while placing offensive tackle Andrew Whitworth, safety Taylor Rapp, and kicker Kai Forbath on IR, the team announced Tuesday.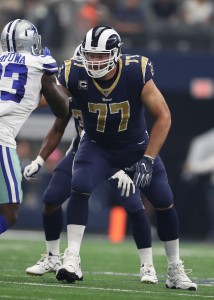 Obviously with Forbath going on injured reserve, the team needed a new kicker. They started the year with seventh-round rookie Sam Sloman as their kicker, but replaced him with Forbath after he struggled to start the year. Gay was drafted by the Bucs in the fifth-round last year, and spent 2019 as their kicker. He was waived in September following a training camp battle with veteran Ryan Succop that he lost. He then signed with the Colts' practice squad, which the Rams just poached him off.
Whitworth of course suffered a torn MCL and PCL during Sunday's win over the Seahawks. The injury was thought to possibly be season-ending, but head coach Sean McVay indicated recently they were hoping to get him back and that it would sideline him only 6-8 weeks. If that's the case, then the veteran stud left tackle may be able to return and block Jared Goff's blindside for a playoff run. 2018 third-round pick Joseph Noteboom will take his place for the time being.
Rapp is a 2019 second-rounder who was a starter as a rookie and had once again been playing a big role on defense this season. He has an MCL sprain which McVay said will likely sideline him between 3-4 weeks. Meanwhile Forbath has a sprained ankle. Gay will apparently compete with Austin MacGinnis, currently on the practice squad, for the kicking job.