After one of the busiest offseasons in the NFL, the Titans are looking to take one major step forward in their rebuilding process.
Notable signings:
There was lots of activity in Tennessee over these last few months, but relatively little happening on the free agent market. One notable move they did make was the signing of center Ben Jones, which strengthened their interior line while hurting the rival Texans. Given the season-ending injury suffered by presumptive starter Nick Martin, the loss of Jones will sting extra hard in Houston.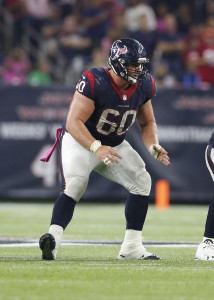 Jones, 26, was with the Texans since 2012, when he entered the league as a fourth-round pick out of Georgia. He became Houston's full-time starter in 2014, and he's started all 32 games since. Jones posted solid marks from Pro Football Focus, which ranked him as the No. 18 center in the league last season, noting that he was better in the pass game than as a run-blocker.
Early on in free agency, the Titans re-signed defensive tackle Al Woods to a three-year pact. Woods, who recently turned 29, picked up 22 tackles in 14 games (nine starts) for the Titans in 2015. With fellow nose tackle Sammie Lee Hill recovering from a knee injury to open the season, Woods saw most of the playing time at the position, earning 362 defensive snaps to Hill's 190 for the season. While Pro Football Focus ranked Woods just 88th out of 123 interior defenders, PFF gave him a solid grade as a run defender, and he was primarily used on early downs. At the time of his new deal, it looked like Woods would be slotted in as the team's starting nose tackle. However, the Titans found their new starter in the draft (more on that later).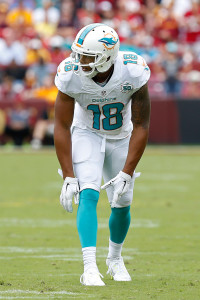 Wide receiver Rishard Matthews was a pleasant surprise for Dolphins fans and fantasy owners alike in 2015. In 11 contests last season, Matthews totaled 662 yards and averaged 15.4 per reception as the Fins' downfield complement to Jarvis Landry. Unfortunately, a season-ending injury later in the season ended his breakout campaign prematurely. That bad break also may have capped his free agent market somewhat. Ultimately, the Titans were able to sign Matthews to a three-year deal with a paltry $2.5MM guaranteed. After Dorial Green-Beckham was jettisoned to Philly, Matthews probably now stands as the team's No. 1 wide receiver.
Matthews isn't the only Miami import as the Titans also signed cornerback Brice McCain. McCain started 10 games and played 735 defensive snaps for the Dolphins in 2015, picking up an interception to go along with 39 tackles. However, the Dolphins decided to cut him this year in order to save $2.5MM against the cap. Despite making 10 starts for Miami last year, he'll play a reserve role this year behind starters Jason McCourty and Perrish Cox.
The Titans reportedly made quarterback Matt Cassel a priority in free agency as they wanted to shore up the quarterback position behind Marcus Mariota. Evidently, the Cassel signing was made so that the Titans could move on from Zach Mettenberger later on in the offseason.
Notable losses:
Michael Griffin managed to start 14 games for Tennessee last season, accruing 65 tackles, one interception, and one sack, but he is not the player that he once was. In February, the Titans cut him loose in order to clear his entire $6.5MM salary from the books for 2016. In his nine seasons with the Titans, Griffin missed just three games, including one in 2015. Earning Pro Bowl spots in 2008 and 2010, the former first-round pick totaled 761 tackles, 25 interceptions, and 11 forced fumbles during his time with the team. The Titans will miss the hard-working Griffin in the locker room but the move was a no-brainer from a fiscal perspective.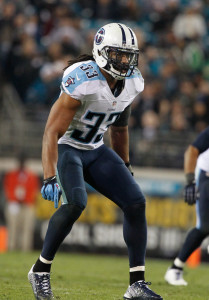 At one time, Zach Mettenberger was viewed as a starting option for the Titans at quarterback. However, he failed to impress on the field and the addition of stud rookie Marcus Mariota in 2015 effectively blocked him in Tennessee. Apparently, the Titans didn't think much of him as a backup QB either. Mettenberger was waived by the Titans and claimed by the Chargers, only to be waived again by San Diego in late August.
Early on in the offseason when we ranked our top 15 free agent cornerbacks, Coty Sensabaugh did not make the cut. Apparently, the Rams see something that we don't. Sensabaugh inked a three-year deal with a $15MM base value that could be worth up to $19MM. In 2015, Sensabaugh recorded 58 total tackles with 8 passes defended. He also hauled in two interceptions and scored one defensive touchdown. It's not clear if the Titans made a major effort to re-sign him.
Sammie Lee Hill played in 10 games for the Titans, starting five, and picked up six tackles. The Titans didn't express much interest in re-signing him and this week he was slapped with a four-game suspension for a missed drug test. Hill is still without an NFL team for the coming season.
Trades:
In 2014, DeMarco Murray was an absolute beast for the Cowboys. Behind one of the league's best offensive lines, Murray established career-highs of 1,845 yards and 13 TDs in his contract year, leading to a huge payday with the Eagles. Unfortunately, he never took off in Philly, rushing for just 702 yards and six touchdowns in 2015. Even though the Eagles overhauled everything this offseason, Murray still wasn't happy and in March he was traded to the Titans. All it cost Tennessee was a swap of fourth round picks, moving them down 13 spots. 
In Tennessee, Murray joins a club that ranked 25th in rushing yards last season and 17th in per-carry average. Keep in mind, that is with Marcus Mariota beefing up both stats with his lofty 7.4 YPC. Antonio Andrews led Titans backs in attempts (143), yards (520) and touchdowns (three). He matched Murray with a paltry 3.6 YPC. If the Titans can get anything close to the 2014 version of Murray, they could have a dangerous offensive attack.
The Titans initially held the No. 1 pick in the 2016 draft and they were heavily connected to Ole Miss tackle Laremy Tunsil. GM Jon Robinson told every live microphone that he intended on keeping the No. 1 pick, a wise play with several teams interested in this year's top quarterbacks. Eventually, the Rams made a godfather offer to the Titans, netting them a bevy of picks in this year's draft plus 2017 first-round and third-round selections. Then, the Titans went from No. 15 back up to No. 8 to get the guy who they believed to be one of the best two tackles in the bunch.
The Titans tried to be as patient as they could with Dorial Green-Beckham, but they gave up on the young receiver just days ago. Once considered to be one of the top high school prospects in the nation, DGB was unable to get his head on straight in college and fell to the Titans in the second round of the 2015 draft. Green-Beckham hauled in 32 catches for 549 yards and four touchdowns as a rookie last season, but frustrated coaches with his uneven effort.
Draft picks:
1-8: Jack Conklin, T (Michigan State):
2-33: Kevin Dodd, DE/OLB (Clemson)
2-43: Austin Johnson, DL (Penn State)
2-45: Derrick Henry, RB (Alabama)
3-64: Kevin Byard, DB (Middle Tennessee State)
5-140: Tajae Sharpe, WR (Massachusetts)
5-157: LeShaun Sims, CB (Southern Utah)
6-193: Sebastian Tretola, OL (Arkansas)
7-222: Aaron Wallace, LB (UCLA)
7-253: Kalan Reed, DB (Southern Mississippi)
When you have a stud quarterback like Mariota, you need to invest your resources in protecting him. The Titans did just that this year when they moved all around the draft board and ultimately landed at No. 8 to select Michigan State tackle Jack Conklin. The door is open for Conklin to step in immediately and make an impact as a starter on the Titans' O-Line. Still, as PFR scouting guru Dave-Te Thomas notes, Conklin's draft position does not necessarily guarantee that he'll be a star:
Being a Top Ten choice does not always spell instant success, at least where offensive tackles are concerned. Among the 179 offensive tackles to ever be drafted in the first round, four never even played in any NFL games and seven others never started any contests during their pro careers. Since the 1970 draft, five other first round offensive tackle selections never reached double-digit starting figures.
Aside from Conklin, Thomas says he is particularly impressed by defensive tackle Austin Johnson, running back Derrick Henry, free safety Kevin Byard, wide receiver Tajae Sharpe, and guard Sebastian Tretola. Those with a pessimistic view of Murray believe that Henry could be in store for a monster rookie season.
Extensions and Restructures:
Other:
Out with the old, in with the new. Ruston Webster joined the Titans in 2010 as VP of player personnel and was elevated to the GM job two seasons later. The team went on to have an 18-46 record during his tenure, tying them for the second worst mark in the NFL during that time. This offseason, it wasn't a huge surprise when Webster was bumped in favor of Robinson. R
Robinson spent the bulk of his career with the Patriots, where he worked with Buccaneers GM Jason Licht. It was Licht who later brought Robinson to Tampa. Robinson, a Union City, Tenn., native, was considered a frontrunner early on in the process.
The Titans wrestled with the decision to retain interim head coach Mike Mularkey for the coming year. Team ownership was in Mularkey's corner from the start and Robinson reportedly agreed to consider him as a serious candidate upon his hiring. The 54-year-old Mularkey now becomes a full-time head coach for the third time in his NFL career — he previously lead both the Bills and Jaguars. A longtime offensive coordinator and tight ends coach, Mularkey has accrued an uninspiring 18-39 record, including a 2-7 mark in nine games as the Titans' interim coach in 2015.
Top 10 cap hits for 2016:
Information from Over the Cap, Spotrac, and Roster Resource was used in the creation of this post. Photos courtesy of USA Today Sports Images.
Follow @PFRumors