The 2014 first round produced some of the NFL's best players, and they comprise part of an extensive group of that skipped minicamp and could well be training camp holdouts. But several other standout players didn't show for their respective teams' mandatory workouts either. Here's a look on where things stand with this absent contingent.
Aaron Donald, Los Angeles Rams: The reigning defensive player of the year is holding out for a second straight summer. He skipped the Rams' minicamp, as expected, and remains focused on a landscape-changing deal. Both Donald and Khalil Mack are in line to eclipse Von Miller's $19MM annual salary, but the California-based franchises may be hesitant to be the first to authorize a $20MM-per-year pact for a defender. However, Les Snead's already conceded the Rams will have to finalize a Donald deal that makes him the league's highest-paid defender. But with the Broncos superstar having signed his extension in a $155MM cap year, it's likely Donald's camp — particularly on the heels of a season where the all-world interior defender won DPOY honors after his holdout induced a two-game absence — is targeting a figure well north of Miller's, with the cap now at $177.2MM.
The Rams see this process unfolding in a less contentious fashion this year, but a Donald deal — one that's putting other priorities on hold — isn't imminent.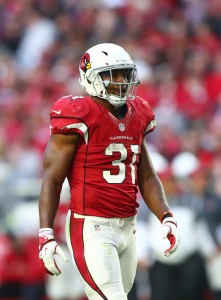 David Johnson, Arizona Cardinals: Unlike Le'Veon Bell and the Steelers, this process features no immediate deadline. But Johnson's contract expires after this season, with no fifth-year option available to the franchise. Johnson and the Cards are engaging in extension discussions, and Steve Keim said this week — as his All-Pro back skipped minicamp — the team looks forward to signing Johnson long-term.
This has not proven to be an acrimonious situation, but Johnson is on a slightly different timetable than Bell. Despite being a fourth-year player compared to Pittsburgh's All-Pro entering his sixth season, Johnson is a few months older than Bell and will turn 27 in December. However, it may be in his best interests to wait and see what happens with Bell by the July 16 franchise tag extension deadline.
Julio Jones, Atlanta Falcons: The NFL's seen its wide receiver salary landscape shift since Jones signed his extension in August 2015. That contract made Jones the NFL's highest-paid wideout, but seven receivers have since surpassed him. This includes Sammy Watkins and slot target Jarvis Landry, who respectively signed 2018 deals for $16MM and $15.1MM annually. Atlanta's top weapon wants a revised contract and skipped OTAs and minicamp, and the Falcons are discussing such an amendment.
Jones has three seasons and minimal guarantees remaining on his deal, which averages $14.25MM per year. The team's response a Jones camp proposal did not meet with the group's approval, but the sides continue to negotiate. The 29-year-old pass-catcher said recently he has no intentions of forcing his way out of Atlanta.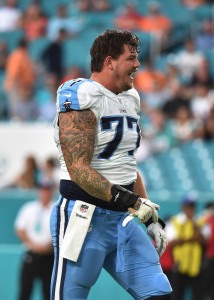 Taylor Lewan, Tennessee Titans: The left tackle is part of the 2014 first-round contingent entering fifth-year option seasons, and he joined some of the group's higher-profile players in skipping mandatory June workouts. Jon Robinson said upon being informed of Lewan's impending minicamp absence that the parties are participating in ongoing re-up dialogue, but as recently as late May, no reports indicated this was the case.
A two-time Pro Bowler, Lewan is entering his age-27 season and is now shooting for Nate Solder's $15.5MM-AAV standard. That's $2MM-plus more than any other left tackle makes, and the Giants authorized that contract amid free agency circumstances. This will complicate matters for Lewan and other extension-seeking tackles. Lewan's option season is set to be worth $9.341MM.
Khalil Mack, Oakland Raiders: After not joining Donald in a 2017 holdout, despite being in essentially the same situation, Mack is doing so this year. He has not reported to the Raiders this offseason. The 2016 defensive player of the year saw 2014 draftee teammates Derek Carr and Gabe Jackson sign lucrative extensions, only to see the Raiders put his on hold — mirroring other teams' processes with '14 first-rounders — because of the franchise-friendly fifth-year option. Reggie McKenzie's maintained the franchise intends to extend Mack in 2018 and said other players' situations aren't factoring into these discussions. Though, it'd be hard to believe Donald's process isn't impacting Mack's at all.
The Raiders and Mack weren't close on terms in April, but both Carr and Jackson signed their extensions in June of last year, perhaps pointing to a near-future resolution. Unlike the Rams, however, the Raiders have a top-tier quarterback salary on their books. That could cause issues elsewhere on the roster. Although, the cap's perpetual rise negates some of those potential problems.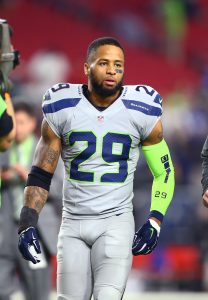 Earl Thomas, Seattle Seahawks: Perhaps the most interesting of these situations, the Seahawks have dangled Thomas in trades but expect him to report for training camp. Like Jones, Thomas saw several at his position usurp him in the salary hierarchy since signing an extension. Thomas signed a $10MM-AAV contract to make him the highest-paid safety in 2014. Again in a contract year, he's threatened a holdout for months and is following through. The Cowboys and Seahawks discussed a draft-weekend deal for the three-time All-Pro. While Dallas balked about sending a second-round pick for the 29-year-old defender, the teams may well revisit these talks.
Either way, Thomas is going to want Eric Berry money ($13MM AAV) on his third contract. With Richard Sherman in San Francisco and Kam Chancellor's career in doubt, Thomas is the last remaining member of the Legion of Boom. It's just uncertain if he'll finish out his second contract in Seattle or be shipped elsewhere and end that dominant era.
Photo courtesy of USA Today Sports Images.
Follow @PFRumors