Ryan Pace's roster construction featured a championship-caliber defense for a stretch, but the since-fired general manager's 2017 Mitchell Trubisky trade-up undercut the plan. The team's 2021 descent led ownership to scrap the Pace-Matt Nagy era, and the team's new Ryan-Matt partnership gutted the roster this offseason.
The Bears are now amid a full-scale rebuild. They are not alone, with a few other NFC teams trying this. But the first Ryan Poles–Matt Eberflus season will not likely involve playoff contention. It will still center around Pace and Nagy's final big swing, however, with Justin Fields set to lead a new-look offense.
Trades:
Poles signaled a teardown was coming before the league year began, agreeing to trade the Bears' All-Pro edge rusher to a team closer to a Super Bowl. This marked a somewhat sobering Chicago conclusion for Mack, who cost the Bears two first-round picks and change — and a defender-record contract — in 2018. Mack largely delivered on the team's hopes he could be the missing piece, elevating Vic Fangio's defensive troops to No. 1 in 2018 DVOA and scoring defense. Chicago was still near that level post-Fangio in 2019, but the franchise's Trubisky reality had set in by that point. The Mack-centered defensive nucleus was trapped, and no escape hatch emerged.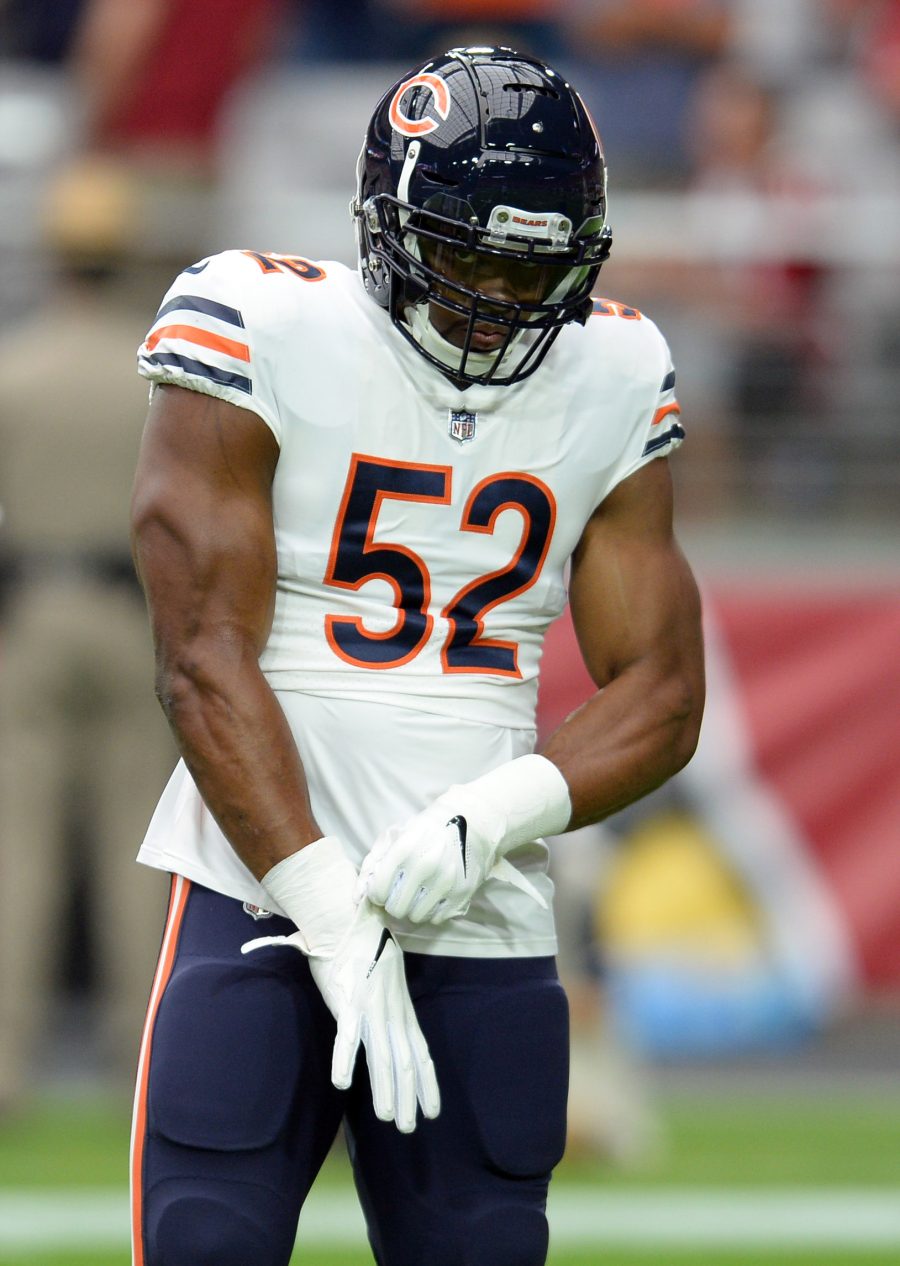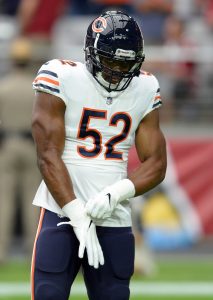 Mack, 31, still made the Pro Bowl in each of his three healthy Bears seasons, and although his 2019 and '20 campaigns were not as dominant as 2018, the former Defensive Player of the Year still totaled eight forced fumbles, 17.5 sacks and a safety in 32 games from 2019-20. Mack helped a flawed Bears team make the 2020 playoffs (leading to Trubisky NVP ignominy, but still) and had seen his contract passed up by a few edge defenders.
The Chargers deal gave the Bears a nice asset — the No. 48 overall pick that became safety Jaquan Brisker — but it also saddled the team with $24MM in dead money. Chicago had restructured Mack's deal in March 2019 and March 2021, pushing money into future years to lead to the bloated 2022 dead-cap hit. Mack, who is signed through 2024 as part of an extension that initially had him under Bears control for seven seasons, will be off Chicago's books in 2023. The potential Hall of Famer will be looking to bounce back from a foot injury that cost him 10 2021 games; how Mack (76.5 career sacks) fares opposite Joey Bosa will likely determine if he has a Canton case.
While the other Bears trade amounts to a flier, it did bring a former first-round pick to town. A trade candidate for over a year in New England, Harry never caught on in the Patriots' complex offense. The big-bodied pass catcher — the highest-drafted wideout in Bill Belichick's 23-year Patriots tenure — has just 57 receptions for 598 yards and four touchdowns. Harry is going into a contract year, one that will begin late because of his latest injury.
Maladies marred Harry's Pats career as well, and the ankle surgery he underwent is expected to require a two-month recovery timetable. Harry's rookie contract may end meekly, barring a late-season resurgence with his new team. The Bears did take several more swings at receiver before trading for Harry, however.
Free agency additions: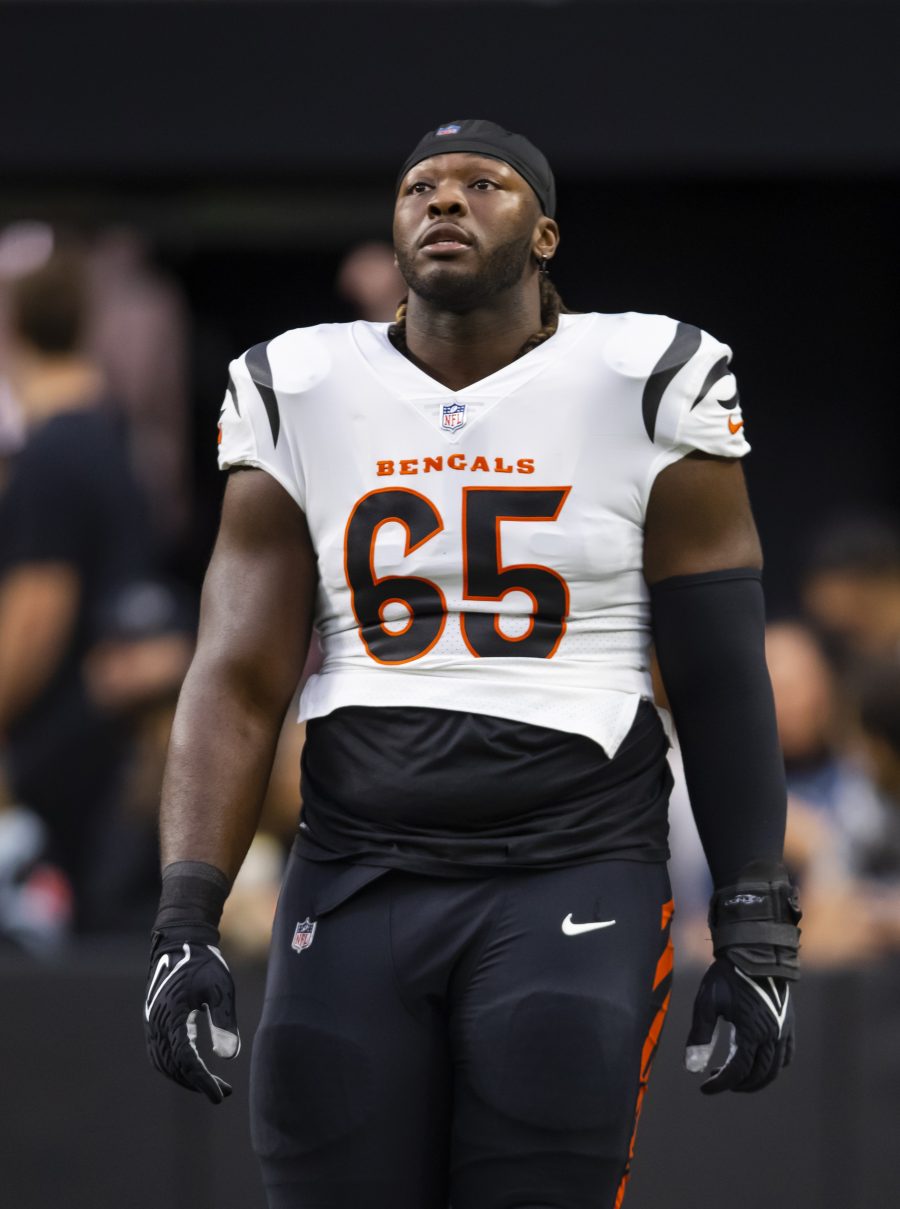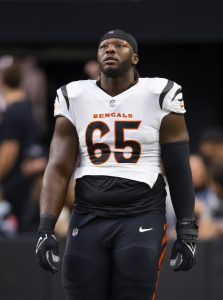 Not dissimilar from how Nick Caserio has gone about free agency to start his Texans GM run, Poles bought in bulk this offseason. The rookie Bears boss, however, did try to add a defensive line centerpiece. Larry Ogunjobi had agreed to a three-year, $40.5MM Bears pact that included $26.35MM guaranteed. The team failing the ex-Browns and Bengals D-tackle on his physical sidetracked Poles' plan, and during the time gap between Ogunjobi's (March 14) and the deal falling through (March 18), numerous free agents came off the board. The Bears settled into the talent pool's shallow end in the days and weeks that followed.
The day after Ogunjobi's deal fell through, some of the money earmarked for the higher-touted inside pass rusher went to Jones, who turned a third-round draft arrival into a three-year run as a Chargers starter. The former Bradley Chubb and B.J. Hill college teammate, at NC State, will be expected to be a Bears starter. He and Ogunjobi's skillsets differ; Ogunjobi has three seasons that top Jones' 4.5 career sacks. Pro Football Focus graded Jones as a middle-of-the-road D-tackle in Los Angeles, though he did command the most money among the Bears' 2022 UFAs.
Another player whose starter status will probably not be threatened by this week's waiver claims is Muhammad, who comes over after being a Colt during each of Eberflus' four years as their defensive coordinator. Part of the Saints' famed 2017 draft class, Muhammad did not catch on with New Orleans but made an impact as a rotational player and then as a starter in Indianapolis. The ex-Miami Hurricane's six sacks leading Colts defensive ends in 2021 was more a reflection on the team's struggles at the position, but Muhammad represents a nice stopgap who could be part of Eberflus' first two Bears D-lines.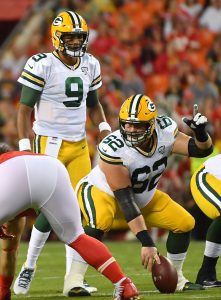 While Chicago's O-line has been in flux throughout the offseason, Patrick's place as its center has been fairly consistent. Although the sixth-year veteran is not a lock to be ready by Week 1 because of a July thumb break, Patrick has long been expected to be Chicago's pivot. The former UDFA was a primary Packers starter for the past two seasons, lining up as a first-string center or guard in 28 games in that span, and followed new Bears OC Luke Getsy south. Because of the uncertainty at the other non-Cody Whitehair positions, Patrick's assimilation will be critical to helping the Bears protect Fields.
Although the Bears have Reiff stationed behind Larry Borom and rookie Braxton Jones at tackle, it would certainly seem they could use the 11th-year vet. Reiff, 33, has started 139 games and has played right tackle for multiple full seasons (2016, 2021). The Jets showed interest in Reiff as well. While the former first-round pick is out of place on this Bears squad, he could serve a purpose by offering veteran protection for Fields. If Reiff is not in the Bears' starter equation, Fields protection — on the edge, at least — falls on two fifth-round picks.
The Bears' non-Harry receiver fliers included ex-Getsy charge St. Brown, who looks set to be part of Chicago's 53-man roster. St. Brown brings size, at 6-foot-5, but little in terms of production. He has caught 16 passes since his 21-reception rookie year (2018). Pringle will also be on the Bears' final roster. Both players will transition from being tertiary targets in deep receiving crews — Pringle with the then-Tyreek Hill-fronted Chiefs attack — to having paths to starting gigs. Pringle, at least, established some momentum last season. Acquired during Poles' year as the Chiefs' college scouting director, Pringle caught 42 passes for 568 yards and five touchdowns in 2021.
Re-signings:
Notable losses:
This front office showed little desire to retain the previous regime's talent, and no place felt that like Chicago's defensive line and linebacking units. In addition to Mack, four other starters from 2018's No. 1 defense — Hicks, Goldman, Nichols, Trevathan — were either released or not re-signed as UFAs. This foreshadowed both Robert Quinn trade rumors and an unexpected impasse with the last bastion of the '18 troops — Roquan Smith. The Bears entered 2021 with five front-seven starters on mid- or high-level veteran contracts; they are down to one (Quinn) this year.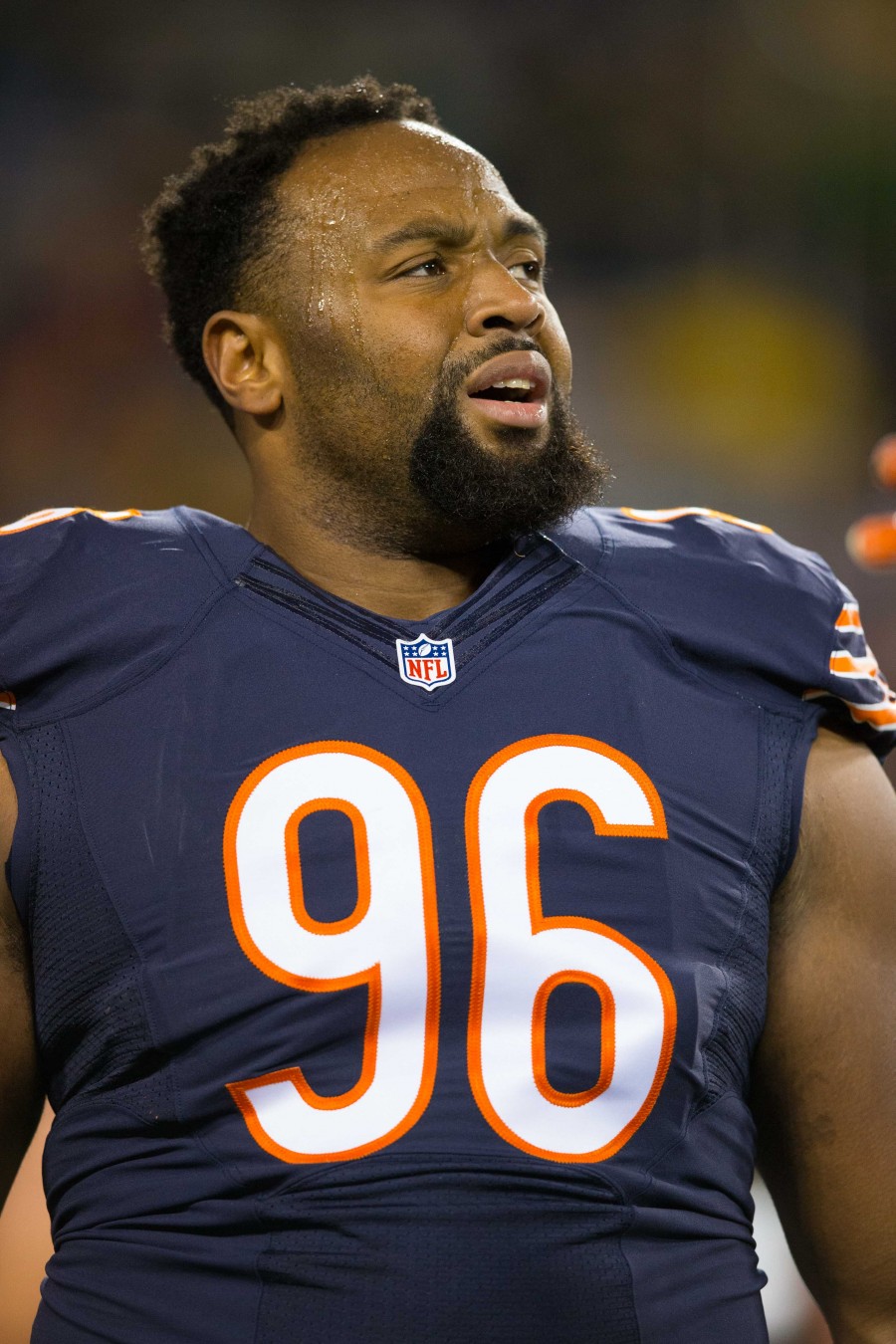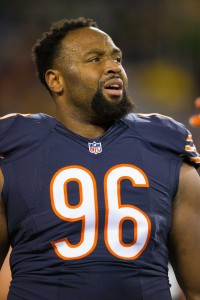 Hicks was one of Pace's best moves. He added the ascending defensive tackle on a two-year, $10MM accord during the 2016 free agency period. Hicks soon became a Pro Bowler and one of the game's top inside defenders, anchoring D-lines for top-10 defenses from 2017-19. The former Saints draftee more than earned his four-year, $48MM Beras extension, and while injuries became an issue during that second contract, he joined Mack in leading the Bears to an unlikely late-season 2020 rally. Hicks, 32, had sought a Bears extension last year, but once Pace was ousted, it became clear this year he was not in the team's plans. The Buccaneers have Hicks on a one-year, $8MM deal ($6MM guaranteed).
After whiffing on his first pick as Bears GM (Kevin White), Pace hit on Goldman in the 2015 second round. A year later, he poached Trevathan off a Broncos defense that remains one of this century's best units. Both players were key supporting cogs in Chicago, each signing second contracts as Bears and each playing six seasons (Goldman's tenure interrupted by a 2020 COVID-19 opt-out call) with the team. Both were in decline, making these calls easier.
Robinson resided as the Trubisky-era offense's centerpiece for three seasons. He was viewed as the team's 2021 top target, with the Bears shelling out a veteran franchise tag price ($17.9MM), but strangely hit a wall at age 28. Robinson's 2019 and '20 seasons rank sixth and ninth, respectively, in Bears history for receiving yardage. That speaks to the ex-Jaguar's talent and the Bears' modest receiver history. After the sides' acrimony between 2020 negotiations and the 2021 tag, it was easy to foresee a separation.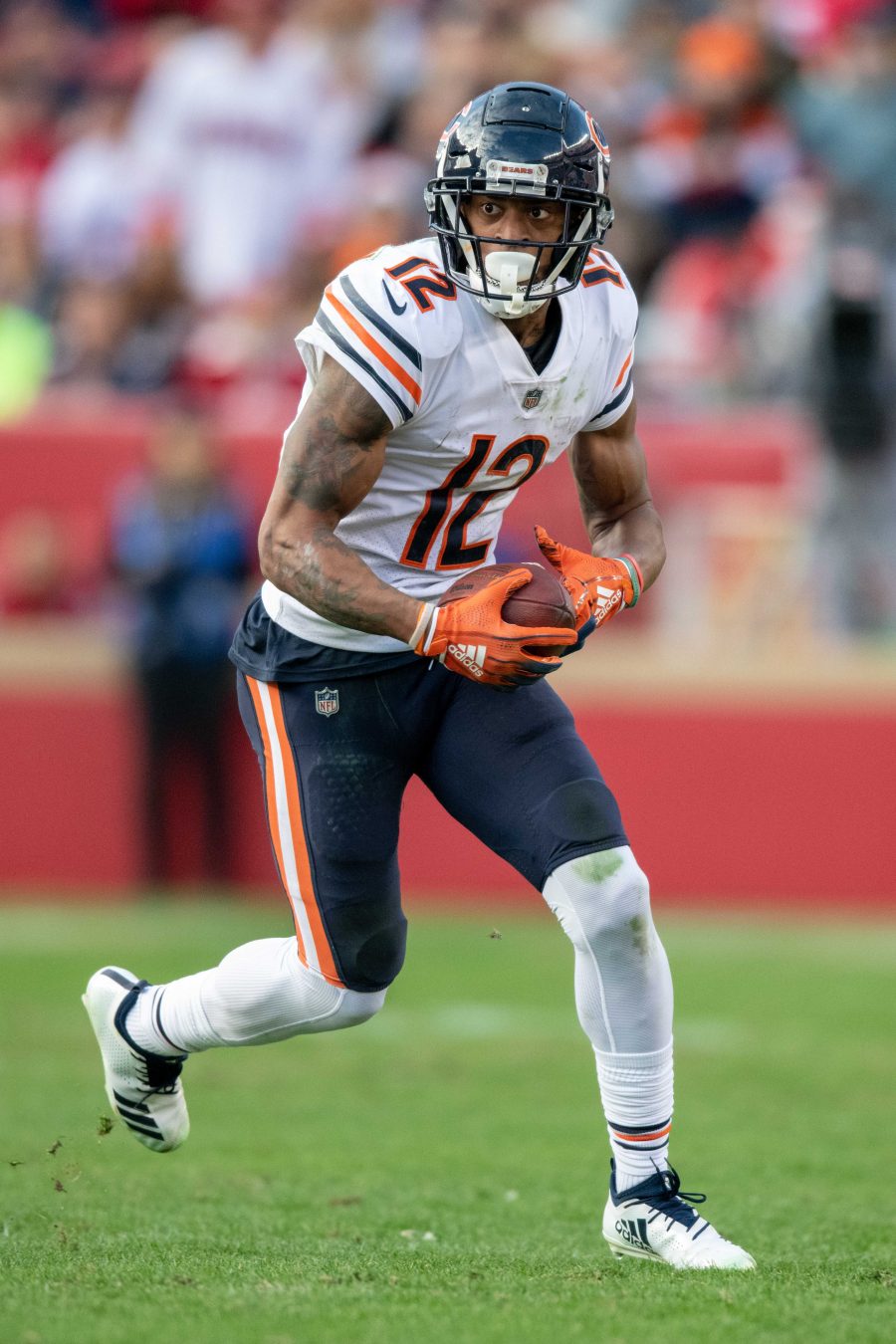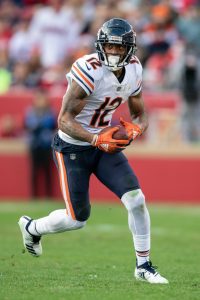 Robinson bouncing back with the Rams would represent another blow to a Bears team that could not put it together under Pace and Nagy. The initial Robinson contract (three years, $42MM) coming off a 2017 ACL tear was the right call, though. That deal became vital as the Bears failed to provide Robinson with a capable No. 2 wideout or tight end complement. Mooney looks to be in a Robinson-esque position now. Can the former fifth-round pick produce on that level?
Peters has been an emergency hire in back-to-back years, re-signing with the Eagles to replace injured guard Brandon Brooks (and later earning a raise to return to his old spot when Andre Dillard went down) in 2020 and emerging in Chicago when Teven Jenkins' back injury happened. Peters' age-39 season in Chicago should not impact his Hall of Fame case much, but giving the Bears 15 starts at that age certainly does not hurt it. Pro Football Focus graded Peters as a top-25 tackle last season.
This was a temporary partnership, but the Bears moving from that level of play to a fifth-round rookie (Braxton Jones) will probably have a negative impact on their young quarterback. The team moving on from Daniels, a four-year starter who is just 25, will not help here, either. The Steelers added Daniels for just $8.75MM guaranteed. Excepting Whitehair, the Bears other four current O-line starters are not earning that combined. The team also may have shopped Teven Jenkins this offseason, but after a guard relocation, the 2021 second-rounder may end up replacing Daniels.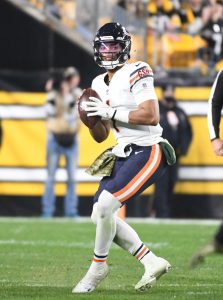 Foles and Dalton's exits at least give the Bears an unquestioned quarterback starter. The Bears mercifully let Foles out of his deal, after a strange midcareer redshirt season (save for a successful snow-game one-off in Seattle), and 2021 will not exactly be featured prominently in Dalton YouTube highlight montages (these do exist). This is the Fields show now, but are the Bears erring with their cast list for the first-round QB's second season?
For having a rookie QB contract, the Bears do not feature many payments going out to talent that could help said passer in 2022. After what could be a long year for Fields, will this Bears power structure have enough information on him to decide whether to reinvest at QB?
If the Bears do stick with Fields in 2023, they will need to spend some money to provide help. Post-Robinson, Whitehair is the only big contract on offense. If Quinn is moved, Eddie Jackson will be the only big-ticket deal — long-term, at least, with Roquan Smith's fifth-year option checking in just south of $10MM — on defense. This is one of the tougher formulas for a young quarterback to succeed in recent memory. The Jets and Jaguars devoted significant resources to helping their 2021 QB draftees (Zach Wilson, Trevor Lawrence) this offseason. The Bears not doing the same for theirs creates the appearance of a steep uphill battle.
Draft: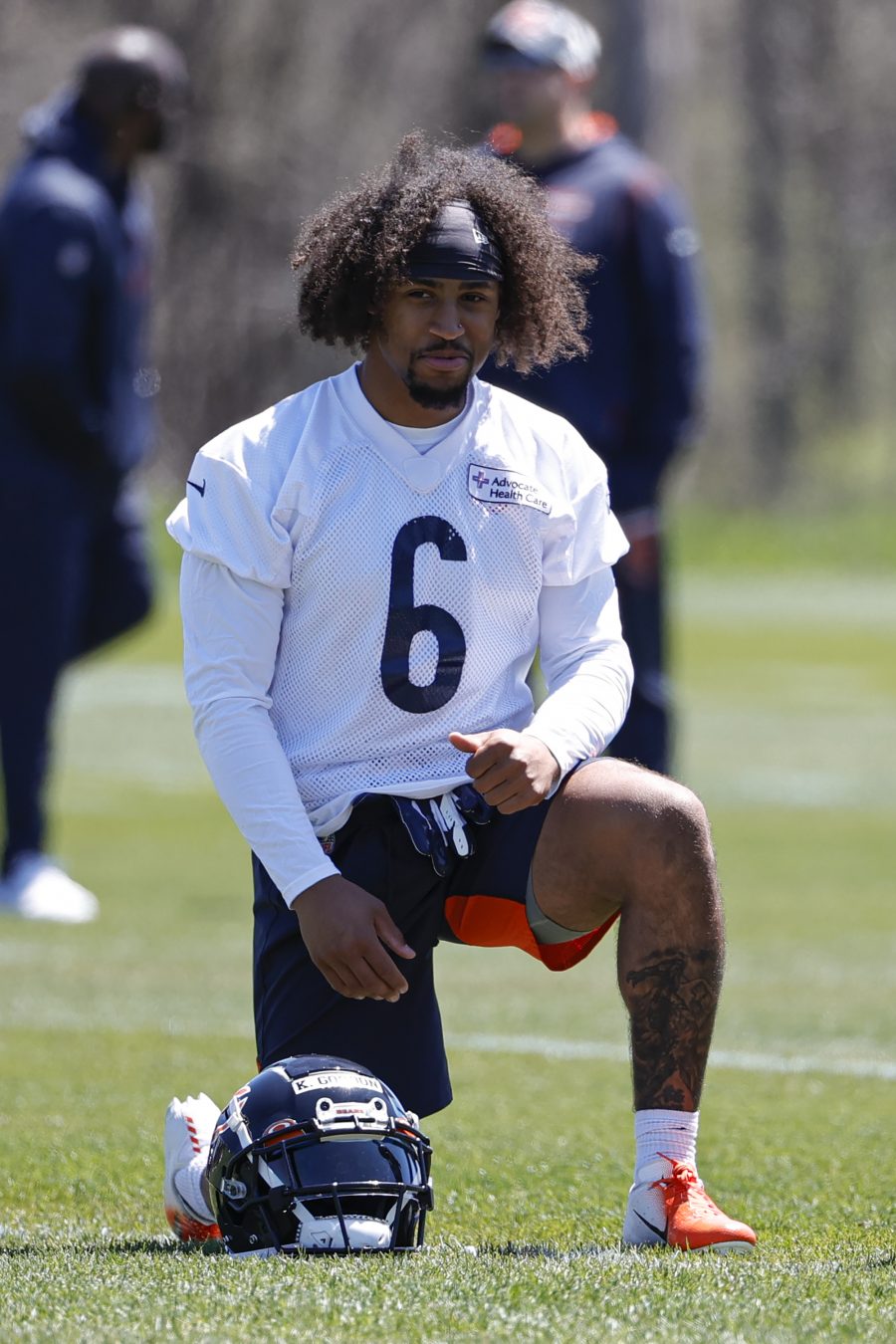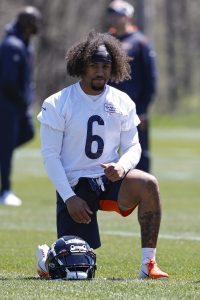 Chicago's cornerback corps could look different later this week, via the waiver wire, but the Gordon-Jaylon Johnson pair is the franchise's present direction. Gordon will replace Kindle Vildor, whom PFF ranked outside the top 100 in his full-time starter debut.
Having teamed with Chiefs first-rounder Trent McDuffie at Washington, Gordon brings intriguing versatility into the league. Coming into the NFL with an ability to man the slot or play outside, Gordon gives the Bears options as they construct their cornerback trio — a process that figures to take multiple offseasons — for Eberflus' defense. Eberflus' Colts secondary centered around the talents of a corner (Kenny Moore) who plays extensively in the slot and on the outside, pointing to a big rookie-year role for Gordon.
No roster impediment exists to halt Brisker, who will be a Day 1 starter. Amid stopgaps and Pace-era holdovers, seeing how Chicago's top two investments look will be paramount to gauging the defense's longer-term capabilities. An All-American last season, Brisker flashed throughout his first month in NFL-issued pads. Despite Brisker's mid-August thumb surgery putting his Week 1 availability in doubt, the Bears will deploy one of the more interesting safety pairings. Brisker will be poised to be a long-term Jackson running mate, depending on how Eberflus and Co. view the Pace-era find, after veterans Ha Ha Clinton-Dix and Tashaun Gipson manned the spot post-Adrian Amos.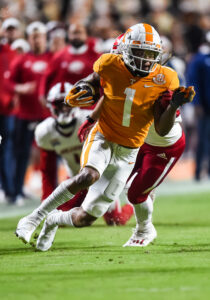 Chicago's Joneses may both be in the Week 1 starting lineup as well, or at least during the season's first half. The first of those, Velus, needs to be ready quickly. The Bears' scattershot offseason receiver strategy alongside Mooney leaves an opening for a true WR2. Jones arrives as a 25-year-old rookie, after a six-year college stay. He only spent one of those seasons (2021) as a receiver regular. Running a 4.31-second 40-yard dash at 204 pounds does captivate, but Jones' age and lack of college production is a concern. Second-rounder Anthony Miller did not pan out, hindering the Robinson-fronted attack. The Bears need Jones to be a true Mooney complement.
Going from Jason Peters to a Division I-FCS-produced Day 3 draftee brings one of the NFL's all-time experience gaps. Jones was already working with starters during the team's offseason program. The three-year college starter continuing to operate as a first-stringer would give the Bears a three-Jones lineup — when Velus Jones is ready to supplant one of the UFA wideout placeholders — and potentially begin another unusual tackle ascent in Chicago.
The Bears turned seventh-rounder Charles Leno into a long-term starter. Braxton Jones' profile also injects risk, when factoring in Fields' inexperience and learning an offense for the second straight year. Big-picture-wise, this would be a bold move by the new Bears regime.
Other:
Following Chris Ballard out of the Chiefs organization, which now has seen three Andy Reid-era hires become GMs (when counting Brett Veach's promotion), Poles was a finalist for the Bears and Vikings' jobs. The exec who took over in Minnesota, Kwesi Adofo-Mensah, did not orchestrate a teardown. That creates an interesting what-if for Poles, who committed to Chicago a day before Minnesota made its choice. The Giants also had Poles squarely on their radar, interviewing him twice, though they hired Joe Schoen a few days before Poles' Bears commitment. Poles also interviewed twice with the Panthers last year.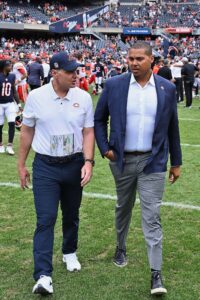 A fast-rising exec, at 36, Poles spent 13 years with the Chiefs and worked in their scouting and personnel departments. He finished his Kansas City tenure as the Chiefs' executive director of player personnel. While Ballard went to Indianapolis, a bit more attention will be on Poles, who landed in the bigger market and with a franchise starved to see a consistent winner. The post-Ditka Bears have famously struggled to assemble consistent contenders, making the playoffs in consecutive years only once (2005-06) since the revered HC's dismissal nearly 30 years ago. Quarterback play, as you may have observed, has hovered at the root of this inconsistency. It may take a bit for the Bears to notice growth under Poles, but he wasted no time in making the roster his own.
The Bears also met with Colts assistant GM Ed Dodds, who withdrew from the GM search six days before Eberflus' hire. The organization ran its coaching search before Poles' arrival, interviewing former head coaches Jim Caldwell, Dan Quinn and Brian Flores and four more candidates who became HCs elsewhere during this cycle (Nathaniel Hackett, Doug Pederson, Brian Daboll, Todd Bowles). Eberflus' defenses profiled in the "good, not great" category. That said, the Colts displayed consistency, ranking between eighth and 10th in defensive DVOA thrice under their Josh McDaniels-selected DC (2018, '20 and '21).
Eberflus, 52, will change the Bears back to a 4-3 scheme, after Chuck Pagano and Sean Desai kept Fangio's 3-4 look in place. While that distinction continues to matter less and less, with sub-sets leading the way in today's NFL, Eberflus inherits a fixer-upper for personnel compared to what he had in Indy. After having Moore, Shaquille Leonard and DeForest Buckner, Eberflus helms a Bears team with its top pass rusher clearly not long for Chicago and its standout linebacker firing salvos at management. Admittedly with a better roster compared to what Eberflus has, Nagy turned the Bears from 5-11 to 12-4 in his first season — a Coach of the Year campaign. Ownership cannot expect anything close to that in Eberflus' debut.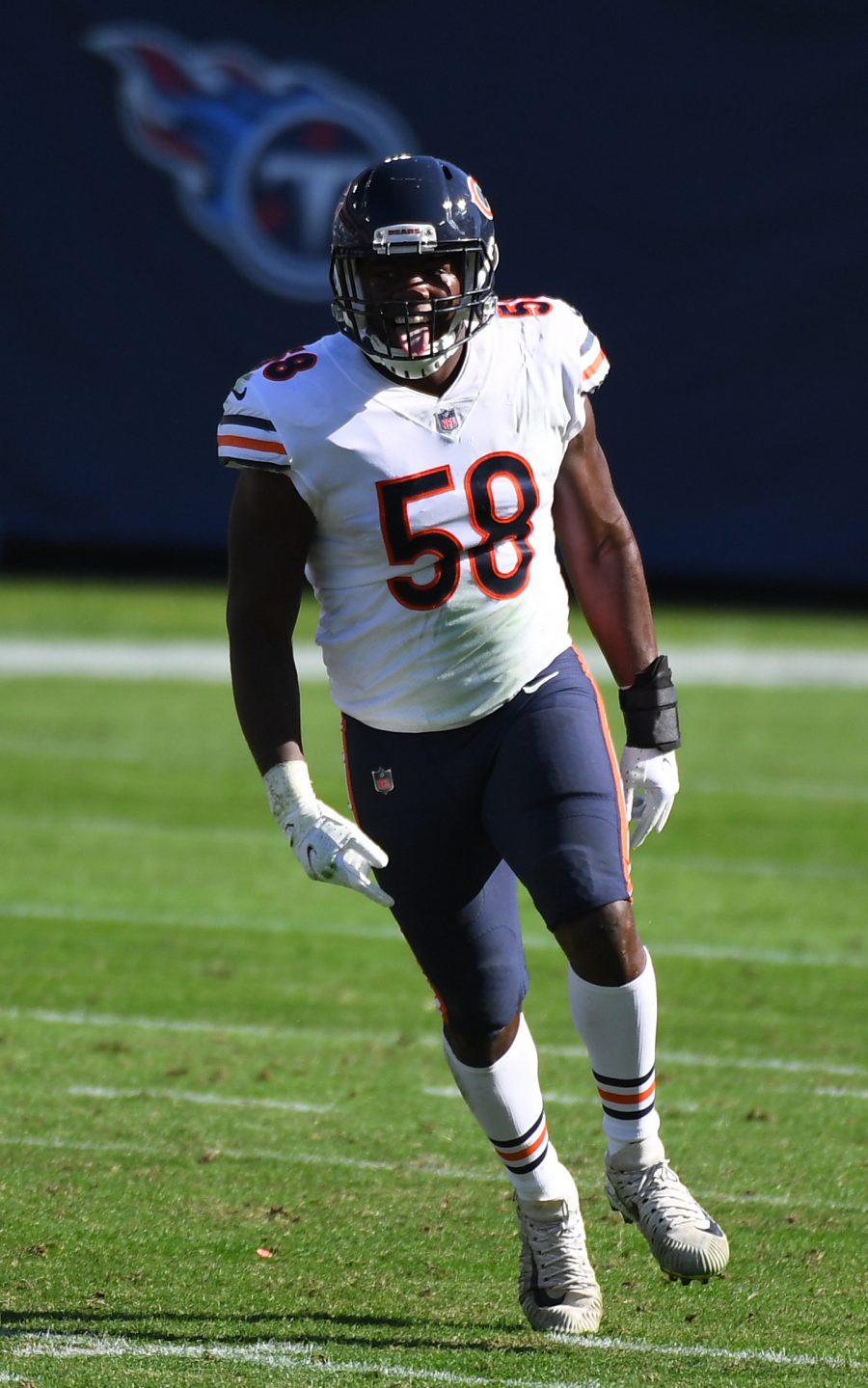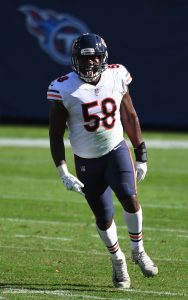 Williams, who was with Eberflus in Indiana for all four seasons, will play a big role here as well. Eberflus plans to hand the former Vikings DC (under Leslie Frazier from 2012-13) play-calling duties. That will be new territory for Williams, who has been a DBs coach for the past eight seasons. Getsy will make a bigger jump, rising from No. 3 in the Packers' offensive coaching hierarchy (behind Matt LaFleur and Hackett) to being tops in this department with the Bears. Although Getsy was in Green Bay for Aaron Rodgers' third and fourth MVP years, that is a big jump for the 38-year-old assistant. Another variable for Fields, though this offensive scheme is rather popular right now.
Smith's impasse brings higher stakes than normal negotiations with a fifth-year option player. No non-rush linebacker has been franchise-tagged since the Vikings cuffed Chad Greenway in 2011. Similar to the tag's O-line format, an outdated formula groups all linebackers together. Unless the Bears want to keep Smith off the 2023 market at roughly $20MM, the team runs the risk of the former top-10 pick departing for merely a compensatory pick — depending on how the Bears navigate free agency next year — come March. If the two-time second-team All-Pro plays out his rookie deal this season, it could strip Eberflus' defense of any long-term front-seven pieces. This provides an early test for Poles.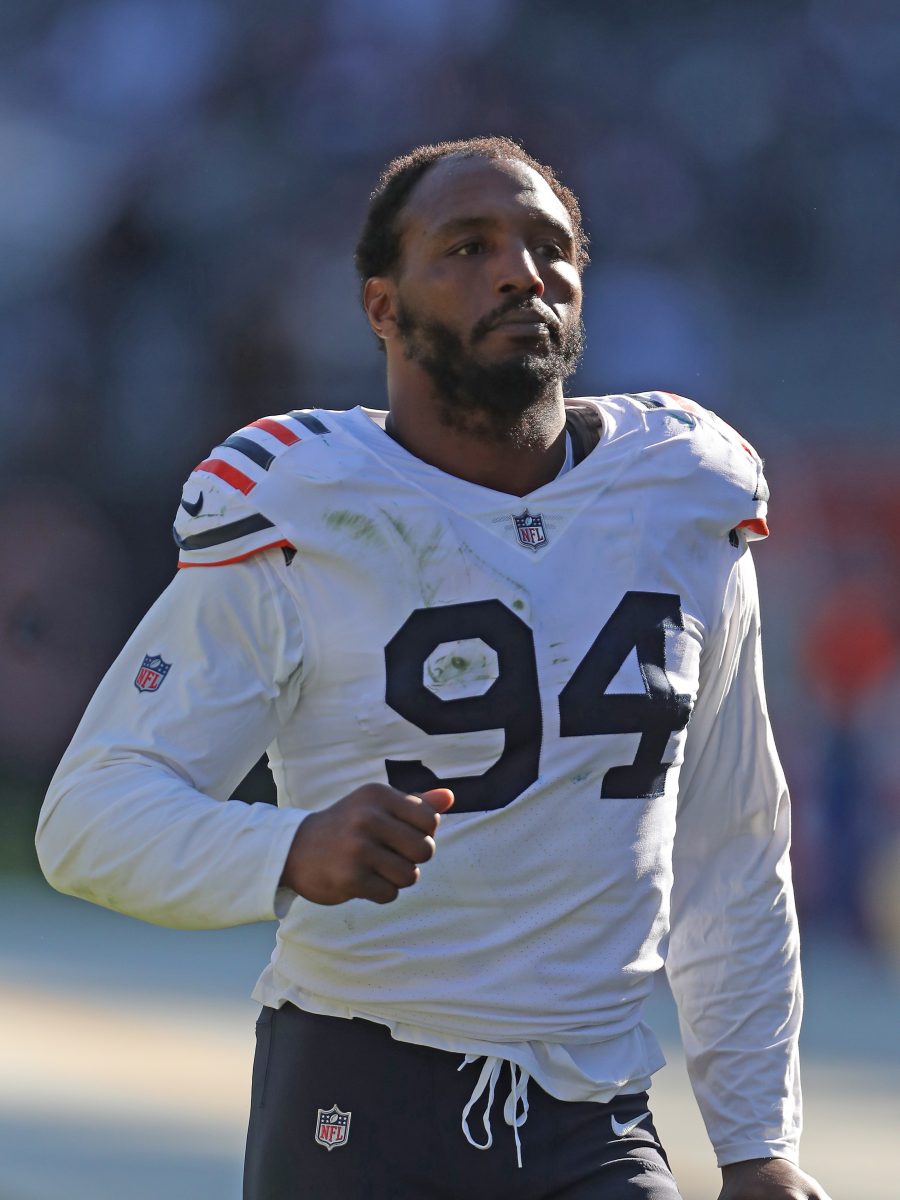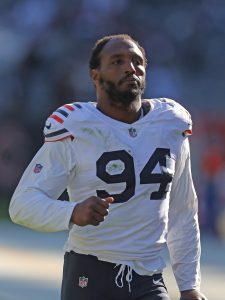 Smith, 25, has made this process complicated by being agent-less and asking for a deal that tops Leonard's $19.7MM-per-year contract. Leonard has three first-team All-Pro honors and is widely regarded as a better player. But the cap is back on the rise. Smith does boast unique tackle-for-loss numbers for his position, ranking behind only T.J. Watt (a player paid to make TFLs) among linebackers, with 30 over the past two seasons. With Quinn's contract almost certainly coming off the books in 2023 (if not sooner), the Bears have room to pay Smith. This devolving into a Robinson-like standoff that ends with a departure would not be a good look for the organization.
If this Bears season goes as most expect, Quinn almost has to be a trade chip. Teams were interested earlier this year. Quinn's value is higher after breaking Richard Dent's Bears single-season sack record, with 18.5, and the team would be better off dangling the 12th-year veteran ahead of his age-32 season compared to trying to move him ahead of his age-33 season — at a higher salary, $13.9MM — next year.
But Eberflus' defense has little beyond Quinn for pass-rushing reliability. Even though Quinn recorded a two-sack 2020, he can help this Bears defense function. And, for what it's worth, the twice-traded edge said he wants to stay. But Poles has shown he will jettison top talent to amass draft capital; it would seem he should do so again with a player clearly out of place on this roster.
Top 10 cap charges for 2022:
After a rather eventful offseason, the Bears join the Falcons, Giants and Lions in conducting what look like lengthy NFC rebuilds. They do not look to have positioned Fields well, and his rookie deal will be half over after 2022. Fields and Smith questions overshadow the other elements of the Poles-Eberflus debut, but the new Bears power brokers' draft picks will make their first impressions as potential long-term starters. Still, this Chicago reboot could veer closer to the one going on in Detroit compared the patch job taking place in Minnesota. It could be a bit before the Bears return to relevance.
Follow @PFRumors