As a competitive team with an older roster, the Buccaneers have seen plenty of turnover in recent years. However, heading into the offseason, the team was facing the biggest departure of all: Tom Brady. The QB's retirement and subsequent decision to unretire ended up working out for the Buccaneers, but it also highlighted how reliant the organization is on the future Hall of Famer. So, it wasn't a huge surprise when most of the team's offseason moves seemed to be an attempt to pacify Brady, especially with Bruce Arians stepping down as head coach in favor of Todd Bowles.
Despite these significant changes (and non-changes), the Buccaneers were able to maintain continuity this offseason, and that should set them up for another deep postseason run in 2022.
Trades:
The Buccaneers have welcomed in a number of former Patriots players since Tom Brady first joined Tampa Bay. This year, they acquired the QB's former right guard in Shaq Mason for a fifth-round pick. This was a low price to pay for a lineman with Mason's experience, especially a lineman who Brady trusts. Mason has missed at least one game in each of the past four seasons, but he's been plenty productive when he's on the field. Pro Football Focus ranked Mason fourth among 82 qualifying guards in 2021, the sixth-straight season he's finished with a top-1o score. Mason will lead a new-look guard corps in 2022.
Notable signings:
Tom Brady has never had an issue attracting wide receivers to his squad, and that was certainly the case this past offseason. The Buccaneers first stole a receiver from a division foe when they inked former Falcons wideout Russell Gage to a three-year deal. The 26-year-old has finished each of the past two seasons with 700 receiving yards, and he was expected to slide in third on the depth chart behind Mike Evans and Chris Godwin.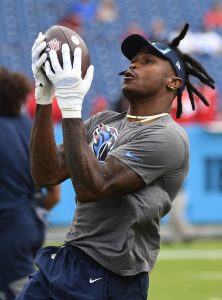 Later in the offseason, the Buccaneers managed to add another former Falcons wideout in Julio Jones. The former All-Pro receiver hasn't compiled more than 1,000 yards since 2019, and his numbers dropped off during his only season in Tennessee in 2021, as the veteran finished with career-lows across the board (31 receptions, 434 yards, one touchdown). Still, his track record should give him the nod on the depth chart ahead of Gage. Either way, when considering Godwin's ongoing recovery from his ACL tear, it's clear why the organization wasn't going to deny too much depth at the position.
Elsewhere on offense, the Buccaneers needed to find at least one body to replace the departed Rob Gronkowski (retirement) and O.J. Howard (left in free agency). In came Kyle Rudolph, who should be able to soak up some of those offensive snaps. The veteran had a three-year stretch between 2016 and 2018 when he averaged more than 660 receiving yards per season, but since that time, he's seen that number drop to 319 yards per year. Of course, the 32-year-old tight end won't be expected to pick up a ton of yardage, and he'll provide Brady with another big TE target (in addition to Cameron Brate) to throw to in the end zone. On the offensive line, Fred Johnson has only started eight of his 23 games, but his ability to play both tackle and guard earned him a spot on Tampa Bay's 53-man roster.
Defensively, the team did some work to add to their defensive line when they inked Akiem Hicks to a one-year pact. The former Pro Bowler has battled injuries recently, missing 20 games over the past three seasons. His versatility makes him an asset on any defensive line, and he'll likely see some time at defensive tackle in 2022. Regardless of his role, he's good for at least a handful of sacks. Otherwise, the team added a few veterans to their secondary, with both Keanu Neal and Logan Ryan expected to play depth roles in 2022. After starting 14 games for the Falcons in 2020, Neal started only five of his 15 games in 2021, but he still finished the campaign with 72 tackles. Ryan, who made a name for himself as a cornerback with the Patriots, has transitioned into more of a safety role in recent years, including a 2021 campaign where he finished with a career-high 117 tackles in 15 starts for the Giants.
Notable losses: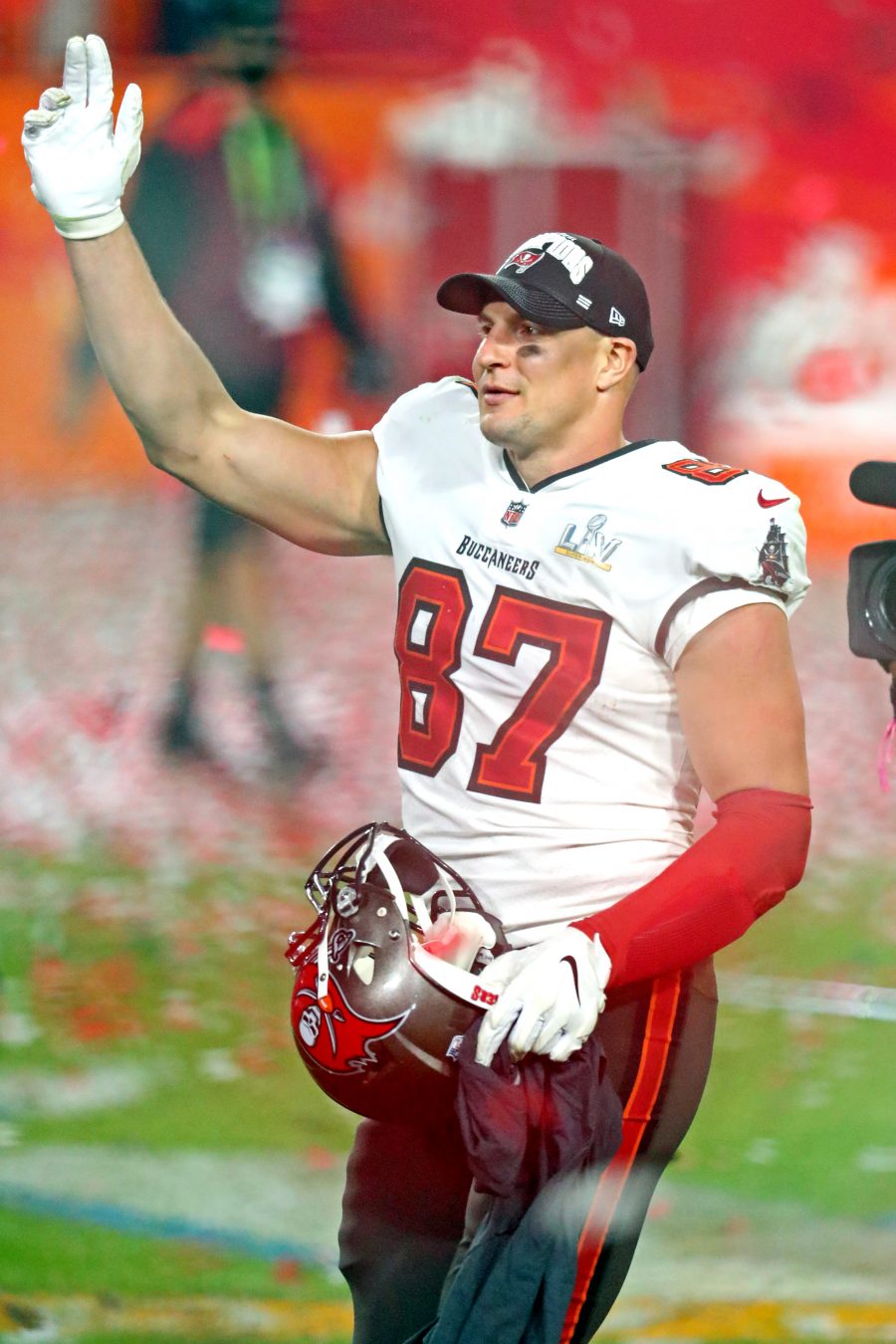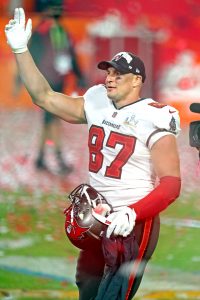 Whlle Tom Brady and his top two receivers will be back in 2022, the offense will look a bit different. The biggest loss comes at tight end, as future Hall of Famer Rob Gronkowski decided to call it a career. After returning from a brief retirement to appear in 16 games for the Bucs in 2020, Gronk once again dealt with injuries in 2021. Despite sitting out five games, the tight end still managed to finish the season with 802 receiving yards, his highest total since the 2017 season. Gronk also continued being a force in the end zone, hauling in six touchdowns. While O.J. Howard never really clicked with Brady, he's another notable loss at the position, and the Buccaneers will be hoping some newcomers (primarily veteran Kyle Rudolph and rookie Cade Otton) can pick up some of the slack in 2022.
Antonio Brown's tenure with the Buccaneers truly came to an end during his sideline outburst in Week 17. The wideout was officially released in early January. Brown was productive in 15 games across two seasons with the Buccaneers, collecting 1,208 yards and and eight touchdowns. Tampa Bay already added Russell Gage and Julio Jones to their WRs room, and the duo should be able to replicate Brown's production without the headache. Another notable offensive loss was in Ronald Jones, who started 25 games for Tampa Bay over the past three years. After leading the Buccaneers with 978 rushing yards and seven touchdowns in 2020, Jones found himself behind Leonard Fournette on the depth chart in 2022. The Bucs will now pair Fournette with rookie third-round pick Rachaad White.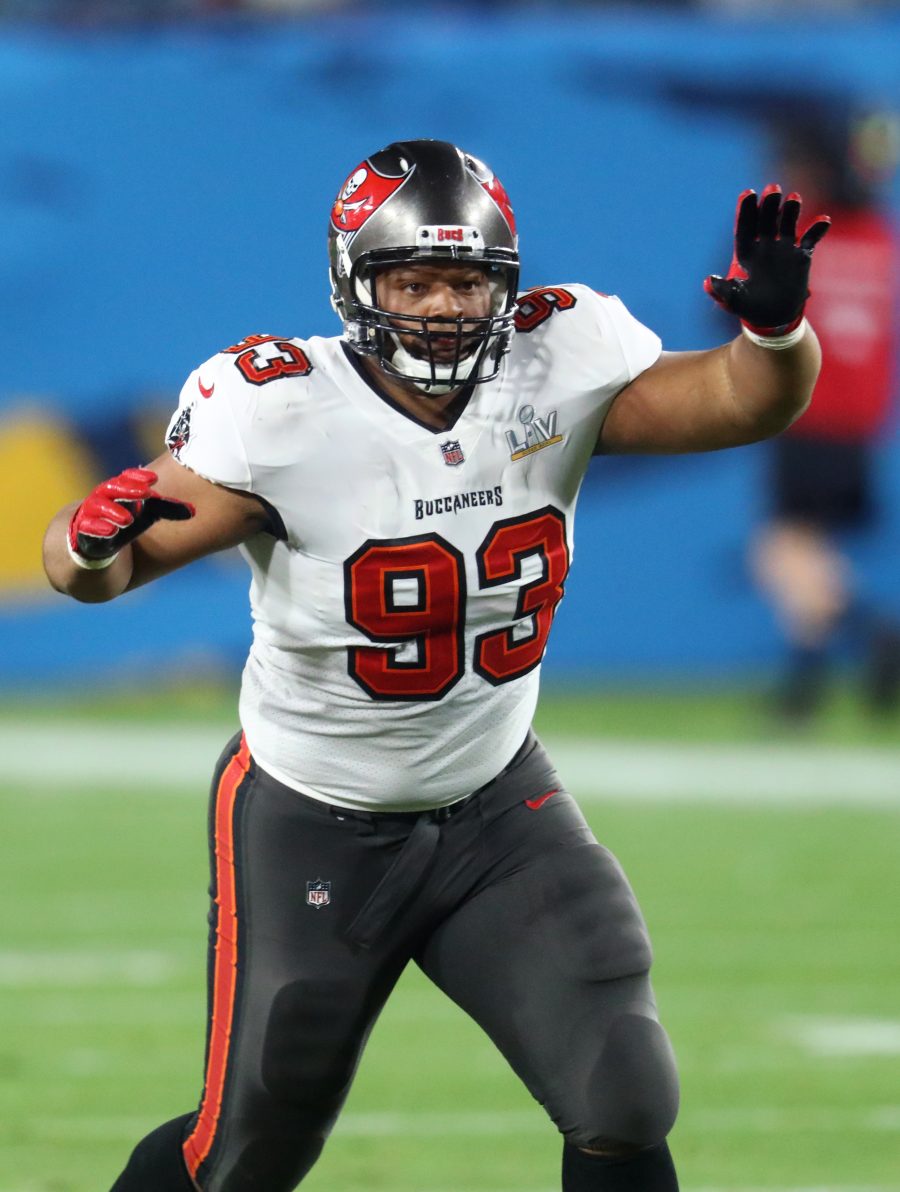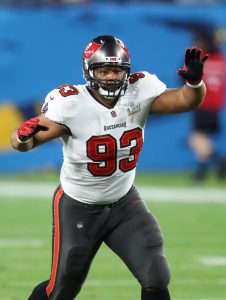 On the offensive line, Brady will have to get used to a pair of new starting offensive guards. Despite earning his first career Pro Bowl nod in 2021, Ali Marpet decided to retire after seven NFL seasons. The offensive guard started each of his 16 games in 2021, with Pro Football Focus grading him as the NFL's seventh-best guard. Alex Cappa, who started 17 games last season, was 19th on that same list, and that's a big reason why the former third-round pick was able to secure a $35MM deal from the Bengals. Trade acquisition Shaq Mason will slide into one of the starting guard spots, with rookie second-round pick Luke Goedeke also getting a nod.
Defensively, the Buccaneers chose not to re-sign a pair of big-name players. Ndamukong Suh hasn't missed a start for Tampa Bay over the past three seasons, collecting 14.5 sacks in 49 games (including six sacks in each of the past two seasons). However, he already saw a reduced role in 2021, with the defensive lineman getting into a career-low 63 percent of his team's defensive snaps. He also didn't earn the highest praise from Pro Football Focus, with the site ranking him 73rd among 108 qualifying interior defenders. It's a similar story with JPP. Jason Pierre-Paul started each of his 12 games in 2021, but after averaging more than 10 sacks per season through his first three years with the organization, he was limited to only 2.5 last year. Both veterans remain free agents.
Jordan Whitehead was a fourth-round pick by the Buccaneers in 2018, and he's started 55 of his 59 appearances since entering the NFL. That includes a 2021 campaign where he started 14 games while compiling 73 tackles, eight passes defended, and a pair of interceptions. He also graded as PFF's 27th-best safety (among 92 qualifiers), earning him a two-year contract from the Jets.
Re-signed: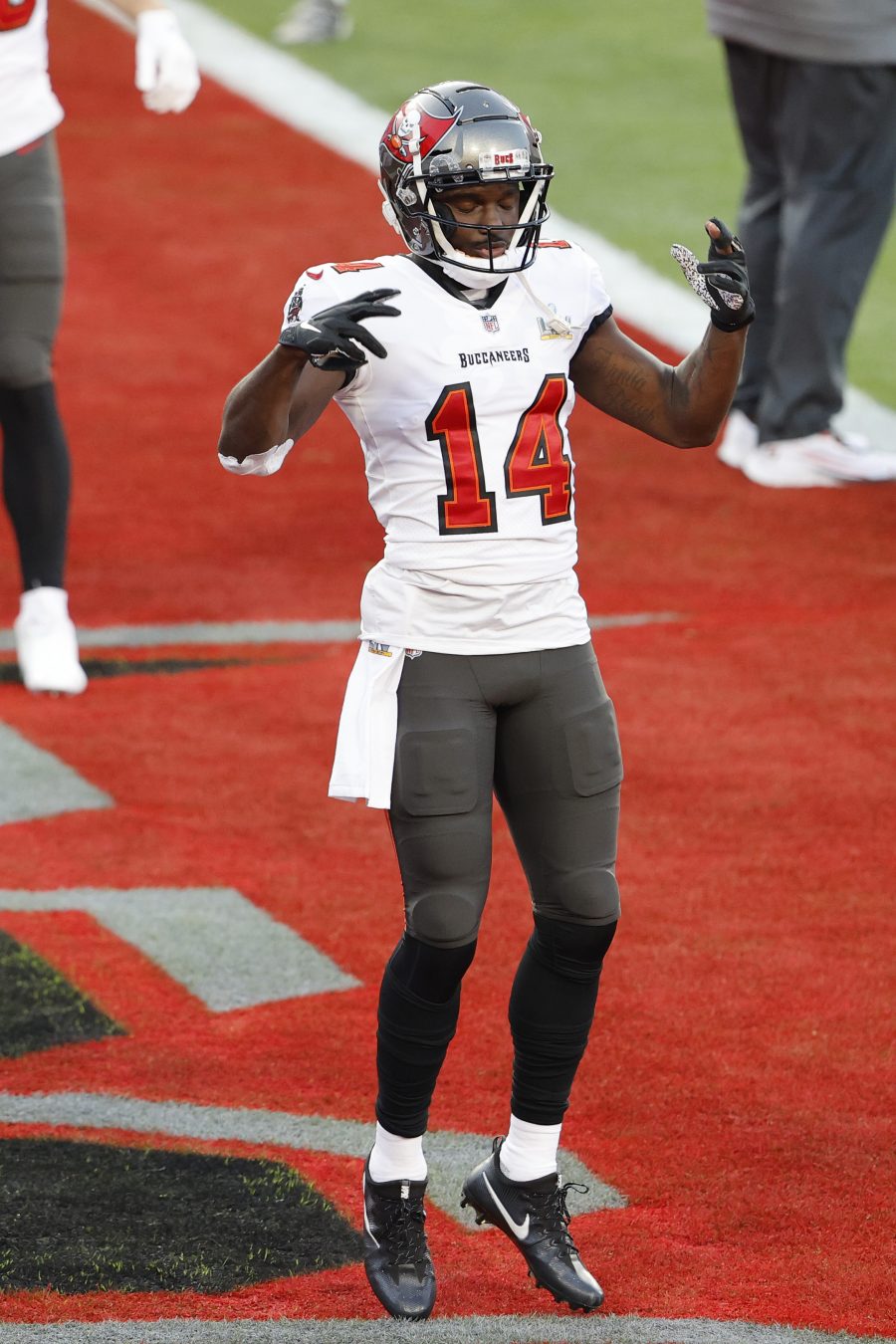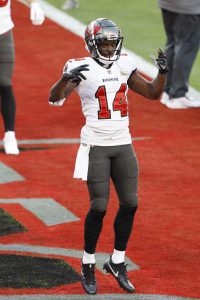 While the Buccaneers let a lot of players walk, they also made sure to maintain some continuity on both sides of the ball. The most notable re-signing was wideout Chris Godwin, who has transformed into one of the NFL's most consistent receivers and one of Tom Brady's preferred targets. Despite an ACL tear that ended his 2021 season prematurely (and could end up lingering into the 2022 campaign), the organization still felt comfortable giving him a three-year deal worth $60MM, including $40MM guaranteed. Assuming Godwin fully recovers from his injury, that contract could prove to be a bargain in later years.
The Buccaneers also re-signed Leonard Fournette to a three-year, $21MM deal. This was a significant investment after the RB was cast off in Jacksonville, but following a so-so first season in Tampa, Fournette came into his own in 2021. The running back finished last year with 1,266 yards from scrimmage and 10 touchdowns, and he'll continue to be an important part of Tampa Bay's offense for the foreseeable future.
Elsewhere on offense, the team re-signed some depth pieces. Breshad Perriman's return to Tampa Bay during the 2021 season saw him finish with only 167 receiving yards in six games, and the veteran will provide the team with an experienced end-of-the-depth-chart piece. The same goes for veteran running back Giovani Bernard. The former Bengals pass-catcher finished his first season in Tampa Bay with only 181 offensive yards, but he'll stick around for the time being as some extra depth. Blaine Gabbert is back for another season as Brady's backup, with the veteran having attempted 27 passes over the past two seasons.
Ryan Jensen hasn't missed a start for Tampa Bay since joining the organization in 2018. He inked a three-year, $39MM deal with the Buccaneers back in March, but his 2022 season was derailed by a knee injury during training camp. While the injury was described as severe, the Buccaneers still carried him to their 53-man roster before placing him on IR, keeping the door open to a potential return. For the time being, 2021 third-round pick Robert Hainsey will fill in at center. Josh Wells has seen time in 53 games over the past three seasons, and he'll continue to serve as Tampa Bay's primary swing tackle in 2022. Aaron Stinnie had a chance to make the roster as a backup guard, but a torn ACL will sideline him for the 2022 season.
On defense, the team brought back a pair of important pieces. Carlton Davis has started 50 of his 51 games with Tampa since being selected in the second round of the 2018 draft, although he's missed 14 games in those four seasons. He was limited to 10 games in 2021, leading to only 39 tackles, one interception, and 11 passes defended. Even with the limited snaps, he still ranked 21st among 116 qualifiers at the position, per Pro Football Focus. The 25-year-old was brought back on a three-year, $45MM pact. William Gholston has served in a situational role for the Buccaneers, with the nine-year veteran starting 78 of his 136 career games. He started 10 of his 17 appearances in 2021, finishing with a career-high 4.5 sacks.
Draft picks:
2-33: Logan Hall, DL (Houston)
2-57: Luke Goedeke, OL (Central Michigan)
3-91: Rachaad White, RB (Arizona State)
4-106: Cade Otton, TE (Washington)
4-133: Jake Camarda, P (Georgia)
5-157: Zyon McCollum, CB (Sam Houston State)
6-218: Ko Kieft, TE (Minnesota)
7-248: Andre Anthony, DE (LSU)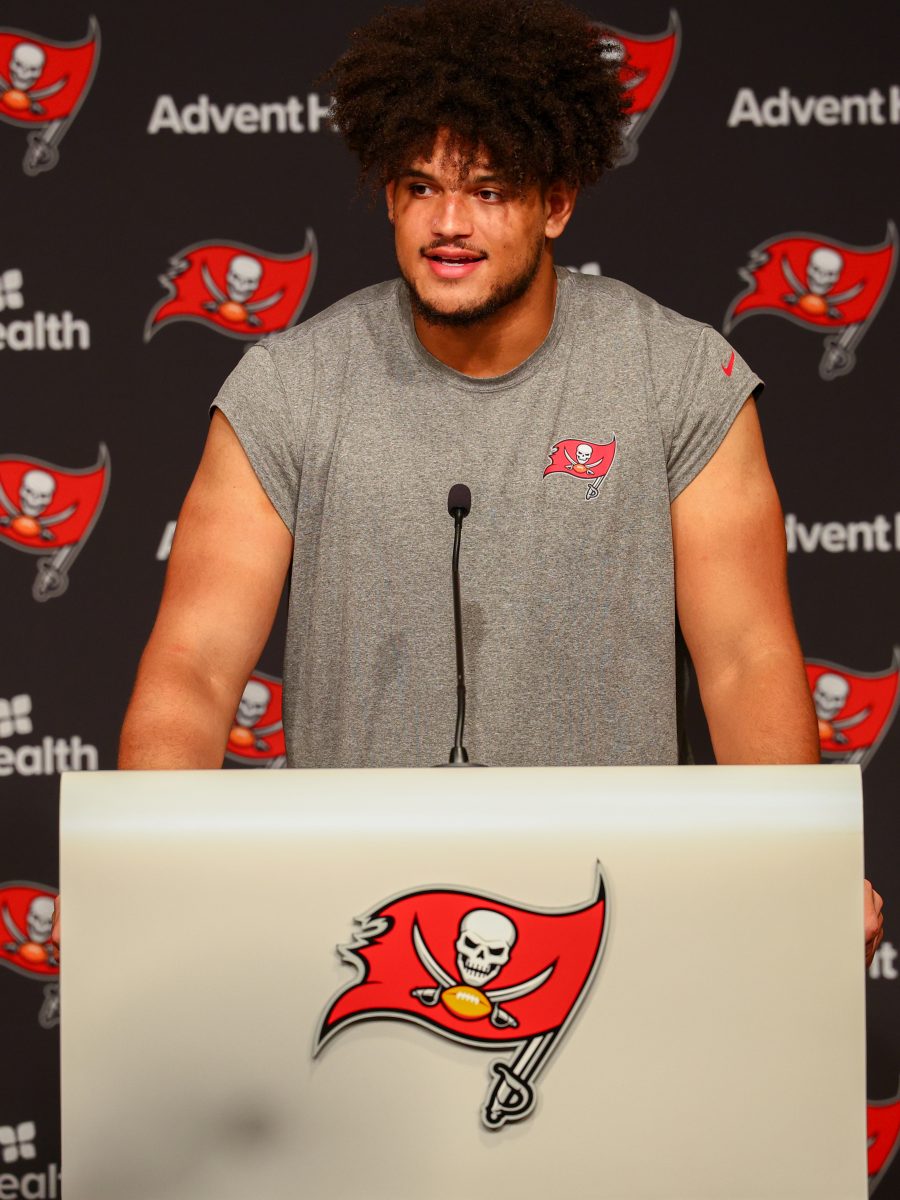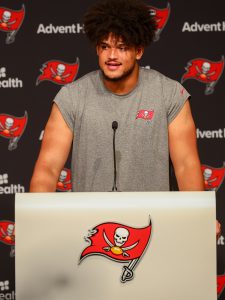 The Buccaneers ended up dealing their first-round pick for a handful of selections, including the first pick of the second round. With that selection, the organization decided to add Houston standout Logan Hall. The defensive end had a breakout campaign in 2021, finishing with six sacks and 13 tackles for loss. The return of William Gholston means the organization won't need to lean on their top rookie, but Gholston's age means Hall should find himself in the lineup sooner than later.
The team will be leaning on their other second-round pick. Central Michigan offensive lineman Luke Goedeke wasn't considered a first-round prospect, but he was certainly the best of the rest, making him a solid pick for Tampa Bay at No. 57. Despite mostly playing offensive tackle in college, Goedeke will start his NFL career as an offensive guard, where he's expected to start opposite Shaq Mason.
With their next two selections, the Buccaneers added a pair of skill players who could end up seeing roles in 2022. Rachaad White had 1,462 yards from scrimmage for Arizona State in 2021, and that performance made him the fourth RB off the board in the draft. Leonard Fournette is the only RB standing in his way on Tampa's depth chart, and the rookie should at least see a minor role in 2022. Cade Otton was never an offensive powerhouse during his four seasons at Washington, hauling in 91 catches for 1,026 yards and nine touchdowns in 31 games. At 6-foot-5, 250 pounds, Otton has the size to play TE in the NFL, and if Cameron Brate or Kyle Rudolph struggle, the rookie could be inserted into the offense. Sixth-round tight end Ko Kieft also made the 53-man roster, and the rookie is clearly in the team's future plans at the position.
Jake Camarda was the second punter off the board following a 2021 campaign where he earned a CFP national championship and his second-straight first-team All-SEC nod. The rookie will be Tampa Bay's starting punter heading into the season. Zyon McCollum had 50 tackles and three interceptions during his final season at Sam Houston State, and the rookie will likely spend most of his rookie season on special teams. Seventh-round defensive end Andre Anthony was cut at the end of the preseason.
Other:
Tom Brady dealt with retirement rumblings long before he was on the Buccaneers, but the future Hall of Fame QB definitively announced his retirement shortly after the Buccaneers were eliminated from the postseason. 40 days later, he announced he was reversing his decision and returning for the 2022 campaign, helping the organization temporarily avoid the major hole they were facing at QB.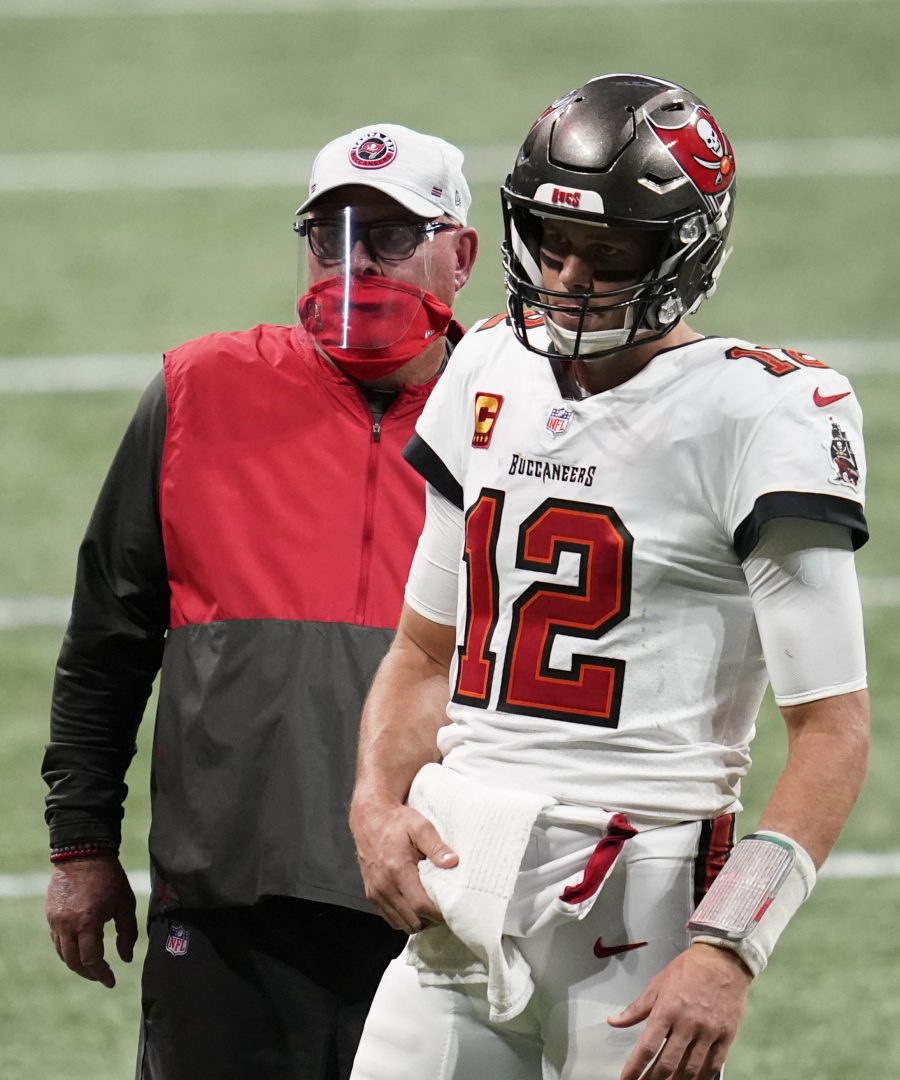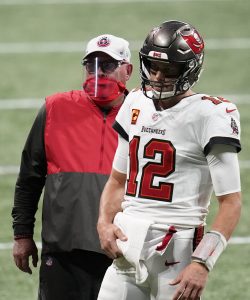 His sudden about-face was surprising, and plenty of pundits are still theorizing about Brady's reasoning. Following the bombshell report surrounding the Dolphins' tampering scandal with Brady and former Saints head coach Sean Payton, it seemed like the QB was still keeping an open mind when it came to potentially playing elsewhere. Further, there were whispers that Brady had grown wary of head coach Bruce Arians and was pushing for a change on Tampa Bay's sideline. We'll probably never know if Brady's "retirement" was an attempt to strong-arm the organization into a trade or a coaching change, but it was certainly interesting when Arians ended up stepping down as head coach.
For Arians, the coach made it clear that he was prioritizing a clear succession plan for the organization, and he felt it was the right time to hand over the reigns to defensive coordinator Todd Bowles. Bowles struggled during his last head coaching stint, going 24-40 in four seasons with the Jets. However, the Buccaneers will continue to be competitive as long as Brady is on the roster, and Bowles has drawn a lot of recent praise for guiding Tampa Bay's defense. The continuity should allow the Buccaneers to maintain their winning ways in 2022, and Brady's opportunity to truly guide the offense (alongside OC Byron Leftwich) should placate the QB.
It was an easy choice for the Buccaneers to pick up Devin White's fifth-year option. After earning a second-team All-Pro nod in 2021, the linebacker followed that up with his first career Pro Bowl appearance in 2021. White finished last season with 128 tackles and 3.5 sacks, and he appears to be a primary part of Tampa Bay's defense for years to come.
Top 10 cap charges for 2022:
The Buccaneers are loaded once again, and it wouldn't shock anybody if Tom Brady and his teammates are holding the Lombardi Trophy at the end of the season. Still, this offseason showcased how fleeting a team's contender status can be, and Tampa Bay could be facing a long rebuild whenever Brady finally decides to hang up his cleats.
Follow @PFRumors