Like Doug Pederson, Nick Sirianni led the Eagles to a Super Bowl in his sophomore HC effort. The endings proved different, as Philadelphia's defense could not stop Patrick Mahomes in a shootout, but the Eagles went from 9-8 in 2021 to the NFC's best team. While this represents considerable progress after the team did not tumble onto the rebuilding tier — as many expected — in 2021, this offseason featured defections from both starters and staffers.
Two new coordinators and five new defensive starters will be in place this season. The Eagles, however, hover as the NFC favorites. Their roster blueprint has also changed. The quarterback they once drafted as Carson Wentz insurance is now signed to a monster extension.
Extensions and restructures:
Hurts has completed one of the most remarkable ascents in modern quarterback history. Eagles brass was split on the ex-Alabama and Oklahoma passer, with some in the organization wanting the team to take safety Jeremy Chinn in the 2020 second round. The Eagles defied traditional roster-building measures by selecting Hurts in Round 2, doing so less than a year after giving Wentz a $32MM-per-year extension. They took on a then-record dead-money hit ($33.8MM) by trading Wentz in 2021, but even after Hurts spent a full season as a starter, Philly was not fully committed to him.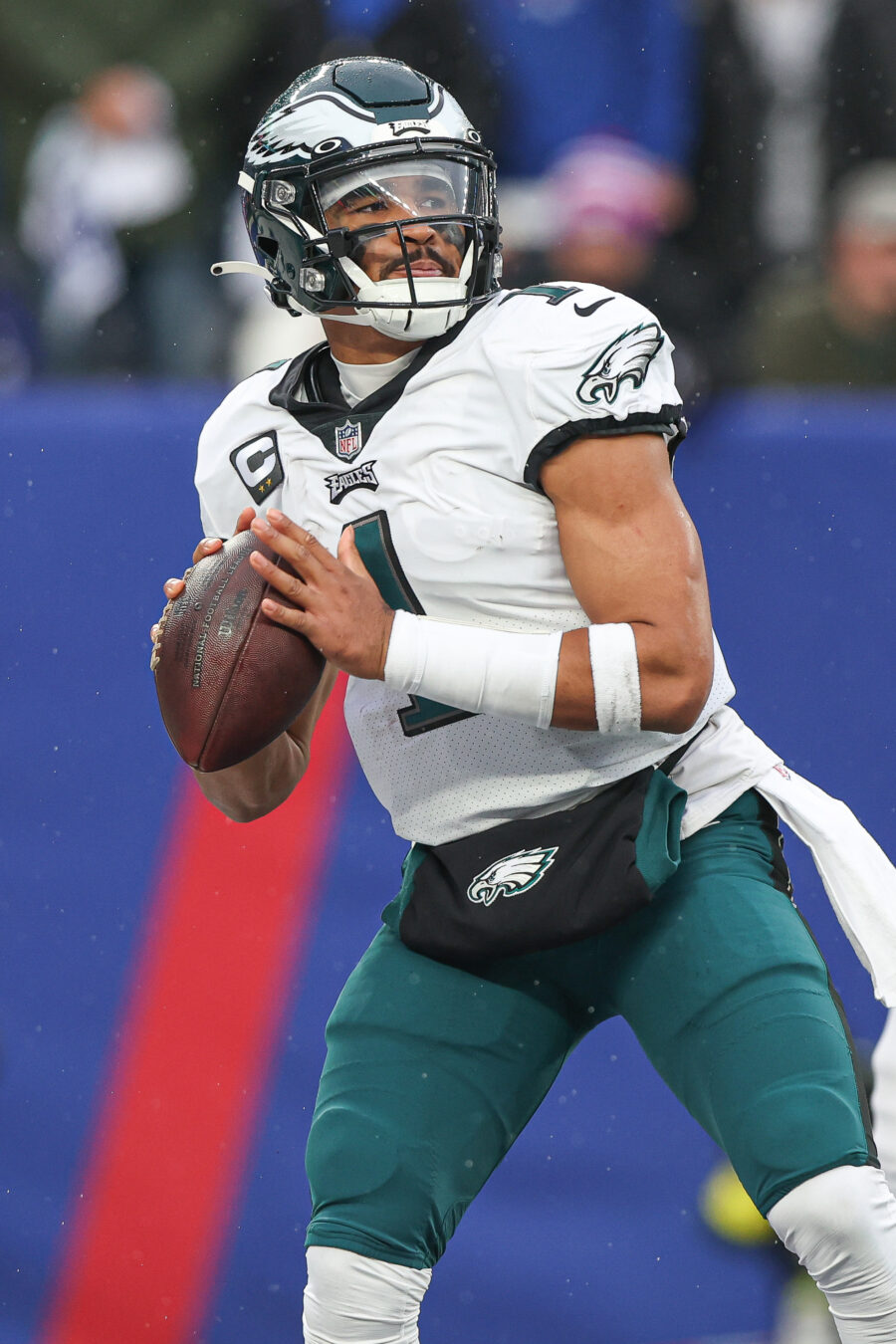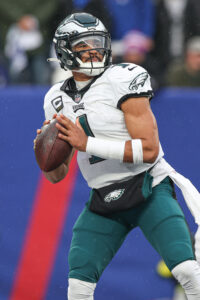 Jeffrey Lurie expressed hope the Eagles would not bring in a quarterback to compete with Hurts in 2021, but during the season, the owner was still believed to be higher on the then-accuracy-challenged QB than Howie Roseman. In turn, the Eagles looked into higher-profile trade options in 2022. But neither Russell Wilson nor Deshaun Watson would waive their respective no-trade clauses to join the Eagles. Philly did not end up a finalist for Watson. Although the Eagles had wanted Wilson in the 2012 draft and were prepared to make a substantial trade offer to the Seahawks 10 years later, the perennial Pro Bowler steered his way to the Broncos. Wilson's no-trade clause now looms as a significant Eagles "what if?" scenario, as Hurts removed much of the doubt about his future last season.
The Eagles went 16-2 in games Hurts started last year, and the stout quarterback went toe-to-toe with Mahomes in Super Bowl LVII. Hurts' completion rate (66.5%), yards per attempt (8.0), passer rating (101.5) and QBR (66.4 — fourth overall) took substantial leaps last season. Philadelphia's decision to trade for A.J. Brown paid off in more ways than one, with the ex-Titans wideout breaking the Eagles' single-season receiving record and aiding Hurts in the process. Philly's years-long commitment to beefing up its offensive line boosted Hurts as well, as his nearly unstoppable QB sneak — which the NFL considered outlawing before standing down this offseason — became a tremendous drive-extending or drive-finishing tactic that benefited the Eagles (and fantasy GMs) in key spots.
Hurts going from an uncertain piece in the Eagles' big-picture puzzle to surefire extension candidate could have made talks complicated, especially with the Eagles having a 2024 franchise tag at their disposal. But the soon-to-be 25-year-old QB signed in April. Just as they had done in 2019 with Wentz, the Eagles went first on a QB extension. This paved the way for the Ravens to end their years-long impasse with Lamar Jackson, which led to the Chargers' Justin Herbert deal and will set up Joe Burrow to finish this round of market reshaping.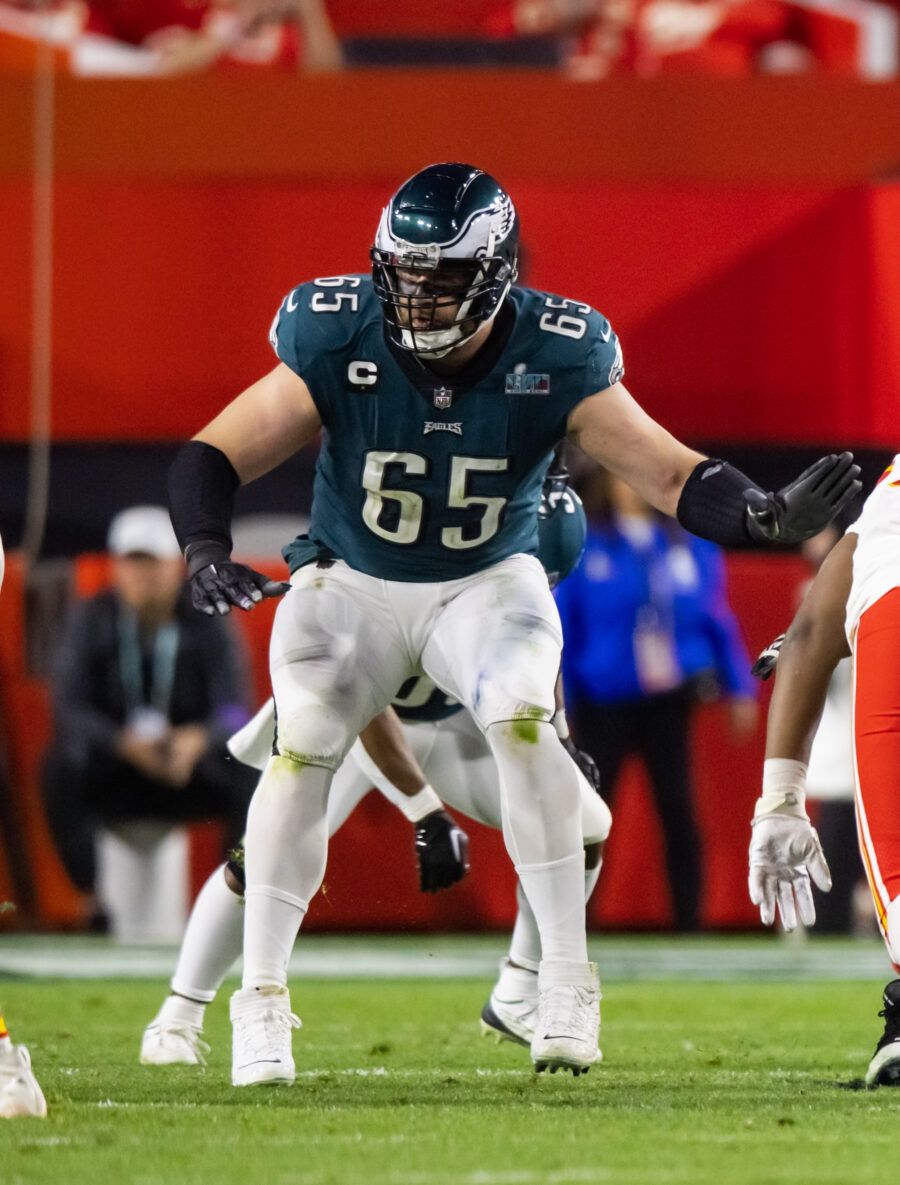 Hurts did not flirt with Watson-like guarantees, with the deals for he, Jackson and Herbert successfully pegging the Browns contract as an outlier. The Eagles gave Hurts $110MM guaranteed — a cool $120MM south of Watson's monstrous figure — and used a startling seven void years to spread out the cap hit. As a result, Hurts will not even count $40MM on the Eagles' cap until 2027. By then, the salary cap could be close to $300MM. Of course, Hurts will need to continue on the path he started in 2022 to justify this expense. The Eagles were not shy about recommitting to a quarterback, despite Wentz rapidly fading from franchise centerpiece to supplanted starter. And while the team let a number of key defenders walk in free agency, most of the same pieces remain in place for Hurts to succeed going forward.
One of those is Johnson, who has been the Eagles' right tackle since Michael Vick's final season with the team. This is the former No. 4 overall pick's fourth contract with the Eagles, who previously extended him in 2016 and 2019. This contract only tacked on a year to Johnson's deal but rewarded the cornerstone lineman with $30MM in additional guarantees. Johnson played through an adductor tear in the playoffs, putting off surgery. If Johnson plays out this contract, he could pass Tra Thomas for the most starts by a tackle in Eagles history. As of now, Johnson (127 starts) sits fourth on that list. But he has been an indispensable cog for the Eagles.
On the Hall of Fame radar as a three-time All-Pro, Johnson aided LeSean McCoy to a rushing title and helped the Eagles lead the league in rushing in 2021. Wentz and Hurts have benefited tremendously from the 10-year veteran, and while the Eagles have a replacement for Jason Kelce in place, they have not made plans to succeed Johnson just yet. This will be Johnson's age-33 season; Pro Football Focus has ranked the Wisconsin product as a top-10 tackle during each of Hurts' full seasons as a starter. The extension, which includes three void years, dropped Johnson's 2023 cap hit by more than $9MM.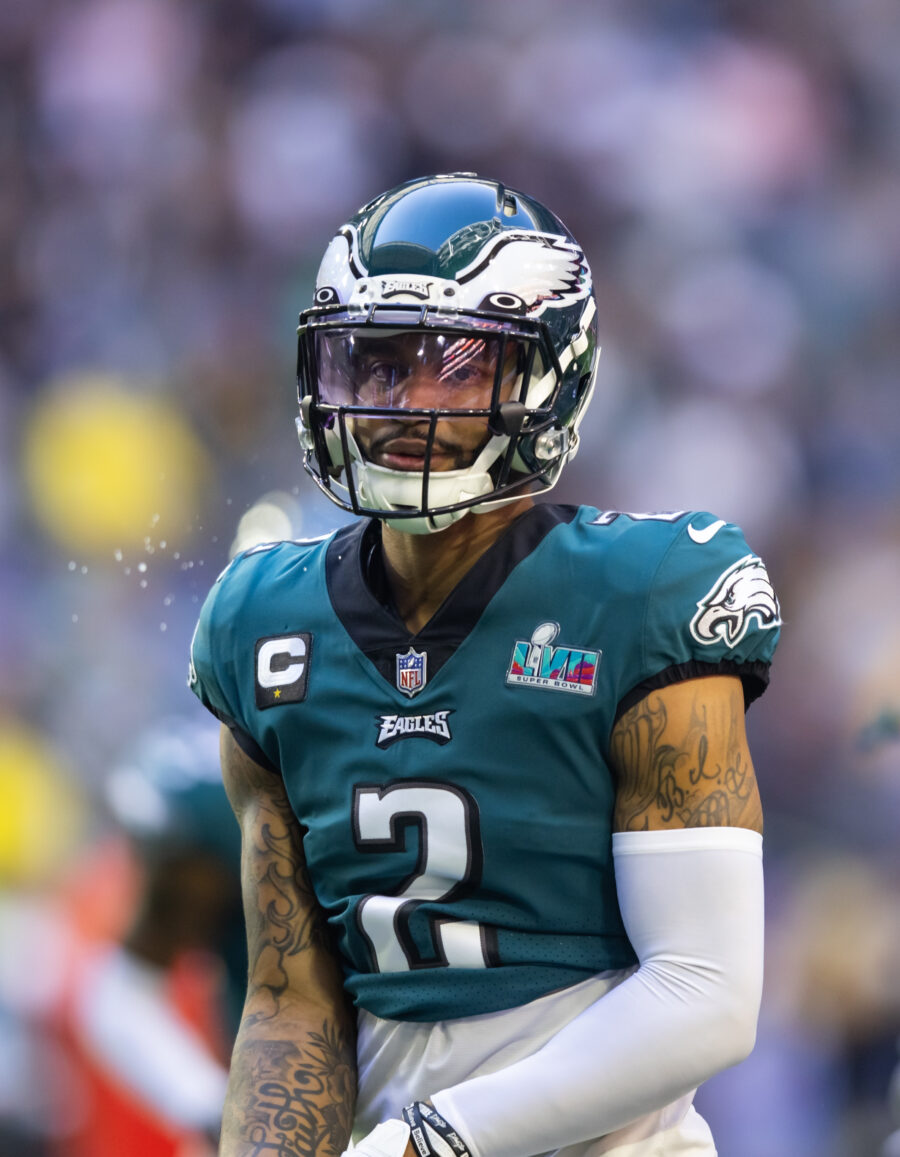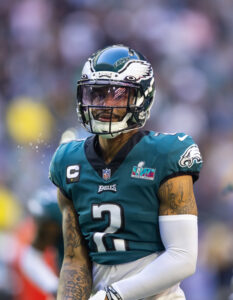 Johnson's status with the Eagles was not in question, but Slay's was during an eventful March span. In less than a week's time, the decorated cornerback went from discussing an Eagles extension to being granted permission to seek a trade to moving close to a post-June 1 cut designation to making it back to the extension radar and finalizing a deal. The Eagles had talked terms with Slay, who was going into the final season of a three-year, $50MM contract. After those discussions — which may or may not have included a pay-cut request — did not progress, the Eagles allowed him to talk trades. The Ravens and even the Cowboys came up as suitors, but the Eagles and Slay found a resolution.
This did make for an interesting turn of events, as Slay turned 32 in January. Yet the Eagles will guarantee him $23MM — not bad for a player who has now signed three extensions and already pocketed nearly $87MM during a 10-year career. The Eagles made a modest bet on Slay in 2020, prying him from the Lions for third- and fifth-round picks. The former third-rounder has provided considerable ROI, making two Pro Bowls as an Eagle. PFF slotted Slay as a top-25 corner in both years, and while teams do not make a habit of giving 30-something corners big-money deals, this pact will keep Slay's cap hits below $12MM in 2023 and '24.
This deal will keep Darius Slay–Darius Slayton matchups coming for at least another year, thanks to the latter's Giants re-signing, and because of the four void years attached, Slay would bring at least $9MM in dead money if cut at any point before 2026.
Trades: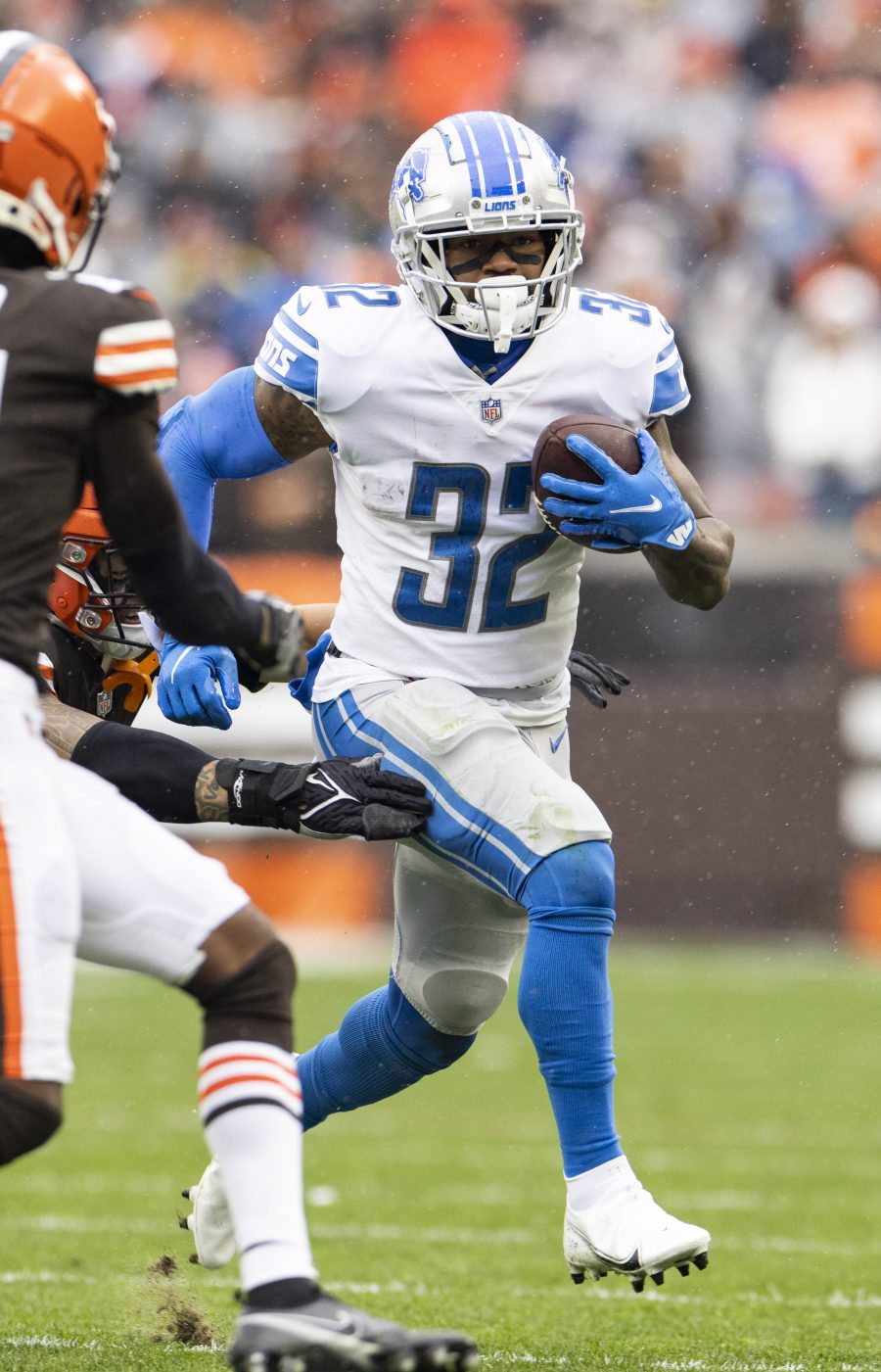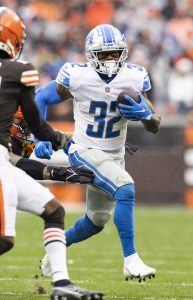 Swiftly becoming expendable after the Lions chose multipurpose back Jahmyr Gibbs at No. 12, the former Detroit second-round pick generated interest from multiple teams. The oft-RB-inquiring Dolphins emerged on the radar, but the Eagles pulled the trigger on a deal. A much brighter future could exist for Swift in Philadelphia. Being phased out in Detroit, the Georgia product has a chance to start for a team that just booked a Super Bowl berth.
Injuries have impeded Swift for much of his NFL career, but the pass-catching back has never missed more than three games in a season. Swift totaled 25 touchdowns in Detroit, amassing 2,878 scrimmage yards over his first three seasons. Swift has never taken more than 151 handoffs in a season. His 364 career carries certainly could appeal to the Eagles, who let Miles Sanders (739 career totes) walk in free agency.
The Eagles are open to a Swift extension, but it will likely depend on how he performs in a contract year. This is not a good time for RB value, but Swift's receiving prowess could help him. That said, the Eagles have not been big on involving their backs in the passing game since Hurts' debut. Sanders totaled 20 catches for 78 yards last season, while Kenneth Gainwell led Philly backs with 169 receiving yards. It is possible the Eagles will explore this dimension further with a better receiving RB, but early returns with Hurts do not bode well for the 24-year-old's aerial skills to be utilized properly.
Re-signings:
Three of the Eagles' core four along their lines played on expiring deals last season. Despite each player having at least 11 years' experience, the batch of 30-somethings is back for at least one more go-round. Kelce again considered retirement, but the All-Pro center/podcast host/SNL special guest re-signed for a 13th season. The longest-tenured Eagle, Graham is back for a 14th year. Although Philly has now drafted defensive tackles from Georgia in each of the past two years, Cox remains in the team's plans ahead of his 12th season. Graham, Kelce and Cox all arrived during Roseman's first three years as GM; they join Johnson as part of a storied quartet in Eagles history.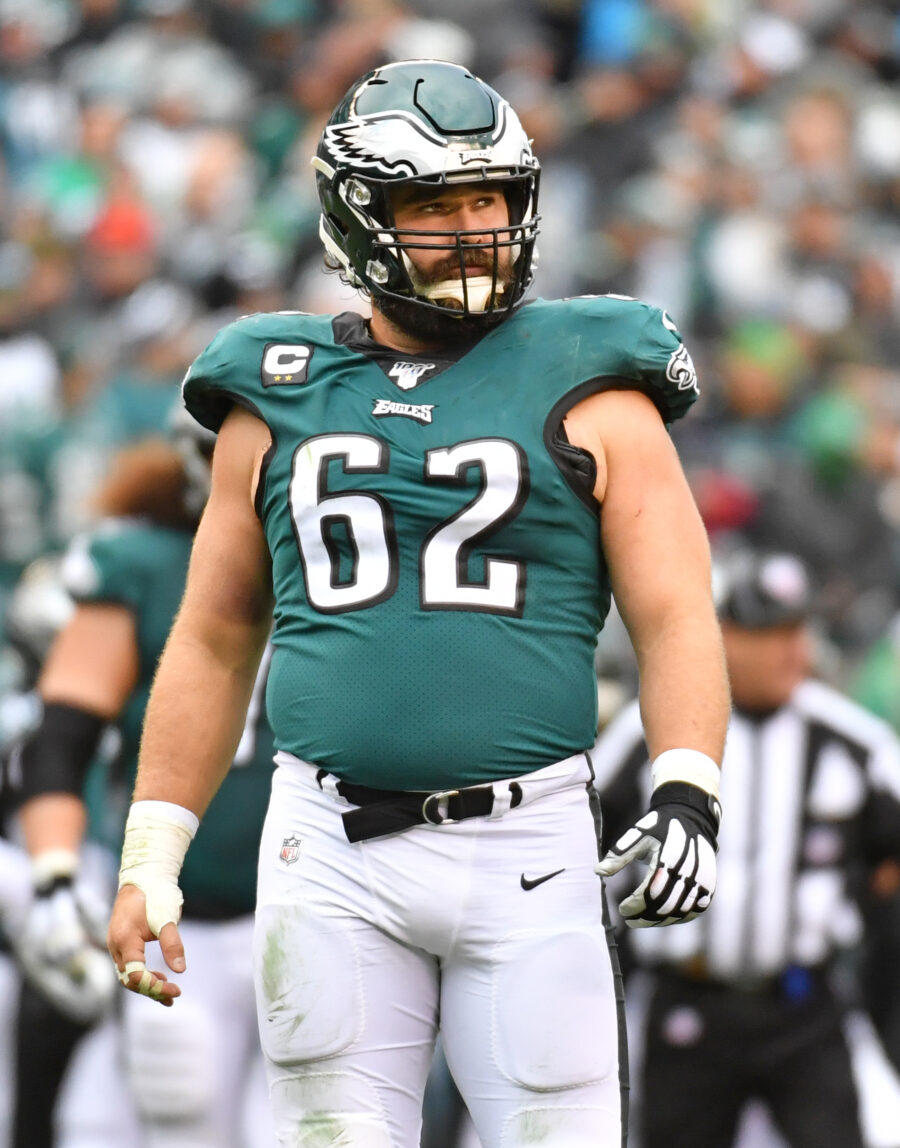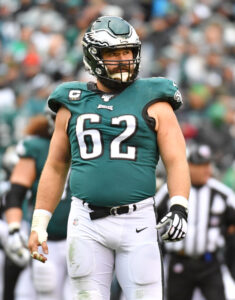 Kelce's return is probably the most important here, as he anchored the Super Bowl LII-winning O-line and has delivered top-shelf work since. The rare player to use his 30s as his central Hall of Fame case, Kelce almost definitely will be Canton-bound because of the past six seasons. Since his age-30 campaign in 2017, Kelce has snagged five of the six first-team All-Pro slots at center. This includes each of the past two. The gregarious blocker serves as a linchpin for the Eagles' offense, which has successfully broken in Hurts and Wentz (and enabled strong Nick Foles work when similar form has eluded the Super Bowl MVP everywhere else).
The Eagles keep drafting Day 2 interior O-linemen, but the organization still does not need its Kelce heir apparent to start. Kelce has not missed a game since the 2014 season. And yes, void years are present in Kelce's contract, along with the Cox and Graham pacts. The Eagles also have dummy years in place for 2024 for the trio, making each eligible for post-June 1 cut designations next year. Though, only two such moves are allowed per offseason. And given the value the organization places on these veterans, it should not be ruled out more one-year contracts could transpire.
After seven straight seasons as a starter, Graham stepped into a reserve role and thrived. Helping the Eagles (70 sacks) push for the 1984 Bears' single-season record (72), Graham collected a career-high 11 and forced two fumbles. This was Graham's first double-digit sack season, and he will return to play a complementary role alongside Haason Reddick and Josh Sweat. Graham, 35, said other teams pursued him as well. The Eagles have not re-signed Robert Quinn, but Derek Barnett — who suffered a Week 1 ACL tear — is still with the club.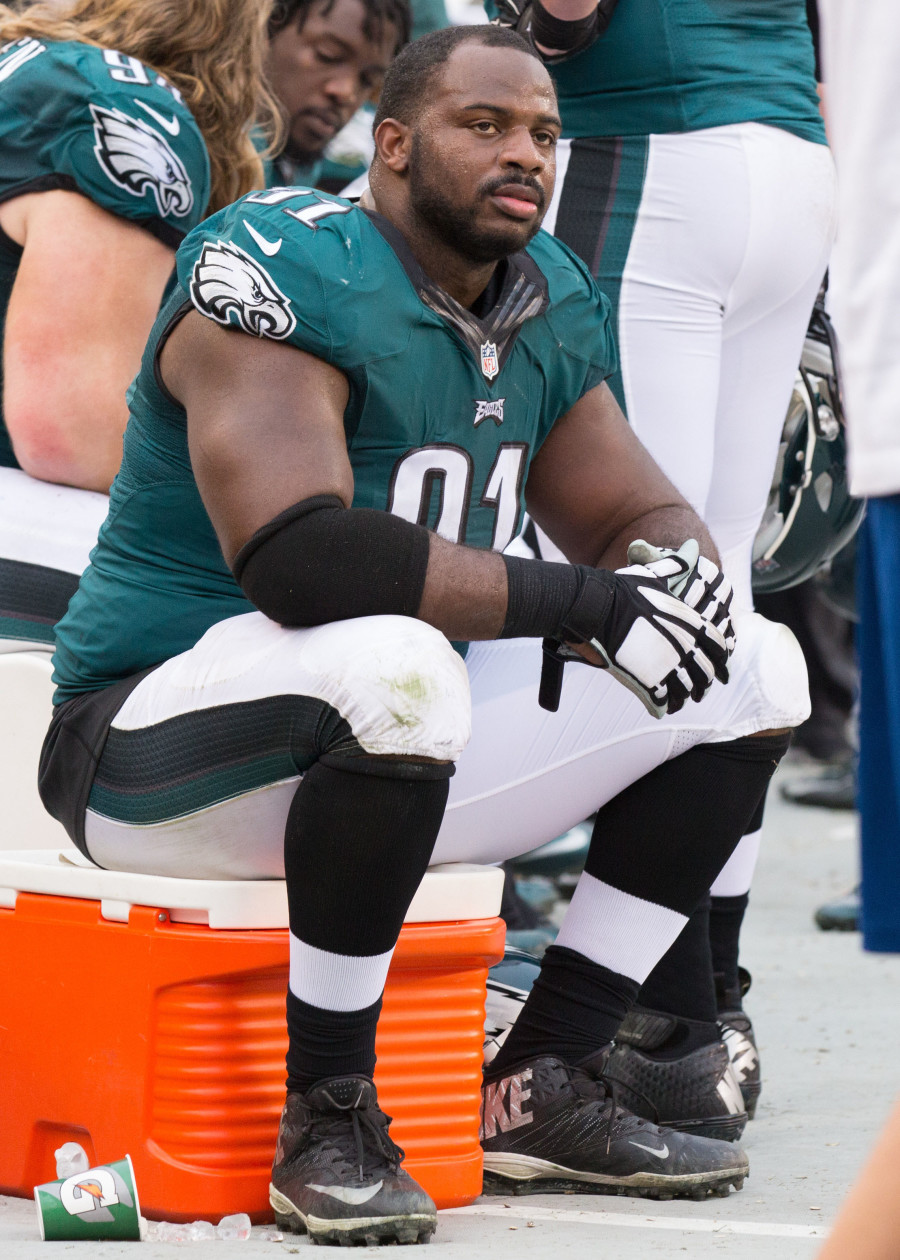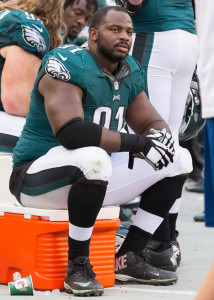 As highly drafted pieces keep entering the equation, Cox remains stationed as a veteran presence on the Eagles' interior D-line. Cox's seven sacks were his most since 2018. While the 2012 first-rounder no longer has a claim to being the best non-Aaron Donald D-tackle, Cox has missed all of two games over the past five seasons. PFF assigned Cox a career-worst grade, slotting him outside the top 65 among interior D-linemen last season. The Eagles also signed both Linval Joseph and Ndamukong Suh to help Cox hold down the fort during Jordan Davis' injury absence. With both unsigned and Javon Hargrave in San Francisco, Cox should still be expected to be a regular presence. After a 2022 release/reconciliation sequence and Jalen Carter's April arrival, will this be it for Cox in Philly?
It looked like Bradberry would join Hargrave and Co. in pricing himself out of Philly, but the reigning NFC champs prioritized their outside defenders over just about everyone up the middle. Bradberry, who is going into his age-30 season, joined the rest of the secondary in benefiting from Philly's dominant pass rush. But the former Panthers and Giants corner rebuilt his value after being a post-draft cap casualty last year.
The Giants were close to trading Bradberry to the Texans in 2022, but after Houston extension talks went nowhere, the former second-round pick ended up in free agency at a bad time. Bradberry signed a one-year, $7.25MM Eagles deal and worked as a full-time starter. Bradberry did not quite fetch as much as he did during the 2020 offseason, but this represents a nice payday for the veteran. PFF gave the veteran boundary corner a top-30 grade for his Eagles work. With this Bradberry re-up, the Eagles will be the only team preparing to trot out two 30-something outside corners this season. This against-the-grain strategy will leave the team in need of long-term help at the position
Free agency additions: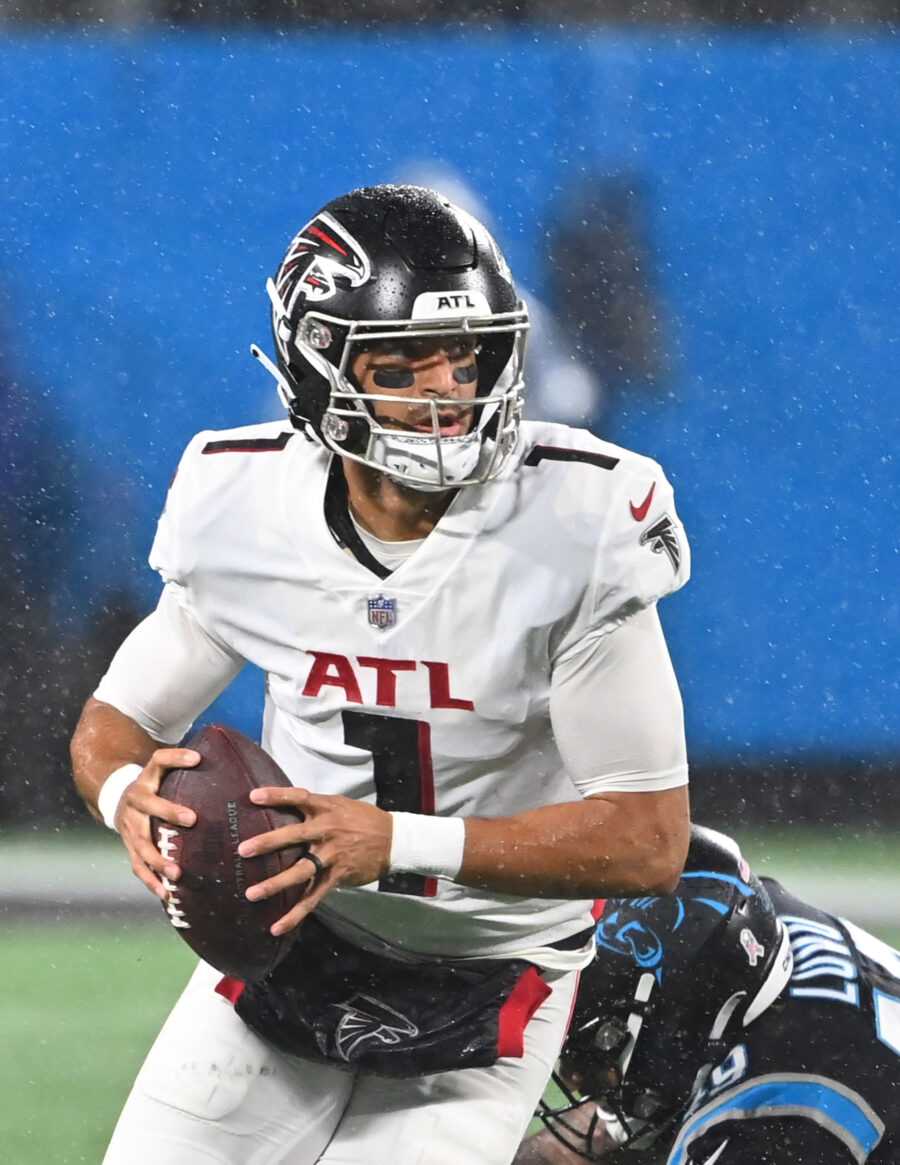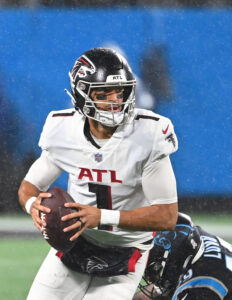 The Eagles devoted their dollars to in-house options this offseason, taking some free agency fliers to balance out the higher costs on their two-deep. Mariota, 29, will better match Hurts' skillset compared to Gardner Minshew, and this is a nice bounce-back spot for the former No. 2 overall pick. Jacoby Brissett drew Eagles interest, but the Commanders gave him an $8MM guarantee.
After the Falcons benched Mariota, he essentially left the team and became an obvious cap casualty this offseason. The ex-Titans draftee started 13 games in 2022 and has eight seasons — both as a starter (74 career starts) and a backup — under his belt. The Eagles needed to give Minshew three starts due to Hurts injuries over the past two seasons, providing a good reason for the $5MM Mariota guarantee. This is a full-circle move of sorts for Mariota, whom Chip Kelly aimed to reunite with via a proposal to trade up in the 2015 draft. (Kelly's year ahead of Roseman in the Eagles' organizational hierarchy was wild.)
Edmunds, Morrow and Zaccheaus loom as potential low-cost starters. The Eagles waited until the end of training camp to acquire C.J. Gardner-Johnson last year, but even in the event of another trade at the position, it would seem Edmunds (75 starts in Pittsburgh) would have a good chance to be a post-CJGJ/Marcus Epps solution in Philly. That said, Reed Blankenship made four starts for the team last season. Either way, the Eagles will have two new primary safety starters in 2023.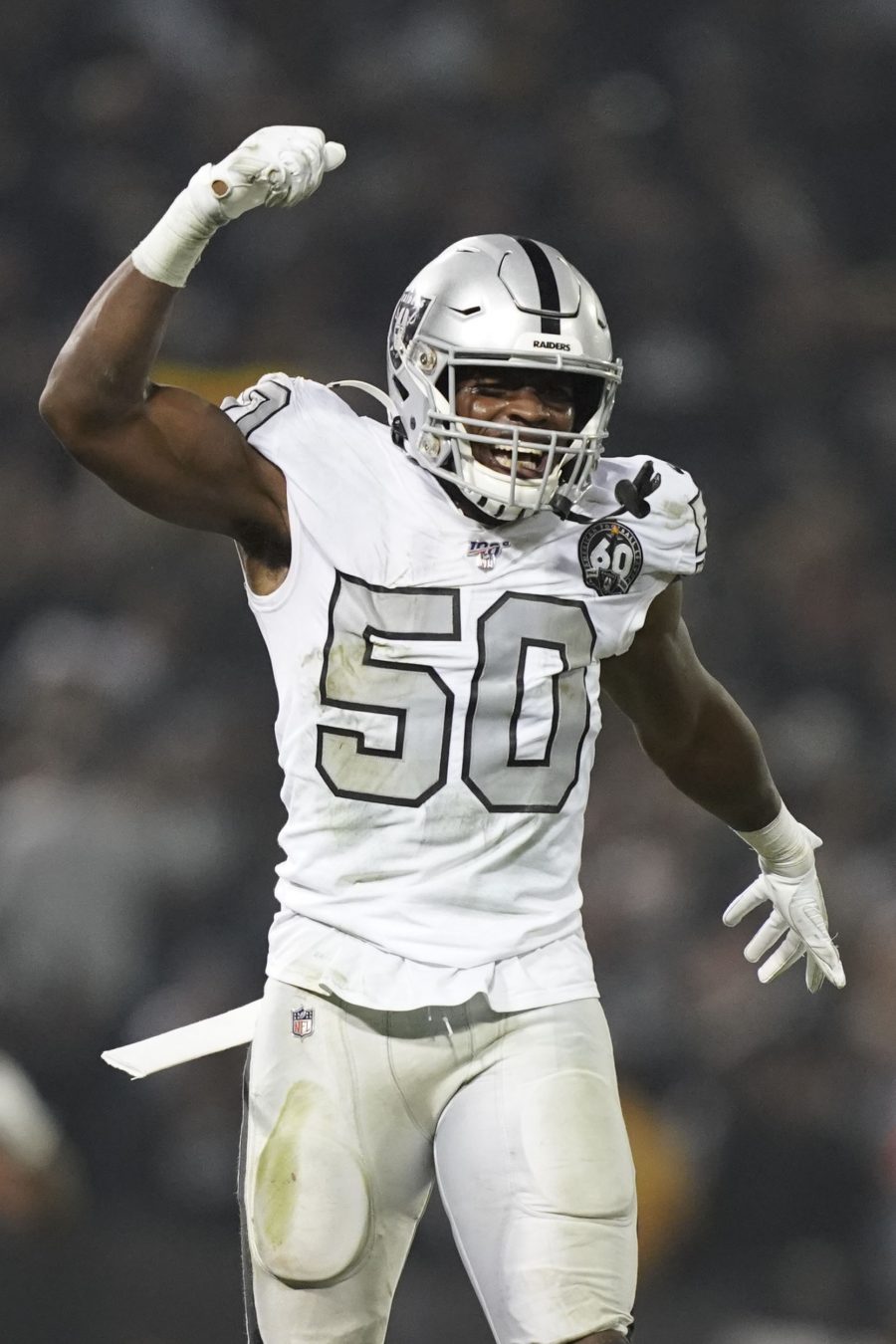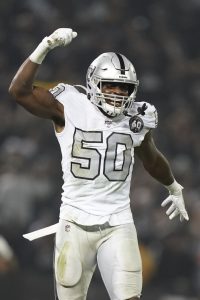 A Philadelphia native, Zaccheaus will challenge Quez Watkins for the Eagles' slot receiver job. The Falcons lost Julio Jones, Calvin Ridley and Russell Gage during Zaccheaus' tenure, and the former UDFA has totaled 939 receiving yards over the past two years. At 6-foot, Watkins presents better size compared to the 5-8 Zaccheaus. But his yardage total slipped from 647 in 2021 to 354 last year. A.J. Brown's presence undoubtedly affected Watkins' target share.
The Eagles are preparing to take the training wheels off Nakobe Dean, giving the ex-SEC Defensive Player of the Year a chance to start alongside some of his former teammates. Morrow, though, has the early lead to be the other Eagles ILB starter. Since ditching the Mychal Kendricks and Nigel Bradham contracts, the Eagles have gone with low-level contracts on their defensive second level. After letting Kyzir White rejoin Jonathan Gannon in Arizona, the Eagles are still leaning in this direction. Morrow, 28, rebounded from a full-season absence in 2021 to start 17 games for the Bears. The ex-Raider made a career-high 116 tackles (11 for loss) but found no market for his services.
Notable losses:
Paying Hurts and finding more room for Slay and Bradberry's latest contracts, the Eagles said goodbye to several defensive starters. Both the team's top linebackers and safeties from last season are gone. Philly has not devoted many resources to filling these roles, either. Even with two new starters at linebacker and safety, a D-line loss represents the most noticeable change from last season.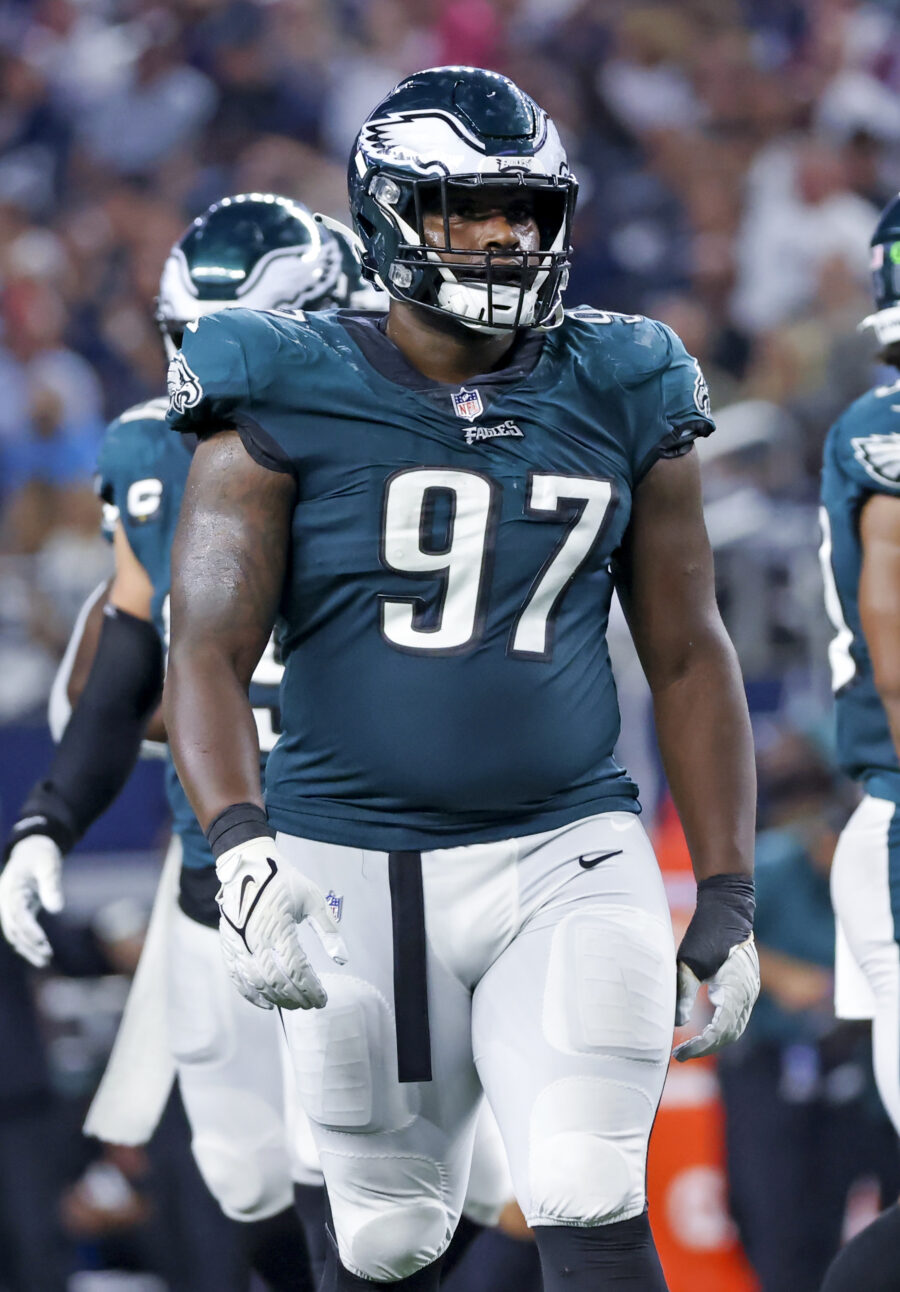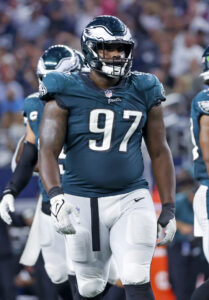 Being the third wheel alongside Cameron Heyward and Stephon Tuitt in Pittsburgh, Hargrave still fetched a $13MM-per-year deal from the Eagles in 2020. Pennsylvania's NFC team was proven correct in its assessment of the Steeler defender. Hargrave became one of the NFL's best interior D-linemen while in Philly, notching 18 QB hits during a Pro Bowl 2021 season and posting his first double-digit sack season (11) to help the Eagles threaten that Buddy Ryan-era Bears mark.
Hargrave, 30, locked in a $21MM AAV with San Francisco; that contract makes more sense for a team that has Brock Purdy's seventh-round rookie deal on its books than it would on a Hurts-fronted payroll. Still, Hargrave's production will be difficult to replace.
Dillard never caught on as a full-time starter, despite the Eagles trading up for him in the 2019 first round. But he came up in rumors before multiple trade deadlines, eventually fetching a three-year, $29MM deal from the Titans. Seumalo was part of both Eagles Super Bowl O-lines, serving as a 2017 backup before signing an Eagles extension in 2019. That deal led to multiple lengthy injury absences (2020 and '21) before the former third-round pick put together a nice contract year. The Steelers gave Seumalo his third NFL deal — a three-year, $24MM accord — leaving Cam Jurgens as the frontrunner to replace him.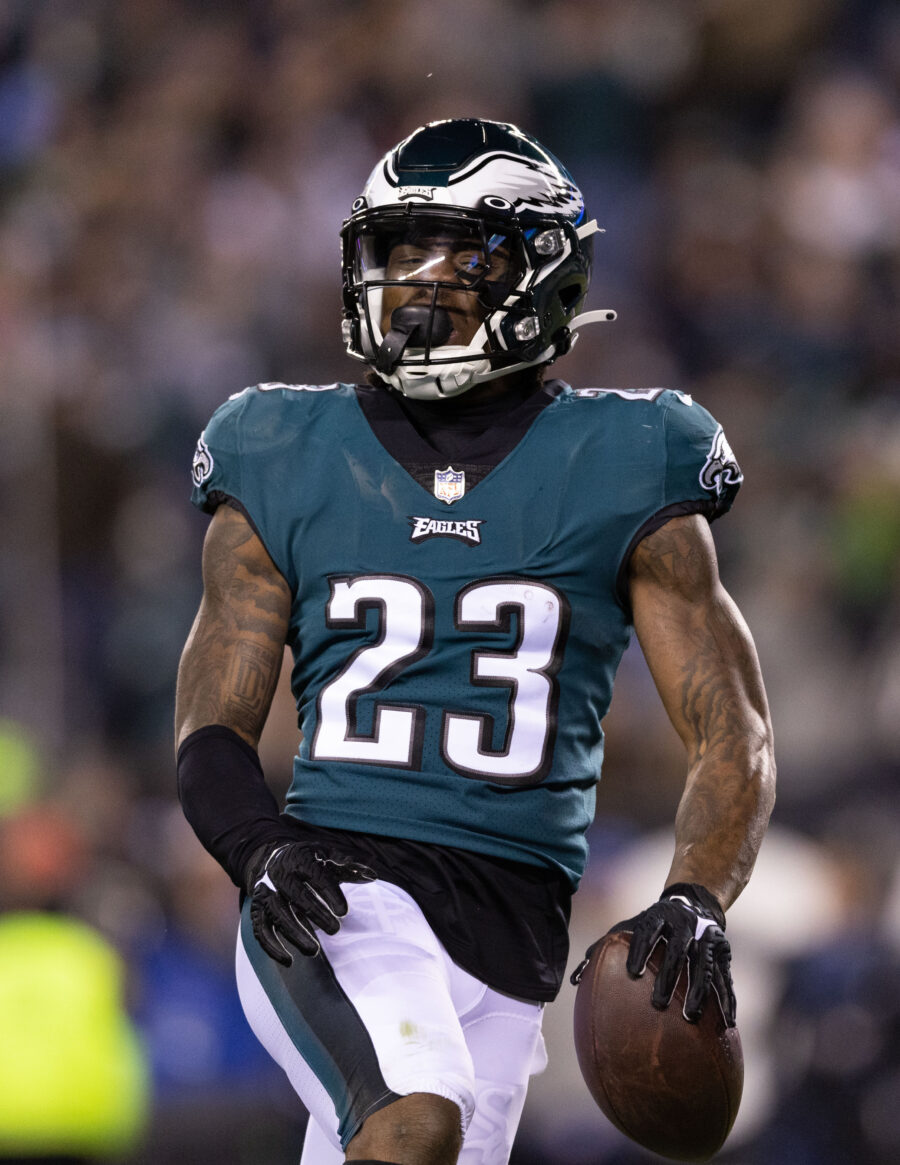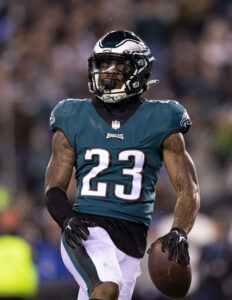 With more than half their starting defense hitting free agency or set to see their contracts void, the Eagles attempted to prioritize a Gardner-Johnson re-signing. The late-summer trade acquisition thrived as a safety, converting from the slot corner post he manned in New Orleans, tying for the 2022 INT lead (six) despite missing five games. But the brash DB viewed a multiyear Eagles offer as unsatisfactory. This led to a strange outcome in which CJGJ signed a one-year, $6.5MM Lions deal. This helped free up money for Bradberry. The fifth-year cover man's Detroit tenure is off to a bad start, with an early-camp knee injury sidelining him.
In what turned out to be a crushing offseason for the running back position, the writing appeared on the wall for Sanders early. Sanders, 26, was interested in staying, but Roseman was not expected to devote much funding to running back. In a buyer's free agent market at a position that has seen its value crater, other GMs felt the same. Sanders still did fairly well, leading this free agency class with a four-year, $25.4MM Panthers deal. His $13MM guarantee ended up outpacing franchise-tagged backs Saquon Barkley, Josh Jacobs and Tony Pollard.
The Hurts years moved Sanders to largely a one-dimensional role. But the former second-round pick delivered plus ground work last season, accumulating 1,269 yards and 11 touchdowns. Swift, Penny and Kenneth Gainwell bring a much cheaper succession plan.
Draft:
Round 1, No. 9 (from Bears): Jalen Carter, DT (Georgia) (signed)
Round 1, No. 30: Nolan Smith, LB (Georgia) (signed)
Round 3, No. 65 (from Texans): Tyler Steen, G (Alabama) (signed)
Round 3, No. 66 (from Cardinals): Sydney Brown, S (Illinois) (signed)
Round 4, No. 105 (Texans through Cardinals): Kelee Ringo, CB (Georgia) (signed)
Round 6, No. 188 (from Saints through Texans): Tanner McKee, QB (Stanford) (signed)
Round 7, No. 249 (from Chiefs through Lions): Moro Ojomo, DT (Texas) (signed)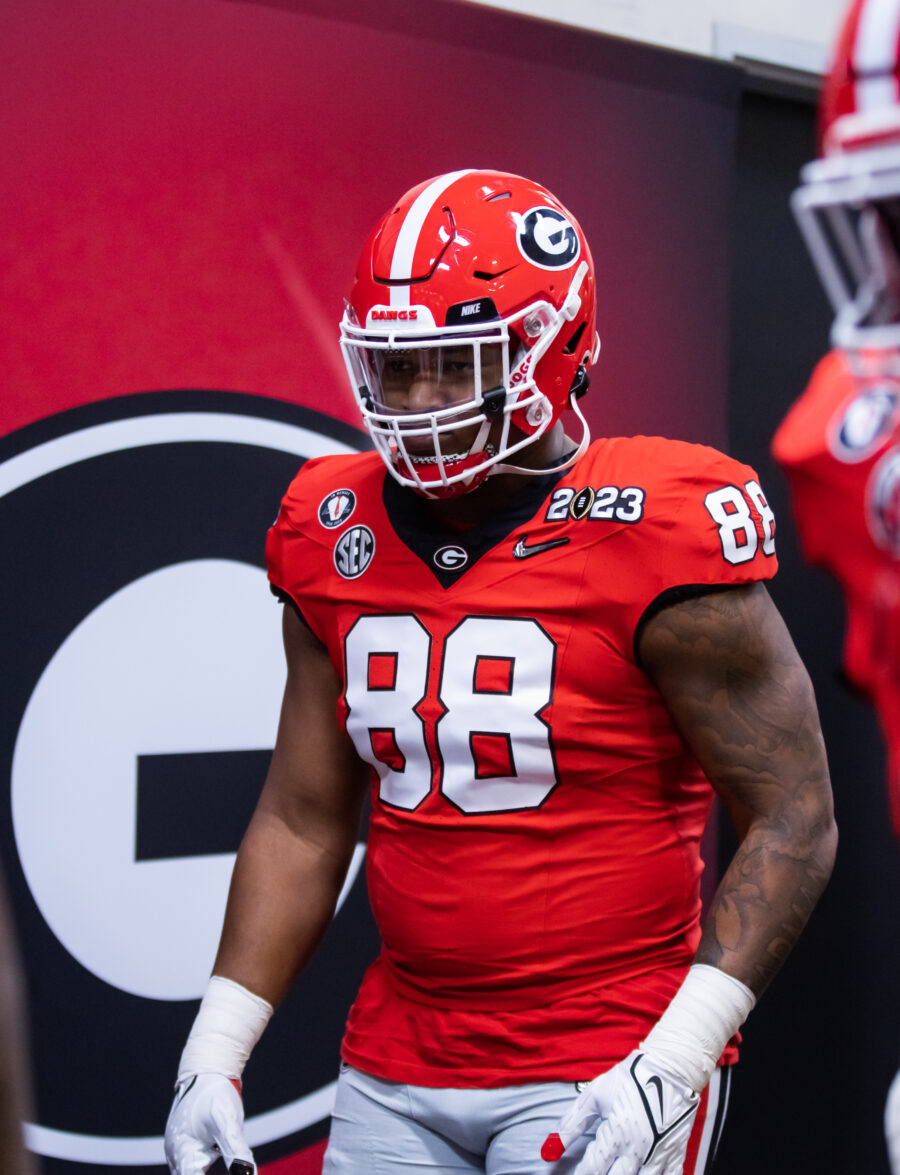 If Carter did not face charges in connection with a street-racing accident that left two members of the Georgia program dead, the Eagles would not have been in position to draft the dominant defensive tackle prospect. The Seahawks, Lions, Raiders, Falcons and Bears were each connected to Carter and hosted him on a pre-draft visit. Seattle and Las Vegas chose other defensive players instead; Chicago traded down. The Bears' move set up the Eagles, who will surround Carter with three of his former Bulldog defensive teammates (Smith, Dean, Jordan Davis) in an effort to move him toward a steady path.
Carter said the Eagles did not probe deeply into the January incident, which saw a plea deal reached but multiple civil complaints involving this draft's top D-tackle prospect come out. Some teams viewed Carter as unapologetic, likely leading to the slight draft slide. ESPN's Scouts Inc. slotted Carter as this year's sixth-best prospect, but he played the lead role on both national championship-winning Georgia defenses. He also struggled through his pro day, inviting more questions. If the Eagles' gamble pays off and Carter utilizes the power-quickness combo that made him a feared SEC presence, Hargrave's exit may not sting much, and the formation of a Georgia-to-Philadelphia long-term DT combination will loom as a threat to the rest of the NFC.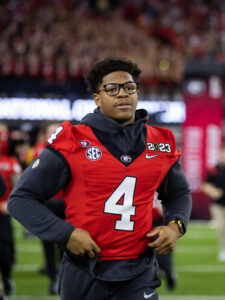 NFL.com's Daniel Jeremiah offered Haason Reddick as a Smith comp; the Eagles will deploy both soon. An undersized edge rusher, Smith did not post impressive numbers during Georgia's championship campaigns. He finished with 7.5 sacks and 15 tackles for loss over the past two seasons. Though, a torn pec limited Smith to eight games in 2022. The Eagles were impressed with the young pass rusher, who clocked a 4.39-second 40-yard dash at the Combine. Smith's quick-twitch rushing ability unveils an intriguing ceiling, with the Eagles' Reddick investment doing plenty to blaze another trail to a Super Bowl. Once again, the Birds boast considerable edge-rushing depth, with Derek Barnett still in the mix alongside Reddick, Graham, Smith and Josh Sweat.
Although Jurgens is the favorite to take over for Seumalo, he has also been the Kelce heir apparent. If Steen cannot wrest the right guard job from Jurgens' grasp this year, he will provide swing depth. If Kelce hangs up his cleats after this season, the Eagles' 2024 O-line may well feature each of their recent three Day 2 picks — Jurgens, Steen, Landon Dickerson — on the interior. A Vanderbilt transfer who started at both left and right tackle for the Commodores, Steen spent last season as Alabama's left tackle. That high-profile college spot will enhance the appeal of Philly's upcoming RG competition.
Other:
Some impropriety on the Cardinals' end led the Eagles improving their third-round draft slot, keying the Sydney Brown pick, and it also may have affected Vic Fangio's decision to leave for Miami and not transition from Philly consultant to defensive coordinator. The Dolphins were clearly prepared to put up a fight in this winter market, paying up — in the $4.5MM-per-year range — to add Fangio. The Eagles went with ex-Fangio Bears lieutenant Desai, whose 2021 Chicago DC work might be slept on a bit. Despite losing Khalil Mack midway through the season, the Bears ranked sixth in total defense during Desai's lone year in charge. DVOA ranked that unit 13th.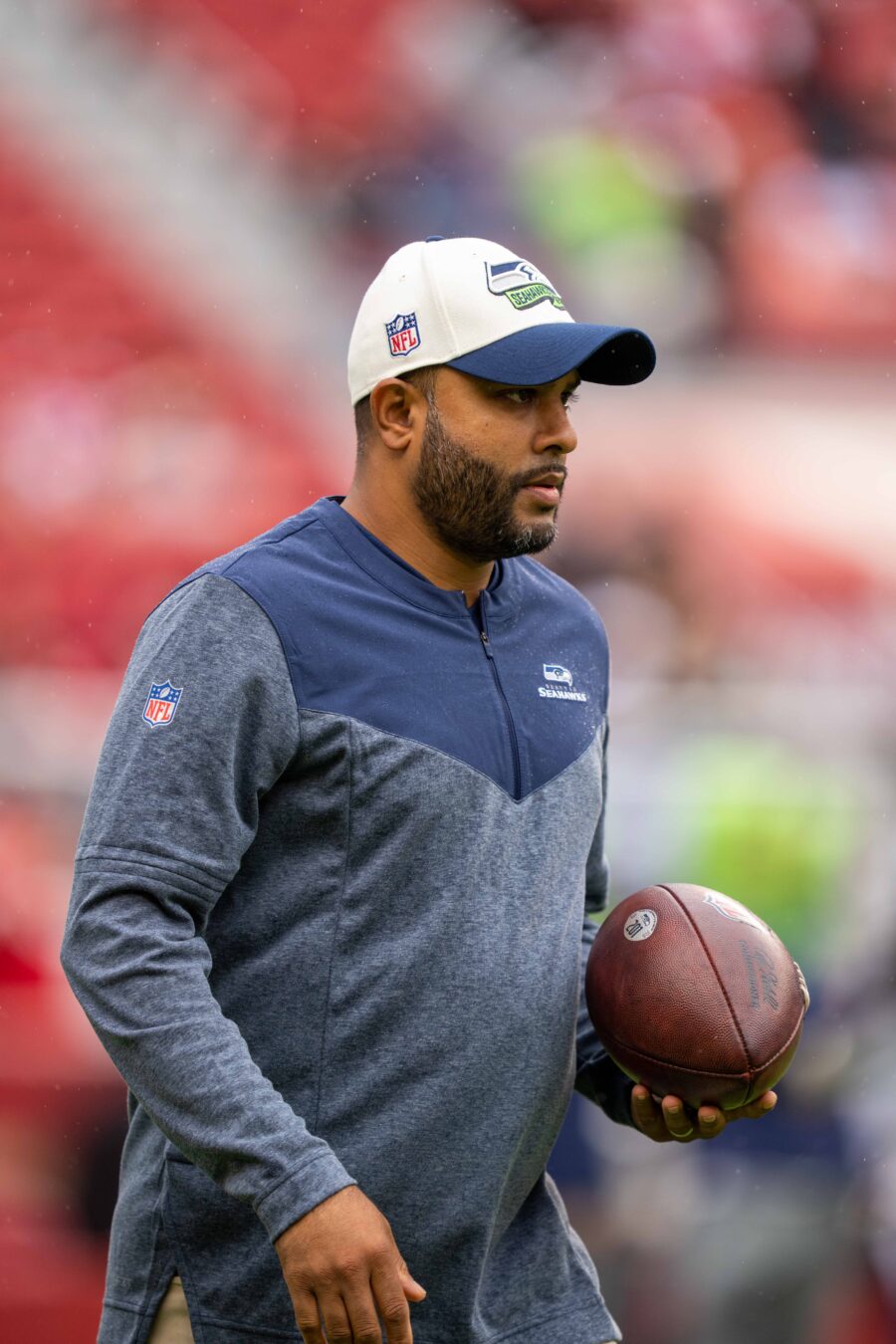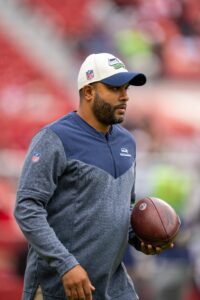 Desai, 40, beat out Wilson for the position, leading the latter to Baltimore. While Vance Joseph was in the mix as well, Sean Payton enticed the former Broncos HC to come back as his DC.
Johnson, 36, profiled as a natural fit, having been Hurts' position coach for the past two seasons. The former Florida OC, who unleashed Kyle Pitts in 2020, is expected to make a major level jump this season; Sirianni has indicated he is not planning to call plays. While Sirianni began his Eagles tenure as the team's play-caller, he gave Steichen the gig midway through the 2021 slate. That decision opened the door to a No. 1 rushing ranking that year and Hurts making a seminal leap in 2022. Johnson, who also was QBs coach at Mississippi State during Dak Prescott's mid-2010s ascent, will attempt to keep this car in the fast lane.
Transitioning after Gannon, Wilson and Rallis left, the Eagles hired an experienced consultant of sorts in Patricia. Due both to Patricia's success unfolding entirely under Bill Belichick — excluding his bizarre 2022 appointment as de facto Patriots OC — and past with Darius Slay, this is one of the NFL's most interesting senior assistant-type hires in years. The Pro Bowl corner and then-Lions HC famously clashed, helping lead to Slay ending up in Pennsylvania via trade. The Eagles felt the need to clear the Patricia hire with their top corner before going through with it. Given Slay's past animosity toward his former coach, the Eagles going in this direction made for an unexpected hire.
Top 10 cap charges for 2023:
Hurts' post-Steichen trajectory will define this Eagles offseason, as he saved the Eagles after their last such commitment went bad fast. The Eagles entered their previous post-Super Bowl season as the favorite to repeat, but Wentz's issues helped key a steady fade. Philly kept investing on its lines, which should help mitigate the losses of Seumalo and those at linebacker and safety. Once again, the defending NFC champions will walk into a season with high expectations.
The Eagles may have a friendlier road back to the Super Bowl compared to the Chiefs, with the NFC being potentially the far shallower conference. But the Chiefs have a Mahomes-provided fast pass to deep playoff destinations. Can Hurts supply his team with a similar gateway?
Follow @PFRumors