Finishing last season with rare momentum, the Lions are in a stranger position coming into Dan Campbell's third year. The Campbell-Brad Holmes rebuild has progressed to the point Detroit comes into a season as the favorite to win the NFC North. Since the NFL redid its divisions after the Texans entered the league in 2002, the Lions have never won this division. Although they made the playoffs three times during the 2010s, their last divisional conquest came in 1993 as part of the NFC Central — in Barry Sanders' fifth season.
Making the second first-round pick brought from the Matthew Stafford trade and making a number of moves to improve a porous defense, the Lions operated intently this offseason. The rebuild that covered the past two seasons is over. It will now be deemed a failed season if the Lions do not qualify for the playoffs.
Free agency additions:
The Lions went 8-3 in their final 11 games and made defensive strides; Aaron Glenn's unit still finished last in yards allowed, 28th in DVOA and 30th against the pass. Holmes and Co. aggressively targeted the secondary in free agency and the draft. The aftermath brought considerable depth, giving Glenn options in his third season as Detroit's DC.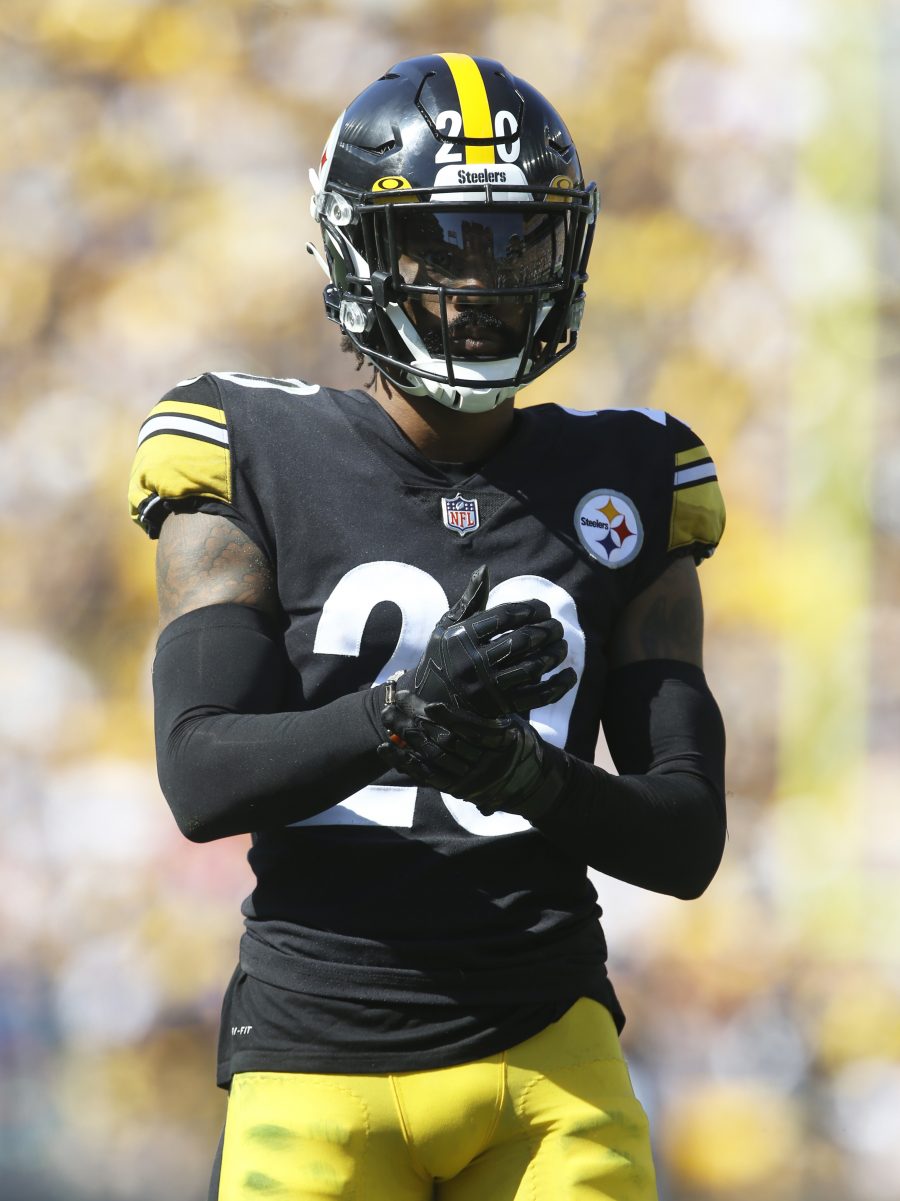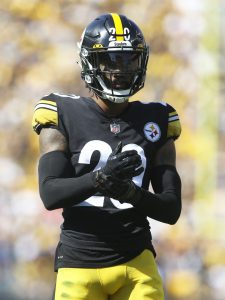 This effort started with Sutton, who had been on the Steelers' radar to retain. Sutton, 28, had already signed two Pittsburgh contracts; his performance over the past two years turned the two-year, $9MM pact from 2021 into a team-friendly deal. The Steelers were not prepared to go where the Lions did for the former third-round pick, and a contract agreement emerged within hours of the legal tampering period's opening. Sutton's arrival illustrated a Lions versatility lean this offseason.
Each of their top three acquisitions in the secondary supplies experience in multiple roles, with Sutton joining Gardner-Johnson and second-rounder Brian Branch as having extensive slot seasoning. But the Steelers had shifted Sutton, an early-career slot corner, to the outside. That is where the Lions are expected to use the seventh-year vet, but Sutton's history as an inside defender will help his new team. The 5-foot-11 cover man finished in the top five in passer rating allowed as the closest defender last season (among corners), per Next Gen Stats, and ended the year with a career-high 15 passes defensed. He will take over for Jeff Okudah as the Lions' top corner investment, though Sutton has proven far more than the recently jettisoned top-five pick.
Ideally, Sutton would join Moseley as the Lions' outside corners. But the ex-49er remains on the Lions' active/PUP list due to a late-summer knee surgery. A stay on the reserve/PUP list — a designation mandating a four-game absence — is firmly in play. Moseley, 27, suffered an ACL tear midway through last season. That brought the sixth-year corner's price down to a level that proved palatable for the Lions, per Holmes. Moseley made his way into a regular 49ers role in 2019, replacing Ahkello Witherspoon opposite Richard Sherman on the outside for the Super Bowl LIV-bound team. Pro Football Focus has graded Moseley as a top-35 corner in three of the past four seasons. His last full season (2021) featured substantial improvements in passer rating against (65.6) and yards per target (5.8) compared to his prior work.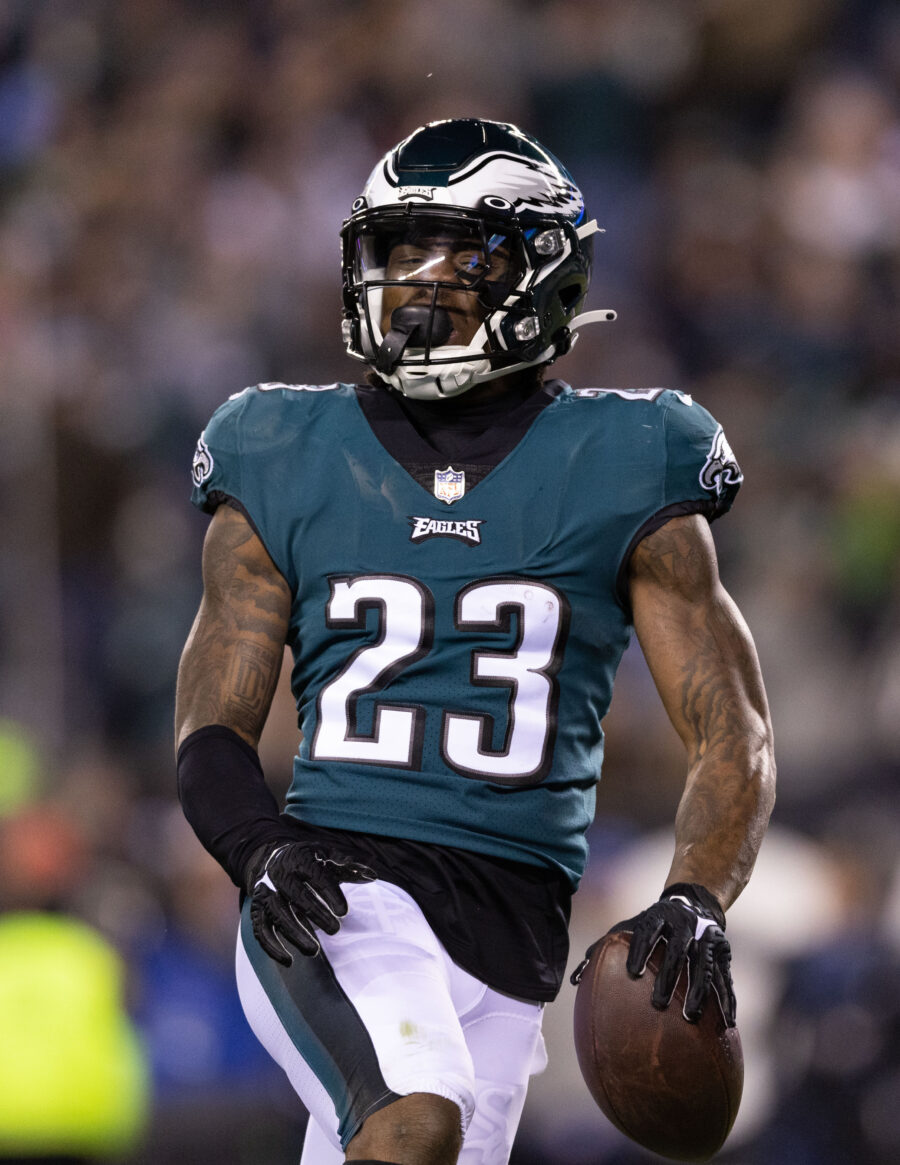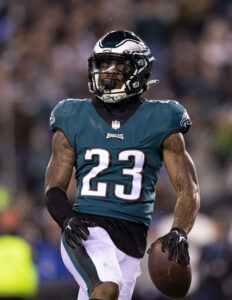 Moseley recapturing that form for the Lions would set him up for a big free agency payday in 2024 or a nice Lions extension. But his extended layoff will be something to keep monitoring as the season nears.
Gardner-Johnson, who has enjoyed quality seasons at safety and as a slot corner, may have misread the market en route to Detroit. The Eagles offered their 2022 trade acquisition a multiyear deal early in free agency. Seeking a higher payout, Gardner-Johnson turned it down. This led to the Eagles pivoting and re-signing James Bradberry to and giving ex-Lion Darius Slay another extension. Rather than extend CJGJ — a pre-free agency goal — Philly reinvested at corner and went with low-cost safeties. Beyond Jessie Bates, none of this year's free agent safeties secured more than $7.5MM per year. Gardner-Johnson, 25, will attempt to use this season to solidify his value.
Known as much for his trash talking as his coverage acumen, Gardner-Johnson has both served as a full-time slot corner — with the Saints during Sean Payton's final seasons — and a regular safety. As a safety last year, Gardner-Johnson tied for the INT lead (six) despite missing five games with a lacerated kidney. Rumors about Glenn, who coached New Orleans' DBs during CJGJ's first two seasons, returning the brash defender to a slot role emerged. But the Lions have been trotting him out at safety alongside 2022 third-rounder Kerby Joseph during camp.
A Joseph-CJGJ safety pairing has led to Tracy Walker, who re-signed on a three-year deal worth $25MM in 2022, dropping to a backup role. Branch played a hybrid role at Alabama, and he has been given steady time in the slot during camp. This has led to converted safety Will Harris (again, the Lions ooze DB versatility) working as a second-string corner behind Sutton and third-year UDFA Jerry Jacobs. PFF rated Harris much higher than Jacobs last season, so it would be interesting to see the sixth-year veteran demoted. But Moseley's re-emergence would stand to lead to Jacobs losing his starting gig, too. On the verge of including four new starters, the Lions' secondary is poised to present a much higher ceiling.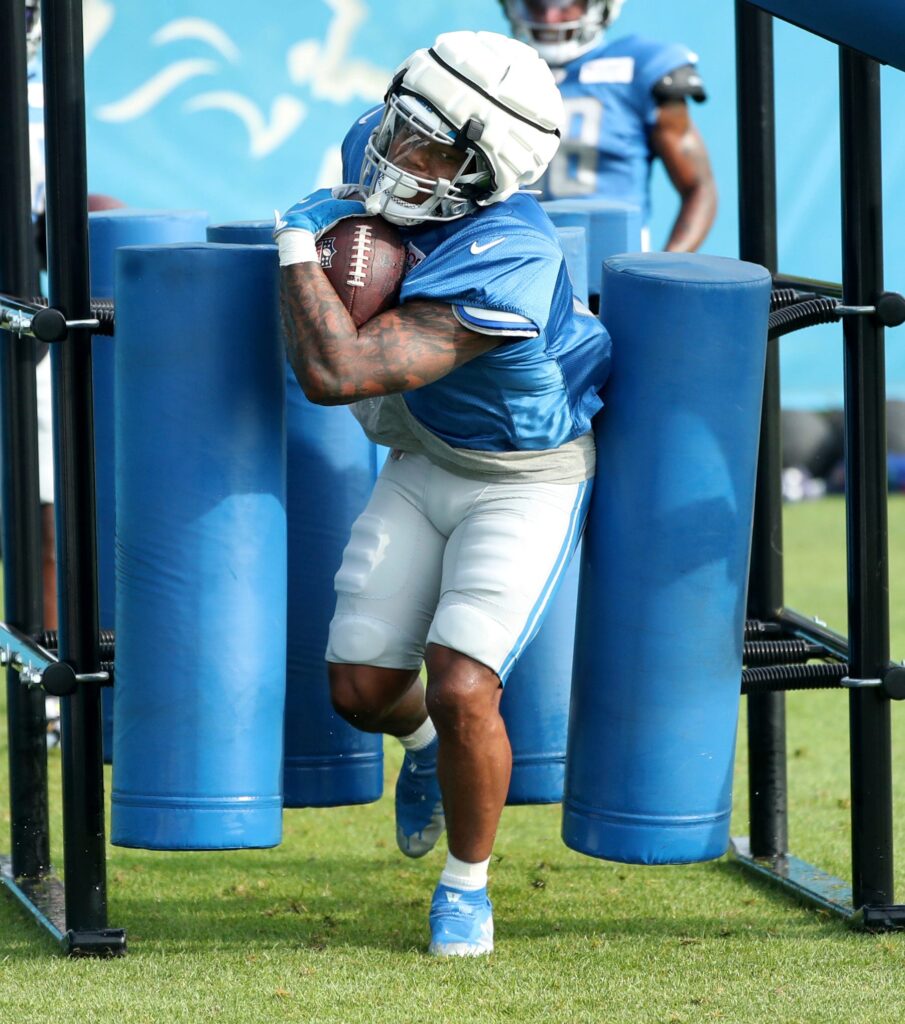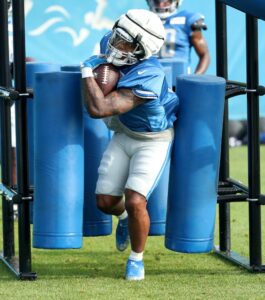 On offense, the Lions pried the Bears' four-year starting running back to replace last season's rushing touchdowns leader. After Jamaal Williams turned down a similar offer, Montgomery swooped in and will step in as Detroit's between-the-tackles runner. It is worth wondering if the Lions overpaid here, given what happened to the running back market this offseason.
Montgomery finished with the NFL's sixth-worst rushing yards over expected figure (minus-53), per Next Gen Stats, though Williams was not too much better (minus-11). Montgomery, however, finished with the eighth-worst RYOE mark in 2021 (minus-80). That said, Montgomery is two years younger, at 26, and has been better in the passing game (617 yards from 2020-21) than Williams (230 in that span). Still, Williams, who regrouped and signed a $4MM-AAV deal with the the Saints, led the NFL in rushing touchdowns (17) and totaled his first 1,000-yard season.
Offseason developments involving Amon-Ra St. Brown's top sidekicks moved the Lions to bring back Jones, who played out a five-year contract with the team in 2020. Working alongside Golden Tate to help the Lions pick up the pieces after Calvin Johnson's earlier-than-expected retirement, Jones offered high-end WR2 work during most of his first stint (three 900-plus-yard seasons). The ex-Bengals deep threat led the NFL with 18.0 yards per reception in 2017. Jones, 33, is far removed from that point and now profiles as a possession receiver. With DJ Chark departing and Jameson Williams continuing to encounter obstacles, Jones — whose second Jaguars year ended with his worst full-season yardage total (529) — will likely be needed for regular work.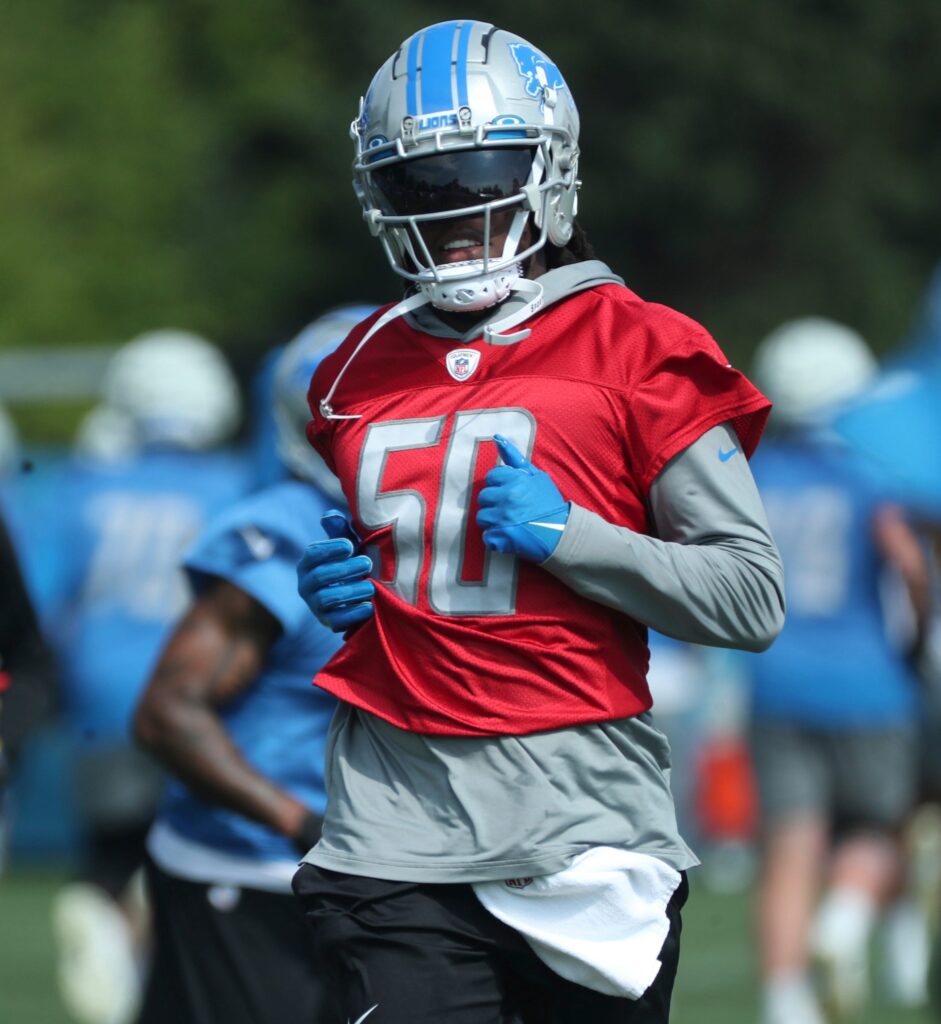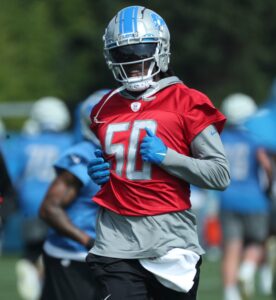 It did not seem realistic the Lions would trudge into a second season with Nate Sudfeld as their backup quarterback. Even after Campbell expressed satisfaction with his QB room during the Lions' offseason program, the team kept tabs on Bridgewater. Detroit had made the ex-Minnesota first-rounder an offer in April. After it cost the Dolphins $6.5MM to sign Bridgewater last year, the Lions landed him for less than half that.
Bridgewater left multiple 2022 games due to injuries, causing major issues for a Dolphins team that hit a crisis point with starter Tua Tagovailoa's availability. This tanked Bridgewater's market. But the journeyman will reunite with Campbell, who was in New Orleans during both the QB's years there, and provide Jared Goff with a much more accomplished backup.
Goff did not miss any time due to injury last season, but the Lions went 0-3 without their starter in 2021. Bridgewater, 30, had the Broncos at 7-7 before a second concussion ended his 2021 season. This looks like a clear stopgap situation, with Hendon Hooker positioned as the likely Lions backup in 2024. With the Tennessee product on the NFI list as he winds down ACL rehab, the Lions needed a better option than Sudfeld — he of 37 passes in seven seasons.
Re-signings: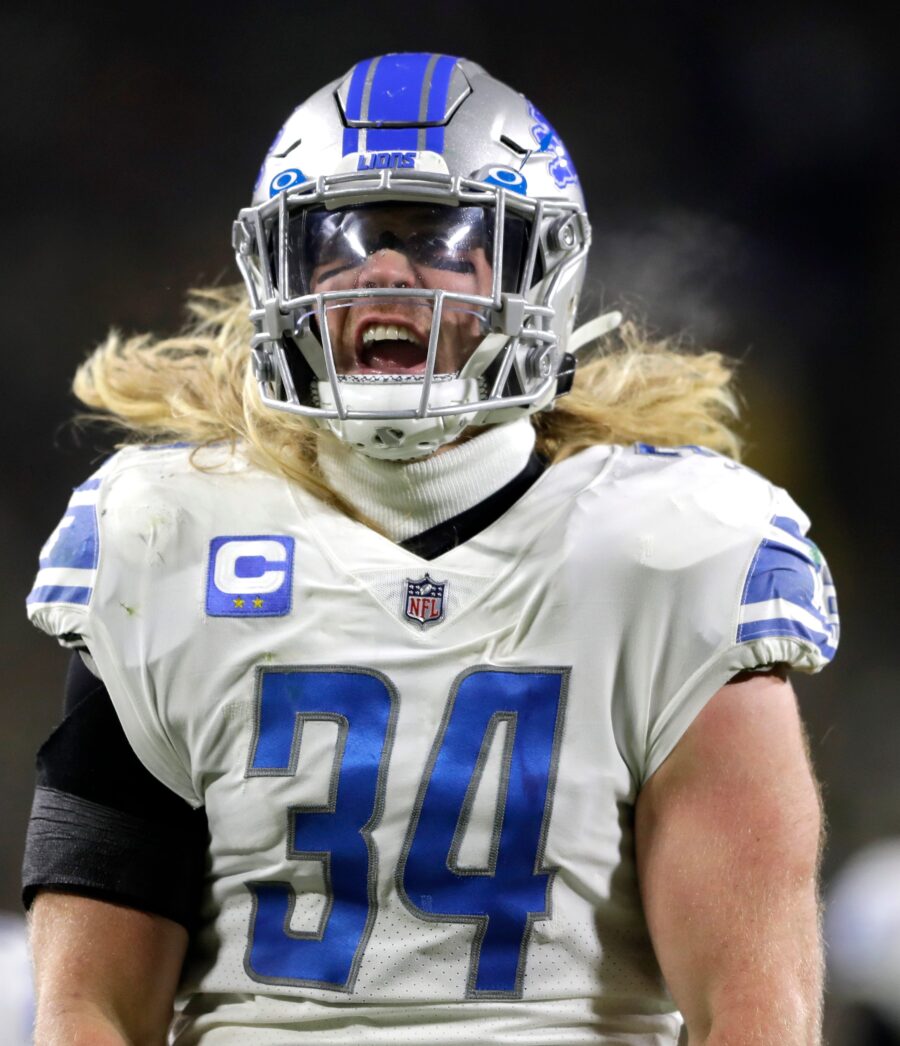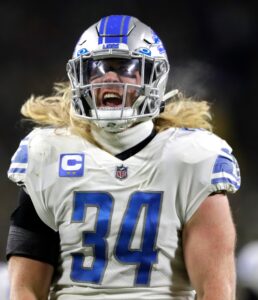 As the third tier of the 2023 inside linebacker market formed, the Lions found common ground with Anzalone, who will continue his career under Glenn. Anzalone's four New Orleans seasons featured Glennon staff as well, though the veteran linebacker found more playing time in Detroit. After never clearing a 50% defensive snap barrier during a full season as a Saint, Anzalone has been a three-down presence with the Lions. The former third-round pick played a career-high 1,080 defensive snaps last season, totaling 125 tackles — far and away a career high — and notching seven stops behind the line.
One of 11 linebackers to score a deal with an AAV between $5MM and $7.25MM this offseason, Anzalone — after two low-cost, one-year deals — did well to secure a midlevel Lions pact. Although first-rounder Jack Campbell should vie for this status soon, Anzalone remains entrenched as Detroit's lead linebacker going into his third season with the team.
The Lions' waiver priority became valuable re: Cominsky, who saw a staggering eight teams attempt to claim him when the Falcons cut bait in May 2022. Following the Lions' flier, Cominsky put together his best season. The Lions turned to the D-lineman as a regular, giving him eight starts and using him on a career-high 556 defensive snaps. That came after the Falcons made Cominsky a healthy scratch often in 2021. The Division II alum totaled four sacks, 12 QB hits and three pass deflections. Throwing most of their defensive investments at its secondary this offseason, the Lions look set to once again turn to Cominsky often.
Notable losses: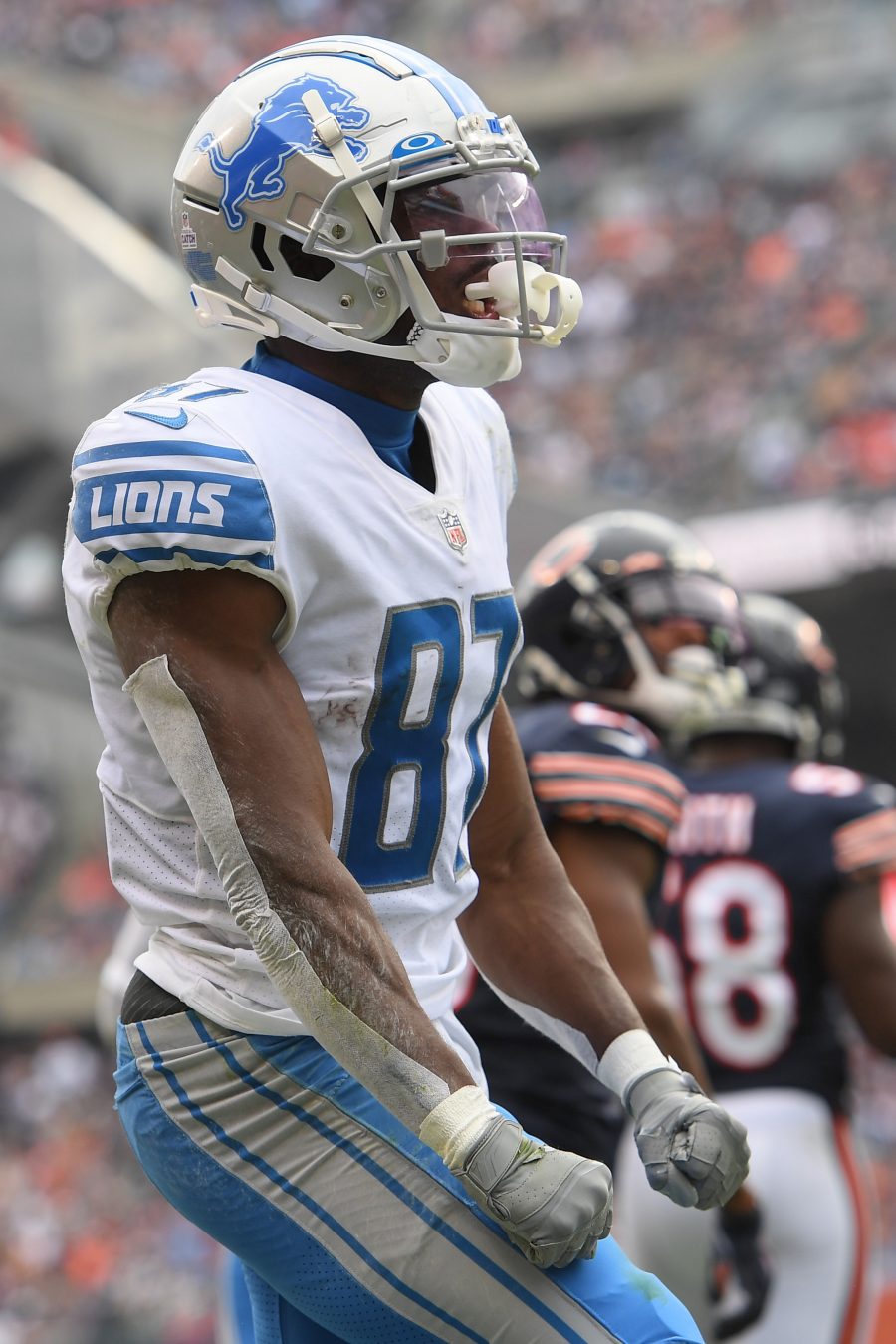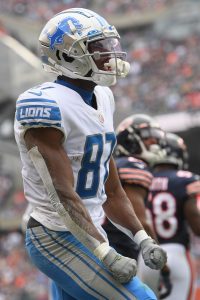 Although the highest-profile Lion to receive a gambling suspension (Jameson Williams) remains on the roster, the team's most notable departures stemmed from that round of penalties. The Lions axed Berryhill, Cephus, Moore and Taylor due to each running afoul of the gambling policy — during an offseason in which this reached a crisis point across the NFL.
The team cut Moore, a veteran special-teamer, despite re-signing him to a two-year, $4.5MM deal in March. Before running into injury trouble last season, Cephus had served as a backup receiver during most of his first two NFL campaigns. One year remained on Cephus' rookie contract, but both he and Moore were found to have made bets on NFL games, leading to indefinite suspensions. The Lions could have retained both players, as the Cephus and Moore contracts were set to toll to 2024. But they opted to cut bait amid a troublesome offseason on this front.
Widespread gambling trouble had not impacted the NFL in decades, but a 2018 Supreme Court ruling led to 33 states and Washington D.C. opening legal betting markets. NFL sponsorships with sportsbooks have followed, and messaging from teams to players about the league's gambling policy seemed to — for some franchises, at least — lack clarity. The Lions were ground zero here. The NFL did not suspend Taylor until he was a free agent, but the Lions cut him on the same day they axed Berryhill. Taylor played in one game for the team last season. As the count of Lions popped for gambling bans reached five, the team also fired a few staffers — a strength and conditioning coach and two equipment managers — who had violated the NFL's policy.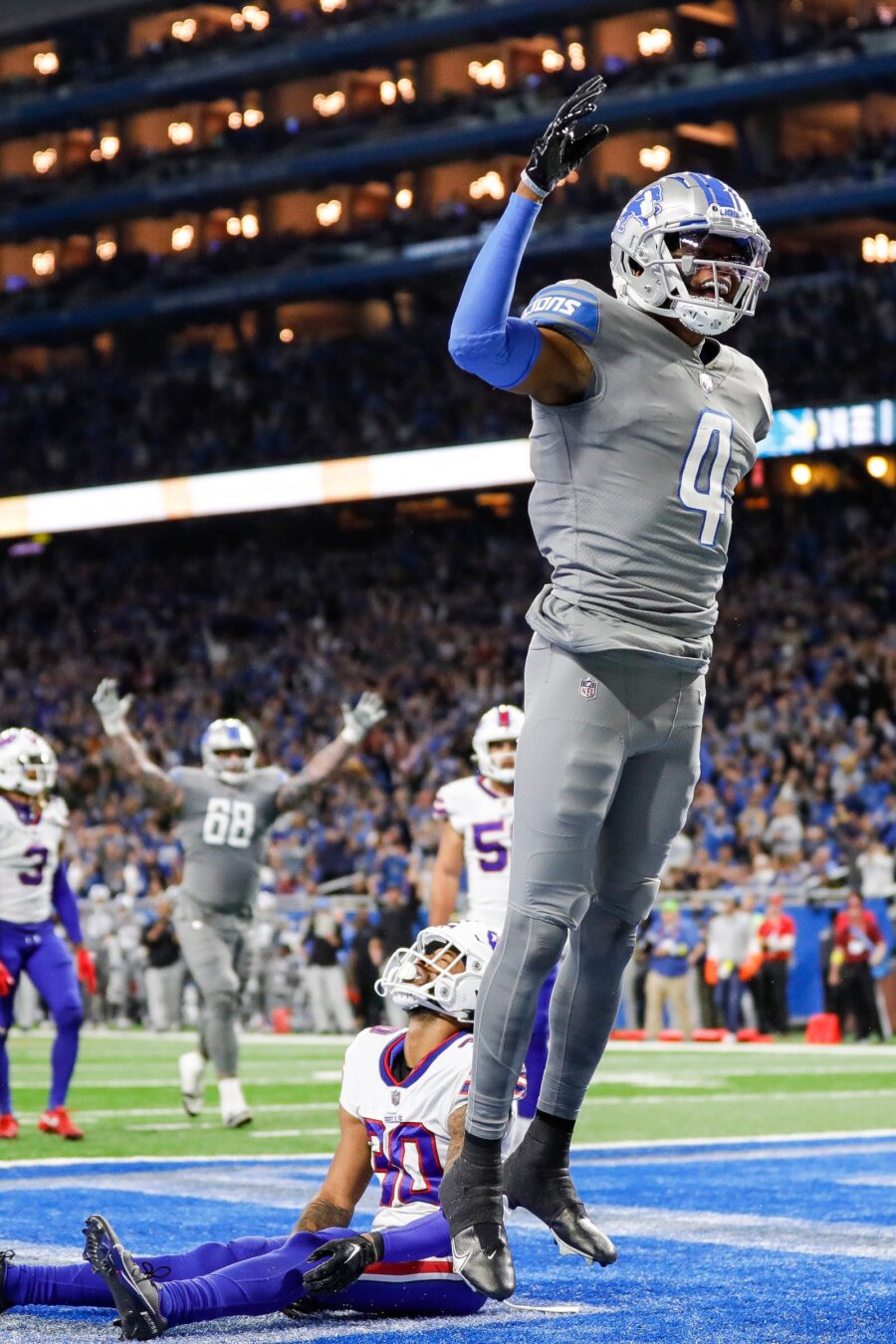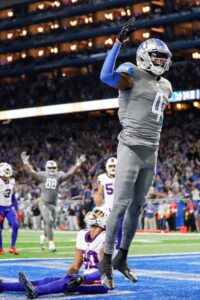 After giving Chark a one-year, $10MM deal in 2022, the Lions saw him run into more injury trouble. The former Jaguars second-rounder had suffered a fractured ankle early in the 2021 season, and he missed six games during his Lions slate. Chark, 26, did negotiate with the Lions this offseason, and while the team expressed interest in bringing back the field-stretching wideout, it stood down and let the Panthers make Chark's next payment (one year, $5MM).
Chark's exit and Williams' six-game suspension will leave Detroit more questions at its non-St. Brown receiver spots. In addition to Jones, the team still rosters Josh Reynolds, an ex-Goff Rams target. Working as a starter while Williams rehabbed his college ACL tear, Reynolds caught 38 passes for 479 yards and three touchdowns last season. The Lions did not draft a receiver until Round 7, leaving Reynolds in place to reprise his 2022 role. Returner Kalif Raymond (616 receiving yards in 2022) has provided key contributions during this stretch as well. Raymond should also remain relevant in Detroit's passing attack, which will not be at full strength until at least Week 7.
Trades:
The Gibbs pick left Swift without a role, despite the former second-round pick excelling at points in Detroit. While somewhat injury-prone, Swift has 25 career touchdowns. He posted 1,069 scrimmage yards in 14 games in 2021 and averaged 5.5 yards per carry last season. The Bob Quinn regime, however, added Swift, who lost playing time to Jamaal Williams last year. Smith played in 14 games last year — up from 13 in 2021 — but saw his carry total plummet from 151 to 99. As Williams zoomed to a career year behind an upper-crust O-line, Swift displayed frustration about his usage. Ahead of his contract year, the Lions bailed, restarting the process with Jahmyr Gibbs.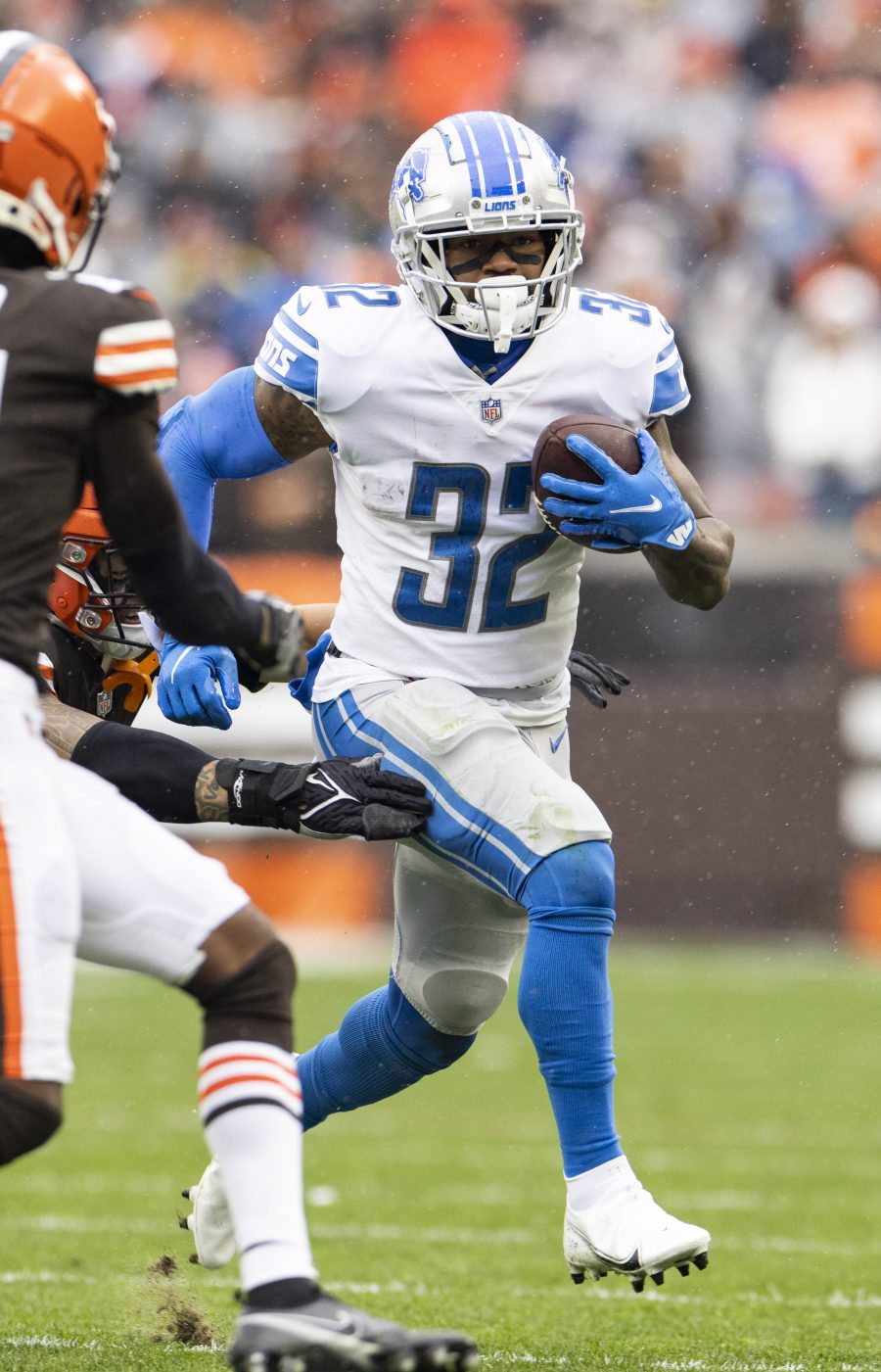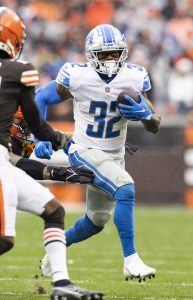 After the Gibbs pick opened the trade floodgates on the Georgia alum, the Dolphins inquired about a deal. As Miami monitored a Dalvin Cook trade as well, Philadelphia swooped in and has big plans for the dual-threat back, whose Motor City exit signals a full-fledged backfield makeover for a team that finished 11th in rushing last season.
Dealing Swift meant the Lions cut the cord on their first- and second-round picks from 2020. Quinn made a historic investment in Okudah, who was the first cornerback chosen in the top three since the Seahawks drafted Shawn Springs in 1997. Okudah could not live up to the draft slot, struggling to stay on the field and offering inconsistent play when available. PFF viewed Okudah as a marginal-at-best corner during his Detroit stay, and Atlanta declined the Ohio State alum's fifth-year option. Okudah, who missed 23 games over his first two seasons, may already be on track to begin his Falcons tenure sidelined. Should Okudah fail to turn his career around soon, he will go down as one of the bigger busts in recent draft history.
Patterson could turn into a worthwhile addition. The Lions already cut Badgley, their primary 2022 kicker, before training camp. Patterson spent last season with the Jaguars but was with the Lions in training camp last year. Boasting a career 87.8% field goal make rate, Patterson connected on 30 of 35 tries last season. The Cowboys also discussed Patterson with the Jags after the latter's Brandon McManus signing.
Extensions and restructures: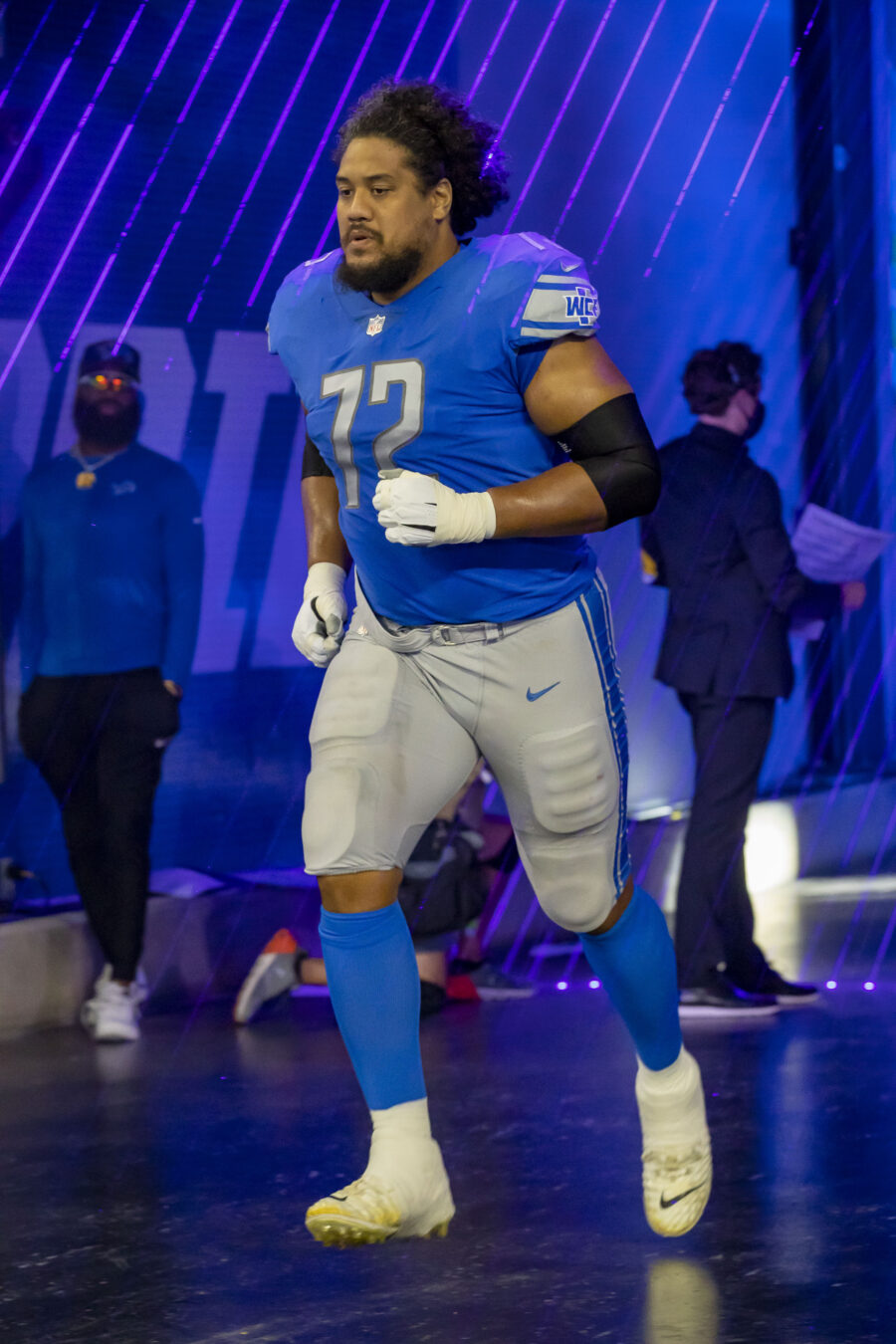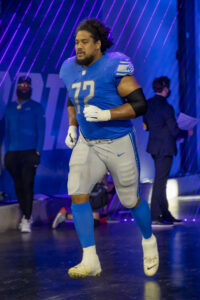 The Lions not retaining Evan Brown, who served as a regular fill-in over the past two years, cut into their O-line depth. Filling in for Ragnow and Vaitai over the past two seasons, Brown made 24 starts for Detroit in that span. But Glasgow is back, after three years in Denver, and pushing Vaitai for the right guard job. Glasgow is slotted as the backup center as well.
Vaitai missed all of last season with a back injury, a setback that led to the ex-Eagle contemplating retirement. Instead, he joined Okwara and Harris in accepting a post-injury pay cut. Vaitai, 30, had been tied to a five-year, $45MM deal agreed to in 2020, but this reworking moves him into a contract year. PFF already rated the Lions as the No. 8 offensive line last season. Vaitai bouncing back — and joining four returning starters — could unlock another level for this well-built Lions front.
Rather than explore the edge rusher market, the Lions kept two veteran defensive ends at reduced rates. After seeing an Achilles tear (and a botched surgery) effectively ruin two seasons, Okwara agreed to trim his three-year, $37MM deal. The elder of the Lions' two pass-rushing Okwaras, Romeo led the team in sacks in two seasons prior to his 2021 contract. Only going into his age-28 season, the eighth-year veteran represents a wild card alongside Aidan Hutchinson. Will Romeo Okwara's return to full strength bump younger brother Julian Okwara, a Quinn-era third-round pick who finished with two sacks last year, off the roster?
Also 28, Harris missed 11 games due to injury last year. As a result, the Lions took some money back on the two-year, $14MM contract the former first-rounder signed in 2022. But Harris, who registered 7.5 sacks in 2021, remains in place as a potential starter — after a 14-start 2021 — and surefire rotational option. The Lions are largely running it back at the pass rusher spots, with surprising sixth-round producer James Houston (eight sacks from Thanksgiving to season's end) joining Hutchinson, Harris, Cominsky and Okwara.
Draft:
Collecting some capital from the Cardinals for moving down six spots, the Lions went through with a surprising first round. Arizona's offer prevented Detroit from making a stunning move: taking Gibbs sixth overall. A multipurpose Alabama back, Gibbs' first-round status was a well-kept secret until draft week. But the Lions were set to select him ahead of Bijan Robinson, the consensus top back in the draft. Gibbs at 12 still turned heads, but with Swift gone, this Lions regime will make its own bet on a dual-threat back. Detroit showed interest in Devon Witherspoon (and not Jalen Carter), but after Seattle chose the cornerback at 5, Holmes went with an unorthodox choice.
The Robinson and Gibbs top-12 picks came as running back value tanked, but teams remain interested in rookie-contract RBs. The Lions have Gibbs under contract through 2026, and what could certainly be a cheap fifth-year option exists in this contract. Boding well for Gibbs' mileage: he never topped 151 carries in a season at Alabama. He averaged north of 10 yards per catch in each of his three Tuscaloosa seasons and profiles as an intriguing weapon, one the Lions believe has a higher ceiling than Swift.
Taking two Iowa standouts in between the two Alabama alums, the Lions made perhaps a more surprising pick with their second first-round choice. NFL.com's Daniel Jeremiah ranked Campbell 49th on his pre-draft big board; ESPN's Scouts Inc. slotted him 57th. Not exactly pleasing the analytics community for positional value with his second two-first-rounder draft, Holmes indeed said he probably could have traded down and landed Campbell. Taking him at 18 effectively reveals Detroit's against-the-grain confidence.
Although Campbell won the Butkus award and totaled a whopping 265 tackles from 2021-22, this RB-LB first round represents a significant risk for the Lions, who are done with their two-first-rounder drafts brought on by the Stafford swap.
More conventional picks came in Round 2. The Lions have made early tight end investments part of their M.O., having chosen four in the top 34 picks (Brandon Pettigrew, Eric Ebron, T.J. Hockenson, LaPorta) since 2009. Coming from one of the NCAA's tight end factories, LaPorta earned first-team All-Big Ten acclaim last season and topped 650 yards as both a junior and senior. After trading Hockenson to the Vikings, the Lions entered the draft with a clear need. Tight ends typically take longer to acclimate compared to running backs and receivers; only three (Kyle Pitts, Evan Engram, John Carlson) have eclipsed 600 receiving yards as rookies since 2008. But LaPorta has an early path to a regular role in Detroit.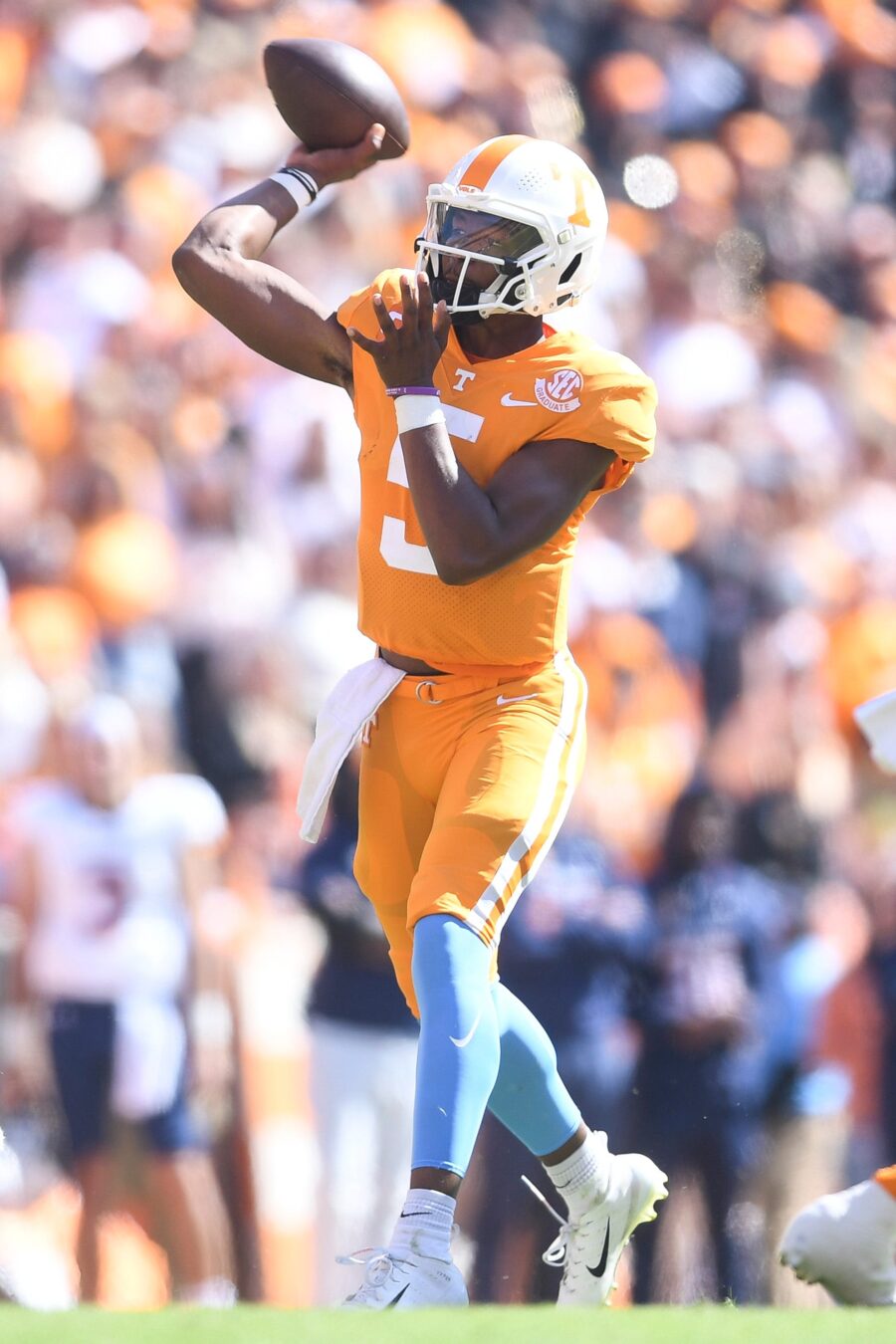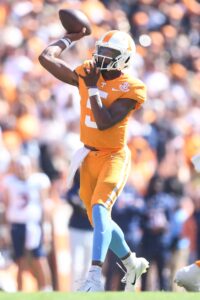 The top safety chosen this year, Branch was the only Division I-FBS player to amass at least 90 tackles, 14 TFLs and two INTs last season. With Gardner-Johnson only signed for one year, Branch is more likely to become the versatile DB on which the Lions lean in the long term. An effective blitzer from the slot, Branch also registered three sacks last season. How the Lions use their batch of DB acquisitions will be an important NFC North subplot.
Hooker did not find himself with as many first-round ties as Malik Willis did last year, but buzz built. Instead, Hooker fell to the top of Round 3. The Lions made Hooker their first QB selected in the top three rounds since Stafford 14 years ago. Hooker redshirting his rookie season, as of now, appears the Lions' plan. The team has Goff under contract for two more seasons, and Hooker did not craft his rising prospect profile in a particularly pro-friendly offense.
The two-year Volunteers starter (58 TD passes, five INTs from 2021-22) landed on the Heisman radar before his ACL tear, but his career track now points to a full season off at 25. Hooker could be in his late 20s before the notion of him starting becomes realistic, though the Lions are not expected to let the rookie spent the full season on the NFI list and see his rookie deal toll.
Other: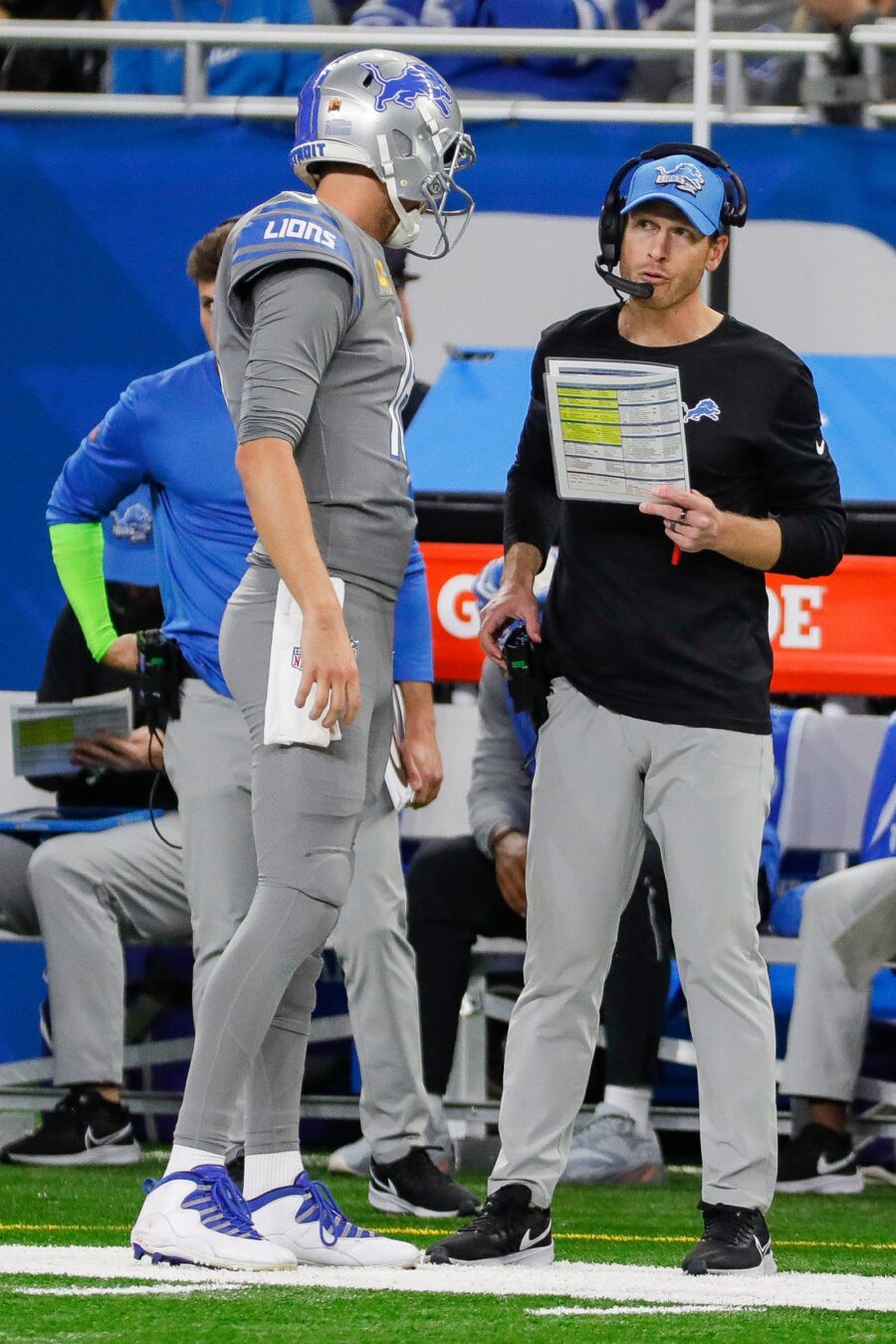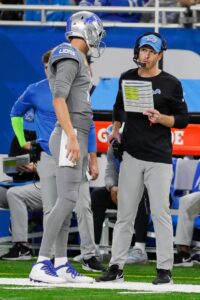 Thanks to Johnson bowing out of HC searches early and the Cardinals passing on Glenn, the Lions return both their coordinators. Johnson managed to go from a rookie play-caller to a hot HC candidate, who appeared in the early lead for the Carolina job. Johnson orchestrated the Goff's best season since the Rams' Super Bowl LIII-qualifying campaign, and should Williams negotiate a concerning number of early-career hurdles, the second-year OC should have a better offensive nucleus by midseason. A Lions step back could obviously lead to diminished interest, and the team did finish with just four turnovers over its final 11 games. Will that unsustainable rate and Goff's inconsistent history lead to Johnson regretting an early leap off the 2023 coaching carousel?
Goff, who threw no interceptions after Week 7, giving defenses few short fields and the Lions still finishing last in total defense created an odd launching pad for Glenn. But he nevertheless interviewed twice for the Cardinals and Colts' HC jobs. Glenn is also believed to be signed beyond 2023, but he fended off in-season firing rumors last year. Campbell and Glenn have worked together for eight years now, and the Lions have equipped their 51-year-old defensive play-caller with an overhauled secondary and a first-round linebacker.
Top 10 cap charges for 2023:
Should Williams return from his gambling ban healthy and Gibbs proves a Swift upgrade, Goff (fifth in 2022 QBR) will have the best offensive nuclei at his disposal since before Todd Gurley's knee troubles intensified. The team still will likely want to see its third-year starter deliver another strong season before considering an extension. Goff ranked 22nd, 23rd and 24th in QBR, respectively, from 2019-21 and is two years removed from the Rams sending the Lions an extra first-rounder in exchange for taking on his $33.5MM-per-year contract. But Goff has effectively dispelled the notion he was a bridge quarterback for Detroit. In addition to Holmes and Campbell praising Goff at every turn, they showed that faith by passing on QBs with four first-round picks over the past two years. A new deal is on Detroit's radar.
Ahead of his age-29 season, Goff looms as one of the NFC's central figures. The former No. 1 overall pick showing his 2022 re-emergence was no fluke stamps the Lions as NFC North favorites. With Aaron Rodgers gone, the Vikings attempting to clean up a defensive mess and the Bears coming off a 3-14 season, the Lions have their rare turn in the frontrunner chair. Making good on these prognostications would place this as one of the better rebuilding efforts in recent NFL history.
Follow @PFRumors