The 2022 season saw the Patriots fail to make the playoffs for the second time in the post-Tom Brady era. While the players deserve their fair share of blame for the team's lack of success, New England's struggles could mostly be attributed to the sideline.
With Josh McDaniels having left for Las Vegas, Bill Belichick made the bold decision to replace his offensive coordinator with a former defensive coordinator in Matt Patricia and a former special teams coordinator in Joe Judge. Predictably, the results were less than stellar, and the team's lack of offensive cohesion played a big role in quarterback Mac Jones' sophomore slump.
So, while fans may have been clamoring for a big-name acquisition, the organization's biggest offseason move was bringing in former OC Bill O'Brien to help guide the offense. Will the coaching change help improve the Patriots' postseason chances? It won't hurt, but it remains to be seen if New England has enough firepower on their roster to keep up with the other three teams in the AFC East.
Extensions and restructures:
The Patriots' most notable extension of the offseason came during training camp, when they ended Matt Judon's hold-in by giving him a pay bump for the 2023 campaign. The veteran edge has transformed into one of the team's most important players since he came over from Baltimore before the 2021 campaign, compiling 28 sacks over the past two years.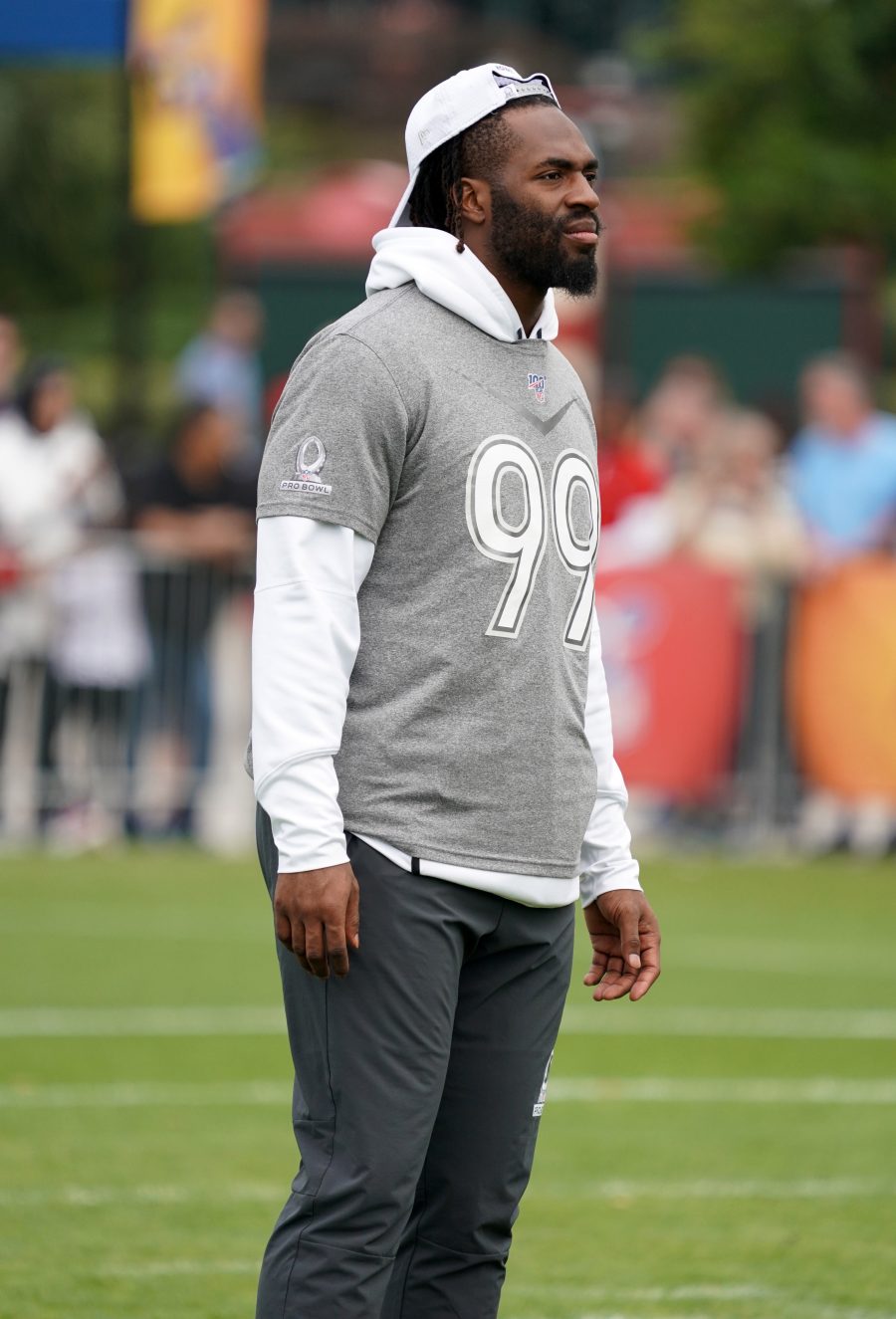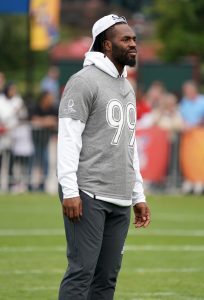 However, Judon has also struggled to finish each of those seasons on a strong note, which could explain why the front office opted to give him more money right now vs. tacking on additional years at the back end of his contract. While Judon's reworked deal temporarily solves any contract tension, there's a good chance he'll be seeking some long-term security next offseason.
DeVante Parker's first season in New England left plenty to be desired, although there's not a whole lot a receiver can do if the quarterback can't get him the ball. The veteran wideout did show some signs of promise though, setting career-highs in catch percentage (66 percent) and yards-per-target (11.5), and his 17.4 yards per reception was his highest mark since his rookie campaign. The Patriots have a relatively deep receivers room and it's uncertain how Parker fits into that grouping, but the front office gave him a vote of confidence by reworking his deal.
Belichick and Co. have always taken pride in their diamonds in the rough, so it was not a big surprise when the team was proactive in extending Ja'Whaun Bentley. The former fifth-round pick has topped 100 tackles in each of the past two seasons, and the Patriots will be counting on him to take on an even larger role on defense in the coming years.
Raekwon McMillan went down with a torn Achilles during New England's offseason workouts, ending the linebacker's season before it even began. However, for the second time in his tenure with the organization, he inked an extension ahead of a season in which he will not participate. McMillan bounced back from that 2021 ACL tear to play 16 games for the Patriots last season, finishing with 35 tackles and a fumble returned for a TD.
Free agency additions:
The Patriots didn't really add to their offense as much as they simply signed free agents to replace their departed players (which we'll get to below). Still, that's not to say that the free agent acquisitions won't help the Patriots and Jones in 2023. JuJu Smith-Schuster led the Chiefs in receiving during his one season playing alongside Patrick Mahomes in Kansas City, finishing with 933 receiving yards and three touchdowns. While Smith-Schuster made notable contributions for a team that traded Tyreek Hill, that yardage figure is a far cry from his best year with the Steelers. The wideout is now five years removed from his breakout 2018 campaign that saw him compile 1,426 receiving yards, but the Patriots clearly added him as a depth piece instead of an offensive focal point.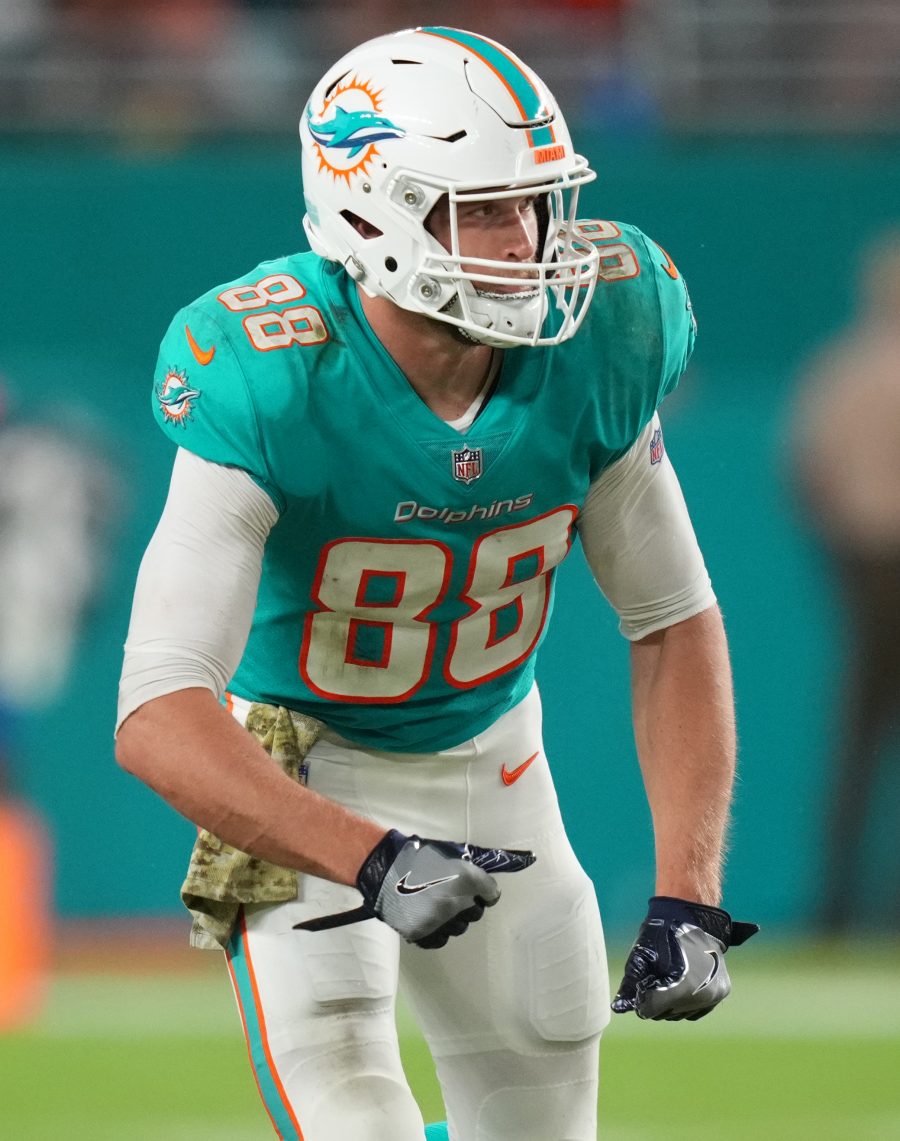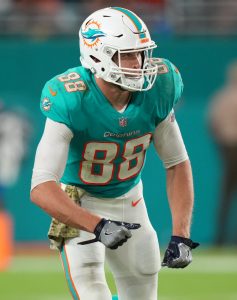 Bill O'Brien was at the helm when the Patriots rolled with their talented tight end duo of Rob Gronkowski and Aaron Hernandez, so pairing Mike Gesicki with Hunter Henry is certainly intriguing. Still, the tight end struggled in Miami on the franchise tag last season after the organization added notable offensive weapons, finishing with his fewest receptions and receiving yards (32 for 362) since his rookie campaign. Miami's offense is obviously a lot more dynamic than New England's, but it will be interesting to see if Gesicki can produce with a number of comparable weapons around him.
The team's biggest-name acquisition came during the preseason, when the Patriots added veteran Ezekiel Elliott to their backfield. The former All-Pro averaged a career-low 3.8 yards per carry last season as he was used increasingly as a short-yardage specialist, and he was ultimately cut by the Cowboys during the offseason. He'll likely see a similar secondary role in New England with Rhamondre Stevenson emerging as a capable lead back.
Riley Reiff brings 149 games of starting experience to New England, and the veteran will likely fill in for the departed Isaiah Wynn at right tackle. Reiff's production in recent years has been up and down, a fact that was reinforced when he couldn't even crack the starting lineup for the lowly Bears to begin the 2022 campaign. Still, with the Patriots likely rostering at least three rookie offensive linemen, there's a good chance the Patriots rely on Reiff's veteran knowhow, even if it's just temporary.
Re-signings:
The New England secondary had the potential to look a whole lot different in 2023, and we're not even talking about the addition of Christian Gonzalez and the subtraction of long-time Patriot Devin McCourty. Three key defensive backs hit free agency at one time or another, and all three ended up re-signing with New England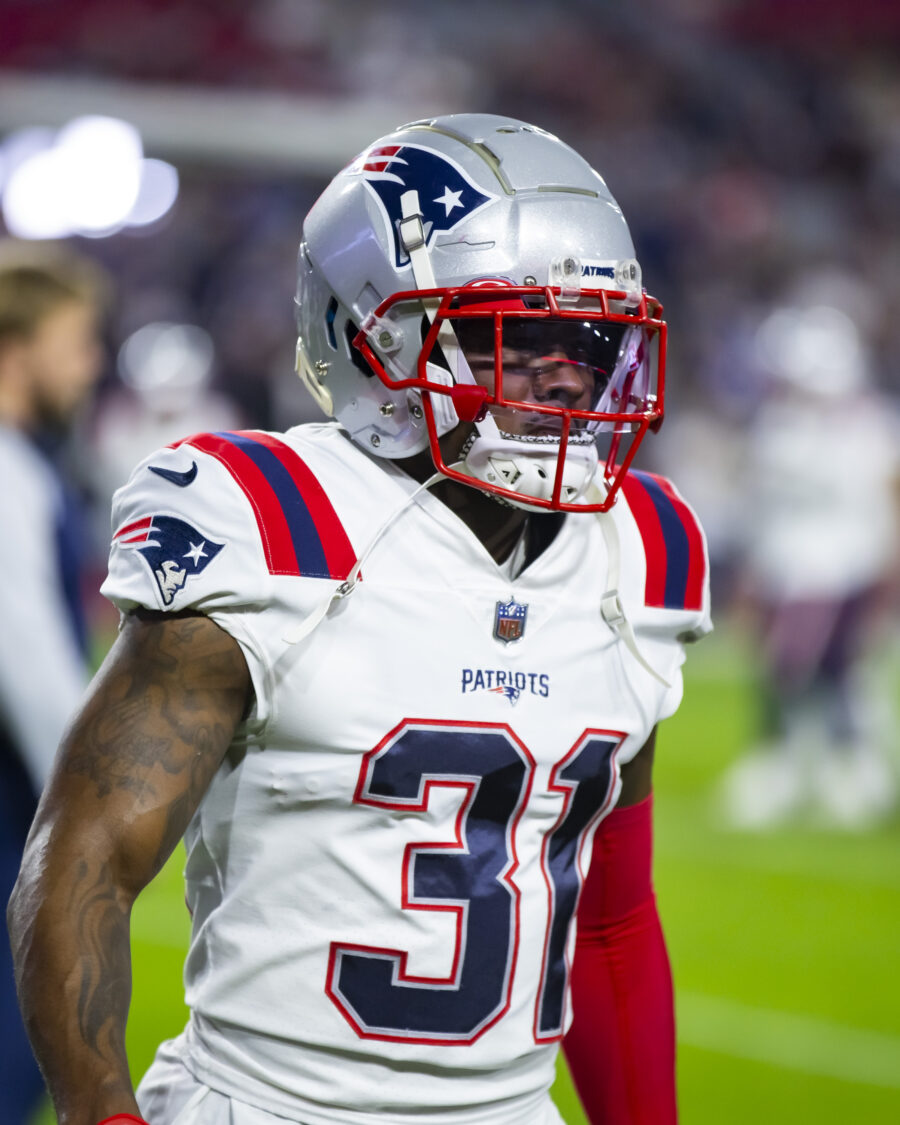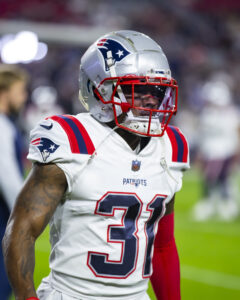 Jonathan Jones has played in a variety of roles during his seven seasons in New England. He was mostly known as a slot cornerback through the first chunk of his career, but he was forced to the outside following J.C. Jackson's exit last offseason. Jones ended up having a career season from a statistical perspective, compiling 69 tackles, four interceptions and 11 passes defended. It was uncertain if the organization would pony up to re-sign the veteran, especially with the front office investing so much draft capital into the position in recent years. However, Jones ended up re-upping with the organization, and regardless of his role in 2023, he'll certainly be an important part of the defense.
Jabrill Peppers is another Swiss Army Knife weapon in New England's secondary, and while the former first-round pick managed to rehabilitate his value in 2022, he still decided to stick in New England. Peppers has the ability to play in the hybrid linebacker role that Patrick Chung used to play, but with McCourty now out of the picture, the coaching staff may lean on him even more in the secondary in 2023.
Jalen Mills had an intersting offseason, with the veteran defender earning his walking papers before re-signing with the organization within the week. Mills did not necessarily live up to the four-year, $24MM contract he initially signed with the Patriots in 2021, but the team's newfound depth means it won't be as reliant on the veteran as they once were. Plus, Mills' versatility will only be seen as a positive in New England.
Notable losses:
The Patriots lost some significant depth on both sides of the ball this offseason, and while the front office did some good work replacing their departed players, the exits will undoubtedly be felt.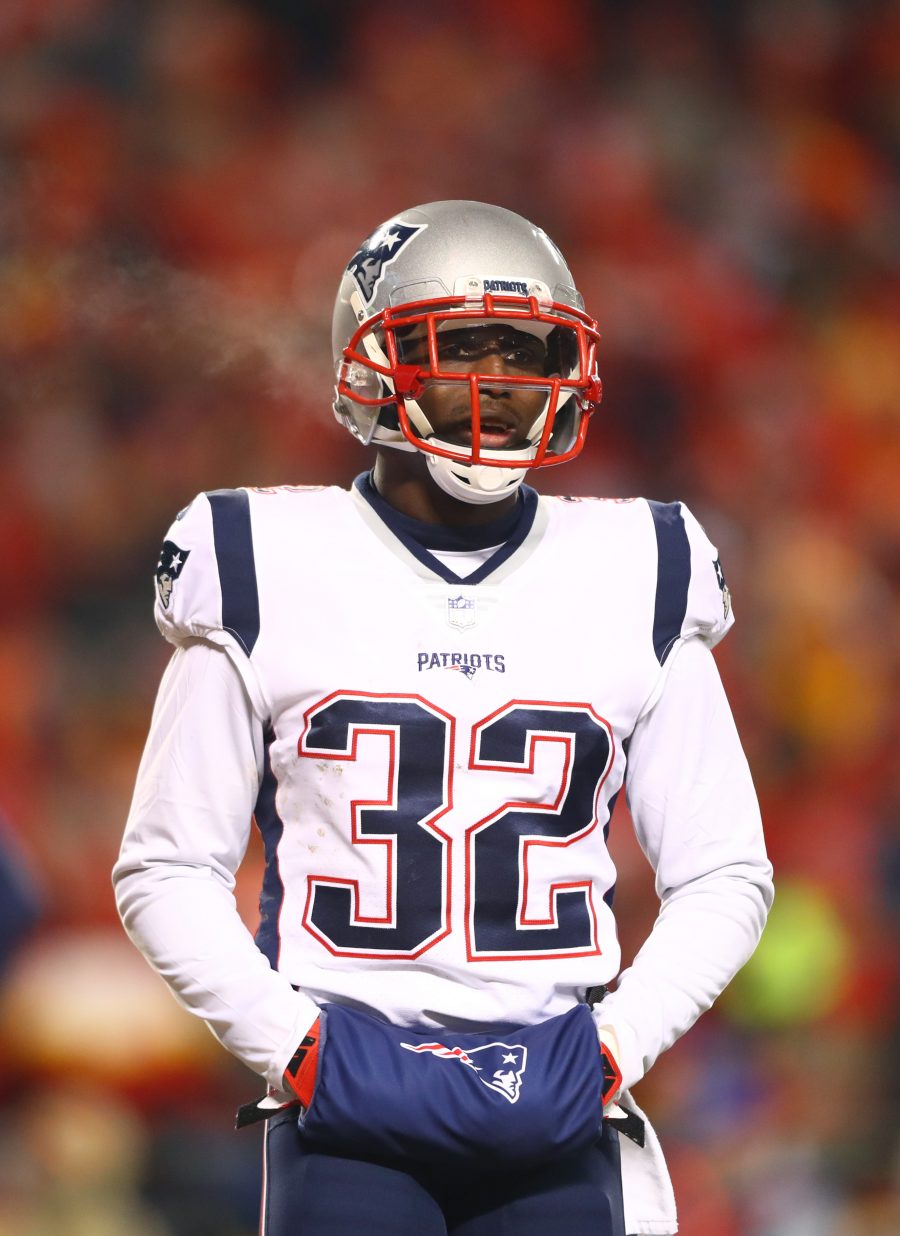 The most notable loss is Devin McCourty, who continued to play at a high level despite the 2022 campaign marking his 13th NFL season. McCourty still graded 33rd among 88 qualifying safeties last season, per Pro Football Focus, and the organization surely would have kept him around as long as he wanted to play. Instead, the safety — a central cog during the second leg of New England's dynasty — decided to hang up his cleats. While the Patriots have plenty of secondary depth to replace McCourty, they may be hard pressed to replace his leadership on defense.
Jakobi Meyers obviously doesn't have the same track record as the potential Hall of Famer mentioned above, though his loss will be felt just as much. The receiver transformed into one of Jones' favorite targets, and despite the offense's struggles in 2022, Meyers still managed to finish the campaign with 67 receptions for 804 yards. It was not a huge surprise when Josh McDaniels lured him to Las Vegas, and the signing only reinforced the important role Meyers played in New England. The team did bring in JuJu Smith-Schuster to help soak up some of the snaps, but Jones will have to put in some work to establish a similar rapport with his new wideout.
The Patriots lost a handful of additional veteran players, but the grouping was clearly deemed expendable by Belichick and the organization. The organization used a first-round pick on Isaiah Wynn in 2018, but the lineman struggled to stay on the field during his five seasons in New England. After being limited to only nine games (seven starts) thanks to a foot injury in 2022, the Patriots let the free agent walk. Damien Harris joined a number of between-the-tackles Pats running backs to leave Foxborough after his rookie contract expired. Harris topped 1,000 yards from scrimmage during the 2021 campaign, when he scored 15 touchdowns. But he was limited to only 559 offensive yards this past season thanks in part to Stevenson's emergence.
Wideout Nelson Agholor arrived during the Patriots' free agent spending spree in 2021 but disappointed during his two seasons in New England. Agholor joined the Patriots following an 896-yard season with the Raiders in 2020, but he was limited to only 835 yards across his two seasons in New England.
Trades:
Smith joined Agholor in underwhelming as a 2021 free agent. After hauling in eight touchdowns with the Titans in 2020, the tight end found the end zone only once in 30 games with New England. Reuniting Jonnu and Arthur Smith, the former Titans OC-turned-Falcons HC, represented the most notable Patriots trade this offseason, but the team also settled its kicker competition by dealing Folk to Tennessee.
Folk, 38, became the Pats' Stephen Gostkowski successor, belatedly, and served as the team's kicker over the past two seasons. New England chose Chad Ryland in Round 4 this year, however, leading Folk to follow Gostkowski's path by moving to Nashville. Not long after Elliott's arrival, the Pats sent the player previously expected to be Stevenson's backup — Strong — to Cleveland. Strong is now positioned to back up Nick Chubb, though his role is unlikely to be as expansive as Kareem Hunt's. A 2022 fourth-rounder, Strong did average a whopping 10 yards per carry as a rookie. But that total came on just 10 carries behind Stevenson and Harris.
Draft:
While the Patriots' draft decisions rarely match mock drafts, the front office surprised many by selecting the best player on the board at No. 17 (after trading down from No. 14 and hurting a division rival in the process).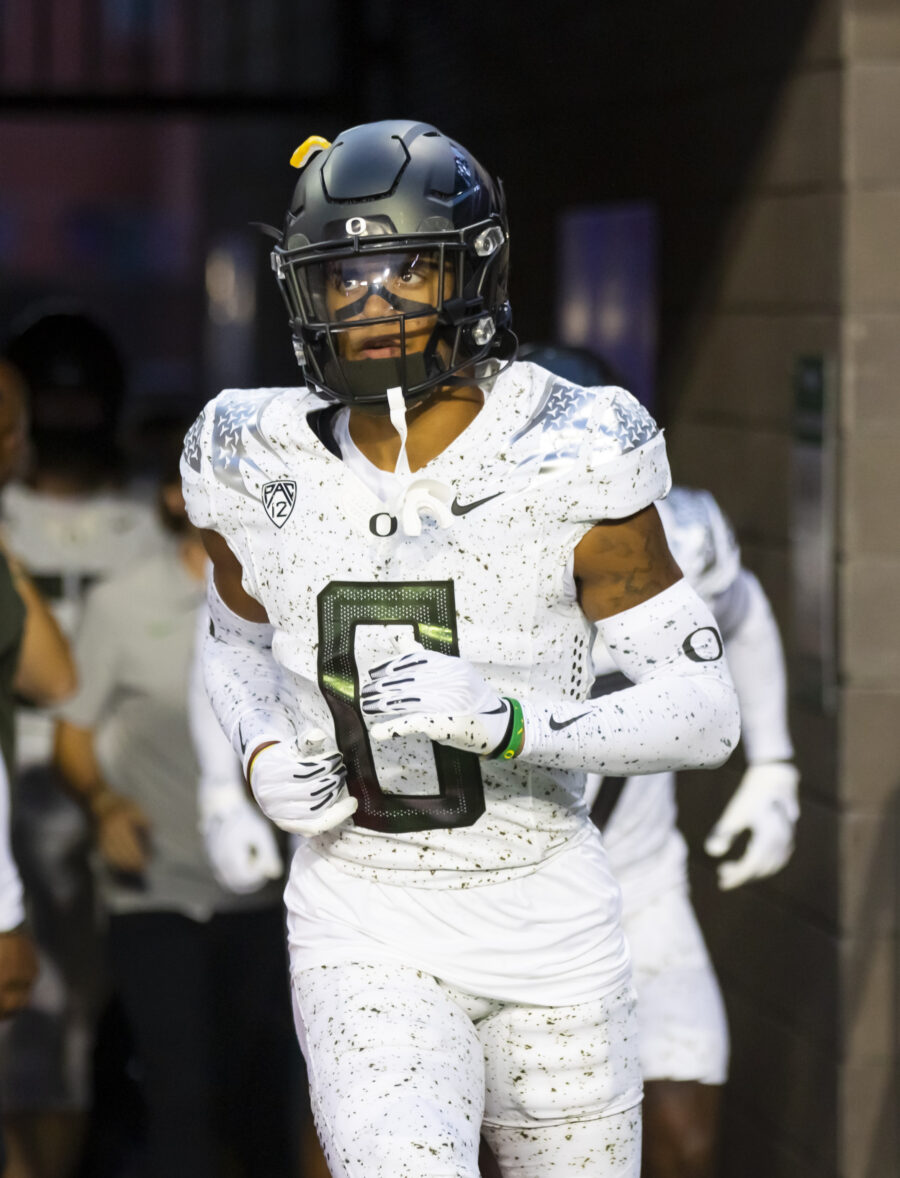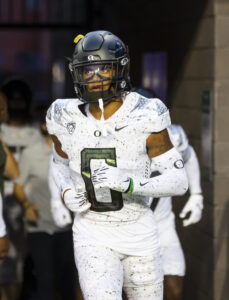 Christian Gonzalez finished his career at Oregon with a first-team All-Pac 12 nod after compiling four interceptions, 11 passes defensed, and a blocked field goal, leading many pundits to declare him the best cornerback prospect in the draft. The rookie should immediately slide atop the positional depth chart, and his addition will allow the team to get creative with its usage of 2022 draft picks Marcus Jones and Jack Jones.
The Pats discussed first-round trades with the Commanders and Steelers, but after the Packers went with a pass rusher (Lukas Van Ness) at No. 13, Washington bowed out of trade talks. Pittsburgh then stepped in, and New England charged only a fourth-round pick for the AFC North team to move up three spots for tackle Broderick Jones. Mike Tomlin confessed negotiations with the Pats were not especially difficult, and New England received the ancillary benefit of denying the Jets their preferred — by most accounts — prospect.
Second-round defensive end Keion White may be hard pressed to crack the starting lineup in Week 1, but it shouldn't take long for the Georgia Tech product to establish himself on New England's defensive line. White was a beast during his second season with the Yellow Jackets, finishing with 7.5 sacks and 14 tackles for loss. The prospect relied on a top-notch motor and natural abilities to transition from tight end to defensive end, and with more seasoning, it will not take long before he's bumping someone like Lawrence Guy or Deatrich Wise from the starting lineup.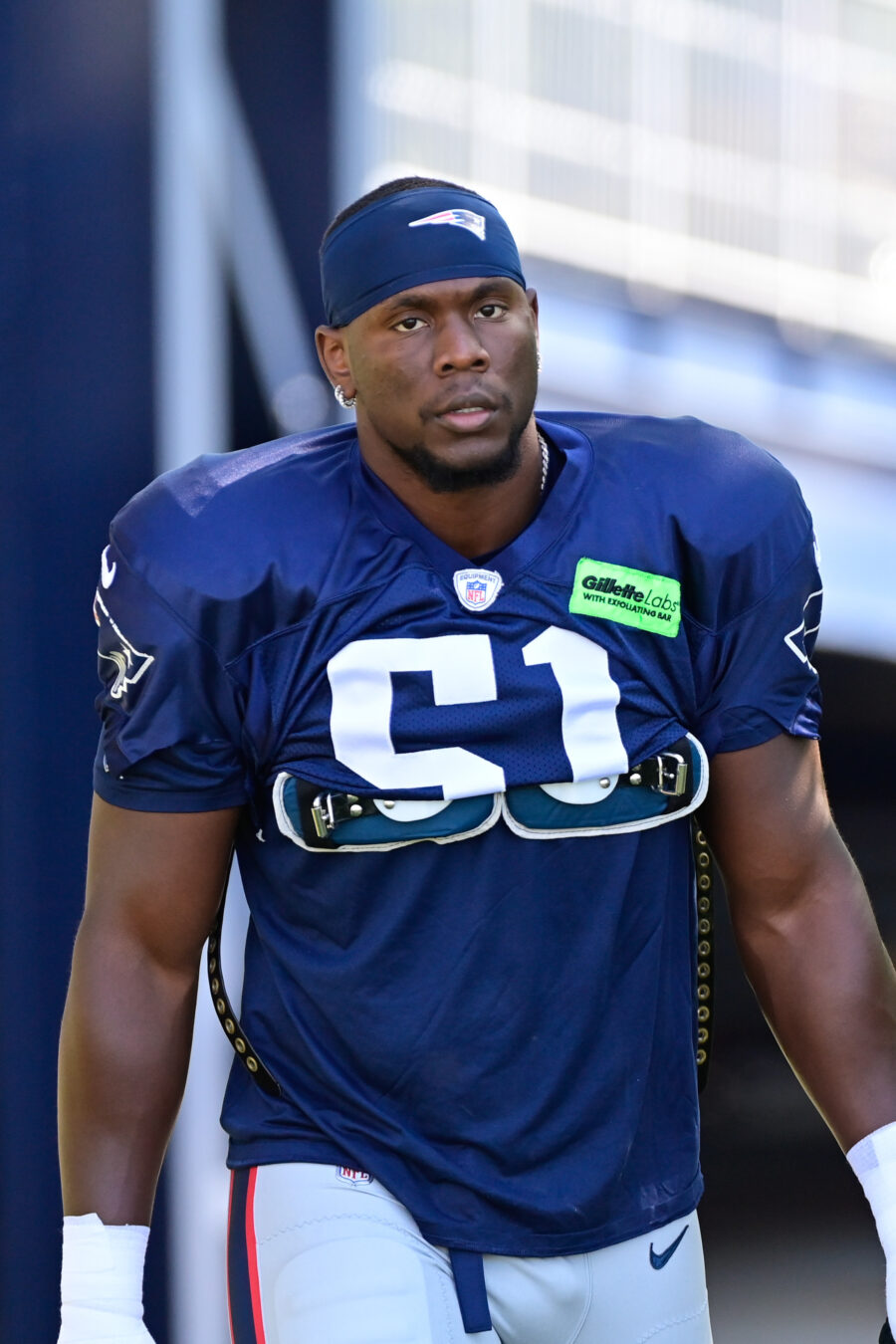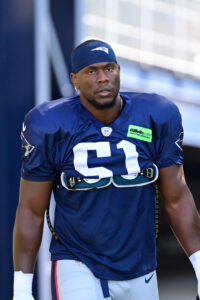 The organization reworked its special teams unit via the draft, bringing in a new kicker and punter. Chad Ryland earned second-team All-Big Ten honors this past season after connecting on 19 of his 23 field goal attempts. Punter Bryce Baringer earned a number of accolades for his performance in 2022, including a consensus All-American nod, first-team All-Big Ten honors, and the Eddleman-Fields Punter of the Year award.
Elsewhere on the rookie front, Kayshon Boutte made a name for himself during training camp. The high-end LSU recruit did not put up the biggest numbers during his final collegiate season, explaining why he ended up falling to the sixth round. However, his shiftiness could prove to be invaluable as the Patriots seek a slot replacement for Jakobi Meyers, and while the Pats have plenty of money and draft capital invested into the receiver position, there's a chance the rookie carves out a role right away.
One of the team's most notable rookie additions came after the draft, when the team signed Malik Cunningham as an undrafted free agent. There were questions if the Louisville quarterback would stick at the position in the NFL, and the Patriots are taking a long look at the rookie at both QB and WR heading into the regular season. Cunningham joins Bailey Zappe on the Pats' practice squad.
Other:
Perhaps the Patriots' biggest offseason acquisition won't play a snap for the team in 2023. Following a two-year stint as Alabama's offensive coordinator, the Patriots brought back Bill O'Brien to help fix their broken offense. The veteran coach previously spent five years in New England, a stretch highlighted by his role as OC during Josh McDaniels' tenure in Denver and St. Louis. While the Patriots failed to win a Super Bowl during O'Brien's first stint with the organization, he did help guide Tom Brady to some of the most productive seasons of his career.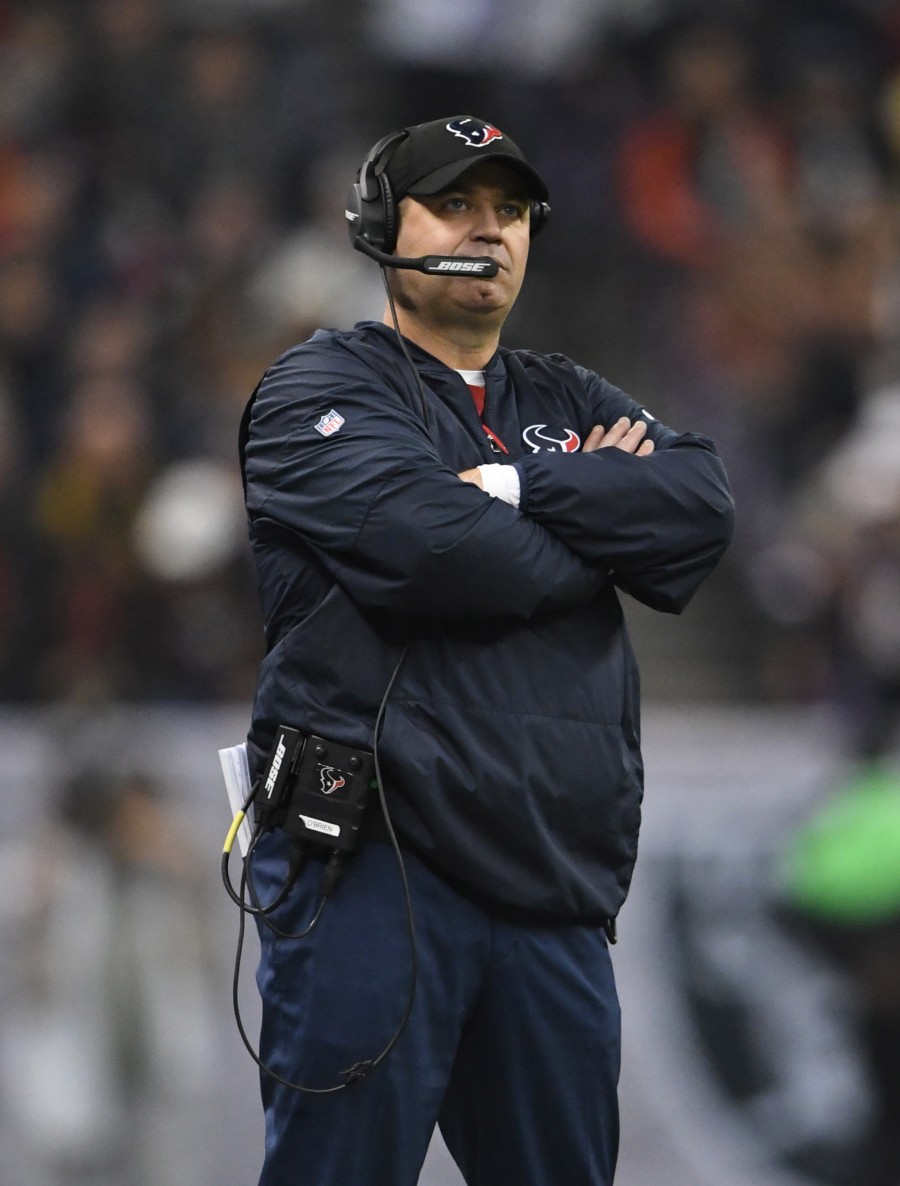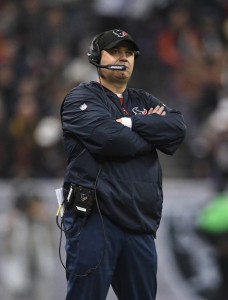 This time around, he'll be tasked with helping Mac Jones regain some of the promise he showed during his rookie campaign. The Matt Patricia/Joe Judge duo did more harm than good during its one-year stint leading the offense, and Belichick apparently realized his mistake and brought in his former offensive coordinator to get his squad back on track.
The organization also added a former player to the coaching ranks in Adrian Klemm. The Oregon associate head coach was linked to the organization throughout the offseason and will be tasked with rebuilding the Patriots' offensive line.
Speaking of former players, Jerod Mayo is sticking around to help guide the defense alongside Steve Belichick. Mayo was gaining momentum for some head coaching jobs, but he ended up declining a Panthers interview and sticking with the Patriots. There have since been rumblings that Mayo has already taken on a larger role within the organization this offseason, something he was surely promised when he decided to stay in New England. There are even whispers the former linebacker could be the eventual successor to Belichick as head coach.
While it wasn't surprising that the Patriots made an effort to retain Mayo, it was surprising that they held on to Joe Judge following his ugly year as co-offensive coordinator. It remains to be seen what role Judge will hold in 2023, but Belichick will happily keep him on the staff as long as the Giants continue to pay his salary.
Outside of coaching, one of the biggest storylines of the Patriots' offseason surrounded their failed pursuit of DeAndre Hopkins. The Patriots appeared to be one of two serious suitors for the veteran, hosting the former O'Brien charge on a visit. But Hopkins ultimately decided to take the offer from the Titans. The Patriots do not have a wideout of Hopkins' caliber, but they have a handful of players who probably fall on the next tier at the position. While the former Texans standout certainly would have helped New England's offense, it is unlikely he would have drastically moved the needle.
Top 10 cap charges for 2023:
With a lost offense and a handful of inexplicable losses last season, it's easy to assume things will get better for the Patriots in 2023. Still, even if the organization does improve on their 8-9 showing from last season, that might not be enough to make the postseason in a strong AFC East.
Of course, things could also go from bad to worse, especially if Mac Jones proves that he's not a quarterback to build around. If New England has a particularly ugly showing in 2023, then it could end up looking a whole lot different in Foxborough this time next year.
Follow @PFRumors