Danny Trevathan is likely to begin his season late. The Bears are expected to stash the veteran linebacker on IR to start the year, according to the Chicago Tribune's Brad Biggs (on Twitter).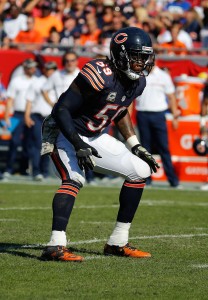 The 10th-year vet missed time with a knee injury during Chicago's training camp. Landing on IR will sideline Trevathan for at least the first three games. The Bears appear to have prepared for such a scenario, having kept seven inside linebackers on their 53-man roster.
One member of that septet is Alec Ogletree, a former starter who has bounced around the league in recent years. Ogletree's recent nomadic status aside, Biggs adds he should be expected to take Trevathan's place alongside Roquan Smith as a starter in Week 1 (Twitter link). The Bears signed the former first-round pick just after training camp began.
Trevathan, 31, has been a Bears starter since the team signed him in 2016. The former Broncos sixth-round pick and two-time Super Bowl starter has battled multiple significant injuries during his Chicago stay, but he started 16 games and made 113 tackles in 2020 to help the Bears return to the playoffs. The Bears have Trevathan signed through 2022, via the three-year deal he inked last March.