The Cardinals were not willing to enter the same ballpark as the Jaguars or Broncos did in the Calais Campbell sweepstakes in March.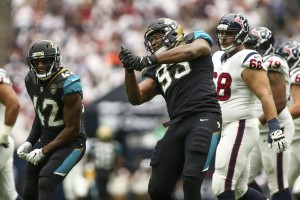 An Uninterrupted video (YouTube link) reveals Campbell wanted his agent, Tom Condon, to take the Jaguars' $15MM-per-year offer back to the Cardinals to see if they'd match. Condon was fairly certain the Cardinals wouldn't, and although he did call GM Steve Keim back, both Keim and Cards football administration director Mike Disner told the agent they didn't want to hear Jacksonville's updated offer because they did not believe they could match whatever it was.
This video lists the Cardinals' top proposal at $9MM AAV over three years, and the Cards are categorized as being out of the running early in the frenetic process.
Campbell said $15MM per year would have been enough for the Cardinals to keep him off the UFA market. The 31-year-old defensive end felt his age would keep him off the Fletcher Cox/Muhammad Wilkerson/J.J. Watt tier — each makes north of $16MM annually — but viewed $15MM annually as a reasonable goal.
The Jaguars ended up meeting that standard on the fourth offer. Jacksonville initially offered $11MM per year, which Washington matched, according to the video. Both teams then submitted $12MM-AAV proposals. The Jags improved their proposal to $14.75MM per year, inducing a celebration from Campbell and his inner circle. The video does not show an additional Redskins proposal.
But the Broncos' offer — one confirmed to be for $13MM annually with $26MM guaranteed in the first two years of the deal (Jacksonville's pact came with $30MM guaranteed in Years 1-2) — "changed the game" for the Denver native. While some members of his camp thought the Broncos were the better legacy play, Campbell also said the Jaguars were building something. Campbell mentioned earlier in the video the Redskins, on the surface, presented a better chance to win the Super Bowl than the Jaguars.
The Jaguars elevated their proposal to the $15MM-per-year target Campbell sought, though, and he decided to choose the Jaguars over the Broncos. Denver's three-year offer included a third-year option for $10MM, Campbell said in this piece.
The video also shows Campbell calling former Detroit Pistons and Denver Nuggets stalwart Chauncey Billups for advice. Condon mentioned the state income tax disparity between Florida and Colorado as a selling point for the Jaguars. Condon chuckled over the phone when Campbell asked him to see if the Cardinals would match the Jaguars' $15MM-per-year offer, but Campbell insisted his agent make the call anyway.
Campbell played nine seasons with the Cards. His age-31 season's off to a banner start. He leads the NFL with four sacks after leading the charge in the Jaguars' 10-sack performance against the Texans.
Photo courtesy of USA Today Sports Images.