In the summer of 2012, the Dolphins were less-than-enamored with their options at wide receiver. The Dolphins had just recently traded Brandon Marshall – fresh off of his fifth consecutive 1,000-yard season – to the Bears for a pair of third-round picks. Then, in the draft, they did not select a wide receiver until the sixth round.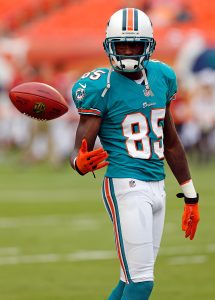 ''You would like to have some players make it easy and distinguish themselves, maybe make the picture a little bit clearer,'' head coach Joe Philbin said (via The Boston Globe). ''We have to catch the ball more consistently at every position on offense, because it is not quite where it needs to be.''
After missing out on the first and second wave of free agent wide receivers, the Dolphins placed a call to Drew Rosenhaus to inquire on Chad Ochocinco (née Chad Johnson). On June 11, 2012, the Dolphins inked the eccentric veteran to a one-year deal.
Ochocinco's career credentials were as impressive as his touchdown celebrations were inventive. To that point, he had 766 catches for 11,059 yards and 67 touchdowns, six Pro Bowl nods, and two First-Team All-Pro selections.
However, the receiver's best days were spent with the Bengals and he looked like a shell of his former self with the Patriots in the 2011 season. In his lone campaign with New England, Johnson had just 15 catches for 276 yards and one touchdown and was targeted just 32 times in total. Johnson clearly didn't mesh with the Patriots' offense and he didn't impress in his two intra-divisional games against the Dolphins either. Against Miami, he had just one catch in each of those two games.
Ochocinco – who changed his name back to Johnson shortly after signing with Miami – didn't mesh with Philbin and the rest of the staff. The melding of personalities turned out to be the least of his issues. In August, Johnson was arrested on domestic battery charges. Johnson proclaimed his innocence, but the Dolphins released him the very next day. Thanks to "Hard Knocks," we have video of Philbin's final conversation with Johnson.
Johnson's deal with the Dolphins up being his final NFL contract. Johnson went on to play for the CFL's Montreal Alouettes in 2014 and was suspended for the 2015 season when he skipped mandatory practices. He re-emerged in 2017 to play in a single game for the Monterrey Fundidores of the Liga de Fútbol Americano Profesional de México, where he scored on a 41-yard touchdown reception in the Fundidores' winning effort.
Photo courtesy of USA Today Sports Images.