After firing Marty Hurney on Monday morning, Panthers owner David Tepper is turning his attention to the search for the team's next GM. In a chat with Darin Gantt of the team website, Tepper indicated that his new-look front office will blend new-school analytics with old-school scouting. He also suggested that Matt Rhule will be a part of the search, since he wants his head coach and GM to be on the same page. Here's a look at some of the highlights: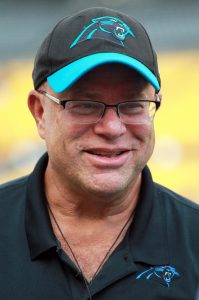 [RELATED: Panthers Fire Marty Hurney]
On the process of the decision:
"It's been an evolving decision. Basically, it wasn't just me on a whim…Basically, with discussions, it seemed like Marty and I had a little bit of difference in philosophy. He leaned toward more traditional techniques versus a more data-driven, analytical process, but I think some marrying of that would be more in line."
On the front office's structure, moving forward:
"[The previous structure] was very siloed. Things were kept separate all over this organization and I don't like that…I like one organization, one goal moving together from football, so the business side and the football is all moving together.
On who will have final say over the Panthers' first-round pick:
"I think it should be the GM with a lot of talk with the head coach and some, potentially, input from me. Sometimes I may just have to be a tiebreaker. But I think it should be collaborative."
On Rhule:
"Matt, as advertised, is a very good developer of talent. You're starting to see it here, and we get to this point in the season in how the defense has developed. There's been progress. It was a really interesting game, interesting in how coaches do things with process. The Packers had a great first half, but they didn't do too much in the second half. We had four or five sacks and look at who got those sacks. There's first-year players, and [Brian] Burns was in there. It was all young guys. We have all young guys, and we're developing these guys and making progress.
"You can see that every day in some parts of this football team. When you talk about Matt and what happens here, this team, while we would've like to have seen better results this season, at the end of the day, this team doesn't give up. And, while it's maybe disappointing that in a lot of these situations where we had a chance to win and we haven't, well, we have been in position to win. So hopefully, we'll turn the corner on those things."
Photo courtesy of USA Today Sports Images.