Dolphins coach Adam Gase denies that the club is shopping wide receiver DeVante Parker. Sort of.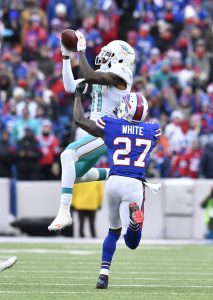 [RELATED: Dolphins Shopping DeVante Parker]
"I know I haven't called anybody," Gase said (Twitter link via Cameron Wolfe of ESPN.com).
Gase has control over the Dolphins' roster, so he certainly has say over whether the club will trade Parker between now and the Oct. 30 deadline. However, it's unlikely that he is running point on any conversations involving the wide receiver. Gase's comment could technically be true, but it's probable that GM Chris Grier and executive Mike Tannenbaum have explored the idea with other teams.
The coach added that he spoke with Parker about trade speculation during training camp when it came up then. It's not clear whether he's revisited those conversations lately, but Gase would probably prefer to keep Parker's focus on the field.
Parker, 25, has missed all but one game so far this season. There's not much for Miami to showcase, but his trade value could improve with a strong performance against the Bears on Sunday.
The Dolphins might not get much for Parker in a trade, but the opportunity to escape Parker's injury-guaranteed $9.387MM charge for 2019 may mean more to them at this point. Parker was once being groomed to be the Dolphins' No. 1 wide receiver, but they could be willing to move him for a late draft pick in the next couple of weeks.
Photo courtesy of USA Today Sports Images.